When I decided I would start traveling long-term in 2017, the first big decision for me was which backpacking bag to buy. So many great brands are out there, making it really hard to choose just one! Because this bag would be my companion for the next several years, I put a lot of time and research in to making the decision. After hours of deliberation, I chose the Gregory Jade 63 (in beautiful Mountain Purple) and I've never looked back.
Here's an honest Gregory Jade 63 review for future travelers making the same tough decision. I chose the Gregory Jade 63 as the best travel backpack, and I would choose it every time.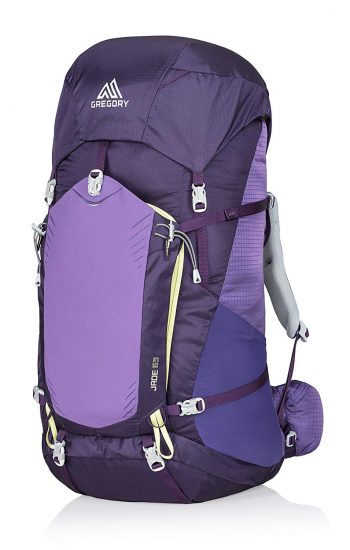 Gregory Jade 63 Review
Here are the top reasons why I love this backpack before I delve into the details:
The Gregory Jade 63 comes with a lightweight day bag and a rain cover. These items would cost an extra $50-$100 to purchase separately, if the bag didn't already come with it. It's a major money saver!
It has many compartments for organizing, including two in the top flap, pockets on the hip strap, two side water bottle holders, and a mesh compartment in the front.
This backpack has several access points to the interior. Other backpacking bags have just the main compartment opening at the top, so it ends up being more of a stuff-sack. The Gregory Jade 63 opens at the top, from the side like a duffel bag, and at the bottom. 
Attention to detail – There are many little things that combined, make a big difference for all types of travelers. Additions like trekking pole holders, a sunglasses band, key holder, a compartment divider, and all adjustable straps make the Gregory Jade 63 backpack an all-round winner for me.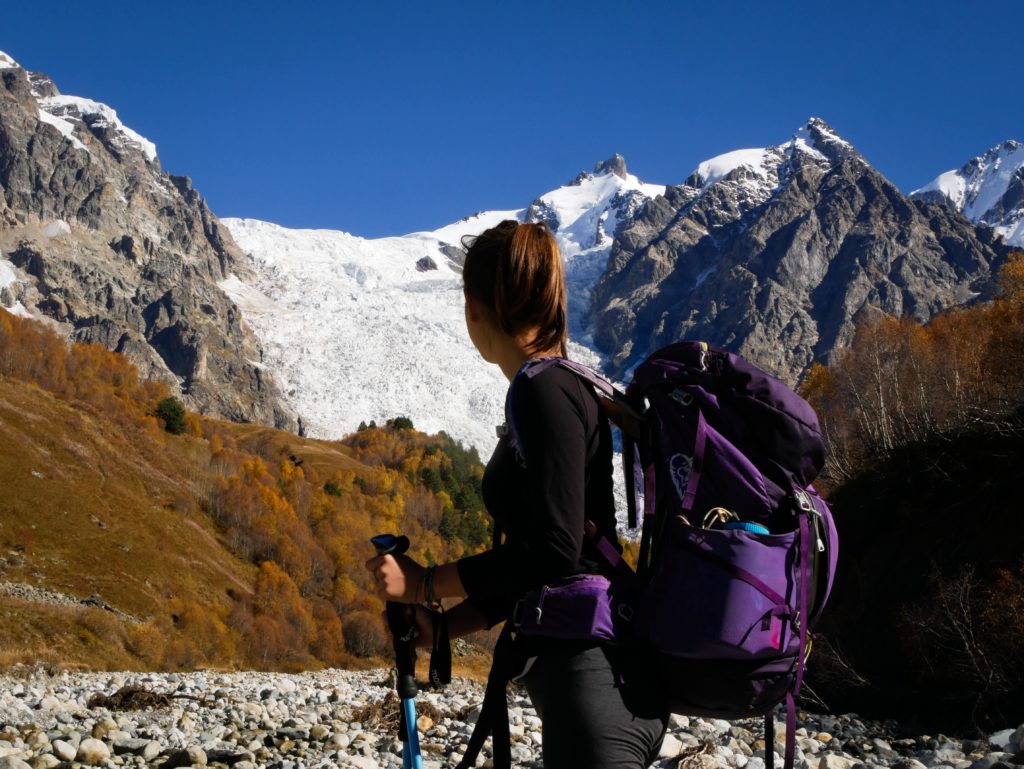 Gregory Jade 63 Review: Adjustable Size and Weight
The backpack's specs are: 24.5″ x 13.5″ x 12.0″, or about the same as a medium-sized duffel bag. If it's not packed to the brim, the Gregory Jade 63L can be used as a carry-on. I brought it for a week-long trip to Europe, when I went carry-on only! 
This backpack has a capability to stretch as well. The top section grows upward the more you stuff in to it. The straps holding the top flap down can be loosened so it stretches over the taller bag shape. At one point, my Gregory Jade weighed over 16kg – that's a lot of stuff! 
Gregory Jade 63 Backpack Weight
The Gregory Jade 63 bag weighs 3.3 lbs, which is lighter than the comparable Osprey Viva at 4.5 lbs. When every pound counts, like when spending 12+ hours on your feet at 5000m+ altitude (on the Three Passes Trek), it's great to have a bag that doesn't weigh you down. 
With the adjustable shoulder straps and the hip strap, it's possible to shift the weight of the bag around from your hips, back, and shoulders, to keep you on the move.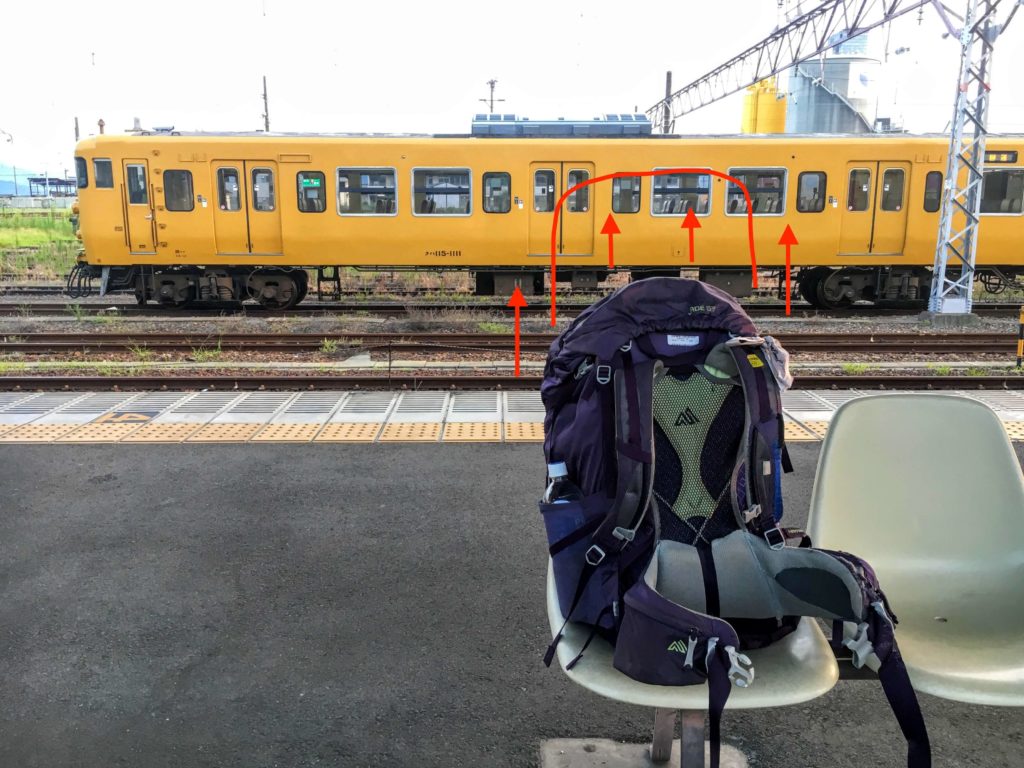 Gregory Jade 63 Review: Storage and Pockets
Trying to stay organized on the road is always a struggle. Luckily, the Gregory Jade 63 backpack has plenty of storage spaces.
The top flap has a pocket that can be accessed from the outside, perfect for things you want to keep at your fingertips like snacks or gloves and a hat. 
The top flap, once unbuckled from the rest of the bag, has a second compartment on the inside that is independent of the first. While trekking in Nepal, I kept my trekking permits here – a slightly safer spot, but also close at hand. This pocket also has a hook for your keys. 
An outside pocket for the rain cover can also fit flat items like a poncho or reusable bags.
The mesh front pocket on the outside of the bag can hold more flat-ish items like flip flops or a trekking map. 
Two side pockets are perfect for holding large water bottles (they fit the classic Nalgene bottles). I was surprised to see not all backpacking bags have these pockets! 
See more info and pictures of Gregory Jade 63 pockets on Amazon.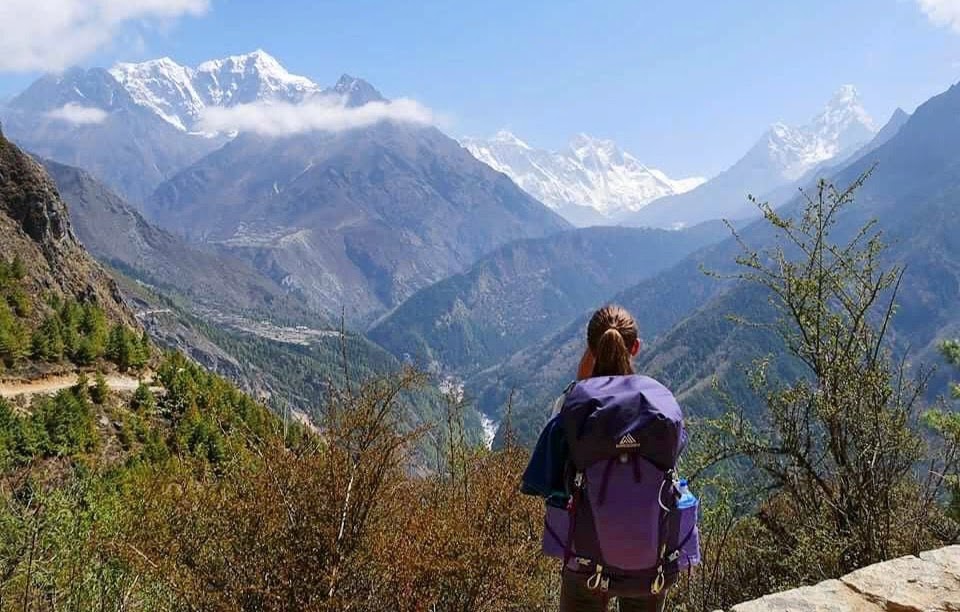 Gregory Jade 63 Review: Real-World Testing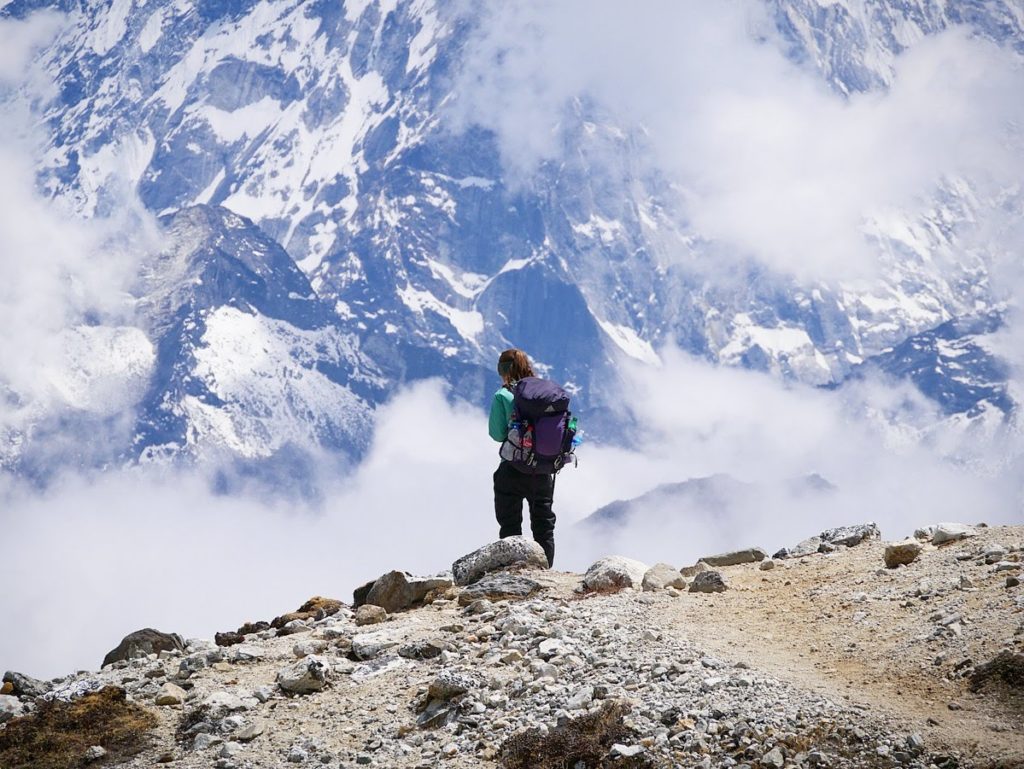 What I love about the Gregory Jade 63:
It's a budget saver because it comes with a rain cover and day-bag. 
The size is perfect for a carry-on when lightly packed, but can also be stuffed to the brim for long-term travel. 
The many pockets allow me to organize my belongings, and section off my packing cubes in different parts of the bag.
With three openings, I can pack my bag from the top, from the side, and put larger items like hiking boots or a sleeping bag in the bottom. 
The Gregory Jade 63 has been incredibly durable and proven its strength over 24+ months of travel (that's countless rickety busses, tuk-tuks, checked luggage, and two months in the Himalayas). 
What I would improve about the Gregory Jade 63:
The three openings to the main compartment makes it hard to keep the bag secure. Although all zippers and openings are well-concealed, for travelers with lots of valuables I would recommend getting a bag protector net or carry a few luggage locks with you (this is the case for almost all backpacking bags, however.) 
The sidekick bag is a little small to use as an everyday day bag. It's also a little see-through so be careful if you're putting your phone or wallet in there.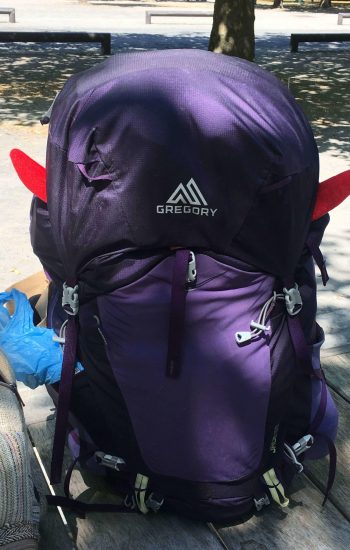 Gregory Jade 63 Backpack Options
This Gregory Jade 63 review was for my Mountain Purple version, which has been available for several years. Gregory has since released a new version of the same backpack, with all the same amazing specs and perks. If my ever decide to retire my Mountain Purple Gregory Jade 63 bag, I would definitely opt for the Mayan Teal backpack. 
Gregory Jade 63 Review: Mini-Me's
If you're planning on traveling for shorter periods of time, or doing a shorter multi-day trek, Gregory Jade 63 backpacks come in smaller sizes too! If you're trekking in Nepal for example, I recommend the slightly smaller and thinner Gregory Jade 53 backpack. 
For day-hikes or weekend getaways, check out the even smaller (but still fully-equipped) Gregory Jade 38. 
Lastly, if you want a day-bag mini me to match your Gregory Jade 63, check out the 28L version! Even this little one has a rain cover included. Thank you Gregory! 
If you're sold on this Gregory Jade 63 review, but are looking for the men's version of the backpack, here it is: Gregory Zulu 65. The colors this bag comes in includes Feldspar Grey, Empire Blue, Mantis Green, and Fiery Red. 
Considering the Gregory Jade 63? Pin this Post!
Are You Prepared For Your Next Travelventures?