There's no doubt that travel, especially inter-continental travel, has a large carbon footprint. The great thing about long-term backpacking however, is that you don't need to feel ashamed for your lifestyle's climate impact while on the ground. Sleeping in hostels, eating street food, taking crowded local busses and trains to get around… it's adventurous and planet-friendly! 
Slow-travel is basically the long-term backpacker's middle name, because many of us choose to travel overland, take in the scenery, and enjoy life in a foreign country as the locals do. We should still always do what we can to travel sustainably, especially by reducing plastic use and waste. 
Here is my sustainable travel packing list to reduce your carbon footprint while traveling! 
This post contains Amazon.com affiliate links. If you choose to purchase anything through these links, I may receive a tiny commission at no extra cost to you. Thanks for supporting my site!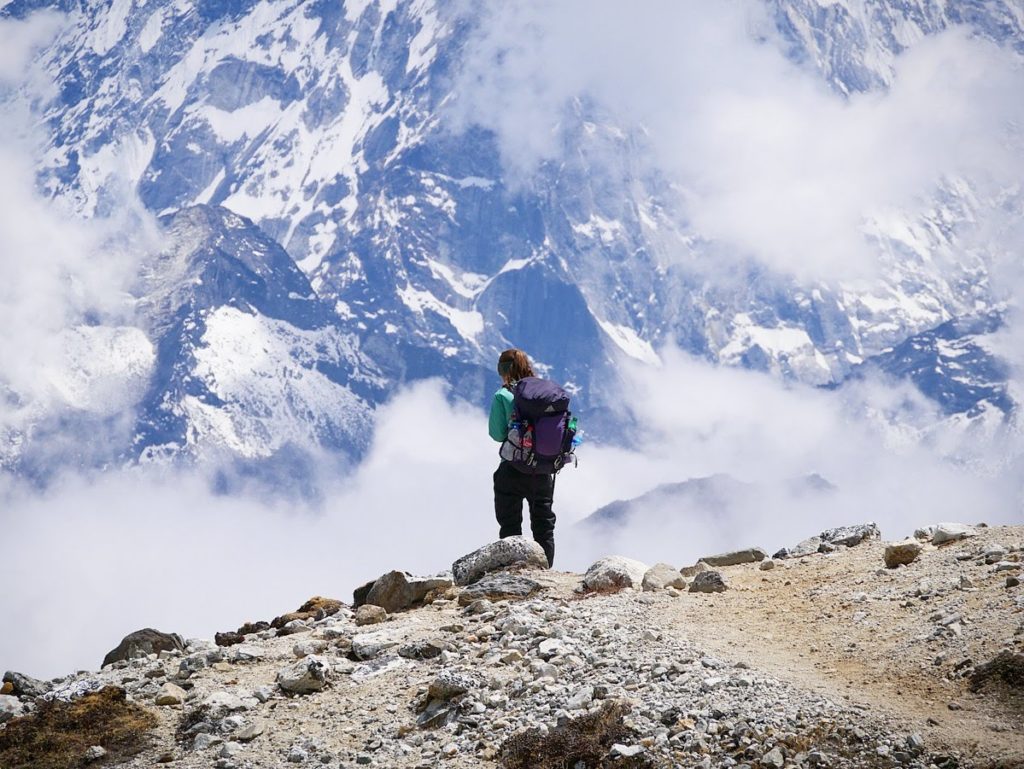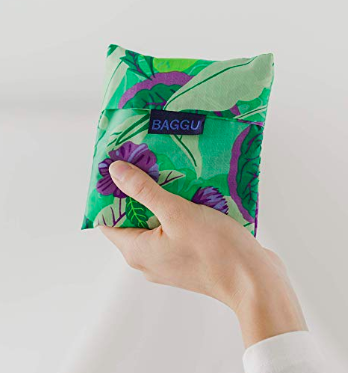 Carrying around a reusable bag might be one of the simplest things you can do in order to reduce single-use plastic consumption on your travels. It's THE sustainable travel packing list staple.
Head to the market or on any shopping spree with Baggu, which is made from re-used fabric, is lightweight, folds tiny, and can carry up to 30 pounds! It even comes in 40 different fashionable designs. 
2. Shampoo & Conditioner Bars
Forget those tiny plastic bottles! Choose waste-free, eco-friendly shampoo that comes in a bar form. This is a trendy and practical item in every sustainable traveler's packing list. 
Try Ethique brand who coined the hashtag #giveupthebottle, and has partnered with wildlife warrior Bindi Irwin.
 Aspen Kay Naturals is another brand that has both shampoo and conditioner bars, along with a host of other cruelty-free cosmetics products. 
3. Reef-Friendly Sunscreen
Think back to a time when you saw a friend jump into a pool and you could see a halo of sunscreen coming off of their body. These chemicals can be harmful to coral reefs and marine life, so especially in areas with sensitive eco-systems, be careful what you are putting on your body. 
Try Kokua Sun Care, rated "Palau Reef Safe", meaning it meets the world's strictest standards for for being reef and marine safe. Another popular brand is Sun Bum, which has a mineral, reef-safe sunscreen. 
4. Eco-Friendly Mosquito Repellent
Mosquito repellent without chemicals is better for you and better for the planet. Eco-friendly mosquito repellent ingredients include citronella, lemon-eucalyptus, peppermint, lemongrass, and more. 
Try Repel brand's plant-based Lemon Eucalyptus insect repellent – a must-have for your sustainable travel packing list. 
5. Dr. Bronner's All-In-One Soap
Dr. Bronner's Castille Soaps are about the most versatile product ever, and perfect for your sustainable travel packing list.
Labeled as being 18-in-one, this soap can be used for washing your face, body, hands, and hair. Use it for doing laundry, washing dishes, mopping floors, washing dogs… and more! It's also vegan, organic, and packaged in recycled plastic. 
Another great way to reduce single-use plastic consumption is by keeping a reusable water bottle handy. Nalgene bottles are BPA-free and the perfect size to keep with you while traveling. 
Re-fill these at your hostel before starting out for the day, and eliminate the need to purchase plastic bottles every step of your day. If you're worried about the quality of the tap water, keep Potable Aqua or Water Purification Tabs handy to disinfect drinking water.
7. Steripen or Life Straw
These water purifiers will not only help you be plastic-free, they will help you survive in emergencies. 
The SteriPen uses UV light to destroy 99.9% of harmful bacteria and viruses in water, including Giardia which is not killed off by water purification tablets. For trips to places like Nepal, they can be used every day. 
The LifeStraw filters water without using chemicals, and is also 99.9% effective against bacteria and viruses including Giardia. One straw can purify 1000 liters of contaminated water. 
8. Reusable Containers and Snack Bags
When you can't finish all your food, just pack it to go!
iCorer's silicon reusable, foldable food storage containers are great for keeping leftover food from cooking at a hostel, or eating out.
Langsprit's reusable snack bags are durable, waterproof, and easy to clean. They're great for storing snacks for long-distance bus rides, or shopping for nuts, fruits, etc. at a local market. 
Perfect for eating on-the-go and for reducing plastic cutlery use, pack some reusable cutlery in your sustainable travel packing list.
There are snazzy bamboo cutlery sets, straws included, but also simple sporks for the minimalists. 
10. Reusable Menstrual Cup
Reduce monthly use of tampons, especially plastic ones, by investing in a Reusable Menstrual Cup, otherwise known as a Diva Cup. These are made of soft, medical-grade silicone and can be reused for 1-2 years depending on the brand. 
Having one of these handy also takes the stress out of trying to find menstrual products in foreign countries. Many female travelers SWEAR by these. 
11. Portable Solar Charger
If you want to reduce your stress on the electric grid, invest in a portable solar panel. This one by Nekteck is water- and dust-proof, foldable, compact, and has two USB ports for charging. Drape it over your backpack to charge on the go, or leave it in a hostel window for maximum sunlight.
This is definitely a luxury item, but may be a good Christmas gift for your sustainable travel packing list! 
Re-vamp your on-the-go wardrobe by buying clothing from eco-friendly brands. Check out United By Blue, which as outdoorsy clothing, backpacks, and more perfect for every sustainable travel packing list. 
They remove one pound of trash for every item sold, and everything is made from responsible materials like organic cotton and recycled polyester. 
Also try People Tree and Alternative Apparel
Part of having the luxury to travel around the world is to remember to do it responsibly. I'd like to finish off this sustainable travel packing list with a cliché quote: Take nothing but pictures, leave nothing but footprints! 
Ready for Sustainable Travel? Pin this Post!