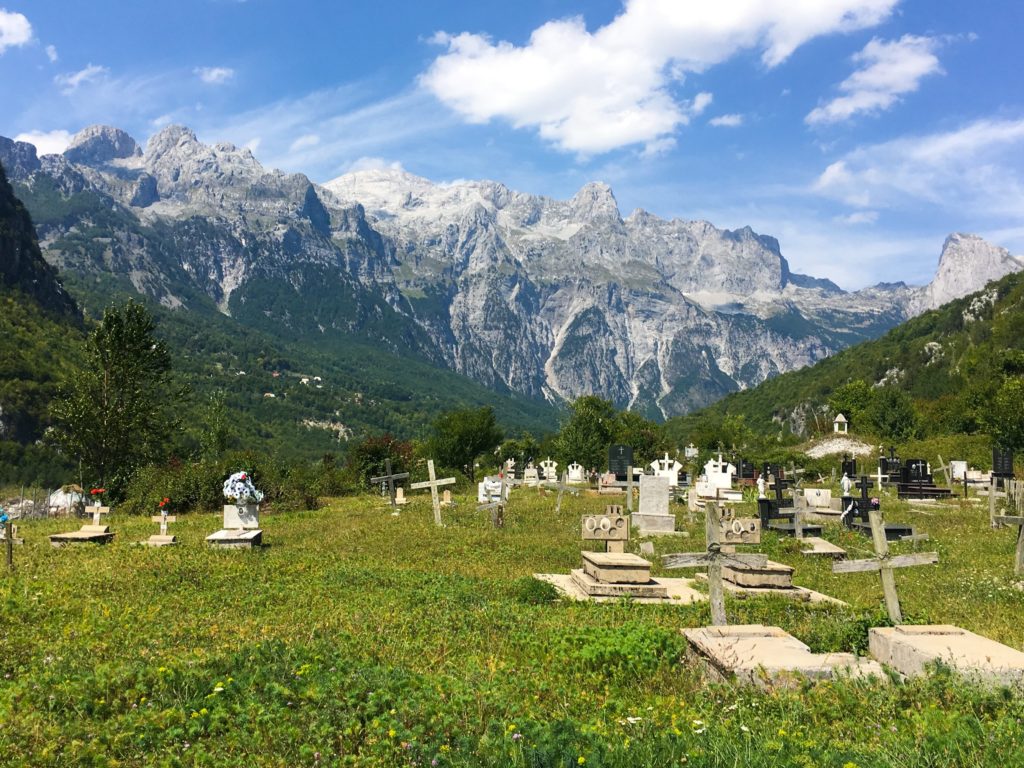 There's a beautiful and highly recommended through-trek that's popular with backpackers in northern Albania. It runs between two tiny mountain villages, Theth and Valbonë, and takes about 6-8 hours to complete.
The journey starts and ends in Shkodër, the closest large town. From there to Theth you'll take an old minibus and stay the night, then you trek to Valbonë the next day. Most people stay the night in here in a guesthouse as well. From Valböne, you get a minivan or taxi to a ferry port, then take the ferry through a scenic lake in a valley. Then it's another minivan or taxi back to Shköder.
The typical itinerary looks like this:
Day 1: Shköder to Theth (8am pickup, 3 hours)
Day 2: Trek Theth to Valböne (6-8 hours)
Day 3: Valböne to Shköder (minibus, ferry, minibus)
This loop can be done from either direction. The elevation profile for the trek is the same regardless of starting point. It's conical: hike up until you reach the mountain pass at 1,600m, then hike back down.
 From Shkodër it's easy to receive help from your hotel or hostel to book a bus or minivan to get to either starting point. Since I wanted to start in Theth, I booked a guesthouse and bought a ticket from my hostel for the transport to get up there.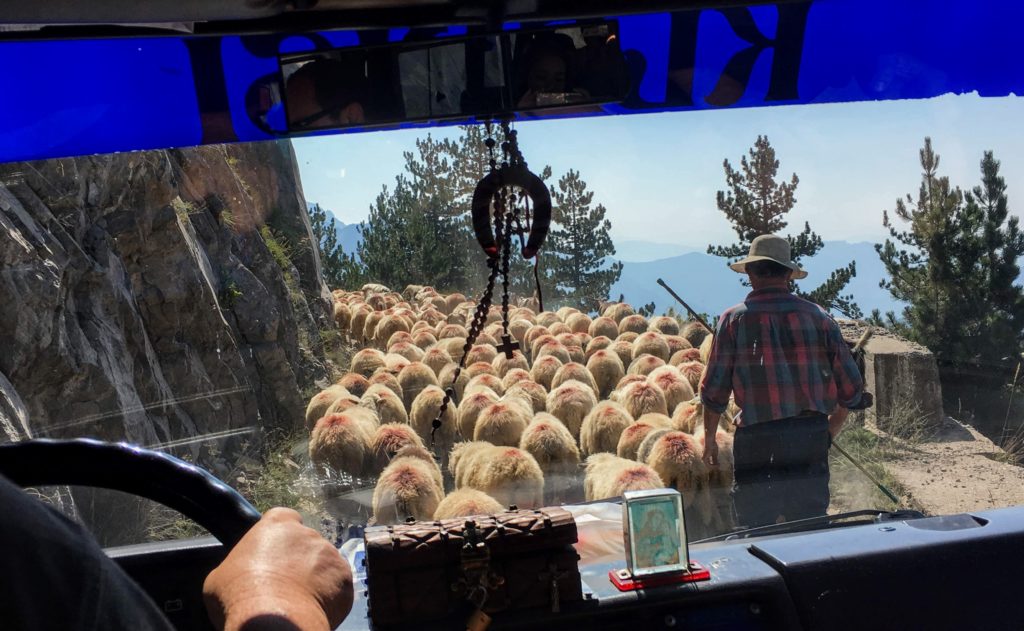 I was picked up from my hostel, Our Way, before 8am. Other popular hostels for backpackers is were Bulldog Hostel and Mi Casa Es Tu Casa, where the trekkers I met in the mountains were staying. 
The minibus ride was not a direct one by any means. We stopped many times around the outskirts of town to pick up other passengers and items for delivery to Theth. We also stopped twice at viewpoints where he asked if we wanted to get off and take pictures – of course the answer was always yes. Once there was also a massive herd of sheep blocking the road, and since there was a cliff face on one side and a drop-off on the other, we had to trail behind them for a while as the driver laid on his horn the entire time.
About 3/4 of the way to Theth is paved road, and the last 1/4 is rocky, unpaved gravel. In total the ride was just over 3 hours, and we reached Theth around 11:30am. Theth is a long city, with two highly-rated guesthouses located at the very north of it, in the section called Okol. There was one person on the bus that had booked a room here, so he was dropped off when we were closest to it. The driver made two more stops in town to drop off passengers close to their guesthouses.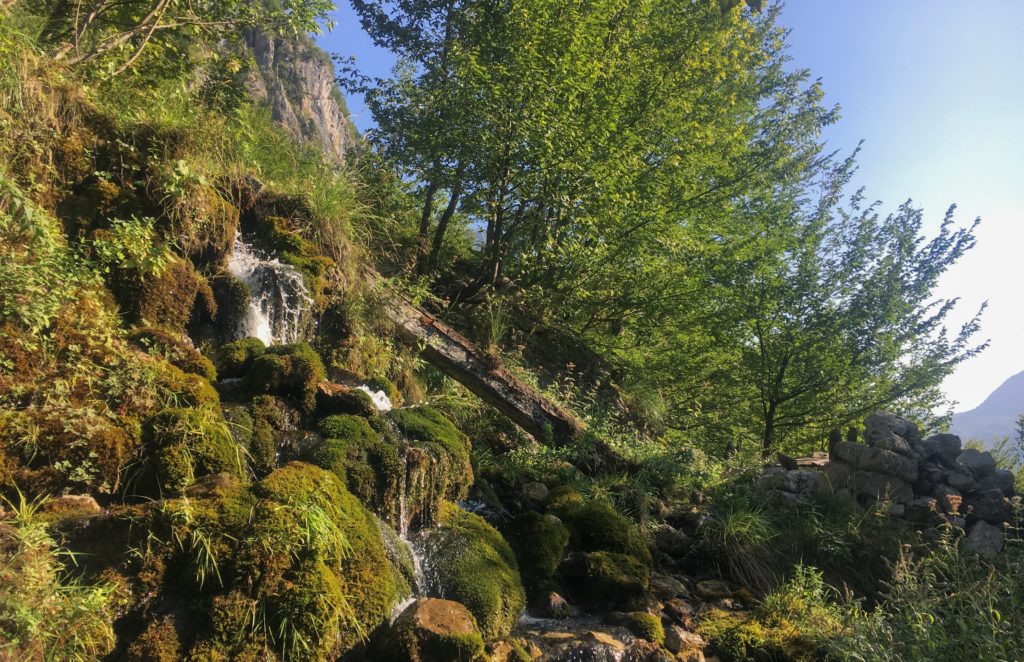 Since you have the entire afternoon to spend in Theth, you can get your legs warmed up by doing one of the side treks there. The main one is to the Blue Eye, a lake and waterfall with amazingly clear water. The only issue is it takes 6-7 hours round trip of hiking over not-so-gentle slopes. In total it's 22 km! I chose not to trek to this but many people do. Those at my guesthouse who hiked it agreed that it was a bit underwhelming for all the effort it takes to get there. There's a waterfall that's close by, about an hour or so to get there and back from the southern part of town where I was staying. I hiked this trek and it was beautiful, with a little stream running alongside the section of the trail closer to the waterfall. Some people swim at the top or have a picnic.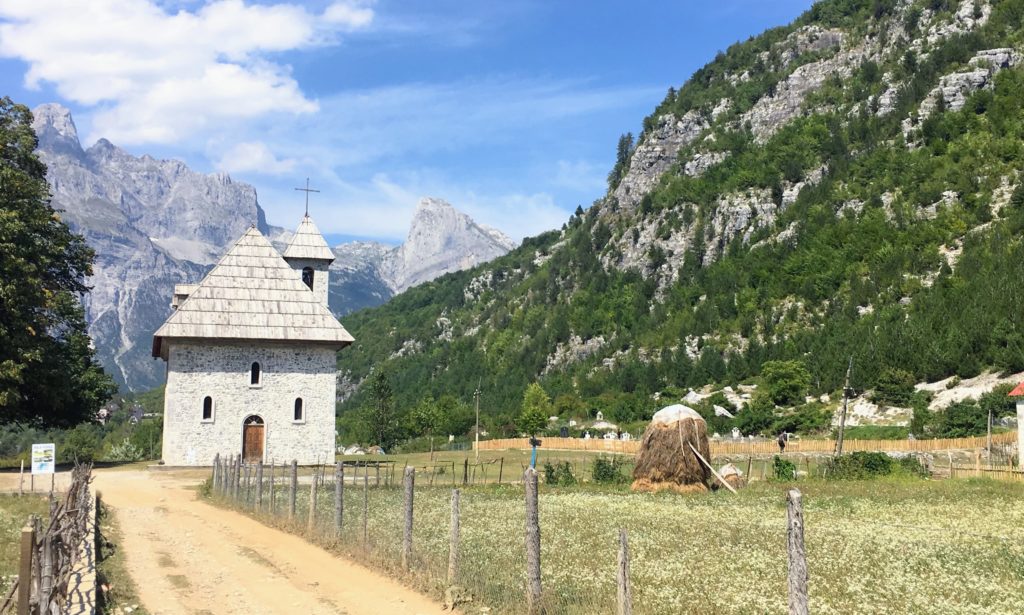 In the evening, everyone staying at the guesthouse hung out at the outdoor seating area and played card games until it was time for dinner. About half of the people had come from Valbonë that morning, and half of us were hoping to trek there tomorrow. Dinner for the eight of us included two baskets of bread, two plates of potatoes, some local feta-like cheese, two 'salad' plates of cucumbers, onions, and bell peppers, a main plate that had a mountain of rice and a side of either chicken or roasted bell peppers for the vegetarians, and watermelon for dessert. This all-you-can eat dinner cost 7 euros at the guesthouse that I was in. I recommend brining your own lunch from Shkodër to save money, since lunch was 5 euros and apparently consisted of the same bread and same cheese and vegetables to put into the bread as a make-your-own sandwich setup. 
I went to bed around 9pm and slept really well until I was woken up by thunder in the morning…
We had breakfast at 7am while watching the rain fall and the dark clouds roll over the mountains surrounding us. Occasionally there was a flash of lighting closely and the rumbling thunder echoing through the valley shortly afterwards. Breakfast was included in the price of the stay, and it was the same bread as the evening before with jam and honey, plus a fried egg for each of us.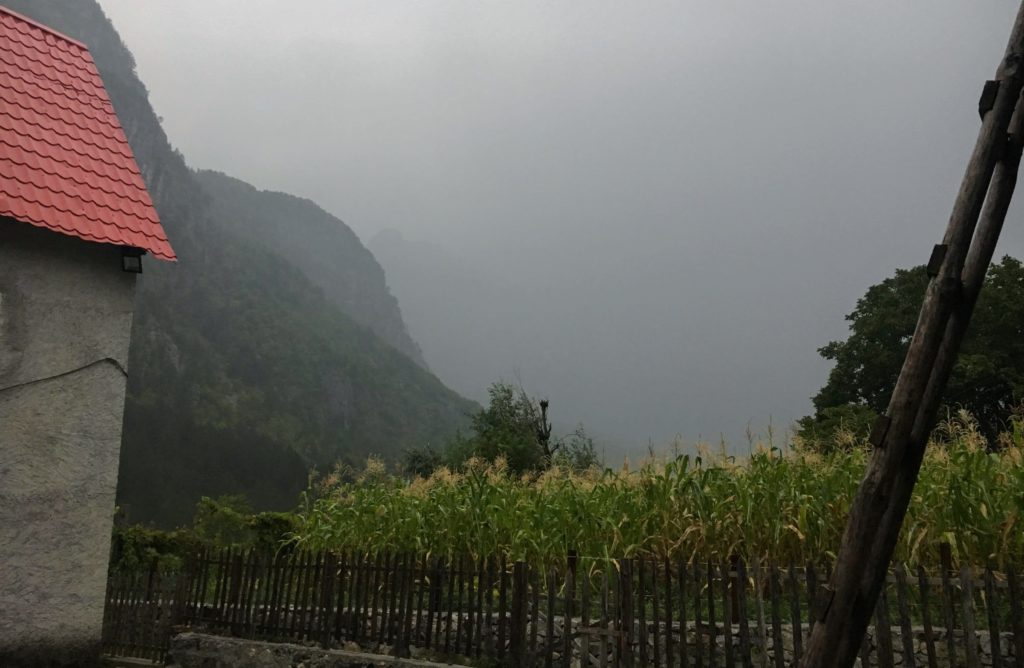 It's recommended to NOT hike this trail while raining or even when the ground is wet because of the steep cliff drops next to the rocky, narrow road that you'll be walking on. Unfortunately, myself and a few others had cancel our trekking plans. Some were on a tight schedule and had to keep moving, others decided to stay and wait a day to see if it cleared the next morning. Looking at the weather report, it was supposed to rain for the next three days! I also decided to call it quits and return back to Shköder. We all boarded a minibus that was leaving at 8am.
We arrived back into town just before noon and all went our separate ways. One couple had made the mistake of booking everything in advance through their hostel, including the accommodation in Valbonë which they got a refund for, and the ferry back to Shkodër which they didn't get refunded.
Maybe people will spend another night in Shkodër before moving to their next destination, but this isn't necessary if you are arriving by the afternoon. There are several afternoon busses that leave from Shkodër to different locations around Montenegro and Albania. I personally took the 14:15 bus to Ulcinj (or Ulqin) in Montenegro which took less than 2 hours to arrive including the border crossing. There was another bus that left for Ulcinj at 4pm as well.
Have you trekked from Theth to Valböne? Let me know how it was by dropping a comment below 🙂