Hiroshima is a vibrant city located a little ways down the coast from Osaka and Kobe in Japan. Known for being one of two cities that was devastated by an atomic bomb during World War II, Hiroshima has come a long way since 1945. 
Hiroshima's famous attractions are the A-Bomb Dome, the Hiroshima Peace Memorial Park and Museum, which all pay tribute to the city's bombing victims. There are many underrated highlights of Hiroshima as well, including the Hiroshima Castle and Shukkeien Gardens. 
If you spend one day in Hiroshima, here are some top attractions not to miss! 
Tip: If you are visiting Japan in August, I recommend visiting Hiroshima on August 6th. This is the anniversary of the bombing, and there is a beautiful lantern floating ceremony every year. 
Should You Combine Your One Day in Hiroshima with Miyajima?
No.
Do yourself a favor and spend one day each in Hiroshima and Miyajima. You will want to spend a full day on Miyajima to see the famous floating torii gate and Itsukushima Shrine at low tide and high tide. Seeing the highlights of Hiroshima will also take more than just a half-day. 
I recommend staying one day in Miyajima, and one day in Hiroshima during your Japan itinerary. Don't rush to try to combine the two in one day. 
If you are short enough on time and need to combine Hiroshima and Miyajima, join a tour so you can see all the highlights in the most efficient way.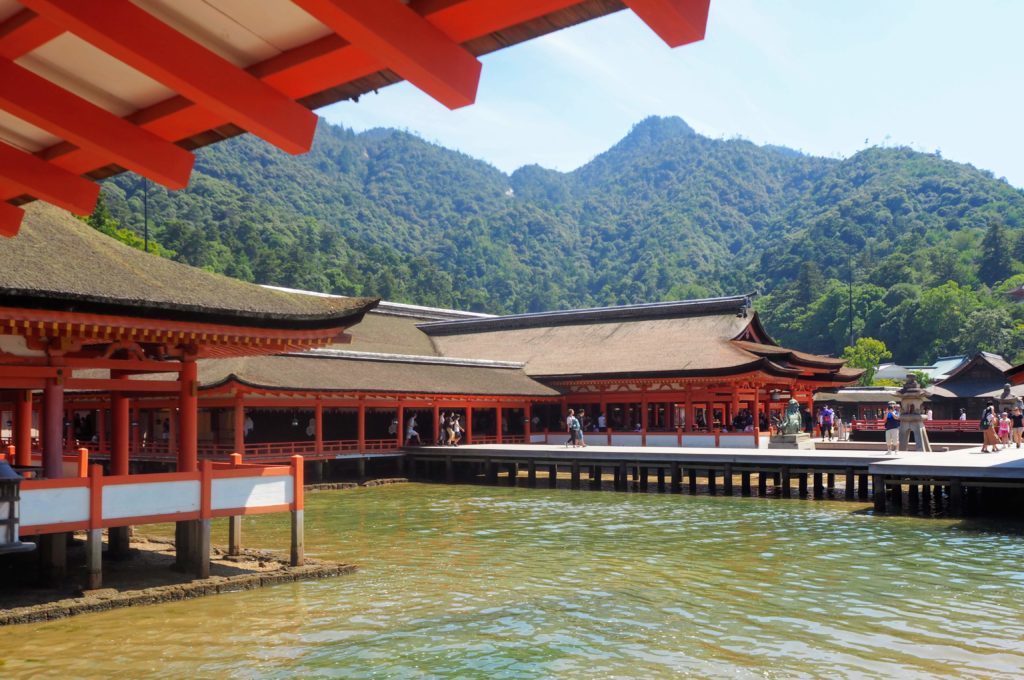 Where to Stay in Hiroshima
Stay near Hiroshima's city center, where you will be walking-distance to most items on this one day in Hiroshima itinerary. This will also put you close to many great places to eat, drink, shop, and experience Japan! 
I stayed at Guesthouse Poptone for $25 per night in a dorm room. It was a 20-minute walk from the Hiroshima Peace Memorial Park, and near the main shopping districts of Hiroshima. Other places to stay near the city center include: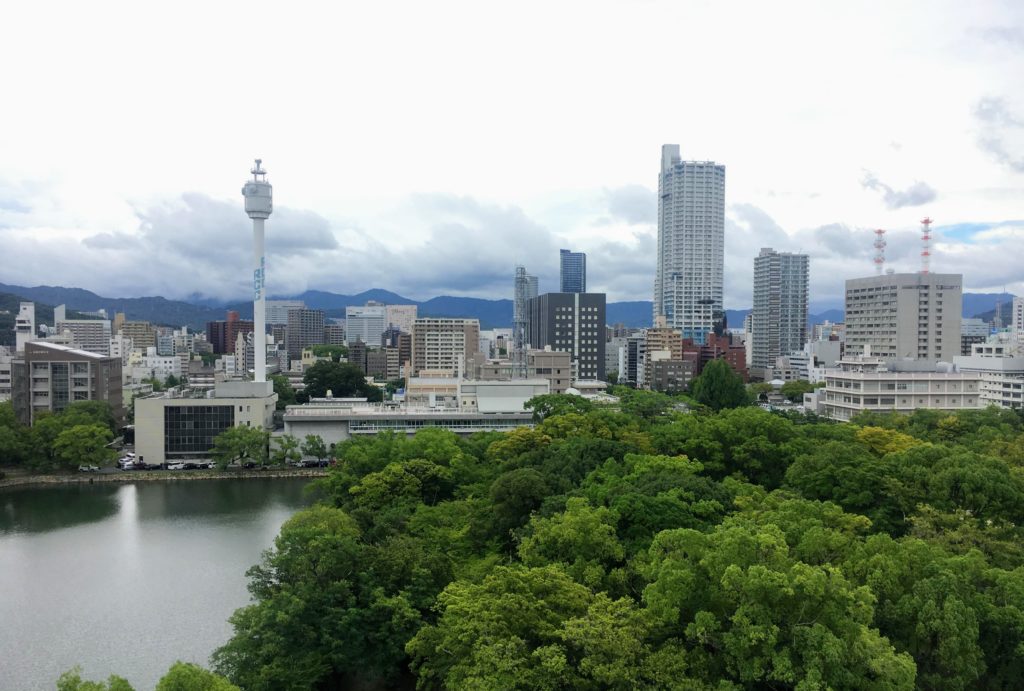 One Day in Hiroshima Itinerary
Morning - Head to the Hiroshima Peace Memorial Museum
Start your one day in Hiroshima by visiting the Hiroshima Peace Memorial Museum. Seeing the exhibits and feeling this history of Hiroshima will set the stage for visiting the rest of the Memorial Park. Entrance to the museum costs 200 yen per adult. 
Reading about victims of the bombing is an emotional and heavy experience. The museum showcases not just the 80,000 lives that were lost on impact, but also the "hell on Earth" and immense suffering from radiation poisoning that followed. 
If you're visiting with children, be mindful of the gruesome imagery, drawings, and descriptions of suffering that are on display. Black-and-white photographs of severely burned bodies are common, as well as drawings made by bombing survivors of the horrifying scenes they saw (piles of burning corpses, and bodies floating down the river.) 
Exploring just the Peace Memorial Park and the Atomic Bomb Dome are kid-friendly ways to learn about Hiroshima's history.
Visit the Memorials in the Peace Memorial Park
Many memorials in Hiroshima's Peace Memorial Park should not be missed during one day in Hiroshima. A number of memorials in this park pay tribute to different victims of the bombing.
The 

Cenotaph for the Atomic Bomb Victims

 is in the center of the park. Visitors can toss a coin into the prayer box to say a prayer for the victims, or leave flowers around it. 
The 

Flame of Peace

 lies across the reflecting pond from the Cenotaph. The flame will only be put out once all nuclear weapons are eradicated from the world. 
The 

Peace Bell

 is located to the north of the Flame of Peace, which visitors can ring respectfully to remember the bombing victims and pray for world peace. 
The 

Monument for Unknown Victims

 is a large earthen mound where tens of thousands of people's ashes are buried. None of these victims were able to be identified due to the atomic bomb.
See a full detailed map of the Hiroshima Peace Memorial Park 
here
.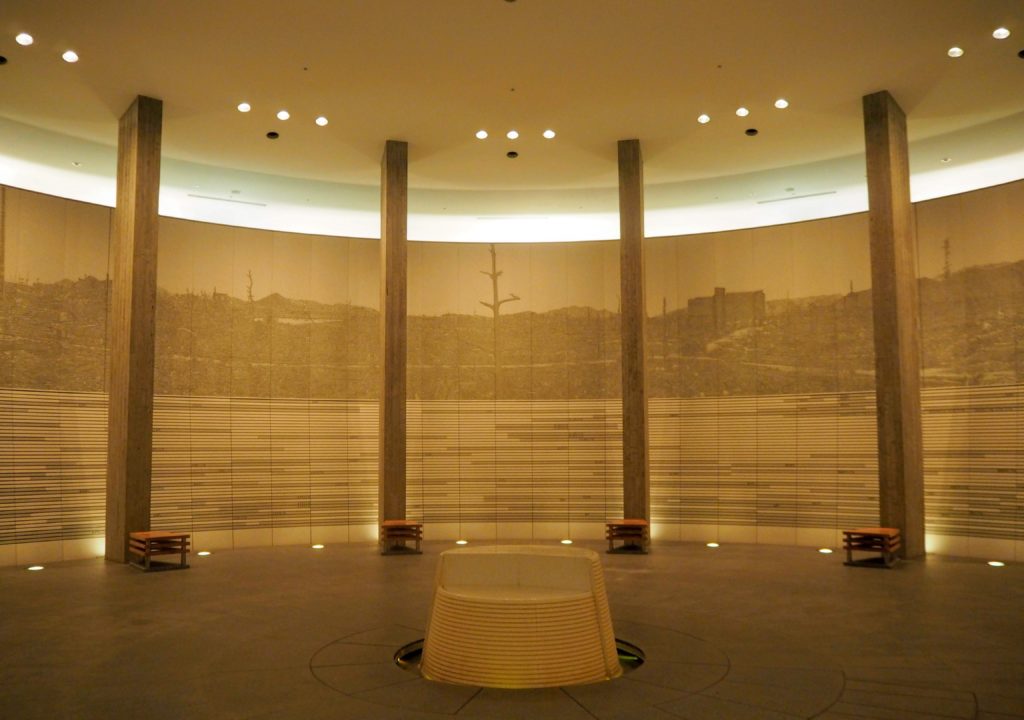 During one day in Hiroshima, do not skip the Memorial Hall for Atomic Bomb Victims (pictured above) and the Children's Peace Memorial (pictured below).
The Memorial Hall for Atomic Bomb victims gives you a 360 degree view of a devastated Hiroshima, from near ground zero of the atomic bombing. It's a child-friendly way to take in how an atomic bomb can flatten a city. The Memorial Hall also houses a collection of names and photos of atomic bomb victims.
The Children's Peace Memorial is dedicated to Sadako Sasaki, of the story "Sadako and the Thousand Paper Cranes." I highly recommend reading Sadako and the Thousand Paper Cranes by Eleanor Coerr before visiting Hiroshima, or reading the picture book Sadako with your children. 
Sadako was two years old when the atomic bomb dropped near her home in Hiroshima. Though she survived the bombing, she developed leukemia from radiation poisoning 10 years later. 
While hospitalized she set a goal of folding 1000 paper cranes, based on the Japanese belief that if you fold 1000 cranes, your wish will be granted. She died before reaching her goal, at the age of 12. 
At the Children's Peace Memorial is a bell that visitors can ring to pray for peace, as well as many thousand paper crane mobiles on display. You can even fold and contribute your own paper cranes here. 
Behind this memorial, a reading of the picture book Sadako takes place in different languages, which is another kid-friendly way to learn about the history of Hiroshima. 
One of the most mesmerizing memorials in Hiroshima is the Atomic Bomb Dome, nicknamed the A-Bomb Dome. Seeing the skeleton of the building that was so close to the atomic bomb's hypocenter is a haunting reminder of the damage that can be done by nuclear warfare. 
This dome is a symbol for the resilience of the city, and is a must-see during your one day in Hiroshima. 
Atomic Bomb Hypocenter Sign
The Atomic Bomb Hypocenter sign is a mini pit-stop near the Hiroshima Peace Memorial Park. This nonchalant sign marks where ground zero was for the atomic bomb. 
600 meters above this sign, the atomic bomb detonated.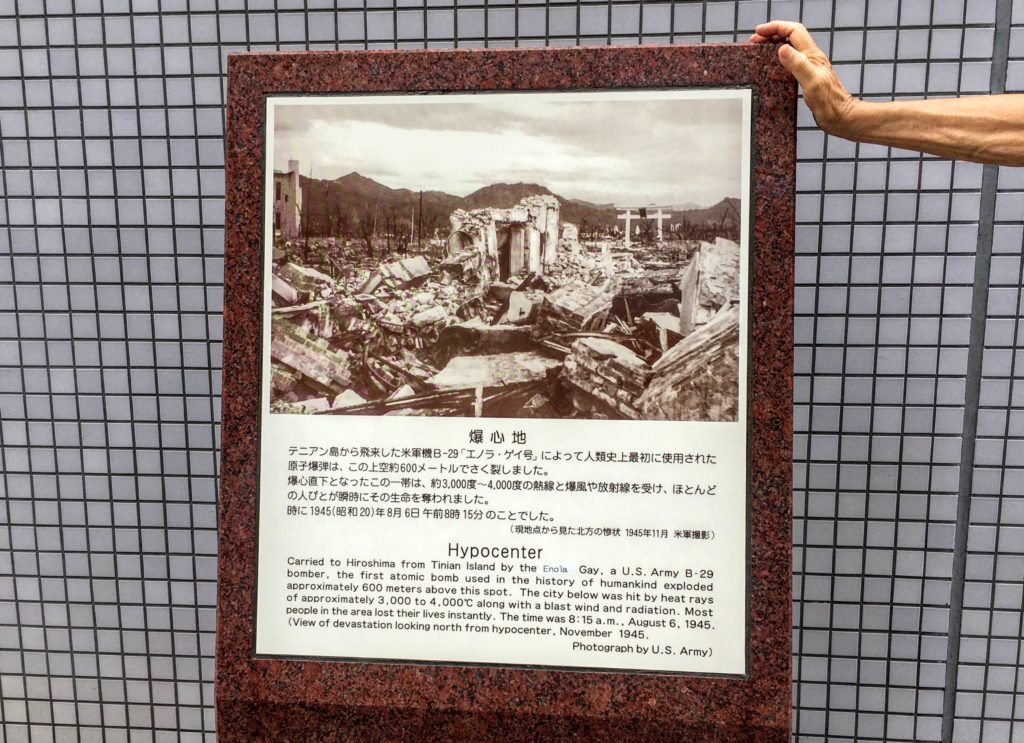 For lunch, head somewhere that is sure to brighten your mood. Try Hiroshima's specialty street food – Okonomiyaki! 
Okonomiyaki is Japan's pan-fried savory pancake, made from a flour-based batter, shredded cabbage, bean sprouts, and egg. Add other ingredients to your liking such as pork strips, octopus, shrimp, mochi, or cheese. In Hiroshima, okonomiyaki is made with noodles mixed inside the batter too. This is all fried on the griddle, then served with sauce on top.
Okonomiyaki-mura (translated to Okonomiyaki Village) is a great place where foreigners and locals go to get their okonomiyaki fix. It's packed with dozens of okonomiyaki restaurants, so take a seat at any one! All okonomiyaki can be made vegetarian with the meat taken out of it. On most menus there is yakisoba, fried noodles, that you can order too. 
Afternoon - Hiroshima Caste
Continue your one day in Hiroshima by heading to Hiroshima Castle. The original Hiroshima Castle was built in the late 1500's. The Asano feudal family lived and ruled from the castle for 12 generations, until the Meiji restoration which brought an end to feudal domains. 
The castle was destroyed by the atomic bomb in 1945. The restored version of the castle that stands today was constructed in 1958, and it is now more of an exhibition than a reconstruction of history. Inside, you can hold a real samurai sword, dress up as a samurai, and watch videos about the history of Hiroshima before the bomb. There is also a 360-degree view over Hiroshima City from the top floor of the castle.
Entrance to the castle costs 370 yen for adults and 180 yen for seniors and high school students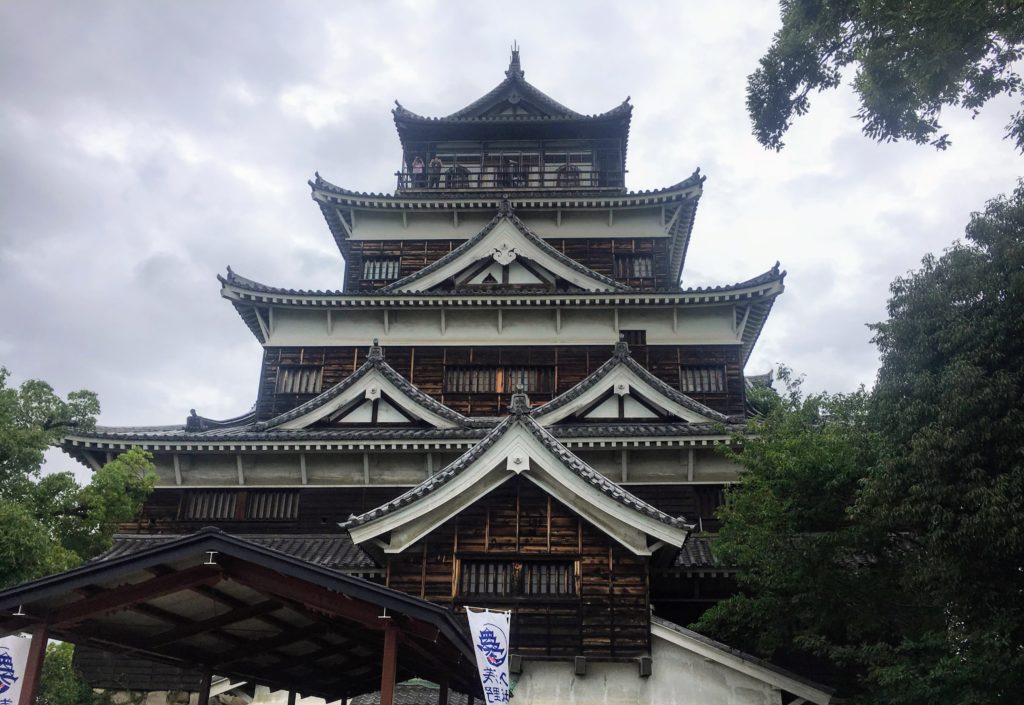 Time to experience some natural beauty during your one day in Hiroshima. Shukkeien Gardens rivals Shinjuku Gyoen in landscaping and cleanliness, and is home to large Japanese gardens and several teahouses. It was first constructed for the Asano feudal family in 1620 but like everything in Hiroshima, it was destroyed in 1945. Shukkeien Gardens as it is today was rebuilt in 1970. 
It is currently listed as one of Japan's Top 100 Historical Parks and Natural Scenic Spots. Depending on the season you are visiting Hiroshima, you can enjoy the park's cherry blossoms, azaleas, or koyo autumn foliage. 
Entrance costs 260 yen for adults, and 150 yen for students.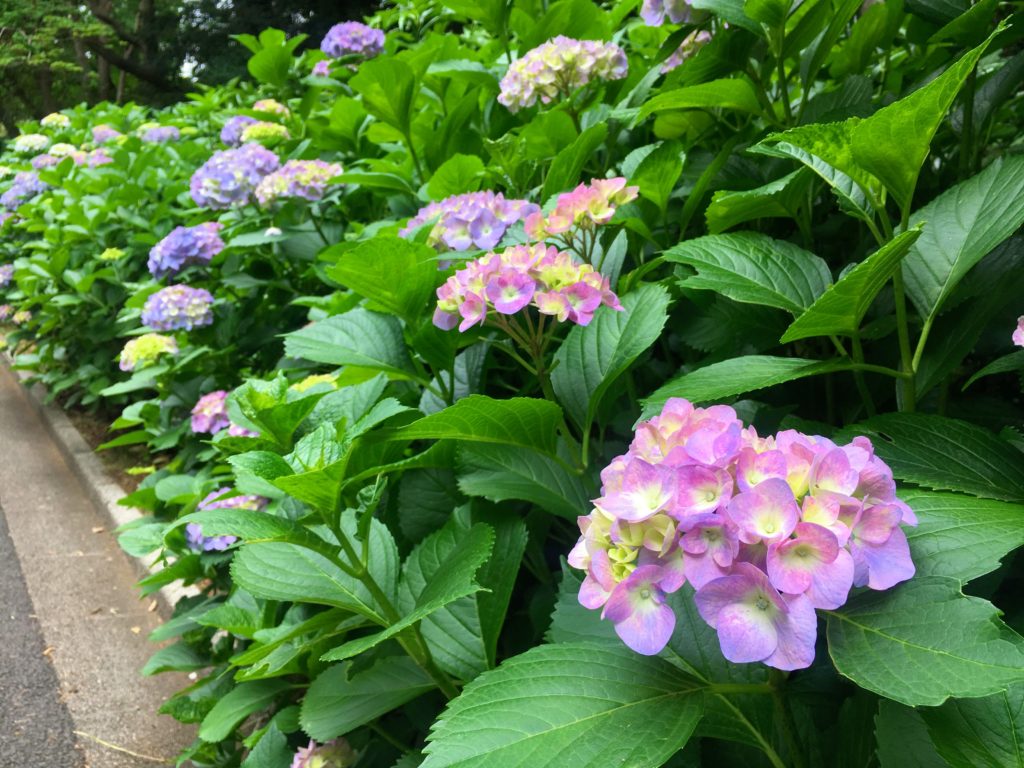 Visitors will be pleased with the number of raved-about restaurants in Hiroshima. Here are two recommendations that are both within walking distance from the Hiroshima Peace Memorial, ranked #3 and #1 for Hiroshima Restaurants on Tripadvisor. 
For Japanese food other than okonomiyaki, try Okkundo Mazemen. Their speciality is mazemen, which is a type of ramen where the reduced broth and a soft-boiled egg is mixed in with the noodles. Choose your level of spiciness, extra toppings, and even super-size your mazemen. 
If you're looking for great Western food, check out Pizzeria PARCO della PACE, owned by a local who spent over a decade in Italy. Try their traditional Italian pizzas, or try one with a Japanese twist – with a fried octopus topping! 
Evening - Hiroshima Shopping Streets and Peace Memorial Park at Night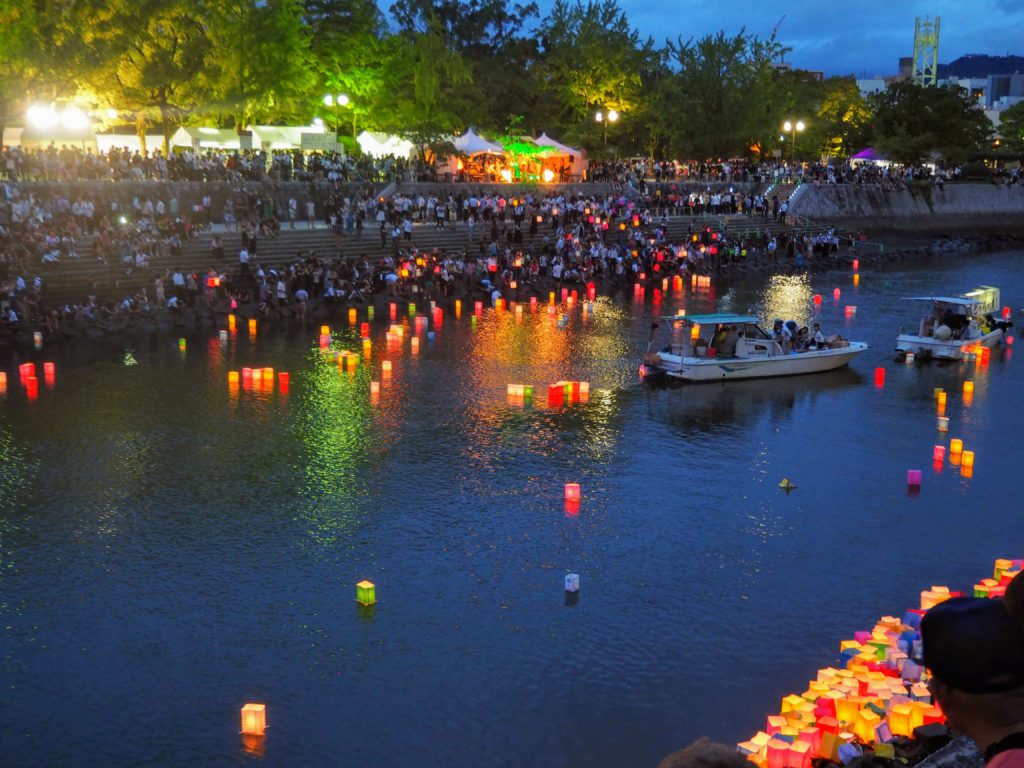 As your one day in Hiroshima is coming to an end, take some time to wander around the Peace Memorial Park in the evening. Many of the iconic monuments are lit up at night, including the Atomic Bomb Memorial Dome. 
Take a detour as you make your way back to your accommodation, and stroll through the many shopping streets of Hiroshima. They'll be winding down in the evenings, but Hondori (arcade ave) and its surrounding streets are popular with locals going out for drinks and karaoke.