This circuit around Interlaken, Grindelwald, and Lauterbrunnen in the Jungfrau region of the Alps was one of the most beautiful treks I've done in my life.  And I've trekked the Himalayas! 
I highly recommend it for people who love being in the mountains! In Switzerland it's possible to take (expensive) trains to almost all of the amazing viewpoints. But I think it's much more rewarding and impressive to take yourself to the top using your own two feet.
With this trekking itinerary you'll spend four days in the Jungfrau region, two of which will be spent trekking.
Itinerary:
Day 1 – Arrive in Interlaken
Day 2 – Interlaken to Grindelwald
Day 3 – Grindelwald to Lauterbrunnen via Eiger Trail
Day 4 – Lauterbrunnen to Interlaken, optional side treks
Day 1 - Arrive in Interlaken
Interlaken is a beautiful little Swiss town with a tourist focus but local feel. Its name literally means "between lakes", and both of the lakes its situated between are a dazzling turquoise blue.
For your accommodation in Interlaken, I recommending staying the night at Balmers Tent Village where you can leave your large luggage in their storage room. The Tent Village has some kitchen facilities, a jacuzzi, small pool, and a bar, and their partner location Balmers Hostel has a fully equipped kitchen to use. 
Things to do in Interlaken:
If you have free time in Interlaken, I recommend taking the bus to Kifferinselli Park. It's a free "beach" where people can lay out on the grass and take a dip in the lake water. Alternatively, if you want to spend some time exploring the lakes, there are many boat tours that can take you to see some wonderful sights! 
To Prepare for the Circuit Trek:
Pack a small day bag with clothes and necessities for the next two days and two nights of trekking. Buy breakfast, snacks, and lunch for the next day at the supermarket across the street from Balmers!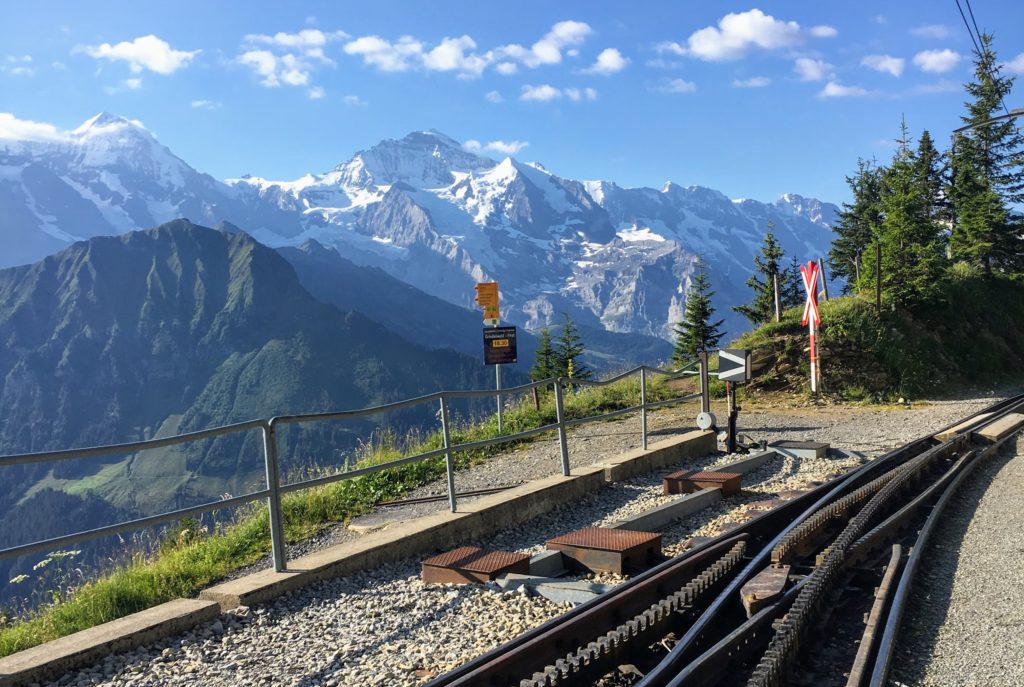 Day 2 - Interlaken to Grindelwald
Interlaken to Schynige Platte: train 30 mins
Schynige Platte to First: 5-6 hours trekking
First to Grindelwald: 1-2 hours trekking, or gondola down
Take the 7:04am bus from Interlaken to Wilderwil station (or walk 15 mins, but every hostel in town gives you a free bus ticket). This gives you enough time to take the first train that leaves for Schynige Platte at 7:25am. Taking the first train will hopefully get you the clearest views of the Alps from the top before the afternoon haze comes in. 
You can buy your train ticket to Schynige Platte once you arrive at Wilderswil station (32 CHF one way) with plenty of time to spare.
At Schynige Platte
The train takes about 30 minutes to get from Wilderswil to Schynige Platte. Here, you can go up to the restaurant patio to take in the panorama view of the Alps. The restaurant also has free public wifi, and clean bathrooms. 
Next to the train tracks at Schynige Platte, the trail to First starts! Follow the yellow signs to First/Faulhorn, and keep in mind that the times listed are usually an overestimate for how long it will take to reach the destination (at least for me, moderate level trekker).
About 40 minutes in, on the left there is a hut with a beautiful view of the Interlaken valley and the two lakes. The view of the mountain range behind you on the trail is spectacular also.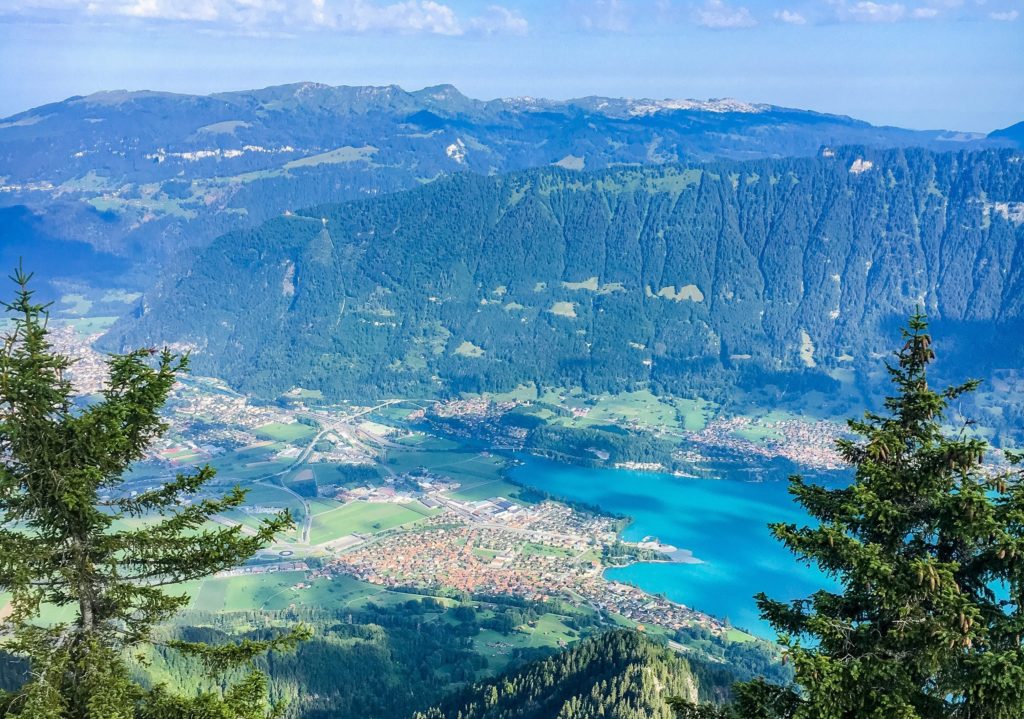 It takes about 3-4 hours to get to Faulhorn from Schynige Platte. It's 100% worth it to hike up an extra 15 mins to the top of the hill for the 360 degree views, instead of taking the easy trail on the side.
From Faulhorn it's about 40 minutes of (steep) downhill to Alpensee, a nice spot to picnic. Here, there are hoards of tourists who come up from Grindelwald in the opposite direction.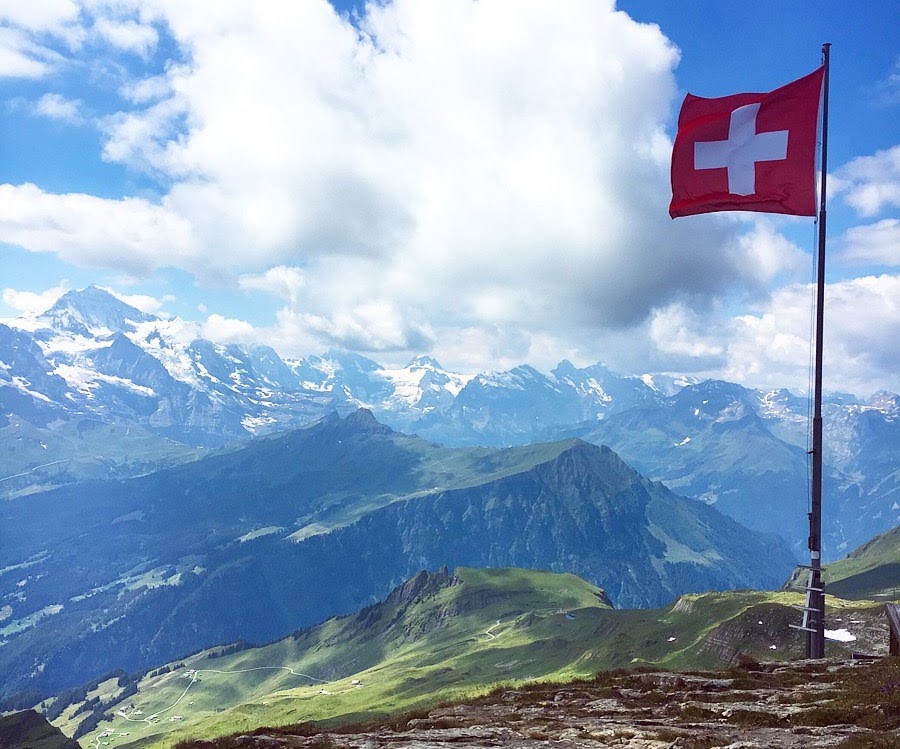 It's 50-60 minutes more to First from Alpensee. Head over to the walkway that wraps around the side of the cliff, which leads you straight to the restaurant terrace at the top. 
At First there is a sit-down or self-service restaurant, nice bathrooms, a water filling station, and a gift shop. I ate my own lunch at the picnic tables in the self-service section, and many others were doing the same without any issue.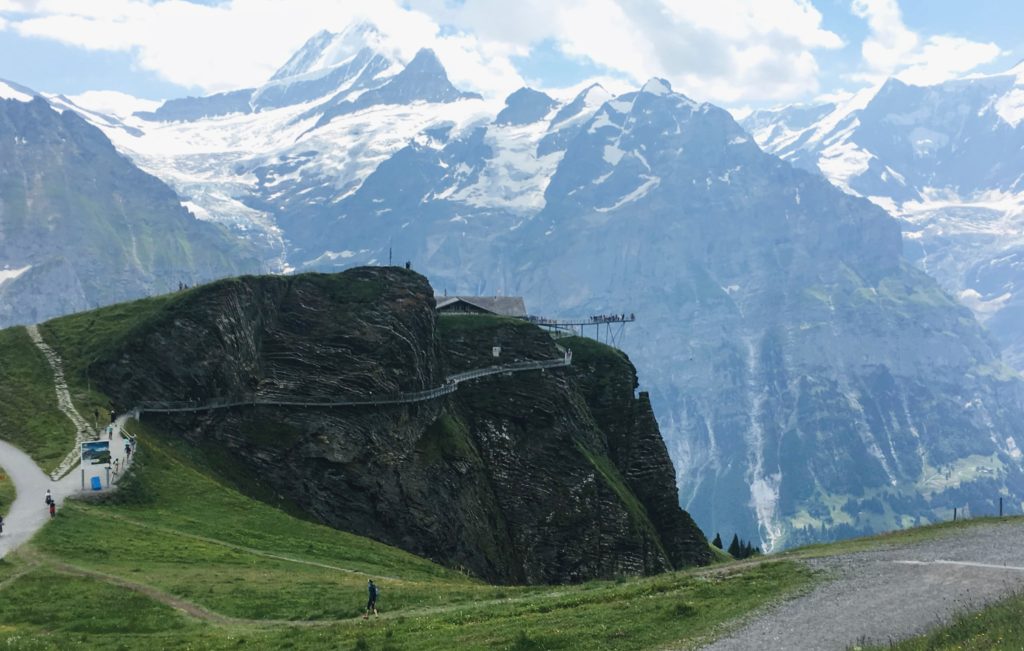 From First, it takes about 2-3 hours to reach Grindelwald (another steep downhill) by foot. You also have the option to take the gondola down, for 30 CHF.
You can skip First entirely and start the decent to Grindelwald from Alpensee. The signs will point you to the trail, and it lists 2 hours and 45 mins to reach town. I personally liked the terrace at First, and would probably still choose to detour to First if I were to do this a second time.
In Grindelwald I stayed at Hotel Alpenblick, which has amazing views from the patio. Here there are no kitchen facilities aside from a water boiler and microwave, but their diverse free breakfast in the morning makes great take-away snacks for the road! (I snagged some boiled eggs, apples, and a mini packet of Nutella).
Hotel Alpenblick gives you a free bus pass as well. You can use it to get to Grindelwald's main bus station the next day, or go to the grocery store in the town's main square.
Day 3 - Grindelwald to Lauterbrunnen via the Eiger Trail
Grindelwald to Alpiglen: 2 hours trekking or 20 min train
Alpiglen to Kleine Scheidegg: 2-3 hours trekking
Kleine Scheidegg to Wengen: 1.5-2 hours trekking
Wengen to Lauterbrunnen: 1 hour trekking or 20 min train
TOTAL: Grindelwald to Lauterbrunnen: 7-8 hours trekking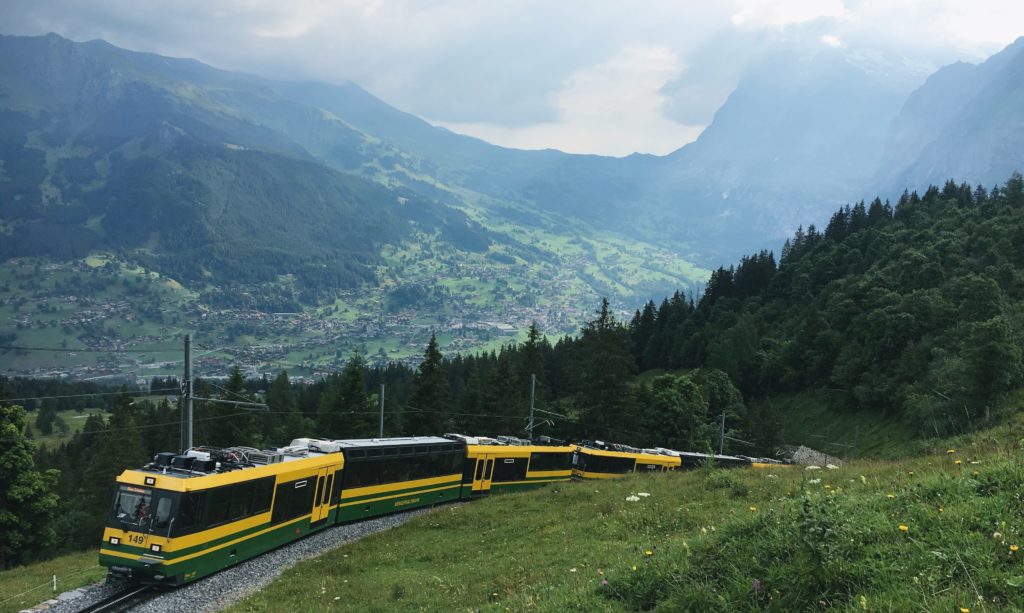 Take a bus to Grinelwald city center or Grindelwald Grund. Here you'll find yellow trekking signs pointing you up the side of the hill to go to Kleine Scheidegg (or Brandegg or Alpiglen, which are the train stops along the way).
I hiked up this steep uphill section, and took about 1.5 hours to reach Alpiglen. For 16 CHF from Grindelwald or 13 CHF from Grindelwald Grund, you can take a train to Alpiglen, which in hindsight might have been a better idea to save energy for the rest of the long day.
The Eiger Trail
From Alpiglen, follow signs to the famous Eiger Trail. This trail is a detour which means you'll take about an hour longer to get to Kleine Scheidegg, but it's worth it. You'll see waterfalls, stunning views of the Grindelwald valley, as well as the buildings at Schynigge Platte, Fauhorn, and First. You can look back at the entire distance you walked the day before. 
You may meet some trekkers who are on their way to hike the Eiger summit here. When the weather is clear you can see some ladders built into the mountain cliffside, with these daredevils climbing up them!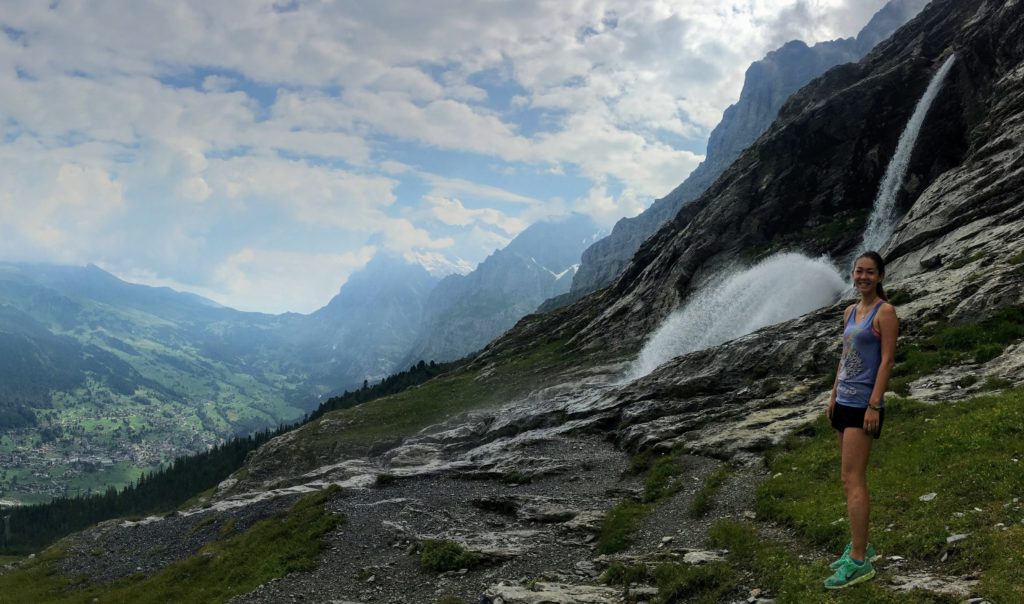 The Eiger trail coming from Grindelwald is mostly uphill, and ends at Fallbodensee. This is a man-made reservoir where you can dip your feet in a small pool of water at the side. From here, it's an easy 10 minutes to Kleine Scheidegg. At this train station there are restaurants, hotels, beer and ice cream stands, nice restrooms, and giftshops.
From Kleine Scheidegg there are connecting trains to Wengen and Lauterbrunnen (for 24 CHF and 30.80 CHF respectively). There are many tourists here taking a tour to Jungfraujoch, the viewpoint to the "Top of Europe". Train tickets cost 152 CHF round-trip in the high season, from Kleine Scheidegg. 
Descending to Wengen and Lauterbrunnen
Behind Kleine Scheidegg's train tracks is the start of a wide, family- and dog-friendly trail to Wengen which took me a slow 2 hours. 
The views of Jungfrau mountain from this trail were really stunning, and I would recommend walking down at least to the next train station before riding down! 
I took a train from Wengen to Lauterbrunnen for 6.80 CHF to avoid one more hour of steep downhill.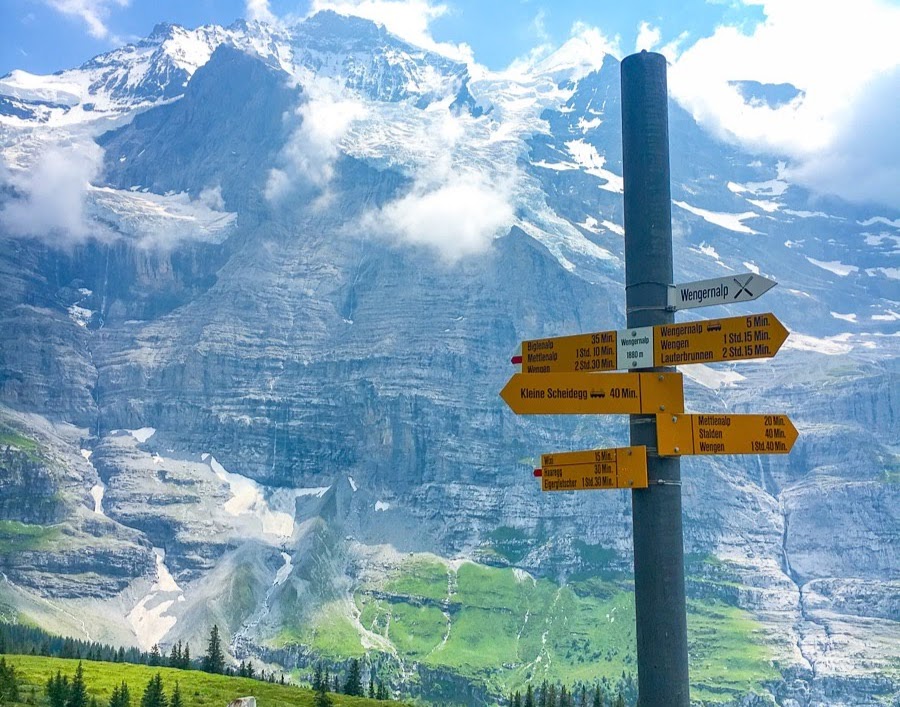 My Lauterbrunnen accommodation was Valley Hostel, which is close to the train station and Coop grocery store, and has two large kitchens and an outdoor terrace.
Walk to the front of Chatlet Pironnet down the street for a super picturesque view of the Lauterbrunnen church and Staubbach waterfall behind it!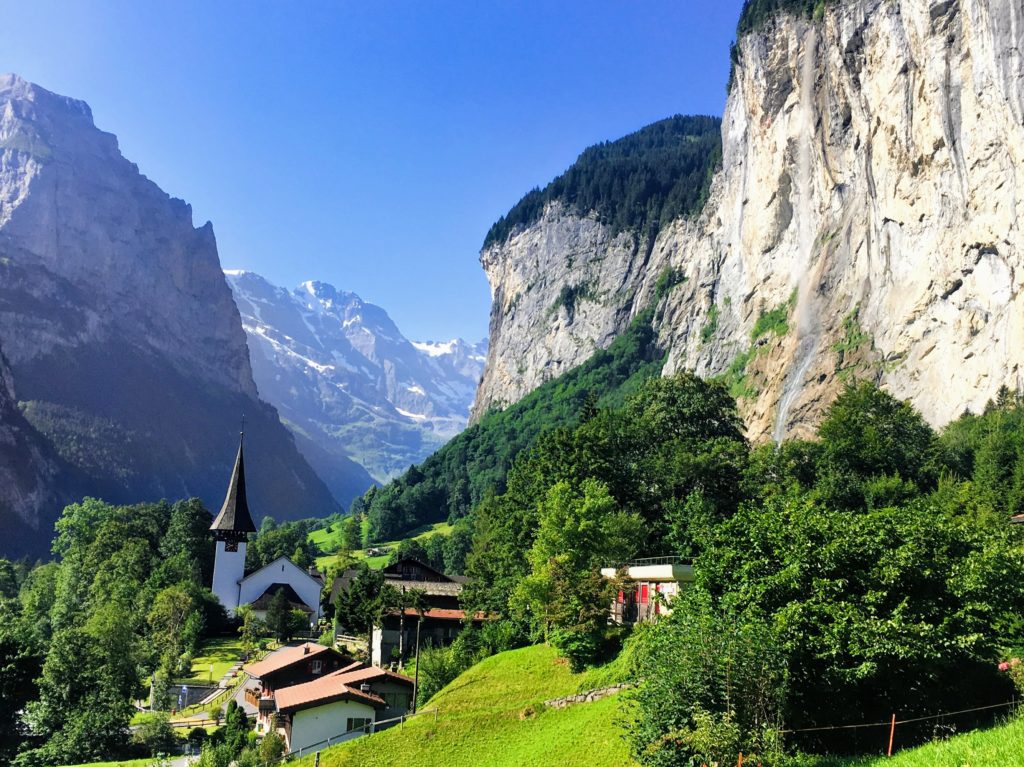 Day 4 - Lauterbrunnen to Interlaken, optional side treks
There are many side treks around Lauterbrunnen including summiting Männlichen or visiting the village of Mürren. There are yellow signs scattered throughout all of the town pointing you to all of the options. 
Lauterbrunnen is well connected, so could also take a gondola most of the way up to Männlichen (for 59.60 CHF round-trip), or take a train to Mürren (22.80 CHF round-trip) as well. 
Since my knees were hurting after the last two days, I just took the train back to Wilderswil station (for 6.20 CHF). 
I walked from Wilderswil back to Balmers Tent Village in Interlaken to pick up my luggage and to complete my 4-day loop in the Alps.
I pushed myself a bit too hard to try and trek the entire distance between Schynige Platte and Lauterbrunnen in two days. 
If I could go back and change one thing, I would have taken the train up between Grindelwald Grund and Alpiglen on Day 3, or taken the gondola down from First to Grindelwald on Day 2. 
I would have also benefitted from knee braces and trekking poles!