Miyajima Island near Hiroshima is a popular day-trip destination for all travelers to Japan. It's a place to escape into nature, explore beautiful shrines, and admire the famous Miyajima sunset behind the 'floating' torii gate. I recommend spending one whole day here for your Miyajima itinerary because of everything the island has to offer including a mountain viewpoint, two large shrines and a vibrant shopping street.
Miyajima's most special vista is the Itsukushima Shrine and floating torii gate. Because the scenery changes drastically during low tide and high tide, it's good to spend one day in Miyajima and experience both tide levels. 
Getting to Miyajima from Hiroshima
Taking a ferry from Miyajimaguchi is the only way to reach Miyajima, regardless of where you are coming from. From Hiroshima to Miyajima, take the Hiroshima Dentetsu Cable Car or JR Sanyo train to Miyajimaguchi Station. 
Two ferry companies operate from Miyagimaguchi to Miyajima. One is operated by Japan Rail, and another by Miyajima Matsudai company. The only difference between the two ferries is the company that runs them – the price stays the same. If you take the JR ferry, you can use your JR pass, Suica card, or Seisshun 18 Kippu. 
The Miyajima ferry timetable can be found for the JR ferries below. Check also the JR website and the Miyajima Matsudai ferry timetable.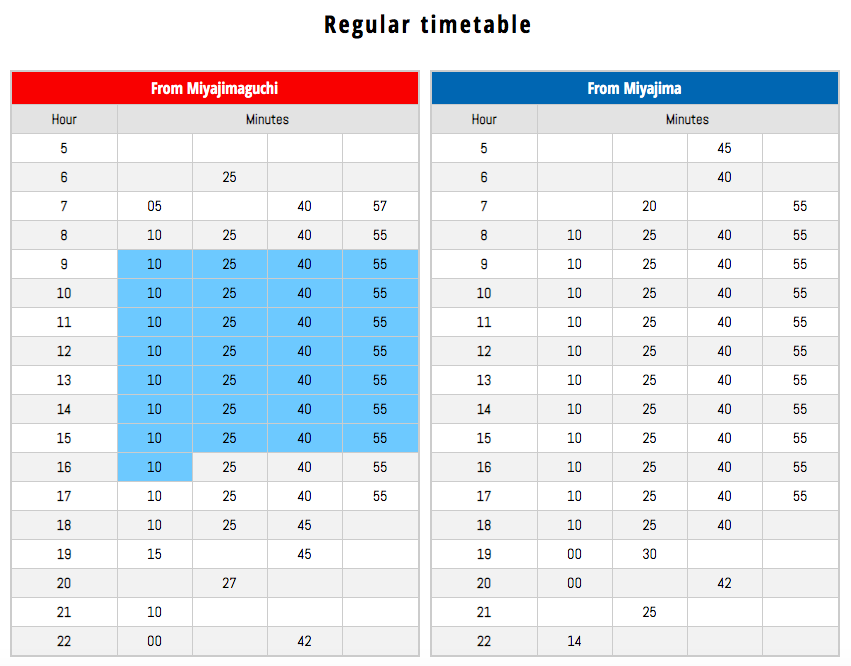 Adults cost 180 yen one-way, and 360 yen round-trip for the Miyajima ferries. Children cost 90 yen and 180 yen respectively. 
I used the JR ferry both ways, because I could use my IC card (Suica or Pasmo) to pay. Payment happens at Miyajima island's port for JR ferries going both directions. Coming from Miyajimaguchi, you pay when you disembark, and coming from Miyajima, you pay before you board the ferry. 
Planning Your Miyajima Itinerary Around The Tides
The one sight you cannot miss during your one-day in Miyajima itinerary is the Itsukushima shrine and the floating torii gate. It was incredible to see the shrine and gate during high tide, when their bases are submerged in water.  To be able to walk out near the torii gate during low tide is also a great experience.  
This is why I recommend planning your one-day Miyajima itinerary so that you can see the shrine at both tide levels. Be sure to check out the Miyajima tide forecast when planning your visit.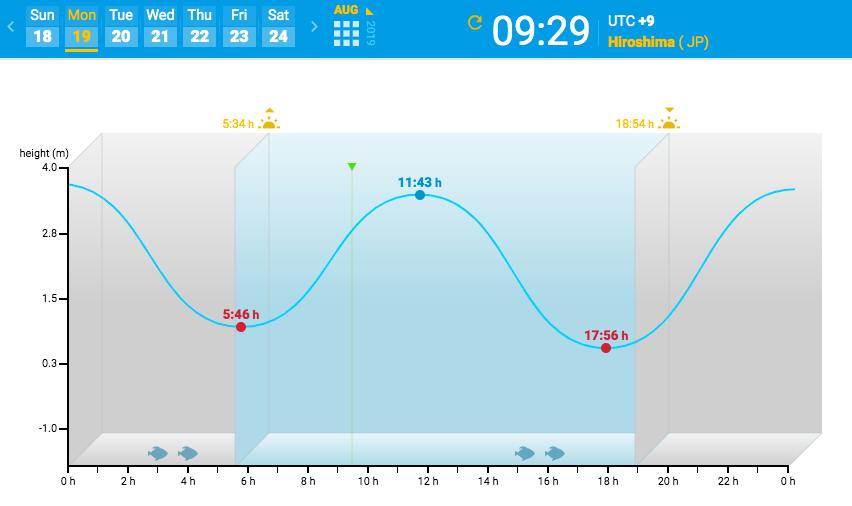 Staying Overnight on Miyajima
Because Miyajima island is calm and quiet during tourist off-peak hours, I recommend staying overnight in Miyajima.
If you arrive to Miyajima in the evening, you'll get to see the illuminated Inukushima Shrine at night, then the calmness of the island first thing in the morning.
I stayed at Miyajima Guesthouse Mikuniya during my Miyajima itinerary. I highly recommend it for its beautiful garden, friendly owners, and "Japanese culture" corner where you can try origami and calligraphy. 
Miyajima Itinerary: Arriving to Miyajima & Greeting the Deer
When arriving to Miyajima via the ferry dock, you're bound to encounter some Miyajima deer hanging around the public square. These deer aren't as hangry as the ones in Nara, but they are still docile and don't mind being pet by passerbys.
Several deer hang around Miyajima, but it's not allowed to feed them. 
To get a feel for the island, take the path along the sea shore that wraps around to Itsukushima shrine. You'll see the famous floating torii gate in the distance too. 
Miyajima Itinerary: Visit the Itsukushima Shrine and Floating Torii Gate
Whether it's high tide or low tide, visit the Itsukushina Shrine, considered one of the "Three Most Beautiful Spots in Japan" together with its floating torii gate. I prefer entering the shrine at high tide, because I love the view of water surrounding the structures. 
Entrance to the shrine costs 300 yen per adult and 100 yen per child. It's worth it to pay and wander around the boardwalks, surrounded by bright red pillars. There are several picture-perfect spots with views of the floating torii gate, and a place to buy omikuji fortunes and omamori lucky charms.
Miyajima Itinerary: Summit Mt. Misen
Japan has over 6000 islands, which is easy to forget between the neon lights of Tokyo or in the quiet forests of Kyoto. You get a glimpse of many of these islands at the top of Mt. Misen however, which as a great panorama of the surrounding ocean. 
There are two options to reach the top of Mt. Misen: Take the gondola, or hike up.  Once at the top gondola station, you need to walk about one kilometer to reach the Mt. Misen observatory. 
If you want to take the gondola, it costs 1800 yen round-trip for adults and 900 for children. It's also possible to gondola up (1000 yen for adults and 500 yen for children) and then walk down. There is a hiking path that takes you down directly to Daishoin Temple, which is a temple complex just as impressive as the Itsukushima Shrine. 
Miyajima Itinerary: Visit the Daishoin Temple Complex
This impressive set of temples is the oldest on Miyajima, and a must-visit during your Miyajima itinerary. It is an important temple for the Omuro sect of Shingon Buddhism, and is open to visitors from 8:00 until 17:00. 
After passing through the Nihomon Gate at the entrance, there is a staircase that has prayer wheels in the middle of them. Similar to Nepal, it is customary to stay to the left side, and use your right hand to spin the wheels as you go up (not even many locals know this). This will give you the same blessings as if you were reciting sutras yourself.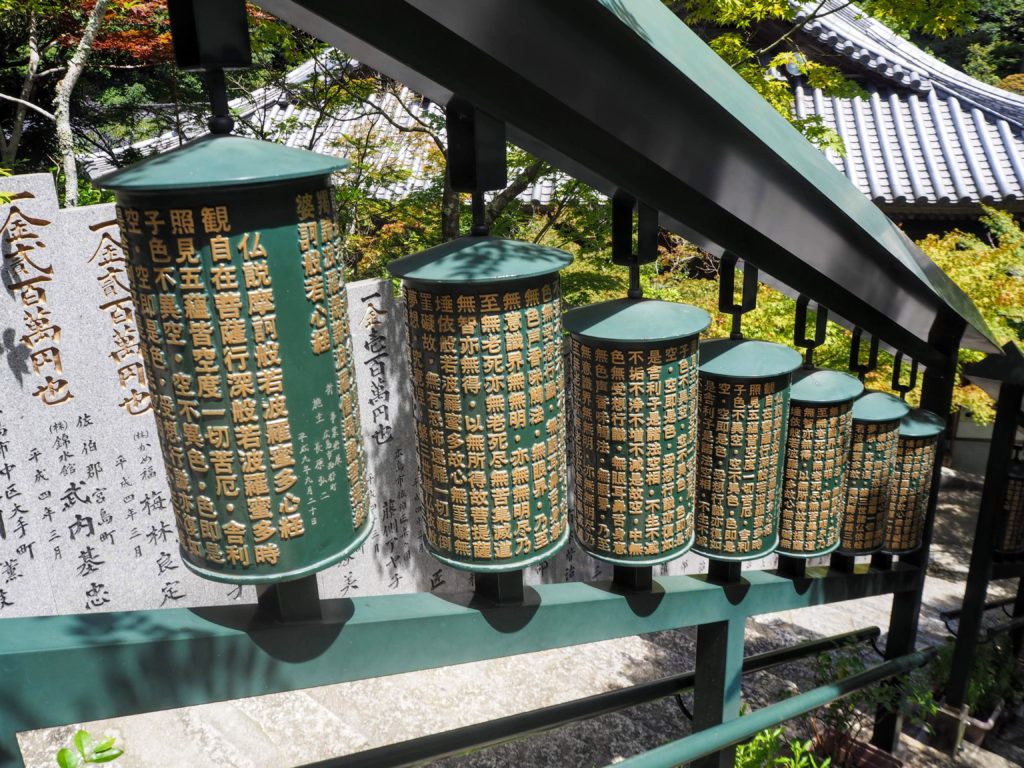 Aside from spinning prayer wheels, there are other opportunities to take part in rituals at the Daishoin Temple complex on Miyajima. At the large Kannondo hall there is a staircase, where you descend underground into darkness so you can contemplate life.
At the back of the complex is Henjokutsu Cave which has a ceiling full of lanterns. In front of the many statues within the cave is sand that represents holy locations around Japan's Shikoku area. Stepping on this sand gives you the same blessings as actually visiting this other sacred place! 
My favorite section of the temple was where the rakan statues are. Over 500 rakan statues, or monks who were disciples of the Buddha himself are lined up along a small staircase and garden.  
They all have woven hats on their heads, and are represented in different ways depending on their real-life habits and passions. Some are happy, serious, contemplative… others hold books, scriptures, or even have animals on their laps! 
Miyajima Itinerary: Lunch and Shop at Omotesando Shopping Street
Omotesando street is a perfect, lively place to have lunch on Miyajima. There are several hole-in-the-wall Japanese restaurants serving noodles, sushi, and bento box sets. There are also many larger restaurants serving international food options. You'll even find a large Starbucks and a local craft beer brewery! 
Try one of Miyajima's delicacies during your Miyajima itinerary: anago-meshi is a broiled conger eel on a bowl of rice, usually with a soy sauce-based flavor. Along the street you'll find many street food stands selling other Miyajima specialities like fried oysters and momiji manju.
Don't leave your Miyajima itinerary without trying a momiji manju. It's a popular souvenir but also a quick snack that you can pick up for 80-100 yen on Omotesando street. 
The filled pastries are made fresh every morning in the shape of a momiji Japanese maple leaf. Fillings include cheese, custard, red bean paste, chocolate, and more! 
After spending time on Omotesando street, start making your way back to the Itsukushima Shrine. Take a detour to another shrine on the way. 
Visit the Five Storied Pagoda and Hokoku Shrine
Another impressive building in the Miyajima skyline is a five-storied pagoda built in 1407. Next to it is the Hokoku Shrine, which is a library of Buddhist sutras. For a fee of 200 yen, you can take your shoes off and walk around the inside of the shrine, where there are 1000 tatami mats.
Miyajima Itinerary: Re-Visit the Itsukushima Shrine and Torii Gate
If you previously visited the Itsukushima Shrine at high tide, now see it again in low tide, or vice versa. 
When the tide is low, take the time to walk out to the Grand Torii gate and around the grounds of the shrine that were previously inaccessible. 
When I visited Miyajima in August, the low tide coincided with the sunset. Around 5-6pm is when everything on the island starts closing, including the Mt. Misen summit, so it's a great time to find a spot along the shore for sunset.  
Think about your wonderful time on Miyajima, and about your next adventure in Hiroshima or another beautiful spot in Japan! 
Heading to Miyajima? Pin this Post!
Are You Prepared For Your Trip To Japan?
Be sure to check out my Japan home page for Japan travel information, insider tips, reading list, and must-haves for traveling to Japan!