The immensely popular Mt. Takao day-trip from Tokyo might be a bit crowded for visitors looking to spend time in nature. Mt. Mitake is a perfect alternative day-trip from Tokyo that will show you the Japan countryside, without the crowds!
The entire Mt. Mitake region, also a national park, is riddled with hiking trails. A beautiful river cuts through the mountain range, which has a wide riverbed perfect for fishing and picnicking. The summit of Mt. Mitake is a holy site that is covered in shrines and temples to visit as well. 
If you're interested in more than a day-hike, read about the Kanto Fureai no Michi trail on my post about best multi-day hikes in Japan. Mt. Mitake is one of many stops along this 7-day hike near Tokyo. 
How to get to Mt. Mitake from Tokyo
Take the Chuo Rapid Line west from Shinjuku station, and change trains to the local Chuo Line at Ome station.   
Remember to fill up your Suica card before you leave! To reach Mt. Mitake from Tokyo costs a little bit more than to reach other Tokyo day-trip destinations like
Mt. Takao
or
Kawagoe
. One-way tickets from Shinjuku Station to Mitake Station cost 920 yen.
Tip: There are no convini convenience stores near Mt. Mitake. Bring snacks and a lunch from Tokyo, or be prepared to spend at least 900 yen on a meal at Mt. Mitake's summit. 
Mitake Station to the base of Mt. Mitake
Once you exit Mitake station, there is a tourist information office, restrooms, and a large map of the Mt. Mitake and the surrounding region. The information office is a great place to pick up personal maps, small souvenirs, and other pamphlets about the area. 

Although there are no convenience stores close by, there are vending machines with snacks and drinks to bring with you on the hike.
Take a left on the main road in front of Mitake Station, and less than 100 meters away is the bus station to get to the base of Mt. Mitake. A one-way ride costs 230 yen, and it takes about 10 minutes to reach where the walking trail and cable car start.
Alternatively, take a right from the station and walk along the river. You can reach the base of Mt. Mitake in about 20 minutes by foot.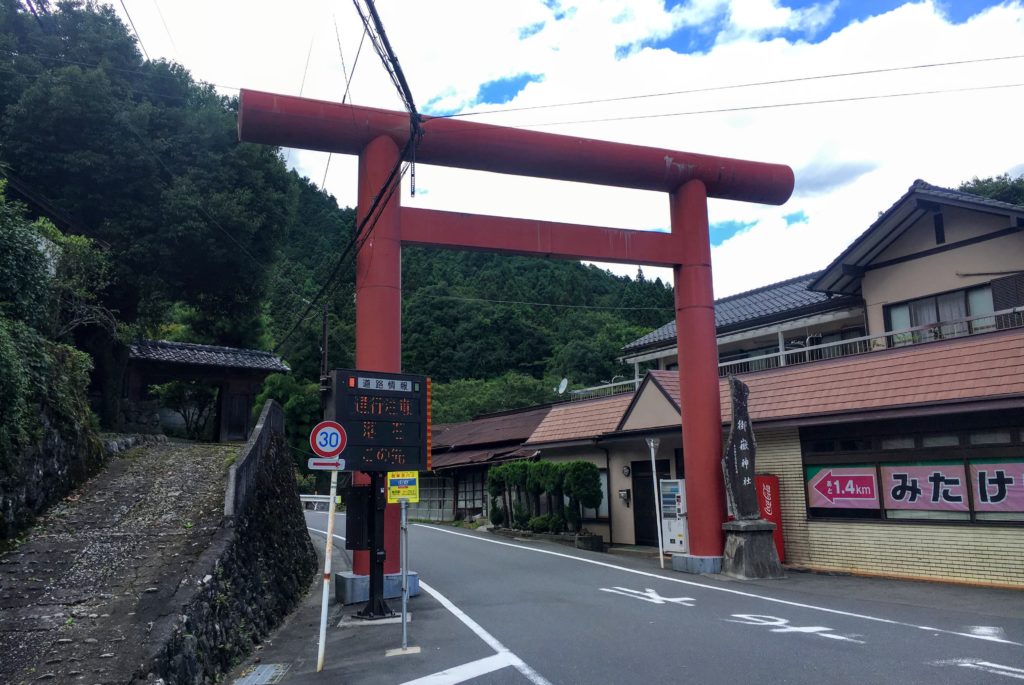 By Cable Car
The easiest way to reach the summit of Mt. Mitake is taking a cable car. Tickets are available for purchase using cash at the registers, but it is also possible to use an IC card, like a Suica or Pasmo. One-way tickets cost 590 yen, round-trip tickets are 1110 yen. 
From the top cable car station, it takes about 15-20 minutes of walking on flat road to reach the Mt. Mitake summit. 
By Foot
To hike to the summit takes about 2 hours on foot, and the starting point is next to the lower cable car station. Most of the path is uphill, and all of it is on a concrete road that is just barely wide enough for a car. 
The trail is never too steep, and very easy to follow. You can even tell how close you are getting to the top because the cedar trees along the trail are numbered. Number 800 is at the bottom, down to 1 at the top! 
Things to do at the Mt. Mitake Summit
Visit the Musashi Mitake Shrine
At the very top of Mt. Mitake's 929 meter summit is this large, 2000-year old shrine. O-inu-sama, a white wolf deity, is enshrined there to protect the area, so you may see many local visitors bring their dogs up to the shrine to be blessed. 
There is a main bright red shrine, a shop to buy omamori and fortunes, and a treasure hall with similar architecture. Behind the shrine is an even holier area with many wooden sub-shrines and a view over some neighboring mountains.  
Visit the Rock Garden
Another short hike from the Mt. Mitake summit is a rock garden. This isn't your Japanese rock garden that's been combed over, but an area with many moss-covered boulders near some waterfalls the forest. 
It's a great place to practice shinrin-yoku, or forest bathing in the surrounding greenery.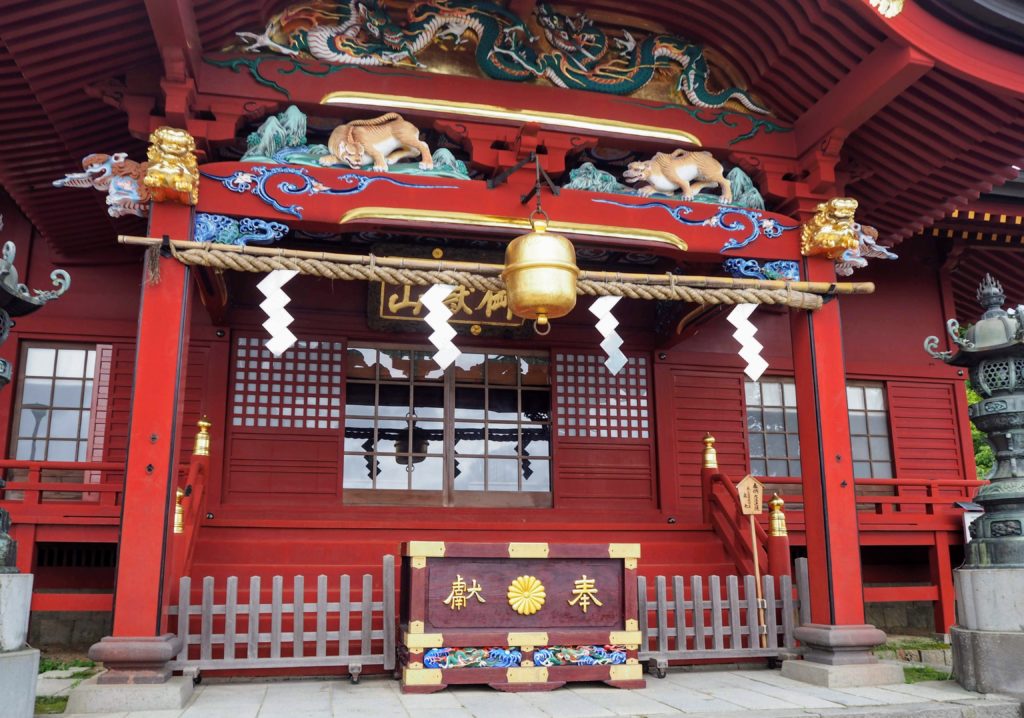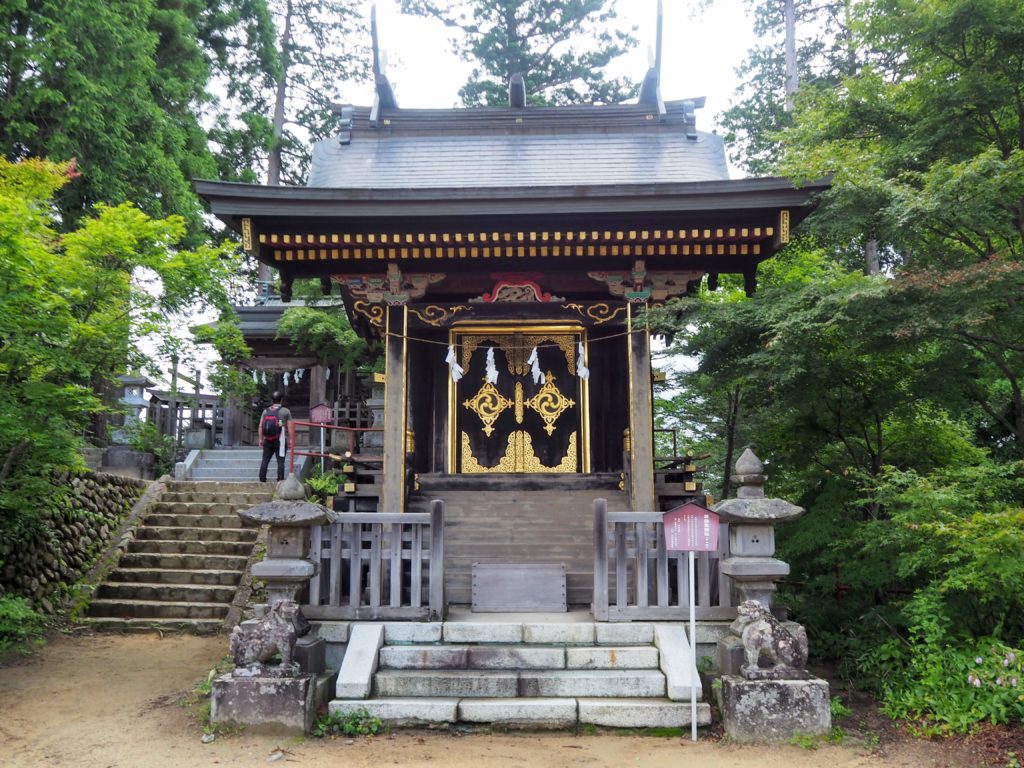 Shop for Souvenirs
The Mt. Mitake summit has a surprising number of souvenir shops. Many storefronts have toys, keychains, stuffed flying squirrels, and shelves full of gift boxes to bring home. There are handkerchiefs, t-shirts, and other items labeled Mt. Mitake that you can buy to remember your hiking achievement! 
Have a Meal with a View
Many of the restaurants lining the main commercial street of Mt. Mitake's summit have outdoor terraces or otherwise great views. Some look right over the Kanto plain for views of Tokyo and the Skytree, and others have a view into the surrounding nature. 
Stores sell Japanese traditional foods like udon, soba, and in the summer, kakigori shaved ice! 
Stay in a Ryokan or Shukubo on Mt. Mitake
If you want to extend your stay on Mt. Mitake, stay in traditional accommodation that once hosted Buddhist pilgrims. 
See these options for accommodation on Mt. Mitake:
Shukubo Komadori-Sanso – Japanese-style single and twin rooms with breakfast included.
Nobori

 – Japanese-style family room with futons, suitable for 1-5 people with breakfast and dinner included. 

 Reiunso (in Japanese only) – A certified youth hostel with dorm accommodation available. Breakfast and dinner included.
Other Trails near Mt. Mitake
From Mt. Mitake, there are several trails that take you to different mountain peaks in the area. The most popular route is to nearby Mt. Otake, which is about an hour each way from Mt. Mitake's summit.
A second summit, a little bit closer and at a lower elevation than Mt. Mitake, is Mt. Hinode. The trail to Mt. Hinode is marked near the entrance of the Mt. Mitake summit. If you are hiking the Fureai no Michi long-distance trail in the Kanto region, Mt. Hinode is where the trail marker is that you need to take a picture with!