Naoshima and Teshima, two of the Art Islands located in the Seto Inland Sea were once suffering from the effects of depopulation. For decades, the combination of young people moving to big cities, an aging population, and low birth rates has resulted in rural Japanese areas becoming abandoned. 
To prevent this fate for Naoshima, Teshima, and other islands, contemporary artists and architects were called in to create beautiful art exhibits and sculptures. The most famous of these artists is Yayoi Kusama: see two of her world-famous polka-dot pumpkins on Naoshima. In some cases, abandoned traditional Japanese homes and businesses were transformed in to art spaces themselves. 
Naoshima and Teshima are arguably the two most famous Art Islands. Exploring Naoshima and Teshima in two days is a great way to relax between the city life found in Tokyo and Osaka. 
When To Visit Naoshima and Teshima
I recommend visiting Naoshima and Teshima for two days during the Setouchi Triennale event, which occurs for about three months every year in the Spring, Summer, and Fall. 
During this event, you can purchase a Setouchi Triennale passport for ¥4000, which allows you to enter almost all of the museums on all Art Islands. Paying for entry into each museum can set you back ¥300-¥500 each time, which adds up really quickly. 
When planning your trip to Naoshima and Teshima Art Islands, note that most of Naoshima's art museums are closed on Mondays. Plan to visit Teshima, not Naoshima on Mondays. Likewise, Teshima's museums are closed on Tuesdays, so visit Naoshima, not Teshima on Tuesdays. 
How to Reach Naoshima and Teshima
The most common way to reach the Art Islands is via Uno Port. Uno Port can be reached from Hiroshima, Osaka, or Tokyo via the shinkansen bullet train, with a transfer at Okayama station to the local JR lines. 
Boats leave regularly from Uno Port (a 3-minute walk from Uno JR station) to Naoshima and Teshima. For Naoshima, boats leave from Uno Port to Naoshima's Miyanoura Port about every hour, and about every three hours to Naoshima's eastern Honmura port. See the full schedule here. 
If you want to start your Naoshima Teshima itinerary in Teshima, boats leave from Uno Port to Teshima at 6:45, 8:40, 11:10, 11:35, 13:25, 15:25, 17:30, and 19:30. See the full ferry schedule for Teshima here. 
Naoshima and Teshima Accommodation
If you have two days in Naoshima and Teshima, you'll have to spend the night somewhere! Naoshima accommodation is much more plentiful than Teshima, so I recommend staying on Naoshima. If you book early enough, you can find accommodation for fairly cheap as well. 
Naoshima Accommodation
For budget accommodation, check out the homey Bamboo Village dormitory rooms or the basic and centrally located Kowloon Dorms.
If you want to stay in quirky accommodation on Naoshima, check out luxury tents sana mane, or eco-friendly container hotel Sparky's House. 
The most sought-after place to stay on Naoshima is the Bennesse House, which is an art piece in itself. Check the availability calendar here. 
Teshima Accommodation 
Teshima as much fewer accommodation options compared to Naoshima, but is perfect for if you're looking for a quiet place to stay.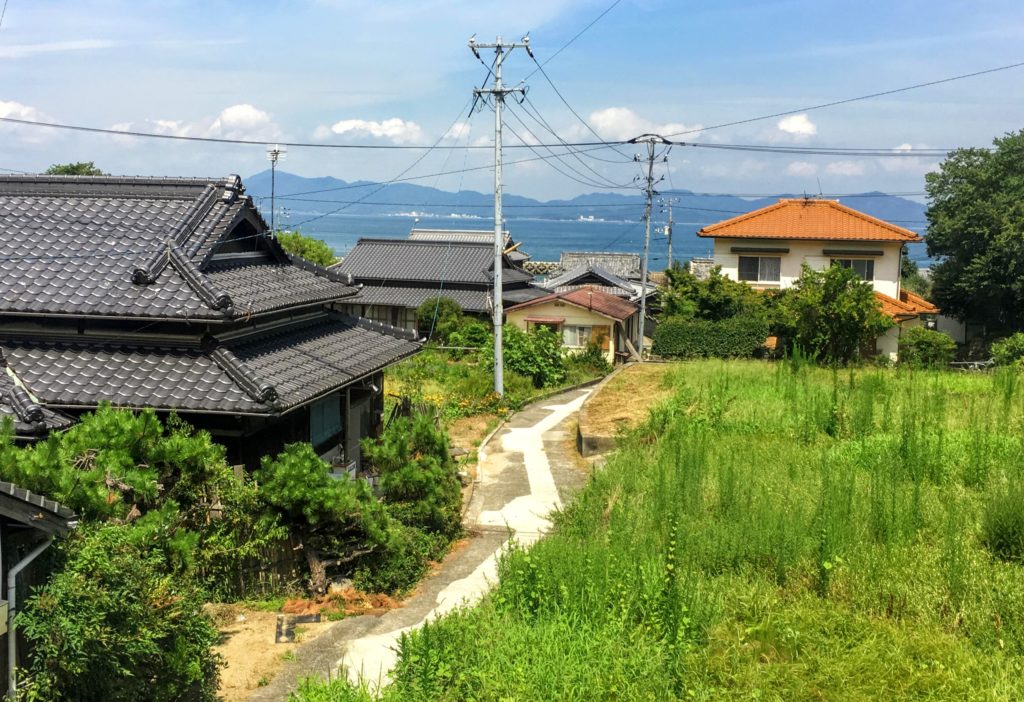 Getting Around Naoshima and Teshima
There are public busses serving both Naoshima and Teshima Art Islands. However, the busses are few and far between, so it's important to plan a Naoshima-Teshima itinerary according to both bus schedules and ferry schedules. 
Naoshima, being the smaller of the two islands, can be circled by bicycle in a one-day itinerary. Naoshima's main highlights can all also be visited with a combination of bussing and walking. 
Teshima is the larger island, and will require a long day of bike riding to see all the sites, or riding busses around. 
Naoshima, Teshima Two Day Itinerary
Naoshima - First Full Day
There are two museums on Naoshima that you should book tickets for ahead of time. These museums can be seen by reservation only:
Chichu Art Museum, home to some of Monet's Water Lillies collection. 
Kinza Art House, one of the Art House Project houses where only one person can enter at a time, for 15 minutes.
The rest of the museums and art exhibits on Naoshima can be divided into three general areas: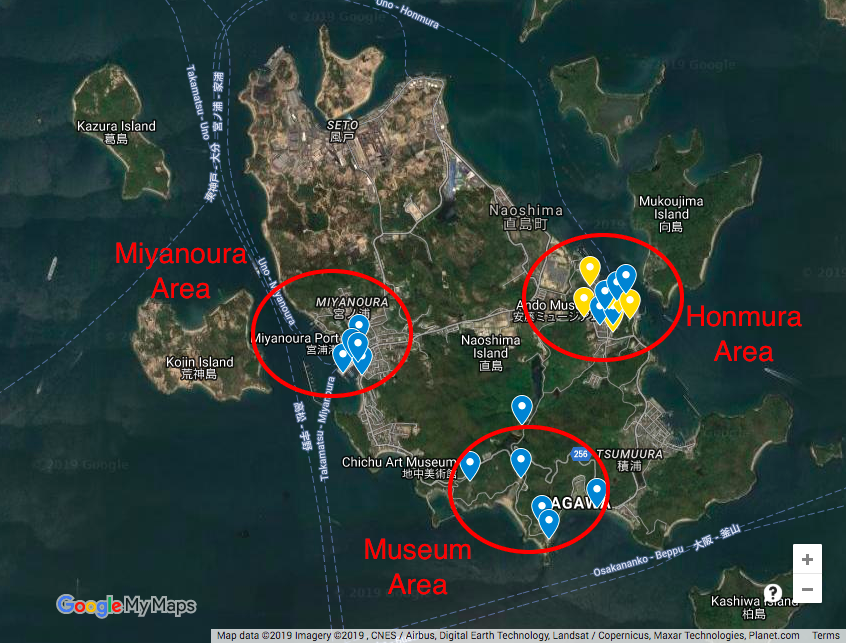 Naoshima One-Day Itinerary:
Start: Museum Area (2.5-3 hours)
Explore the Benesse House Museum, Lee Ufan Museum, and the Chichu Art Museum. All art museums are within walking distance, and cost ¥1,030, ¥1,030, and ¥2,060 respectively. If you visit Naoshima and Teshima during the Setouchi Triennale, you can enter the Lee Ufan Museum and Benesse House Museums with the Setouchi Passport. Only the Chichu Museum requires tickets bought online in advance. 
Walk down from the Benesse House Museum to Yayoi Kusama's famous yellow pumpkin! There is a small gift shop and beach here to spend time at also.
Lunch: Honmura (1 hour)
Bus to Honmura port, which is home to a few different cafes and restaurants where you can have a traditional Japanese meal (sometimes in a not-so-traditional building). See a list of places to eat on Naoshima here.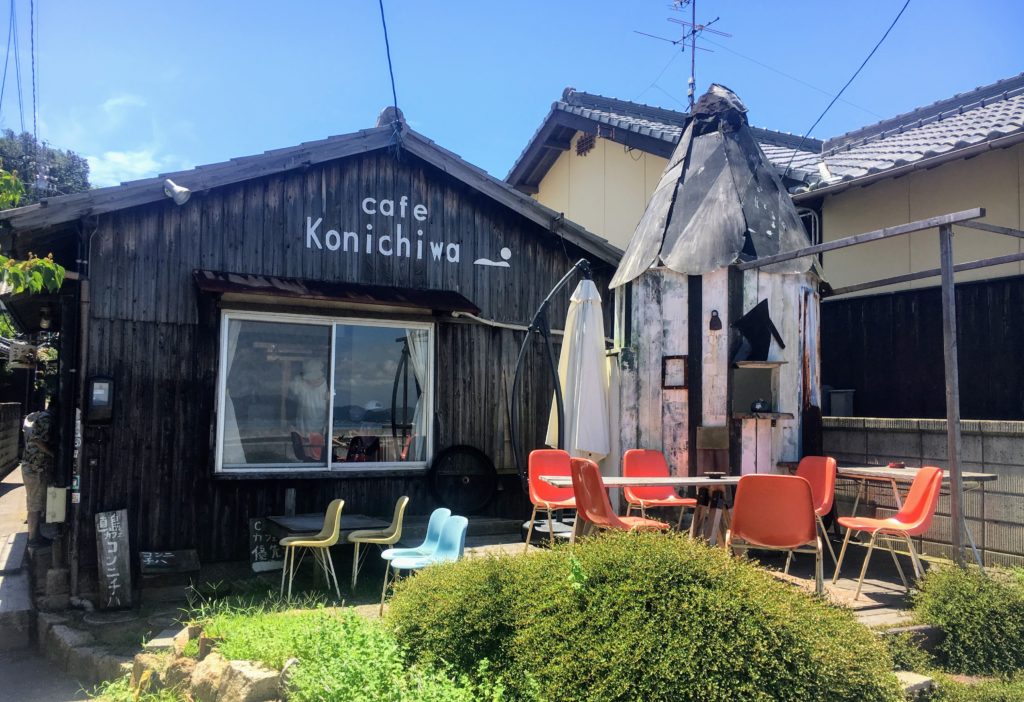 Afternoon: Honmura area and Naoshima Art House Projects (2.5-3 hours)
Honmura is home to several more famous Naoshima museums including the ANDO MUSEUM, celebrating Tadao Ando, and the Naoshima Plan 2019 水.
The Naoshima Art House Projects are the highlight of Honmura, which are seven old abandoned buildings that were converted to modern art spaces. Each Art House project is completely different from the others, and can all be viewed for a combined ¥1030 (except for Kinza, which requires a separate online booking).
Late Afternoon: Miyanoura Port (1 hour)
Bus or walk from Honmura to Miyanoura Port, home to Naoshima's information center and several statues including Yayoi Kusama's Red Pumpkin. 
See the exterior of the Naoshima Bath House, which is as quirky as can be. Inside is a Japanese public bath house, or onsen. Admission costs ¥650 per adult. Add another hour to spend at Miyanoura Port if you choose to have a soak!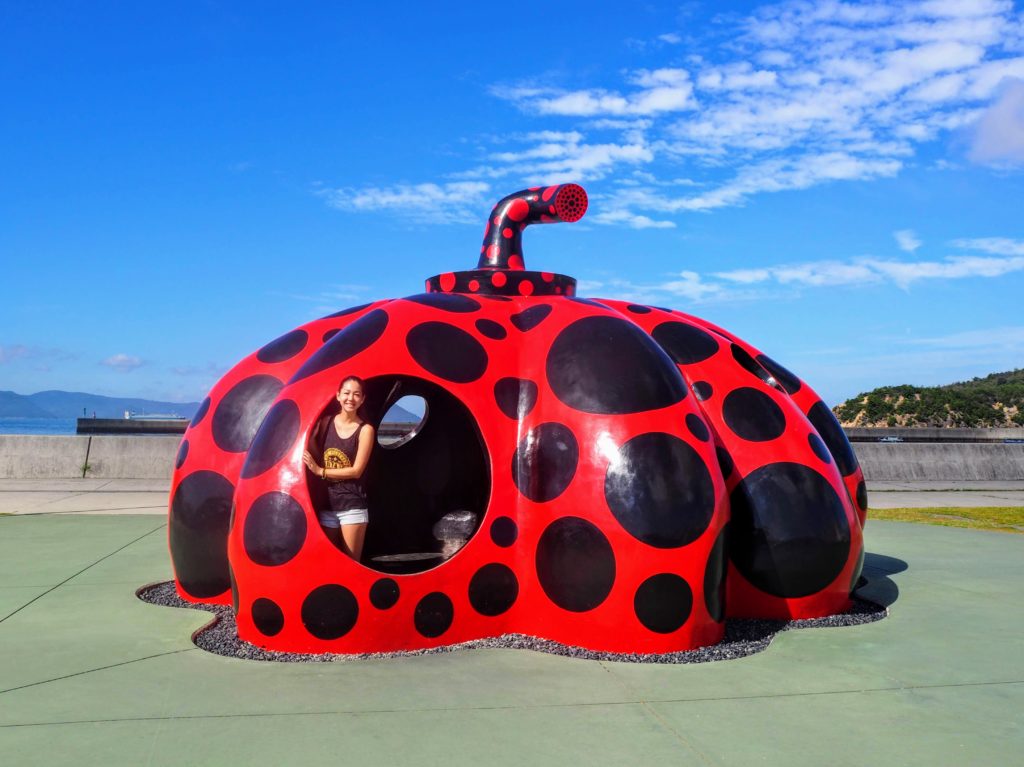 Transfer Between Naoshima and Teshima
Check the boat timetable to get between Naoshima and Teshima. For being the two most popular Art Islands, there are surprisingly not many boats between the two. 
If you're traveling from Naoshima to Teshima, the morning boats depart at 8:00, 9:00 (Honmura Port), and 9:20 (Miyanoura Port). It takes about 20 minutes to reach Teshima from Naoshima, and costs ¥620 per person.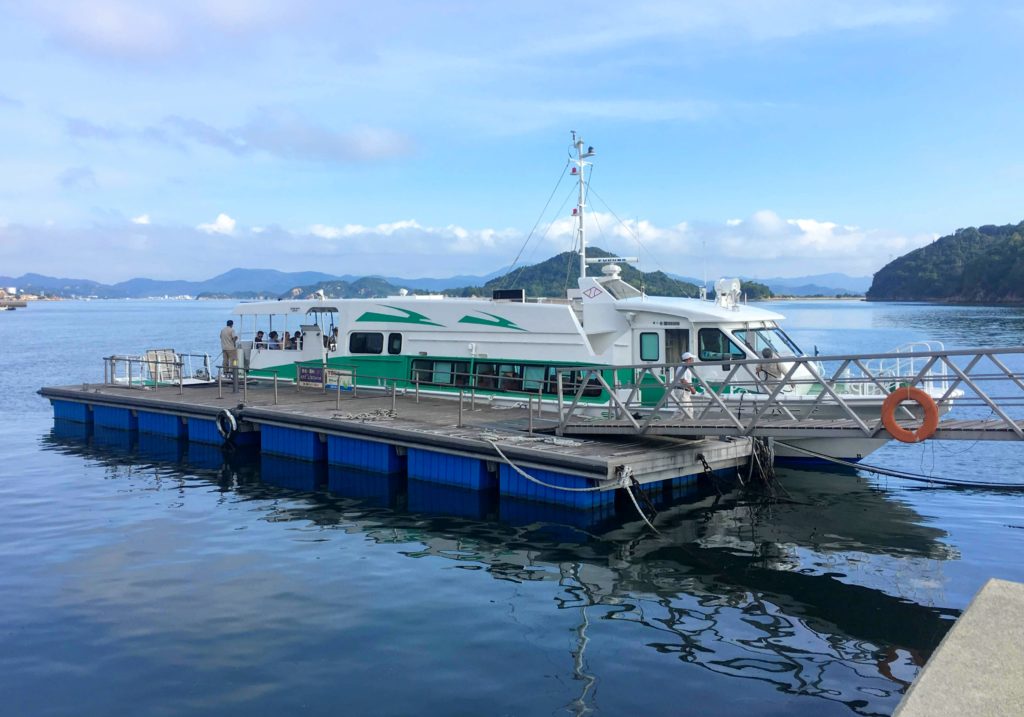 Teshima - Second Full Day
I recommend taking one of the earliest boats departing from Naoshima to Teshima, to take advantage of a full day in Teshima for your two-day itinerary. The boat leaving from Naoshima's Honmura port to Teshima departs at 8:05 and arrives at 8:25. 
There are five clusters of art exhibits on Teshima. Section A (below) is next to Ieura Port and can be explored right after arriving to Teshima, or just before leaving. There are luggage storage options at Ieura Port too. 
To get around Teshima, you can either rent a bicycle, take the bus, or walk everywhere. I did a combination of bussing and walking, which worked for me just fine. 
Teshima's bus routes only go in two directions: Section A to Section B and back, and the other from Section A, through Sections C and D, to Section E and back.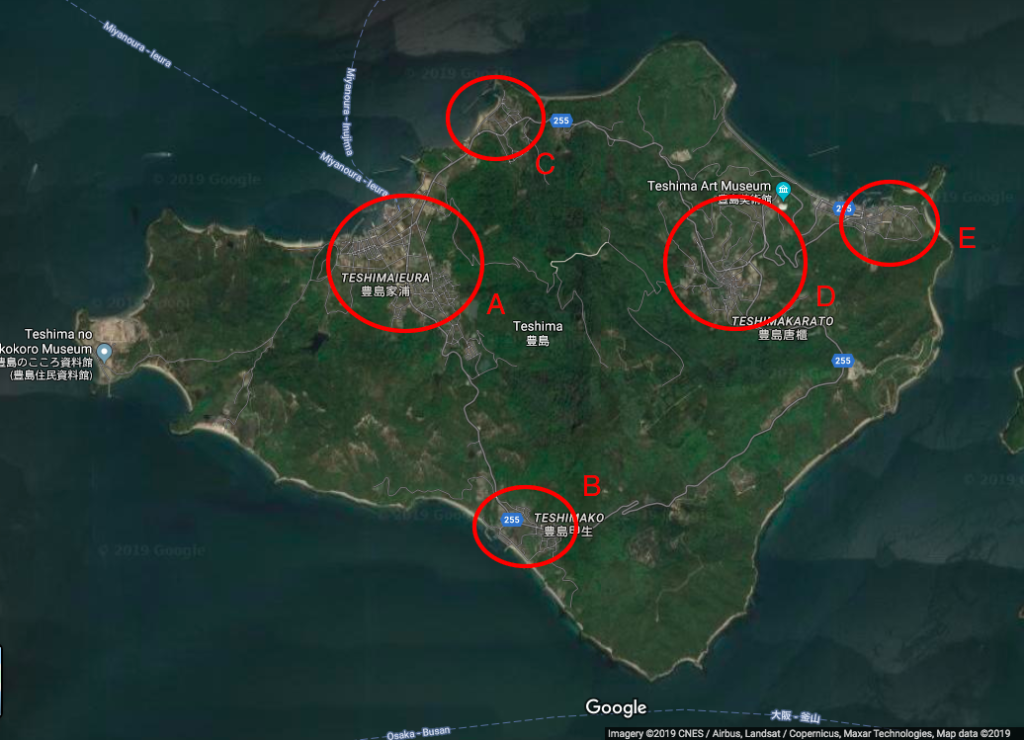 Tip: Keep a copy of Teshima's bus timetable for your time on Teshima. 
Start: West and South Side of Teshima (Sections A, B, and C, 2-3 hours) 
Check out Teshima's Information center and gift shop upon arrival (or save this for when you leave Teshima). The art installations in this area include the Teshima Yokoo House, the Fish Store, and the Needle Factory.
Take the bus, bicycle, or walk, to the south part of Teshima. Art installations here include Toi Kikoku, Teshima 8 Million Lab, and sometimes other seaside events. 
Backtrack to Ieura Port and head to Section C, home to Umitota Restaurant where you can have a lavish lunch. Art exhibits here are Umitota, and the Teshima Seawall. A short distance away is Korogaru Park.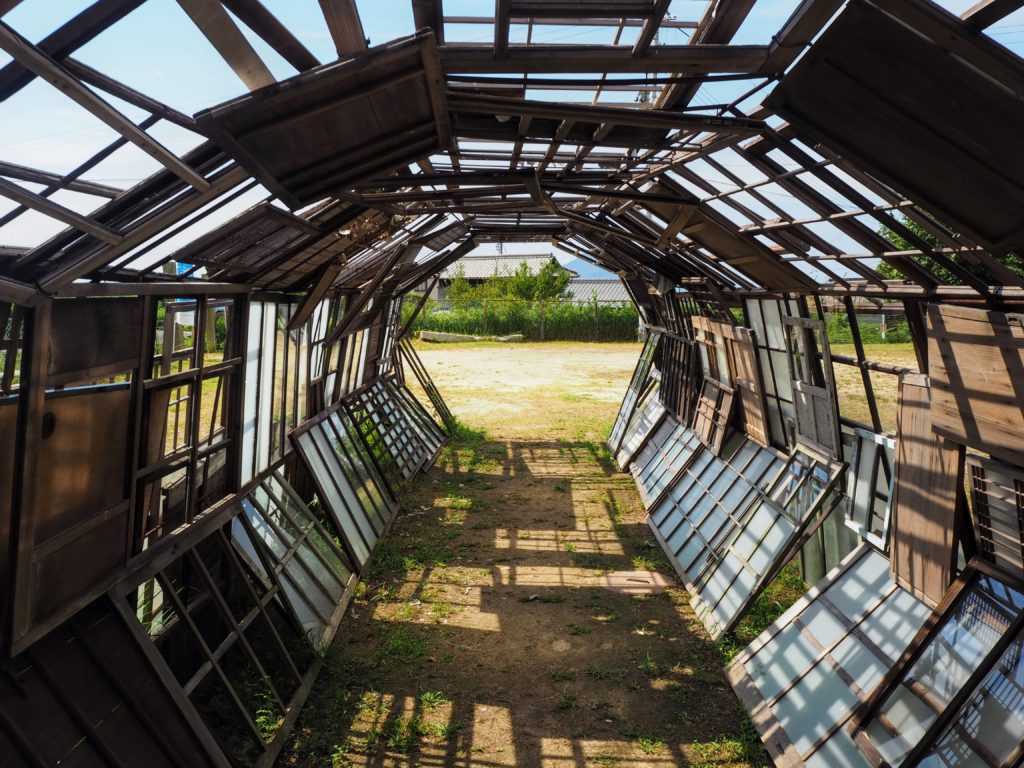 Lunch: Section D (1 hour)
Take a bus to Section D, where you'll find Storm House, Particles in the Air, and Your First Color. Shima Kitchen is an art installation and a restaurant where you can have a meal or drink in their large open-air dining area. 
East Teshima (Section D and E, 3 hours)
Uphill from Shima Kitchen and the other installations into the forest is La Foret de Mumures (add 30 minutes to see this art piece). Ask to if La Foret de Mumures is open, because it was closed when I visited in August, 2019. 
Head to the Teshima Art Museum, the highlight of Teshima Art Island. Often there will be a long wait for entry to the museum, so take a reservation number and explore the rest of Teshima first. The Teshima Art Museum is ¥1570 for entry, paid separately from the Setouchi Triennale passport. 
Walk, bike, or bus down to Section E, a quiet part of Teshima but also home to its second port. The art installations here include the Teshima-shaped basketball hoop No One Wins, and a museum where you can record and listen to hearbeats: Les Archives du Couer.
Head back to the Teshima Art Museum, then bus back to Karato Port. The last busses depart from the Teshima Art Museum to the port at 15:25 and 16:44.
If you're going back to Naoshima from Teshima, the last boat leaves at 17:35 from Ieura Port. Heading the opposite way to Shodoshima? The last two ferries leave at 17:55 and 20:10. 
Prevent getting stuck on Teshima by checking this timetable for ferries! 
Visiting Naoshima and Teshima?
Pin this Post!
Are You Prepared For Naoshima, Teshima, And Your Trip To Japan?