Belize is a beautiful, cheap, Caribbean destination only a few hours from the major airport cities in the U.S. If you're looking for a winter getaway, an island-escape, or just time away from the city life, Belize is the perfect country to visit. With many backpackers heading to Central America, I was surprised how few people backpack Belize.
If you have a week or more to spare, here's a one week Belize itinerary, perfect for backpacking Belize and seeing all of the country's highlights!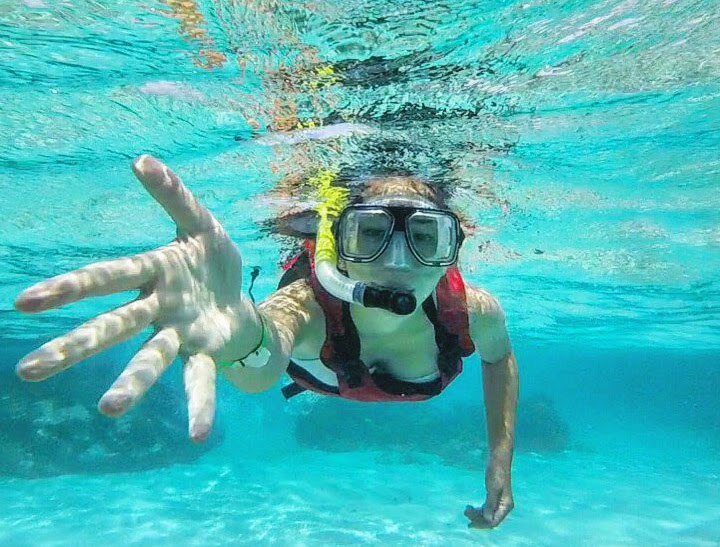 Backpacking Belize 7-Day Itinerary
Caye Caulker & San Pedro – 4 days
Hopkins – 1 day 
Placencia – 2 days
If you have more time: Corozal – 1 day, or San Ignacio – 1 day
Heading to Guatemala? Getting to Tikal or Livingston from Belize
Things To Know Before Backpacking Belize
Belize is a convenient backpacking destination because of several factors:
As a former British colony, many Belizean people speak great English. Other languages commonly spoken here include Garifuna, Spanish, and Mayan.
Belize's currency is the Belizean Dollar, which is tied 2:1 with the U.S. dollar.  So $2 BZD = $1 USD. That means easy converting when trying to calculate the cost of things! You can take BZD out of the ATMs around town, or many tourist places also accept USD.
Passport holders from most countries can enter Belize visa-free, including those from the U.S. and Australia. Check here if you can too.
Bring both sunscreen and mosquito repellant! You'll need one for the day and one for the evening, even when backpacking Belize's islands. If getting in the water is on your agenda (as it should be), invest in reef-safe and marine-safe sunscreen. See my sustainable travel packing list. 
Backpacking Belize 7-Day Itinerary
Arriving to Belize, heading to Caye Caulker & San Pedro
Most backpacking Belize itineraries will start in Belize City, because its home to the Belize's largest international airport. To head to the first destination on this one week in Belize backpacking itinerary, grab a taxi outside the airport to Belize City's water taxi port for $20 BZD ($10 USD). 
Belize City's water taxi port is a small strip of shops and restaurants, with a ticket office and waiting area at the end of the block. Purchase a water taxi ticket in person here, or online in advance. Round-trip tickets to just one island are cheaper, but if you plan on island-hopping it's best to purchase one-way tickets each time. 
Water taxis from Belize City's port to Caye Caulker and San Pedro depart about every 1-1.5 hours, from 8:00am to 5:30/6 p.m. See the full water taxi schedule here. 
Caye Caulker and San Pedro - 4 Days
Any backpacking Belize itinerary must include time spent on these beautiful, relaxing islands. Here you can walk around barefoot all day, tan, swim, snorkel, kayak, or just hang out in the shade with a good book. You can plan to spend 2 days each of this one week Belize itinerary on both Caye Caulker and San Pedro. If you prefer traveling slow, you can spend all four days on one island, and day-trip to the other if you're up for it. 
Caye Caulker – 2 Days
Compared to San Pedro, Caye Caulker is a smaller, more chilled out island. Smaller means fewer people, a more laid-back vibe, but still with plenty of dining and drinking options. Caye Caulker is more popular with travelers backpacking Belize, compared to the more upscale San Pedro.  
Things to do in Caye Caulker
One of the most popular spots to hang out when backpacking Belize is Caye Caulker's "Split". It's a small pier and sandbar, plus bar and restaurant, where you can swim, tan, and drink (responsibly, in that order) all day with other travelers and backpackers.
Either in Caye Caulker or San Pedro, Belize backpackers MUST try snorkeling. Full-day and half-day snorkeling tours to Belize's barrier reef are offered from dozens of different shops. Stops made while snorkeling include to Shark-Ray Alley, where you can swim with nurse sharks and sting rays! 
Where to eat in Caye Caulker
Have meals at the many smaller, local restaurants inland, or at the large pubs and seafood restaurants along the shore. Be sure to check out Wish Willy's, an all-you-can-eat seafood BBQ spot owned by friendly Willy himself. 
The Best Caye Caulker, Belize Hostels
On Caye Caulker, there are better hostel options listed on Hostelworld, vs Booking.com, although the latter has more varied accommodation options. The two most popular Caye Caulker hostels are the Dirty McNasty Party Hostel and the neighboring Bella's Backpackers. For a more luxury hostel experience, check out the highly rated (and super colorful!) Yuma's House. 
Be careful, you might end up spending your whole one week Belize itinerary here! See my full Caye Caulker backpacker's guide.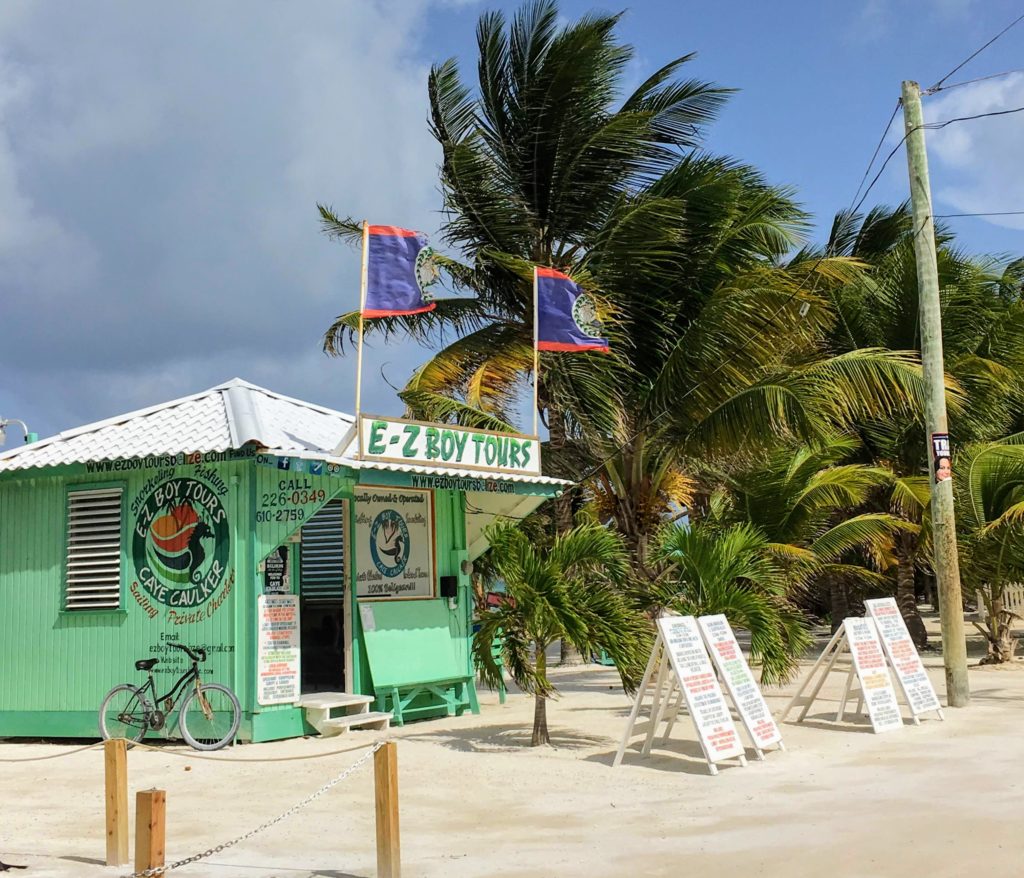 San Pedro is the larger, rowdier island with many resort and luxury accommodation options. You'll see more wealthy visitors being driven around on golf carts, and more expensive dining and shopping options. 
Things to do in San Pedro
If you haven't snorkeled the Belize Barrier reef yet – do so from San Pedro! It's a must-do activity during your one week in Belize, and you can go with a life vest too. Deep-sea fishing or fly-fishing trips are also common from San Pedro. If you're in to scuba diving, schedule a dive to delve in to Belize's famous Blue Hole. 
San Pedro is home to a local chocolatier, the Belize Chocolate company. You can learn how they make their chocolate, do a taste-test, and bring some home as a souvenir. 
Where to eat in San Pedro
Check out the Truck Stop, a shipping-container food truck beer garden, a fun place to hang out and get a feed for all types of travelers! Options include Latin American food,  Malaysian food, and a well-loved ice cream shop. See the menus here. 
The Best San Pedro, Belize Hostels
More expensive accommodation on San Pedro means fewer budget hostels. The two San Pedro hostels recommended to backpackers are Drift Inn, and the Sandbar Beachfront Hostel & Restaurant. If you can budget spending a bit more, check out this amazing overwater resort, Lina's Point.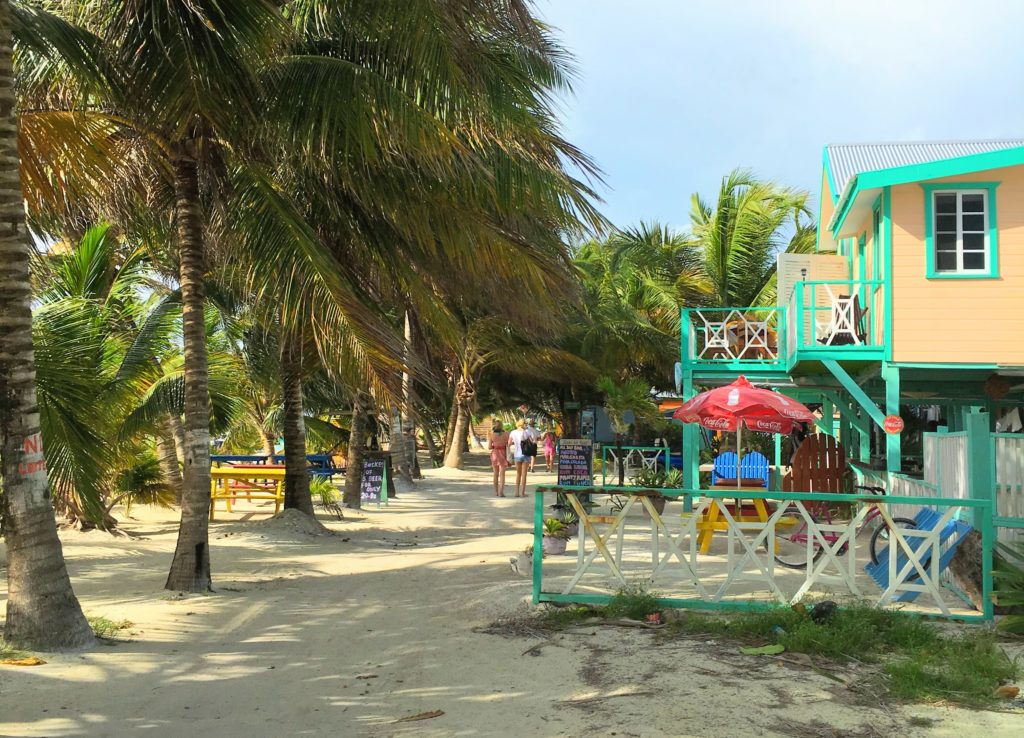 After enjoying life of the islands of Belize, take it inland for this next stop on your one week backpacking Belize itinerary. Hopkins is a quiet fisherman's village where you can experience more laid-back Belize life. Hopkins is home to many of Belize's Garifuna people, so it's a great place to try their cuisine and experience their culture. Although it's possible to spend your entire Belize backpacking itinerary on Belize's islands, but get to know more culture by staying inland.
Things to do in Hopkins
All around you, people will be living the slow life. Hang out on a hammock here, walk along the shoreline, or hang out at Hopkins' piers with an ice cream. In the evening, try and catch a Garifuna drumming show – you're bound to hear them if you're wandering around town! 
Off the coast of Hopkins are also some great snorkeling spots, perfect to stay active for a few hours in the day. Don't forget your reef-safe sunscreen.
Where to eat in Hopkins
The small village does not have too many options for places to eat, but backpacker favorites inlcude Geckos Restaurant and the Lucky Lobster Bar & Grill. The food in many of the restaurants the same or similar, so pop in to any location! Try some of the Belizean staples like fried plantains, grilled fish, or lobster tail. 
The Only Hopkins, Belize Backpacker's Hostel
The Funky Dodo is the only hostel in Hopkins. It has comfortable dorm rooms, a large common space, hammocks, and a small second-story bar to meet other travelers backpacking Belize. If you want to try living like the locals, check out quirky and highly-rated Kismet Inn.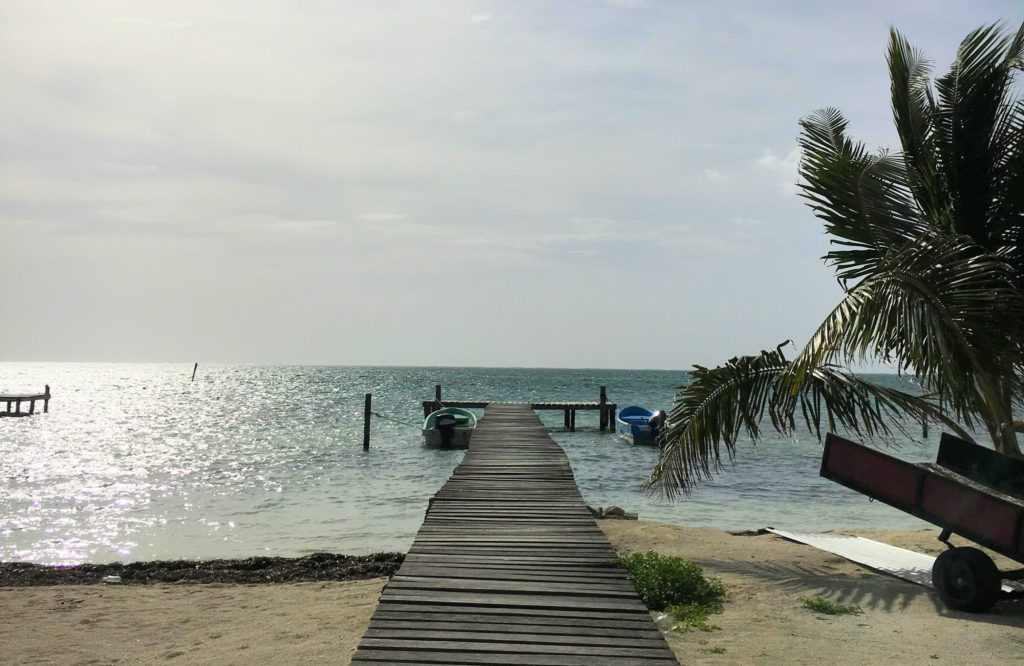 Finish off your one week backpacking Belize itinerary by heading back to the beach. Placencia is another laid-back location in southern Belize, popular with backpackers. Although it's not an island, it sure has the same vibes as one. Many travelers visit here to get a chance to swim with whale sharks, who pass close to the Placencia shore between March and June. 
Read about swimming with whale sharks in Oslob, the Philippines! 
Things to do in Placencia
If you're backpacking Belize during whale shark season, be sure to book a snorkeling or diving trip with a company in Placencia for a chance to swim with them. Even if it's not whaleshark season, it's worth spending time in the clear waters here, by snorkeling, diving, kayak, SUP-ing, and more. 
If you want to spend time in the jungle, a famous jaguar sanctuary, Cockscomb Basin Wildlife Sanctuary, is near Placencia and may tour companies offer trips here. 
Where to eat in Placencia
You can find the best meals in Placencia if you stroll along its Main Street, running down the center of town, or just by walking along the beach. For a cheap and delicious local meal head to the Pickled Parrot (no pickled birds on the menu) or the Shak Beach Cafe for a quick bite. 
Where to stay in Placencia
Check out Anda Di Hows Hostel in Placencia, a favorite place among Belize backpackers. Looking for a romantic getaway spot in Placencia? Check out the beautiful one-bedroom house Ocean's Edge.
If you have more time Backpacking Belize...
Corozal – 1 Day
Corozal is a small Mayan town located close to the border to Mexico in Northern Belize. If your backpacking Belize itinerary takes you to Mexico after Belize, Corozal is a convenient place to stay before crossing the border. It's home to some small Mayan ruins that visitors are able to climb about, plus some nice local markets and a small expat community. 
Read by Belize to Mexico Backpacking Itinerary for more info about the border crossing
San Ignacio – 1 or 2 Days
If your Belize backpacking itinerary is taking you next to Guatemala, San Ignacio is a great place to stay along the road that connects Belize to Guatemala. San Ignacio is a popular place to stay for the best inland Belize activities, including exploring Mayan ruins, going tubing, and zip-lining. 
Raggamuffin Overnight Sailing Trip – 3 Days
If you have time in your Belize backpacking itinerary to squeeze in this exciting sailing (and partying) trip, it's a wildly popular way to spend time on the water while backpacking Belize. The Raggamuffin boat departs Caye Caulker and takes three days to reach the Garifuna town of Dangriga. It makes multiple stops for snorkeling and exploring smaller islands or "cayes."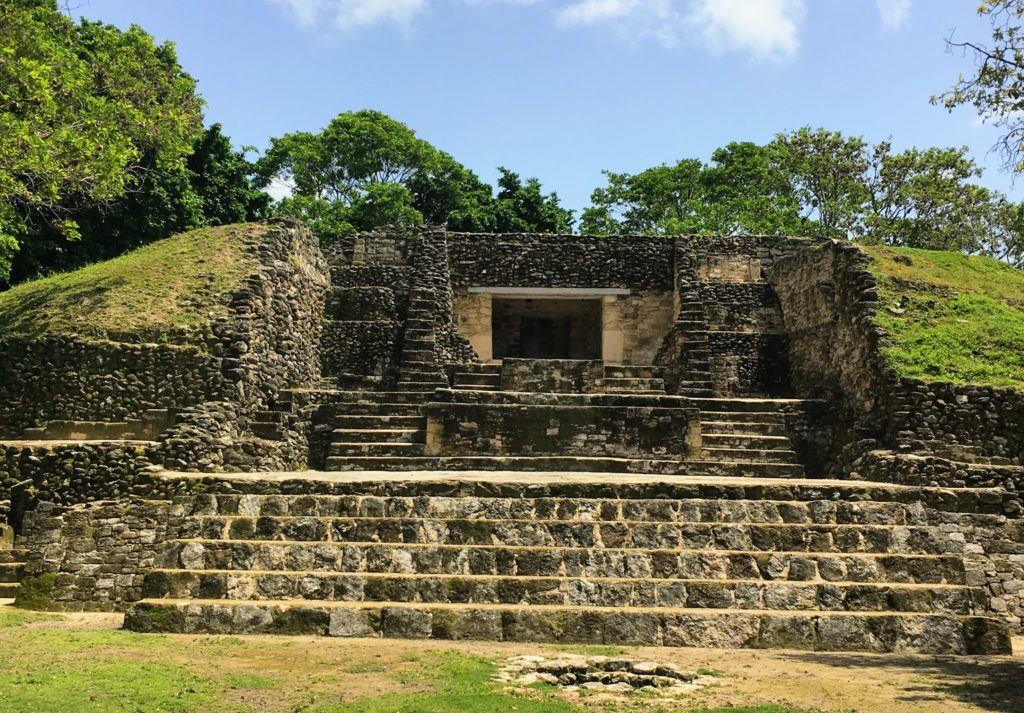 How to get from Belize to Guatemala
If your backpacking Belize itinerary extends to Guatemala, there are two ways to reach Belize's neighbor to the south.  
Belize to Guatemala overland, from major Belize hubs like Belize City or San Ignacio, to Flores, Guatemala. Travel agents can organize minivans for travelers who want to go from Belize, through the border crossing, to Guatemala.
Belize to Guatemala by sea, from Punta Gorda, Belize, to Puerto Barrios or Livingston, Guatemala. Note that the boats don't leave every day, so check the schedule before planning your trip. Because you'll be entering a new country, remember you'll have to get immigration stamps in your passport before you leave Belize. 
Pin This Belize Backpacking Itinerary!