Sumo wrestling is a traditional sport in Japan that dates back a thousand years. It is a profession and lifestyle that comes with great honor within the country, and every odd-numbered month of the year, there is a Sumo Grand Tournament somewhere in Japan. Many Japanese people follow each of these tournaments and their favorite sumo rishiki (wrestler) like it's religion. 
Sumo wrestling in Tokyo happens in January, May, and September, for 15 days straight. If you happen to be in Tokyo during these months, you're here just at the right time to watch sumo wrestling in Tokyo's Ryogoku Kokugikan stadium!
Ticketing Options for Sumo Wrestling in Tokyo
Online, in advance
The official sumo wrestling website sells tickets online both in Japanese and English. Be aware that tickets often sell out for the tournament within the hour, and even quicker for weekend tickets! 
Prices to see sumo wrestling in Japan are anywhere from 38,000 yen ($350) for seats close enough to the stage that you could get smushed by a falling sumo, to 3,800 yen ($35) for seats one row down from the top of the stadium. 
At the door, day-of
200 to 400 same-day sumo wrestling tickets are sold at the door each day there is a tournament at the Ryogoku Kokugikan. This is the option that I went with on a Saturday at the end of the May Sumo Grand Tournament in Tokyo. 
Tickets are 2,200 yen ($20) per person for any seat in the very back row circling the stadium. I thought this was a pretty good deal since others are paying almost double this amount to sit only one row below us! 
There's a catch to try and snag one of these 400 seats to watch sumo wrestling in Tokyo… You have to line up in front of the Ryogoku Kokugikan from very early in the morning to get them!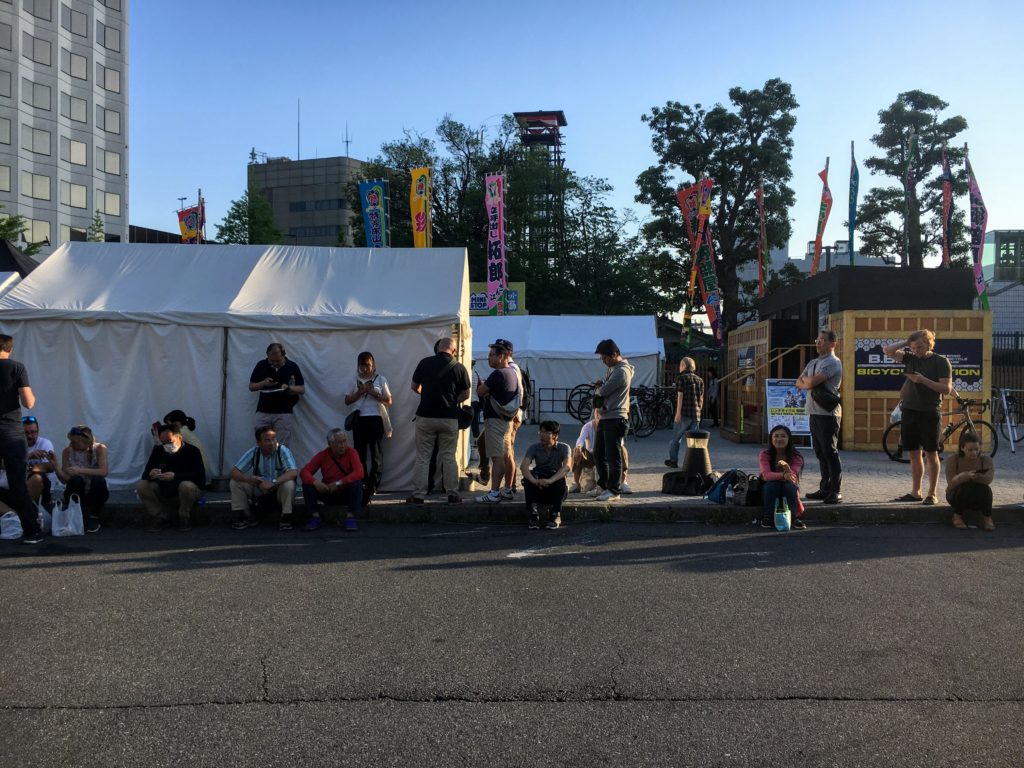 Ticketing Process Timeline for Sumo Wrestling Tickets in Tokyo
5:00-6:00 – Get a spot in line at the Ryogoku Kokugikan (I arrived at 5:30am on a Saturday match day and was tag number 196)
6:25 – Ryogoku Kokugikan officials pass out numbered tags. Each person in line gets one tag, and only one ticket can be purchased per tag. 
7:45 – Ryogoku Kokugikan Ticket Office opens
8:00 – Ryogoku Kokugikan Stadium doors open
8:30-10:40 (depending on the day) – First rounds of sumo matches start with the lower ranking/younger sumo wrestlers. 
14:15 – Higher-ranking sumo matches start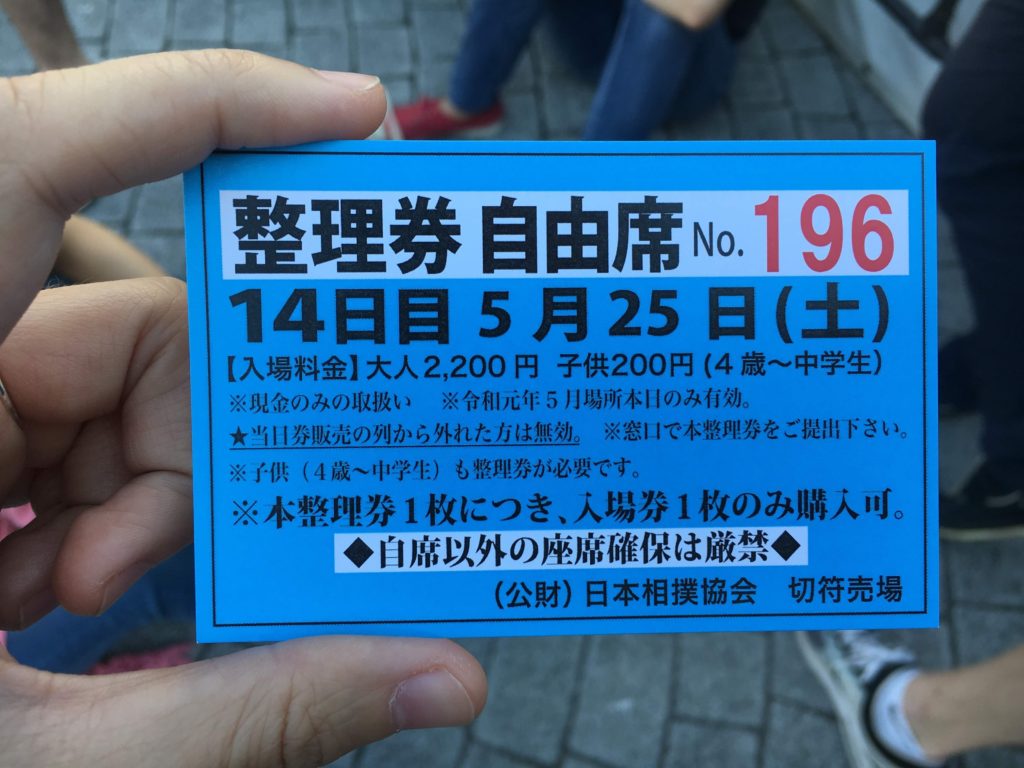 Detailed Schedule to Purchase Day-Of Sumo Tickets in Tokyo
Catch the first or second train in the morning to Ryokogu station if possible, so you can arrive before 6:00am (on the weekends). 
Take the WEST exit out of the Ryogoku station, which is close to the back of the train if coming from central Tokyo.
The moment of truth comes at 6:25am, when officials pass out numbered tags to the first 200-400 people in line. Each person gets one tag, and can only buy one ticket. 
The sumo wrestling ticket office opens at 7:45am. At this time, everyone with a number tag can purchase one ticket each. The office only accepts cash and all seats are located on the second floor, row 14 (the very back row).
Only one ticket can be purchased per tag! That means you can't send just one person to purchase tickets for others who want to sleep in!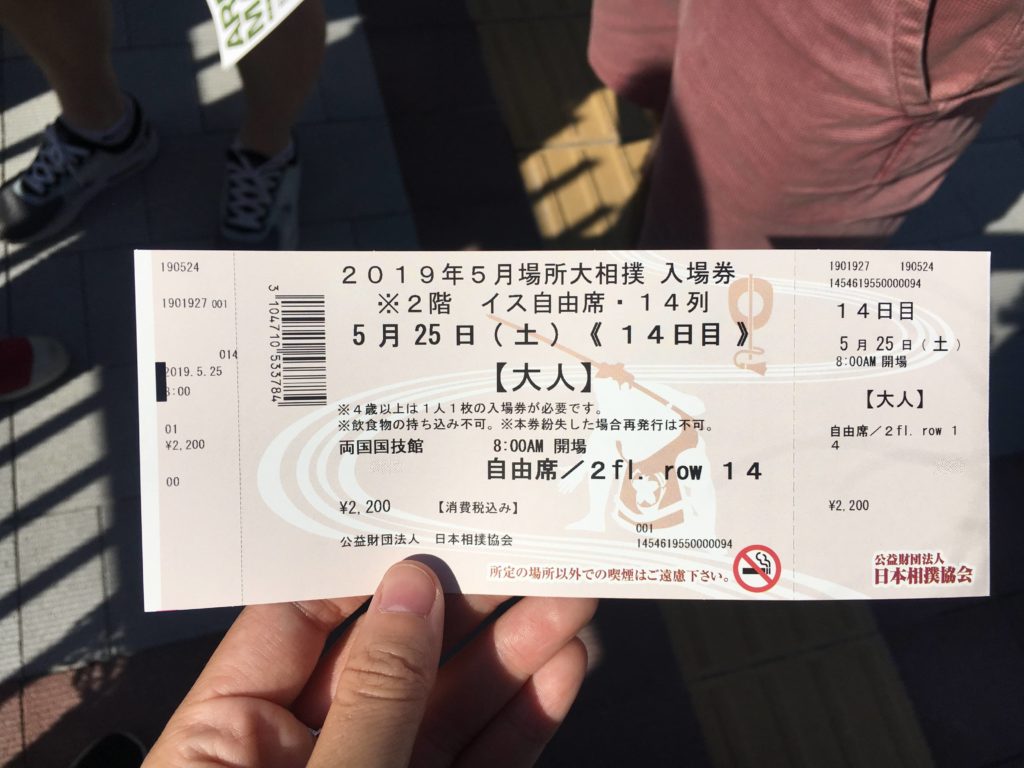 Don't just go home after you buy tickets, go into the stadium to reserve your seat! This requires waiting in another line for 10 minutes or so, before the sumo wrestling stadium doors open at 8:00am. 
I recommend finding seats on the North or South side of the stadium for the best view. To save seats, just leave your map/pamphlet on the seat that they give you upon entry. This is Japan, nothing gets moved or stolen. 
Savings seats in the stadium is especially important for big groups, but pairs/couples too. We saw many frustrated pairs of tourists show up between 2-4pm after purchasing day-of tickets and failing to find two seats next to each other on the back row. Plan ahead!
You can leave and re-enter once with each ticket, so if you're tired from the 4:00am wake-up call, go home for a snooze. Many people will leave and then come back when the higher-ranking sumos start their bouts in the afternoon.
Why the North or South seats?
The media sets up on the North side of the stadium, and opposite them is the South side. The wrestlers enter the ring from the West and East sides, and face each other in these directions. If you sat on the West or East side, you see the butt of one wrestler on stage instead of the sides of both. 
Tips on watching sumo wrestling in Tokyo!
After purchasing tickets at the door, go inside the stadium
Going inside the stadium gives you a chance to reserve your seats for later. It also means it's possible to take many great pictures from all areas of the stadium because there are so few people. 
We were able to go down to the stadium's first floor (ignoring the box-ticket-holders only! sign) to take unimpeded pictures of the stage.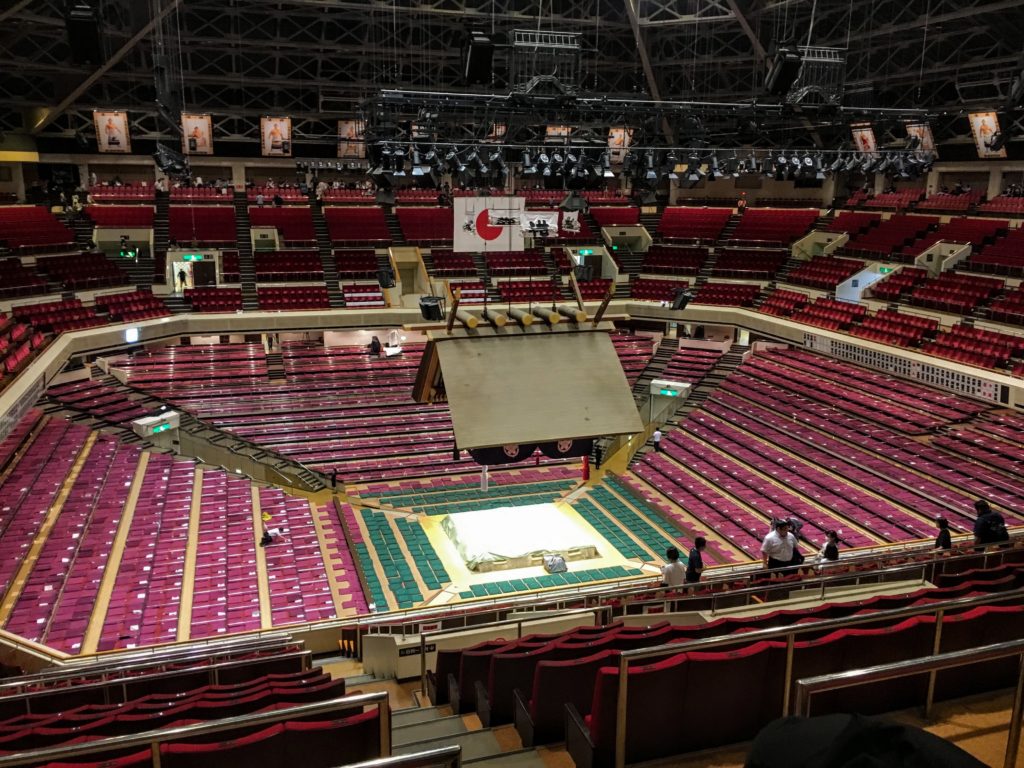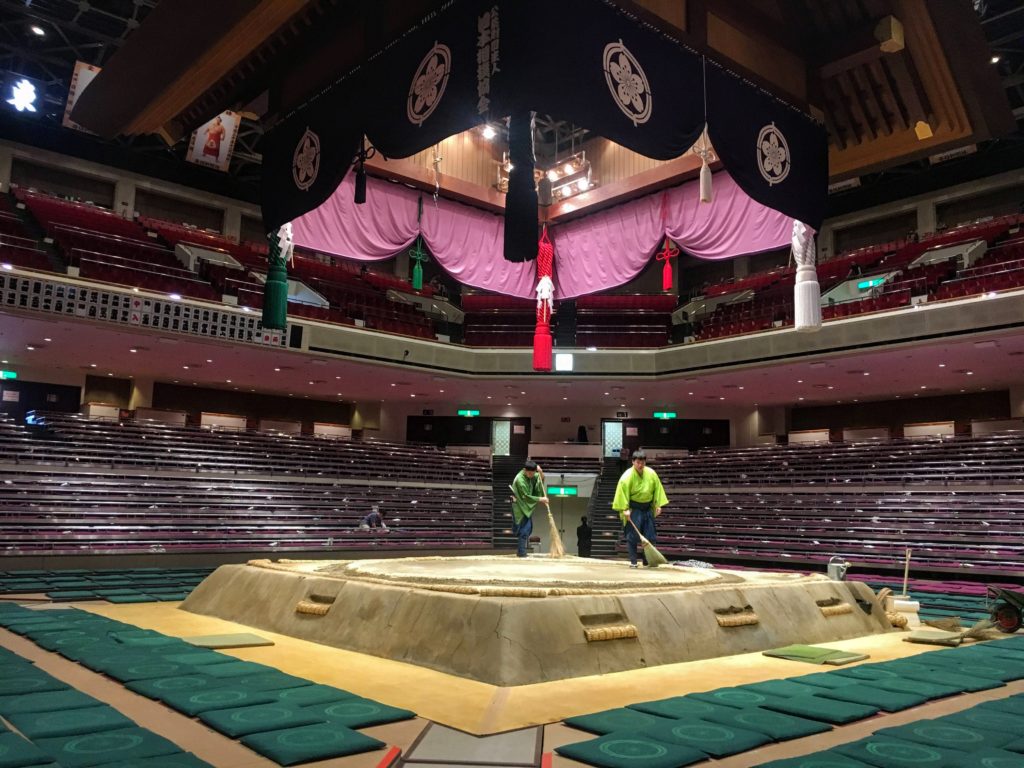 As you explore the stadium, you'll find there are many funny sumo cutouts that you can pose with.
From 9am, a free picture booth opens where you can pretend that you're posing with popular sumo wrestlers. There's even a sumo museum inside the stadium too!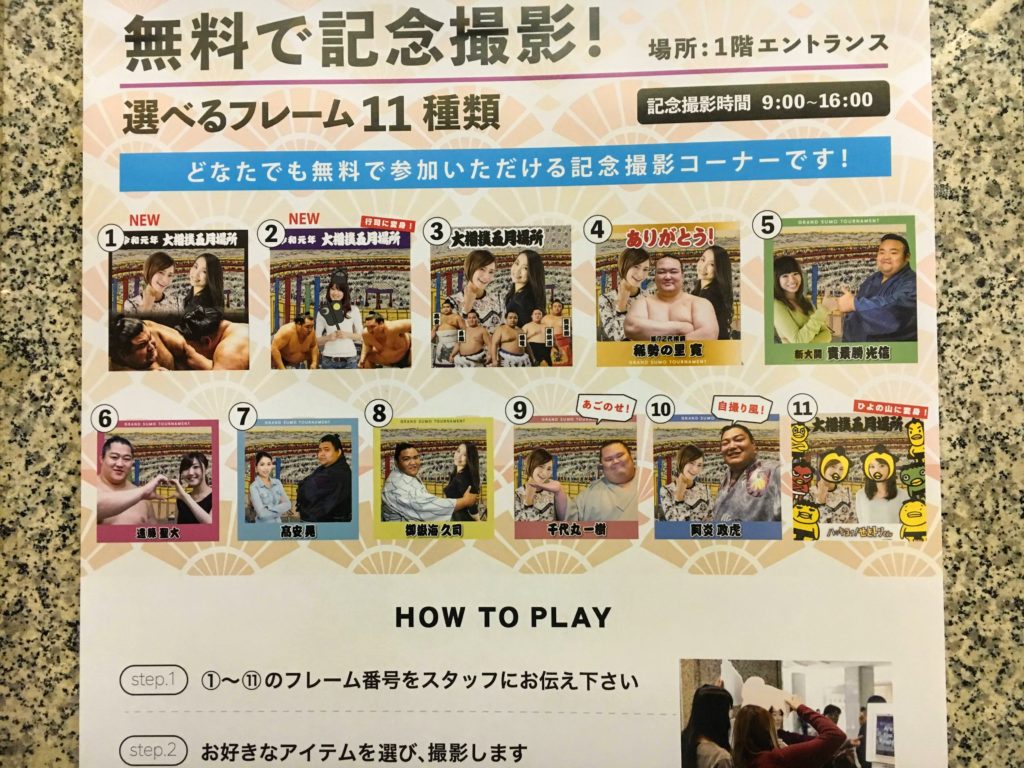 Don't be afraid to leave and re-enter the stadium once – it's allowed!
Take advantage of the Ryoguku's policy of letting people leave and re-enter the stadium once with their ticket. After reserving our seats, roaming the stadium, and taking pictures, we left the stadium. 
We returned to the stadium at 1:30pm, just before the upper-level sumo bouts began. Between 9am and 1:30pm, this gave us just enough time to go back to the sharehouse to catch a snooze and a feed.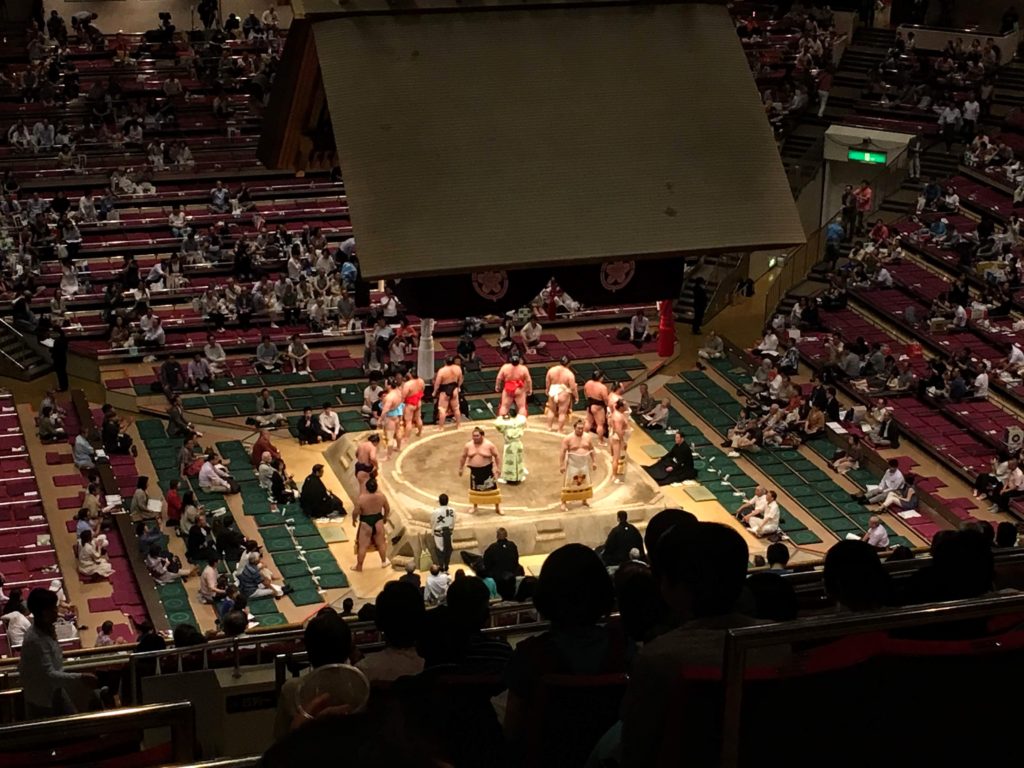 Try some sumo food – Chanko Nabe! 
Chanko nabe sumo food, is sold inside the stadium if you want to get a taste of what these big boys eat! You can also buy traditional Japanese bento boxes for lunch, as well as yakitori skewers, burgers, french fries, ice cream, and of course, beer!
Food and drinks from outside are not allowed in the stadium (but no one really checks). Sumo-watching pros around me had brought big bottles of tea or cans of beer, their own packed lunches, and many snacks to enjoy while watching sumo wrestling.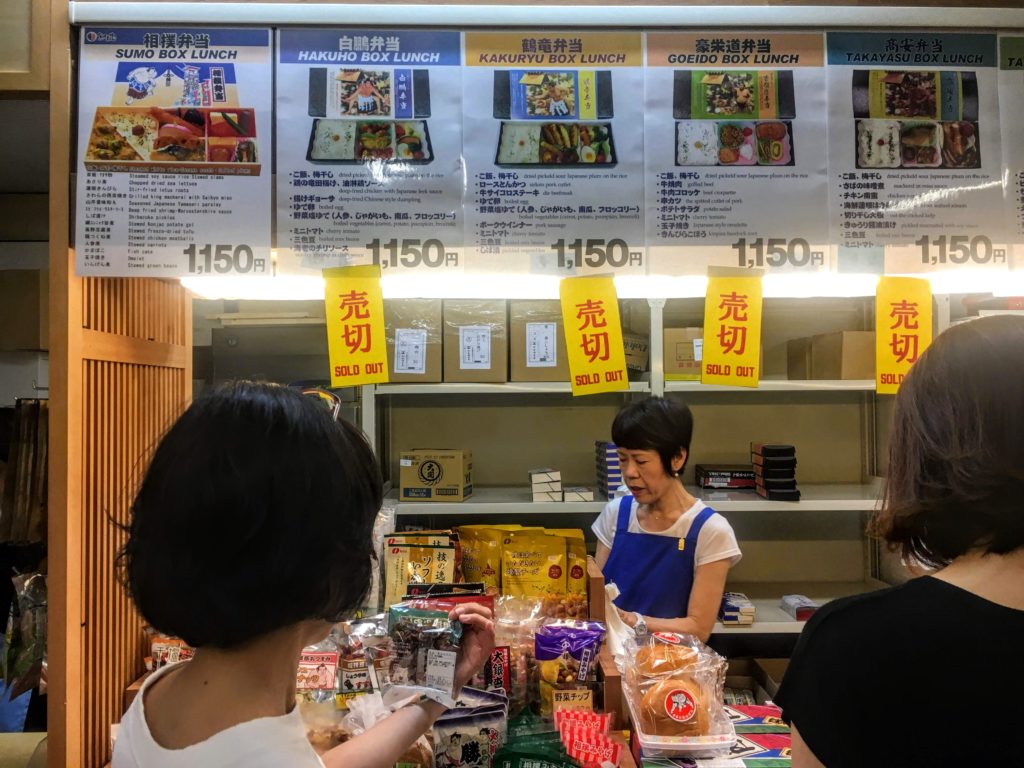 Now just sit back and enjoy the cultural performances and the sport of sumo!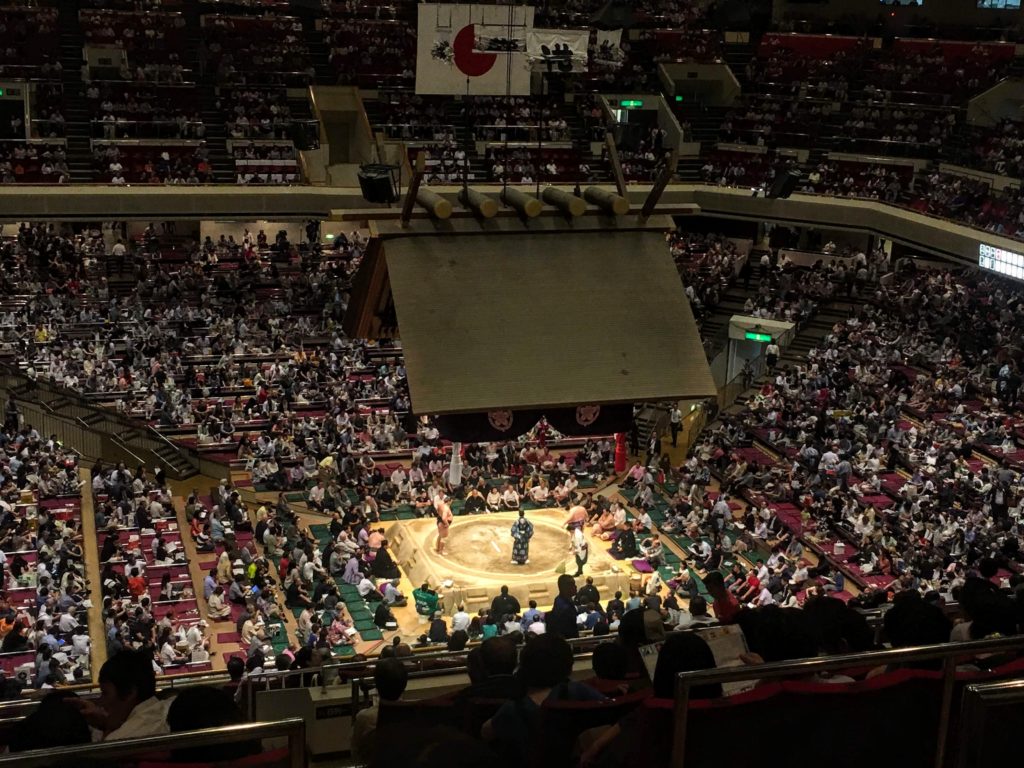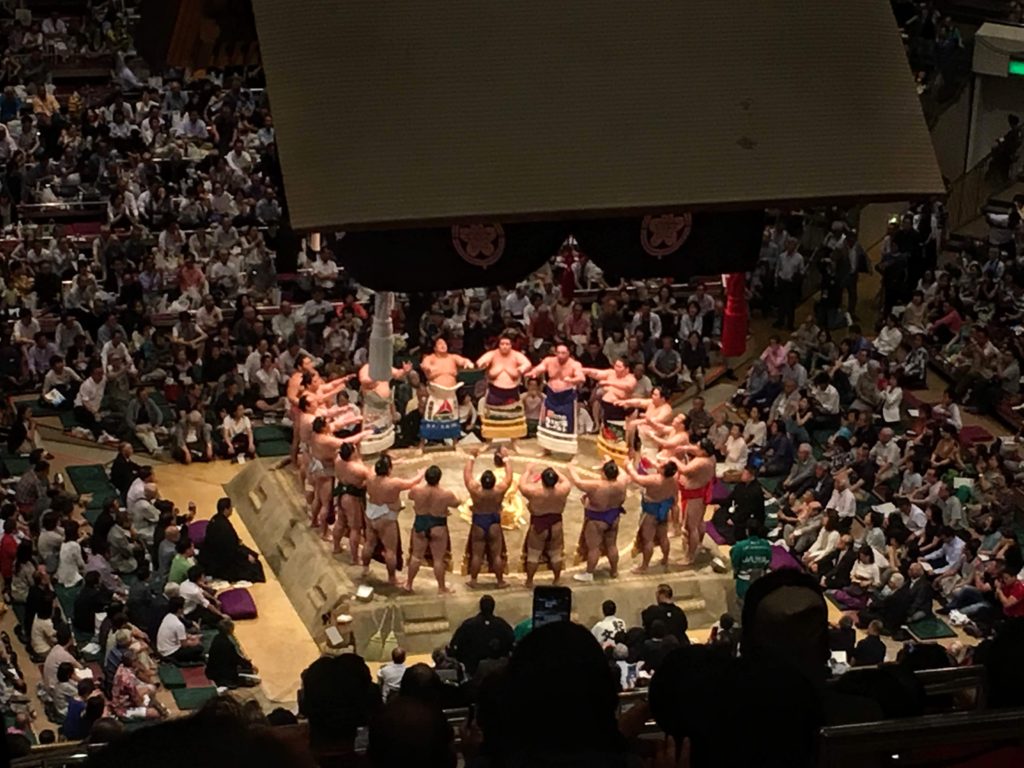 Other Tips for Watching Sumo Wresting in Tokyo:
Watch some sumo ahead of time, like match highlights from previous tournaments
Some of the most frequently used terms include:
yokozuna – the Grand Champion, the highest sumo rank (there can be more than one)
ōzeki – the champion, second highest sumo rank
nokotta! – what the referee is yelling while the match goes on. Literally, "remaining"
dohyō-iri – a ring-entering ceremony only performed by sumos ranked as yokozuna
chonmage – the name for the sumo topknot hairstyle! 
dohyō – the name of the sumo wrestling ring
The most basic rule is to stay on your feet and inside the ring as a sumo wrestler
When both sumo wrestlers put their fists on the ground, the bout begins
Can: Slap with open hand, grab belt, head-butt
Cannot: Punch with a closed fist, gouge eyes
When the winner is not clear, judges come in the ring to debate on the winner. If still no conclusion is reached, there is a rematch
Some matches have sponsors, and helpers holding scrolls with the sponsor's names will circle the stage before the match
Some sumos are known for certain quirks like throwing over-the-top amounts of salt onto the stage or being able to lift their legs really high in the pre-bout warmups. If you pay attention to the reaction of the crowd, you'll recognize these quirks during the matches. 
Want to Watch Sumo Wrestling in Tokyo?
Pin this post!
Looking for things to do after watching Sumo Wrestling in Tokyo?