I made a whirlwind of a trip to Ireland in the summer of 2018 when the World Cup was happening across Europe. My three days in Ireland itinerary ensured I could be back in London just in time for an England World Cup match! 
During my three days in Ireland itinerary, I managed to visit Dublin, Galway, and the Cliffs of Moher. It's entirely possible to see all three of these Ireland highlights in just a weekend! Whether you're visiting Ireland for a long weekend or a short vacation, here's your perfect three days in Ireland itinerary.
Three Days in Ireland Itinerary: Dublin, Galway, and the Cliffs of Moher
I booked a trip to Galway and the Cliffs of Moher from Dublin with GetYourGuide for €50 (check updated prices here). This tour included the bus from Dublin to Galway, bus from Galway to the Cliffs of Moher, the bus from Cliffs of Moher back to Galway, and then Galway to Dublin. Lunch and snack stops were also included.
Although I normally don't join tours, I found it was much cheaper (and quicker) to book through GetYourGuide than trying to book separate bus tickets and Cliffs of Moher entry tickets. With only three days in Ireland, I recommend traveling the hassle-free way. 
The tour had an option to stay overnight in Galway instead of just round-tripping from Dublin to the Cliffs of Moher in the same day. I chose this option so I could see one extra city during my three days in Ireland itinerary. You can pick this option too by emailing the tour provider after booking your dates. 
Prefer to DIY your Three Days in Ireland Itinerary?
City Link has several busses running between cities and towns in Ireland, if you prefer to DIY the trip on public transport. Busses from Dublin to Galway cost €13 each way.
After doing extensive research on how to get to both Galway and the Cliffs of Moher from Dublin via public transportation, I found for only a few euros extra, I would save a lot of time and hassle by just traveling with an organized tour.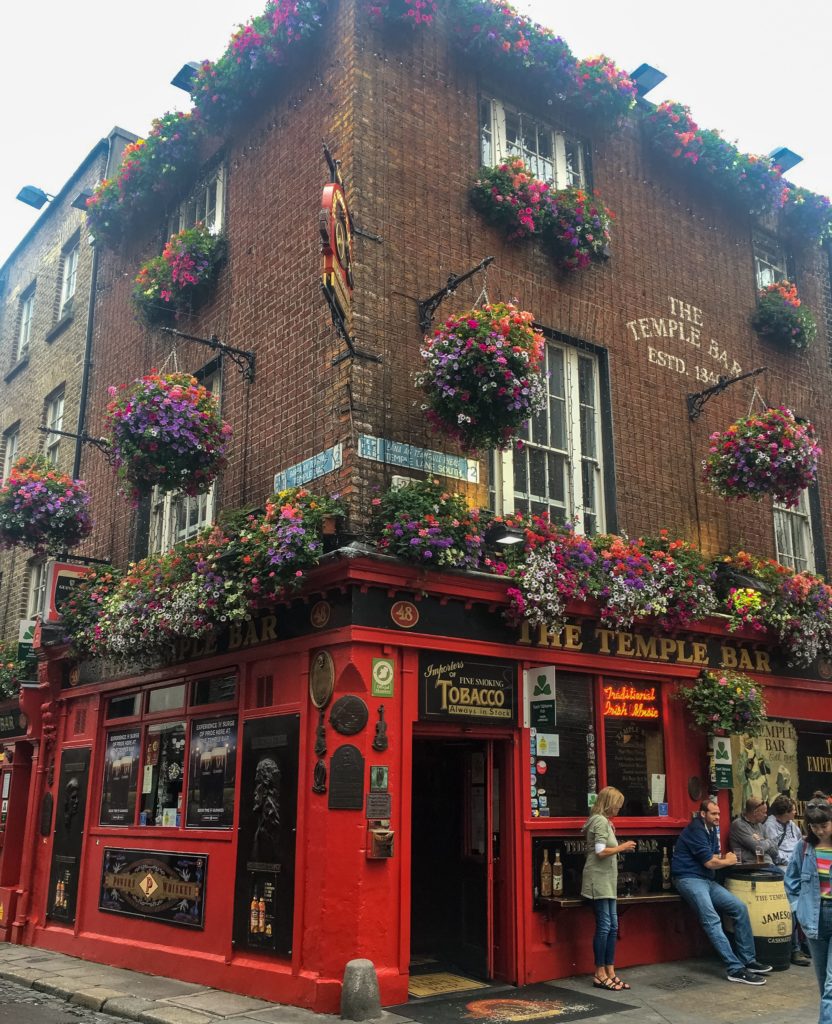 Three Days in Ireland Itinerary: Dublin - Day 1 (and 3)
Getting from Dublin Airport to Dublin City Center
I flew from London Gatwick to Dublin Airport on a red-eye flight so I would have all day to explore Dublin after landing. 
A few airport busses run from Dublin Airport to Dublin City Center for €6-€7. A local Dublin Bus 41 will take you there too, a little slower for €3.30. Don't forget to bring the exact fare because the buses don't give you any change!
Assuming you have 1-2 days in Dublin during your three days in Ireland itinerary these are some city highlights you shouldn't miss:
Three Days in Ireland Itinerary Day 2 - Off to Galway!
On Day 2 of my three days in Ireland itinerary, I was whisked from Dublin through the Irish countryside on a tour bus to Galway. The bus departed from Dublin early in the morning, around 7am.
Around lunchtime we arrived in Galway, where the wind and rain were relentless and no one wanted to get off of the bus. Galway was freezing, dark, and dreary, even in June, but everything I expected Ireland to be.
Tip: Bring lots of layers and rain gear during your three days in Ireland!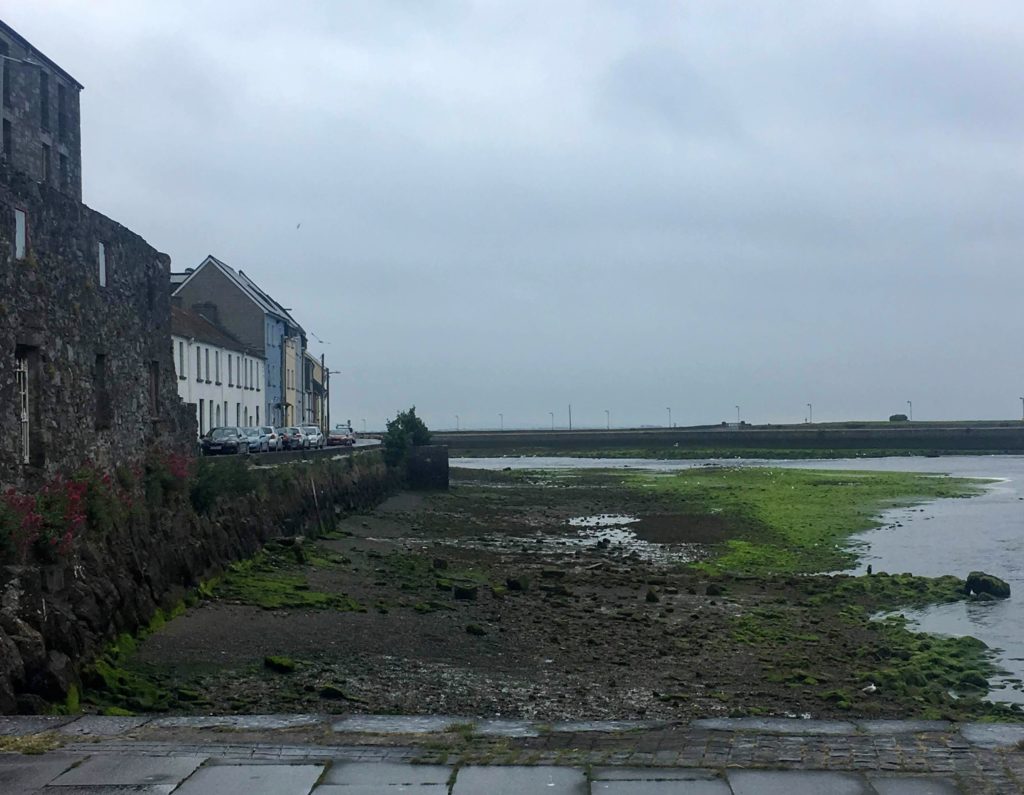 Included in the tour is a short guided walk around Galway and a little time to explore on your own. Our tour driver took us to the Spanish Arch next to the river, then down Quay Street which runs right through the heart of Galway.  The driver also pointed out a jewelry shop for Claddagh Celtic rings. He let us know that with our tour tickets, we could get a discount when purchasing this classic Celtic ring (not sure if this is offered as part of every tour). 
We stopped next at St. Nicholas' Collegiate Church and the Lynch Memorial Window where we learned about a centuries-old hanging that took place. Afterwards we were allowed to wander Galway on our own to get a feel for this beautiful Irish town.
Exploring Galway, Ireland - Thing to do in Galway
Head to the park across from the Long Walk strip of colorful houses for a great view!
Stroll down the River Corrib and spot some locals fishing
Shop (or grab a pint) on Quay Street, the busiest section of Galway. Catch some street performers dancing and singing the traditional Irish way!
Visit St. Nicholas' Collegiate Church and the impressive Galway Cathedral 
Chill in Eyre Square, home to many street performers
Where To Eat in Galway:
I enjoyed 
GBC Bistro
, which serves cheap a la carte Irish breakfast and lunch.  For a hole-in-the-wall vibe, head to 
Food For Thought
, a cheap coffee shop and cafe.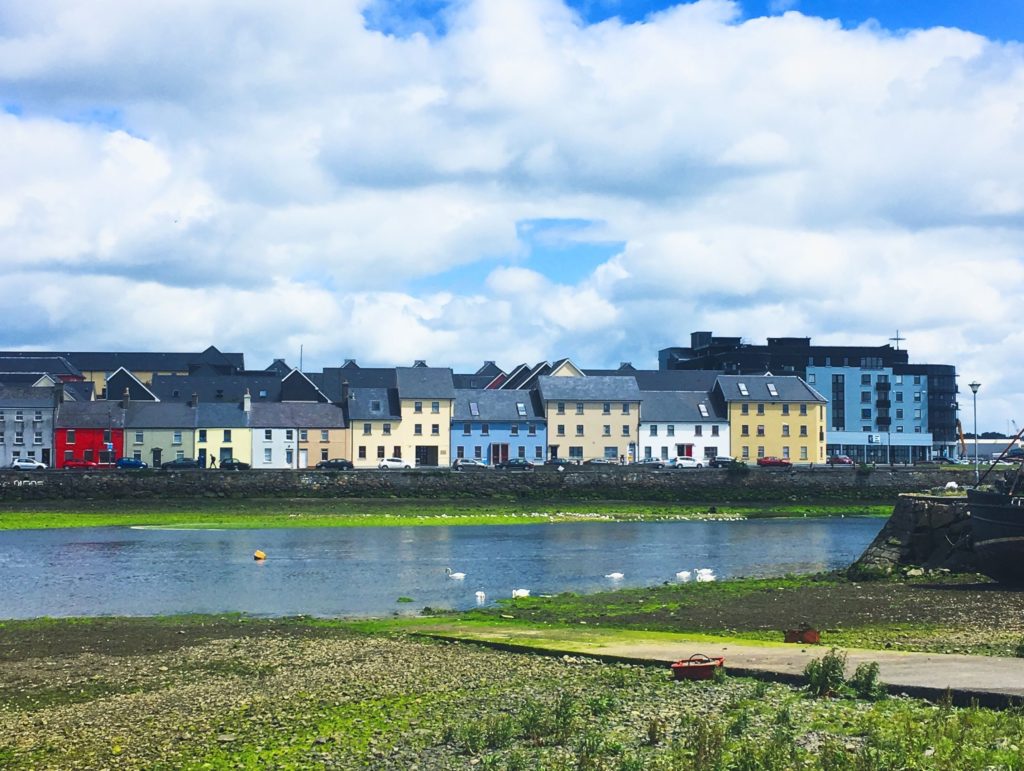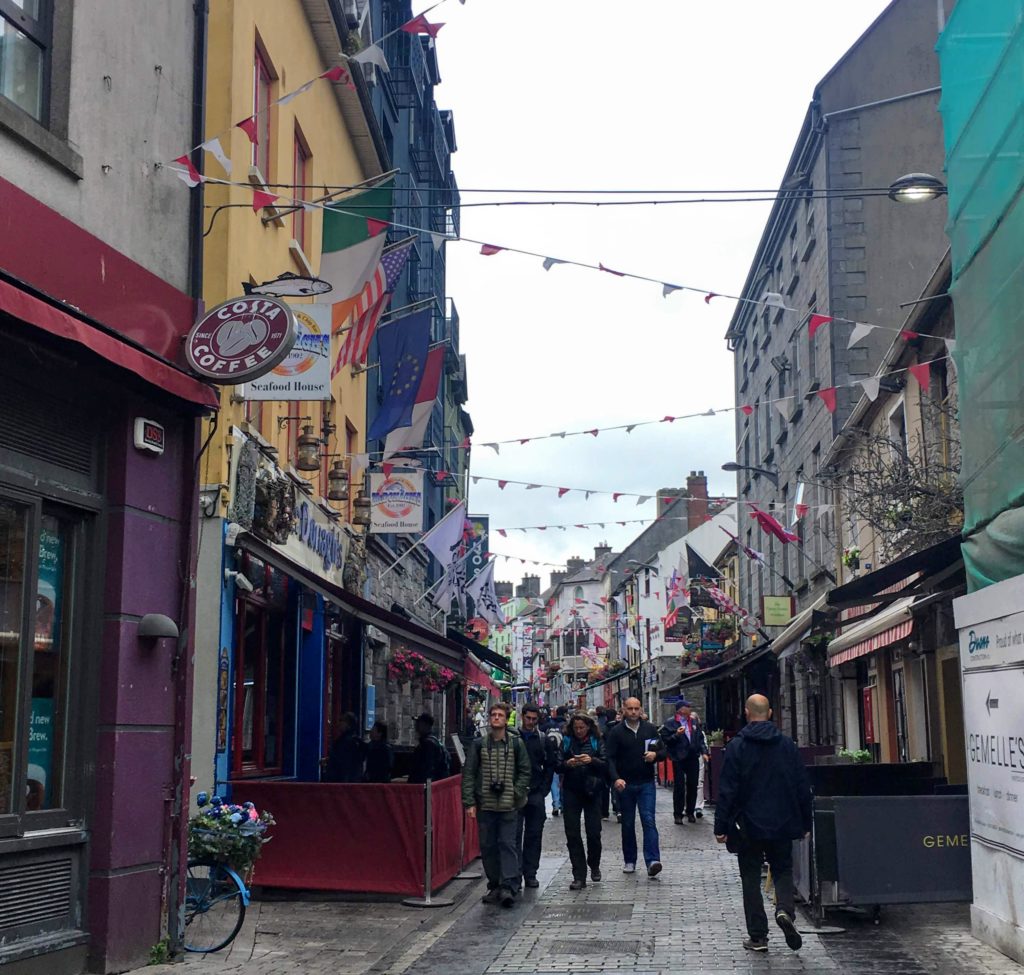 Off to the Cliffs of Moher!
The next stop on my three days in Ireland itinerary was a destination I didn't want to miss: The Cliffs of Moher. These dramatic sea cliffs are on the west coast of Ireland and are an impressive 14 kilometers long. The Cliffs of Moher are one of Ireland's most visited and well-known natural wonders. 
On the tour, our driver played some traditional Irish tunes over the speakers, while the bus rumbled down narrow and windy Irish countryside roads. 
The driver did a great job informing us about some of the famous landmarks that we were driving by. We also learned about the history and traditions of the area. We stopped once on the way to the Cliffs of Moher at this viewpoint overlooking a valley in the Ireland countryside. 
The Cliffs of Moher Experience
A long, mostly-paved trail stretches along the Cliffs of Moher that visitors can follow for kilometers. Each section of the trail gives different views of the cliffs, with rolling green hills, and sometimes cows, on the opposite side of the cliff. A museum, Cliffs of Moher visitor's center, and gift shop are also on site to learn more about the cliff, its geology, and how it's formed a part of Ireland's history. 
When the tour bus stopped at the Cliffs of Moher, the bus driver made some politically incorrect jokes about how he doesn't want any of us passengers to commit suicide here while doing a headcount. The Cliffs of Moher is an infamous suicide spot, and there are signs warning against jumping. We were given about two hours to explore the area.
Being in Ireland, I should have expected for it to be windy, raining and freezing at the Cliffs of Moher. They drop straight off into the ocean after all. Learn from my mistakes for your three days in Ireland: be prepared for the rain!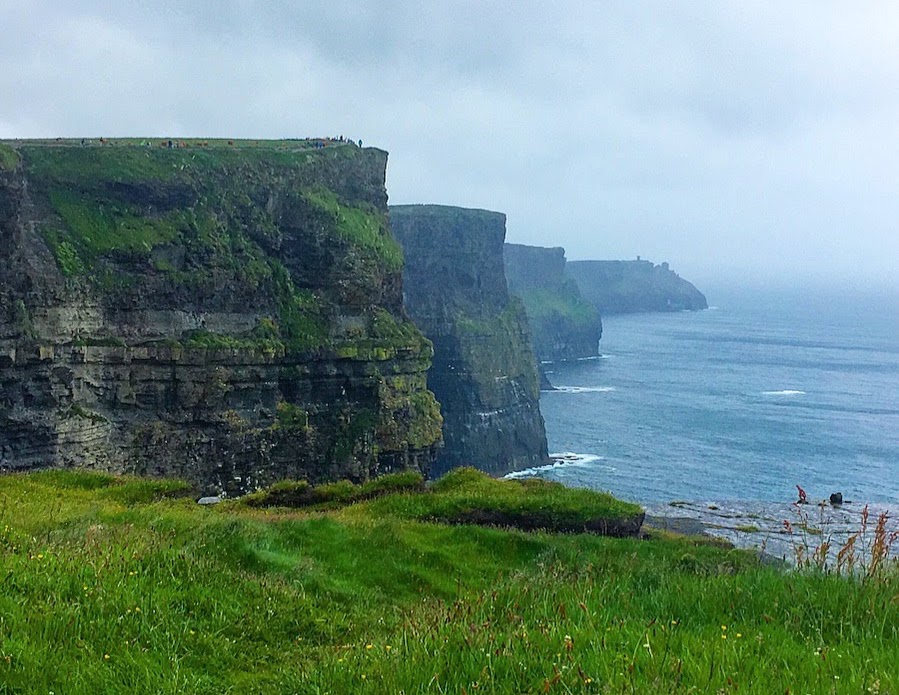 Although I was soaked to the bone, freezing cold, and muddy up to my thighs from wandering around the trails, I loved the Cliffs of Moher! The scenery was incredible and comparable in my opinion to the Grand Canyon in its epic display of land vs water. I can only imagine how incredible the Cliffs of Moher would be on sunny days.
After about two hours, we all boarded the bus again. On the way back to Galway we stopped at a small Irish pub/diner for a quick bite, before returning to Galway. 
While most of the tour passengers stayed on the bus to head back to Dublin, I was glad to be one of the few that was dropped off in Galway. I had about 20 extra hours to spend exploring this lovely city.
Day 3 - Back to Dublin, to finish three days in Ireland!
My last day during my three-day Ireland itinerary was spent back in Dublin. From Galway, in the morning I went to the Galway coach station and was picked up by a departing tour bus from the same company.
I had one last day to spend in Dublin before my flight back to London, to complete my three-day Ireland itinerary!
Check out some of these free things to do in Dublin to round-out your itinerary.
Free Things to Do in Dublin:
Visit the Ha'Penny Bridge which connects both halves of Dublin. When it was first built in 1815, people were charged a ha'penny to cross it.
Wander around Trinity College and enjoy the old architecture and open spaces. You can also take a student-guided walking tour for €15 euros per adult.
Take a walk around St. Stephen's Green, a massive park in central Dublin. I had lunch here and became surrounded by hungry ducks.
Visit museums: the permanent exhibits of both the National Gallery of Ireland and Natural History Museum are free. 
Where to Stay During Your Three Days in Ireland Itinerary
Dublin
Budget:  Jacobs Inn Hostel – This trendy hostel has private sleeping capsules, a large common area, great bathrooms, and even a rooftop chill spot! The hostel is only 5 minutes away from Temple Bar too. 
Mid-Range: Roxford Lodge Hotel – This boutique hotel is located right on the bus line from the airport. The stylish rooms are perfect for relaxing after a long day's exploring Dublin. 
Luxury: The Merrion Hotel – Straight out of the history books, this gorgeous 5-star hotel has a 2-Michelin Star restaurant on-site, Italian marble bathrooms, charming room decor, and even an infinity pool. 
Galway
Budget: Woodquay Hostel – Classic backpacker's hostel with lots of fridge space in the kitchen, a big common area, and diverse breakfast options. Great location right in Galway city center! 
Mid-Range: Sli Na Mara – This quaint B&B owned by a local couple will make your feel right at home in Galway. An incredible free breakfast will fuel you right up for your trip back to Dublin. 
Luxury: Glenlo Abbey Hotel – This incredible 5-star estate is located on a 100+ acres and has views of the lush green Irish countryside. It has complimentary bicycles for hire and activities like falconry on-site. 
If you have more than Three Days in Ireland:
Day-trip from Galway to Connemara and Kylemore Abbey – Wander through fairytale castles and view the mountains and lakes of rural Ireland. Check out this great deal from GetYourGuide.
Go on a cruise from Galway that takes you around the Aran Islands and lets you see the Cliffs of Moher from below. Spend time on the smallest Aran Island, Inis Oirr.
From Dublin, take a day tour to visit the Giants Causeway and the Carrick-a-Rede rope bridge. Plus spend some time in Belfast, another iconic Irish town.
Take an off-the-beaten-path tour from Dublin: explore Wicklow National Park, visit a medieval monastery in Glendalough, and see the old capital of Ireland, Kilkenny.
Only have Three Days in Ireland? Pin this post!
Are You Prepared For Your European Travelventures?