Teshima, also known as one of Japan's Art Islands, is located just next to Naoshima in the Seto Inland Sea. What once was a rural island suffering from depopulation, the Setouchi Triennale Art Festival, along with several museums built on Teshima, have helped to revitalize the community. This Teshima one day itinerary will help you navigate the island, and make the most of seeing all the art on Teshima Art Island. 
The Setouchi Triennale occurs every Spring, Fall, and Summer. Check the dates to see if it's going on when you're in Japan! 
Tip: Most museums on Teshima are closed on Tuesdays. Don't visit Teshima on Tuesday!
Getting to Teshima from Naoshima
There are a few ferries that depart from either port on Naoshima going to Teshima. A one-way ticket costs ¥620 for the 20-minute ride. 
From Naoshima's Miyanoura Port to Teshima, there are three departures per day: 9:20, 12:10, 14:45 (see part 3 of the boat timetable)
From Naoshima's Honmura Port, departures to Teshima occur at: 8:05, 9:00, 9:37, 10:00, 11:10, 11:15, 13:35, 14:30, 15:30, and 17:56. Be sure to double-check the boat times so you don't get stuck anywhere! 
Getting to Teshima from Elsewhere
If you're coming from the mainland, Uno Port, the earliest ferries depart at 6:45 and 8:40.
From Takamatsu in the south, take the 7:41 ferry, which arrives at 8:16 to Teshima. 
There are only a handful of options for accommodation on Teshima, so it's best to book ahead. Your options are between trendy and artistic places, or traditional Japanese places for accommodation. 
Navigating Around Teshima - One Day Itinerary
Teshima's museums and neighborhoods can be divided in to five different areas. To walk between them all is impossible, and taking a bike is also difficult. It's best to rent a scooter or take the bus. 
There are very few busses (one runs between sections A-B, the other from A-C-D-E). Check the bus timetable here. There is no bus that makes a loop around the island. Fare per person is ¥200, paid upon exiting the bus.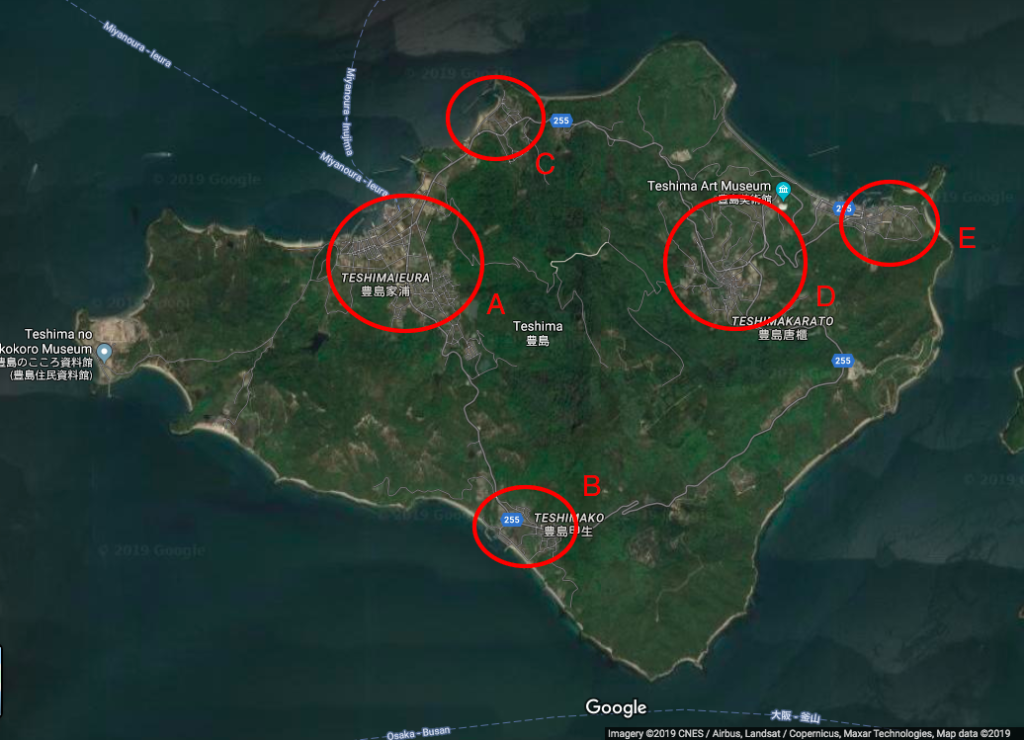 The West and South Side of Teshima
Section A: Teshima's Ieura Port and welcome center. Home to Teshima's main luggage storage, bicycle rental, gift shop, and ticket office. A few restaurants and cafes can be found here, plus a post office and convenience store. Art exhibits include the Fish Store, Teshima Yokoo House (my favorite), and the Needle Factory. 
Section B: ~35 minute walk from Section A. You can walk by the ocean here for a true, rural Japanese island feel. Home to art installations Toi Kikoku, Teshima 8 Million Lab, and sometimes other seaside events. These installations open earlier than the ones near the port, so it's a good time-saver to visit this section first.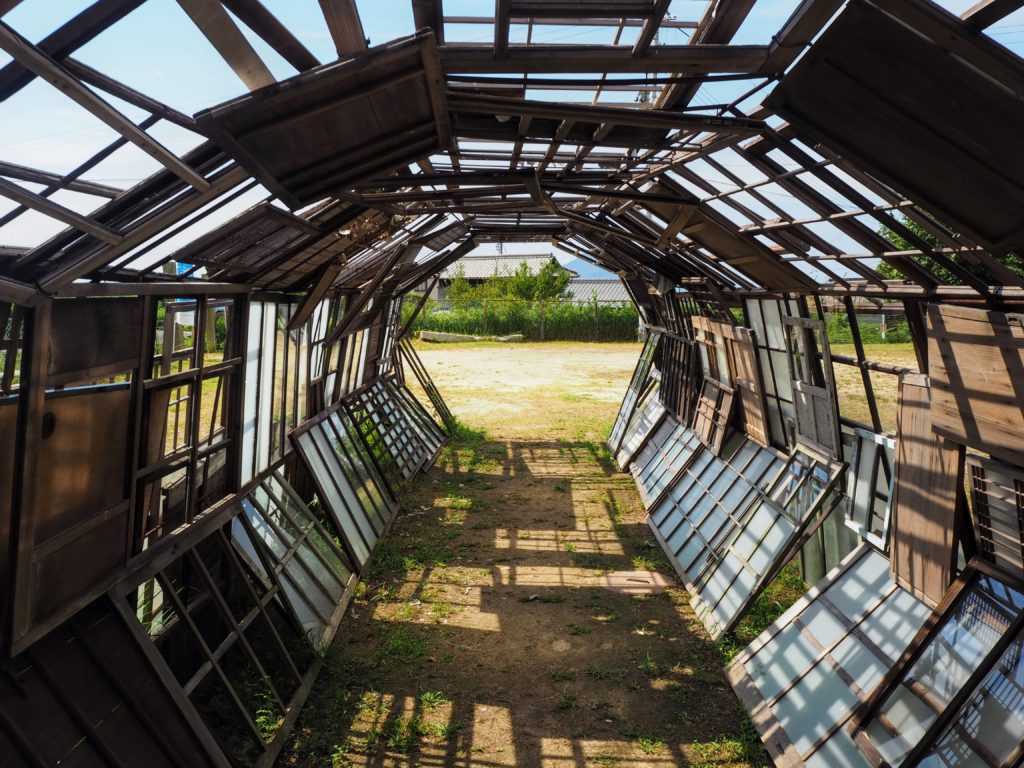 Section C: ~25 minutes walk from Section A. Home to Umitota Restaurant with floor-to-ceiling glass windows, and the art sites Umitota (the accommodation) and the Teshima Seawall House. A short walk away is Korogaru Park. 
The East Side of Teshima
Section D is a large residential area built in to the side of a hill. There are a few restaurants here, including art installation Shima Kitchen.  Storm House (another favorite), Particles in the Air, and Your First Color are art installations in this section of Teshima. Uphill into the forest is La Foret de Mumures. Slightly downhill is the picturesque Teshima Rice Fields Project, with a backdrop of the sea behind it.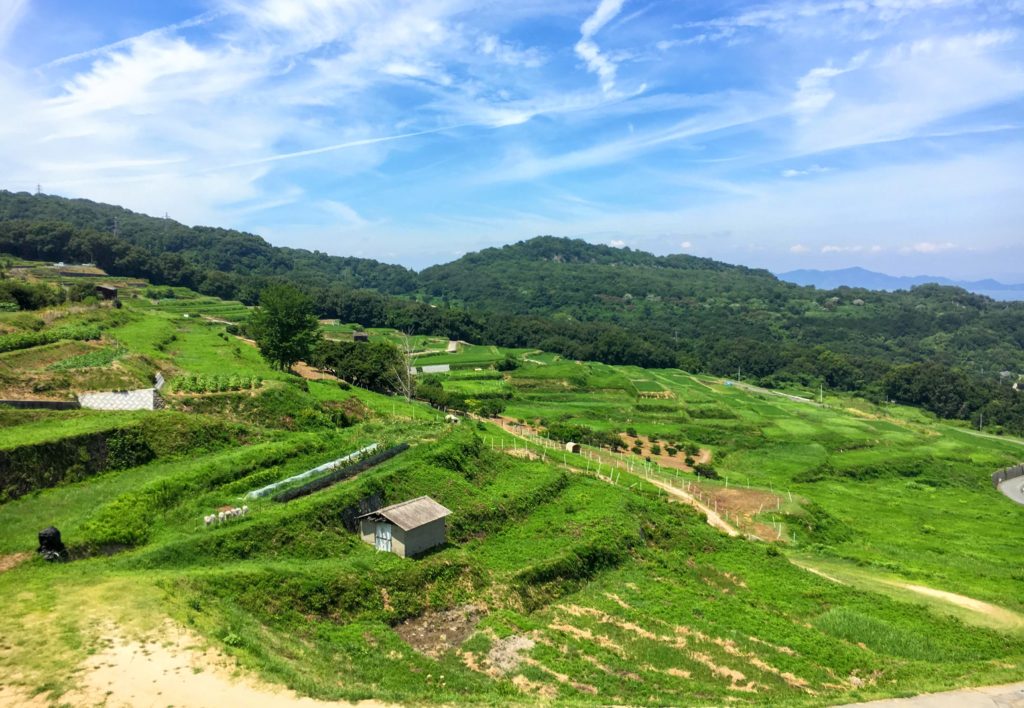 The main attraction in Section D, and arguably for all of Teshima, is the Teshima Art Museum. Tickets sell out quickly, so try to snag day-of timed tickets early then come back at the designated time to enjoy Teshima Art Museum. The cost for this museum (¥1570) is not included in the Setouchi Triennale Passport. 
Section E – a quiet part of Teshima where you can relax by the beach. The art installations here include the quirky basketball hoop No One Wins, and the museum about heartbeats, Les Archives du Coeur. It's possible to walk in about 20 minutes from Section D to Section E, but there are no sidewalks so you're walking on the main car road. 
Teshima One-Day Itinerary
If I was spending one day on Teshima art island, here's what it would look like. Note it seems like it's a late start at 10:00am, but most of the art exhibits only open at 10:00! 
Depart Naoshima's Honmura Port for Teshima at 8:05, arrive at 8:25. If you're coming from Uno, take the 8:40 to arrive at 9:05. 
Wander around Ieura Port, grab a quick breakfast if you have time. 
Take the 9:07 bus from Ieura Port to Kou Shukaisho (Section B, arr 9:15). Check out the two art installations here. (30 minutes)
Walk back to Section A (35 minutes on foot to the Needle Factory, or if you're lucky, a local will pick you up and drive you). View the art here (1 hour)
Walk to Section C and see the installations here.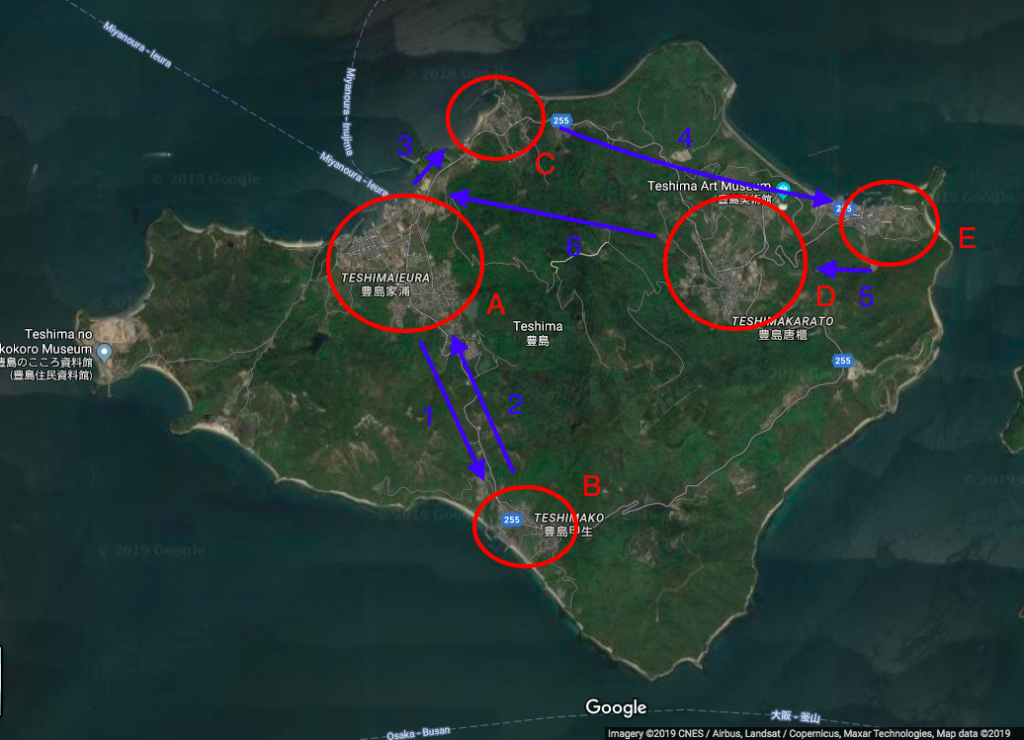 Bus to the East part of Teshima
Take the bus from Mori Mariko Bus Stand (Stand 3) at 11:57 and arrive to Karato Port at 12:07. Check out Section E, play some basketball and walk down to the beach. 
Walk to Section D (20 minutes) and get a numbered entry ticket for the Teshima Art Museum. Be aware that the last entry is at 15:30, 30 minutes before closing. Check out the other art installations in the area, and grab some lunch at one of the few restaurants. When it's time, check out the Teshima Art Museum.
Take one of the last busses from the Teshima Art Museum (at 15:25 or 16:44) back to Karato Port. 
The last ferries off of Teshima depart at 17:20 and 18:05 – head back to Naoshima or over to Shodoshima from here! 
Leaving Teshima to Shodoshima, etc
After your one day in Teshima, there are many places that you can head to next. Take a look at this timetable to plan how you will leave Teshima island. 
If you're going back to Naoshima, the last boat leaves at 17:35 from Ieura Port. Heading the opposite way to Shodoshima? The last two ferries leave at 17:55 and 20:10.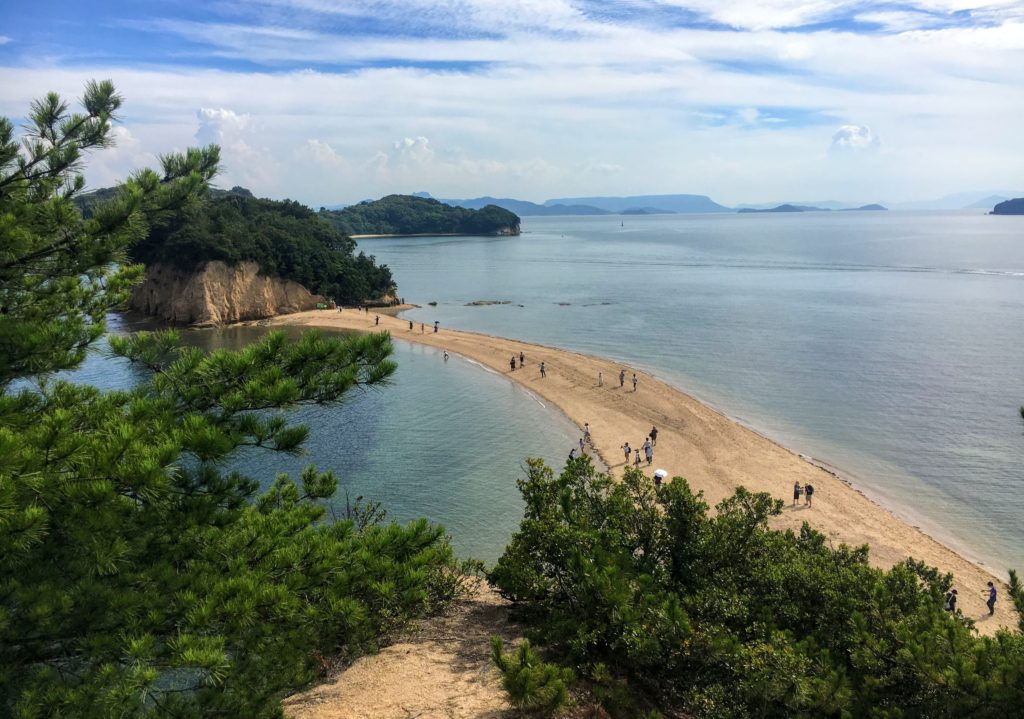 Spending one day in Teshima? Pin this post!