Bangkok and Chiang Mai are two of the most famous cities in Thailand. Bangkok, the bustling capital, is the heart of central Thailand and the starting point for many Thailand itineraries. So what's going on in Chiang Mai in northern Thailand? 
Chiang Mai is the cultural capital of Thailand and home to incredible temples, jungles, and a more laid-back pace of life. With a population of only 131,000 people, it's dwarfed by the masses of Bangkok (8.2 million). Neighboring towns in the mountains, Pai and Chiang Rai, are also home to amazing natural wonders and breathtaking temples. 
If you're planning a trip to Thailand, don't just visit Bangkok and southern Thailand. Spend one week in Northern Thailand to experience jungles, sunrises, temples, and trekking!
Traveling Between North and South Thailand
Because of the contrast between northern and southern Thailand, it's worth spending time in both parts of the country. There are several ways to get between the two hub cities: Bangkok and Chiang Mai.
Getting Between Bangkok and Chiang Mai to start one week in Northern Thailand:
If you have less than one month in Thailand, I recommend flying between Bangkok and Chiang Mai. Flights run frequently from Bangkok to Chiang Mai and back, and if you book ahead, they're pretty cheap! Pack all of your belongings into a 7kg carry-on (no check-in luggage), and it's even cheaper. 
If you're island-hopping in southern Thailand and trying to get to Chiang Mai from Phuket or Surat Thani to Chiang Mai, your best option is definitely to fly. Overland transit will be a pain in the ass (literally), and you'll lose two days on busses or trains. But if you'd like, set an example for traveling sustainably and take overland transport all the way! 
To get around Thailand, I use 12GoAsia's online portal to search for the best transport options.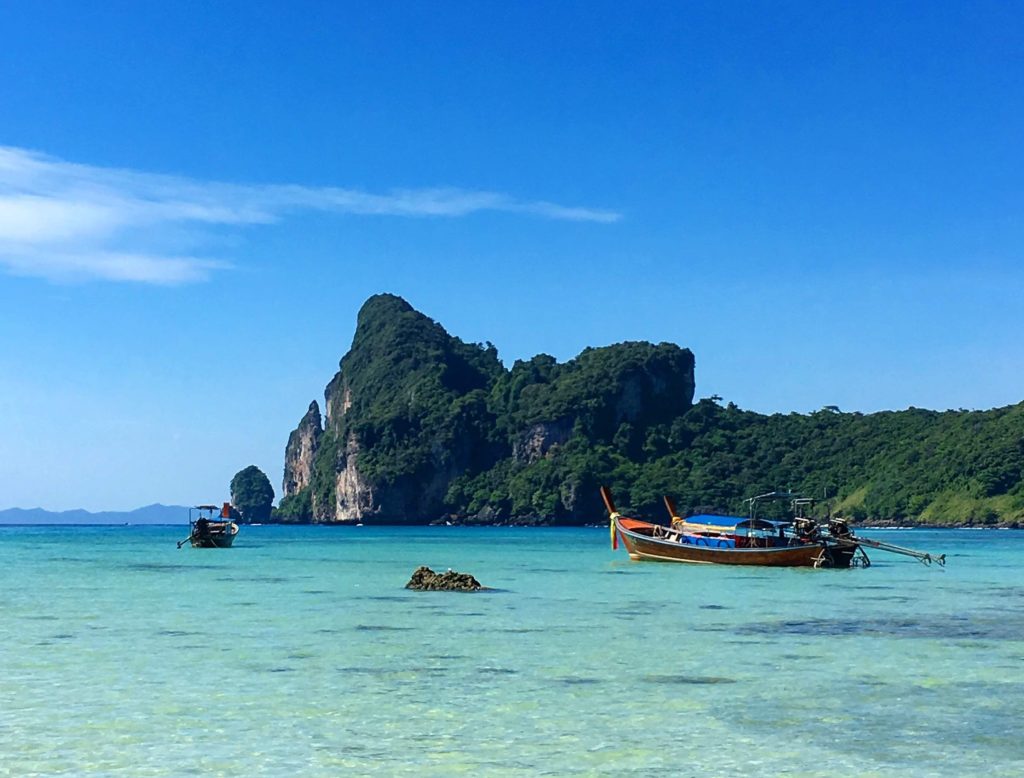 One Week in Northern Thailand Itinerary
Your one week in Northern Thailand itinerary is bound to start (and probably end) in Chiang Mai. This town is the capital of Northern Thailand, and the former capital of the independent Lanna Kingdom. Comparing Chaing Mai to Bangkok is like comparing Kyoto to Tokyo in Japan. It's the cultural capital, where you can't walk five minutes without seeing a beautiful Thai temple or a barefoot monk dressed in orange robes. 
If you look at Chiang Mai from above, you can tell immediately where the Chiang Mai Old City is. On a map, it's the perfectly square section in the middle of town. The Old City is the perfect place to stay, eat, and explore Chiang Mai's best temples. Chiang Mai is also a great place in northern Thailand to rent a scooter and explore the surrounding tranquil countryside.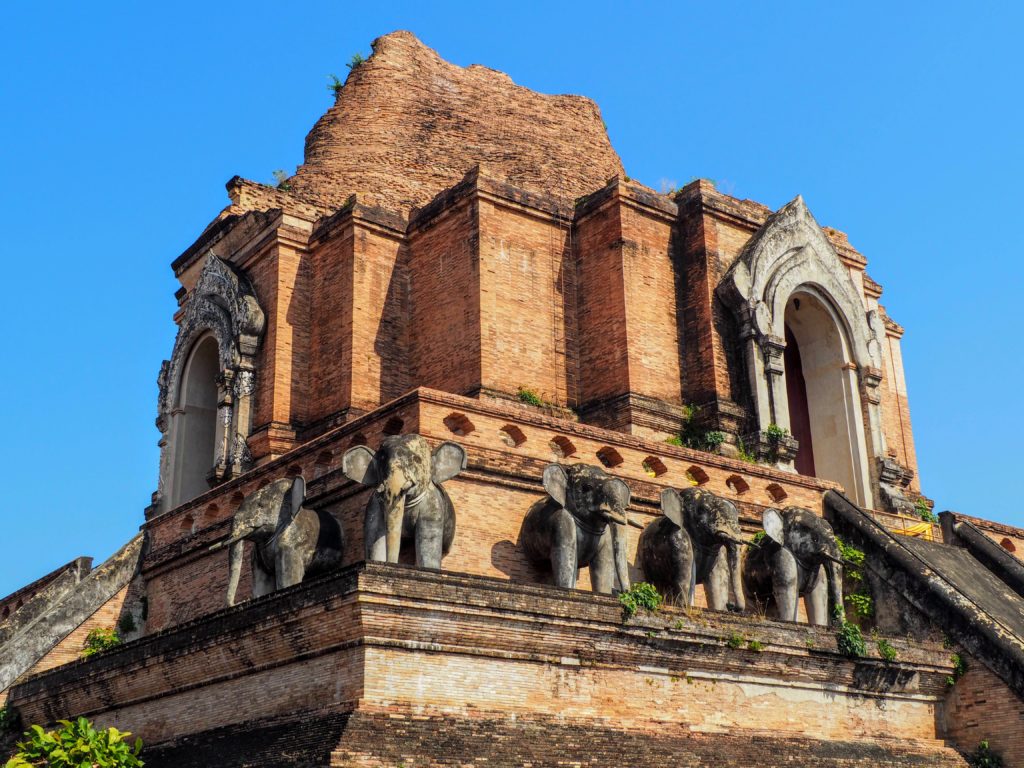 Where to Stay in Chiang Mai
For first-timers to Chiang Mai, I recommend staying in the Old City. That way, you're walking distance to many famous attractions and markets. The Old City is filled with traveler amenities as well, like health-food restaurants and coffee shops, 7-Elevens, tourist information desks, and tour operators. 
An amazing hostel I recommend is Sherloft Home & Hostel. Not only is it aesthetically amazing, the dorm beds are comfortable, there are plenty of bathrooms, and the free breakfast every morning is incredible!
Read my post about staying at Sherloft Home & Hostel here.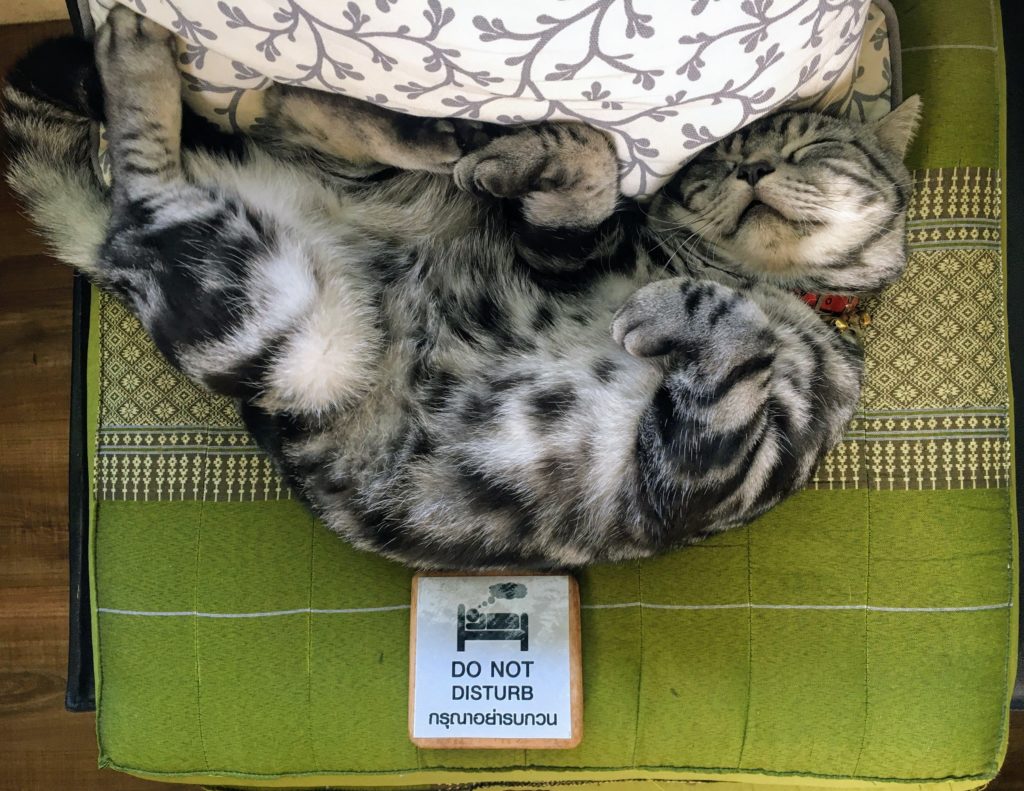 Things To Do in Chiang Mai
Visit the Sunday Night Market, one of the most diverse markets in all of Thailand. It sprawls across several of the Old City's walking streets, and you'll be hard pressed to see all of the stands in one evening. Buy unique handicrafts and souvenirs, try street food from hundreds of stands, and even play some carnival games! 
Rent a scooter to visit neighboring villages and temples. 
Wander around Chiang Mai Old City, and explore all of the temples. Be sure to respect the local culture by covering your shoulders and knees, taking off your shoes before entering a temple, and giving a small donation if asked.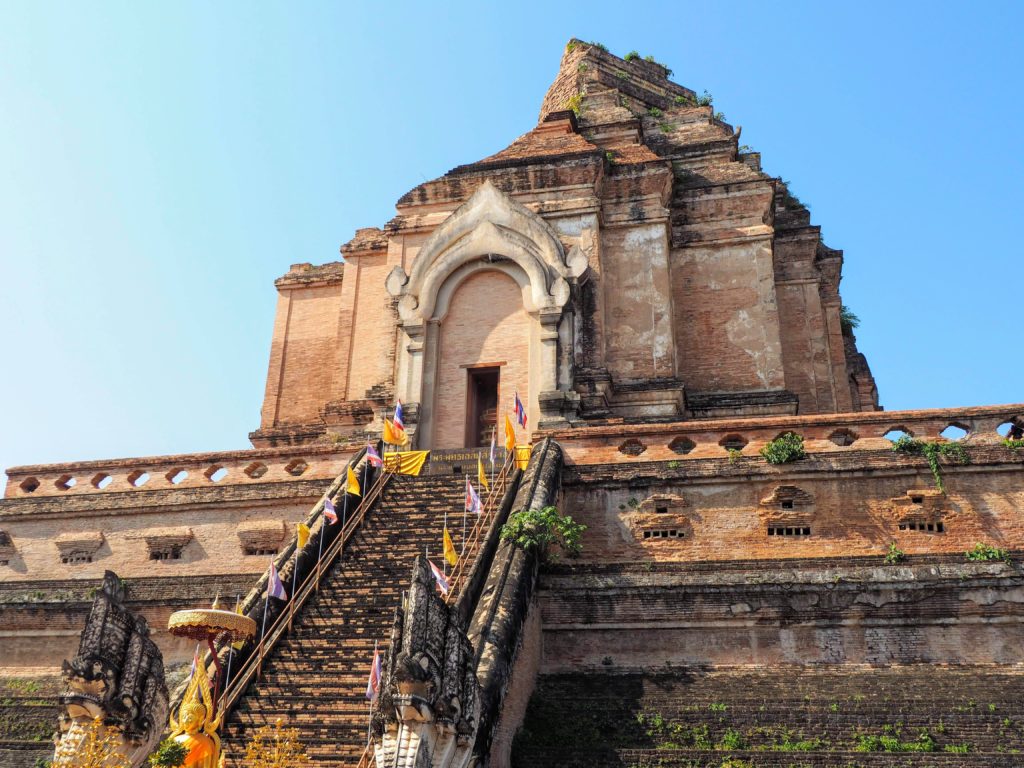 Visit Doi Suthep National Park – just up the mountains from Chiang Mai is a large national park with several different hiking trails to explore. The Doi Suthep region is also famous for its Hill Tribes. You can tour from Chiang Mai to see holy Wat Phra That Doi Suthep and a Hill Tribe village. 
Reach the highest point in Thailand – Doi Inthanon. There's a road going up 90% of the way, then the rest you'll have to hike on foot! This is a popular sunrise and sunset spot in Chiang Mai
Take a cooking class to learn about all of Thailand's delicious and soul-warming cuisine. Most classes include a trip to the market with a local, to learn about spices and locally-sourced ingredients too. 
Visit elephants at an ETHICAL elephant sanctuary, like the Lanna Kingdom Elephant Sanctuary. 
One Week in Northern Thailand Itinerary
Pai is a little hippy community located a three-hours drive northwest of Chiang Mai. It's popular with both the vegan backpackers community and with motorcyclists – what a combination! The road between Pai and Chiang Mai is famous for its many twists and turns in the mountains. Beware, this road is a struggle for those who easily get carsick. 
Search for transport between Chiang Mai and Pai online here, or you can easily book a minivan through your accommodation in Chiang Mai.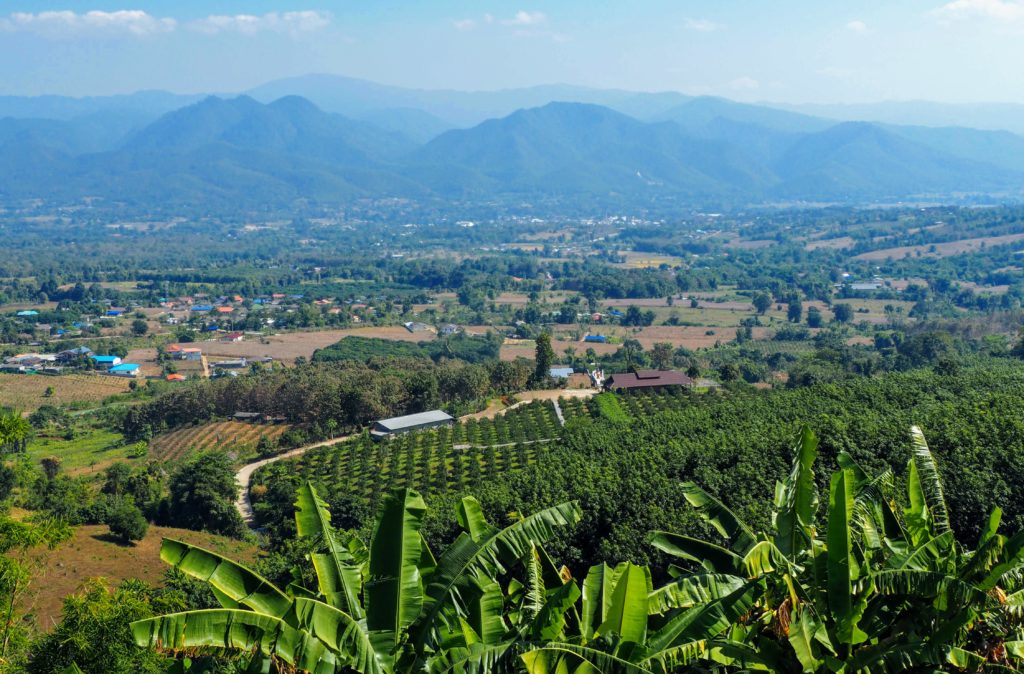 Where to Stay in Pai
There are countless nice backpacker hostels in Pai, and many cheap but luxurious private cabins or guesthouses for couples too. It's best to stay somewhere within walking distance from Pai's Walking Street, which livens up every night with a night bazaar. 
I stayed at the very basic but super friendly Paimanee Hostel. Although the dorm rooms are outdated, the owner, Mama Su, has to be the sweetest lady in all of Pai. Other backpacker hostels include the Juno Hostel Pai and Pai My Way Hostel.
Along the river that cuts through Pai are many nice mid- and upper-range accommodation options too. For a medium budget, see The Nest House or Pai Smilehouse bungalows.
For those looking for luxury, you can't go wrong with the Pai Island Resort.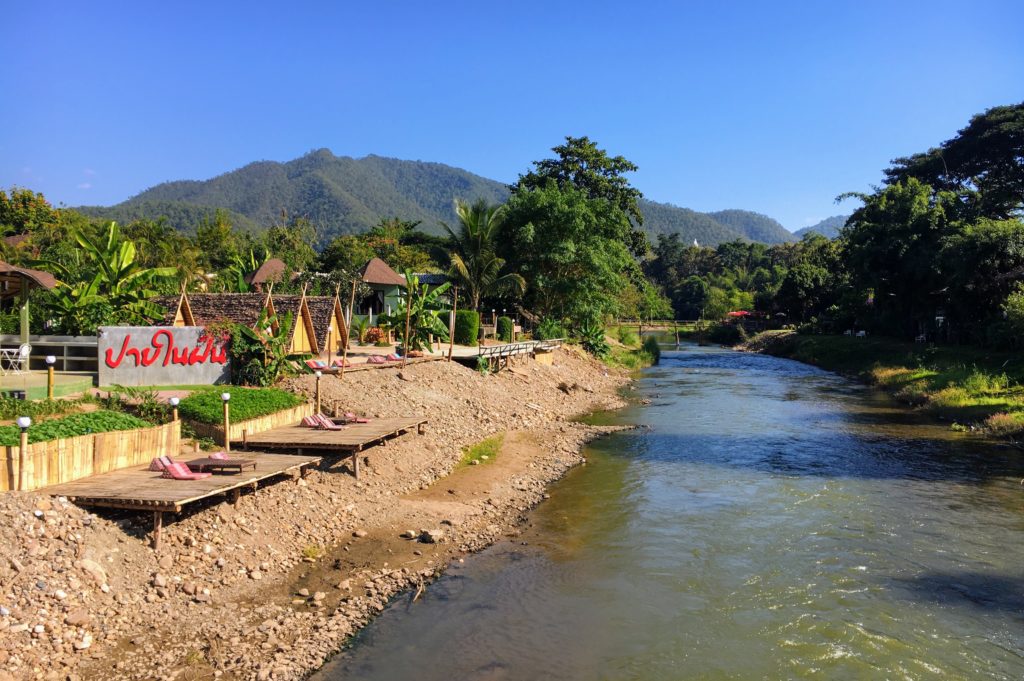 Things To Do In Pai
Visit the Pai Walking Street in the evening. The main street through Pai City Center closes to cars and motorbikes to become pedestrian-only from about 6 p.m.  Eat street food and shop for handicrafts from the little stands that open here each night!
Go on a trekking trip to through the surrounding mountains
Check out one of the many vegan and vegetarian restaurants that Pai is famous for. Below is my vegan Buddha Bowl from Earth Tone, one of the first vegan and vegetarian restaurants in Pai.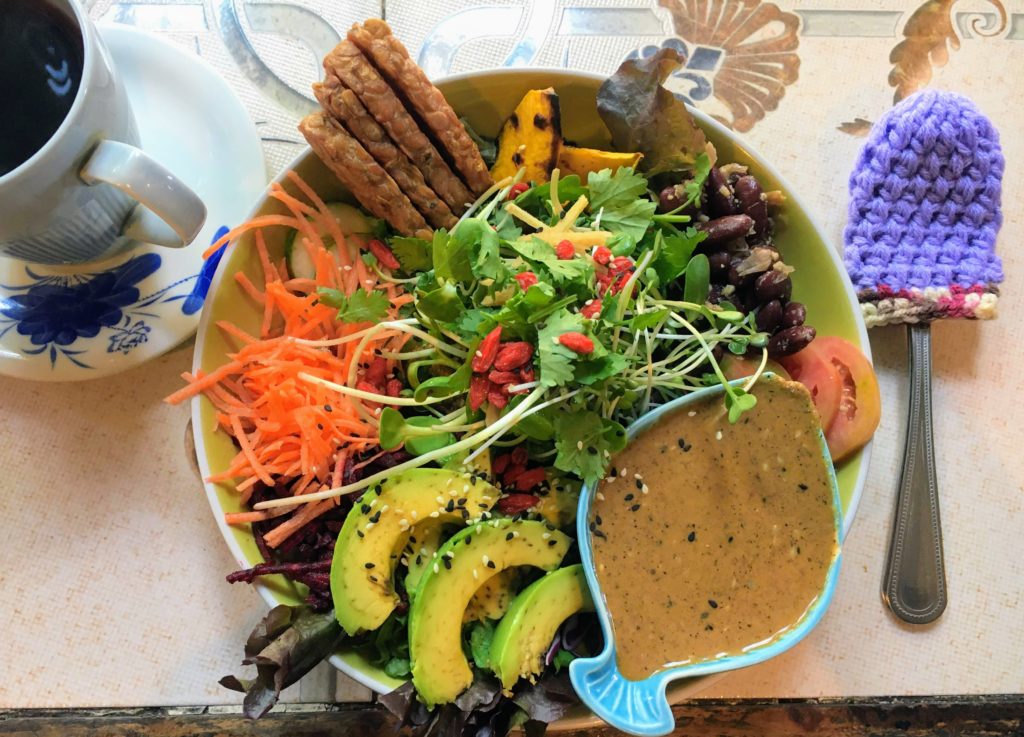 Rent a scooter or book a tour to see Pai's highlights
Scooters can be rented from 100 baht ($3 per day) in Pai, to explore the region. For about 300 baht per person ($10), you can also have a tour take you around to Pai's highlights. Popular destinations include:
Mae Yen Waterfall, a great place for hiking and swimming
Pai Historical Bridge: A World War II Memorial bridge, made of bamboo and located along the main road south of Pai.
Chedi Phra That Mae Yen, the White Buddha temple that you can see from town
Pai Canyon – not quite the Grand Canyon, but home to some cool rock formations you can climb around on.
Mo Paen Waterfall, another great location to cool down and slide down the rocks into large pools.
Santichon Village, a historic Chinese settlement turned into basically a theme park. There's a man-powered ferris wheel here, plus a fort and many souvenir shopping opportunities. 
Yun Lai Viewpoint. Just above Santichon village, this viewpoint overlooks Pai and the surrounding countryside.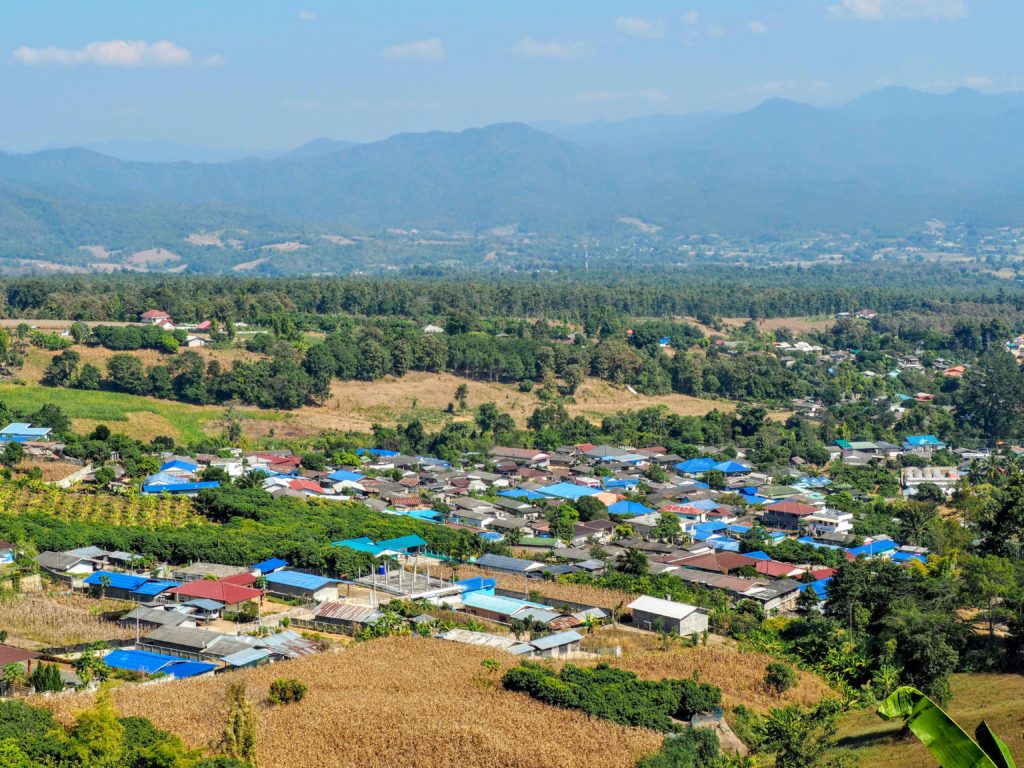 Chaing Rai is another beautiful town that shouldn't be missed during your one week in Northern Thailand itinerary. It's located to the northeast of Chiang Mai, and east of Pai. Unfortunately because of the hilly geography of the region, it's not really possible to go directly between Pai and Chiang Rai without back-tracking through Chiang Mai.
If you're not a fan of long days in transit (my van from Pai, through Chiang Mai, to Chiang Rai took 7 hours), plan on spending an extra day in Chiang Mai between Pai and Chiang Rai in your Northern Thailand Itinerary. 
Chiang Rai is famous for its colorful temples, namely the White Temple and the Blue Temple. There are also several night markets here and a night bazaar. If you don't have time in your North Thailand Itinerary for two whole days in Chiang Rai, taking a day-trip from Chiang Mai to Chiang Rai is an option too.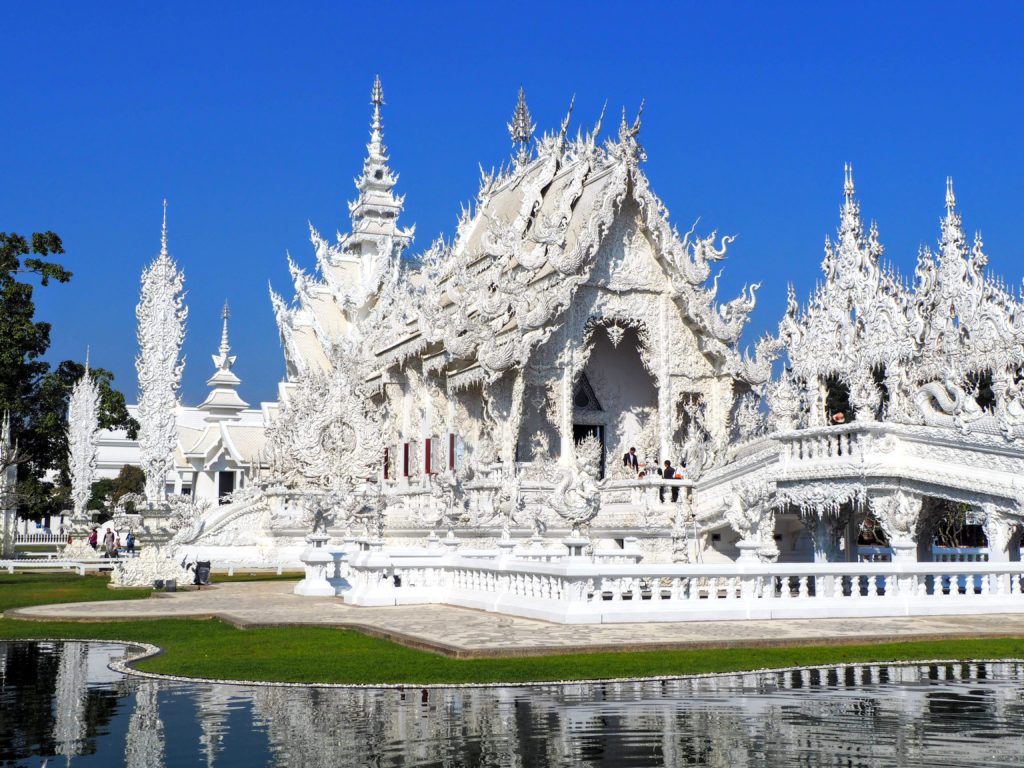 Where to Stay in Chiang Rai
I recommend Mercy Hostel for backpackers and budget travelers as a place to stay in Chiang Rai. It's another wonderful hostel that really cares about its guests. There's a gym, a pool, and two common areas on site, and spacious bathroom facilities. It's also close to Chiang Rai's city center, so walking distance from the bus station, night bazaar, and many restaurants. 
Other impressive budget places are Backpack Hostel, with a whopping 9.9 rating on Booking.com, and the trendy Busket Hostel.
Highly rated options for private rooms include the medium-budget Sabai Chiang Rai and Kanlaya Place. For luxury options, check out Nak Nakara Hotel and Le Patta Hotel Chiang Rai.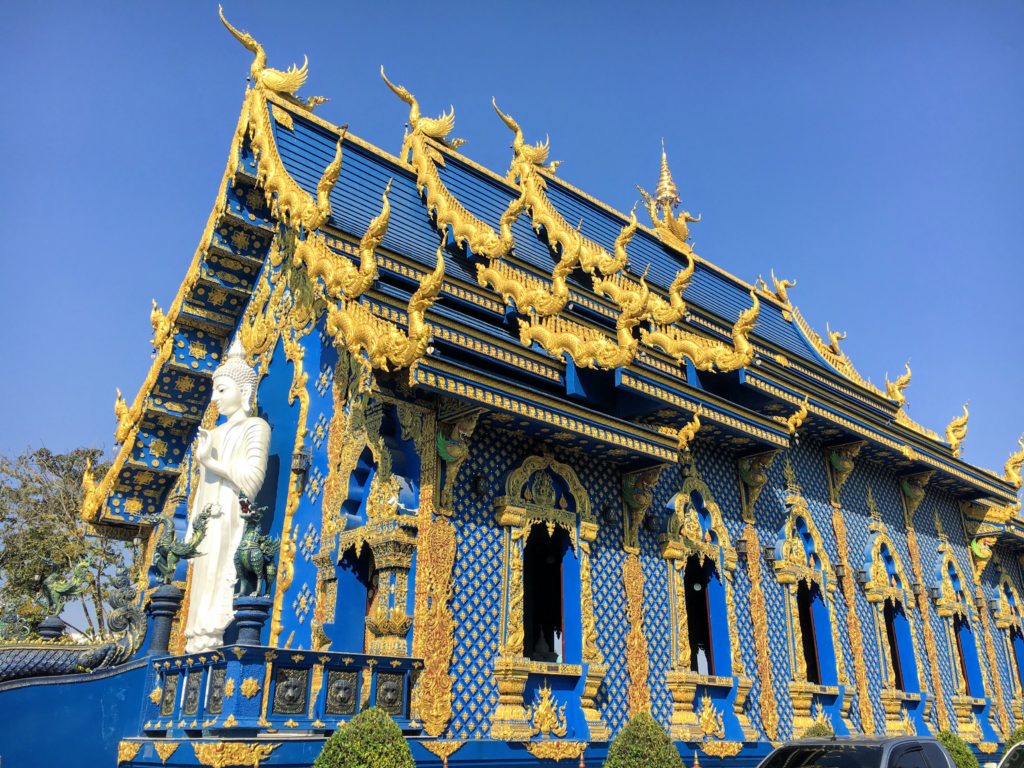 Things To Do In Chiang Rai
Similar to Pai, it's easiest to see all of Chiang Rai's highlights if you rent a scooter or join a group tour. Most sites can be visited if you have one whole day here.
Visit the White Temple. Arguably what Chiang Rai is most famous for is this elaborate and intricate temple. Although it's not a very traditional Thai temple, you won't see any monks praying here, it's a beautiful and over-the-top piece of artwork.
Visit the Blue Temple – this temple IS an actual Thai Temple, which was recently built and is known for its brilliant blue exterior and interior. 
Explore the Black House museum. Where the White Temple is a vision of heaven, this museum is the contrasting vision of hell, which makes an interesting visit. This strange exhibit is home to many different black buildings, filled with animal horns, skins, and bones. (Not recommended for vegans and vegetarians because of the sheer number of dead animal remains you see here.)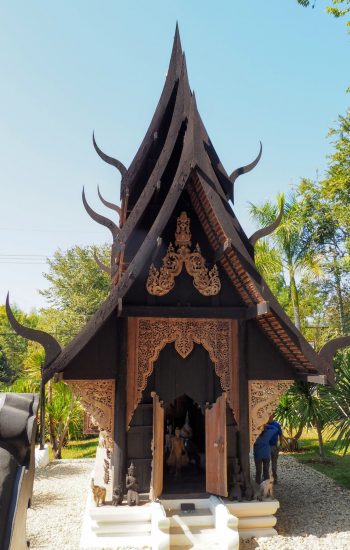 Things To Do Outside of Chiang Rai
Chiang Rai is the largest town in the northeast close to both Thailand's neighbors, Myanmar and Laos. Where the three countries meet is called the "Golden Triangle", and it's located about an hour's drive north of Chiang Rai (I don't recommend scootering that far).
At the Golden Triangle is also an Opium Museum, which delves into the history of this drug crossing the three countries' borders. 
Extending your One Week in Northern Thailand Itinerary
Wanting to stay longer than one week in Northern Thailand? There are various other amazing places you can visit here.
One of the most popular multi-day activities away from Chiang Mai, Pai, and Chiang Rai, is trekking in the mountains. Immerse yourself in the jungles and forests that Northern Thailand is famous for. Tours can be booked from either of the three towns.
For the nature-loving travelers to Thailand, why not stay at The Mothership, a unique Eco-Resort in the mountains near Chiang Mai where you stay in dome-shaped accommodation. It's also listed on Workaway.info if you're looking at a long-term volunteer opportunity! 
An under-the-radar town near Chiang Mai to stay in is Chiang Dao. It's known for its nature and tranquility, with a large Chiang Dao cave complex to explore, and some hot springs. Find a place to stay in Chiang Dao here!
After Northern Thailand
If traveling to Laos after your one week in Northern Thailand, there are several ways for backpackers to get between the two countries. From Chiang Mai, Pai, and Chiang Rai, there are tour operators offering bus rides to the Laos border, or even further to Luang Prabang. Taking the slowboat to Laos is a popular option with backpackers, which takes two days and includes an overnight stay in a local Laos village. 
Heading to Northern Thailand? Pin This Post:
Are You Prepared For Your One Week in Northern Thailand Itinerary?