My childhood was spent watching more Totoro, Kiki, and Chihiro than it was watching Ariel, Belle, and Jasmine (ok, except for Simba). Staple movies for any Japanese child were the ones made by Studio Ghibli and director Hayao Miyazaki. Although he's retired from movie making, his characters, his stories, and the life lessons he taught through them, will be treasured forever. 
Re-live all of your favorite Ghibli movies, and discover a behind-the-scenes world when visiting the Studio Ghibli Museum in Mitaka, Tokyo, Japan! 
Before You Visit The Studio Ghibli Museum:
Binge Watch My Top 10 Studio Ghibli Movies​
Short on time before visiting the Studio Ghibli museum and haven't seen all the movies? Here are my top 10 Studio Ghibli movies to watch before your visit. 
You can educate yourself on what all the fuss around Studio Ghibli is about!
Spirited Away
Howl's Moving Castle
My Neighbor Totoro (classic museum characters are from here. Totoro & Mei!)
Princess Mononoke
Castle in the Sky (the theme of the museum rooftop is from this movie) 
Ponyo
Kiki's Delivery Service (more characters from here – I saw a pair of little girls dressed up as Kiki to visit the museum!) 
The Secret World of Arriety
Porco Rosso
The Grave of the Fireflies (keep a box or two of tissues handy for this one) 
See Studio Ghibli's full list of movies and another ranking of them 
here
. 
How to Get Tickets to Visit the Studio Ghibli Museum
There are two methods to purchasing tickets for the Studio Ghibli Museum: online (for those outside of Japan) or at a Lawson in Japan. 
If you want to buy a ticket from abroad, JTB Group sells them for certain countries. On the 1st of the month, tickets for the next 4 months go on sale. Be sure to plan ahead because only 100 tickets available per admission day can be purchased from abroad. 
Note: For some countries, JTB only sells Ghibli Museum tickets to travelers who also purchase a flight or tour with them! In which case, purchase Studio Ghibli Museum Tickets from a tour operator like Voyagin or Get Your Guide.
These sites sell tickets at a premium, but it will guarantee you entry to the museum. You can purchase last-minute tickets for this month, or guaranteed tickets for next month.  
Buying Studio Ghibli Tickets at Lawson in Japan
If you are in Japan and want to purchase a Studio Ghibli Museum ticket from Lawson, head to one that has a red Loppi machine. Again, be sure to plan at least one month ahead of when you want to visit the museum. Tickets for the Studio Ghibli Museum go on sale one time per month (on the 10th of the month at 10am Japan time) for the coming month. The weekend tickets are known to sell out in 15 minutes!! 
Keep in mind that you have to choose the day you want to visit, along with the time slot (10:00, 12:00, 14:00, or 16:00).
How to buy a Studio Ghibli Museum ticket from Lawson's Loppi machine
Note: Most Loppi pages are unfortunately in Japanese. Although you can switch some of the main text to English, to purchase Studio Ghibli Museum tickets, it helps immensely to be able to read Japanese. 
On the Loppi home screen, there's a button for Mitaka Ghibli Museum. When you click this, two options appear for which month you want to purchase a ticket. When you select the month (look for the month number next to the symbol 月) a calendar appears where you can select the day you want to visit. 
Select the time (10:00, 12:00, 14:00, or 16:00) then select how many tickets of each type you want to buy. Adults cost 1000 yen, ages 13-18 are 700 yen, 7-12 are 400 yen, and 4-6 are 100 yen.
Tip: Studio Ghibli Tickets are purchased under one name, so only buy tickets for those you are going together to the museum with! If you are purchasing for another friend or group that is going on a different day/at a different time, you have to make a second purchase under a different name.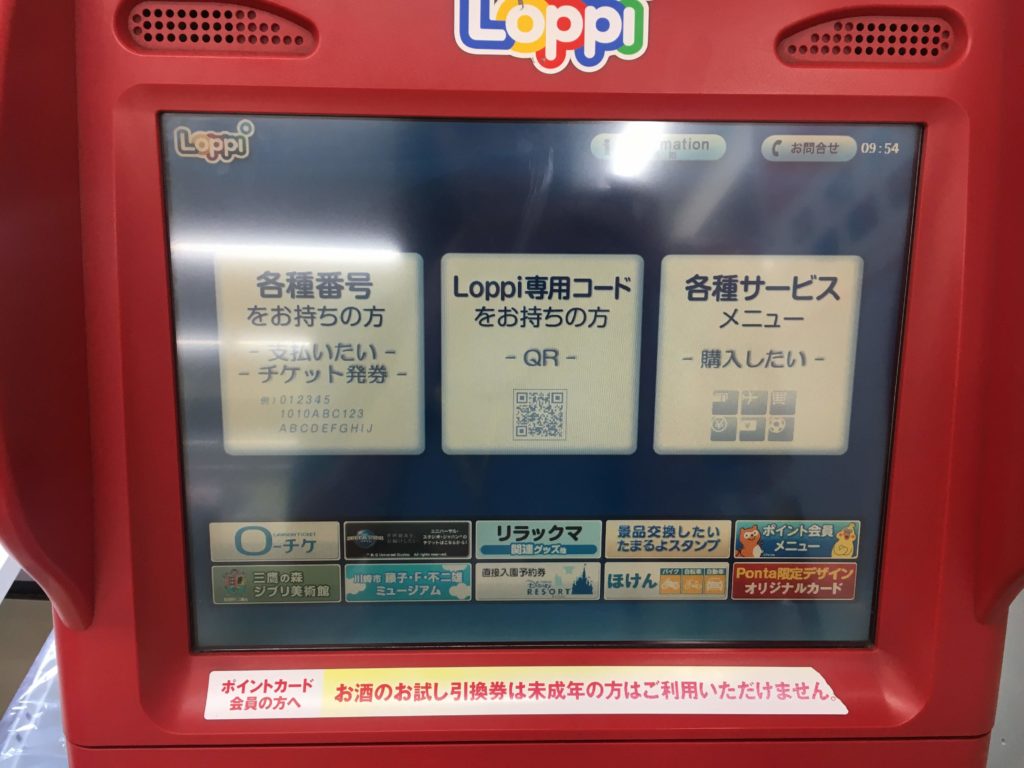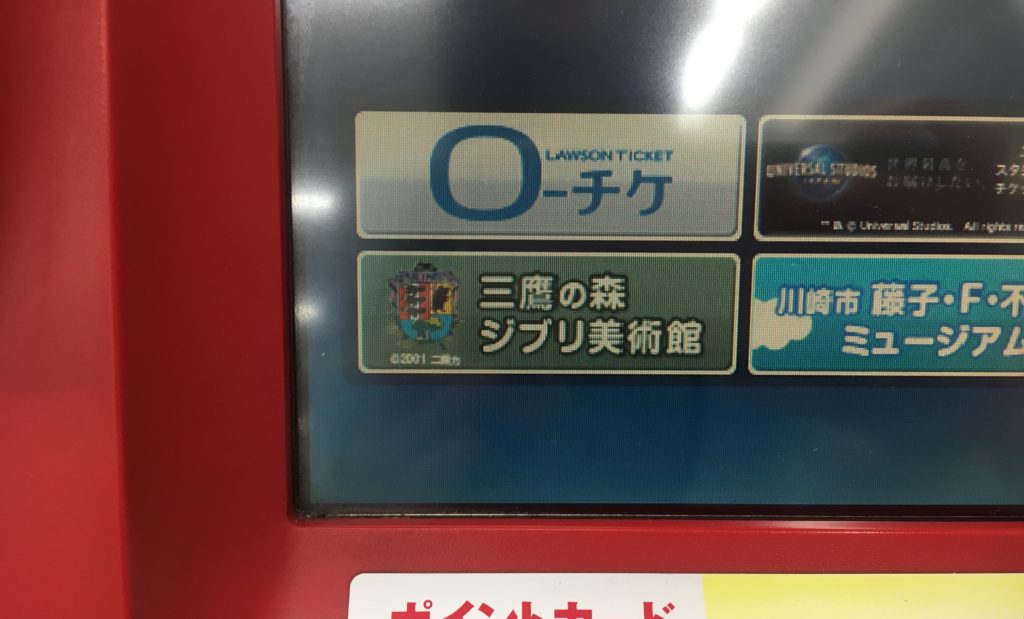 To confirm the Studio Ghibli Museum ticket purchase, you need to type in your name as it appears on your ID, and your phone number. No ID is necessary to purchase the tickets, but you'll have to confirm your ID matches the ticket name at the entrance to the Ghibli museum. To type in your name, the default alphabet is Japanese hiragana. Click through the options on the right hand side until you find the Roman alphabet. 
During the purchasing process, there were a lot of Japanese text pages, probably stating the rules for visiting the museum, what time to arrive by, etc. I ignored them all and kept clicking the obvious 'next' button on each screen. Also during the process, I had several errors pop up that said the servers were busy and to please try again later. I just exited out of the error and then clicked 'next' or 'ok' again.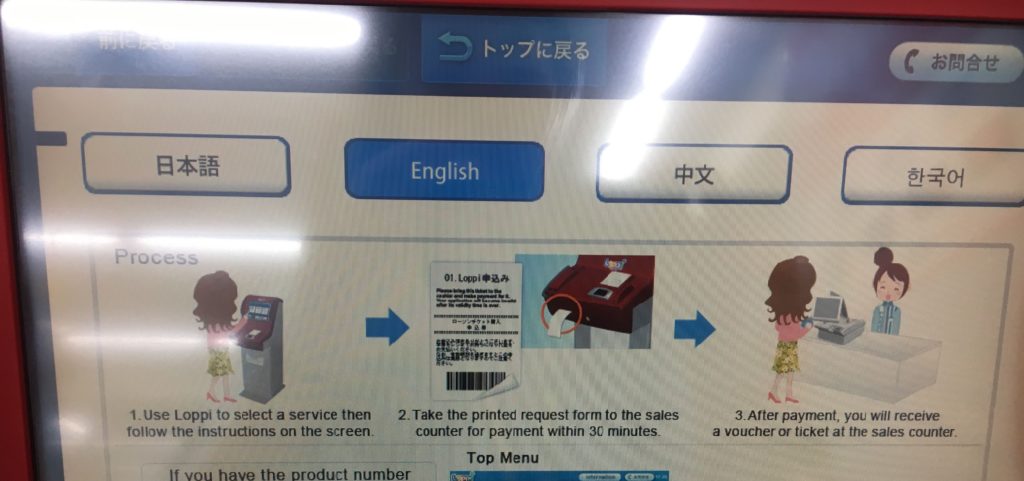 Since the ticket purchasing is all in Japanese on Loppi, it might be best to find a Japanese friend to come and help you! The first time I bought tickets to the Studio Ghibli Museum, a nice Japanese lady was waiting to buy tickets behind me, who helped me read the error messages and showed me where to find the Roman alphabet to type my name.
After you've finished all of this, a long slip of paper prints out from the Loppi machine, which you take to the Lawson register. You pay for the Studio Ghibli Museum tickets at the register, then you receive your tickets and a map of how to get to the Ghibli museum in Mitaka! Easy, right?? 
How to Get to the Studio Ghibli Museum in Mitaka, Tokyo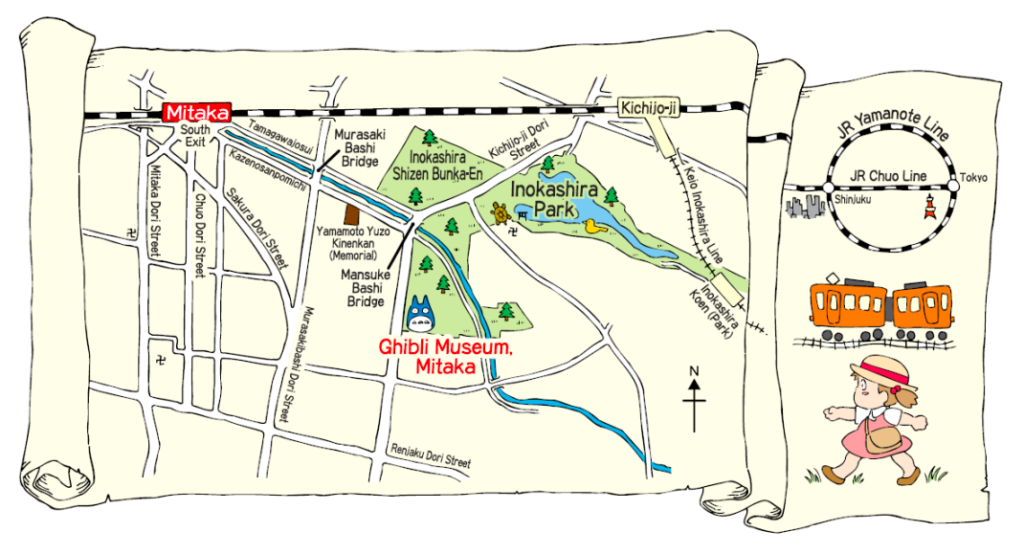 Take the Chuo line (rapid or local) from Shinjuku station to Mitaka station. With a 
Suica card
 it costs 220 yen and takes less than 20 minutes to Mitaka Station. From the station's South Exit, you can reach the museum by foot, bus, or taxi.
By Foot – 15 minutes (see the adorable map above)
By Bus – Studio Ghibli 'community buses' run from the station to the entrance of the museum. It's obvious which busses will take you there, because the exterior of the bus is covered in Ghibli characters. It costs 210 yen one-way for adults, and 320 yen round-trip. For kids 12 and under it's 110 yen one way and 160 yen round-trip. Just buy a one-way ticket if you plan on exploring Inokashira Park or walk to Kichioji station after the museum. More on that later!
By Taxi – Taxis to the Studio Ghibli museum cost about 500 yen from Mitaka station and can fit 4 people. This is the fastest way to get to the museum if you're running late, and cheaper than the bus if you're with a group.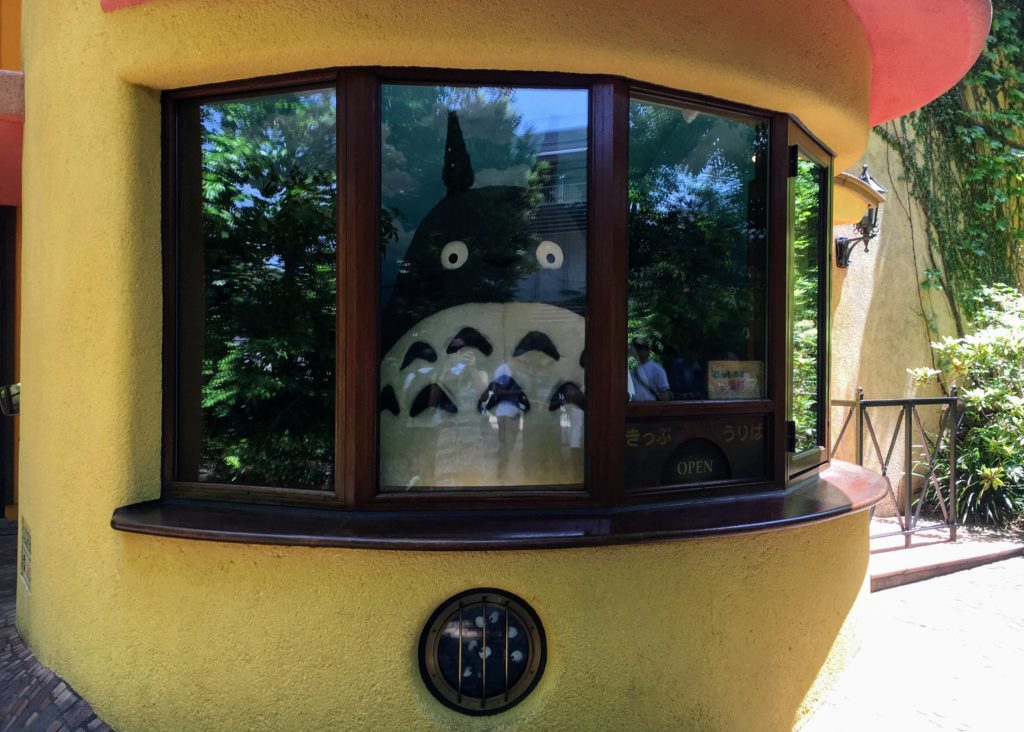 There may be a bit of a line to check tickets and associated ID's at the entrance. Only the person who purchased the tickets (and whose name is on the tickets) is required to show their ID. 
The workers there will also let you know that you cannot take any videos or pictures inside the museum. You can take pictures only at by the entrance and the rooftop. Once you're inside, you'll receive a film-strip ticket to enter the Ghibli Museum movie theater, where there are Ghibli short films on rotation every month. 
A Special Reason to Visit the Studio Ghibli Museum in Mitaka: Screenings of Ghibli Short Films!
At the Studio Ghibli Musem's Saturn Theater, there are short film screenings, all Ghibli originals, that can only be seen at the museum!! There are 9 films total (at the time of writing, May 2019) so you'll need to come back to visit once a month for 9 months if you want to see them all! 
I saw "The Whale Hunt" in May, about kids fishing for, then befriending a whale. Although the film was in Japanese without subtitles, I'm sure it would have been easy to understand and just as enjoyable for those who don't speak Japanese. 
At the gift shop and book store in the museum, you can purchase a short booklet about these shorts for 400 yen, or the soundtrack to these films. 
See what the museum is currently screening here. 
The Wonders of the Mitaka Studio Ghibli Museum!!
Growing up a Hayao Miyazaki film fan, I loved the design of the entire building. It felt like something straight out of his movies, with spiral staircases, wooden finishes, and stained glass windows featuring Ghibli character favorites. 


There are a few exhibits on rotation, as well as two permanent exhibits, a kids play room, a reading room, a gift shop, an outdoor cafe and a separate restaurant, and a rooftop to explore.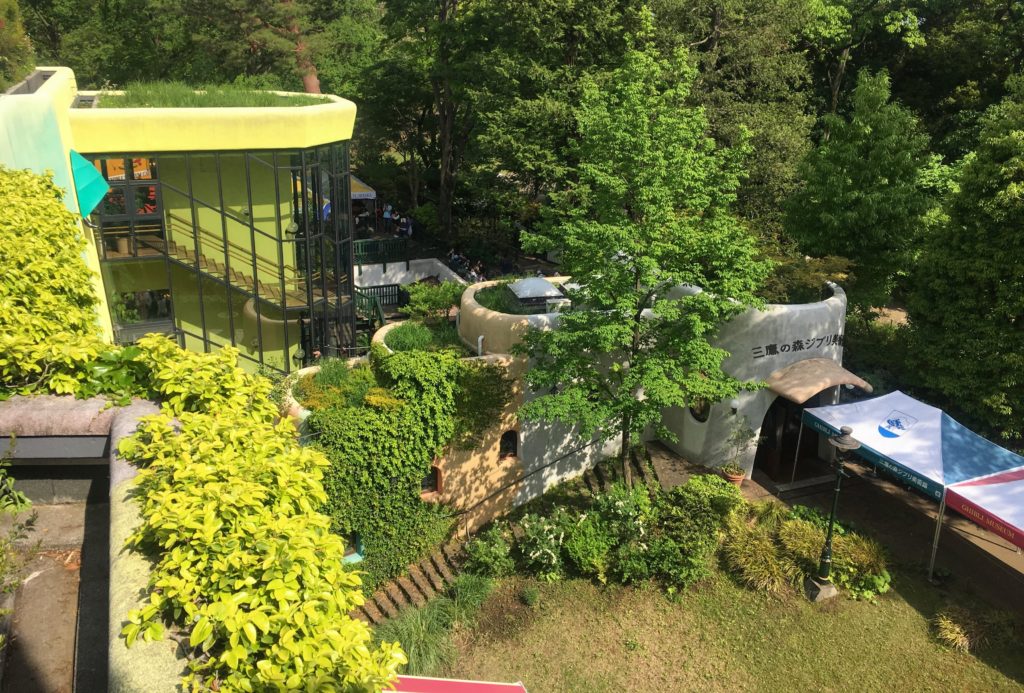 One of the rotating exhibits I saw, "Painting the Colors of Our Films" highlighted the hundreds of different colors used in the films, and how they hand-painted each frame. There were detailed sketches on display that were labeled with number and letter combinations to show where each color should be applied. There was also a short clip showcasing the detail that went into hand-painting all of the frames. 
More detailed signage was all written in Japanese however. Since I couldn't read it, I might have missed out on some of the finer points about coloring techniques its difficulties. See information about the Ghibli Museum's special exhibits here.
My Favorite Exhibit: "Where a Film is Born"
My favorite exhibit in the Mitaka Studio Ghibli Museum was a permanent one. It was covered floor to ceiling in serene watercolor paintings of Ghibli characters and scenery from the films. There were massive albums to leaf through that had thousands of pictures of nature, old Japanese buildings, European mountain villages, and more where Miyazaki drew inspiration for his films. 
There was also a recreation of the messiness and charm of a screenwriter's desk where endless ideas and inspiration are born. It was covered in colors, writing tools, books, and antiques from Japan and Europe, and looked as if the illustrator had just left his seat. 
I also liked the "Tri Hawks" reading room, where there were many Ghibli books for sale about each of the movies. There were also many children's books that were recommended for reading, including the hungry caterpillar and other Japanese favorites!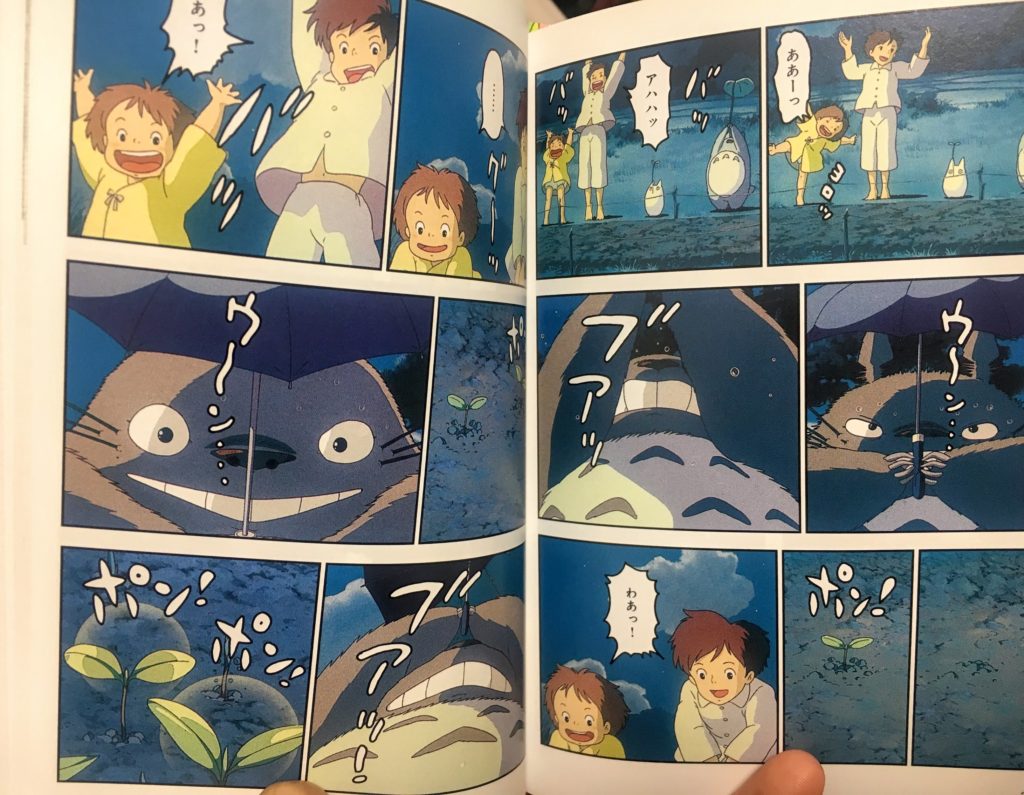 The Gift Shop! ... was small
I was disappointed in the gift shop at the Studio Ghibli Museum, where I came prepared to spend a fortune. Compared to the Donguri no Mori (Acorn Forest) stores that you can find in some larger malls around Tokyo, the selection here was more high-end with less variety. 
The museum gift shop was not as large as I hoped it would be, although there are things that you can purchase there and no where else. There are standard key chains, folders, postcards, badges, and stuffed animals, as well as more expensive plates, clothing, and jewelry.
To take a break from the magical interior of the museum, get some fresh air and a snack at the Studio Ghibli Museum's outdoor cafe and patio. 
There are two places to purchase food, including at a little fast food window that sells hotdogs, french fries, and ice cream, then at the larger, Ghibli museum cafe. You're also allowed to bring your own food to eat here.
Relax at the Studio Ghibli Museum Rooftop
Reaching the rooftop of the museum required climbing another spiral staircase. There is a big statue on the rooftop of one of the friendly robot-giants in Castle in the Sky, with whom you can take pictures with. 
Also from the same movie, the rooftop has a block with Laputa wording around it, which looks like it could have fallen straight from the sky like at the end of the movie. There are a few benches to have a rest on to enjoy the weather too! 
Other Places to Visit Around the Mitaka Studio Ghibli Museum
Since you're all the way out in Mitaka, I recommend making a day out of it by spending more time in the area! 
Hang out at Inokashira-Koen (park): It's free to walk through and picnic here, and it's a popular spot to do both. It's a massive park with many old trees open lawn areas. For lunch, there are several restaurants with patios where you can purchase Japanese favorites, especially curry and soba. 
Visit the Inokashira Park Zoo, small but famous for its squirrel park: Adults can visit for 400 yen, junior high school students and under can visit for 150 yen. 
Rent a boat on Inokashira Pond: rent paddle boats or swan boats to explore this pond lined with cherry blossom trees!  
Go antique shopping: Head to the streets between the Inokashira park and Kichioji station. These are lined with Instagram-worthy cafes and thrift shops where you can find some great clothes and antiques for a marked-down price. As you get closer to Kichioji station, like any other JR station, there are larger malls to spend hours in as well.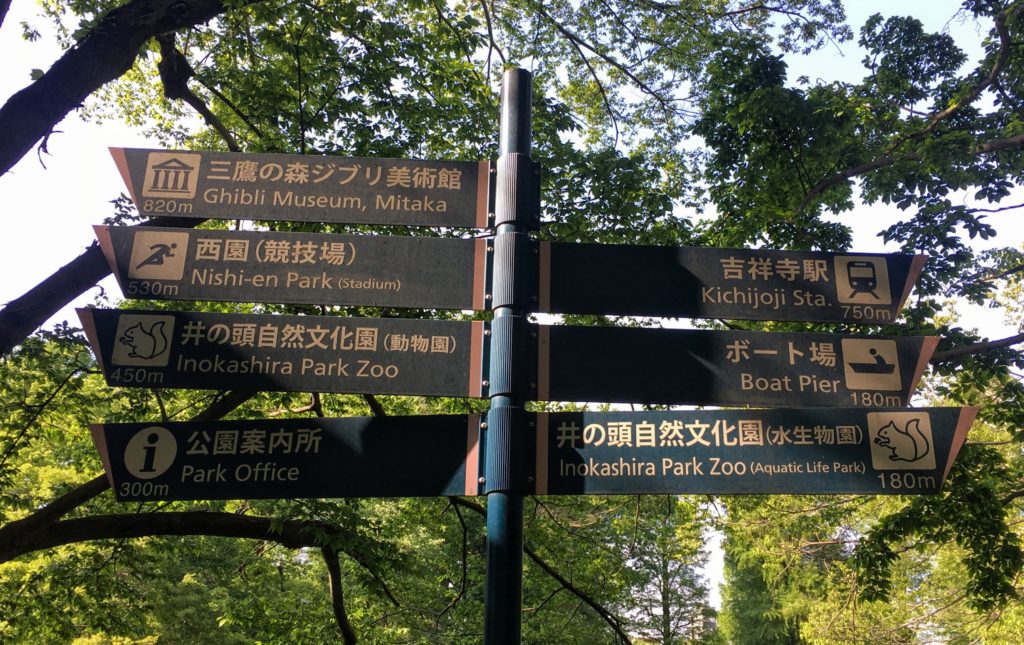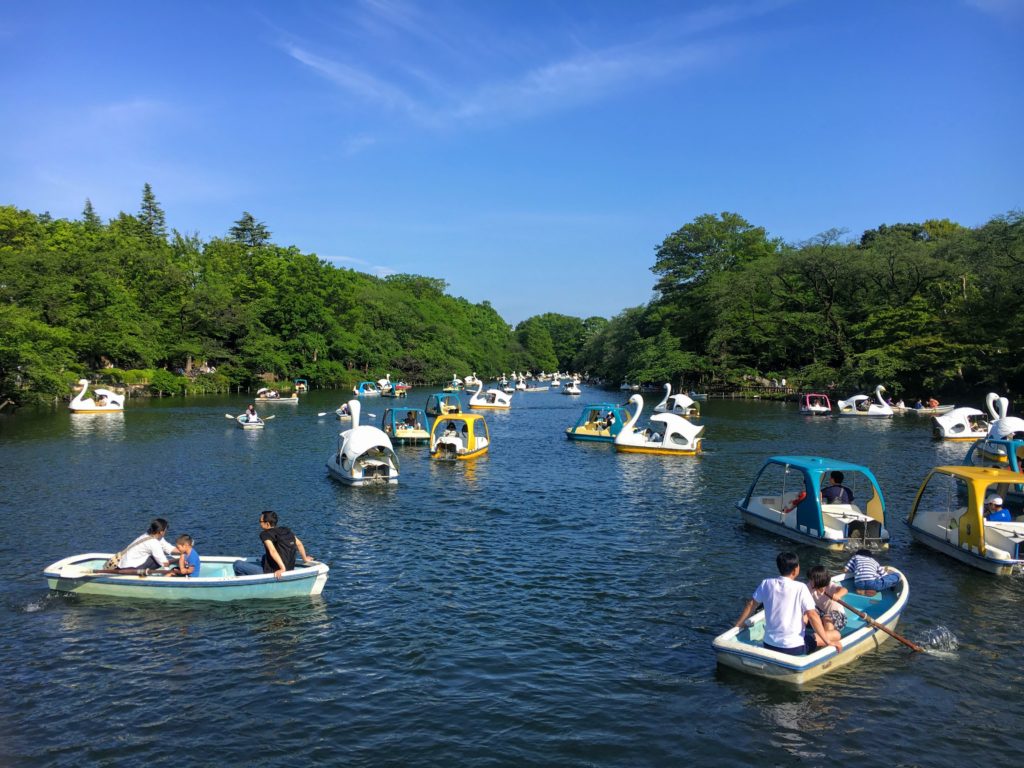 Go on, watch the movies, buy a ticket!
The Studio Ghibli Museum in Mitaka was amazing for me because I grew up watching the Studio Ghibli movies, but I think the charm of the building, the exhibits, and the characters would resonate with anyone. 
I highly recommend having a binge-watching night ahead of your visit here, so you can live the magic to its fullest when you're visiting Mitaka. I'm still post-visit binge-watching myself!! 
Heading to the Studio Ghibli Museum?
Pin This Post!
Are You Prepared For Your Trip To Japan?
Be sure to check out my Japan home page for Japan travel information, insider tips, reading list, and must-haves for traveling to Japan!