The island city of Singapore is located at the southern tip of the Malay peninsula. It's a popular port city and layover location, where visitors choose to only spend time in the airport before flying to their next Southeast Asian destination. Singapore is known to be an expensive country that many backpackers will skip over, but I recommend stopping for at least 24 hours in Singapore before continuing your journey! 
When I visited, I had literally 24 hours in Singapore between when I entered overland from Johor, Malaysia, to when I had a flight to Hat Yai, Thailand. 
I stayed at an amazing hostel, the Inn Crowd Backpackers Hostel, which offered a free kick-scooter tour around town (Tuesdays and Thursdays only). With this tour I was able to see most of the main attractions in Singapore in an efficient and fun way, and I got some cardio in too! 
These are some of the highlights that you shouldn't miss when spending 24 hours in Singapore.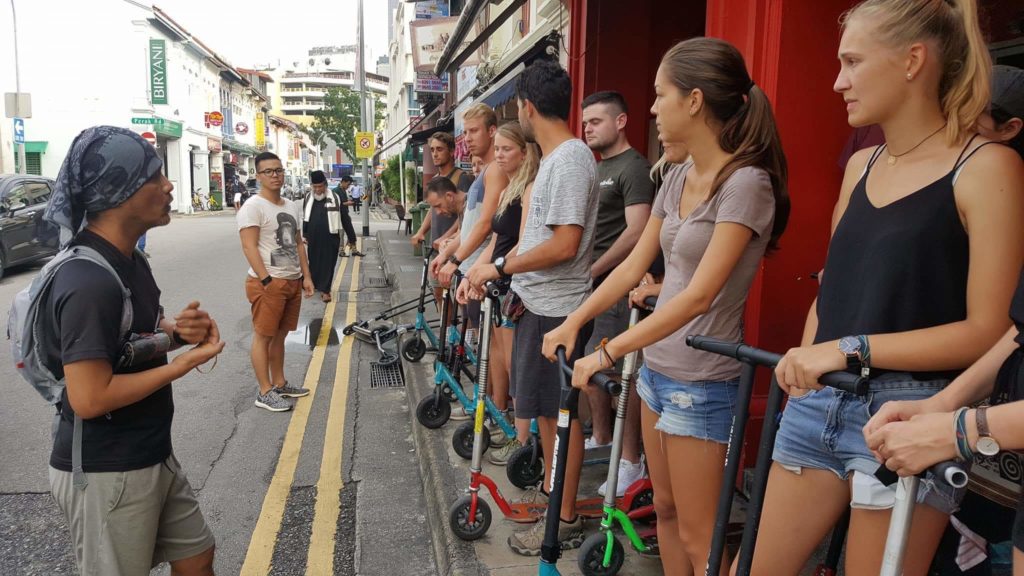 What to see in 24 Hours in Singapore:
Marina Bay Sands Light-Up Fountain Show (at night) – this 15-minute water, symphony music, laser and light projector show was truly impressive and worth planning your evening around in order to catch it. Show times are 8:00pm and 9:00pm every day of the week, with an extra 10:00pm show on Fridays and Saturdays. There are staircase seats in front of the iconic Marina Bay Sands hotel where people can sit back and enjoy the show. Find show times and a video here. 
Gardens By The Bay Light Show (at night) – on the other side of the Marina Bay Sands hotel is the Gardens By The Bay park. This park is home to the famous light-up "Supertrees" and vertical gardens. At 7:45pm and 8:45pm every day of the week, there's a light and music performance here as well. Learn about the Gardens and check out show times here.
Helix Bridge – after you've enjoyed the light shows, head to the Helix bridge to the side of Marina Bay Sands. It's an architectural to walk through, and has a spectacular view over the Bay, the hotel, and lotus flower-shaped museum at the exit.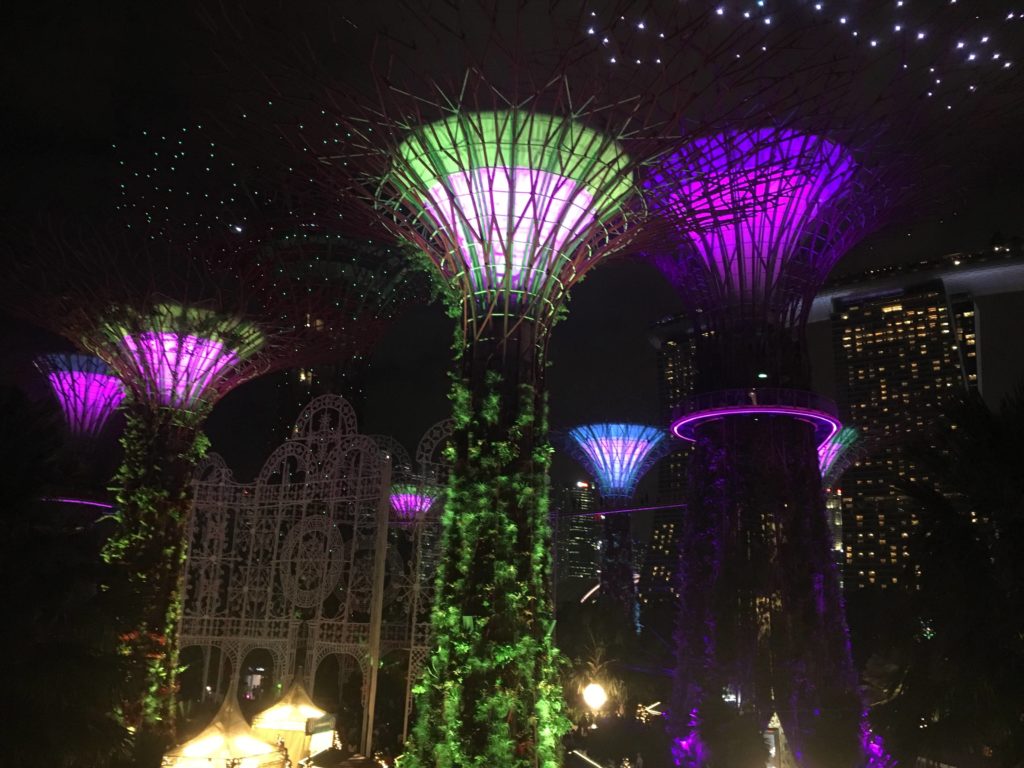 Gardens By The Bay (during the day) – During 24 hours in Singapore, it's worth coming back to the Gardens By The Bay to enjoy this massive park and see the Supertrees in the day time. Aside from the free portion of the park, there are some sections you can pay to enter – the Flower Dome and the Cloud Forest. If you want to get a view from above the Supertrees, you can pay to go up to the OCBC Skyway, an aerial walkway that connects the treetops.
Marina Bay Sands SkyPark Observation Deck – For $23 SGD ($17 USD), you can go to the "best vantage point in the city" on the 57th floor of the Marina Bay Sands hotel. Go here to see the spectacular view over the Bay, the Gardens, Singapore's central business district, and a portion of its waterways and shipping lanes. Check out pictures and buy tickets here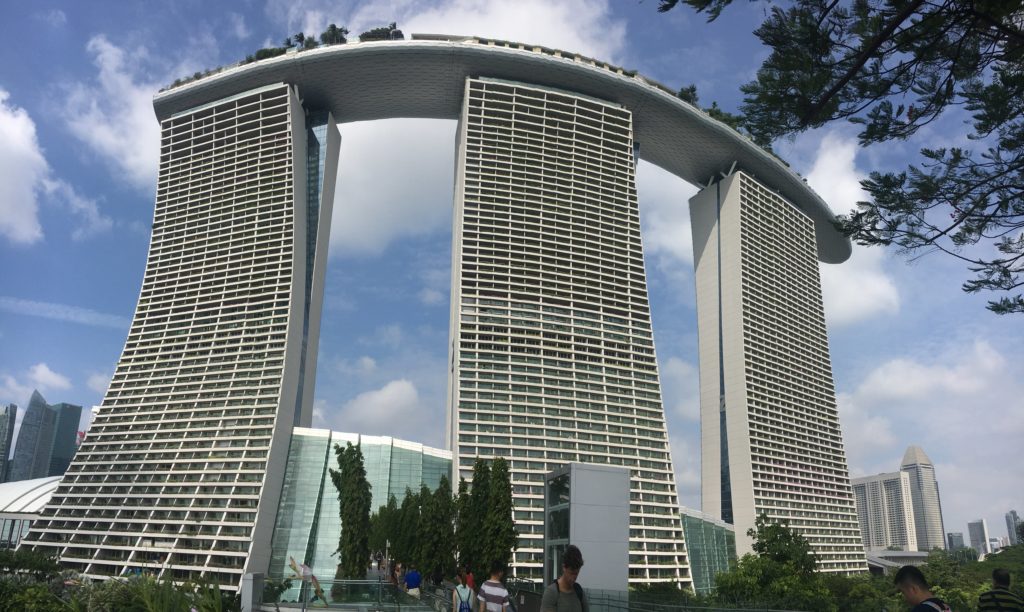 China Town, Little India – wander around these diverse neighborhoods and get a feel for different cultures without sacrificing the cleanliness and safety of being in Singapore. You'll stumble upon temples, street food vendors, horoscope readers, etc that could be straight out of China or India.
Go Shopping! – Singapore has massive

shopping malls featuring stores from all over the world. If you want to stock up on clothing, home goods, knick knacks, and travel items before you continue you travels, it's a great place to do so.
If you have more than 24 hours in Singapore:
Go to the Singapore Aquarium

 – This is THE largest aquarium in the world. The Singapore Aquarium includes a museum, a touch pool, a theater, and over 800 species of marine life. 

Explore Universal Studios Singapore 

– If you're not coming from a country with its own Universal Studios park, Singapore's Universal Studios is an amazing place to interact with your favorite movie and TV show characters. 
Where To Eat during 24 hours Singapore:
Lau Pa Sat Food Court – this massive hawker center is a budget traveler's paradise! Various food stands are packed next to each other with a drinks and fresh juice shop in the middle, with open seating at many indoor and outdoor tables. In a country where having a McDonalds meal might set you back $10 USD or more, many of the options here were $4-$5. They have food from all over the world that I hadn't seen in any other part of Asia, in addition to local Singaporean dishes.
Masjid Sultan neighborhood – for an array of Arabic/Turkish food, head to this area next to a 17-century mosque. The streets are lined with terraced restaurants, hookah cafes, and tile and fabric shops that will make you feel like you're in an Arabic country, not in Singapore. The prices here vary from budget-friendly breads and sides to lavish salads and hummus plates.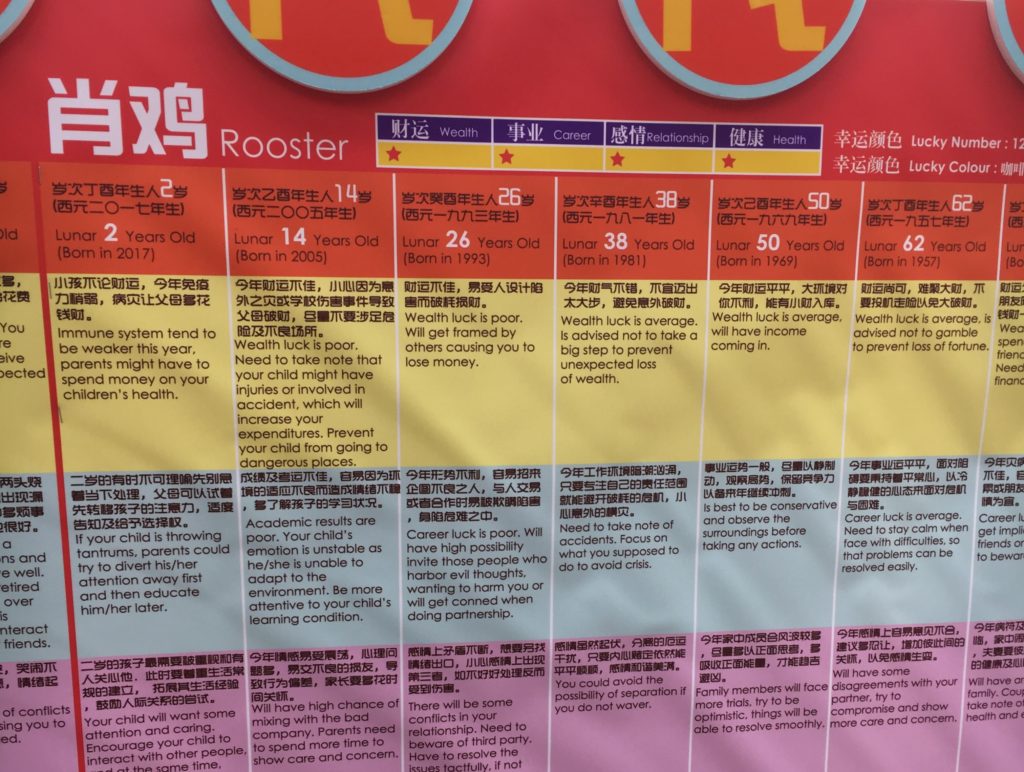 Where to Go Out during a Singapore stopver:
Read Street – If you want a taste of Singapore night life and don't mind burning through the Sinaporean dollars in your wallet, head to Read Street. There are decorated bars lined up alongside the water in colorful buildings where you can hang out with locals, expats, and tourist alike. It's a great place to just sit and relax on the river's edge as well.
Where To Stay during 24 Hours in Singapore:
I really recommend the Inn Crowd Backpackers Hostel. It has a great common room and showers, plus free breakfast. It's located in the middle of Little India, which is close to the attractions I've listed above and close to many cheap bars and restaurants as well. Be sure to try and stay on a Tuesday or Thursday to be able to go on their kick-scooter tour around town.
I have to admit I looked at prices to stay at the Marina Bay Sands hotel. It was close to Christmas, I thought about treating myself just for a night… I didn't of course. Maybe one day. 
Search for other cheap Singapore accommodation on 
Hostelworld
, or everything from budget dorm rooms to luxury hotel stays at 
Booking.com
! 
Spending 24 Hours in Singapore?
Pin this Post!