Guatemala is one of the most consistently friendly, colorful, and beautiful places I've been to. The landscapes are incredible, the history is well preserved, and the locals are always open to conversation. For backpackers from all over the world, especially in nearby North America, I recommend spending at least 10 days backpacking Guatemala to enjoy this amazing country.
I loved spending time in Guatemala, and I can't believe I've only been once considering it's so close to America. Every time someone mentions Lake Atitlan in southwestern Guatemala I can't help but gush about how much I loved the place. 
I'll definitely be back to backpack Guatemala one day!
10 Days Backpacking Guatemala Itinerary
Arrive in Guatemala city, drive to Antigua – Days 1-2
San Pedro La Laguna, Lago de Atitlan – Days 3-4
Semuc Champey (near Lanquin) – Day 5
Flores & Tikal – Day 6-7
Livingston – Day 8
Rio Dulce – Day 9
Back to Guatemala City, fly home – Day 10
Day 1 - Arrive in Guatemala City, drive to Antigua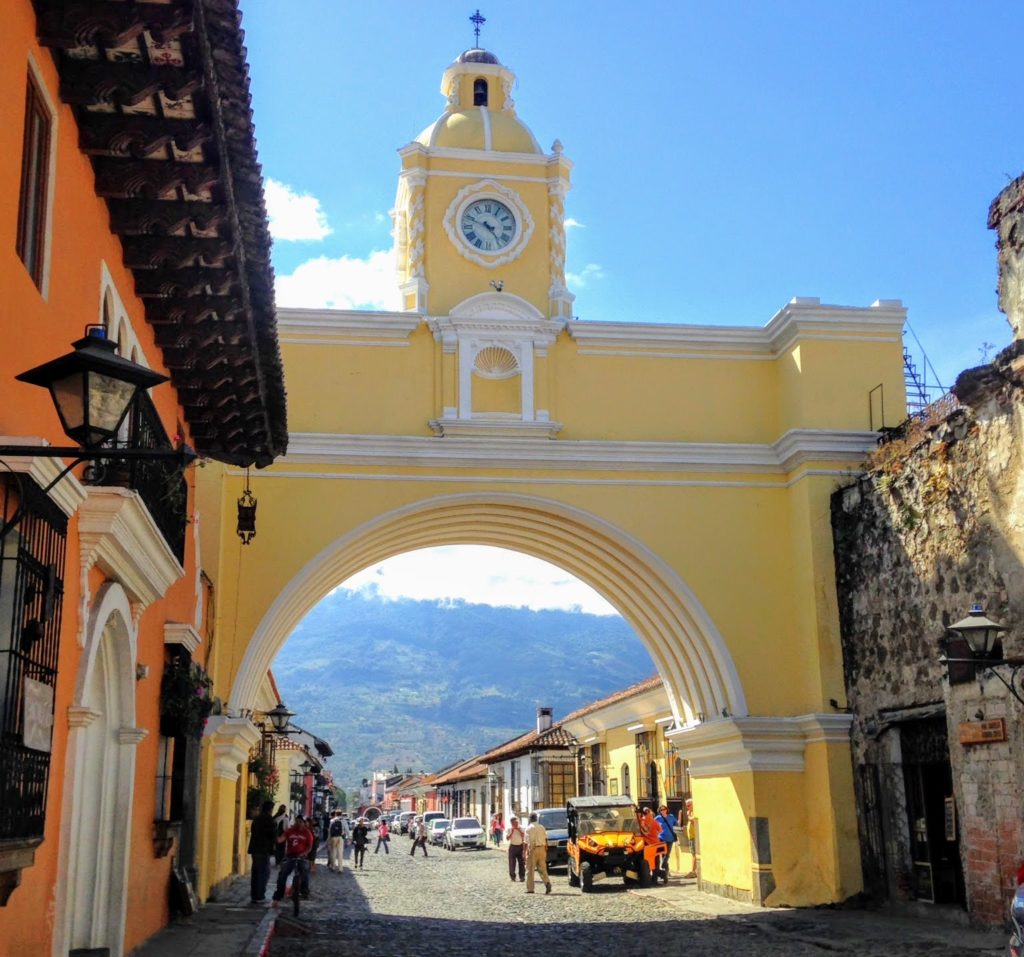 To start your 10-day Guatemala itinerary, you'll probably be arriving into Guatemala City. It's home to the largest airport in the country, but it's not worth staying the night in. From what I've heard this city is quite dangerous to be in as a tourist or anyone who flashes around money or fancy electronics. 
It's best to skip Guatemala City on your backpacking itinerary and go straight to the cultural and historic capital of Guatemala: Antigua. A short, cheap minibus ride will get you to Antigua from Guatemala City.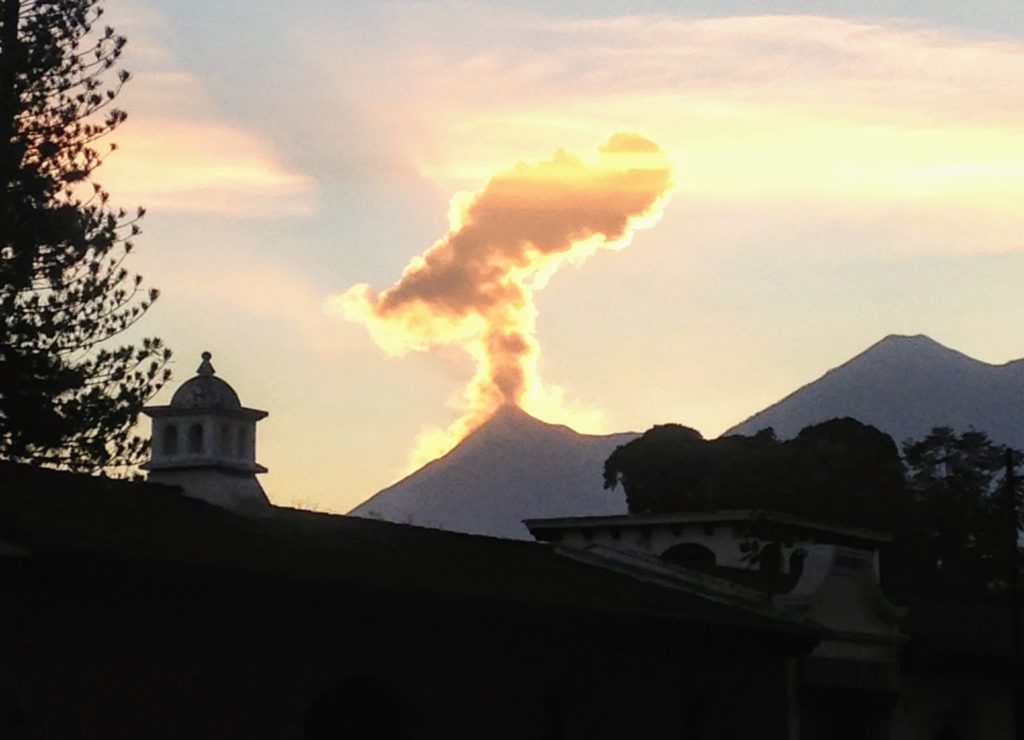 Antigua is a beautiful colonial town and should be a stop on every backpacker's Guatemala itinerary. It's retained its cultural and historic charm, but has all the amenities and souvenir shops a traveler could wish for.
Things to do in Antigua
Join a tour to hike up Volcan de Pacaya. This is a popular tour for backpackers in Guatemala, and takes half a day (the hike is about 2 hours). Pacaya is an active volcano, which you'll feel when the soles of your shoes start to feel toasty. Bring extra money on the tour for the park entrance fee and to buy food and drinks. Book a tour online and save $20 here!

Rent a scooter and drive around the small villages surrounding Antigua. You'll drive by some great volcano landscapes and see what life is like for rural Guatamalan villagers.  

Hike (or drive) to the city viewpoint, Cerro de La Cruz, on the outskirts of town.

Take a half-day walking tour to learn about the history of Antigua
If you have more time in your Guatemala backpacking itinerary, you can spend a night on Acatenango, a dormant volcano, which has views of Pacaya and its bubbling lava next to it. 
Where to Stay in Antigua
There are an insane number of beautiful hostels in Antigua perfect for backpackers: rooftop terraces, hammocks, gardens, free breakfast, cozy beds… Just look at the beautiful hostel feed on Hostelworld or Booking.com. This makes Antigua an easy city to get sucked in to which backpacking Guatemala! 
For backpacker accommodations, check out El Hostal BnB with a beautiful courtyard and free breakfast, or The Purpose Hostel with its spacious rooftop with volcano views.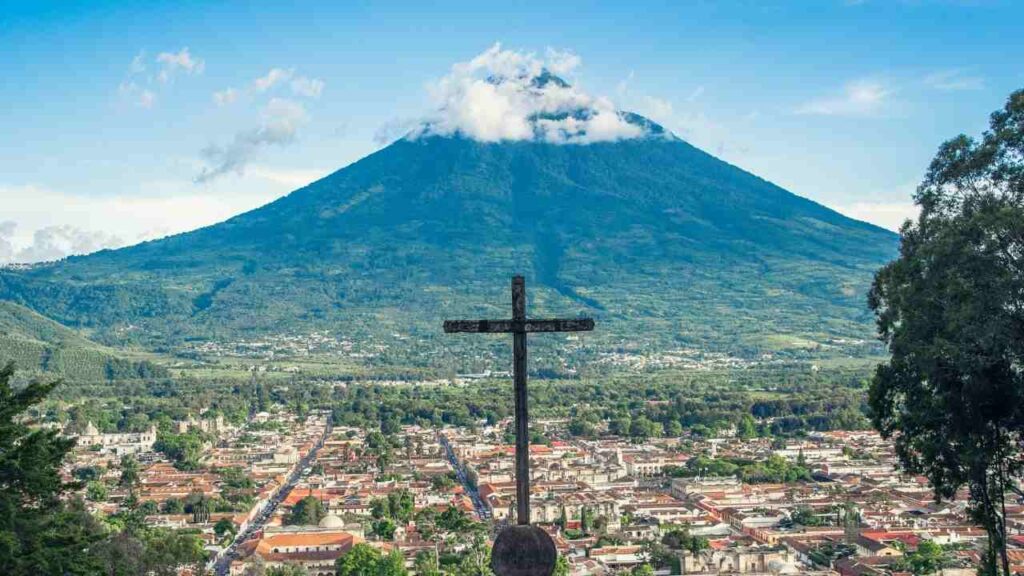 Day 3 & 4 - San Pedro La Laguna, Lago de Atitlan
It's a windy road from Antigua to get to beautiful Lake Atitlan or Lago de Atitlan, another must-see location during your 10 days in Guatemala itinerary. Although distance-wise Lake Atitlan looks close to Antigua, because of the steep mountain roads it takes a better portion of a morning to reach this part of Guatemala. 
There are many little towns that border the Lago de Atitlan where you can stay. I personally loved San Pedro La Laguna, which is the largest and most well-connected town, perfect for long-term stays for backpackers in Guatemala.
Things to do around Lago de Atitlan
Climb up Volcan San Pedro, where you get an amazing panorama view of the lake and its surrounding volcanoes, mountains, and villages. It's best to go early in the morning before the clouds roll in. It's recommended to go with a guide because apparently tourists can be targeted by bandits, but I had no issues. The trail is easy to follow and you know you've made it when you reach a bouldery area at the top.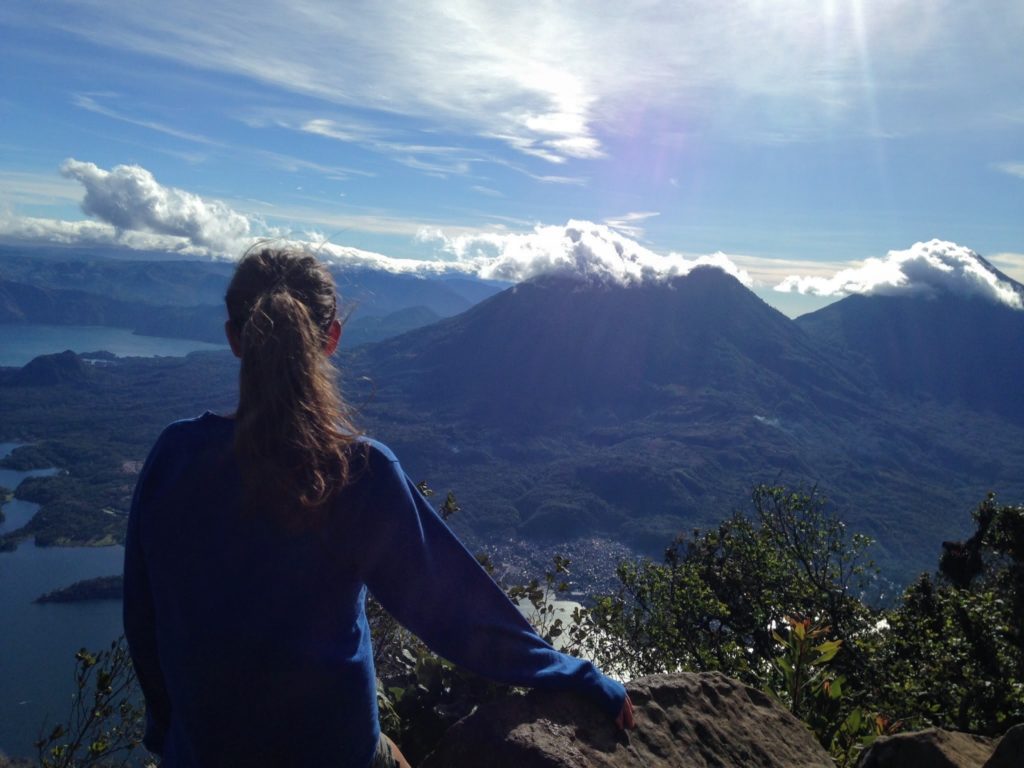 Hike to the "Indian nose" on the other side of San Pedro, which you can reach for sunrise. Here, the path is less obvious and intertwines with the trails that go through the locals coffee plantations. There are many beautiful viewpoints of the lake from a different perspective than Volcan San Pedro. 

Visit the other villages on Lago de Atitlan. From San Pedro, it's cheap and easy to take a boat to any of the other towns around the lake. Hop around to a couple as a day-trip, or stay in a different town to see what they're all about!
I personally liked visiting San Marcos. It seems like a little bit of a hippy town, but there's a beautiful nature reserve next to it that has plenty of benches to sit on and enjoy the sunset over the lake. Another popular town is Panajachel, which is home to a market where locals sell Guatemalan-made souvenirs. You'll meet many long-term Guatemalan backpacker residents in these small villages.

Where to Stay Near Lake Atitlan
I stayed in Hostel Fe next to the lake and close to the center of town, which I recommend. They have a bar and restaurant on site, direct access to the lake, and weekly events like their extremely fun trivia night. 
There are amazing hostels all around Lake Atitlan because it's a popular place for backpackers in Guatemala. Check out ones in San Pedro, Panajachel, and San Marcos. 
If you have time to stay longer than 10 days in Guatemala, there are many different Spanish schools in this area. Students are accepted on a regular basis for one-on-one lessons or classroom sessions. Many schools even have homestay options for great prices!
Day 5 - Semuc Champey (near Lanquin)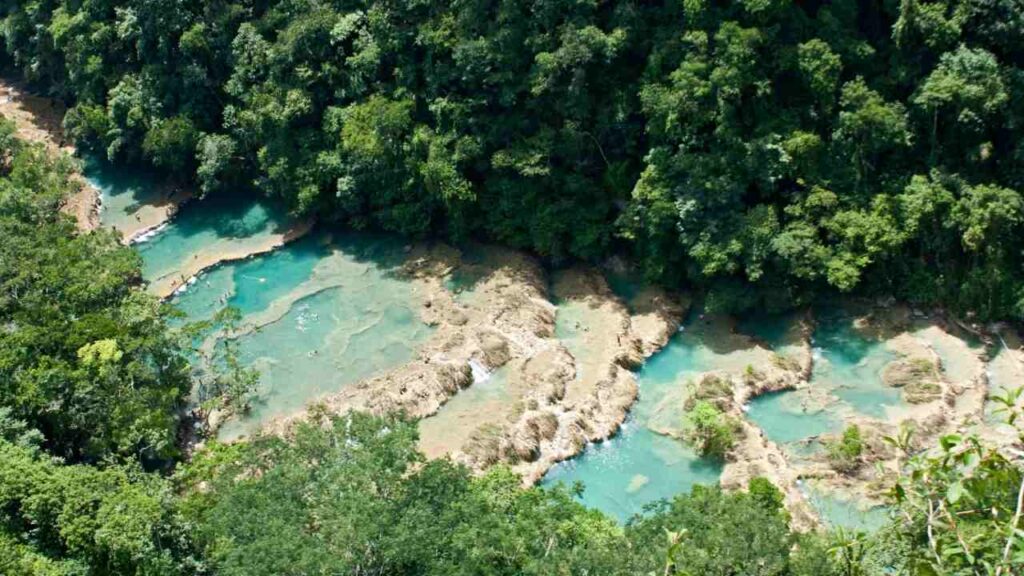 My biggest regret looking back on my time backpacking Guatemala was not going to Semuc Champey, an amazing natural wonder. It's worth stopping by in the center of the country to have a morning swimming in the natural pools and under the waterfalls here.
Every backpacker who went here recommended Zephyr Lodge which has a pool, a massive treehouse lodge, amazing views, and group transport to the waterfall!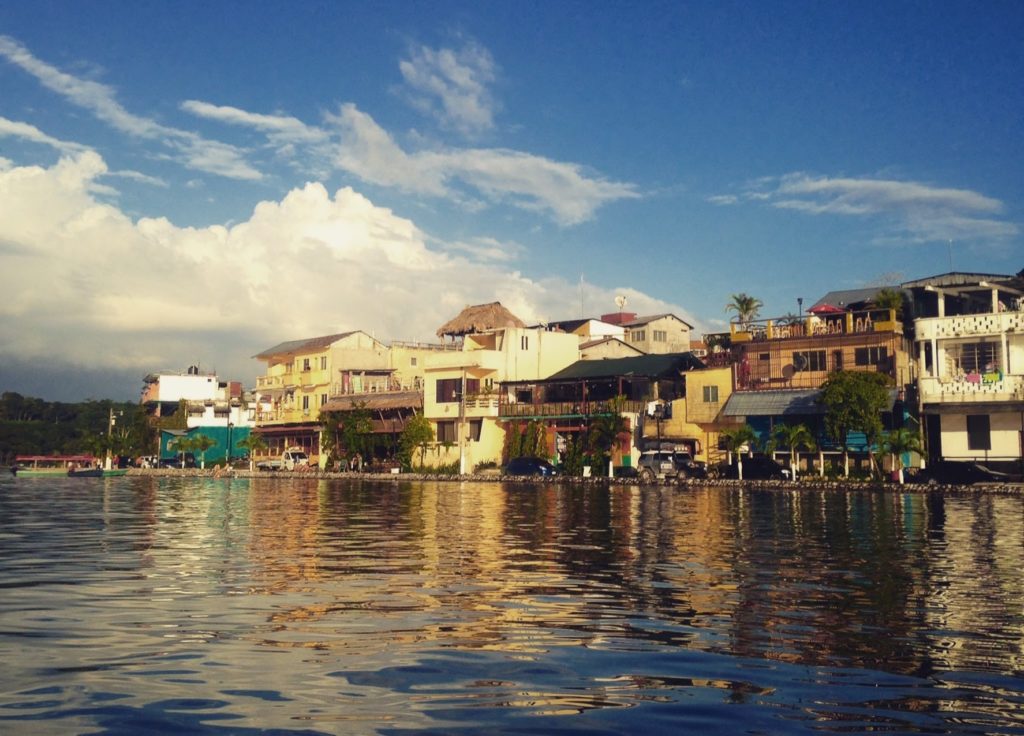 Flores is such a special almost-island that's located in the north of Guatemala. It's a tiny little town that's fun to explore and get a glimpse of how local Guatemalan life has mixed with the booming tourism industry. Grab a kayak for a couple hours and explore the beautiful lake surrounding it.
I loved Hostel Los Amigos which has its own bar, restaurant, and even a sauna! I had an amazing time meeting people in the common area, partying in the evening at their upstairs "club", then recovering from a hangover the next day in a hammock with their healthy fruit smoothies. Many backpackers stay here during their Guatemala itinerary to see the Tikal Mayan ruins nearby.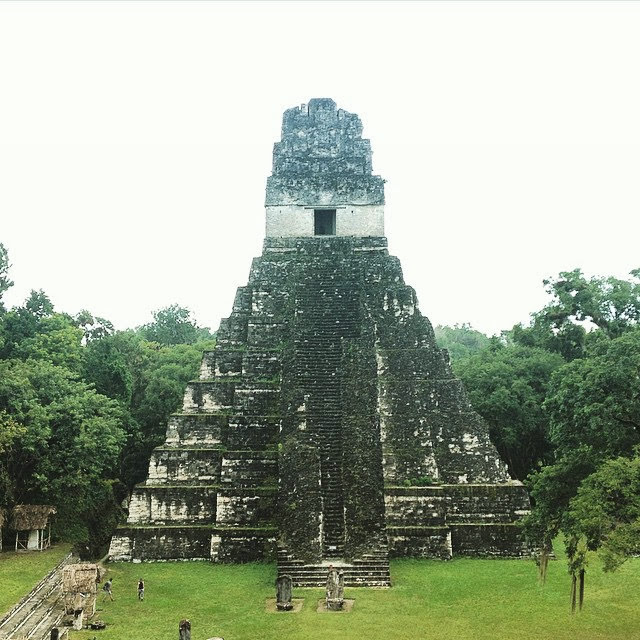 Flores is a prime location to stay before you visit the amazing Mayan ruins, Tikal. It's a must-see location during 10 days backpacking in Guatemala! 
Hostel Los Amigos offers several tour options as do most hostels, including a sunrise tour, a sunset tour, and a day tour. We ordered packed breakfast from the hostel to bring with us too. The cost for transport there and back is 100 Quetzales (about $13 USD) and the entrance to the park is 250 Quetzales ($33 USD). 
Take a Sunrise Sunset Tour to Tikal
When I was backpacking Guatemala in 2015, the sunrise tour was the most popular – waking up at 2:50am to get on the bus at 3:00am! We reached the park in an hour, bought entrance tickets, then started hiking in the dark to the top of one of the Mayan structures for the sunrise. It was SO cloudy, we were hardly able to see the steps in front of us, even when the sun came up. Now the hostel recommends the sunset tour.
For the rest of the tour, there was a guide taking us around to interesting sites and describing the history of Tikal's buildings and carvings. The tour ended at the famous Temple 1, and we were given time to explore on our own.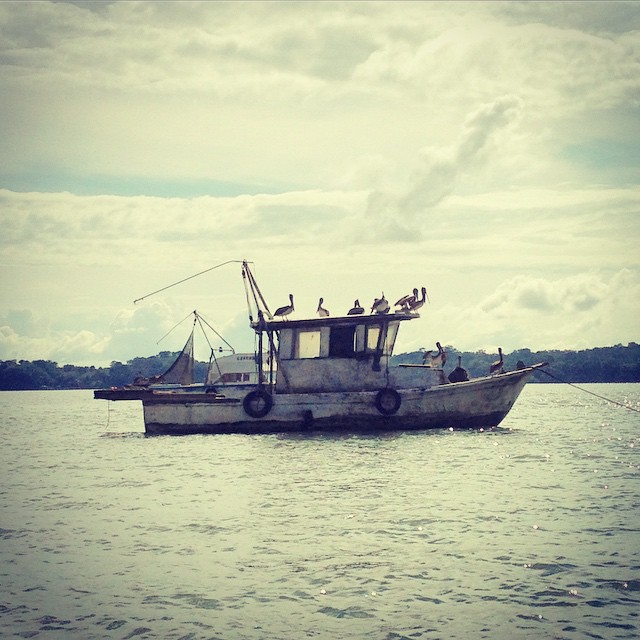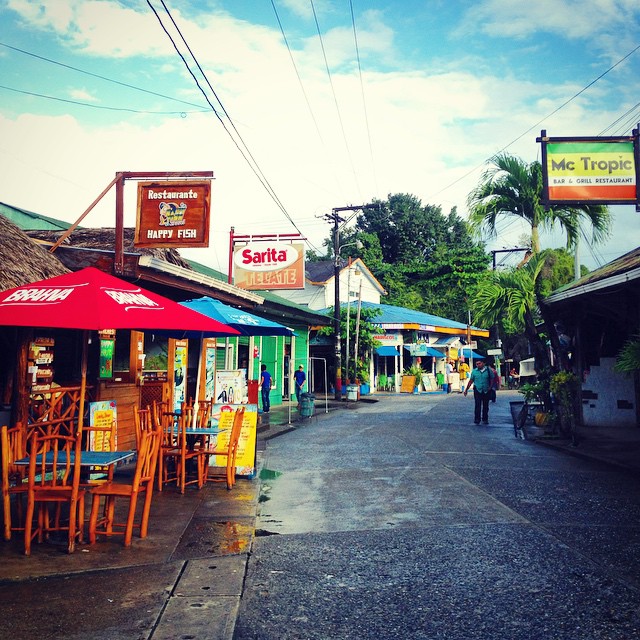 To see a different side of Guatemala, head to Livingston on the east side of the country, a little section that borders the Gulf of Mexico. Here, there's a large settlement of Garifuna people. They are descendants of African would-have-been-slaves, but their ancestors' ships capsized and they were all freed and relocated. 
Livingston is a small fishing village filled with friendly, outgoing people and many, many seafood restaurants.
Take a half-day trip to nearby Playa Blanca to chill on a beautiful white-sand beach, drink Coco Locos, eat some delicious fresh fruit, and hang out in a hammock. It's a great place to just chill during your 10 days backpacking Guatemala itinerary. 
I stayed at Casa De La Iguana, a party hostel with yummy family dinners, where I ended up staying for waaaaay longer than I planned.
From Livingston you can easily access nearby Belize. There are a couple boats running on during the week. Be sure to get your passport stamped at immigration in Guatemala before getting on the boat!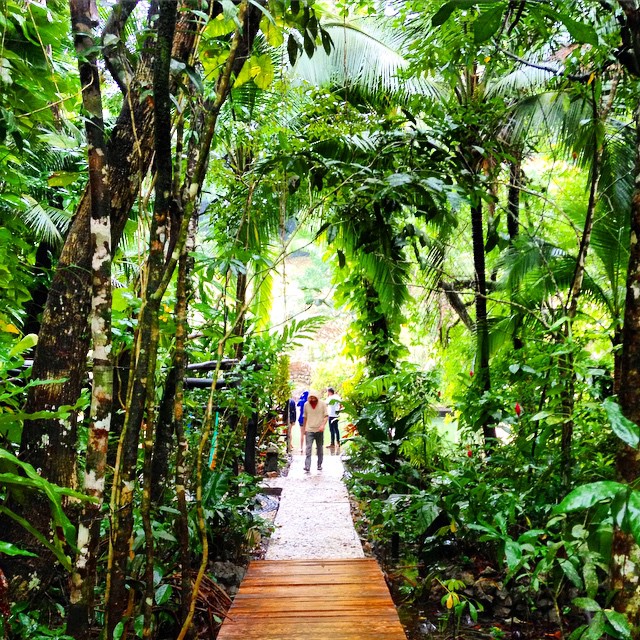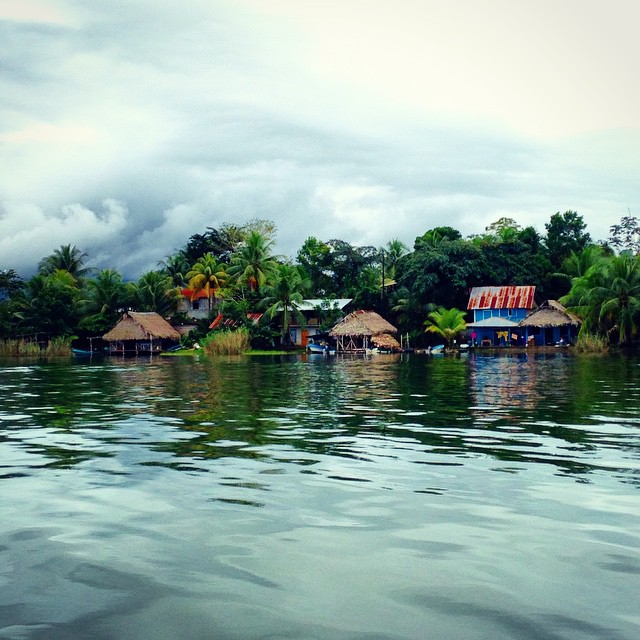 The river that opens into the gulf next to Livingston is the Rio Dulce, which has a couple different really beautiful lodges alongside it. 
You'll have an amazing experience staying in the jungle for one night in Guatemala, maybe going on some short treks, or just swinging off rope swings and hanging out in the river.
I stayed at Finca Tatin which was recommended to me by other backpackers I met in Antigua. There's a delicious family dinner every night, countless hammocks, and private bungalows where you feel like you're sleeping deep in the jungle wilderness. 
Day 10 - Back to Guatemala City, fly home
Don't leave anything for the last minute in your Guatemala itinerary, especially catching an international flight. You never know what (literal) road blocks you'll encounter! Give yourself enough time to get back to Guatemala City and through the airport on your last day backpacking Guatemala.
Any of the places that I've listed on this Guatemala travel route, you could stay for much longer than the time I allotted. I stayed in Livingston for 6 nights (partially because I missed the last boat to Belize and had to wait it out a weekend), Antigua for 4 nights, San Pedro for 4 nights, and I could've happily stayed a month at Lago de Atitlan!
Backpacking Guatemala?
Pin this Itinerary!
Are You Prepared For Your Next Travelventures?