Thailand is the perfect destination for first-time backpackers or beginner international travelers. These 120+ tips for visiting Thailand will help you make the most of your next trip to Thailand.
Because of a long history of international tourism in Thailand, English is widely spoken (or at least understood), transportation between cities and islands is plentiful, and you can find restaurants that cater to every diet and taste. Thai locals are incredibly friendly, the cost of food and accommodation can be cheap, and souvenir shopping is plentiful. Lastly, whether you're island-hopping in Southern Thailand or scootering through jungles in Northern Thailand, exceptional beauty can be found everywhere. 
If you've decided to come to Thailand for your next holiday, here are 120+ Thailand Travel Tips for first-timers!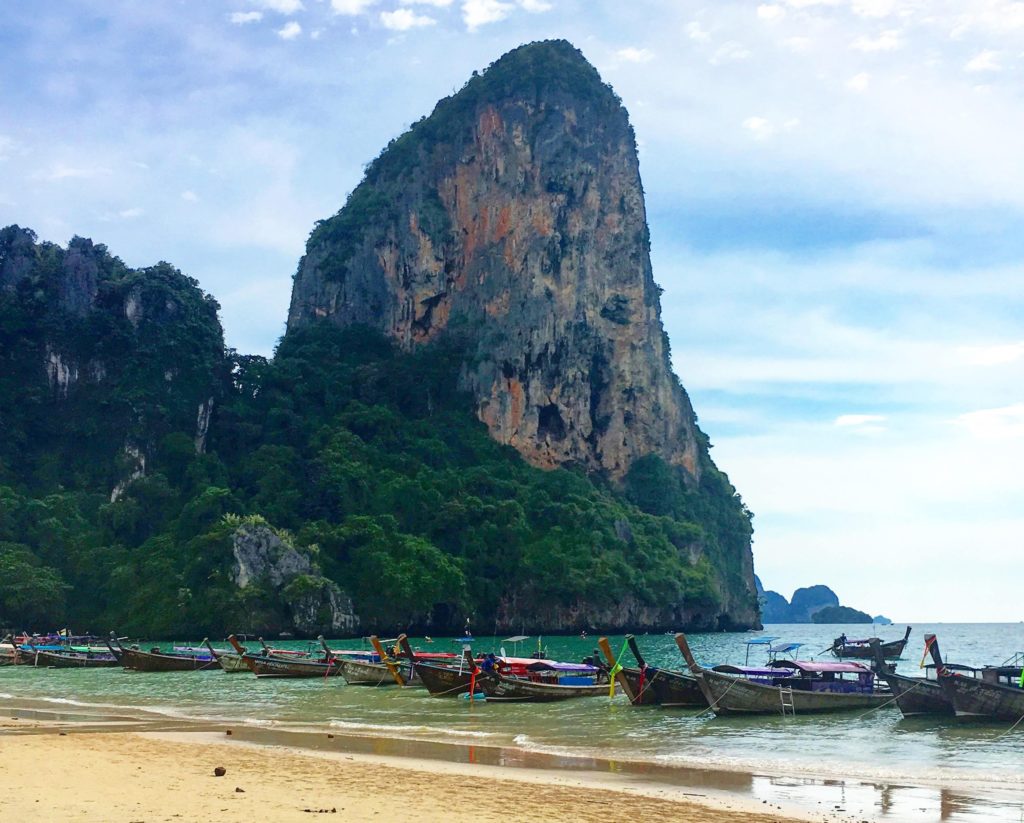 Preparing For Your Trip to Thailand
Thailand Travel Tips: Before You Leave
Packing: In addition to the standard packing items for a trip to Southeast Asia, for Thailand you should pack shoes that are easy to slip on and off, as well as a shawl or light sweater to wear when entering temples. (Note you can buy tank tops, shorts, colorful loose-fitting pants, and sarongs for cheap in Thailand).
Check if you are required to have a visa to enter Thailand. iVisa gives you up-to-date visa requirements, and lets you purchase an E-Visa through them hassle-free if you need one. In the time of COVID, check quarantine and vaccine requirements as well. 
Book at least your first night's accommodation in Thailand, wherever your first Thai destination is. Check accommodation here for Bangkok, Chiang Mai, and Phuket Town.
Contact your accommodation and ask the best way to reach them from the airport. If they don't have airport pick-up, ask how much a taxi or tuk-tuk should cost from the airport to them.
Download useful apps for use in Thailand: Google Maps and maps.me (both for downloading maps offline), Grab (same as Uber), Currency (converter app) and Food Panda (same as Uber Eats).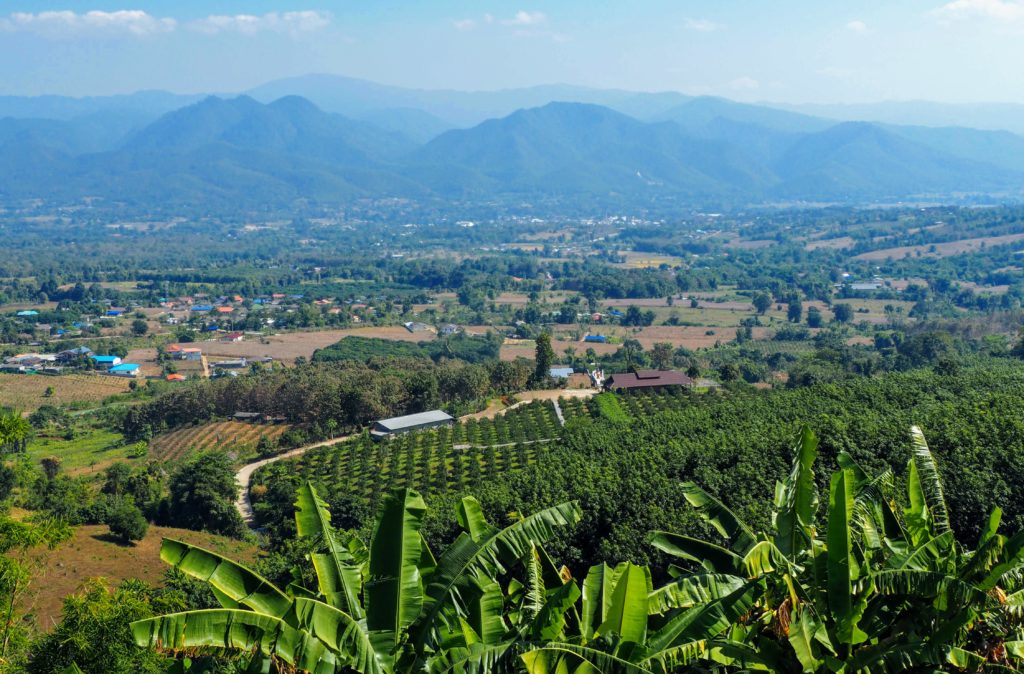 Have a flight booked departing Thailand. Upon check-in at the airport, you may need to show a confirmation email as proof of onward travel (or have a round-trip ticket).
Call your bank and submit a travel notice for your time in Thailand, so your card doesn't get blocked.
Get an international driver's permit if you plan on renting a scooter or car when in Thailand. If you're in the U.S., this can be done at any AAA office.
Keep an extra $100-$200 USD in cash, in case your card does get blocked or lost, you still have cash you can exchange.
Purchase travel insurance so you don't have any unexpected, large medical costs coming out of your travel budget. This is a Thailand travel tip, but also a tip for traveling anywhere in the world
How much can you expect to spend on a trip to Thailand? The answer depends largely on your travel style. When I backpacked 30 Days in South Thailand, I lived very frugally and spent $29/day. Coming back to Thailand for Christmas and New Years, I lived still as a backpacker but more lavishly, and spent $37/day.
Thailand's currency is the Thai Baht. Colorful notes that are mostly commonly seen in denominations of 1000, 500, 100, 50, and 20. The conversion rate I use in my head is 30 Thai baht = $1 USD.
Backpackers can expect to find accommodation for as little as $3-$5 USD per day
Budget double rooms can cost from $10-$30 USD per day. Many hostels offer a few private rooms if you are looking for privacy but still with a hostel social vibe. 
Luxury travelers can easily find extra-comfortable guesthouses and B&Bs in most cities and towns in Thailand. Expect to pay as little as $50 USD… to really no price cap. 
Eating street food in Thailand can cost $1-$2 USD per meal on the low end. 
At cheap, local restaurants, expect to pay $3-$6 per meal. 
Higher end restaurants and vegan restaurants will cost more, around $5-$15 per meal.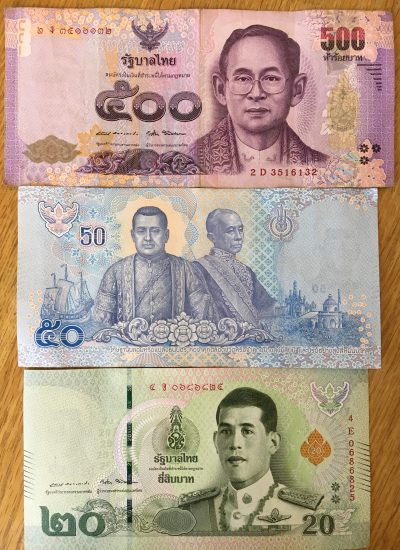 Thailand Travel Tips: Thailand Budget Continued
Within-city transportation can cost $1-$5 per tuk-tuk ride. Be sure to negotiate so you don't get ripped off, especially in tourist areas! 
Short distance city-to-city minivan or bus rides usually cost about $6-$12 USD. 
Long-distance bus rides (such as from Bangkok to Phuket) can cost $25-$30 USD. Flights between these cities on budget airlines, carry-on only, may be purchased for a similar price ($25-$40).
Ferries cost about $10 USD to transfer between South Thailand's islands. 
If you want drive yourself around, renting a scooter for one day costs from $4-$8 USD per day. 
Booking seats on group tours can cost $10 USD – $30 USD per excursion, dependent upon what the tour is. Many times, these can be booked at tourist offices around town. Check out GetYourGuide Thailand to book some unmissable excursions ahead of time.
Summary for
Thailand Travel Budget
per person: Backpackers ($33/day), Flashpackers or Mid-Range Travelers ($45/day), Luxury Travelers ($100/day). An extra Thailand Travel Tip for backpackers: $1000 USD is enough to last you one month in Thailand.
Boarding Your Flight + In The Air
When checking in to your flight to Thailand, be sure to have your onward travel flight information handy in case you are asked for proof of it.
Know how many days you will be in Thailand, as this is a commonly asked question upon boarding (and at immigration) as well.
Passport holders that need a visa to enter Thailand will have to show it upon check-in and at immigration. Check if you need a visa to enter Thailand.
Be sure you've separated large liquids and bottles to put in your checked luggage instead of your carry-on.
Portable battery packs and laptops should be kept as a carry-on.
During your flight and before landing in Thailand, the flight attendants will distribute arrival immigration cards.  All foreigners on board will be required to fill out this card and hand it to the immigration officer at the airport. Half of the document is a departure card, required to show upon departure from Thailand.
Keep a pen in your carry-on bag to fill out this form. See my list of carry-on luggage essentials for long-haul flights!
Information you'll need to include on the immigration form, that you should screenshot in your phone: (One) Address in Thailand, number of days you'll be in Thailand, the flight number of your onward travel flight.
Keep the departure card somewhere safe (like in your passport) so you have it on you for when you leave Thailand.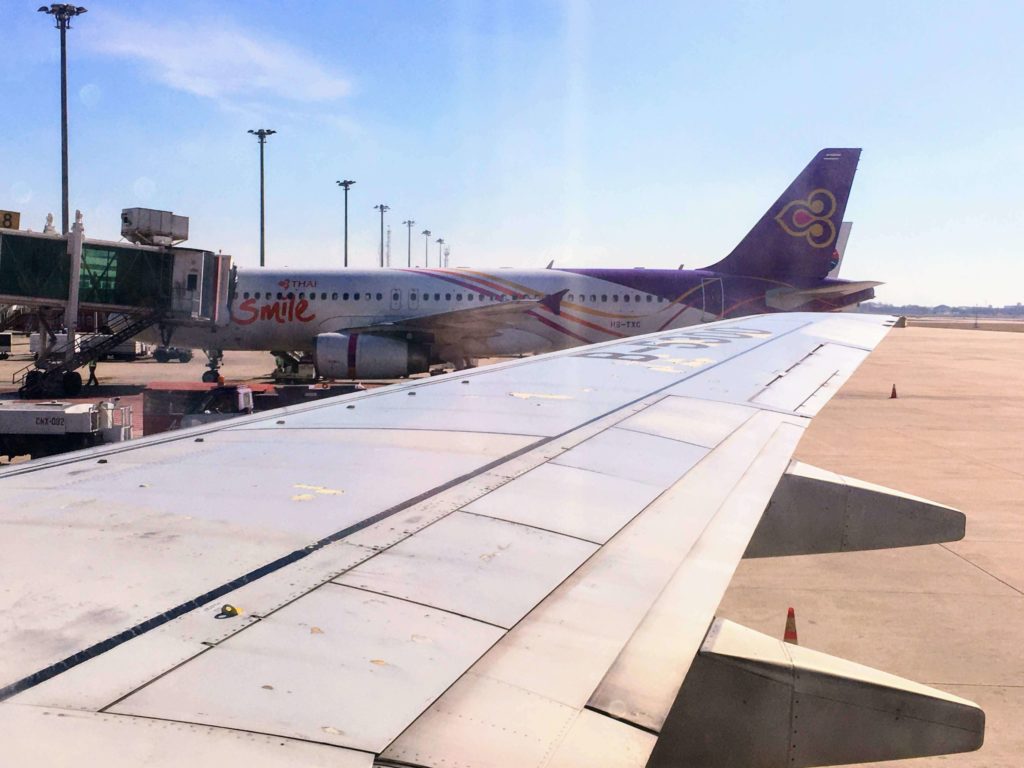 Thailand Travel Tips: Upon Landing at the Airport
If you are transferring flights after landing (landing in Bangkok then transferring immediately to Chiang Mai for example), you will need to go through a transfer immigration desk and another security check at the airport.
Those getting a visa on arrival won't need to pay anything to get a Thai entry stamp in their passport.
Visitors to Thailand eligible for a visa on arrival or who have secured an E-Visa should have forms ready for the immigration officer.
There are currency exchanges and photo booths where you can take a visa portrait photo in the airport, before immigration if you'd forgotten to do so before leaving.
After Passing Immigration:
Check monitors to see which baggage claim belt the luggage from your flight will be placed on. If your luggage doesn't arrive, ask an attendant or at a help desk to inquire about lost or misplaced luggage. Airport staff speak English well.
Withdraw Thai Baht from an airport ATM with your debit card. As a backpacker, I usually withdraw 5000-7000 Thai Baht ($165-$230 USD) to last me 4-7 days in Thailand.
Withdrawing Thai Baht from an ATM is cheaper than bringing wads of cash from home to exchange at the airport. 
If you are set on exchanging currency, its best to do this NOT at the airport 
Purchase something small at 7-Eleven (because who doesn't love Thai 7-Eleven) to break down one of your 1000 baht notes for the taxi.
Go to the taxi, tuk-tuk, or bus stand if your accommodation recommended one method of transport to get to your hotel. Otherwise, order a Grab using airport WiFi.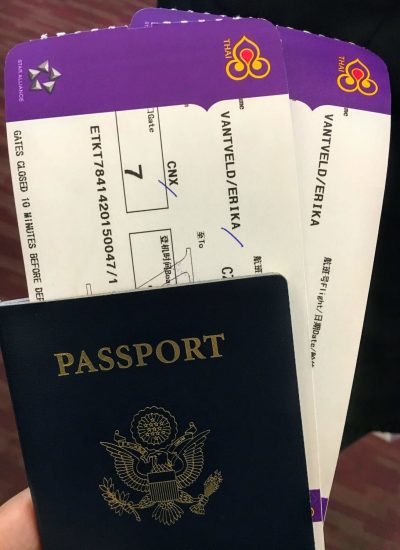 SIM Card for traveling Thailand, and WiFi
Thailand SIM Card Tips: I find it highly beneficial to have a SIM card in Thailand, to stay connected while on the road. I used my AIS SIM card in Thailand most for navigating with Google Maps while on a scooter or to find a restaurant in town, and also for checking prices for rides with Grab.
The airport is the most expensive place to get a SIM card in Thailand, so it's best to wait until you're in town to purchase one.
The Thai SIM card company AIS is known to have the greatest service area within Thailand's borders.
I purchased an AIS SIM card in Chiang Mai from the official AIS store, where these rates shown below were offered. Add 50 baht for the price of the AIS SIM Card.
To purchase a SIM card for Thailand, you need to bring your unlocked phone (one that allows for switching out SIM cards), a passport, and cash.
WiFi is widely available in Thailand, including all accommodations, and 99% of (non-street vendor) restaurants and cafes.
WiFi is not available on most minivans and busses when getting around from place to place.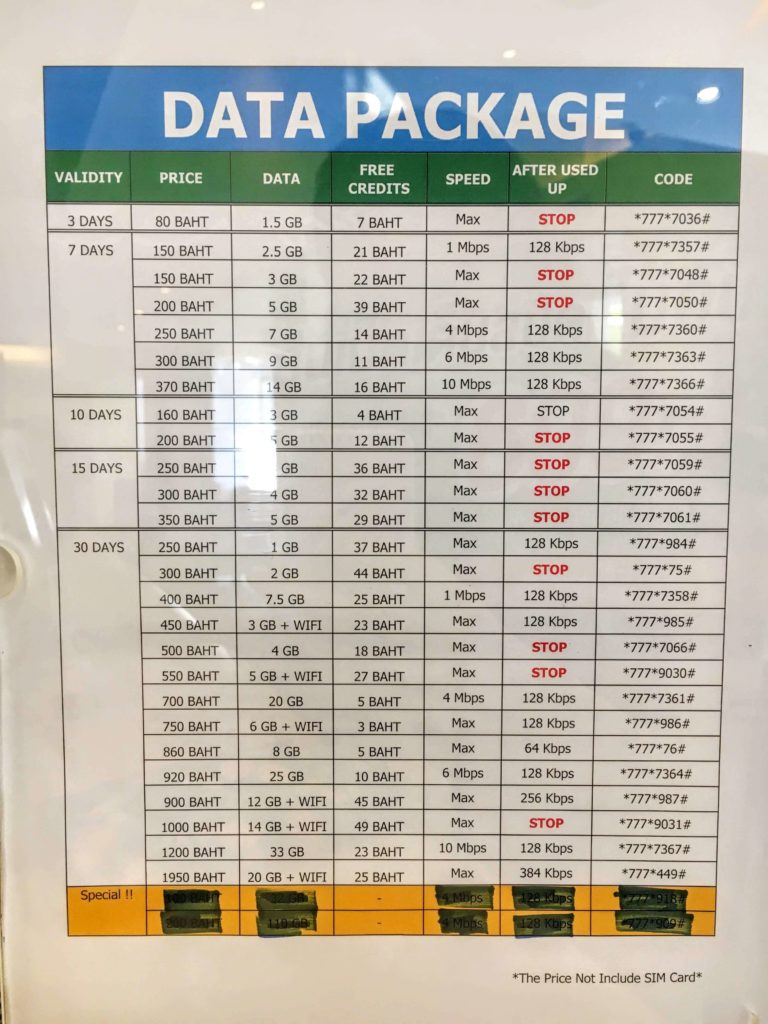 Getting Around Thailand Tips
Thailand Travel Tips on how to get around in Thailand: The most common methods of transportation are minivans and busses (to get between cities and towns), and tuk-tuks and scooters (to get around within one city). The best site for booking your own Thai travel between cities is 12GoAsia.
Use the app Grab to get around cities and towns, for fair and reasonable prices. You can order both Grab Cars and Grab Motorcycles.
Prefer the more Thai authentic tuk-tuk? Check prices on Grab and use the displayed prices as leverage to get a fair price from local drivers.
Bangkok has a very efficient monorail system, which can take you from Chatuchak Market, to MBK, to the outskirts of town, for 30-60 baht ($1-$2 USD).
Getting between destinations is super easy in Thailand. Tourist offices are abundant, and they can help you get anywhere from Point A to Point B. Your hotel or hostel can help with this as well, or you can book routes yourself using 12GoAsia.
If you're taking a popular route on a weekend (Chiang Rai to Chiang Mai, or Koh Phangan to Koh Tao for example), it may be best to book a day or two ahead instead of the day-of.
Scooter rentals are plentiful around all Thai cities. If you're a beginner, I recommend only trying scooter riding on quieter islands or in rural areas without much traffic. Even expert scooter riders should be cautious riding in Bangkok. Scooter rental prices in Thailand range from $3-$5 per day and all can fit two people on them.
You need an international driver's license to drive a scooter in Thailand. There are many random police checkpoints on main roads where you will be required to show it.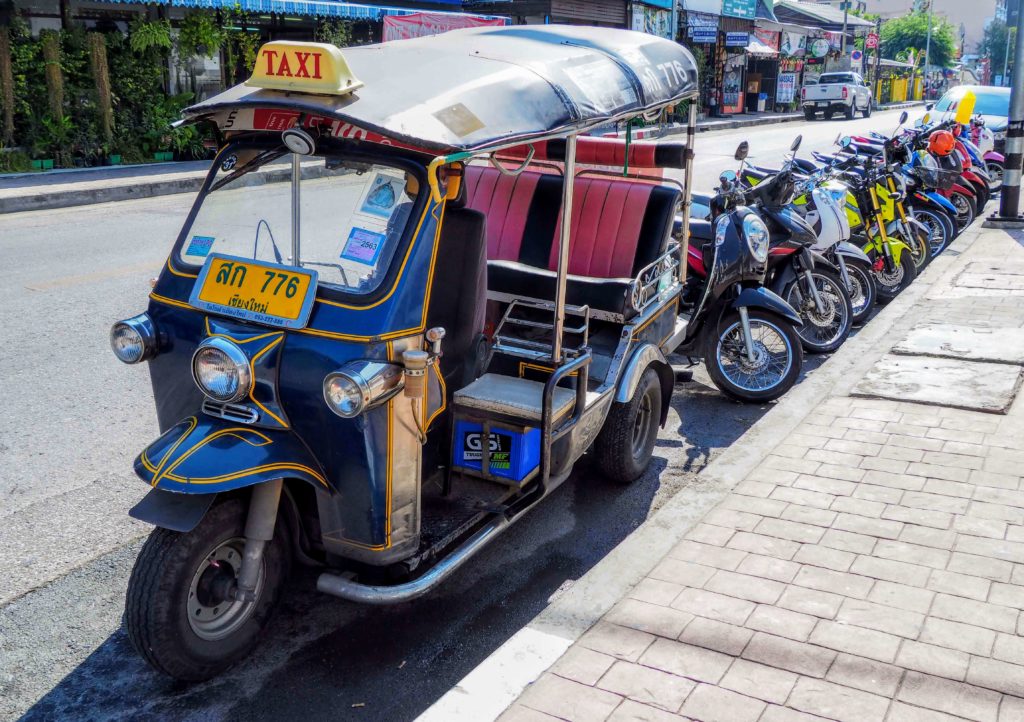 Thailand Temple Etiquette
The cities and towns in Thailand are all home to beautiful Buddhist temples. Like many places of worship around the world, there are some etiquette rules to follow before entering. These are important Thailand Travel Tips for visiting temples, to prevent being clueless and disrespectful tourists.
Both men and women should cover their knees and shoulders before entering a temple. I know it's hot in Thailand, so you can bring a light jumper or sarong to drape over yourself.
Some major temples in Thailand have sarongs and long-sleeved shirts that visitors can rent for free.
You need to take off your shoes or sandals before entering a temple. There are usually shoe racks where everyone leaves their shoes.
When you're inside the temple, its customary to sit with your legs folded under you. Never sit with your feet pointing towards the Buddha, because pointing your feet at anything is considered disrespectful.
If you're temple-hopping (like in Chiang Mai or Bangkok, both home to plenty of amazing temples), dress for the day in loose-fitting Thai pants, a modest t-shirt, and shoes that easily slip on and off.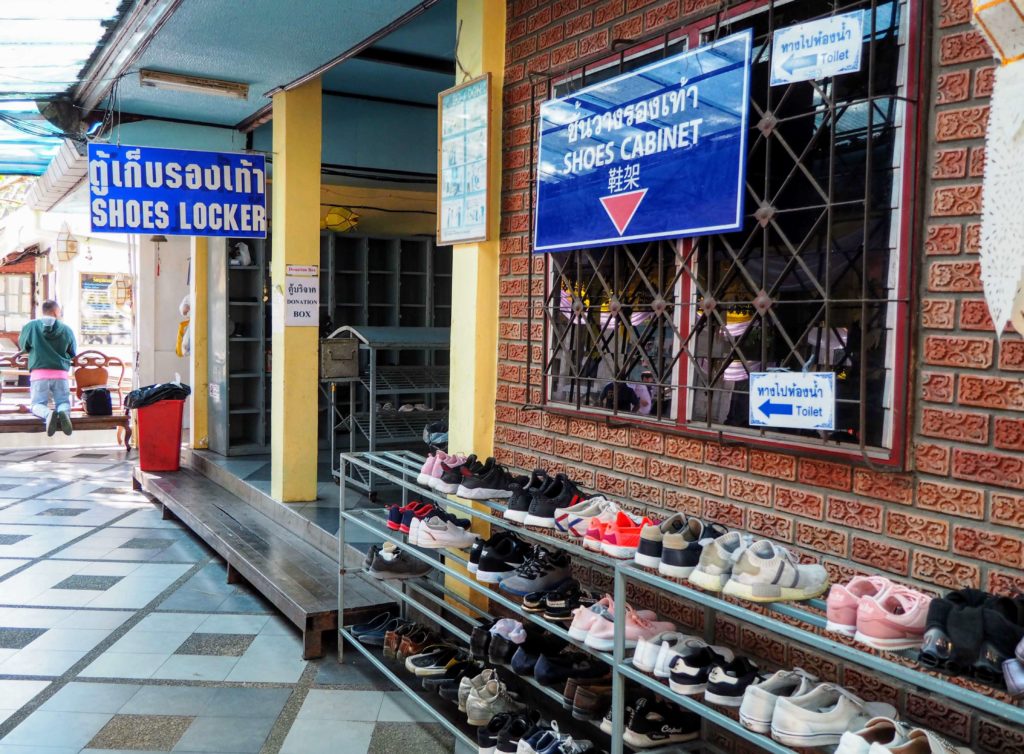 Thailand Travel Tips: Temple Etiquette, Continued
Consider dropping some change in to a temple donation box upon visiting. Usually temples are free to enter, and donations help to maintain and restore these old beauties.
Major temples, such as the Grand Palace complex in Bangkok, Wat Chedi Luang in Chiang Mai, and the White Temple in Chiang Rai require foreigners to pay an entry fee.
Many temples have attached monasteries and resident monks. Don't be that tourist getting up in their faces trying to take a picture.
Monks are not allowed to touch women. Keep this in mind if you're a woman and passing by them in a narrow alleyway. Stop or give them lots of space to pass.
Some temples, like Wat Chedi Luang, have "Monk Chats" where you can sit at a table and talk to a monk about Buddhism, monk life, etc. It helps for them to practice their English as well… ask them about their Thailand Travel Tips for first-timers!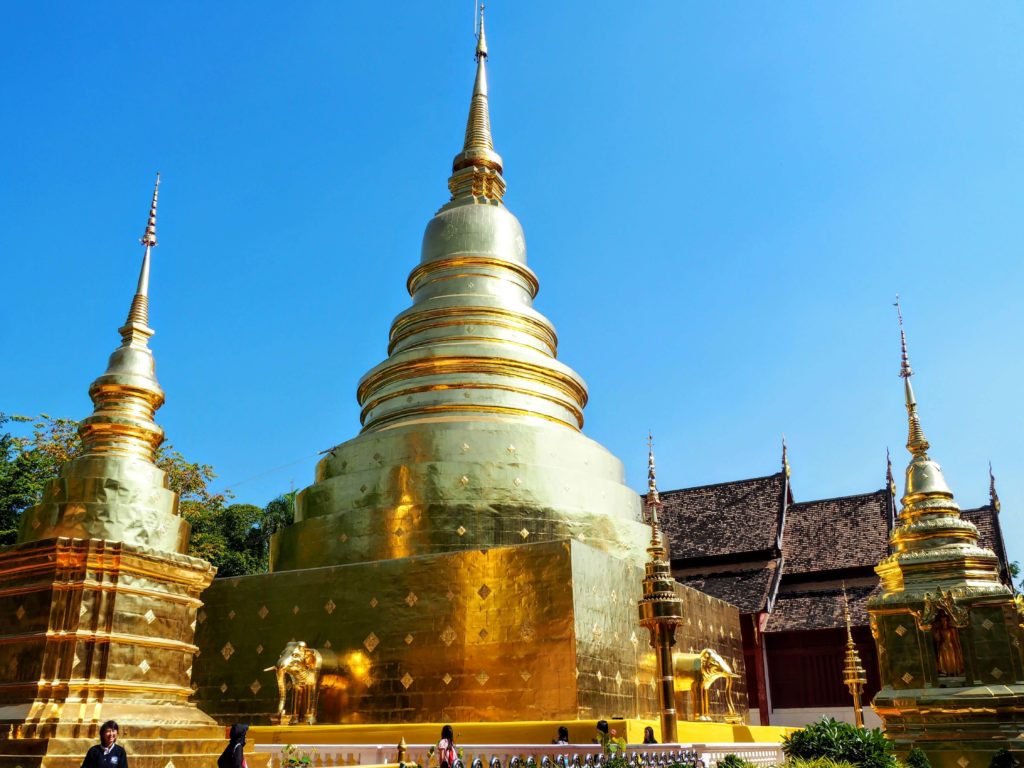 Respecting The Royal Family
Thailand's King is definitely the most important and respected person in all of the country. The current king, Maha Vajiralongkorn, was crowned in May 2019, three years after his beloved father and former King Bhumibol Adulyadej passed away.
King Bhumibol was Thailand's longest serving monarch, known as and felt to be the father of all Thai people. His death in 2016 was a tragedy to the country, and some Thais were in mourning, wearing black, for a whole year after his passing. His photos, and photos of his son the current king, can be spotted in all cities, towns, and in many, if not most, businesses across Thailand. Their faces are also found on the Thai Baht notes.
Respect the Thai Baht – stepping on a note (and can thereby the king's face) can result in harsh penalties
Before a movie starts in a Thai movie theater, a song and a slideshow for the king plays, and everyone must stand up in respect.
In Chiang Mai, at 6pm on Sundays the town loudspeakers stream the Thai national anthem. Everyone at the busy Sunday night market stands up and stands still in respect of this event too. If, while traveling elsewhere in Thailand, there is a city-wide announcement or song and every local around you is standing up and standing still, do the same!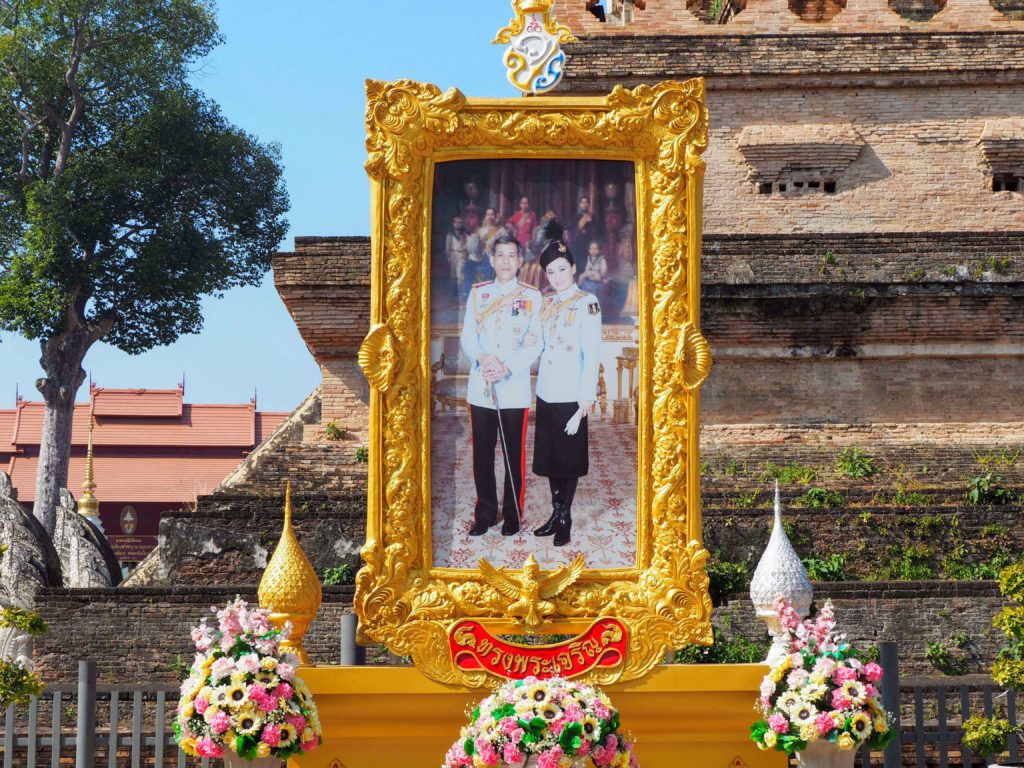 Common Phrases and Greetings
The two most common phrases you'll use and hear in Thailand are Hello and Thank You. Expect to use them 20+ times a day, so this is a Thailand travel tip you can start practicing now!
Sa-wat-dee-ka, means "Hello"
Kob-kun-ka, means "Thank You"
If you want to acknowledge that you understand, you can just say, "-ka"
"-ka" is the polite ending to every question and statement, and a sound that is often elongated and easy to recognize in bustling Thai markets. Technically, you end a sentence with "-ka" if you are a woman and with "-krab" if you are a man, but either they sound completely the same, or everyone just uses, "-ka".
Locals will love if you know more Thai phrases. Check out the Learn Thai app for some for phrases (ashamedly, I have not learned any others by heart)
It's common to put your hands together in front of you when greeting or thanking someone, instead of shaking hands. Head to a McDonalds in Thailand just to see the Ronald McDonald statue in this very polite and very Thai pose!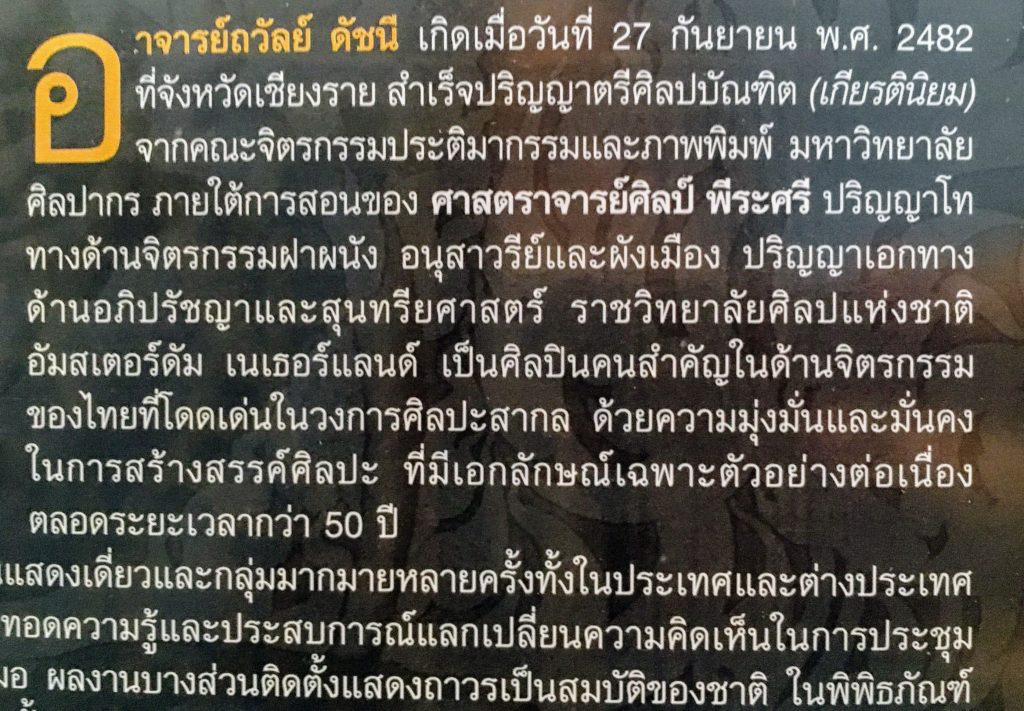 Eating Out In Thailand + Tipping
Thailand is a culinary heaven, and Thai food is some of the best in the world. This is a fact, and my best Thailand travel tip is to never turn to Western food while you're here. Thai cuisine will make you forget what a burger even is!
Give street food a chance. Maybe this is an obvious Thailand travel tip, but really, get out and try the amazing street food here. This is Thai 'fast-food', and part of the experience of traveling in Thailand. It's good to double-check the sanitation of the cooking area, but most street food stands in tourist areas should be safe to eat from.
Expect to spend $1-3 USD for a filling street food meal in most Thai cities.
Night markets are some of the best places to try a variety of different Thai foods for cheap. Spend $3-$5 per person and expect to be STUFFED.
Tipping is not customary in Thailand. However, I do round up on my bill or drop coins in tip jars that are commonly found at restaurants.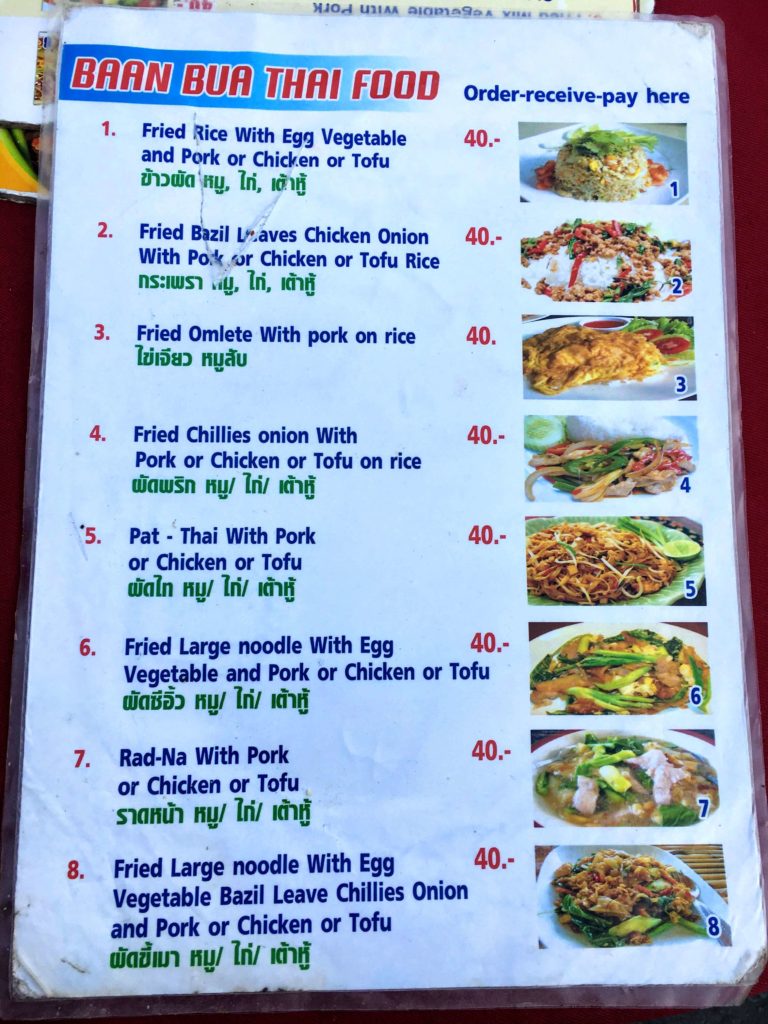 The food menu at a typical street food stand, on Pai's Walking Street. 40 baht = $1.30 USD
Foods you MUST try in Thailand
Pad Thai – traditional Thai noodles, served with peanuts, lime, bean sprouts, and green onions. Options to add egg or meat.
Som Tam – shredded green papaya salad, with tomatoes, shredded carrots, and peanuts. Spicy!
All the curries – Green curry, Panang curry, Red curry, Yellow curry… all of them are made from a coconut-base, but have different vegetable staples within them, plus distinct flavors.
Tom Yum – A Thai soup dish filled with vegetables and seafood, that covers many different flavor profiles: bitter, sour, spicy, and tangy.
Sticky rice and mango – The best dessert after a spicy meal, this sweet concoction combines coconut milk and condensed milk, poured over sticky rice and a sliced mango.
In Northern Thailand: Khao Soi curry noodles. A bowl of regular egg noodles, plus crispy fried noodles on top, served in a bowl of curry with coriander and lime.
ALLLLL the fruit smoothies!! Fruit smoothies are offered in every restaurant and on every street corner in Thailand. Try my favorite: avocado smoothie!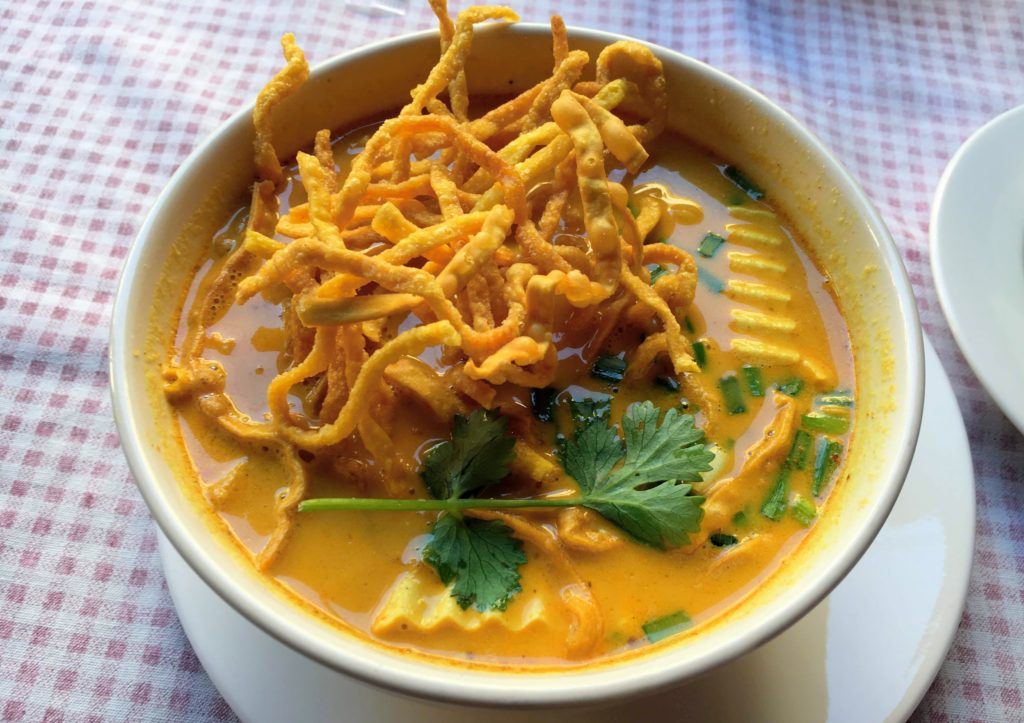 Tips on Being Vegan or Vegetarian in Thailand
Because tourism has been around Thailand for a while, plus Thai monks are (traditionally) vegetarian, there are many solely vegan/vegetarian restaurants in touristy towns in Thailand. Most sit-down restaurants will have vegetarian food options at the very least.
Use the app (or online website) Happy Cow to find highly-rated vegan and vegetarian restaurants around Thailand.
Look for the symbol: เจ, or what looks like the number 17, usually in red characters on a yellow background. This symbolizes that the restaurant serves vegetarian food, suitable for monks.
Chiang Mai and Pai in Northern Thailand may be the two best places to visit for vegan and vegetarian exclusive restaurants in Thailand, but there's plenty of options in other cities too.
There are many Thai dishes that become vegetarian if you take the meat out of it. Pad Thai and Coconut-Based Curries fall under this category (however, it may be cooked with some fish sauce).
Vegans might have a tricker time with local foods, which might sneak a little cream, butter, or eggs into the recipe. Strict vegans should research ahead of time which restaurants cater to the vegan diet.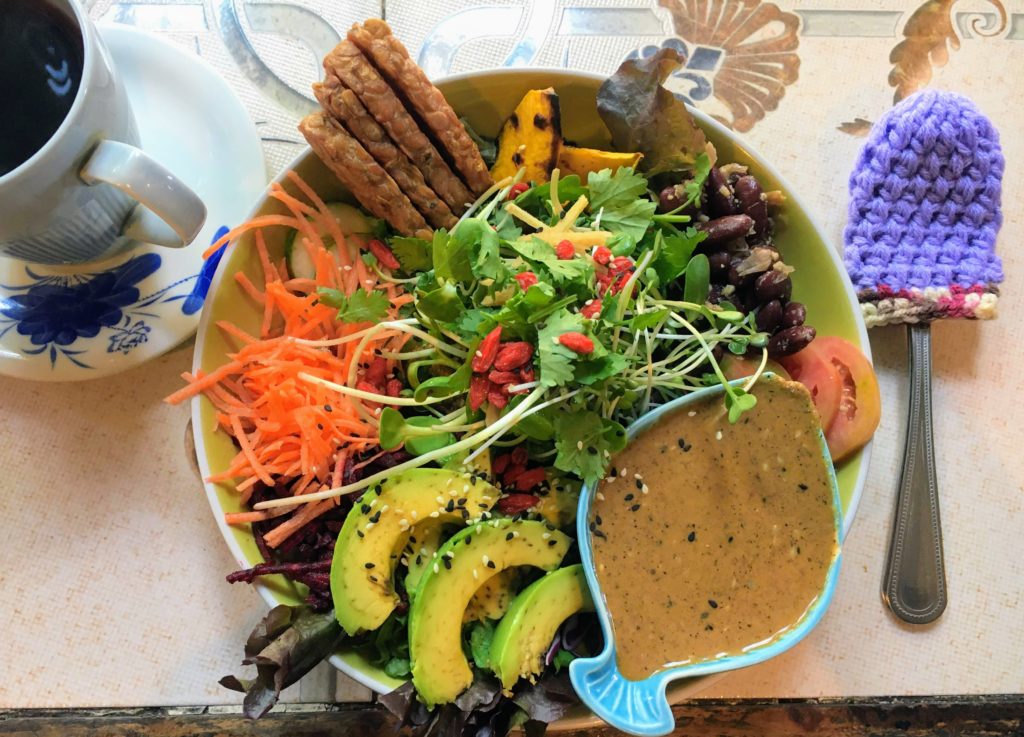 Drinking The Water In Thailand
Water from the tap is not safe to drink in Thailand.
It is safe enough to use for brushing your teeth and rinsing out your mouth.
Carry a reusable water bottle around, because most hostels and hotels will have a communal potable water jug where you can refill your water.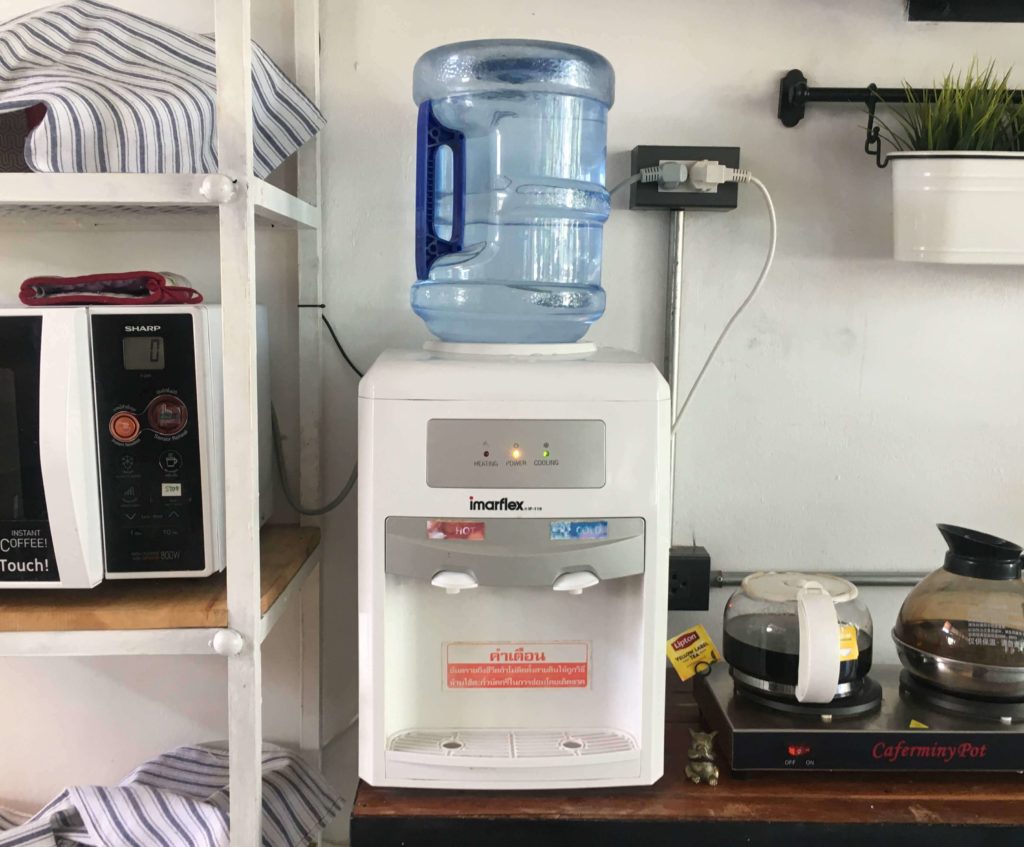 Alcohol & Partying in Thailand Tips
If you're planning on indulging in a little party or two (or everyday) while traveling in Thailand, keep your head on just like you would at home. Don't lose your common sense to stay safe while partying in Thailand.
Fire jumping (jumping rope with a jumprope that's on fire) looks cool but it's a disaster waiting to happen. 

Don't sit in the front row for fire shows and fire twirling, because often times the performers are not professionals. 

Don't get drunk and then start fights with the locals.

Watch your drinks and buckets of alcohol. Make sure that the liquor bottles are sealed and opened in front of you before its poured into your plastic bucket.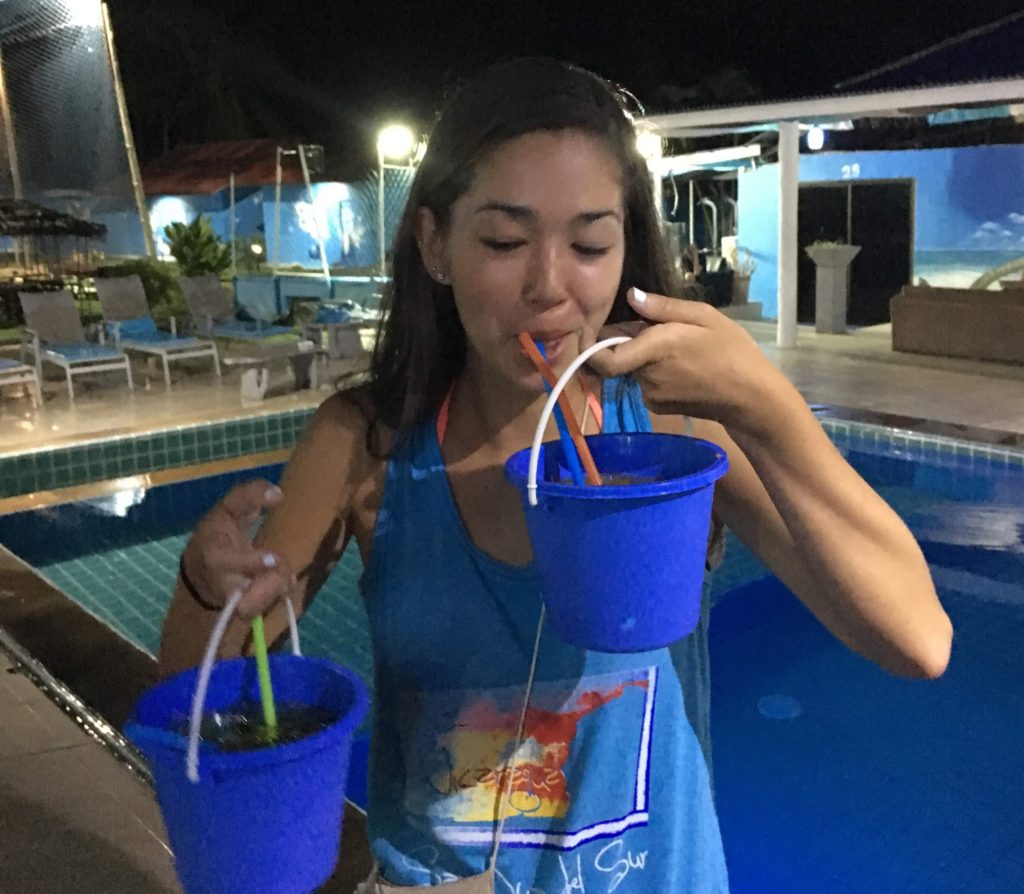 Accommodation in Thailand
Hostels and Hotels in Thailand
Thailand is home to hundreds of incredible hostels, which is why it's a great place for first-time backpackers. Staying in a hostel means making friends and travel buddies for more Thailand adventures. Just bring ear-plugs.
High-quality hostels these days are not just rows of bunk beds in a room. The beds come with curtains for privacy, you'll have a personal night-light, shelf for your belongings, and outlets for charging. They may also have large common areas, where it's easy to meet new people.
Private rooms are also often available at hostels, so you can have all the social perks of staying in a hostel, with some added privacy and peace and quiet.
Hotels range in quality from really low, to really high. Be sure to check the reviews and pictures on Booking.com before locking in a hotel for a long-term stay.
For some awesome accommodation options, check out my list of
overwater bungalows in Thailand
too! It includes places like Khao Sok National Park, Koh Lanta, Ao Nang, Kanchanaburi, and more.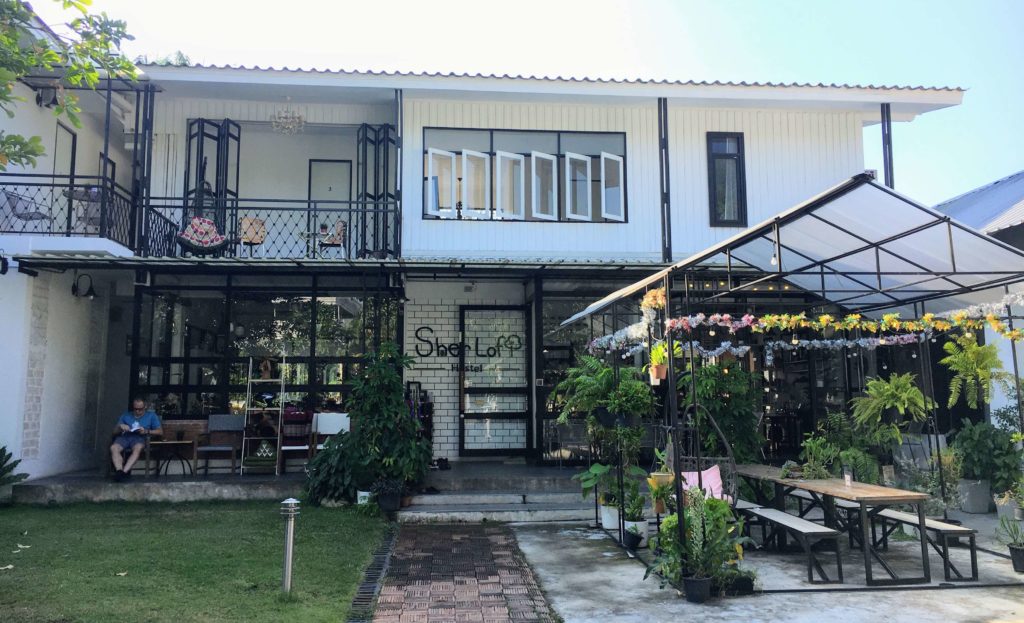 You cannot flush toilet paper down the toilets in Thailand. Surprised? In the majority of the world, this is the case! Throw used papers in the bin provided.
There's a little shower-looking nozzle connected to most toilets. This is a little bum-shower! Use it to spray your bum before you wipe to reduce toilet paper use.
Restrooms at gas stations or other rest stops during long journeys rarely have toilet paper. Keep a roll of your own handy.
While you're at it, carry your own hand sanitizer too because the rest stops rarely have soap.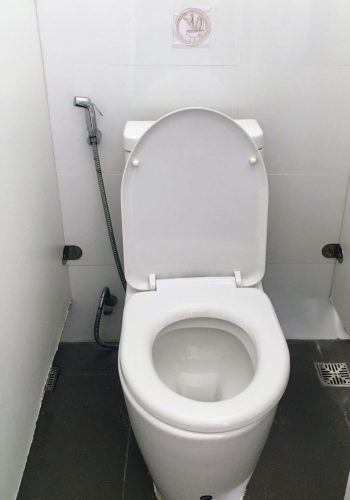 Showers in Thailand
Most showers in Thailand are connected to a small box with a dial on it, a hot water heater. Instead of a large, centralized heater, Thai showers each have this little contraption that warms your water as you use it.
High water pressure + lower temperature, and low water pressure = high temperature. It can only heat water so fast!
Some water heaters have an on/off switch, and some will only turn on at the same time you turn the water on.
Most hostels and hotels provide a communal body soap and shampoo in their shower rooms. The exceptions are the really budget hostels.
Remember to travel sustainably by refusing those tiny plastic shampoo bottles at hotels.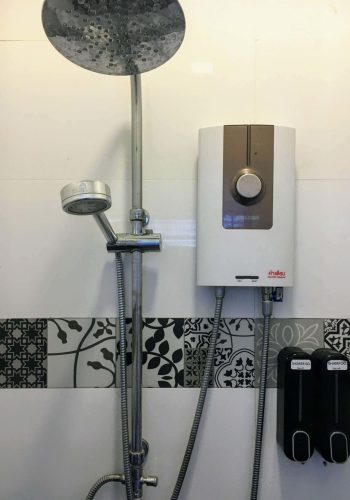 Make The Most Of Your Thailand Trip
Must-Have Experiences in Thailand
This Thailand travel tip is to all all of these items on to your Thailand Bucket List. But don't worry about doing all of these things on your first visit to Thailand. 
Visit the Grand Palace in Bangkok, and tour its surrounding temples.
Chill on the Beach – whatever this means for you, whether it's splashing in the water, tanning, or with a margarita in hand, head to the Thai islands and relax!
Ride a scooter through the countryside, a perfect way to explore rural Thailand
Get a massage – Beware, a classic "Thai massage" is a painful one! For beginners, try a massage with oil or aloe vera.
Visit an ethical elephant sanctuary, like this one near Bangkok
Go hiking in the jungle or through the mountains
Go to a night (or day) market. My favorite markets in Thailand are Chatuchak Weekend Market in Bangkok, and the Sunday Night Market in Chiang Mai!
Eat street food! Bangkok is one of the street food capitals of the world. 
Join a cooking class. These are most popular to join in Chiang Mai.
Watch Muay Thai fighting
Here's a freebie Thailand travel tip: Save some experiences for the next visit, because I'm sure you'll be back 🙂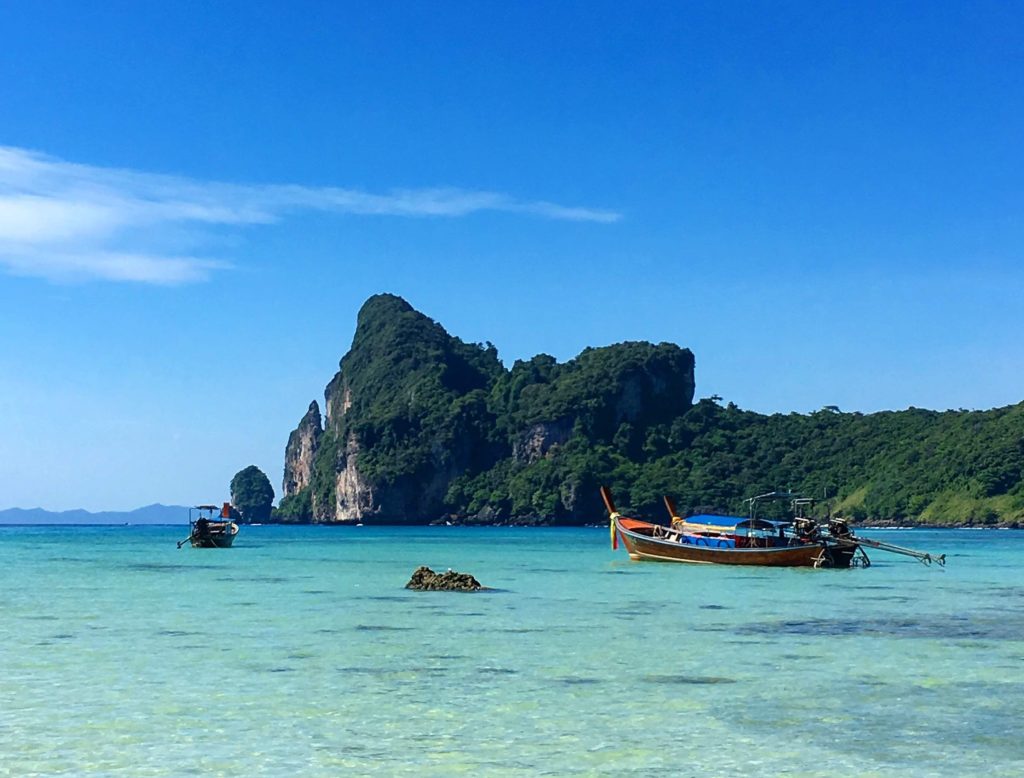 Thailand Shopping & Souvenirs
Thailand is a shopper's paradise. Not only are the prices goods and handicrafts cheaper than in Western countries, they are often intricate, creative, and beautiful. You can also buy great gifts in bulk, that you can hand out as generic presents at home. Here are some Travel Tips for first-timers shopping in Thailand:
Markets are your friends. Bangkok's Chatuchak and Chiang Mai's Sunday Night Market are some of the greatest places in the country for shopping. These markets bring together regional vendors that sell everything under the sun.
The best Thai souvenirs in my opinion: elephant keychains, elephant-patterned coin purses, funky tank tops, and loose-fitting colorful pants. You can buy the first two in bulk, and pants and tank tops for 100 baht, or about $3 USD each.
For market stalls selling generic souvenirs, you can try to negotiate the price down.
Shopping malls and grocery stores are also great places to find teas, cosmetics, handicrafts, and clothing to give as gifts from your trip to Thailand.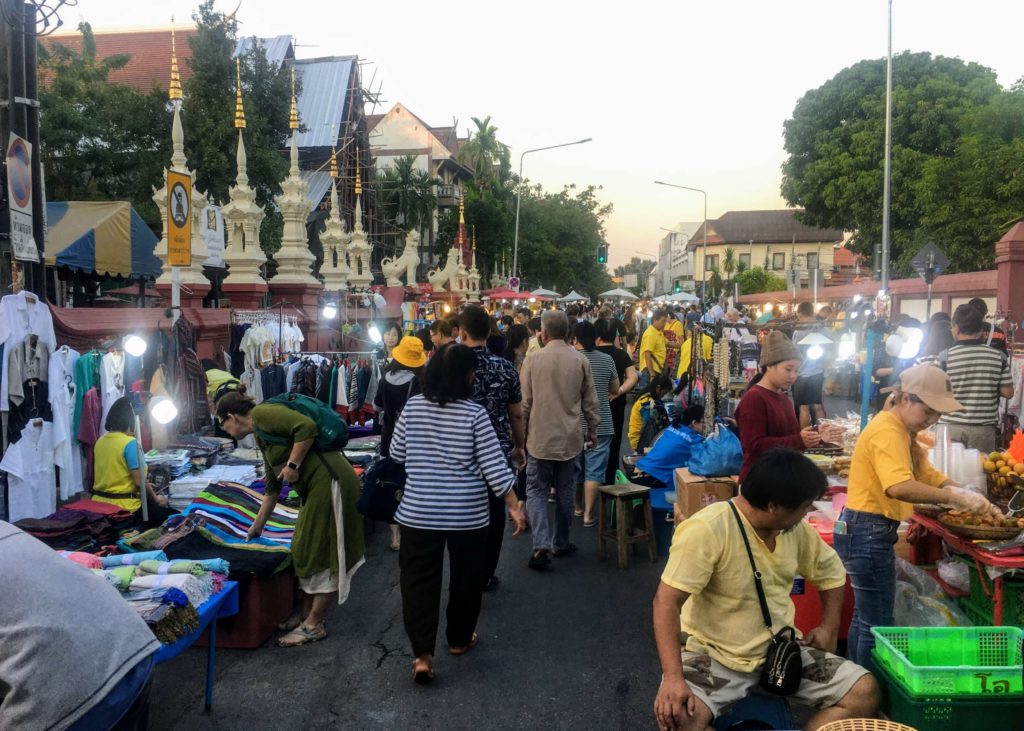 Responsible Travel Tips for Thailand
Travelers are all very lucky to have the opportunity explore incredible places far from home. Let's work together to keep Thailand beautiful, by being mindful about where we spend our money, and knowing the impact of our traveler's footprint.
Seeing Elephants: Do your research about visiting ethical elephant sanctuaries or retirement homes. Riding elephants, or trainers using elephant hooks is a NO.
Be mindful of visiting Thailand's Hill Tribe villages too. Some appear to be "human zoos" and can be quite exploitative.
With tap water being unsafe to drink, be mindful of your plastic water bottle consumption. Use a refillable water bottle whenever possible, or invest in a life straw bottle. 
When eating out at night markets, be mindful of plastic consumption again. Bring your own utensils and containers for takeaway food, else you'll end up with many plastic containers and plastic baggies!
Consider traveling to Thailand in the shoulder-seasons (April-June, and September -October) or the off-season (July-August). This helps prevent over-tourism and resulting societal stress and environmental degradation.
Consider staying in eco-resorts, and eco-friendly hotels and hostels. Check out Karen Eco Lodge near Chiang Mai or the Yard Hostel in Bangkok which is made of shipping containers.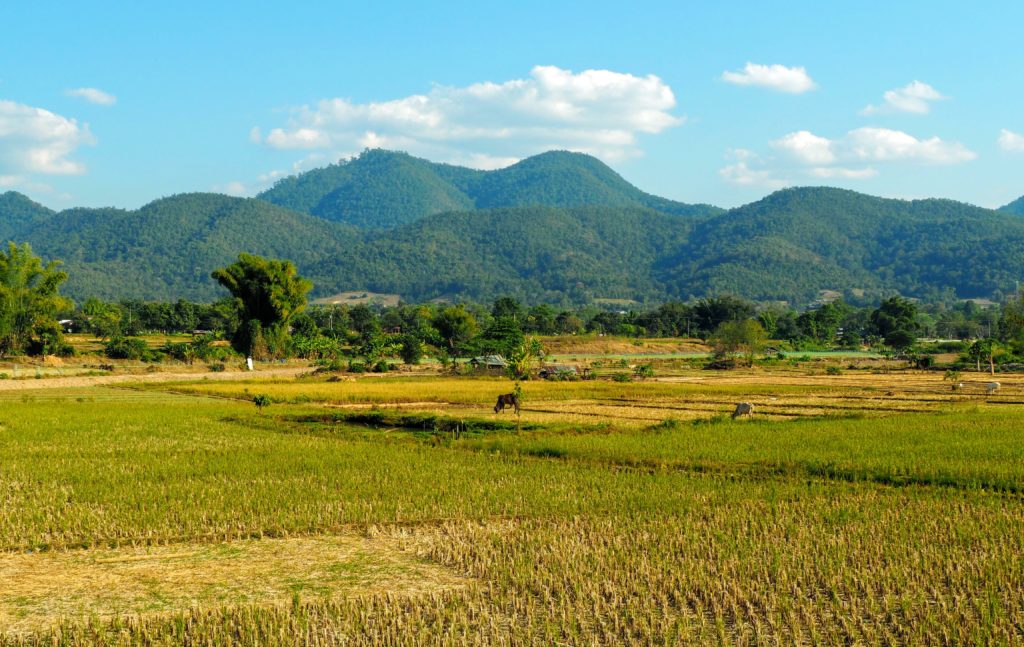 Safety Tips for Thailand First-Timers
How To Stay Safe - Have Common Sense
Is Thailand a safe country for backpackers, and solo female travelers? Undoubtedly YES. Thailand has been open to tourism for decades, has a stable political regime, and the locals are always helpful if something goes wrong. Here's some Thailand travel tips about how to stay safe during your time in Thailand.
Keep an eye on your purses and belongings, especially in crowded areas with lots of tourists. Pick-pocketing does happen on occasion.
Don't lose your debit card. ATMs in Thailand return your card to you AFTER it gives you the money. It's all too common (and I've done twice) that tourists take their cash then leave right away, and forget their card!
Especially in big cities, walking alone at night can make you an easy target for harassment or theft. Just avoid it, or stick to pairs or groups.
If you're riding a scooter – always wear a helmet! This is actually law in Thailand, and common sense. It's also safer to wear close-toed shoes and pants made of thicker material like jeans (but we all know it's too hot for that sh*t).
Keep Thailand's emergency numbers handy, or at least memorize 911 and 191 in case of emergencies, and 1155 for the Tourist Police.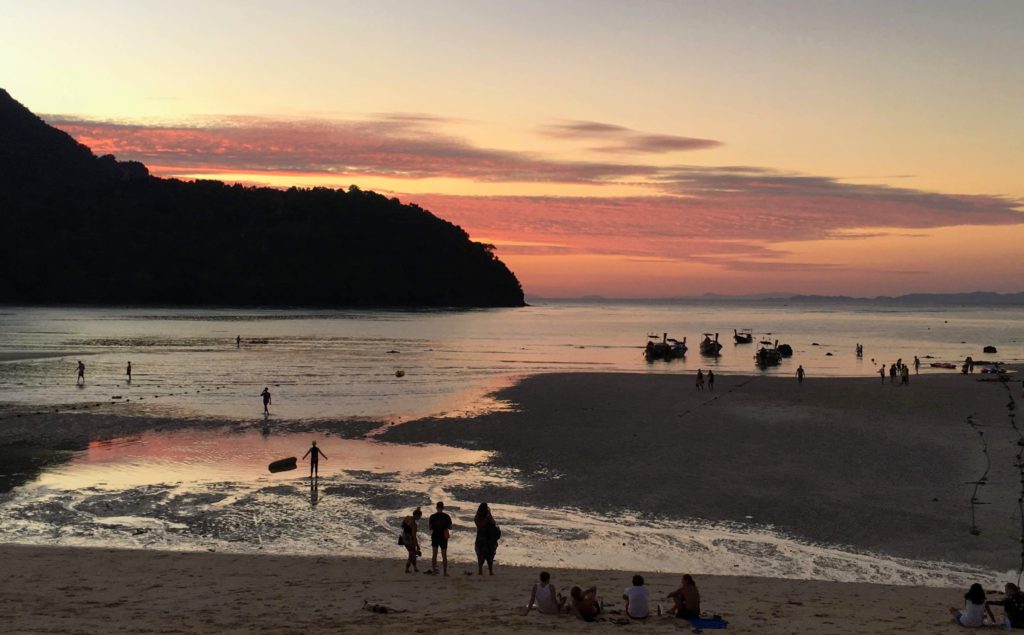 Common Tourist Scams in Thailand + How to Avoid Them
No list of Thailand travel tips would be complete without listing some of the scams that tourists have fallen prey to. Although uncommon, watch out for scams during your first trip to Thailand.
Too-good-to-be-true tour prices from tuk-tuk drivers. A common scam in Bangkok, tuk-tuk drivers will show you a pamphlet with all the famous Bangkok landmarks, which he says he'll take you to for $1-$2 USD. Turns out, every stop you make, you'll have to pay him or his buddies something extra.
Being offered exorbitant tourist prices for cheap souvenirs and local rides. Haggling is part of the culture at markets and with tuk-tuk drivers. Give it a try!
Paying for damage to a scooter. If you rent a scooter in Thailand, be sure to take pictures of it on all sides to show the condition it was in when you first rented it. Many beginner drivers crash scooters, so whether the rental owners mean to or not, they may try to charge you for damage to a scooter that you didn't cause.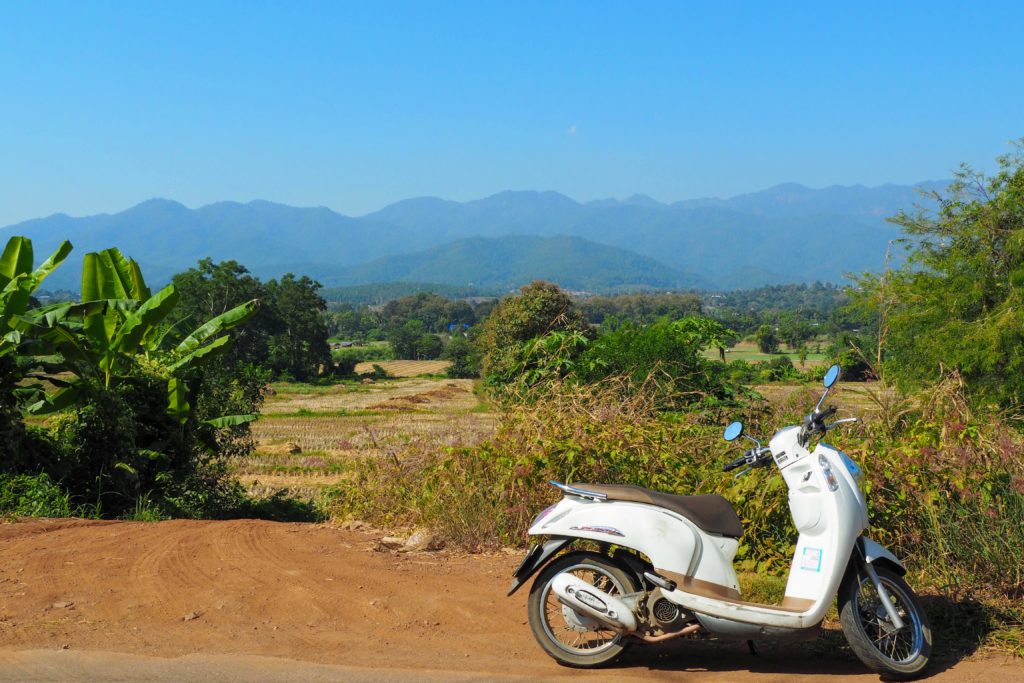 Pin These Thailand Travel Tips for Later!
Travel Resources to go with your Thailand Travel Tips:
Book Your Flights

– To find the cheapest flights, flexibility is key. I use both

Google Flights

and their low fare calendar, and

Skiplagged

, which uses airfare loopholes to get the lowest prices.

Book Your Accommodation – Check out Booking.com for the largest selection of accommodation around the world. For backpackers, Hostelworld.com is also a favorite. Be sure to browse my list of overwater bungalows in Thailand too!
Buy Travel Insurance – It's better to protect yourself from mishaps when traveling. Get a quote from World Nomads to see how much it'll cost to get you covered!
Check Visa Requirements – From E-Visas to Visas-on-Arrival, iVisa has all the info on country visa requirements. If one is required, you can order one hassle-free through their site.
Book Local Excursions – Don't miss out on world-class experiences by booking tours and tickets online, ahead of your arrival. GetYourGuide has fun experiences from all around the world, and Klook specializes in Asian destinations.
Pack Your Essentials – Check out my posts about Long Term Travel Gear, and Carry-On Luggage Packing Essentials!