Mandalay is one of Myanmar's former capitals and home to many historical monasteries and palaces. It's situated right in the heart of Myanmar, and is a transit point between Bagan, Hsipaw, and Inle Lake. While many famous Mandalay sights and temples are a bit of a drive outside the city, there are great things within Mandalay city limits to see as well.
If you find yourself in this cultural city, here are five things in Mandalay you shouldn't miss!
1. Mandalay Hill for Sunset
If you're feeling fit and up for a workout, climb up the hundreds of stairs and many levels of temples to get to the top of Mandalay Hill. (There's also a car road that can drive you up the backside) Take off your shoes when you start climbing or when you get dropped off the top, because the whole area is sacred to the locals. Sunset at Mandalay Hill is one of the top things to do in Mandalay.
I enjoyed climbing the stairs up because you get great views, and different views, of Mandalay at each section. Although the temples are not as impressive, the views of the city are better here than at the famous Shwedagon Pagoda in Yangon. 
There are many old temples, seemingly abandoned or under renovation, that you can wander through. Not many people chose the option to climb all the way up, even just before sunset, so it feels like you have this massive temple complex all to yourself!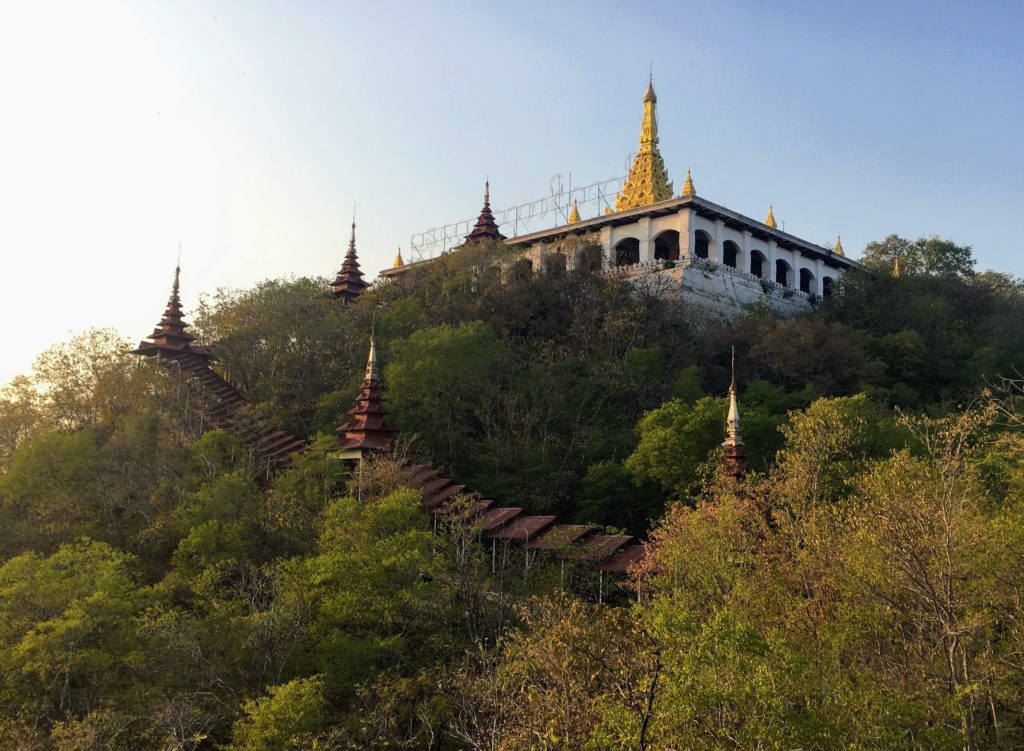 The top of the hill is a different story, and is overrun with tourists and locals alike who come to unwind for the sunset. Where there are tourists, there are souvenir shops – A LOT of them – and even little food vendors whipping up some noodle soups to enjoy. 
To get to the temple at the VERY top, there's a 1000 kyat fee for foreigners, but there are great views from the temple just below it also. 
After the sun has set, there are plenty of taxis and tuk tuks available (pay no more than 8000 kyats!) to take you back into downtown Mandalay. 
2. Visit the "World's Largest Book", Kuthodaw Pagoda
Did you know Mandalay is home to the "World's Largest Book"? It's not the thickest book, it's the largest in terms of area. In each of these white monuments is a stone tablet with text on it, so each monument is one page of the book. 
There are rows upon rows of pearly white monuments that you're free to wander through, with one large golden stupa in the middle. 
The great thing about Kuthodaw Pagoda is that it's located right next to Mandalay Hill. Come here an hour or two before sunset to wander through the World's Largest Book, then make your way up to Mandalay Hill for sunset! 
South of Mandalay is a large wholesale jade market, where jade buyers from around the world gather to purchase jade that's mined around Myanmar. The market is most active earlier in the morning if you want to see the wholesale traders doing their business, but activity occurs all throughout the day. 
There are hundreds of small tables and chairs lined up for business to take place, food vendors serving up quick snacks those working, as well as people carving up the jade right on the spot! 
For us tourists there are a few shops where you can purchase pre-made jewelry, pendants, statues, and other souvenirs.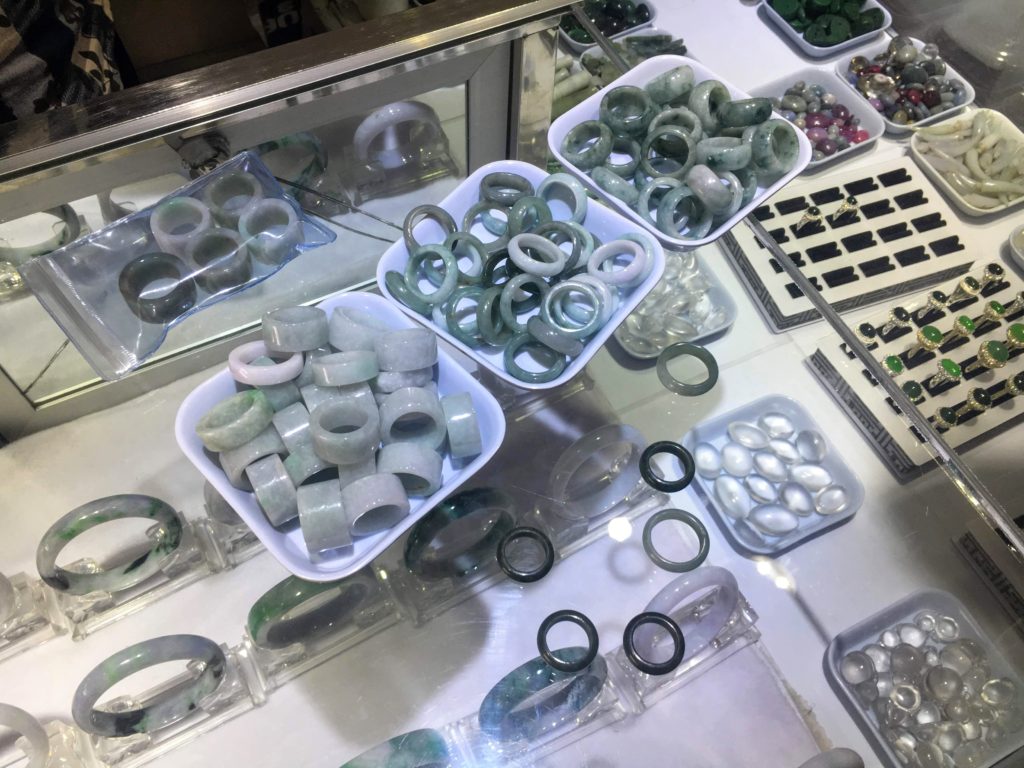 If you want to purchase something here, I recommend doing some research on how to check for real jade. It's supposed to feel like a heavier, denser mineral, so the easiest way to judge the quality of the jade is to weigh some different pieces in your hands. 
Jade is supposed to make a clicking sound when knocked together (instead of the twang of glass). It should also have many refractions when a bright light is shined through it. 
4. Wander the Zegyo Market
The largest market in Mandalay is a lot of fun to walk through! Zegyo Market felt like a more local version of the Bogyoke Aung San Market in Yangon.
The old building is filled floor to ceiling with people selling everything under the sun. There doesn't seem to be any sort of order or organization to where certain goods are being sold, so you'll just have to wander around if you're looking for anything in particular. 
Not all parts of the building are used however, so you might stumble upon some creepy, abandoned warehouse-like areas. 
Within Zeygo Market, there are places where you can grab a quick meal, and also decrepit bathrooms available if you plan on spending all day in there! 
5. Eat at Aye Myit Tar Restaurant
Aye Myit Tar was one of my favorite restaurants in Myanmar, and is one of my top places to visit in Mandalay. 
Aye Myit Tar serves exceptional traditional Myanmar cuisine. The best part is, when you order a main off the menu, they serve you a ton of little side dishes that they keep refilling during the meal! 
If you've been concerned about small portion sizes in Southeast Asia, this is the place to come to.
Meals in Myanmar start with a soup appetizer, which was flavorful here and filled with veggies. The side dishes included a plate of fresh vegetables, some fishy sauces, tomato and peanut salad, bamboo shoots, a tomato curry, and some cooked veggies. 
These are on rotation depending on the day you go, but they always bring you a massive pot of rice that you get free refills of as well! For desert there is a jar on every table filled with sugar-pastry balls. Delicious! 
U Bein Bridge is a scenic wooden bridge built over a section of the Irrawaddy River. It requires hiring a cab or a being part of a tour to get to because it's slightly outside of Mandalay city. The most popular excursion here is to see the sun set from out on the water.
Being at the U Bein Bridge is another top thing to do in Mandalay, it was just a bit far for us to get to. 
Where to Stay in Mandalay
I stayed at the Man Shwe Li hotel and loved their buffet breakfast and their location. Their staff were super friendly and helped us organize a transfer to Kalaw for the next stop on our Myanmar Itinerary after Mandalay. 
The most popular hotel/hostel chain across Myanmar for travelers is Hostello Bello, which also has a location in Bagan and at Inle Lake. 
Check out other cheap accommodation locations at Hostelworld.com. Search from cheap dorm rooms to luxury hotels in Mandalay at Booking.com! 
In Conclusion: 5 Things Not to Miss in Mandalay
Mandalay is a great place to spend a couple of days, especially when in transit between Bagan and Inle Lake. Don't miss out on these great cultural experiences and sights to see while in Myanmar! 
Tip: For digital nomads in Mandalay, Marty and I loved NOVA Coffee shop. It has some great snacks, coffees, and a wonderful working atmosphere. It's also close to Aye Myit Tar, if you are working up until dinner time.
You Might Also Be Interested In: