The most popular trek in Myanmar is from a small mountain town, Kalaw, to Inle Lake. While the vast majority of people trek Kalaw to Inle Lake with a tour, it's very possible to trek it unguided. 
In February 2019, Intrepid Road's Marty and I trekked from Kalaw to Inle Lake unguided, on a three-day and two-night trek. We wandered without a tour through tiny Myanmar villages, and through agricultural fields and the quiet countryside. Here are the trails that we took and all the information on how we hiked from Kalaw to Inle Lake without a guide!
Before You Hike Kalaw to Inle Lake Without a Guide
Download both maps.me and Google Maps offline maps on your phone 
Maps.me shows where the several trails are between Kalaw and Inle Lake, and enough trails to piece together a Kalaw trekking map. If you go slightly off the path to explore a village or monastery, it will help you find the trail again without backtracking. Google Maps comes in handy here because with their satellite imagery, you can also see the trails near you. 
I had Myanmar MPT SIM card in my phone, and the great thing is I had at least 3G for the majority of the Kalaw to Inle Lake trek. Although we didn't need it, the SIM card gave us peace of mind in case of emergencies, since we were hiking unguided. 
Packing List for Trekking Kalaw to Inle Lake 
Bring 2-3 liters of water per person. More water can be purchased at the homestays. 
Battery Pack(s) for recharging electronics
A lungi or sarong for bathing in ("showers" are outside and sometimes in full view of the street)
Warm clothes for the evenings
Shorts and t-shirts for trekking (women are recommended to dress modestly)
Ear plugs
Toilet paper
Soaps and toothbrush/toothpaste
Snacks for the road
Rehydration salts/medicines
100,000 kyats per person (there are ATMs available in Kalaw, but nowhere else). We spent less than 60,000 kyats per person.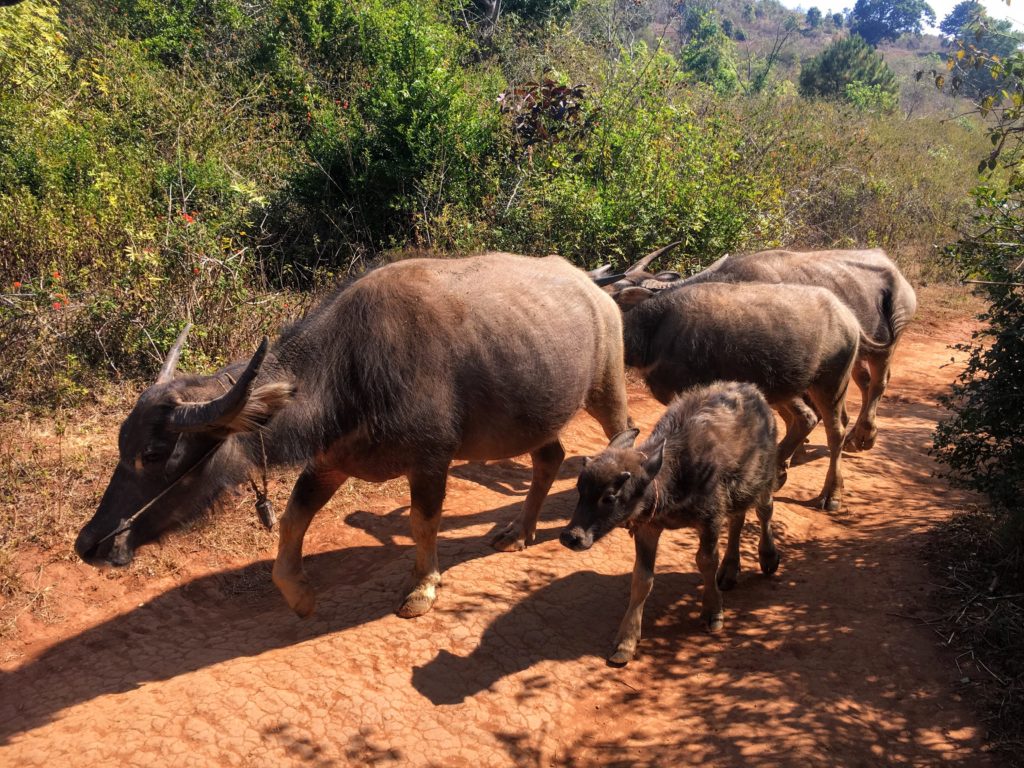 Cost for Trekking Kalaw to Inle Lake Unguided
This is a summary of our total cost for the Kalaw to Inle Lake trek, without a tour. This is what we spent on the trek, COMBINED. 
Day 1
Accommodation: 30,000 kyats
Water: 2000 kyats (500 kyats per bottle)
Day 2
Accommodation: 25,000 kyats
Water: 2500 kyats (500 kyats per bottle)
Day 3
Inle Zone Entrance Ticket: 15,000 kyats x 2 people = 30,000 kyats 
Private boat to Nyaung Shwe: 25,000 kyats 
Total: 114,500 kyats, $75 USD ($37.5 USD per person) cost to hike Kalaw to Inle Lake Unguided
The cheapest group-guided trek from Kalaw that I saw was $30 USD per person. This didn't include the cost for the boat to Inle Lake, or the ticket to the Inle Zone (an extra $20 USD per person). The most expensive was $85 USD per person, which included a private chef. 
Food on the Kalaw to Inle Lake Trek
Despite the bad rap that Myanmar food gets, I really enjoyed the local meals that we were fed while trekking Kalaw to Inle Lake without a tour! The homestay owners served us a wide variety of dishes plus lots of rice. The one homestay where we shared accommodation with guided hikers, we suspected that their meals were even nicer than ours. 
The food was mostly vegetarian salads, soups, curries, or noodles with maybe one dish of chicken served for dinner. We had pancakes for one breakfast, fried rice and eggs for another. And we always had Myanmar tea with a variety of fruits.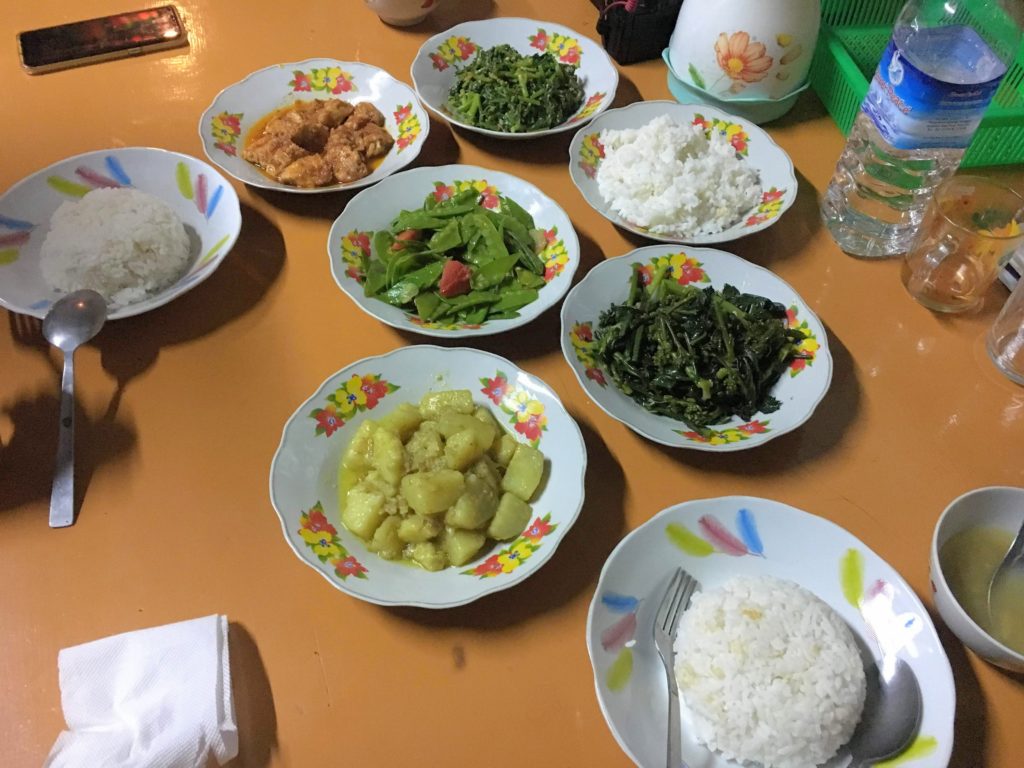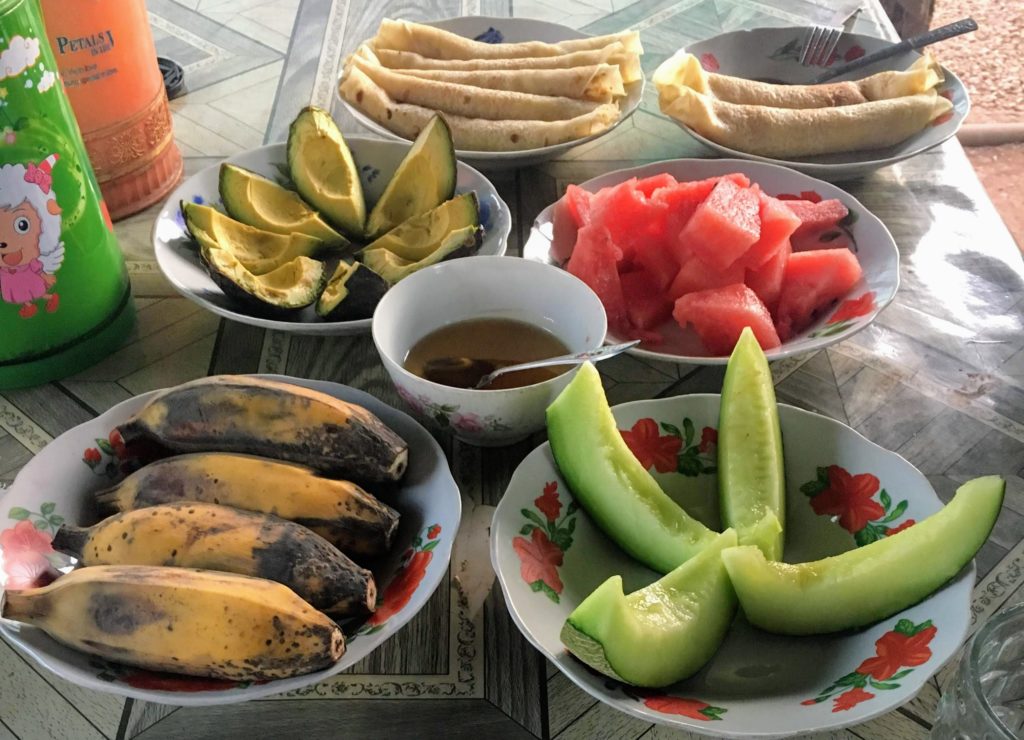 Accommodation on the Kalaw to Inle Lake Trek
I loved the homey accommodations that we were given on our trek from Kalaw to Inle Lake without a tour. These are homestays, not guesthouses, so both nights we were sleeping under the same roof as the family who owned the home. The second night we were sleeping above their farm animals too in a bamboo hut!! Had we trekked Kalaw to Inle Lake with a tour, we might have slept in nicer accommodation as recommended by the guide. 
The mattresses were thin as expected, but because of the cold nights we were given at least three blankets each. 
No homestays are marked with signs to let you know you can stay there. You just have to ask every local you see whether they know a place to stay. Sooner or later you'll find a homestay!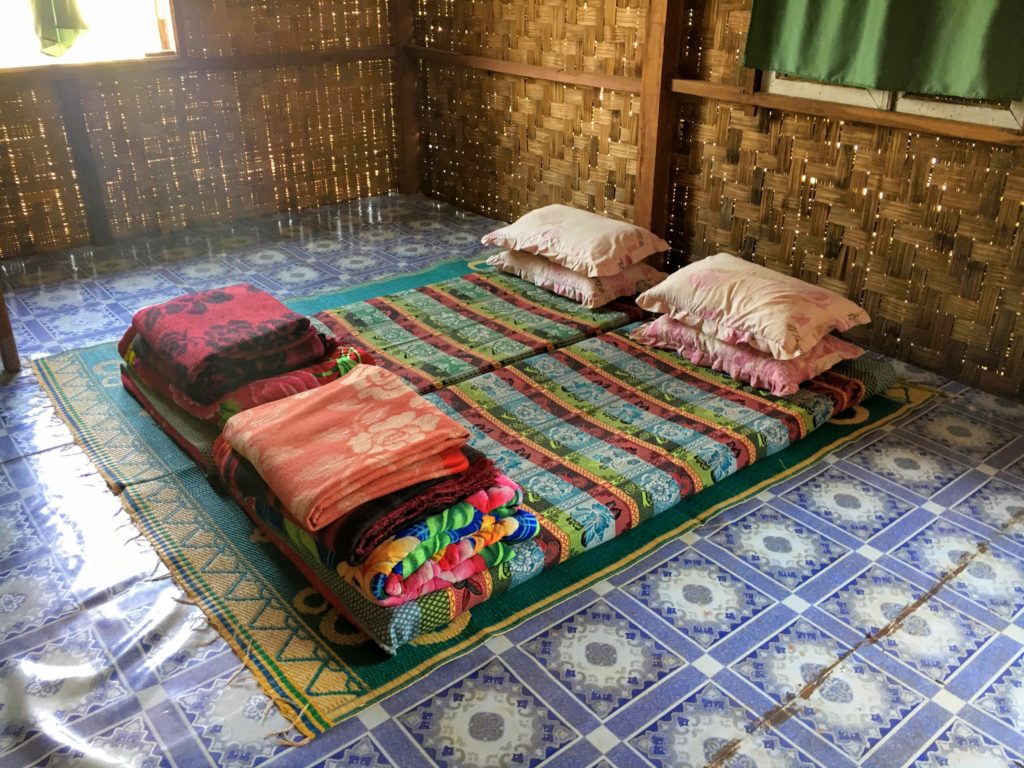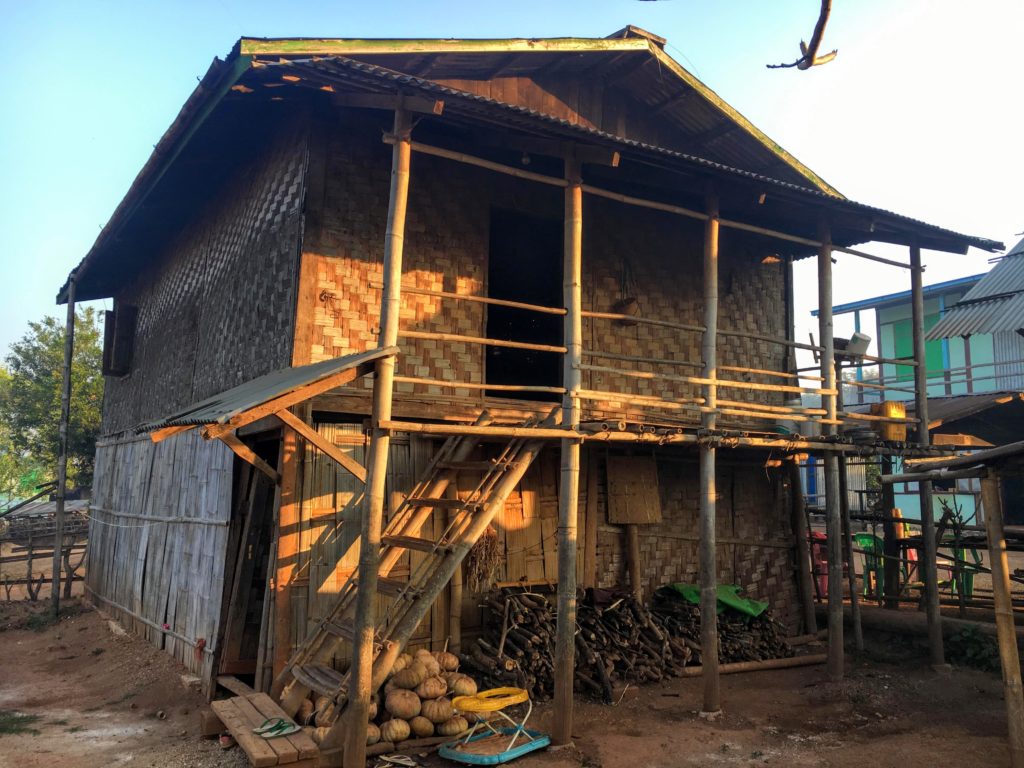 Starting the Trek from Kalaw to Inle Lake, Unguided
Getting to Kalaw from Mandalay
The Kalaw to Inle Lake trek is located in the center of Myanmar, and is accessible from Mandalay via minibus. The minibuses take about 6 hours to reach Kalaw, and depart early in the morning or late at night. Don't expect a lot of sleep on these rickety mountain roads if you take the overnight minibus!
Kalaw has a large local market where you can shop for fruits, vegetables, souvenirs, clothes, and last-minute trekking gear. You can head up to the monastery located on top of a small hill to get a great view over town. 
If you are trekking Kalaw to Inle Lake with a guide, plenty of trekking agencies sell guided treks in Kalaw! There is no need to book a guide ahead of time. In Kalaw, shops sell bags of all shapes and sizes, perfect for if you need a day bag to use. Guided trek companies will send your large luggage to your final destination, so you can buy a duffel bag in Kalaw for this purpose too.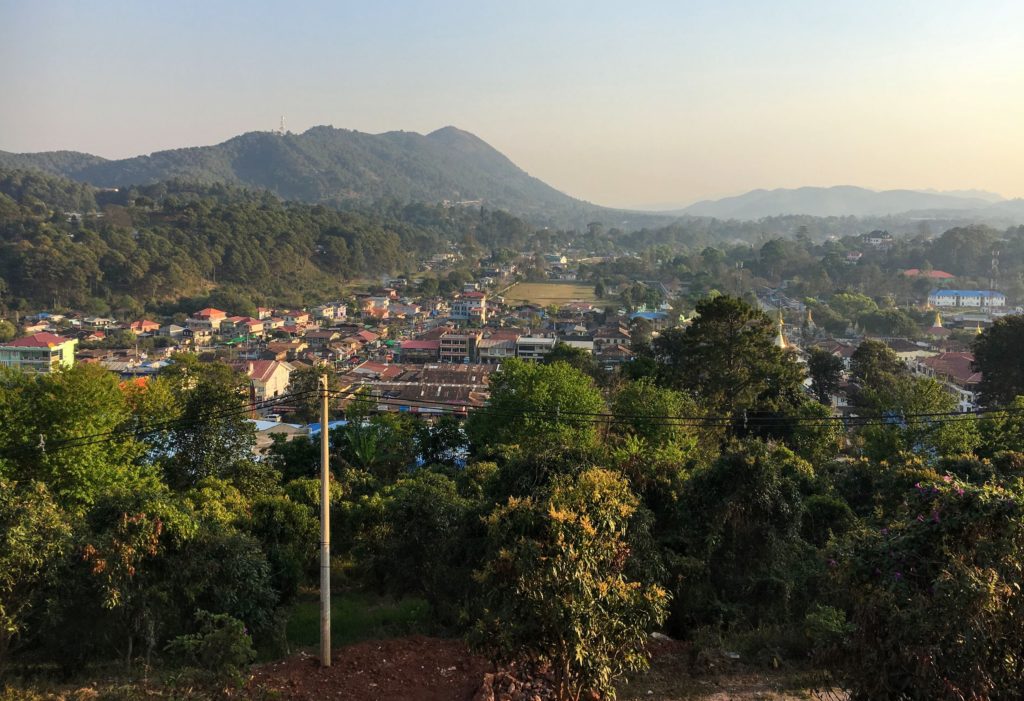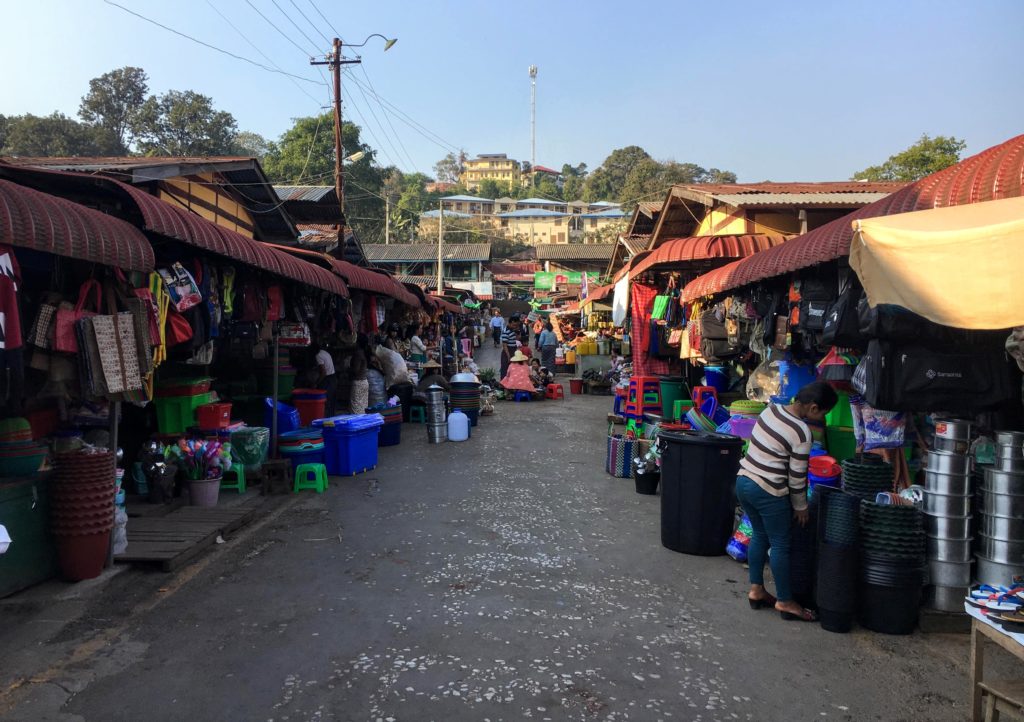 Where to Stay in Kalaw
I highly recommend staying at the Country Inn in Kalaw, which is located a short walk from the city center. 
The family who runs the hotel is extremely friendly, and the room was perfect for one last relaxing sleep before setting out on the trek. Breakfast in the morning of chapati, fruit, eggs, guacamole, and fresh orange juice was incredible!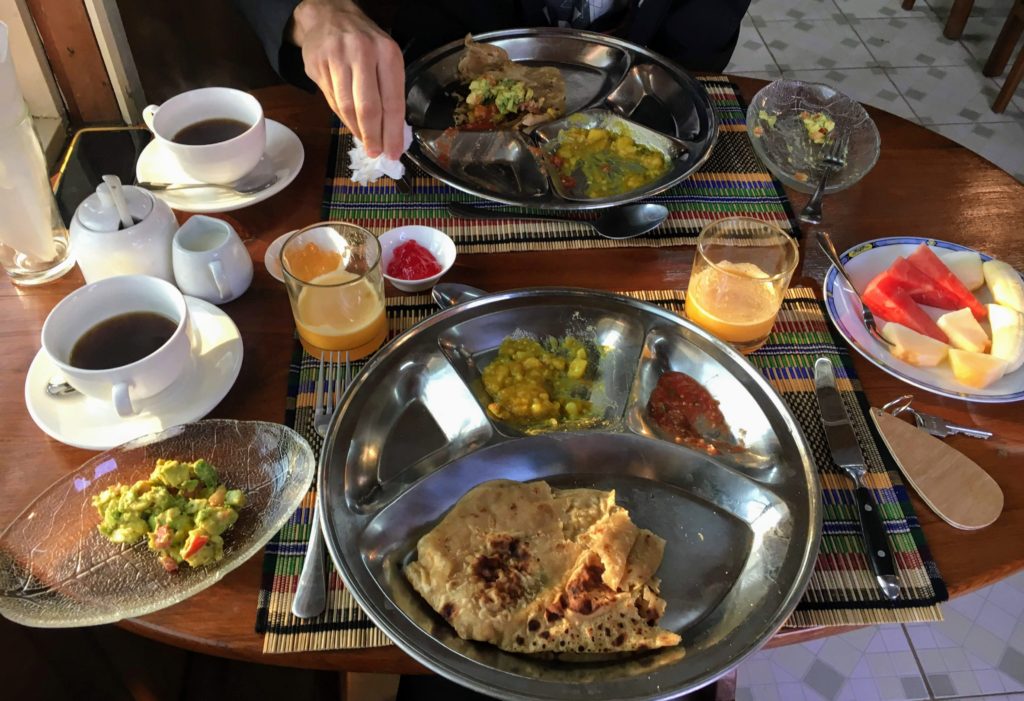 Kalaw to Inle Lake Trekking Maps
This is a screenshot of the trail that Marty and I took when we hiked Kalaw to Inle Lake unguided, taken on the Maps.me app. The red labels show the towns where we stayed each night. 
 Day 1, we hiked to to "Lemind", Day 2 to "Part tu", and Day 3 to the ferry terminal at "In Dein". 
This Kalaw to Inle Lake hiking map shows exactly how we hiked a total of 44 km.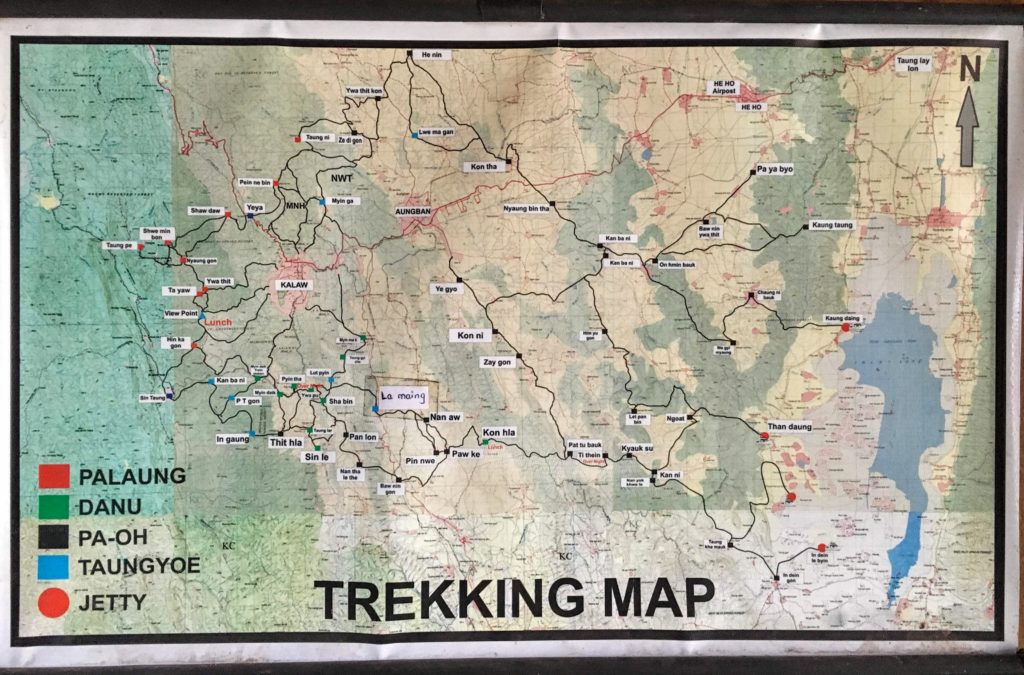 Above is a more comprehensive Kalaw to Inle Lake trekking map that we found at our first homestay in La Maing. The homestay owner happened to be a trekking guide. This regional Myanmar hiking map shows a lot of variation in trails on Day 1 from Kalaw, but the trail becomes more streamlined on Days 2 and 3 after La Maing. 
According to this guide's Kalaw to Inle Lake hiking map, you can trek on Day 1 to "Pyin Tha" (the village is not marked on maps.me but a homestay is). Day 2, trek to "Pat tu bauk" (aka Part tu) and Day 3 to "In Dein". On this map of the trek, Day 1 varies from Marty and I's trek, Day 2 and 3 are the same.
The different colored squares on this map represent the ethnic groups and hill tribes that live in the villages.
Day 1 - Kalaw to La Maing (Lemind on maps.me)
As you can see on the Kalaw trekking map, a few different roads lead south from Kalaw town. We took the road that seemed to be the main paved one that turned to dirt outside of town. Only the occasional motorbike and locals walking their water buffalo shared our same road.
We walked by the 60 Buddhas temple as well as a few great viewpoints. From the elevation we gained, we could see that there are many trails and roads that wind through this valley. 
The Day 1 variation takes you to the opposite side of the valley, which is where most of the guided treks will go.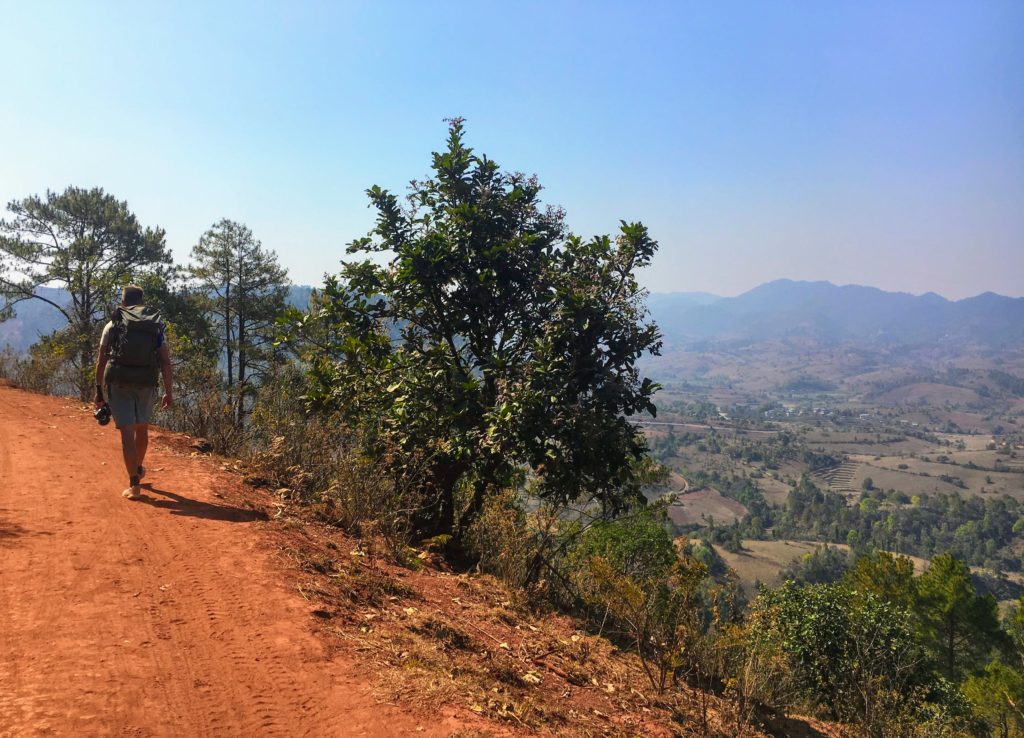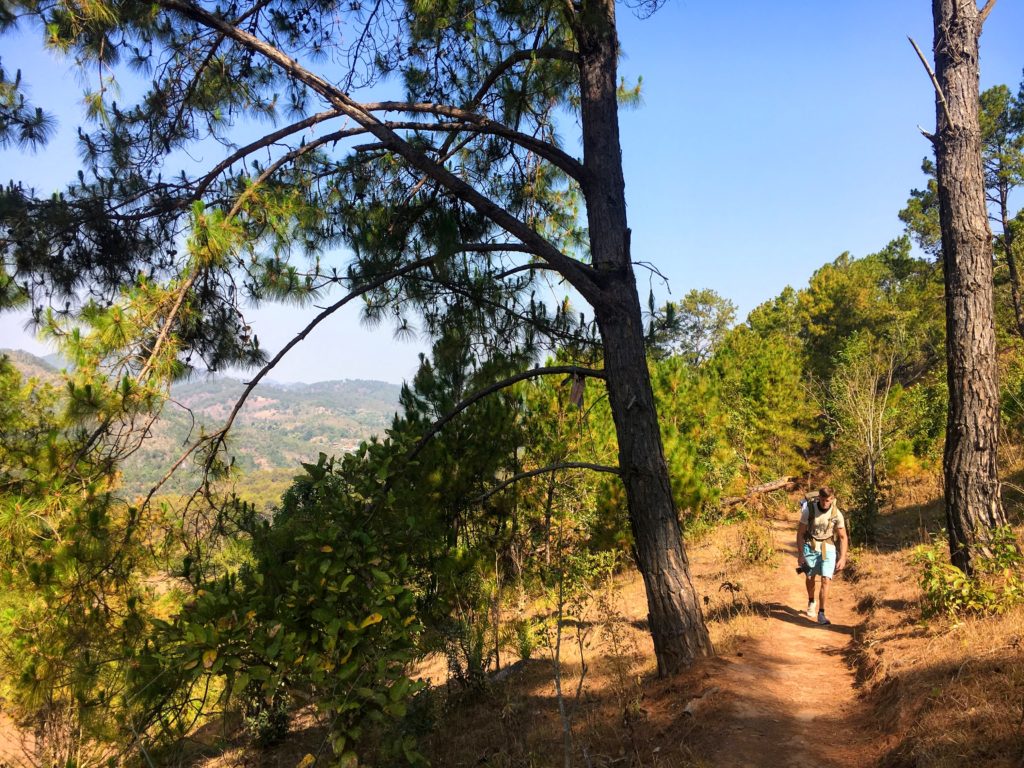 The road turns to the East after about 10 kilometers south of Kalaw, near two unmarked villages. We trekked between some agricultural terraces here, making the trail a little hard to follow. Locals working hard in the fields happily pointed us in the right direction.
After crossing a busy car road, we reached La Maing. We had some difficulty finding a homestay because there is no signage in front of the buildings. We learned later there are only three homestays in the village that take in trekkers. 
Again, the locals were more than happy to point us towards where a homestay was, and eventually a local child was volunteered to show us to the home. 
My advice is to ask EVERY local you see whether they know of a place to stay, and they'll help you find a place! 
It took us 4 hours to trek 13 km from Kalaw to La Maing on Day 1.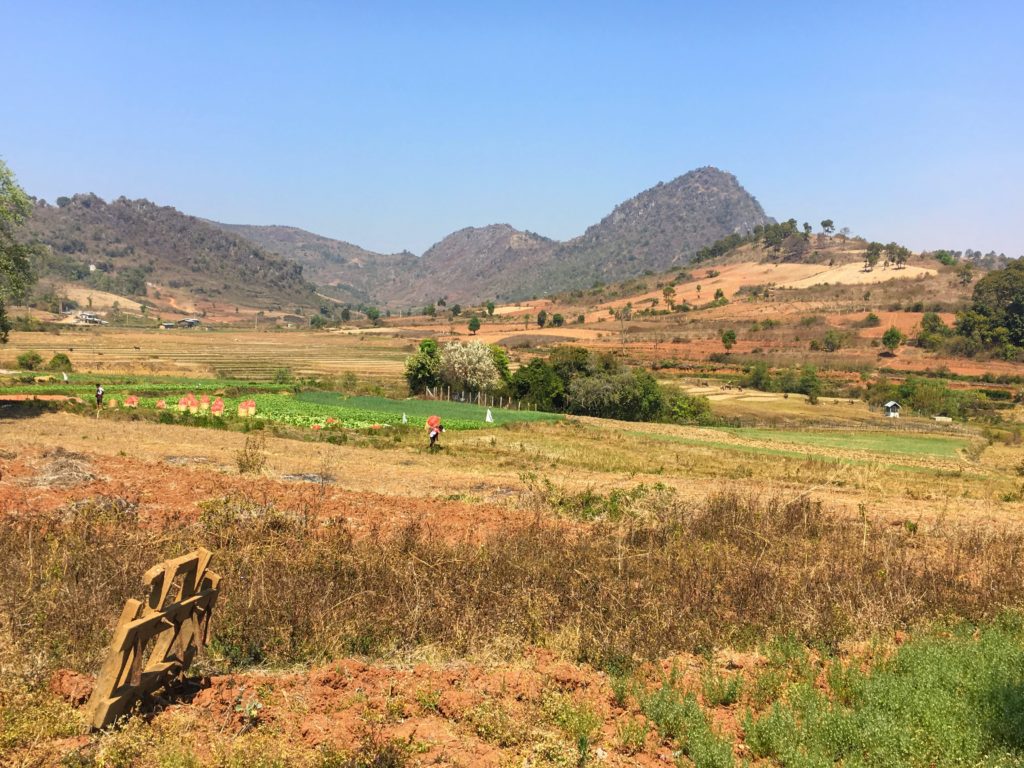 Day 1 Variation - Kalaw to Pyin Tha/Myindaik
Many guided treks will head West out of Kalaw, towards the opposite side of the valley to where Marty and I trekked. Several viewpoints in this area are marked on maps.me, as well as a trail that you can follow.
You can see on the Kalaw trekking map in maps.me, there are a couple of homestays near Myindaik, and between Myindaik and La Maing. 
We decided to trek South of Kalaw instead of to the West because we were trekking without a tour. 23 km is a long distance to go when there is a chance of getting lost along the way, when it's very hot for most of the day, and when we were carrying ALL of our belongings.  
Looking back, since the terrain is not difficult at all to trek, we could probably have taken the longer Kalaw trekking route with no issues.
Day 2 - La Maing to Part Tu
The trek from La Maing on Day 2 follows the trails that locals use to get between the villages in the area, and get their animals to their agricultural plots. We passed by dozens of men, women, children, and buffalo, all on their way to work in the fields in the morning. 
You'll walk through many villages on this day, but there are not a lot of facilities where you can buy food or water. There are some forks in the trails, but they all merge back together and lead to Part tu. 
Sections of the Kalaw to Inle Lake trail are marked with pink arrows like the one below!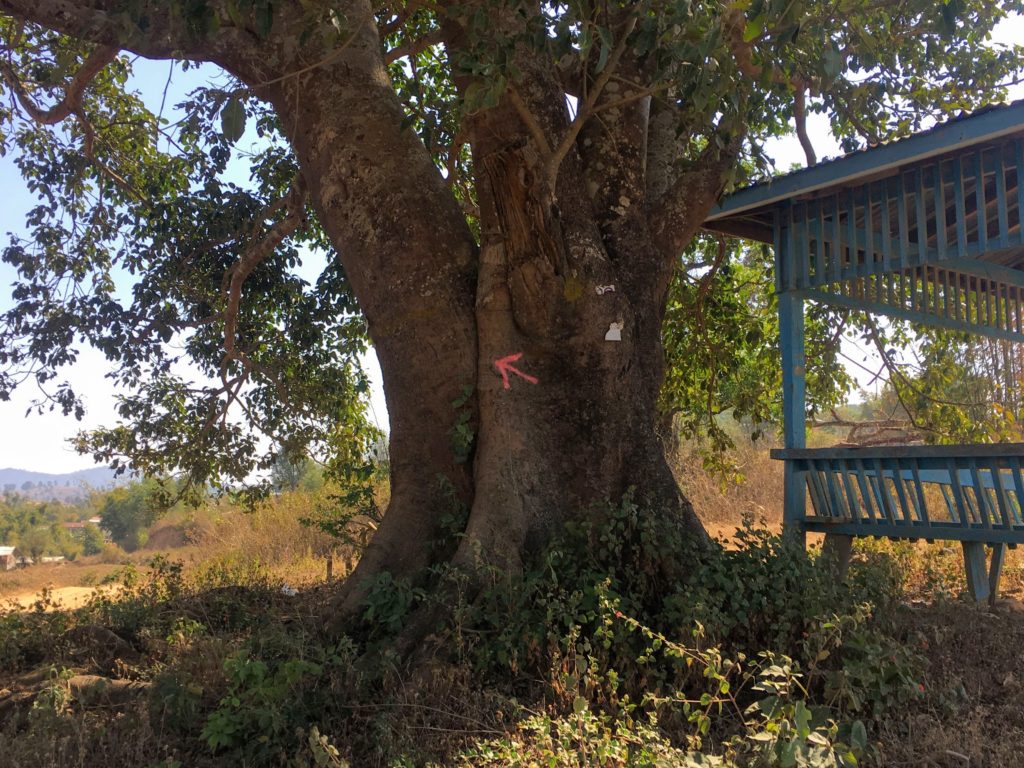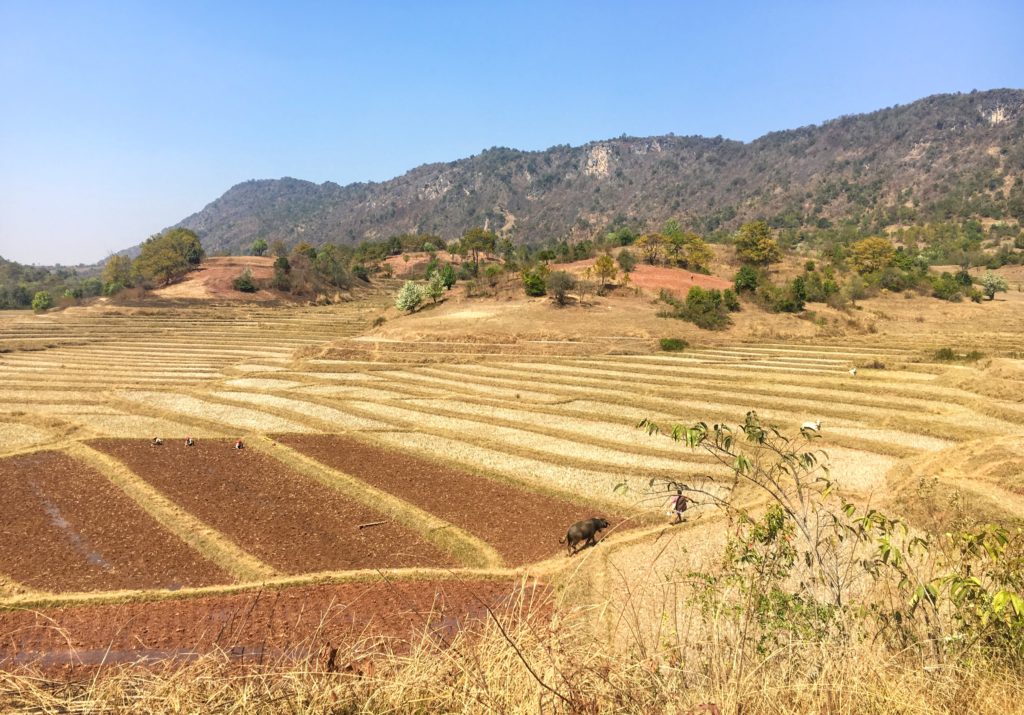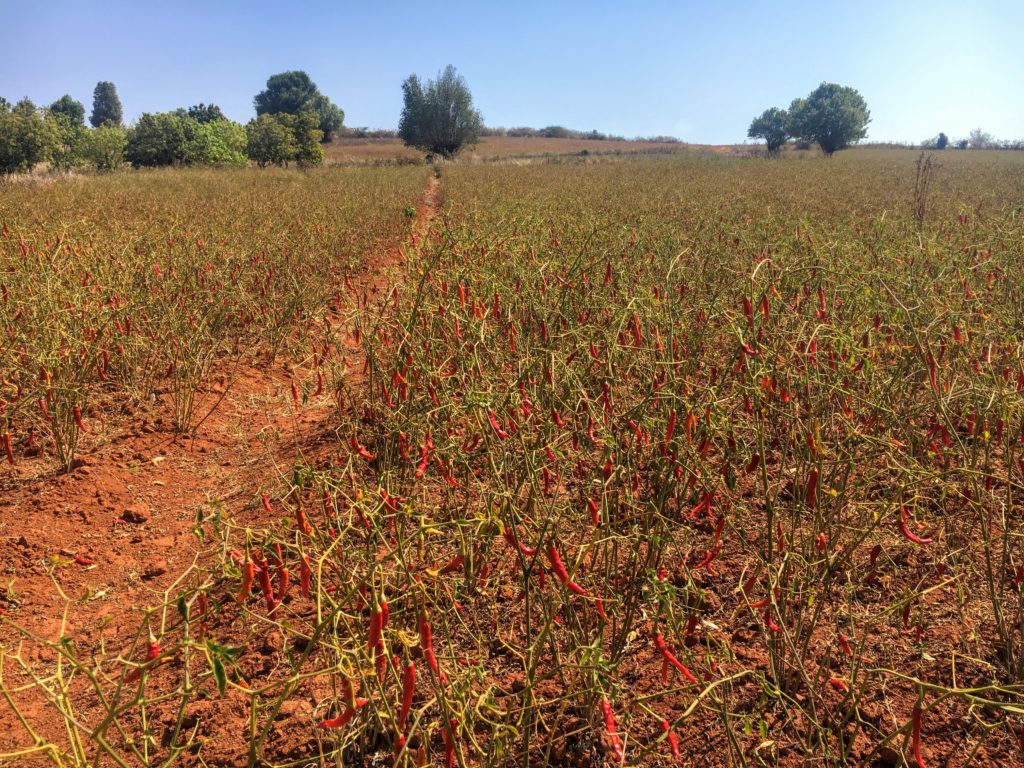 Part Tu is filled with homestays, so you'll have no trouble at all finding a place to stay. Here, we had a local woman call us over and ask if we wanted a place to stay.
We read an account online of people who stayed in Teetain, one village over for Day 2, but we stayed in Part tu at the recommendation of the owner of our first homestay. We saw trekking group after trekking group come to stay there as well, after we had settled into our accommodation.
It took us 5.5 hours (with detours) to trek 14 km from La Maing to Part tu on Day 2. 
Day 3 - Part Tu to In Dein
Day 3 was the most crowded day hiking Kalaw to Inle Lake unguided. We managed to trek Days 1 & 2 while seeing hardly anyone. On Day 3, every group left Part tu between 7am-8am, so we found ourselves rushing to break away from the groups of people. 
We took the trail south of Teetain village, then up to a check point where we had to pay 15,000 kyats ($10) to enter the "Inle Zone".
At the beginning of Nan Yoke town there is a large restaurant where basically every trekking group stops for a rest and refreshments. This was when we powered ahead of them all!! 
Unfortunately the trail on this day doesn't stray far from the car road, and it wasn't very scenic or cultural after Nan Yoke either. There was hardly any shade to take rests in, so we just powered through until In Dein. 
It took us 5 hours to trek 17 km from Part tu to In Dein on Day 3. 
Tip: People who opt for the 2-day trek from Kalaw to Inle Lake will skip the first day of trekking, but I recommend skipping the third day instead! 
Day 3 was my least favorite day of the hike from Kalaw to Inle Lake. If you want to to a 2 day trek from Kalaw to Inle Lake, I recommend trekking from Kalaw to La Maing, and La Maing to Part Tu. Then take a transfer to In Dein (possibly from Nan Yoke village or near the checkpoint.)
Hiring a Boat from In Dein to Inle Lake
When we arrived in In Dein we walked to the center of town, over a large bridge where dozens of longboats were lined up. 
We asked around if we could get a boat to Nyaung Shwe, and some locals offered us a private boat for 25,000 kyats ($16.50 USD). There was no room for negotiation, and we were told there is no shared boat or ferry to take, so we paid the 25,000 kyats. 
From Nyaung Shwe you can rent a boat to take you around Inle Lake for the whole day for 18,000 kyats ($12), but there are a LOT more boats based there vs In Dein. 
The boat took one hour to get to Nyaung Shwe from In Dein. From where we were dropped off, we were about to walk to our accommodation. 
The boat ride was scenic and exciting, as we curved speedily around the waterways and dropped down some dams. When the water opened up, we saw some great sights on Inle Lake too.
Summary: Benefits of Trekking Kalaw to Inle Lake Unguided vs Guided
Kalaw to Inle Lake
Unguided

Benefits
Have a private experience with more sense of adventure and accomplishment

Trek, rest, and stay wherever you want to

Have an authentic experience, eating what the family eats and sleeping where they sleep, instead of having catered food or sleeping in a separate dorm

Saves money
Kalaw to Inle Lake
Guided

Benefits
No worries about finding accommodation, sleep in proper dorm building
No language barrier with locals in villages
Have a chance to explore more off-the-beaten-track trails, with no worries about getting lost
Have your big bag sent to Inn Dein for you
In summation, if I were doing the same trek again, I would choose to hike Kalaw to Inle Lake without a guide!! 
Trekking Kalaw to Inle Lake Without A Tour? Pin this post!