Nami Island is a popular day-trip destination from nearby Seoul, South Korea. The small crescent moon-shaped island was made famous by the wildly popular Korean love-drama, Winter Sonata.
Nami Island is a great place for first dates and family outings, because of the countless activities, restaurants, and photo spots that are available here. The whole island is a theme park of opportunities. 
If you have a day to spare during your Seoul Itinerary and want to get away from the city (and are a fan of Korean heart-throb Bae Yong-Joon), head to Nami Island on a day-trip from Seoul!
Additions to your Day Trip to Nami Island
A tour option that is wildly popular with local tourists is to combine a trip to Nami Island with some of its nearby attractions. Reachable by bus in the same region are:
Petite France, a small French model city with Petite Prince vibes
A botanical paradise called the Garden of Morning Calm
Gangchon Rail Bike Park where you can pedal your way through the Korean countryside
If you want to visit more than just Nami Island, it's best to 
book a tour 
that will ship you around to these destinations. With 
Klook
, you can pick and choose with attractions to include in your itinerary. 
Getting to Nami Island from Seoul
The most common way to reach Nami Island from Seoul on a DIY Trip to Nami Island is by the ITX train. This train departs Seoul from Yongsan Station and takes you to Gapyeong Station. 
You need to purchase tickets ahead of time if you want a guaranteed seat, which can be booked through the Korail website. You can purchase an economy class seat or a cheaper standing-room only ticket. Economy seat tickets cost 5,900 won ($5 USD) per adult, one-way, and it takes about 60 minutes to reach Gapyeong Station.
The easiest way to reach Nami Island from Seoul (not DIY) is to purchase a round-trip charter bus ticket. It includes pick-up and drop-off in Seoul, plus admission to Nami Island via ferry.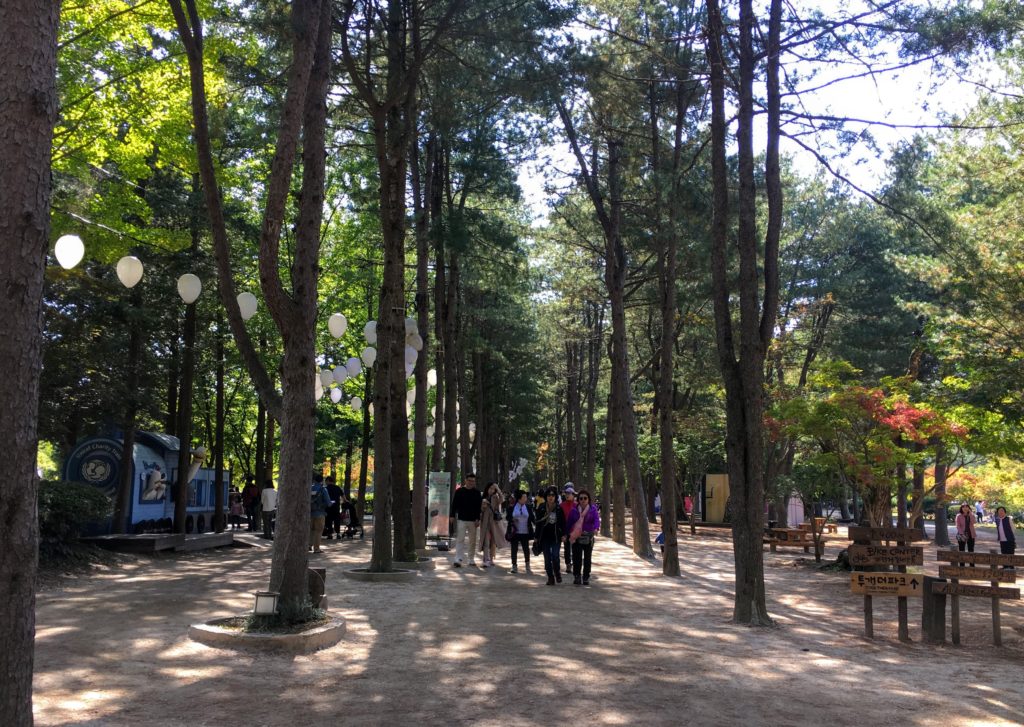 The cheapest way to DIY a trip to Nami Island from Seoul is to take the local Metro. Depending on your starting point, two or three transfers are required to reach Gapyeong Station. If you are staying in the young Insadong neighborhood, board Line 1 at Jongno 3(sam)-ga station. Transfer to the G Line at Hoegi Station which takes you to Gapyeong. Check your subway transfers to Gapyeong Station here.
One-way tickets cost 2,250 won ($2 USD) if you use a Korean transit card.
Once you reach Gapyeong Station, take the 33-5 local bus to Gapyeong Wharf. The bus station is located directly across from the train station exit. 
Gapyeong Wharf to Nami Island
Once you reach Gapyeong Wharf, you first need to purchase a ferry and entrance ticket to Nami Island. Interestingly, the ticket office is labeled "Visa office", because Nami Island is recognized by South Korea as a self-governing micronation. You may also see it referred to as the Naminara Republic. 
Nami Island even has its own currency – head to the Nami Island bank to exchange Korean won to Nami coins. South Korean won is also accepted everywhere.
The 13,000 won ($11) entrance ticket/visa includes a round-trip ferry to and from Nami Island. 
Go through "immigration"/show your tickets to the ferry attendants, and board the next ferry to Nami Island. The ferries run about every 10-20 minutes depending on the time of the day, so there's hardly a wait to board. The ferry ride is about 5 minutes and you've arrived on Nami Island.
For the adventurous, it's also possible to zip-line to Nami Island from the wharf! 
DIY Trip to Nami Island - What to Expect
Nami Island's port area is one of the busiest sections on the island, and may appear quite overwhelming. On your DIY Trip to Nami Island, I recommend getting away from the crowds by heading to the opposite side of the island. 
A few different paths wrap around Nami Island – the paths that border the island are the least crowded. The central path, Metasequoia Road lined with picturesque pine trees, is the most crowded. If you want to avoid the selfie-sticks and Instagrammers, wander around the edges of the island and to the open parks, not through the center path.
It'll take you about 20-30 minutes on foot to reach the other side of Nami Island.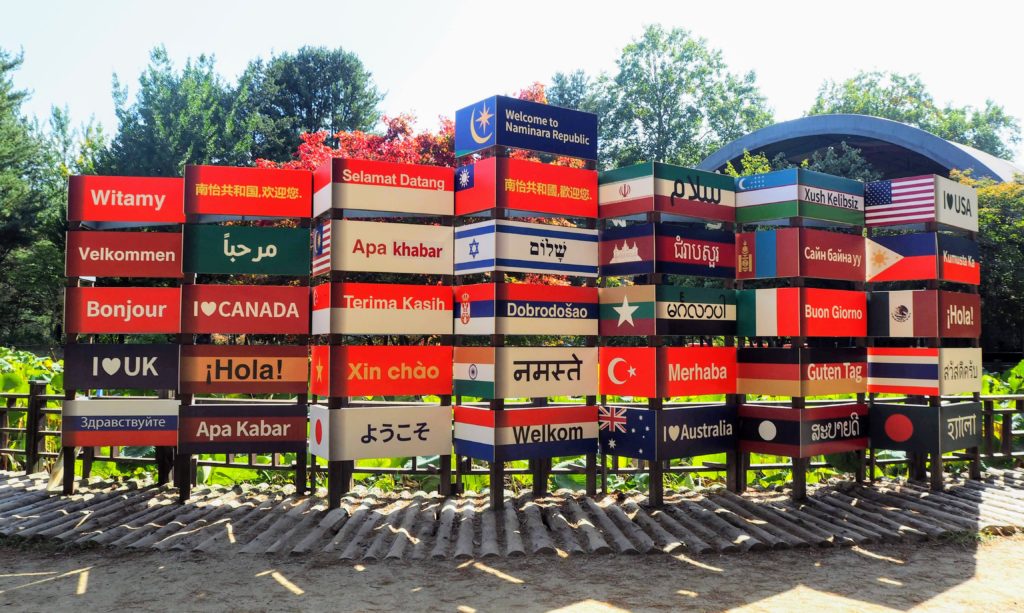 Nami Island has something for everyone. The tiny landmass has countless picture-perfect Instagram spots, a few museums, some shops and restaurants, and many parks for kids to play in. There's even a random ostrich enclosure.
I recommend planning on spending at least morning through lunch on your DIY trip to Nami Island. Spend the morning on a tandem bicycle or three-wheeled segway machine, and wandering through the tall pines. Then enjoy the atmosphere of the different restaurants and cafes on Nami Island. 
Things to do on your DIY Trip to Nami Island
Take pictures for Instagram – Cute snowmen mascots, colorful murals, beautiful gardens, decorative benches, and more line the paths around Nami Island. They're all just waiting for Instagram models to come and take cliche pictures with them.

Re-live Winter Sonata – Check out where the Winter Sontata characters had their first kiss, and walk down the same paths that they did, holding hands with your significant other!
Rent a regular or tandem bicycle – Circle Nami Island's flat dirt paths with a bicycle, the quickest way to see the highlights of the island.

Explore the museums, including the Song Museum of instruments, the Pyeonghwang Gallery of art and other rotating exhibits

Read a picture book at the Children's Picture Book Library

Visit General Nami's grave – The only place on the island without any people when I visited, the island's namesake General Nami's grave
Blow off some steam at the playgrounds – if you're traveling with kids, there are plenty of places for them to climb, slide, and run around on Nami Island. 

Picnic – Large open grassy areas or picnic tables are the perfect place to rest for a snack or dig in to your packed lunch.

Rent a segway or a four-wheeler – these don't go fast, but it's fun to take one of these for a spin during your DIY trip to Nami Island.
Returning from your DIY Nami Island Trip to Seoul
When you've taken enough Instagram pictures and had your fill of Nami Island, return to the port to take the ferry back to Gapyeong Wharf. There's no ticket check, so just board the next boat and you'll be back at the wharf in 5 minutes.
If you took the public 33-5 bus from Gapyeong Station, just wait at the same bus stop where you were dropped off. The 33-5 bus loops between Gapyeong Station and the Wharf exclusively, so it shouldn't take long before another one comes along.
From Gapyeong Station, you can purchase an ITX ticket on the spot to return to Yongsan station in Seoul. The machines take cash and card, and even on the weekends there should be standing-room only tickets available for all trains. 
Alternatively, you can return on the metro to Seoul city center. Check the subway transfers here. 
Making a Day-Trip to Nami Island? Pin This Post!