If you're looking for the best Tokyo viewpoints, there are more than enough skyscrapers to choose from. Looking down upon the largest metropolitan area in the world, 38 million people, is a wonder to behold that shouldn't me missed. 
From the flashy Skytree to the free-to-enter Tokyo Government Metropolitan Building, there's a view of Tokyo for every budget. Some views highlight the iconic red pinnacle, Tokyo Tower, and others allow you to catch a glimpse of Mt. Fuji on clear days.
Whatever your budget is, here are your best Tokyo viewpoints! 
Biggest and Best Tokyo Viewpoint: Skytree
The top of Tokyo is the Skytree, which also happens to be the tallest building in Japan! 
Located in the Sumida neighborhood (near Asakusa), it towers over all of the buildings surrounding it. From its top observation floor at 450m, you get incredible 360 degree views of Tokyo. If you're on a budget, you can also get a great viewpoint of Tokyo at their lower, 350m Tembo Deck. Check my post on if buying tickets to Tokyo Skytree's upper level is worth it! 
Here are some Skytree fun facts:
It holds the Guinness World Record for being the world's highest free-standing broadcasting tower, basically "The World's Tallest Tower". 
With Skytree's broadcasting capabilities, it's capable of playing a large disaster-prevention role during natural disasters. 
The Skytree is 634m. This height was chosen because when the number is read in old Japanese, "Mu-sa-shi," it reminds Japanese people of a bygone Mushashi Province, which used to encompass all of Tokyo, Saitama, and part of Kanagawa Prefectures.
The Skytree design concept was, quote: "The creation of city scenery transcending time: A fusion of traditional Japanese beauty and neo-futuristic design."
Logistics:
Visiting hours are from 8:00am to 9:00pm
How to get there: The Oshiage Skytree Station is a Tokyo metro station that serves the Asakusa and Hanzomon metro lines, as well as the Tobu Skytree Line and the Keisei Narita Line. From Tokyo Station, you can take the Hanzomon Line directly.
Tokyo Government Metropolitan Building in Shinjuku
Here's a viewpoint over Tokyo for budget travelers: The Tokyo Government Metropolitan Building in Shinjuku has two FREE observation decks. The observation decks are located 202 meters above the ground, on the 45th floors (the building splits to its North and South sides on the 33rd floor). 
The observation decks from both towers have slightly different views over Tokyo. The South Tower is famous for being able to see Mt. Fuji on clear days! Because the building is located in the heart of the Shinjuku CBD, the both views include many other skyscrapers for a truly metropolitan feel. 
Note: The North Tower is under construction until January, 2020.
Logistics:
Visiting hours are from 9:30am to 11:00pm
How to get there: The Tokyo Government Metropolitan Building is a 7-minute walk from Shinjuku Station, accessible by nearly every JR line and Tokyo metro line. Pass through a security checkpoint on the ground floor before boarding an elevator to the top. 
Sky Circus Sunshine 60 - Ikebukuro
In the center of the young and hip Ikebukuro neighborhood stands its flagship building, the Sunshine City mall. At a whopping 60 floors, it was Japan's tallest building for over a decade. 
The observation deck, although a bit further north than the Tokyo Metropolitan Government Building, still gives you a chance to see Mt. Fuji. Gaze over Ikebukuro, nearby Shinjuku, and even see the glittering Skytree building in the distance. 
What's the "Sky Circus" part? The view over Tokyo here comes with virtual reality rides and a few Teamlab Borderless-esque art installations. 
Logistics:
Visiting hours are from 10:00am to 10:00pm
How to get there: The closest station is the Higashi-Ikebukuro metro station on the Yurakucho line, which is connected underground to the Sunshine City mall. It's also a 10-minute walk from Ikebukuro Station, on the JR Yamanote Line, Shonan-Shinjuku Line, Marunouchi metro line, and others. 
A Traditional Tokyo Viewpoint: Tokyo Tower
Tokyo Tower has been a Tokyo icon since it was built in 1958 in the Minato neighborhood. It symbolized the rebirth of Japan after World War II as an economic power. The views here keep you close to the heart of Tokyo in comparison to the Skytree, with views over nearby Zojoji temple, the Shinjuku area, and the Tokyo Station area. The mirrored ceilings make it an especially beautiful Tokyo viewpoint in the evening.
Tokyo Tower fun facts:
Because of its shape, Tokyo Tower is often compared to the Eiffel Tower. In fact, it's 13 meters taller than its sister in Paris! 
Tokyo Tower is the second tallest tower in Japan, after the Skytree
You can take 600 stairs up to the Main Deck if you're looking to work up a sweat. This option is available on Saturdays, Sundays, and holidays from 11:00am-4:00pm. Receive a "Stair Climber Certificate" when you reach the Main Deck!
Note: There are different admission tickets you can purchase. 
One is only to the Main Deck at 150 meters, and the other is to the Top Deck at 250 meters. Both decks have views of Mt. Fuji (on a clear day) and the Tokyo Skytree. 
A One-Day Pass allows you to visit the Main Deck multiple times per day (think daytime, sunset, and nighttime!) 
Logistics:
Visiting hours are from 9:00am to 11:00pm
How to get there:  The three closest stations are the Akabanebashi Station on the Oedo metro line, Kamiyacho Station on the Hibiya metro line, and Onarimon Station on the Mita line. It's a 7-minute walk from each of these stations to Tokyo Tower. 
Already found the best Tokyo viewpoint? 
Here are some other things to do in Tokyo:
Tokyo City View - Roppongi Hills
Here's a great Tokyo viewpoint, especially for art lovers. Tickets to Tokyo City View are combined with admission to the incredible MORI Art Museum in the heart of the high-end Roppongi neighborhood. Tokyo City View is on the 52nd floor of the Roppongi Hills building, and the MORI Art Museum is just below it. 
Tip: Buy your tickets in advance, especially on the weekends. Admission to the open-air Sky Deck can be purchased separately on-site.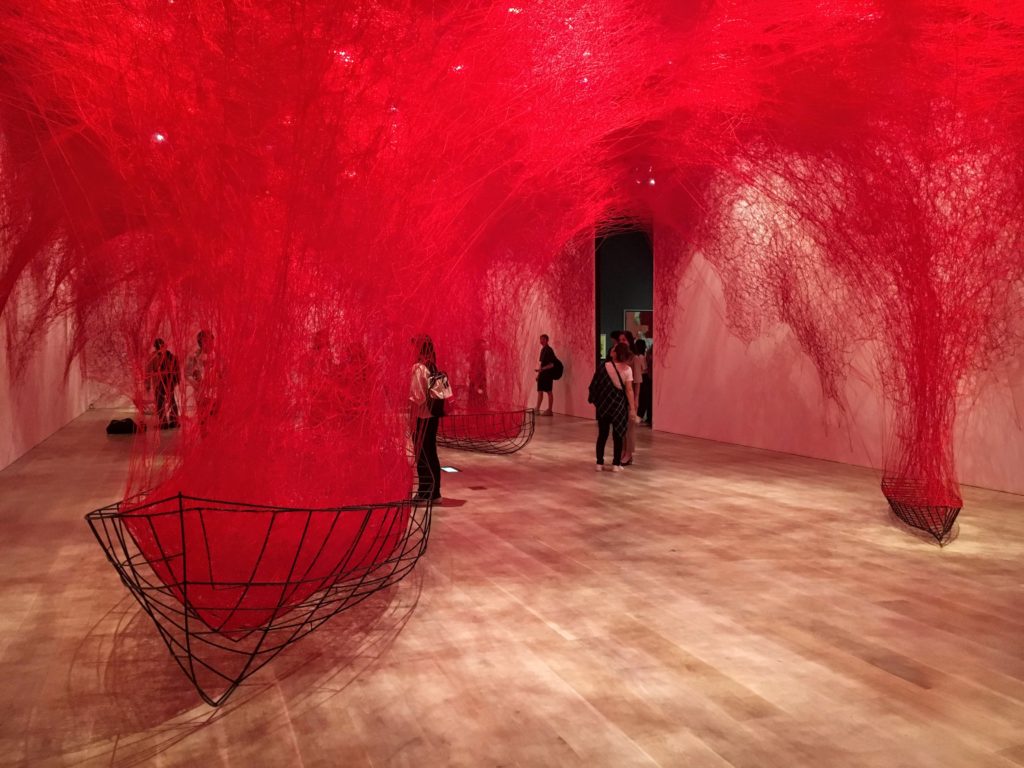 Logistics:
Visiting hours are from 10:00am to 11:00pm
How to get there: Reach Roppongi Station on the Hibiya or Oedo subway lines. From Shinjuku Station, take the Oedo subway line. From Tokyo Station, take the Marunouchi Line to Kasumigaseki Station and transfer to the Hibiya Line. 
Shibuya Sky - NEW Best Tokyo Viewpoint, opened Nov 1, 2019!
The newest incredible viewpoint over Tokyo is Shibuya Sky, located just next to the Shibuya Scramble. Its long-anticipated opening occurred on November 1st, 2019. Unlike many of the other observations decks over Tokyo, this one is mostly outdoors and features park-like amenities including grassy turf and large hammocks to lie down, rest, and enjoy the view and weather. 
Shibuya Sky is 47 floors above the Shibuya Scramble below, 230 meters up.
Logistics:
Visiting hours are from 9:00am to 11:00pm
How to get there: Shibuya Sky viewpoint over Tokyo is reachable on foot from Shibuya Station, which is on the JR Yamanote Line, Shonan Shinjuku Line, Marunonuchi Line, Ginza Line, Fukutoshin Line, and many others
Pin the Best Tokyo Viewpoints!
Are You Prepared For Your Trip To Japan?
Book Your Flights – To find the cheapest flights, flexibility is key. I use both Google Flights for their low fare calendar, and Skiplagged, which uses airfare loopholes to get the lowest prices. For a trip to Japan, check flights to both Tokyo airports (Haneda, Narita) and to Osaka (Kansai). 
Getting Around Japan: Prepare your JR Pass and Suica transit card before you depart.
Book Your Accommodation – Check out Booking.com for the largest selection of accommodation in Japan. 
Book Local Excursions – Don't miss out on world-class experiences, like Teamlab Borderless or Tokyo Disneyland, by booking tickets online now. Check GetYourGuide and Voyagin for fun experiences all around Japan. 
Stay Connected: Order a pocket WiFi for airport pickup if you're traveling with family or with a large group. Solo traveling to Japan? Order a SIM card just for you. 

Buy Travel Insurance

 – It's better to protect yourself from mishaps when traveling. Get a quote from World Nomads to see how much it'll cost to get you covered! 
Pack Your Essentials – Check out my posts about Long Term Travel Gear, and Carry-On Luggage Packing Essentials. 
Read more on my Travel Resources page!