Hakone is a popular destination in Japan known for its hot springs and amazing views of Mt. Fuji. Although many people choose to stay overnight in a luxurious Hakone ryokan, it's entirely possible to do a Hakone day-trip from Tokyo. 
With a little help from a discount pass called the Hakone Free Pass, it's possible to DIY a Hakone day-trip from Tokyo, starting and ending at Shinjuku station. 
Hakone Free Pass Options for a Hakone Day Trip from Tokyo
The Hakone Free Pass is a transportation pass offered through Odakyu, a private railway company. The Free Pass is valid for either two days, or three days. You can also select where the Free Pass validity starts from; Shinjuku, Machida, or Odawara. 
For this one day in Hakone itinerary, you'll need a 2-day Hakone Free Pass, valid from Shinjuku. 
If you've already ordered a JR Pass, you only need to buy the Hakone Free Pass from Odawara. You can ride the Shinkansen bullet train to Odawara and back from Tokyo using the JR Pass, then the Hakone Free Pass for all other transport.
Tip: When transiting from Tokyo to Hakone, sit on the right side of the train for views of Mt. Fuji!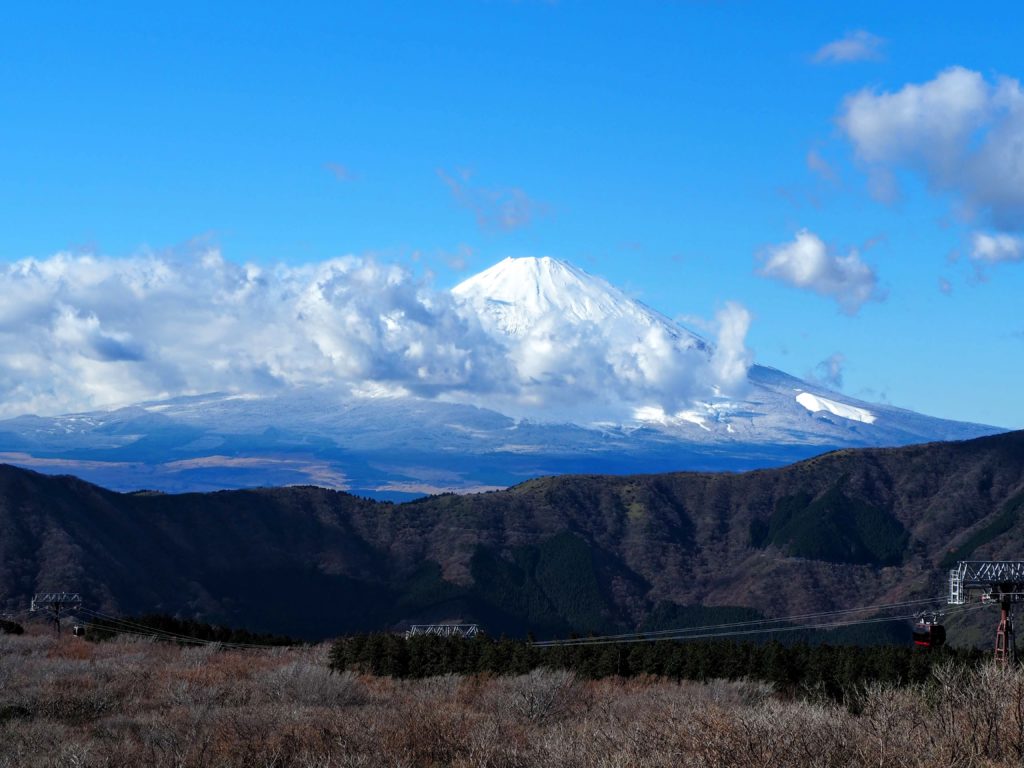 Hakone Day-Trip from Tokyo Map
Hakone is a perfect day-trip destination from Tokyo because all of the area's highlights lie along one big loop. The Hakone Free Pass gets you to and around all of these locations on one ticket. 
Awesome methods of transportation and sightseeing that are included in the Hakone Pass include the following:
Pirate Ship – called the Hakone Sightseeing Cruise, you'll ride a Pirate Ship over beautiful Lake Ashinoko, with views of Mt. Fuji and the Hakone shrine's torii gate on the water. See the cruise's timetable here. 
Hakone Ropeway – two different ropeways take you to the top of Owakunadi mountain. A slight sulfur smell is worth enduring for the incredible Mt. Fuji views. 
Hakone Tozan Cable Car – Take this colorful, slanted vessel down to Gora station, where you'll find a sleepy town with many parks and museums. 
Busses between Gora, Hakone-Yumoto, Odawara, and Lake Ashinoko towns
The train between Shinjuku and Hakone Yumoto 
You'll never ride more different types of transport in one day than during your Hakone day-trip from Tokyo! 
Tip: Before you go on your Hakone Day Trip from Tokyo, check this regional map to see which transportation options are currently operating in Hakone.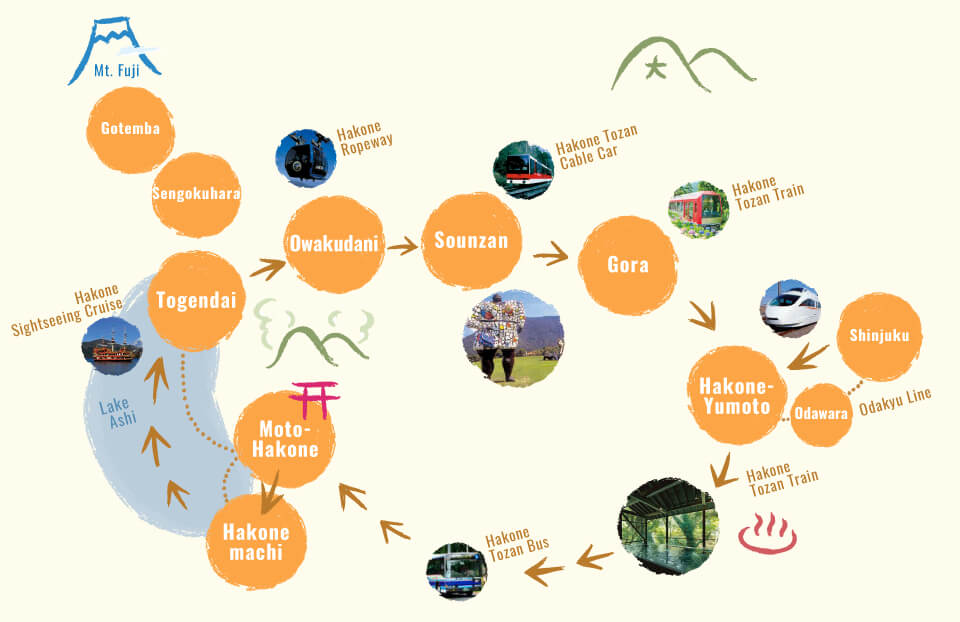 Hakone Day Trip From Tokyo Itinerary
Start: Shinjuku to Odawara by Train or Shinkansen
The Hakone Free Pass is valid for the Odakyu railway line between Shinjuku and Odawara only. If you're coming to Shinjuku station from another Tokyo station, remember to tap out your Suica card (or other IC card) before you use your Hakone Free Pass to enter the Odakyu railway platforms. 
If you have the JR Pass, you can take the Shinkansen to Odawara from Shinjuku. Purchase a Hakone Free Pass once you arrive in Odawara, to start your Hakone Day Trip from Tokyo. 
Odawara to Hakone-Yumoto by Train
Once you reach Odawara Station, you need to make a short transfer to Hakone-Yumoto Station.
Included in the Hakone Free Pass is a ride on the Hakonetozan Line which runs between these two stations. This line departs from a platform within Odawara Station, a little further down than the Romacecar platform.
If you want to pay a little extra to get to the same place (and save 10 minutes or so), you can ride the Romacecar train to reach Hakone-Yumoto Station. The Romacecar trains leave Odawara station a few minutes before the Hakonetozan Line, and attendants standing in front of the doors will charge you for the additional fare.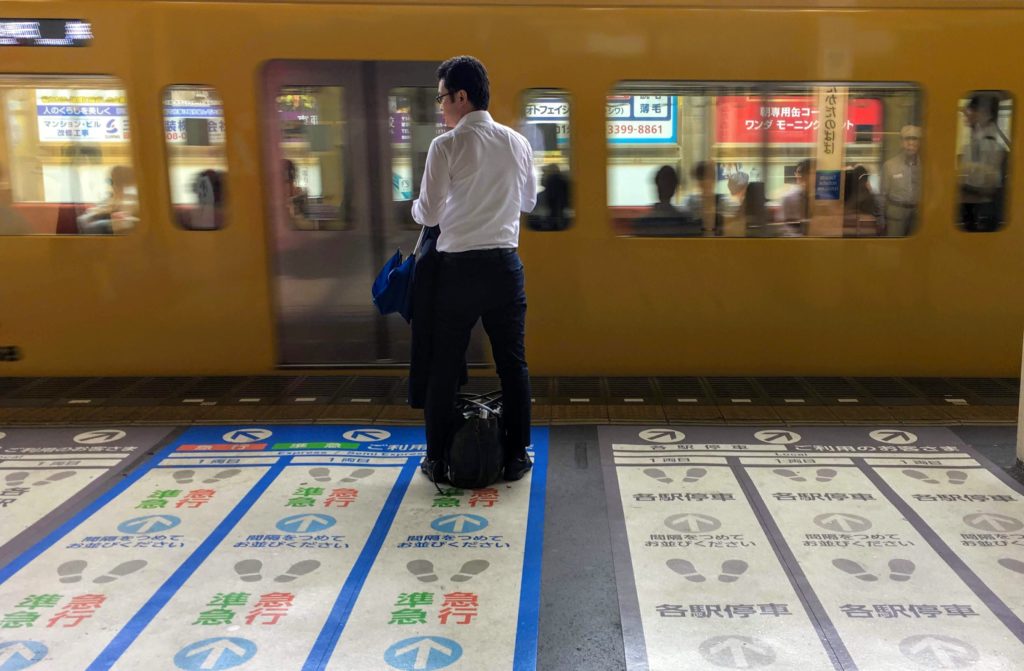 Hakone-Yumoto to Lake Ashinoko by Bus
Hakone-Yumoto is a small town that gives you a feeling of being in rural Japan. Old buildings line the main street, and a scenic river passes just behind them. You can spend time having breakfast here, or go straight to an even more picturesque place: Lake Ashinoko.
From Hakone-Yumoto Station, you can take a bus to Lake Ashinoko. Normally there are large crowds of people waiting here for the different busses that are running in the area. Take a bus heading to Hakonemachi-ko, or Motohakone-ko. Staff manning the area don't speak a lot of English, but they can at least direct you to which bus line you should stand in. 
Busses to Lake Ashinoko from Hakone-Yumoto take 30 minutes or more through winding mountains. If you can, try and take a seat so you don't have to stay standing for this part.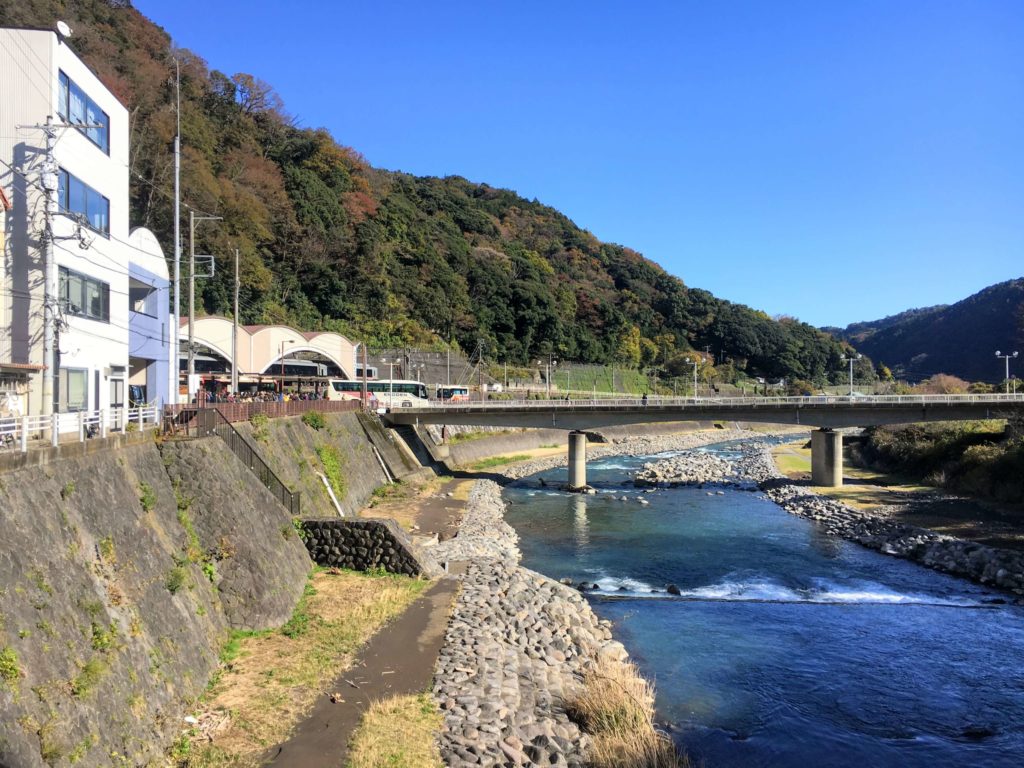 Lake Ashinoko and the Hakone Sightseeing Cruise
The Hakone Sightseeing Cruise makes three stops around the lake: Hakonemachi-ko, Motohakone-ko, and Togendai-ko. The two towns on the south side of the lake are where you can first get on the pirate ship, after being dropped off by the bus. 
If you're interested in stopping by the Hakone Shrine and see the torii gate over the water (a popular Instagram spot), Motohakone-ko is the closest port. 
Once on the pirate ship, you can see the torii gate from the water, as well as a beautiful view of Mt. Fuji's peak looking down over the lake.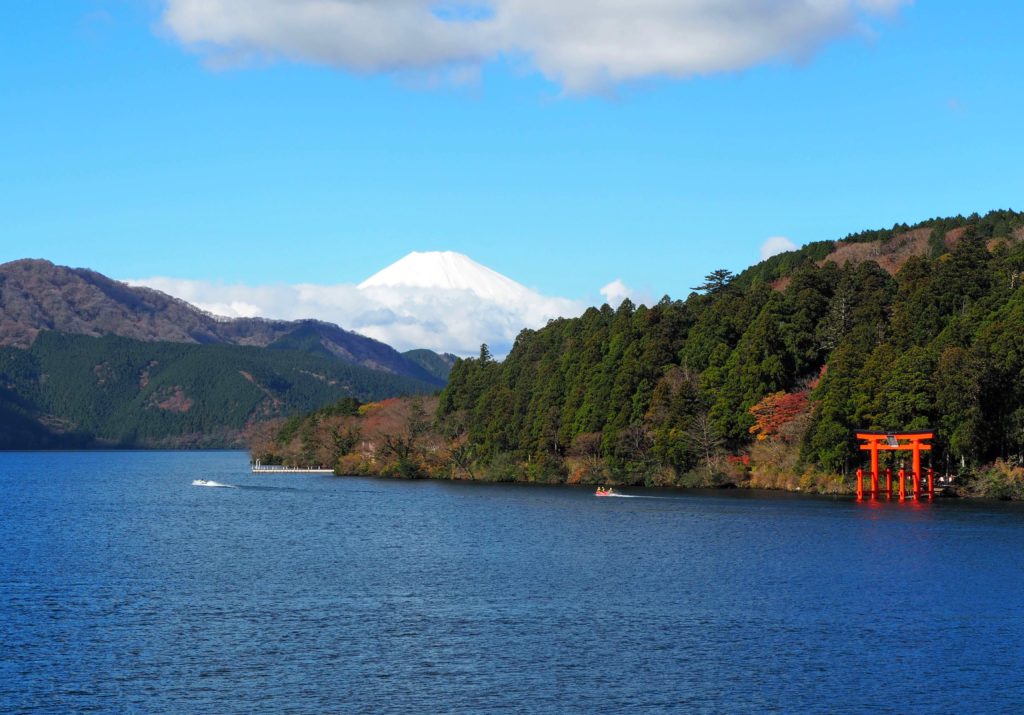 The three different pirate ships that operate on Lake Ashinoko have a similar layout. Plenty of seating is available under the deck, but the best views can be had from the open-air decks. The entire boat ride takes 25-35 minutes from one end of Lake Ashinoko to the other, which gives you plenty of time to take great pictures. 
If you want to pay extra, you can book tickets at the piers for the first class area. Plush couches downstairs and views unimpeded by selfie sticks on the upper levels await you if you choose this option.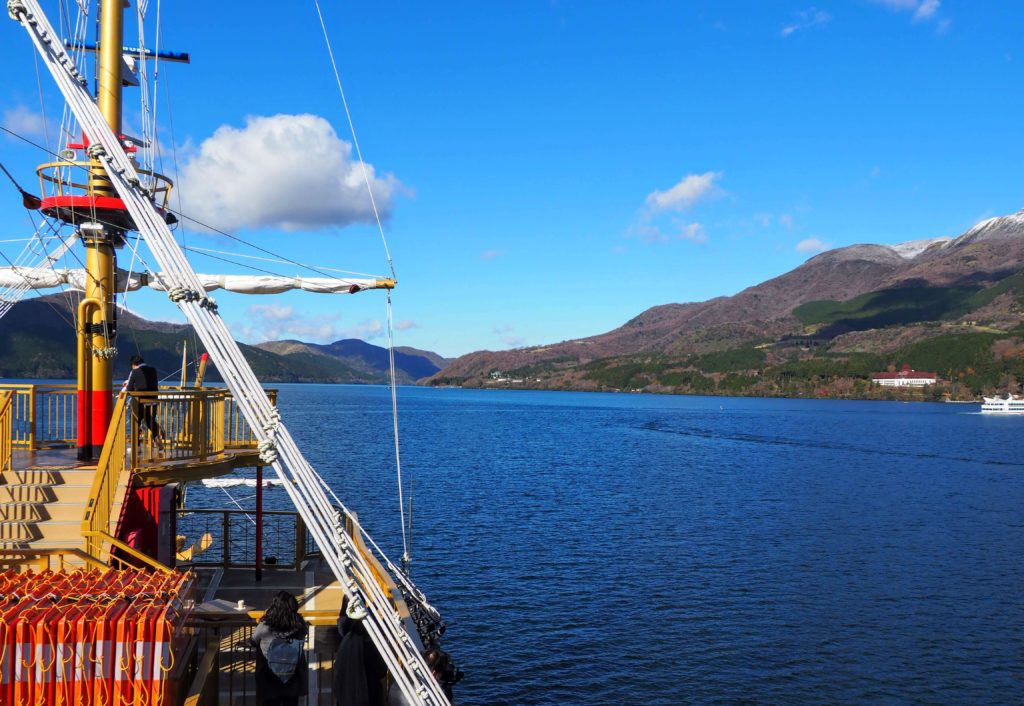 Hakone Ropeway
Once the ship drops you off at Togendai-ko, follow the path towards the Hakone Ropeway. When I visited, we encountered a massive line at the ticket office before the ropeway. Turns out this was a massive tour group, so with the Hakone Free Pass, we were able to pass everyone and go straight to the ropeway boarding area. 
The ropeway takes you over an active volcanic zone, so sometimes visitors are given wet towels that they can put over their mouths to block out the sulfurous fumes. Don't worry it's nothing dangerous, it just smells a bit like boiled eggs at the Owakudani summit. If volcanic activity underground is high, the ropeway and surrounding area will close.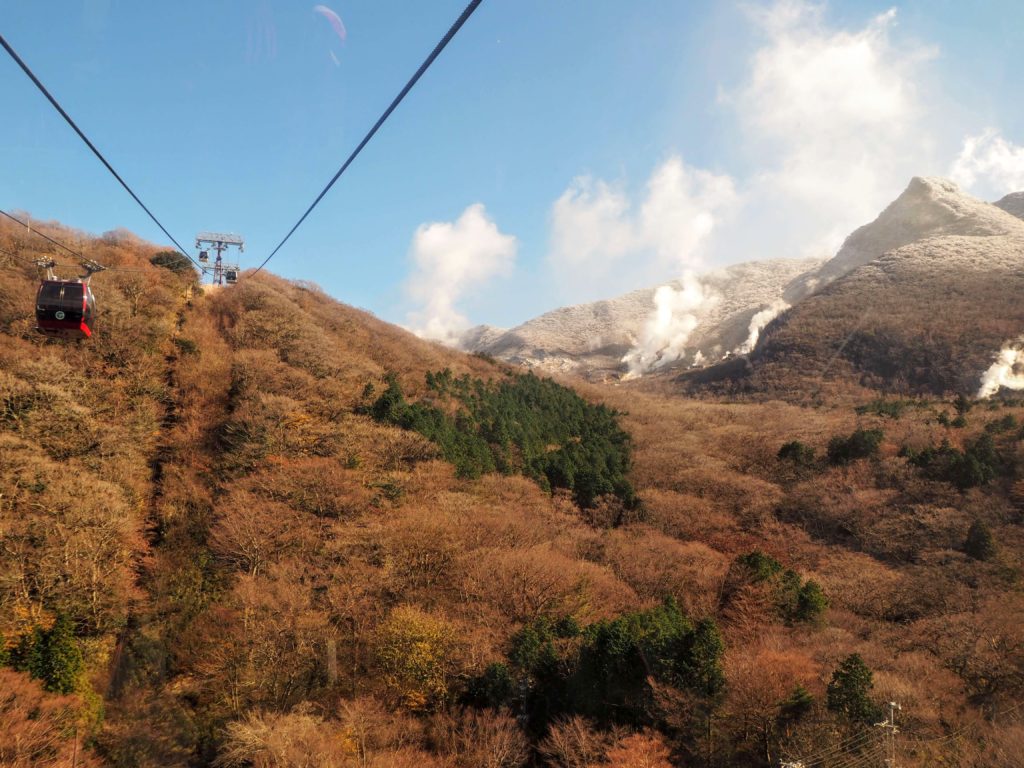 Owakudani Summit
The Owakudani summit is a lively place to spend some time during a Hakone day-trip from Tokyo. Peer down into a smoking abyss, where yellow sulfur is exposed above ground. Shop till you drop at the many large souvenir stores. Breathe in the fresh mountain air mixed with the sulfurous air, and take a walk across the parking lot for the best views of Mt. Fuji. 
If you started your day early from Shinjuku station, you'll likely reach Owakundai in time for a late lunch. In addition to several traditional Japanese restaurants here, you can try some snacks that Hakone is famous for. Don't miss Hakone's famous black eggs, which are cooked in hot sulfur springs, turning the shell black. Eating these eggs is said to prolong your life! At the summit, you'll also undoubtedly smell some fresh rice crackers roasting over coals, which are a cheap and perfect salty snack.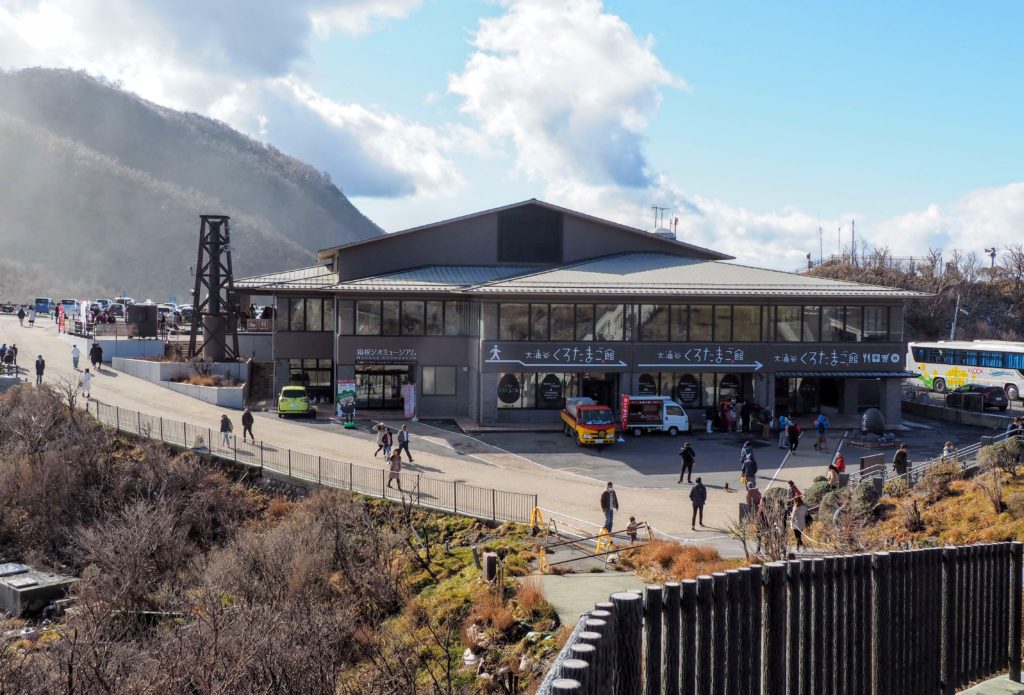 Hakone Cable Car and Gora Town
To get down the other side of Owakudani summit, you need to take the ropeway as well as a cable car. The Hakone Cable Car makes several stops between Sounzan and Gora stations. 
One of Hakone's best kept secrets is the Hakone Art Museum, for its incredible Japanese garden. Although the museum itself is nothing to write home about, the large garden on the property is a great place to connect with nature. The museum is up the hill from Gora Park and its tea house, another popular stop in Hakone. From Gora Station, it's a quick walk to the Hakone Open Air Museum.
Spend the rest of the afternoon at Yunessun, an Onsen Theme-Park. Both swimsuit, and no-swimsuit onsens are available here, as well onsens where you bathe in wine, coffee, green tea, or sake! Buy an e-ticket for Yunessun here.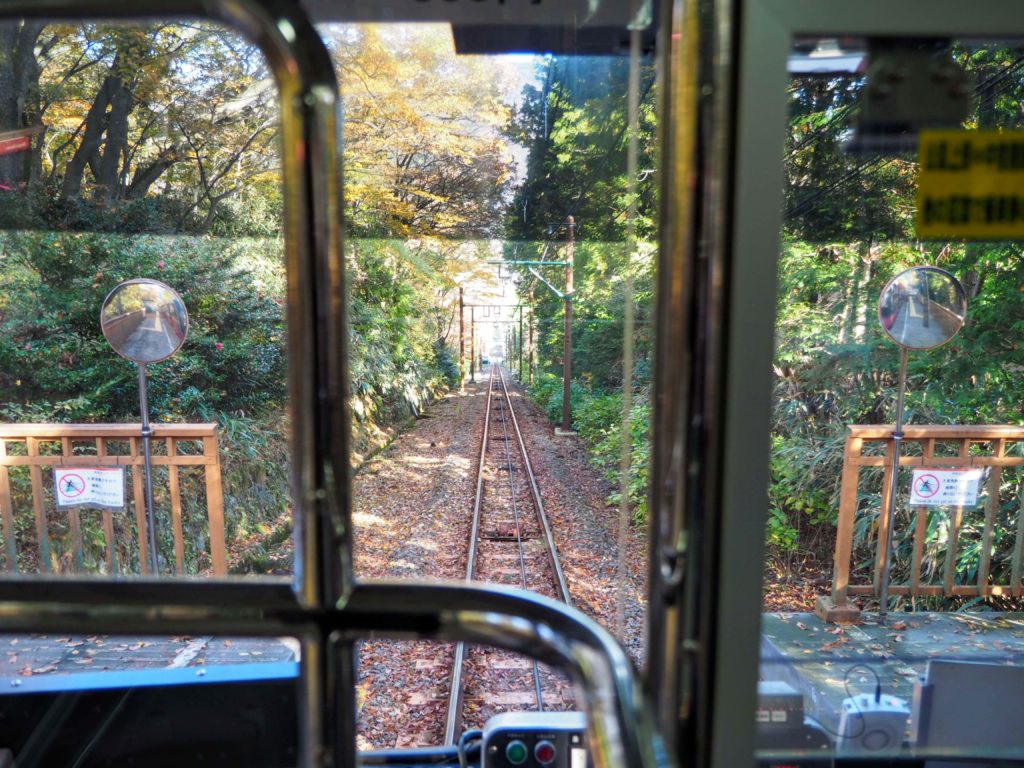 Staying the Night in Hakone: Gora Town
If you're spending the night in Hakone to make it a two-day trip from Tokyo, I recommend staying in a ryokan (traditional Japanese inn) to get the full Hakone experience. There are a number of Hakone ryokan with private onsen (hot springs) so you can fully relax during your travels.
If looking for centrally-located accommodation, try the little town of Gora. Gora is in a convenient location near the train station for your trip to Hakone from Tokyo. Here are some options: 
A budget, but still highly-rated, option to stay in is Emblem Flow, a hostel with an attached public onsen. 
Another accommodation with an onsen attached is Hakone Yutowa, with reasonably-priced private rooms and spacious common areas. 
For the ultra-luxurious, take a peek at the ryokan Gyokutei. With traditional Japanese interior and Japanese garden views, plus amazing dinner and breakfast included, this is the cream of crop for accommodation in Hakone.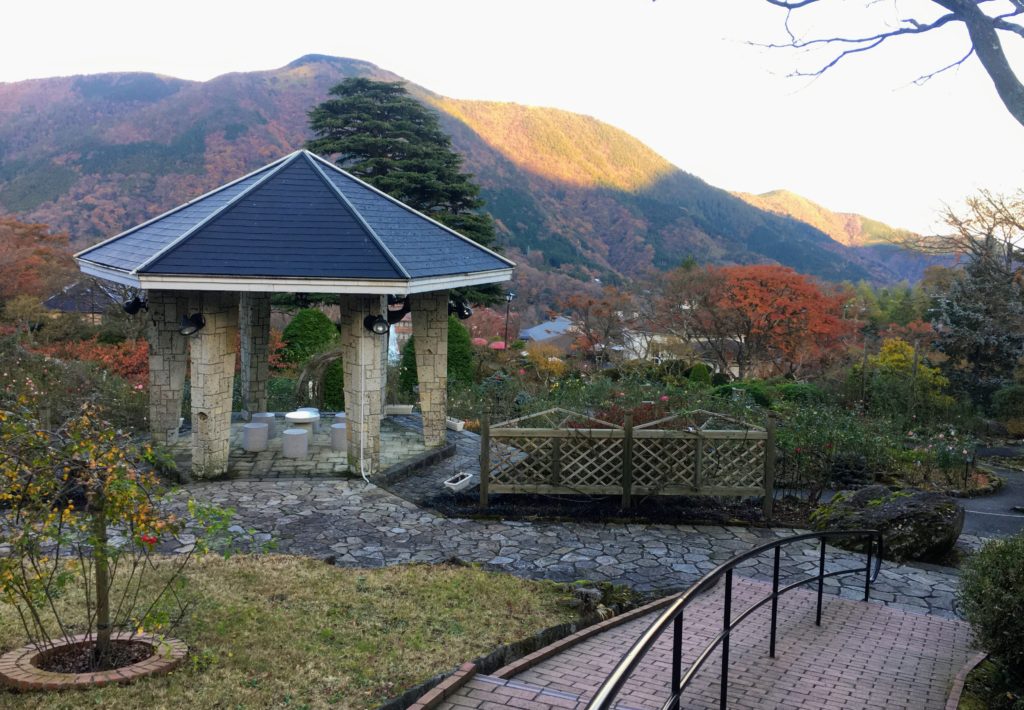 Returning to Tokyo from Hakone
To finish up your one day in Hakone itinerary, take the bus back from Gora to Hakone-Yumoto or Odawara station. At the time of writing, the train that runs between Gora and Hakone-Yumoto remains closed after damage from the 2019 Typhoon Hagibis. Check the status of all Hakone transport here. 
Using your Hakone Free Pass one last time, finish this Hakone day trip from Tokyo by taking the Odakyu Train line back to Shinjuku. 
Pin This Hakone Day Trip Itinerary!
Are You Prepared For Your Trip To Japan?
Be sure to check out my Japan home page for Japan travel information, insider tips, reading list, and must-haves for traveling to Japan!