Yangon is the former capital of Myanmar, and is a vibrant city that should be included on every Myanmar itinerary. Yangon is far from "just another big city." It's an off-the-beaten-path Southeast Asia gem, that is filled with amazing cultural experiences and religious wonders. Here, you can experience unfiltered Myanmar by eating, shopping, living, and praying like the locals do. Ideally you'll have several days to take in all of Yangon's charm, but many highlights of Yangon can be visited in one day. 
If your time here is short because of trips to Bagan or Mandalay, etc, here's my one day in Yangon itinerary to help you make the most of your short stay in Yangon. 
If you only have one day in Yangon, I suggest staying close to Chinatown and 19th street, which is an area that is always buzzing with activity. Here are some highly-rated accommodation options in the perfect downtown Yangon location: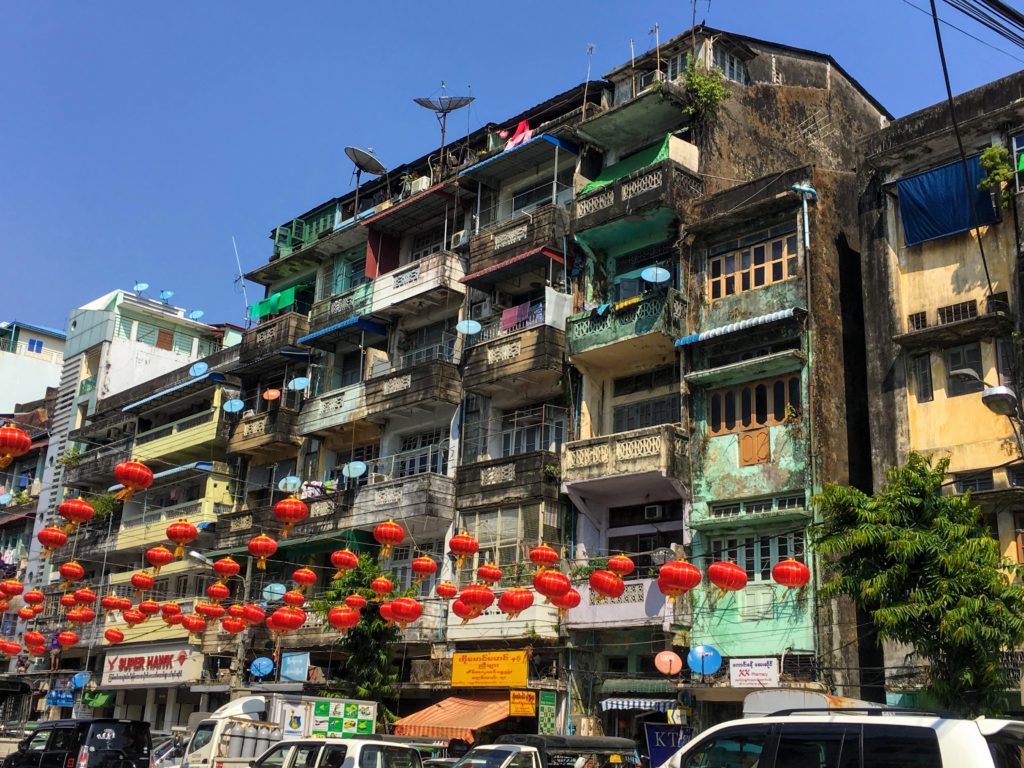 Before your one day in Yangon itinerary starts, plan how to get to your Yangon accommodation upon arrival. The most common ways to get around Yangon are by taxi and Grab (similar to Uber). To help you order Grab cars during your one day in Yangon, consider purchasing an MPT SIM card to keep you connected. 
Yangon Airport to Yangon City
You have several options to get from Yangon Airport to the city.
Hiring an airport transfer is the easiest, fastest, and still cost-effective, way to reach Yangon from the airport.
Taking a taxi is the most common way to get from Yangon Airport to the city. Several taxi drivers hang out in the arrivals lobby of Yangon airport, ready to harass you in to taking a taxi ride with them to the city center.
You can also order yourself a Grab car by using the free airport WiFi! 
If you arrive in Yangon at the Aung Mingalar Bus Station, your best bet is to take a taxi or Grab to Yangon city center. 
If you arrive in Yangon in the evening like we did, be sure to check out Chinatown's night market and street food stands. Located in and around 19th street, Chinatown is the perfect place to come for a meal at night in Yangon. 
The most famous meal to have in Yangon's Chinatown is BBQ skewers, which you select for yourself. While your dinner is bring grilled, hang out at the plastic tables and chairs with the many locals who are also here for dinner and drinks. For the adventurous foodies, plenty of unique Myanmar street food options are available here too!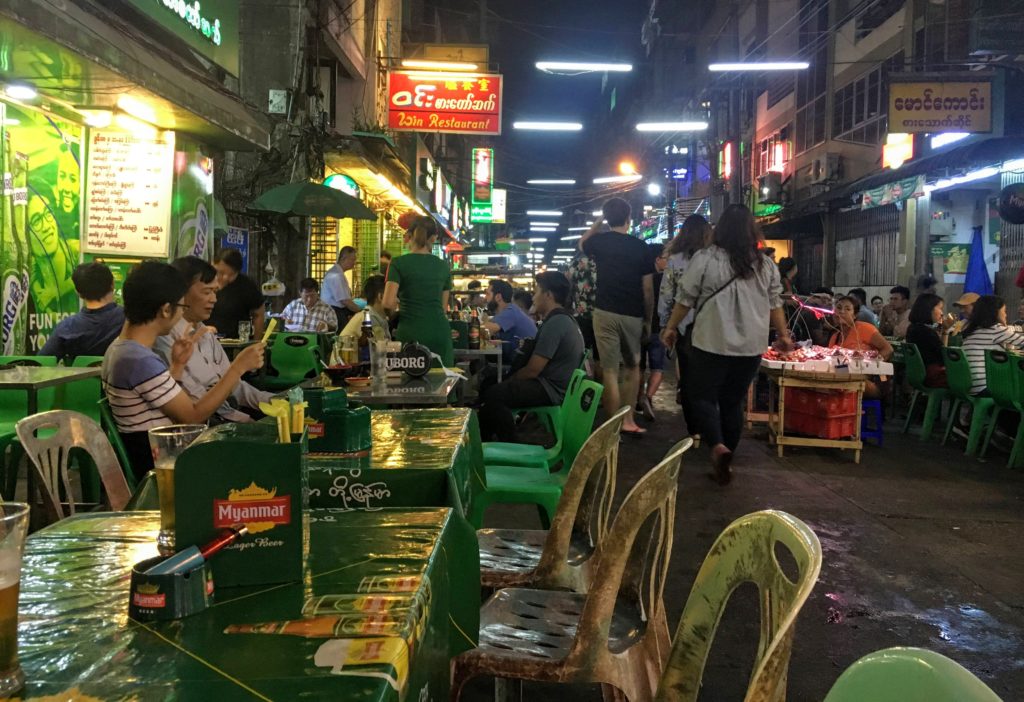 One Day in Yangon Itinerary
Morning: Sule Pagoda, City Hall, Yangon Colonial District
Start your one day in Yangon itinerary early in the morning, to experience the beautiful city as its citizens are starting their daily routines and commutes. Since Myanmar is a majority devout Buddhist country, you'll likely see many monks, both male and female, of all ages walking the streets, and locals stopping to pray at small temples scattered through town. 
Head first on your Yangon itinerary to the Sule Pagoda, a dazzling gold structure located in the middle of a busy round-about. It's located walking distance from Chinatown, and you'll pass many gold shops along the way. 
Next to the Sule Pagoda is Yangon's impressive City Hall, and the large Mahabandula Park, home to a large obelisk statue. 
After exploring this area, continue your Yangon itinerary by walking south from Sule Pagoda to the Yangon River, where the Yangon Colonial District is. These old colonial buildings date back to when the British ruled over Myanmar.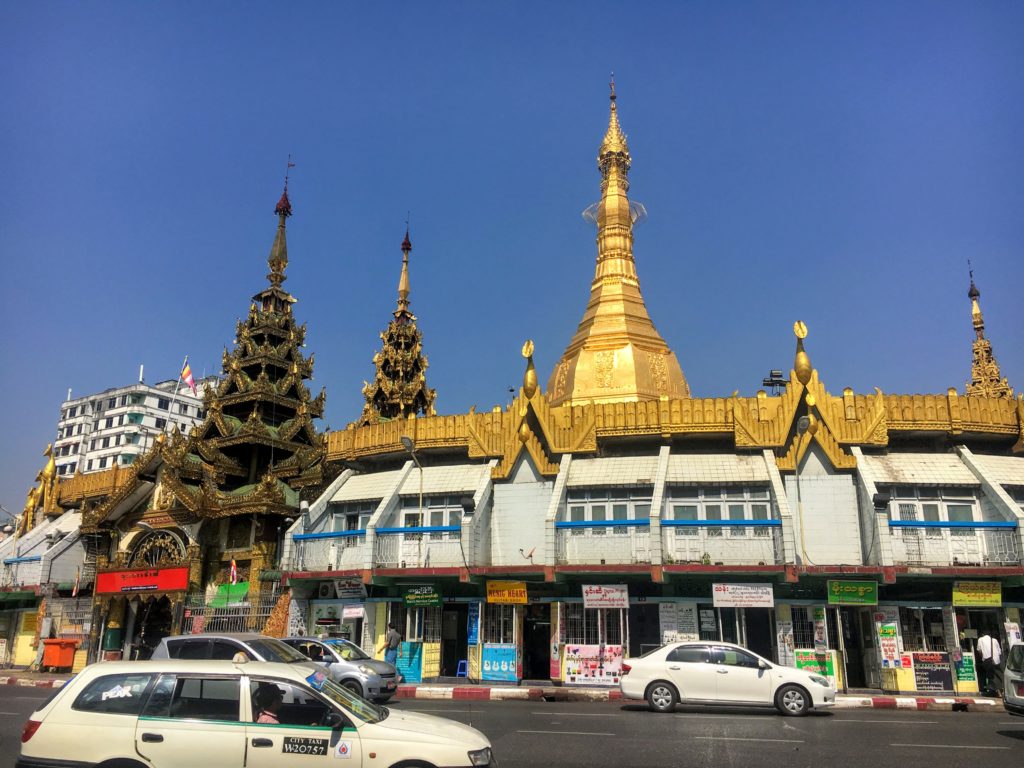 Lunch: Rangoon Tea House or 999 Shan Noodles
The Rangoon Tea House is a high-end dining option located near Yangon's Colonial District, and a popular meeting spot for expats. Visiting this trendy colonial-style restaurant for a snack or meal is one of the top things to do in Yangon! 
Another lunch option for your one day in Yangon itinerary is 999 Shan Noodles, a Myanmar restaurant chain with incredibly tasty noodle dishes. Two 999 Shan Noodle locations are within walking distance from Yangon's Chinatown or the Colonial District: one on 34th street behind City Hall, and one in the Junction City Mall on 28th street.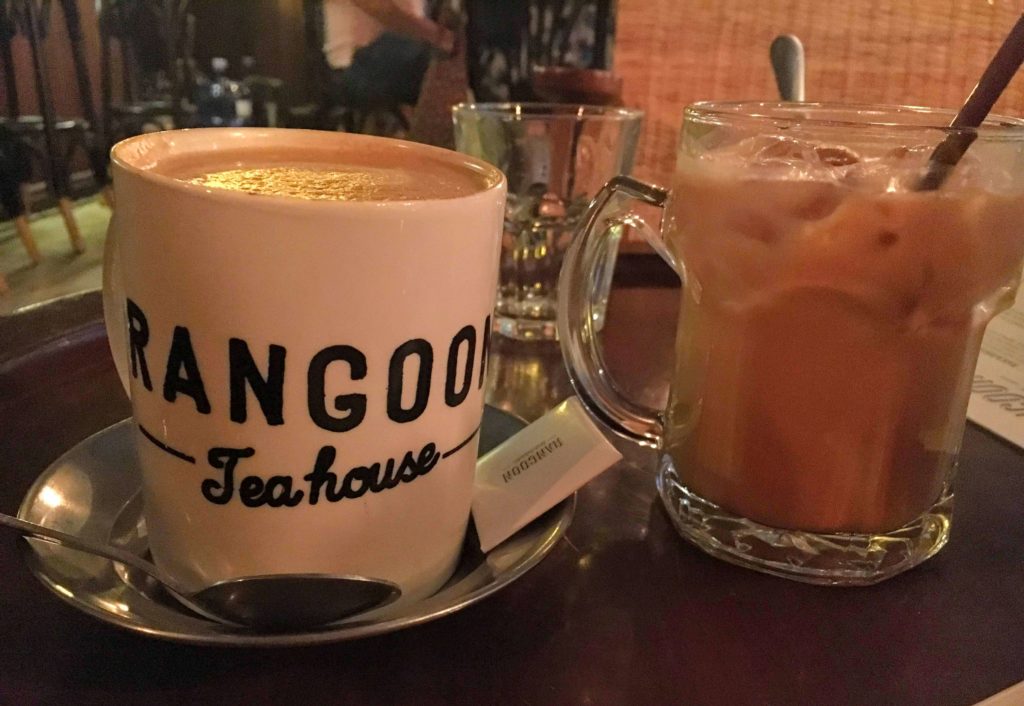 If you head to Junction City Mall for lunch, there are many other lunch options in their expansive mall food court! The mall is also next door to the next stop on your one day in Yangon itinerary: the Bogyoke Aung San Market.
Afternoon: Bogyoke Aung San Market 
The Bogyoke Aung San Market is a must-visit spot during one day in Yangon. This market is far from a tourist-trap, and the majority of its visitors are locals. The most common shops here are ones that sell local Burmese clothing, especially the lunghi or wraparound skirt that both men and women wear everyday, all over Myanmar. In sections of the market you'll find jade and jewelry stores, shoe stores, fabric stores, boutique shops, and local art galleries. 
If you are looking for last-minute Myanmar souvenirs, the Bogyoke Aung San Market in Yangon is the perfect place to find t-shirts, magnets, keychains, paintings, and handicrafts to take home. 
Note: Be weary of purchasing jade at high prices here, because you can never tell what is real and what is fake. Wait to buy jade until you visit Mandalay's jade market for better prices.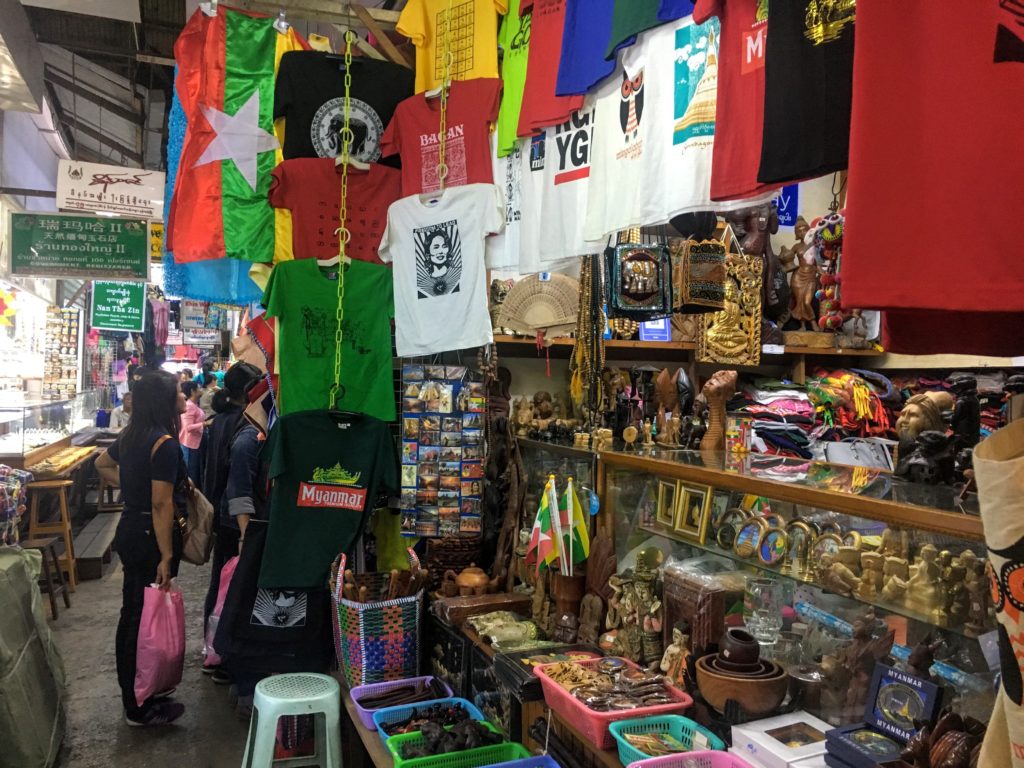 Sunset: Shwedagon Pagoda
If you only do one thing during your one day in Yangon itinerary, go to the Shwedagon Pagoda. Visiting this holy temple complex is THE best thing to do in Yangon, and shouldn't be missed no matter how short your Yangon itinerary. 
Shewdagon Pagoda is best visited just before sunset, so you can see the pagoda glittering under the sunset's colors, but also see what it looks like at night.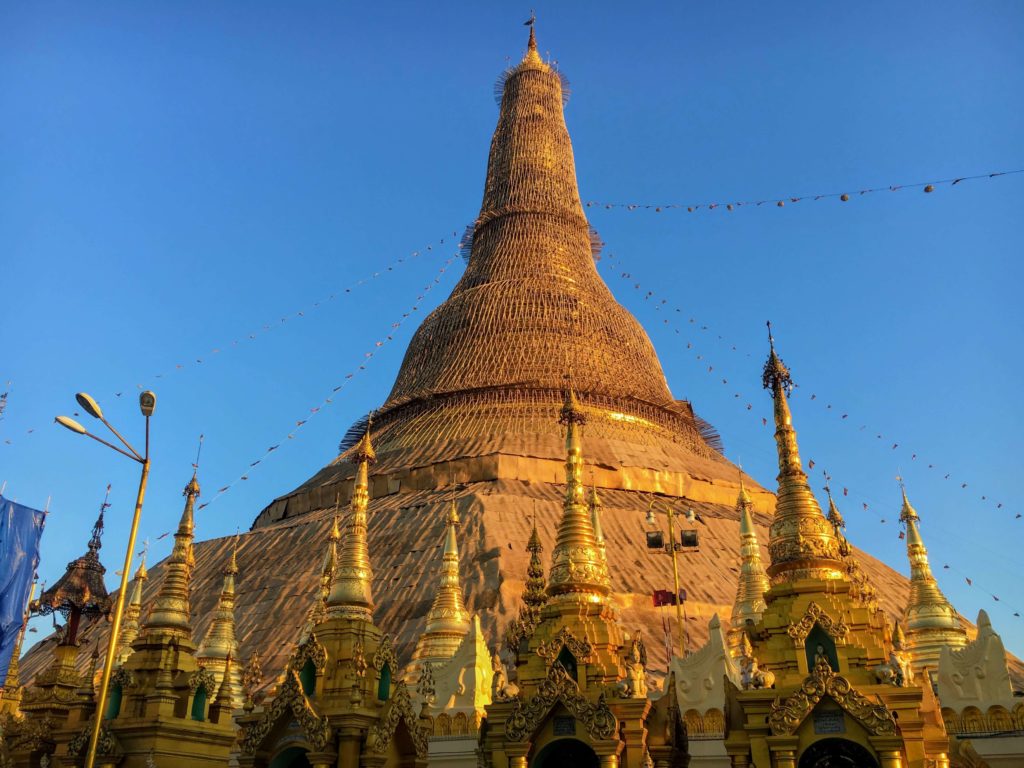 The Shwedagon Pagoda is known to be holiest temple in all of Myanmar, and is visited by hundreds of thousands of Buddhist pilgrims every year. The central pagoda reaches a height of 99 meters, and is said to house relics from four previous Buddhas, including strands of hair from Siddhartha Gautama Buddha. 
Unlike many other famous temples in Southeast Asia, Shwedagon Pagoda is mostly visited by devout locals. You'll see individuals, families, work groups, and teammates all here to pray to different images of the Buddha that are housed in several different pagodas. It's common to walk around the main Shwedagon pagoda clockwise, meditatively, to keep the Buddha at the center of your thoughts and your life path.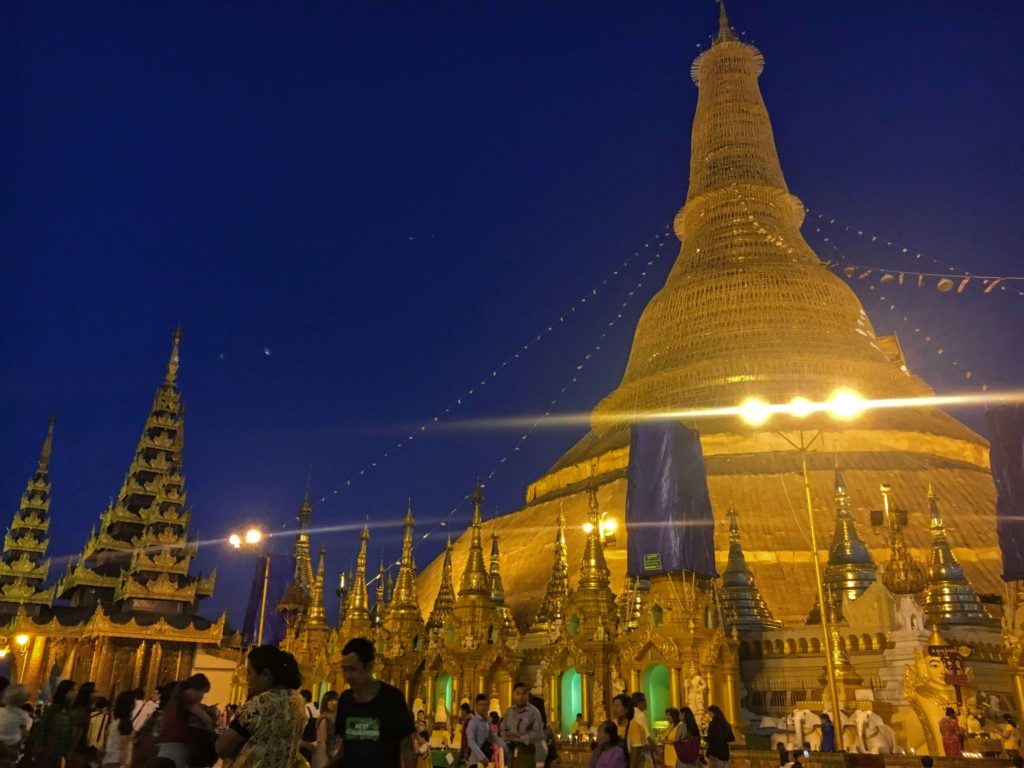 Evening: 19th Street and Chinatown
There is no better way to cap off your one day in Yangon itinerary than by living it up in Chinatown! 
Stop by 19th street for some BBQ skewer dinner, enjoy a Myanmar beer or two, and just take in the liveliness of Yangon at night. The locals are happy to have a toast with you, and many street performers come through the area trying to make some coin.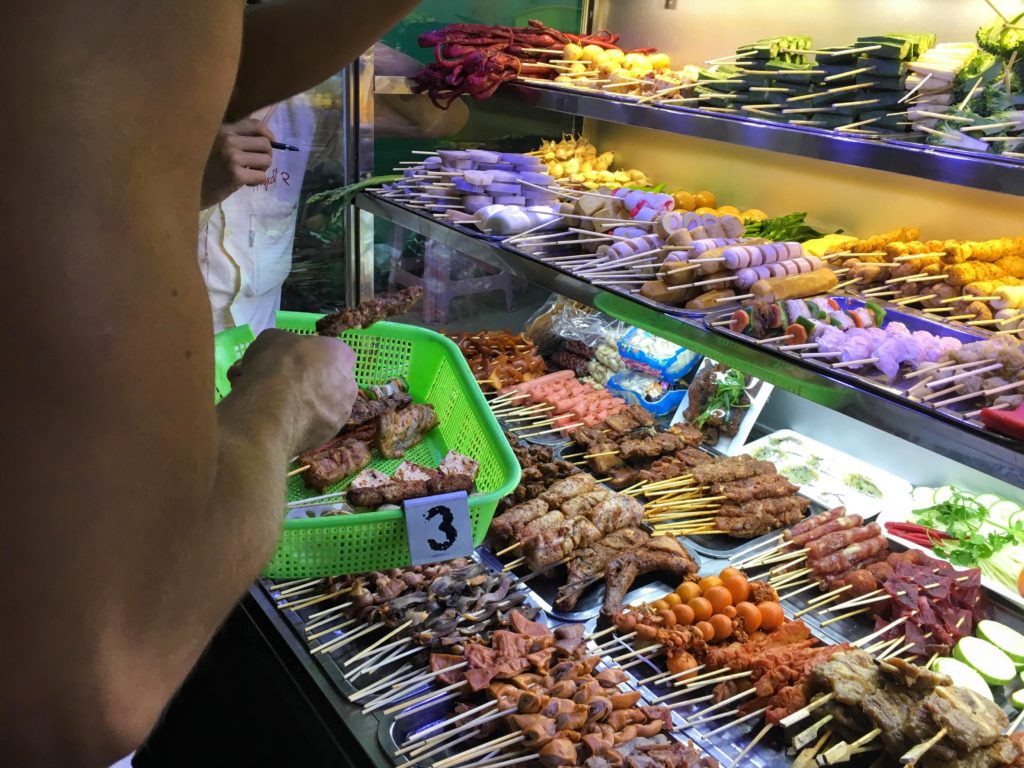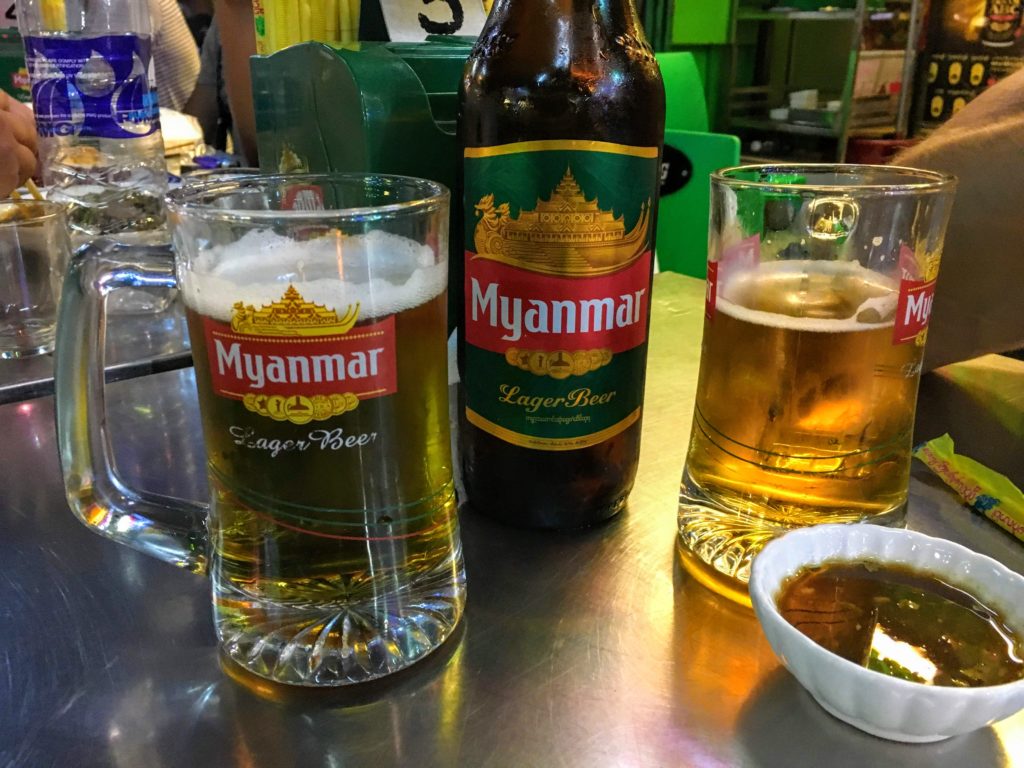 Where to go after Yangon?
Pin This One Day In Yangon Itinerary!
Are You Prepared For Your Next Travelventures?