Taroko Gorge is one of the most scenic places in Taiwan. Sharp, forest-covered cliffs jut sky-high around you while a bright blue river flows below. It's a great place for people of all fitness levels to spend a day in nature. Explore pagodas, walk through underground tunnels, and even see some monkeys if you're lucky, hiking Taroko Gorge National Park.
Hiking Taroko Gorge National Park Independently, without a tour, is trickier than it sounds. Several scenic trails are scattered along 20 km of the main Taroko Gorge road, and to see the best of them, timing your hikes around the bus schedule is key.
Here's your guide to hiking Taroko Gorge National Park independently.
Where to Stay Near Taroko Gorge
Most people stay in the city Hualien before hiking Taroko Gorge National Park independently, because it's the largest city near the National Park. There are timely busses departing from Hualien city center's bus station, heading to Taroko Gorge every day.
I recommend staying close to the station, so you can get there early in the morning without a long transit.
How to Get to Taroko Gorge
If you are staying in Hualien, take the 7:00am or 8:30am tourist shuttle bus that departs from the Hualien main bus station to Taroko Gorge. It's possible to purchase an all-day ticket here for 250 TND ($8 USD), which includes the round-trip bus to Taroko Gorge.
You can also use your Easy Pass and swipe on and off of each bus you take (it's 138 TWD one-way to the Tianxiang, then 11-40 TWD for each ride around the park, depending on distance). If you are only trekking a few sections of Taroko Gorge National Park's trails, it may be cheaper to just use your EasyPass. 
Getting Around Taroko Gorge when Hiking Independently
The main shuttle bus around Taroko Gorge is #1133A, which is also the Tourist Shuttle from Hualien. Be sure to have a timetable on you while you're hiking in Taroko Gorge, so you know when the next bus is coming. Unfortunately, busses only come once every hour so if you don't time it right, you may be waiting a long time.
Another bus, Taroko Bus #302, is a separate bus company with a different timetable. This bus does not go back to Hualien, and its final destination is the Xincheng Train Station. The Taroko Gorge one-day bus passes for busses 1133A and 302 are NOT interchangeable. 
There are a few taxies floating around that independent hikers can snag as well. But don't count on this, because drivers could have been hired out for the day by a hiking group from Hualien.
Navigating Taroko Gorge By Bus
If you look at a map of Taroko Gorge, it can be divided in to a few different sections. If you plan on spending one day hiking Taroko Gorge, I recommend choosing 2 sections and really focusing on them, instead of hopping around too much. Choosing 3 sections means you will be in a rush, and will need to keep one eye on your watch to make sure you are catching the Taroko Gorge shuttle busses at the right times.
Tip: Check which trails are open and closed here!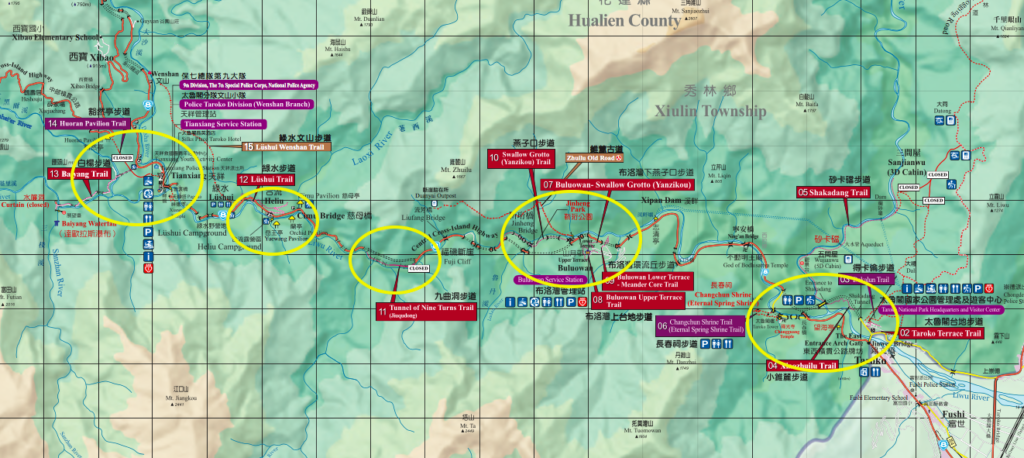 If you have more than one day in Taroko Gorge, you can explore these sections at a slower pace, and do 2-3 hikes each day.
Remember the schedule for the LAST BUS from Taroko Gorge back to Hualien. It leaves earlier than you might think, at 5:00pm from Tianxiang and at 5:30 pm from the Taroko Gorge Visitor's Center. Don't get stuck hiking Taroko Gorge National Park independently!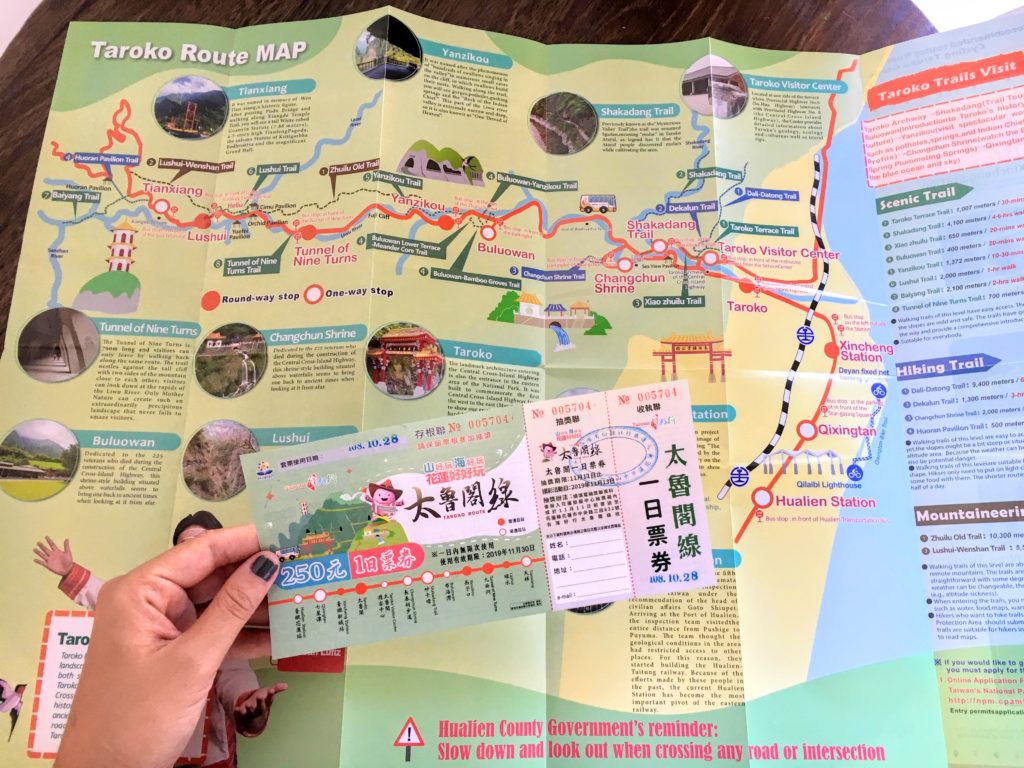 Taroko Gorge Hiking Packing List
Headlamp for cave and tunnel hikes
Trekking shoes or trekking sandals (not required but nice to have for some trails) – I recommend Merrel for shoes and Chacos for sandals.
Sunscreen – Try a reef-friendly brand!
Taroko Gorge Map (pick up at the bus station along with ticket)
Kindle or something to read while you wait for the bus

Snacks and 

water

Toilet paper – just in case! 
Useful Resources for Hiking Taroko Gorge National Park Independently
Navigating the shuttle busses within Taroko Gorge was the greatest challenge for me when hiking Taroko Gorge National Park independently, without a tour. Many online resources and blogs only highlight the best hikes of Taroko Gorge, with no set plan on how to get between them. 
For the most part, it's a long walk from trail to trail on the main Taroko Gorge road, forcing you to rely on busses for transport.
The two most useful resources I found when planning my own trip to Taroko Gorge were a detailed map of Taroko Gorge, and the shuttle timetables. I wish I had printed, laminated, and hung them both from a string around my neck that's how often I used them when hiking Taroko Gorge independently.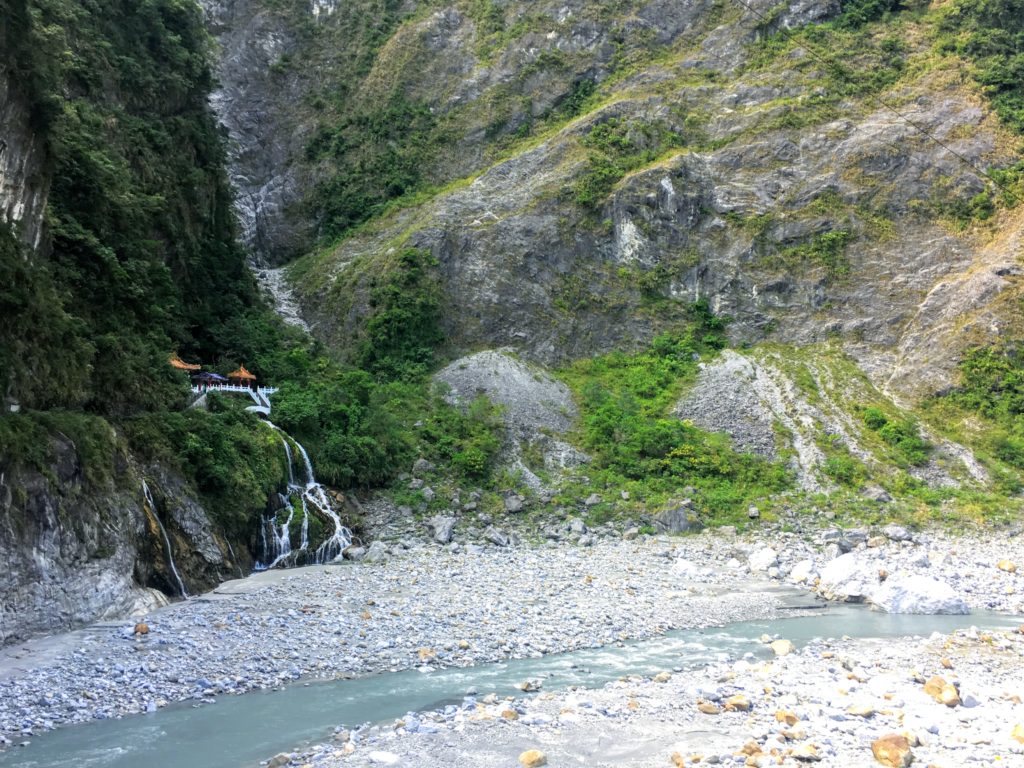 Top Taroko Gorge Trails to Hike Independently
The Swallow Grotto Trail (Yanzikou Trail) – named after the hundreds of swallows that call these cliffs home. The trail cuts along an icy blue river and has many small caves and inlets along the rock where you can see swallows and their nests. 
Tunnel of Nine Turns – Walk along a towering cliffs to either side of you, and the Liwu River below. Only 1.4km of trail to the end and back, go great for hiking beginners.
Shakadang Trail – Known as the "Mysterious Valley Trail", this trail follows the Shakadang River to the north of Taroko Gorge National Park. 4-6 hours round-trip.
Eternal Springs Shrine Trail (or just check out the shrine from the road!)
Baiyang Waterfall Trail – A 2-hour round trip trail that takes you through several dark tunnels cut through the cliffs. Bring a headlamp for this one! 
Zhuilu Old Road Trail – a popular, medium-level hike that requires a guide to go with you because it is dangerous in spots. 
Xiangde Temple – A large temple complex and towering pagoda located at the final shuttle bus stop, Tianxiang. Great viewpoint over the Laoxi River.
Plan Your Taroko Gorge Hike: Pin this Post!
Are You Prepared To Hike Taroko Gorge Independently?