Jeonju, the cultural capital of South Korea, is a charming gem of a town that should not be missed during your South Korea itinerary. Famous for its Jeonju Hanok Village, the largest in South Korea, Jeonju is also filled with charming buildings, cultural museums, and well-preserved history. 
Out of all the cities that I visited in South Korea, Jeonju was by far the most picturesque. Around every corner is another beautiful snapshot. Visit Jeonju before crowds of tourists discover its allure!
Multiple trains and busses depart every day from Seoul to Jeonju. From Yongsan Station in Seoul, you can take the high-speed KTX train for 34,600 won ($31 USD), or local trains for about 26,000 won ($22 USD) to reach Jeonju.
Express busses also depart from Seoul to Jeonju every 10 minutes. They take anywhere from 2.5-4 hours and cost from 12,700 to 19,000 won ($10-$16 USD). 
If you're rather not DIY a Jeonju day trip, join a Jeonju Hanok Village Tour departing from Seoul.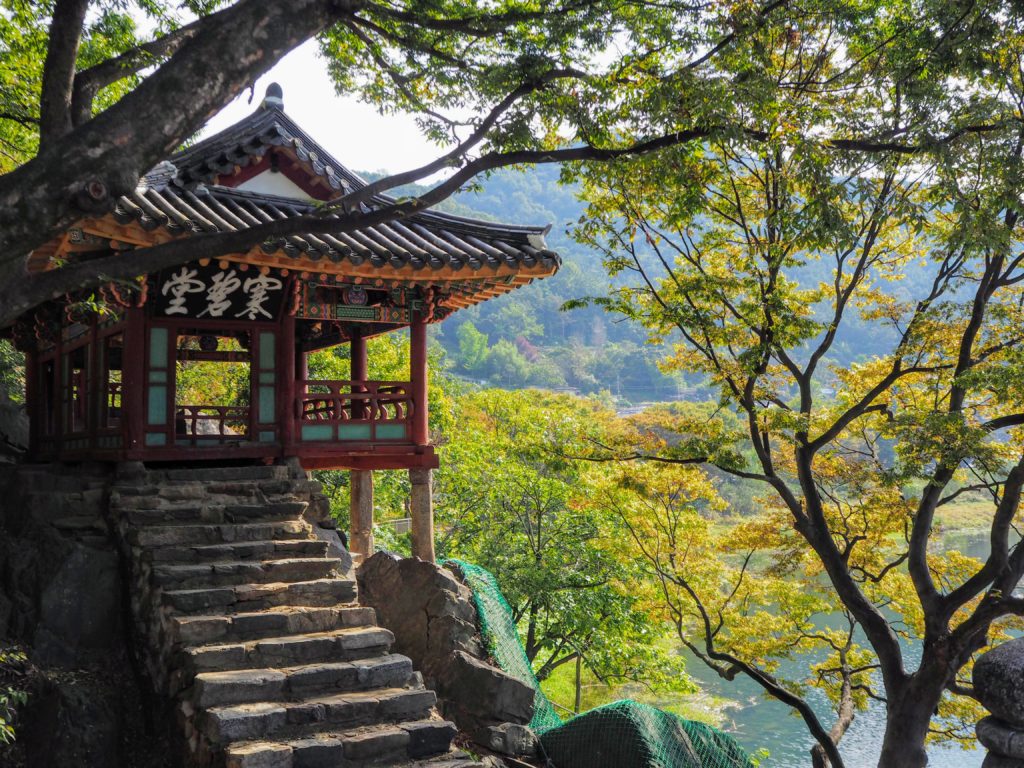 The best place to stay in Jeonju is in a traditional Hanok House. There are countless guesthouses and hotels that operate within Jeonju's Hanok Village, which is exactly where you want to be for this One-Day in Jeonju Itinerary. 
Amazing Jeonju Hanok Village hotels include Gingko Tree Guesthouse and Samlokhon Guesthouse. These put you in the heart of Jeonju's Hanok Village, in a beautiful historic Hanok House. 
If you're traveling on a backpacker's budget, I stayed at the Jeonju hostel NeaRest Guesthouse. It's is only a 10-minute walk from everything on this Jeonju One-Day Itinerary, and the owner was super helpful in letting me know the highlights of Jeonju. 
Start Your One-Day in Jeonju Itinerary
Morning
Set the tone for your one-day in Jeonju itinerary by visiting the Gyeonggijeon Shrine, then taking an initial stroll through Jeonju's Hanok Village. Visit the town's many museums, browse the shops, then stop for some lunch or tea in a traditional Hanok building. 
Rent a Hanbok before you go if you want to look the part for you one-day itinerary of traditional Korean culture!
The Gyeonggijeon Shrine is in the heart of Jeonju's Hanok Village. It's home to the portrait of King Taejo, a Korean historical figure who started the Joseon dynasty. In the same courtyard are several historical buildings, a bamboo grove, and the Royal Portrait Museum. The shrine and museum together costs 3,000 won ($2.50 USD) to enter, and opens at 9am.
Stroll through the Jeonju Hanok Village and visit its many free museums including the Hanok Village History Museum, the Fan Culture Center, the Jeonju Traditional Wine Museum, the Jeonju Traditional Handicraft Master Center, and the Sori Art Center.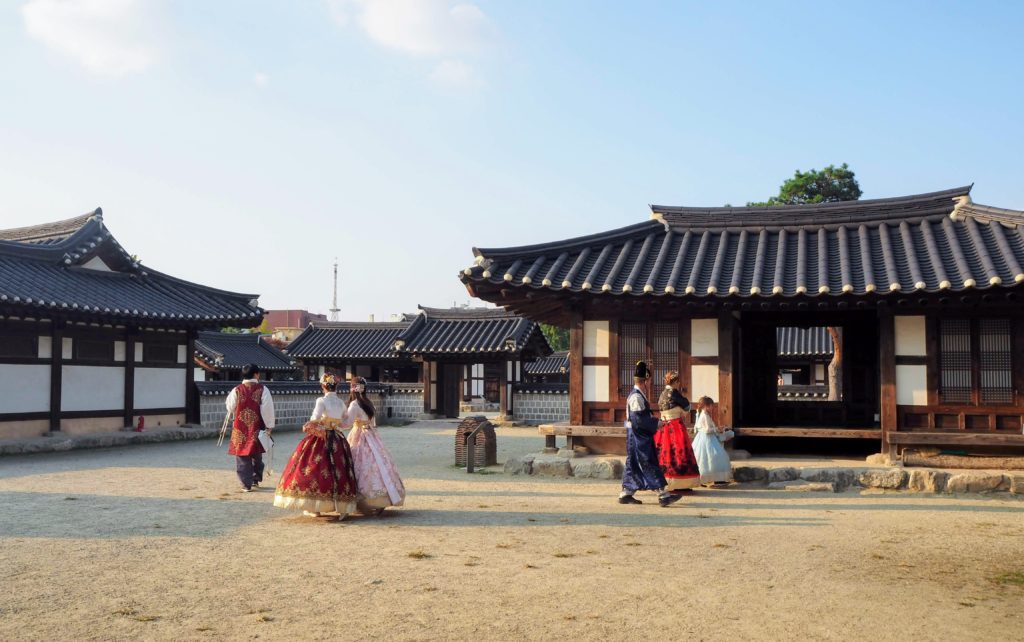 Stop for lunch in a traditional Hanok building. Many of the restaurants along Jeonju Hanok Village's main streets are traditional Hanok buildings, renovated to look modern on the inside. Try Jeonju's famous bean sprout soup with rice, which pairs perfectly with some kimchi.
Jeonju is also where one of Korea's national dishes, bibimbap had its start. The dish consists of rice with a variety of different colorful and nutritious toppings including beef, eggs, bean sprouts, red chillies, and more. Jeonju even has an annual bibimbap festival in October to celebrate the dish.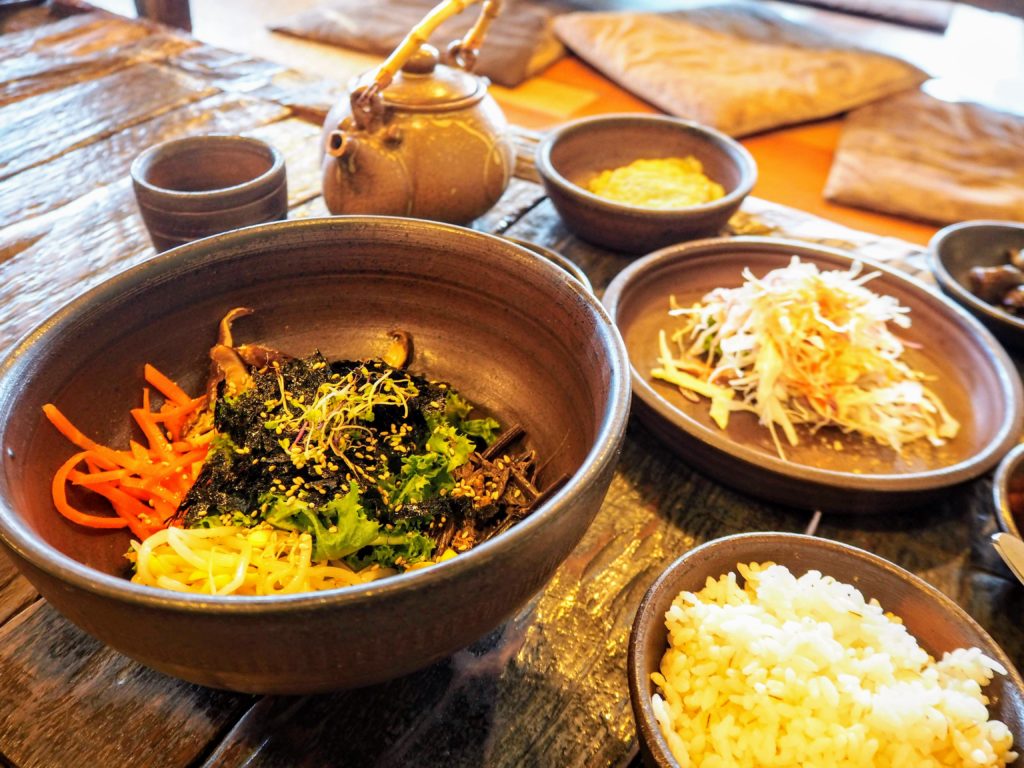 Admire beautiful pottery and handicrafts at the Jeonju Goods Exhibition Center and the Jeonju Traditional Artcraft Exhibition Center. They are conveniently located next to a large gazebo and rest area, incase your lunch is making it hard for you to walk!

Head up to the Omokdae Viewpoint, either via the wooden staircase near the Exhibition Centers, or by circling around to climb the slope near the busy Girindaero road. Here you can admire Jeonju Hanok Village from above, from several different viewpoints at the summit.
Cross the bridge to the Jaman Mural Village, where dozens of colorful murals line the streets and small alleyways. Find your favorite cartoon and anime characters, famous movie stars, and beautiful flowers and landscapes pained wherever you look. Stop by a quirky cafe for a coffee or dessert, and take in the hipster atmosphere of this small village. 
Follow Girindaero Road down until you see a bridge, where you can cross the under it to the scenic Hanbyeokdang Pavilion. Pavilions like this are common across Korea's countryside, especially in mountain towns, but this one is extra special overlooking a small lake and the mountains next to it.
Walk back along the river and in one street to the Jeonju Hyanggyo, or the Confucian School. The school is still used today to teach Confucianism, and is most popular to visit in the fall when its 400 year old Gingko trees all turn to a bright yellow.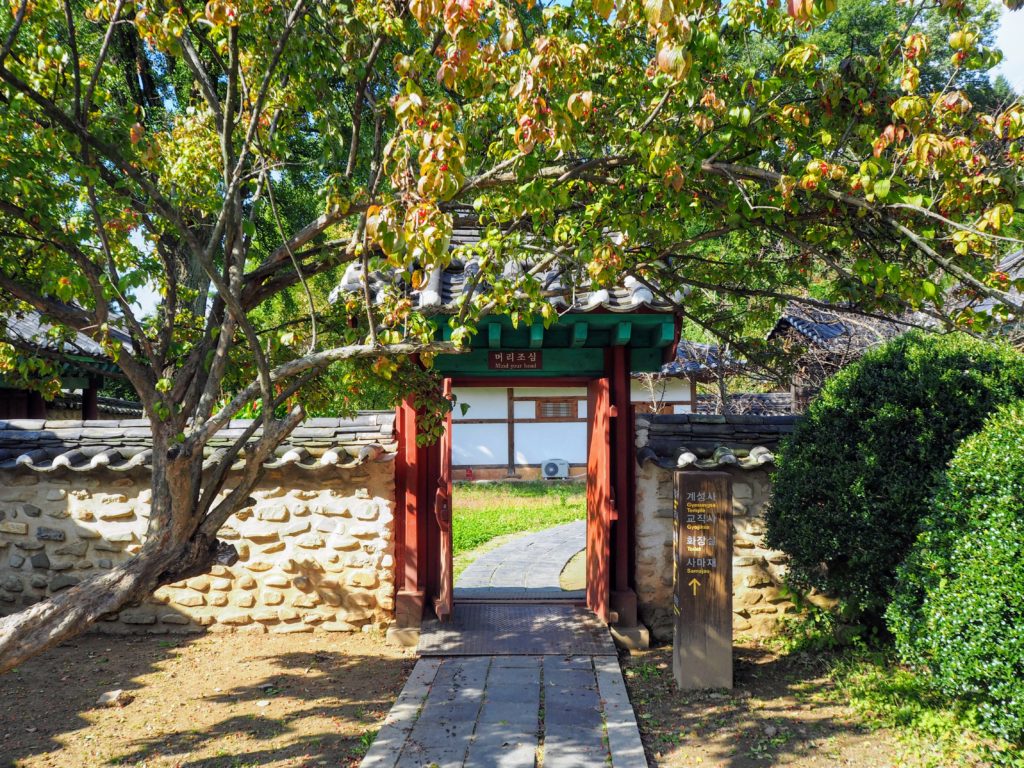 Head back towards Jeonju for a picturesque view of the arched Cheongyonru Bridge, where you can rest on the pavilion overlooking the river.
Follow the river walk or head back through Jeonju's Hanok Village to the Jeondon Catholic Church (mass happens every morning, so it's best to visit in the afternoon). This is one of the largest and most beautiful Catholic Churches in South Korea, and is a popular filming spot for Korean dramas.
The Pungammun Gate is across the street from the Catholic church in the center of a roundabout. This gate marks the border between Jeonju's Hanok Village and the rest of Jeonju, and uses similar architecture and design as the Gyeonggijeon Shrine.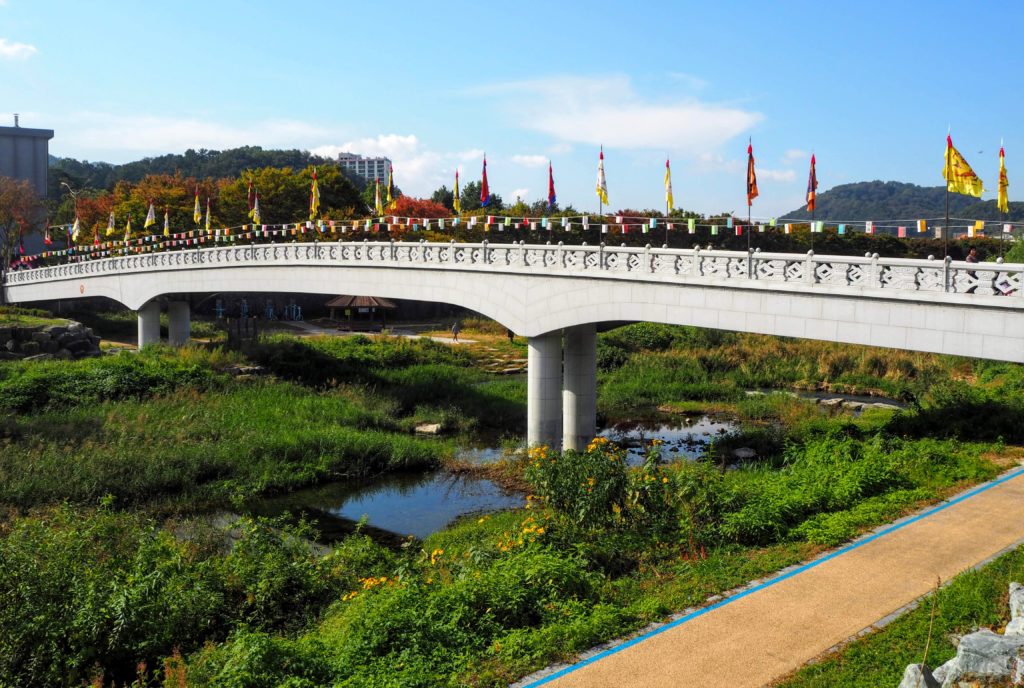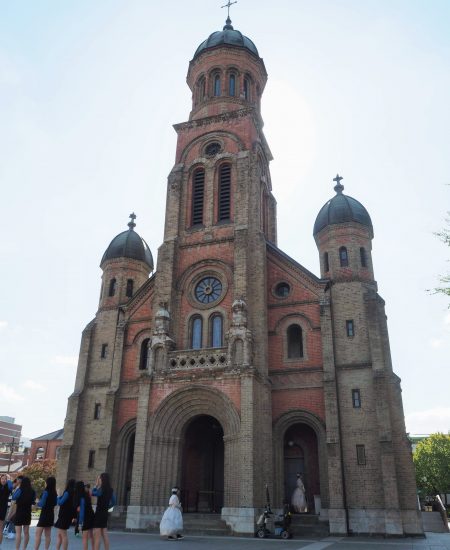 South of the Pungammun Gate is Nambu Market. If you're visiting on a Friday or Saturday, there will be a popular and bustling night market happening here! Try different types of Korean street food, bring home some souvenirs, or just window-shop around.

Days where the Nambu Night Market is not happening, head up to the Gosa-Dong neighborhood, which is popular with local teenagers as a shopping and street food spot. Buy cosmetics, shoes, and other trendy items here.

Circle back to Jeonju's Hanok Village as you wind down your one day in Jeonju itinerary. The streets are lit up everyday with beautiful lanterns in the evening. Find a cozy place to have dinner, maybe order some some soju from the menu, pat a stray cat, and enjoy your night in the traditional Jeonju Hanok Village.
Pin This One Day in Jeonju Itinerary!