Many South Korea itineraries don't stray much further than the country's two metropolitan cities, Seoul and Busan. However, South Korea is a great deal more than just its glittering cities. As part of this 10-day South Korea itinerary, hang out in historic villages and climb volcanoes, visit movie sets and war museums, and ride a jumbo ferry to "the Hawaii of Korea".
From Seoul to Jeju Island, Jeonju to Busan, ten days in Korea will let you see many of the country's highlights without feeling rushed. If you want to learn more about the cities or some amazing treks in Korea, go to my South Korea travel blog page! 
Upon arrival to Korea, or even before you leave, be sure to pick up a T-Money card. The T-Money card is a transit card that will help you get around on all public transit in all the stops on this Korea itinerary.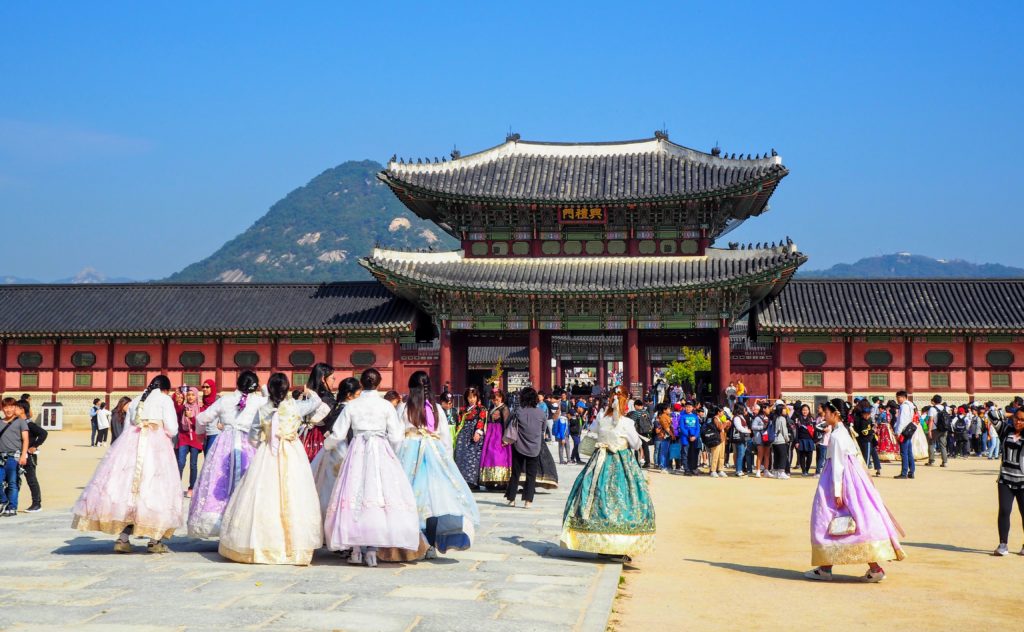 Day 1 
Every trip to South Korea and Seoul should start with a visit to renowned historical sites. Must-see buildings in Seoul include Gyeongbokgung Palace, which served as the king's residence as well as government buildings during the Joseon Dynasty. Arrive at the top of the hour to watch a changing of the guards ceremony.
At Gyeongbokgung Palace you'll see many visitors wearing traditional Korean clothing, or the Hanbok. You get free entry to the palace if you're wearing one!  Rent one for cheap from this store near the palace for the discount, and not to mention amazing photo opps! Just around the corner from the palace is the historic Bukchon Hanok village, an iconic maze of streets where you'll feel transported back in time. 
After checking out the palace and the Hanok village, head to a nearby trendy shopping district popular with tourists as well as younger locals: Insadong. It's a great place to grab a souvenir, have some lunch and an ice cream, and take in the vibes of the city. Near Insadong is also the Ikseondong Hanok village, which has more historic buildings to admire, with trendy cafes and shops around every corner. 
In the evening, head to one of the many night markets around Seoul. Love street food? The Insadong neighborhood lights up with street food stalls once the sun sets. Looking to buy some Korean beauty products? Head to the Myeongdong Night Market, where you'll be handed free face masks as you walk into the dozens of cosmetics stores that line the pedestrian-only streets.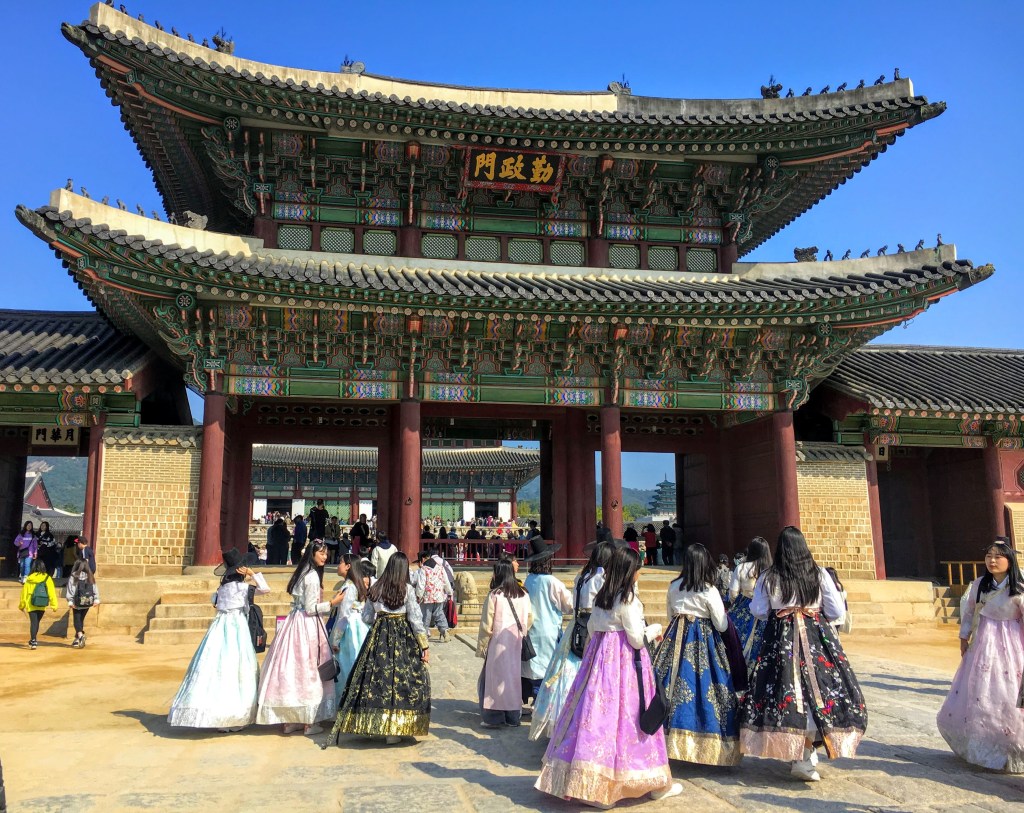 Day 2
Spend day 2 of your time in Seoul exploring the more modern side of the city. Namdaemun Market is located in the heart of one of Seoul's large shopping districts, and is a great place to snag a discount on clothes, shoes, home goods, and of course, cosmetics. Pop into any of the large malls surrounding the market if you're looking for a great deal on tech goods, or want to take home a doll of your favorite LINE character! 
Whether you're a history buff or not, visit Seoul's War Memorial Museum to learn about the country's difficult history and resulting split between North Korea and South Korea. 
For the sunset, head up to Seoul's N Tower, which overlooks the entire city from a viewpoint on top of Namsan Hill. Purchase tickets ahead of time for convenience! It's home to many restaurants, and is a great place to spend the evening while enjoying the view. It's also walking distance to many neon flashing streets and markets that come to life in the evening.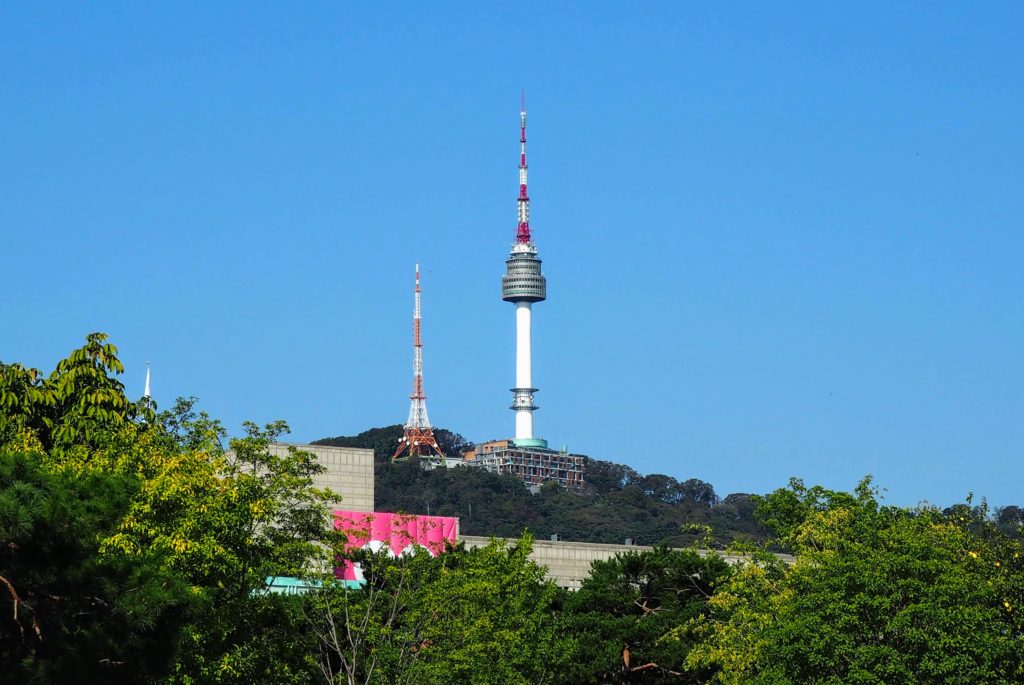 Day 3
For a change of scenery, be sure to check out one of the amazing day-trips from Seoul during your ten-day South Korea itinerary. 
One of the most popular day-trips from Seoul is a tour to the Korean DMZ, or the de-militarized zone which is the divider between North Korea and South Korea. Both half-day and full-day DMZ tours leave from Seoul daily, and take you to the South Korean side of the DMZ, an observatory overlooking North Korea, an abandoned tunnel connecting the two countries, and more. Be aware that this tour often becomes unavailable at short notice, due to changing circumstances between the two Koreas or other health & safety reasons. 
If you're a fan of K-dramas, namely Moonlight Sonata, you can't miss the day-trip to Nami Island. This day-trip from Seoul is perfect for couples and families, and will give you a breath of fresh air compared to Seoul city center. 
For a memorable and outdoorsy day-trip from Seoul, head to Bukhansan National Park and summit Baegundae peak, the highest point in Seoul. Making it to the top is sure to be one of the highlights of your ten-day Korea itinerary.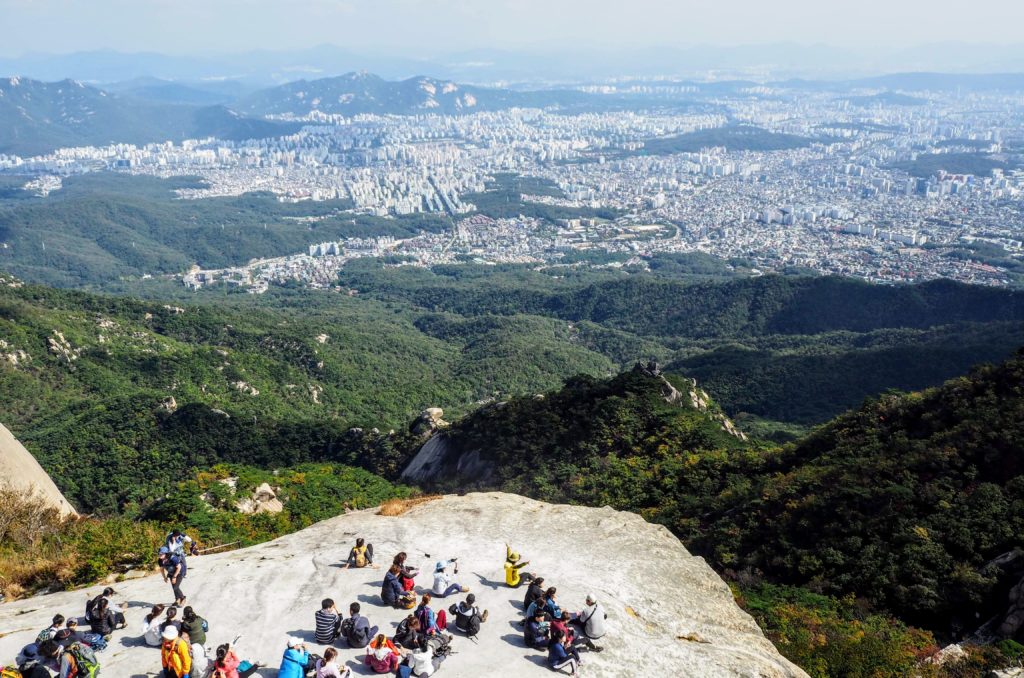 Where to stay in Seoul:
I recommend staying in the Insadong neighborhood, where I stayed during my time in Seoul. The majority of the impressive Korean Palaces are within walking distance in Insadong, as are many shopping streets and two Hanok Villages. Here are some highly-rated places to stay near Insadong, Seoul:
Budget: Hostel Tommy  – This is where I stayed, just steps from Ikseondon Hanok Village with a large common area and a small rooftop
Mid-Range: Makers Hotel – A chic and retro hotel with many amenities in each room
Luxury: Orakai Insadong Suites – Spacious Apart-hotels complete with kitchenettes and working spaces
If you want to stay in Seoul's famous Bukchon Hanok Village, also close to Insadong and one of the top places to see in Seoul, check out these luxurious options:
 Sky Guesthouse, a well-priced option with breakfast included in a hanok house decorated with traditional artifacts 
 Cheong Yeon Jae Guesthouse has a wide-open courtyard and beautiful traditional rooms, with both Korean and Western breakfast options
There's plenty more to do in Seoul: Check out my top 20 Seoul activities to add to your South Korea 10-day itinerary!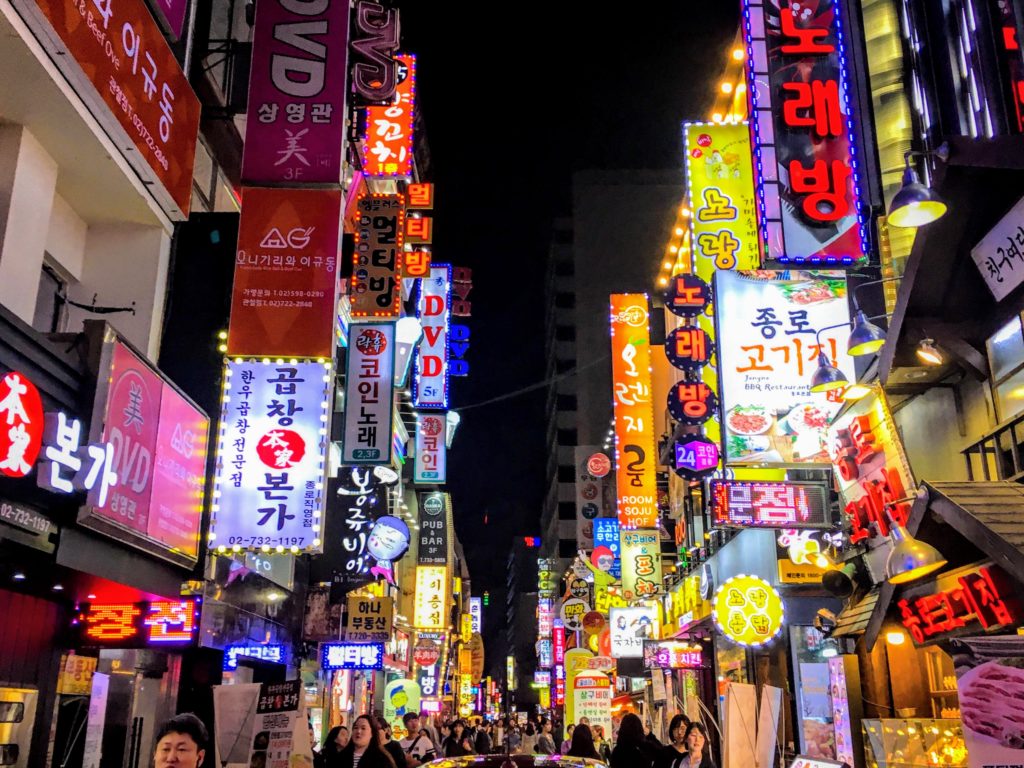 Jeonju is a surprisingly off-the-beaten-track destination that I think is unmissable in a 10-day South Korea itinerary. The small town is famous for having the largest Hanok village in Korea, and is a perfect place to escape the busy cities and enjoy a slower pace of life. You can see most of Jeonju by spending one full day there. 
From Seoul, take a train in the morning to reach Jeonju by noon. 
Some things to do in Jeonju include exploring Gyeonggijeon Shrine and the Royal Portrait Museum, where you'll see plenty of locals posing for pictures in traditional Hanbok dresses. Jeonju is also home to many free museums where you can learn about Korean culture such as making traditional paper, making soju, or rice wine, and other handicrafts. 
The Omodae Viewpoint gives you a great view over the Jeonju Hanok village, and it's only a 5-10-minute walk from the village. On the outskirts of Jeonju is the Jaman mural village, where winding alleyways are covered in local artwork and international icons like Pikachu and the Avengers!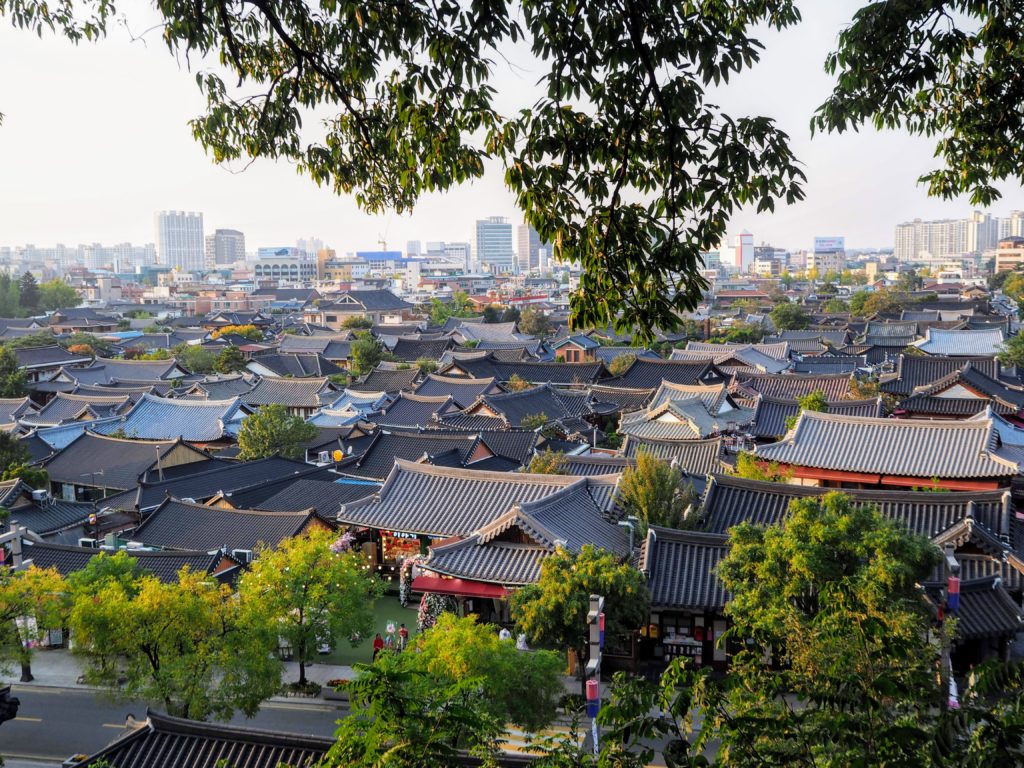 Transit Note: To reach your next destination on this South Korea 10-day itinerary, on your last day in Jeonju you should head to Mokpo, a small fishing village. You need to board a ferry to head to Jeju Island in the morning. If you're not traveling on a budget, you can also opt to fly from Jeonju to Jeju Island, since both places have airports. 
Where to stay in Jeonju
Since Jeonju is all about the Hanok village, visitors can get the full traditional experience by staying in a Hanok house. Check out my top choice for a hanok stay in Jeonju: Hanok Story Guesthouse. This hanok is in a quieter neighborhood that is walking distance to the Jeonju Hanok Village. Check out my full list of 10 best hanok stays in Jeonju too! 
If you're on a budget but still want to stay close to Jeonju's Hanok Village, check out NeaRest Guesthouse, a backpacker hostel that's no more than a 10-minute walk from all the top things to do in Jeonju.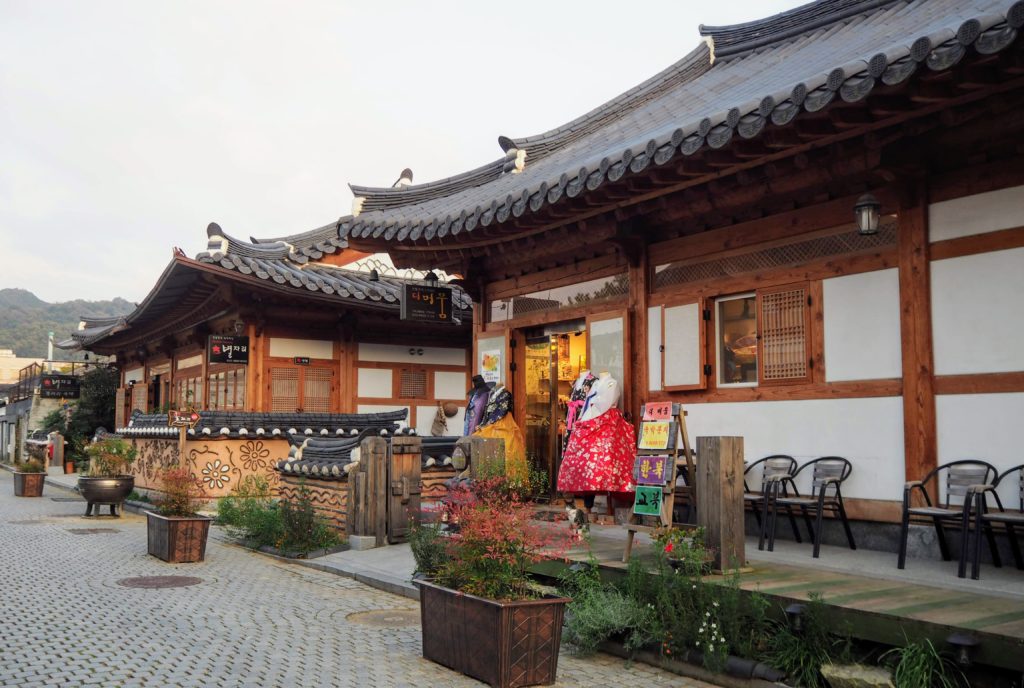 Many South Korean Itineraries will skip over Jeju Island because it's a bit hard to get to. Luckily, with a 10-day South Korean itinerary, you'll have plenty of time to explore this island known as the "Hawaii of Korea". Jeju has its own international airport, so many visitors choose to fly here. If you'd prefer, you can take the ferry from Mokpo and other towns on the southern border of Korea as well. 
Jeju Island is a perfect place to be for nature-lovers and outdoor enthusiasts. For hikers, make sure to include summiting Mt. Hallasan, the highest point in all of Korea, on your itinerary. Jeju is also famous for being home to Innisfree, an internationally-loved Korean cosmetics brand that uses natural ingredients found on Jeju.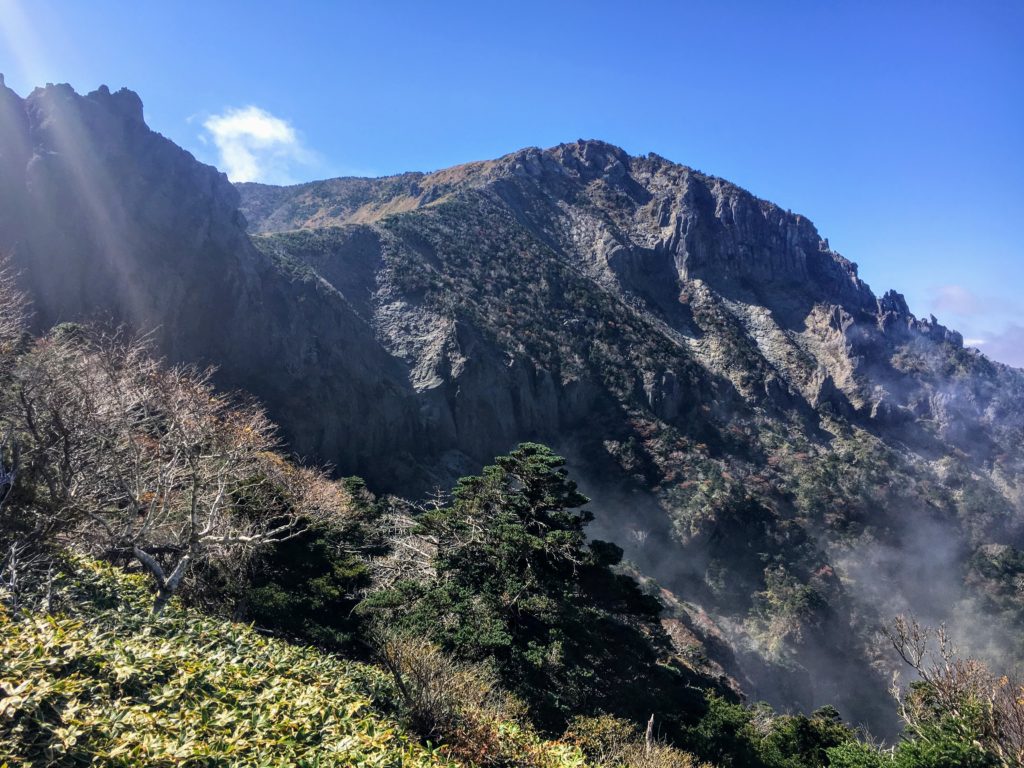 Your time on Jeju Island can be as busy or as relaxing as you want it to be. If you want to relax, skip the sightseeing and just head to the beaches of Jeju, which can be easily reached by car or public bus. 
Day 1 & 2
You could spend a whole month on Jeju Island and never run out of new attractions to visit every day. That's why it's important to do a bit of planning before visiting Jeju!
 Depending on your interests, check out kid-friendly petting zoos and Hello Kitty parks, or more adult-themed chocolate and sex museums. If you're overwhelmed with options, check out day-tours that take you to Jeju island's highlights including meeting the incredible women free-divers, or around to all the UNESCO World Heritage Sites.
If culture and history intrigue you, be sure to visit the Jeju National Museum. It showcases the history of the island, from prehistoric times through the first civilizations that called Jeju home. 
If you're a big fan of Innisfree (and after 10 days in South Korea you probably will be), head to the Innisfree Jeju House. You can make your own soaps here, grab a bite at the cafe, do a bit of shopping, and admire the sprawling tea fields next to it. 
You can also experience the life of the locals by strolling through Jeju's many markets, including the large indoor Dongmun market pictured below.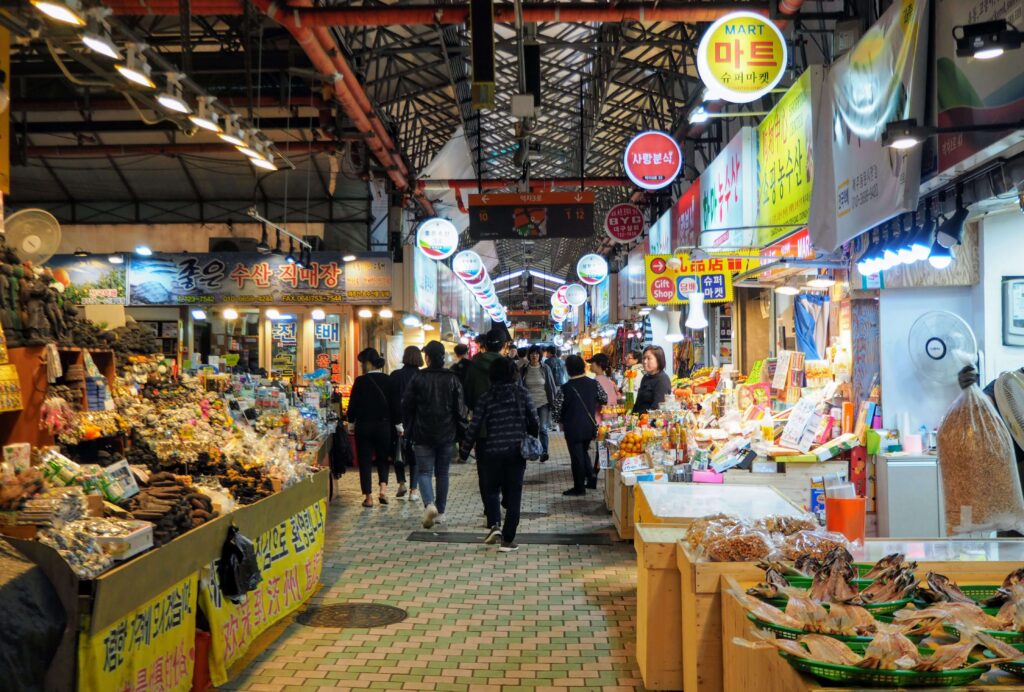 Day 3
Jeju Island is known for its natural beauty, with three UNESCO Natural World Heritage Sites on the island. If you spend the first two days touring the island's different man-made activities, reserve at least one day on your Korea itinerary for nature. 
Active travelers may want to challenge themselves by trying to summit Mt. Hallasan, one of the UNESCO sites and the highest peak in Korea. It can take 7-10 hours round-trip and is a full-day activity, but the sense of accomplishment when sitting at the highest point in the country makes it all worth it!
Another unique Jeju adventure is to walk through lava tunnels, or massive underground caves carved out by former Hallasan eruptions and another UNESCO site. Scattered on the coastline of Jeju are plenty of waterfalls to explore as well, which are often along the Olle Trail, a major hiking loop that circles the island.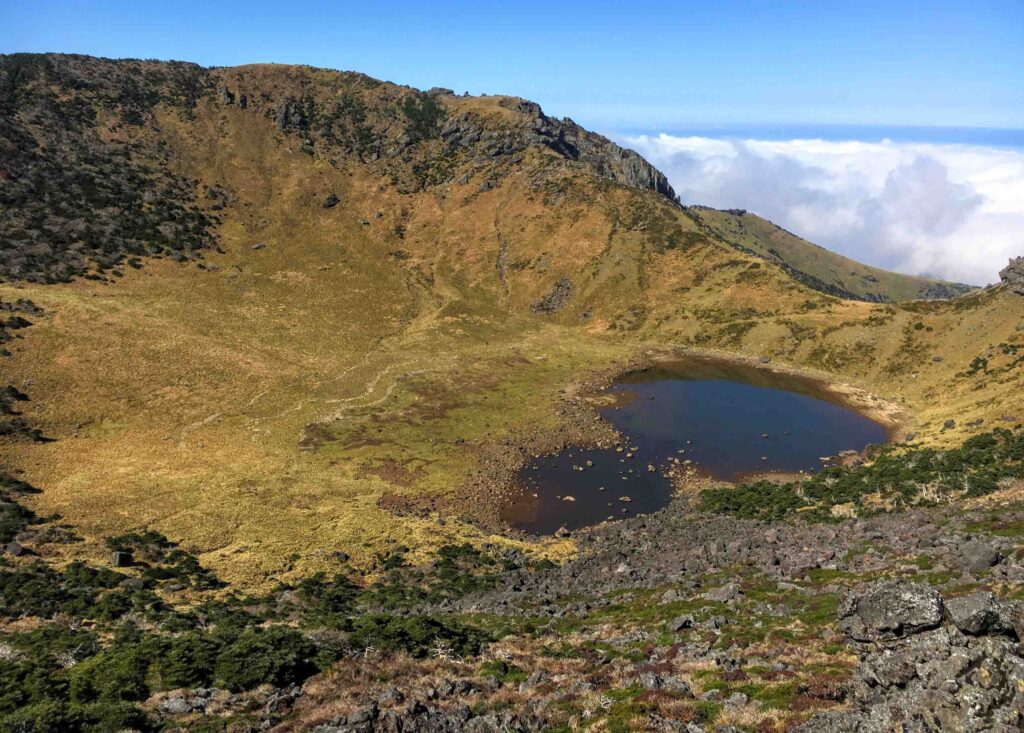 From Jeju Island, you can fly or take a ferry and train to Busan. Since you'll lose an entire day in transit if you go the slow route, I recommend flying for this portion of your Korea 10-day itinerary. Plenty of flights leave between Jeju Island and Busan every day, lasting only 30 minutes in the air. 
Busan is another massive metropolis, the second largest city in South Korea and built right on the beach! Busan is known for its dazzling skyscrapers, bustling markets, and seaside temples. If you didn't get to relax on the beach in Jeju, Busan gives you a second (and last) chance to do so during your South Korea 10-day itinerary.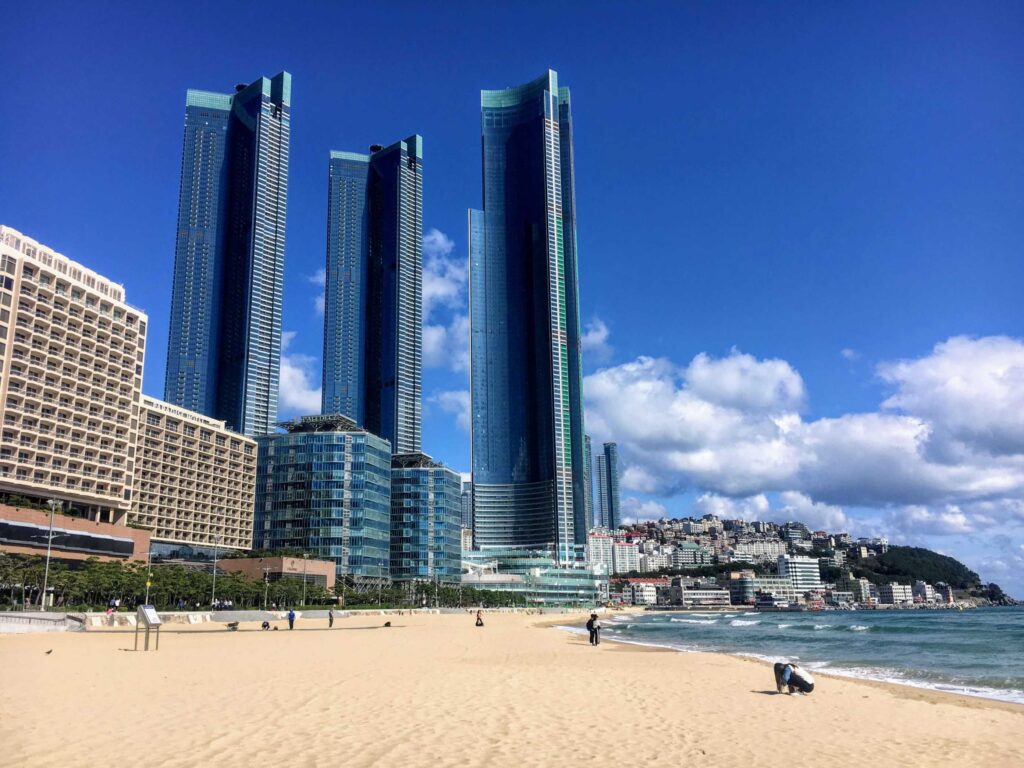 Day 1 
One of the most famous attractions in Busan you should try to reach early in the morning, is Haedong Yonggung Temple, or an incredibly picturesque seaside temple.  This Buddhist temple was built in 1376, and is known to be one of the most beautiful in Korea. 
To get a good feel for what Busan is about, spend some time at Haeundae beach. This beautiful beach will make you forget that you're in the middle of a metropolis when you're sitting on the soft sand and looking at the ocean. Look to the left or right though, and you'll see massive skyscrapers on either side of you. A wide walking path circles the beach, and high-end restaurants open up to it. Explore the inner streets just behind Haeundae beach for some hole-in-the-wall local restaurants and shopping. 
If you're looking for a great place to stay in Busan, I recommend staying near Haeundae beach. It's a great place to enjoy early morning beach walks, and see the sunset in the evenings as well!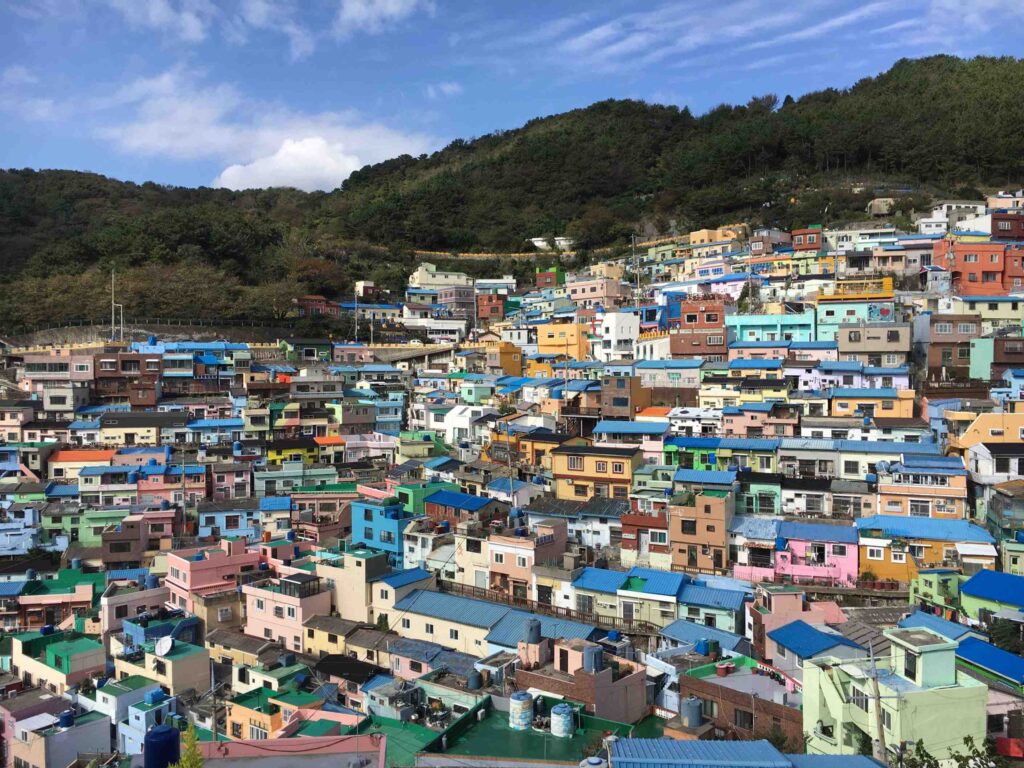 Day 2
Another famous landmark in Busan that shouldn't be missed during your Korea itinerary is the Gamcheon Culture Village. This colorful village is nicknamed the "Machu Picchu of Busan" due to its terraced buildings (I've been to Machu Picchu and frankly, don't quite see the similarity).
The culture village is a great place for travelers who love art, quirky cafes, souvenir shopping, local murals, and exploring what everyday life looks like for Busan residents. Be sure to wear good walking shoes, because although getting lost in the alleyways sounds like a good idea, the staircases will quickly tire you out! 
Wrapping up your Korea itinerary
Since this is the last day of your Korean itinerary, be sure to spend you time in Busan doing what you love most. The best part is, Busan has a little bit of everything. Spend your last day in the shopping in the markets for eating street food, and buy your final haul of skincare products and K-Pop goods, before your 10-day Korean itinerary comes to an end! 
Are You Prepared For Your 10-Day South Korea Itinerary?