Hiking to Mt. Takao is a popular day-trip from Tokyo for people seeking time in nature. In fact, it's SO popular that the Takao-san summit hike and the trails to get there are over-crowded. Adding another summit, Mt. Jinba, to your itinerary will give you the solitary hiking from Tokyo experience that Mt. Takao once offered!
The hiking trail between Mt. Takao and Mt. Jinba is clearly marked, and it just takes one extra bus to get to the base of Mt. Jinba. Avoid the crowds, reach a higher altitude, and challenge yourself to 19 kilometers by hiking Mt. Jinba to Mt. Takao from Tokyo!
Mt. Jinba to Mt. Takao Trek Overview
Duration: 7 hours
Distance: 19.4 km from Jinbakōgenshita station to Takaosanguchi station
Permits: None needed
Budget: 2500 yen (see budget section below)
Facilities: Sporadic noodle shops at viewpoint summits sell noodles, ice cream, and drinks. The viewpoints also had picnic tables and a few restrooms.
Navigation: Great signage throughout the trail, plus wide trails, so you won't get lost. Take a navigation app like maps.me on your phone if you want a backup.
Crowds: The trail around Mt. Jinba and Mt. Kagenobu are mostly middle-aged or elderly locals, trail runners, and a few tourists. Close to Mt. Takao is considerably more crowded, and the summit is filled with tourists
Budget for Trekking Mt. Jinba to Mt. Takao
Transportation cost 590+670+390=1650 yen ($16 USD) if leaving from, and returning to Shinjuku Station
Food: 550-900 yen for soba or a noodle bowl while on the trek
Drinks: 250+ yen each (or bring from home)
(optional) Cable Car or Chair Lift down from Mt. Takao: 490 yen per adult
Packing List for Hiking Mt. Jinba to Mt. Takao
Suica or Pasmo card (aka IC card) with at least 2000 yen ($20 USD) on it. If you have a JR pass, the train lines and bus to get to and from Takao are all included in the JR pass region
1000-1500 yen in cash if you want to purchase food and drinks while hiking Mt. Jinba to Mt. Takao. If you want to buy souvenirs, or use the cable car/chair lift, bring even more.
1.5-2 liters of water or electrolyte drinks
Snacks or meals to eat on the mountains while enjoying the view!
(optional) Trekking poles
(optional) Navigation app on phone like maps.me
Sneakers are fine for the trek, though many were wearing trekking boots
Sunscreen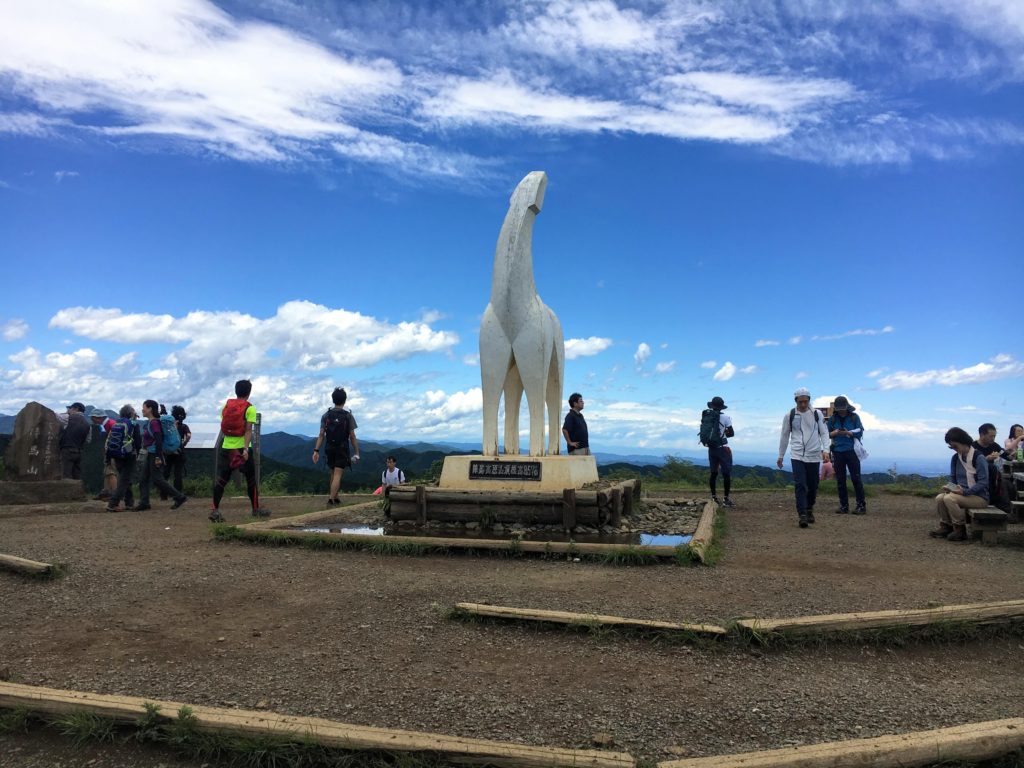 Getting to Jinbakōgenshita from Tokyo City Center
From Shinjuku Station, you need to take a train and a bus to reach the beginning of the hike from Mt. Jinba to Mt. Takao. To get to Jinbakōgenshita:
Take the JR Chuo Express or Special Express line from Shinjuku Station headed to Takao station. This costs 550 yen and takes 40 minutes. Some Chuo-line trains don't go all the way to Takao, so be sure to hop on one that takes you to the final stop of Takao!
Alternatively, take the Keio Line towards Takao for 390 yen, which takes one hour.
From Takao Station, take the North Exit to the bus station (it will be to your left)
Board the bus labeled 'Jinbakōgenshita'. You can use your IC card to board to the bus, and you'll scan the IC card again when you get off the bus.
Jinbakōgenshita station is the last stop on the bus, and takes about 35 minutes to get to from Takao Station. The bus ride costs 670 yen.

Tip: Buses to Jinbakōgenshita only run once every hour, at 34 minutes past the hour (except the two that depart at 8:10am and 8:55am on weekends). Time your train journey from Tokyo so you will arrive in time for the bus to Mt. Jinba! Jinbakōgenshita Station has a public restroom and some benches, plus a soba noodle shop nearby with a beautifully Japanese interior. Note: Every single person on the bus was a trekker who was hiking at least to Mt. Jinba, many all the way from Mt. Jinba to Mt. Takao, so the trail was crowded at first when we all went to the restroom, then set off for the hike. If you want to have the trail to yourself, it's best to break ahead or stay behind.
Check out more things to do in Tokyo, Japan!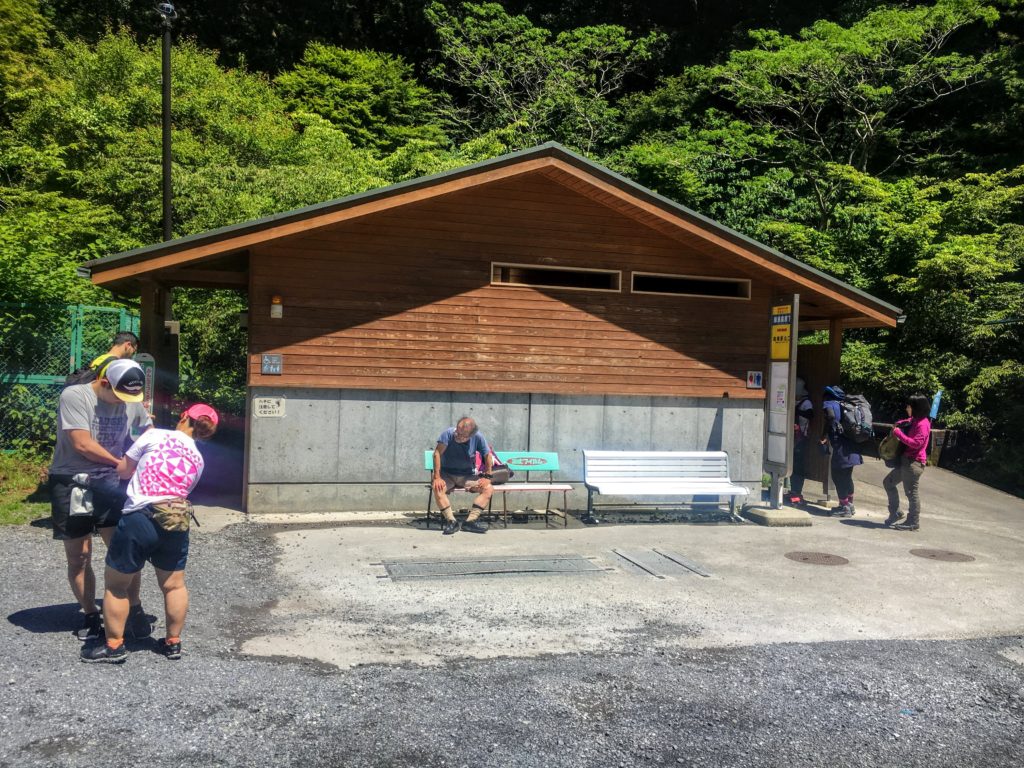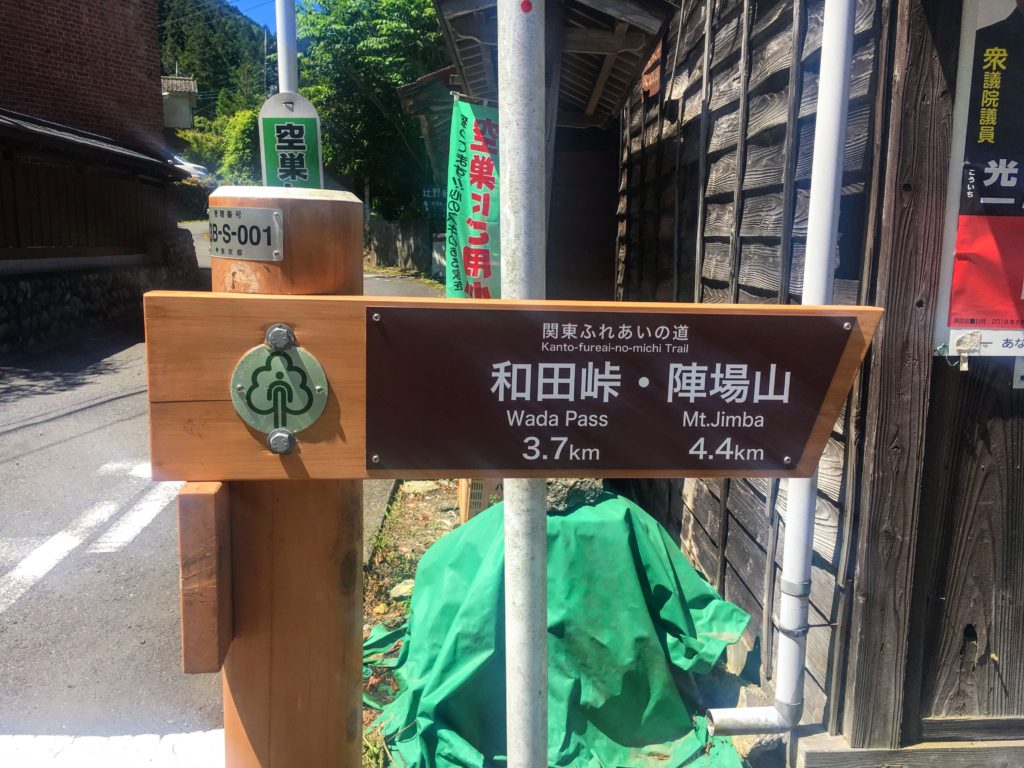 Part 1: Trek to Mt. Jinba Summit
The trail to Mt. Jinba starts from the bus station, where you will follow the windy mountain road up for about 1 km. Eventually on your left, you will see a sign that shows a trekking map, plus an arrow pointing towards "Mt. Jinba summit". Turn off here and follow the trail up into the forest.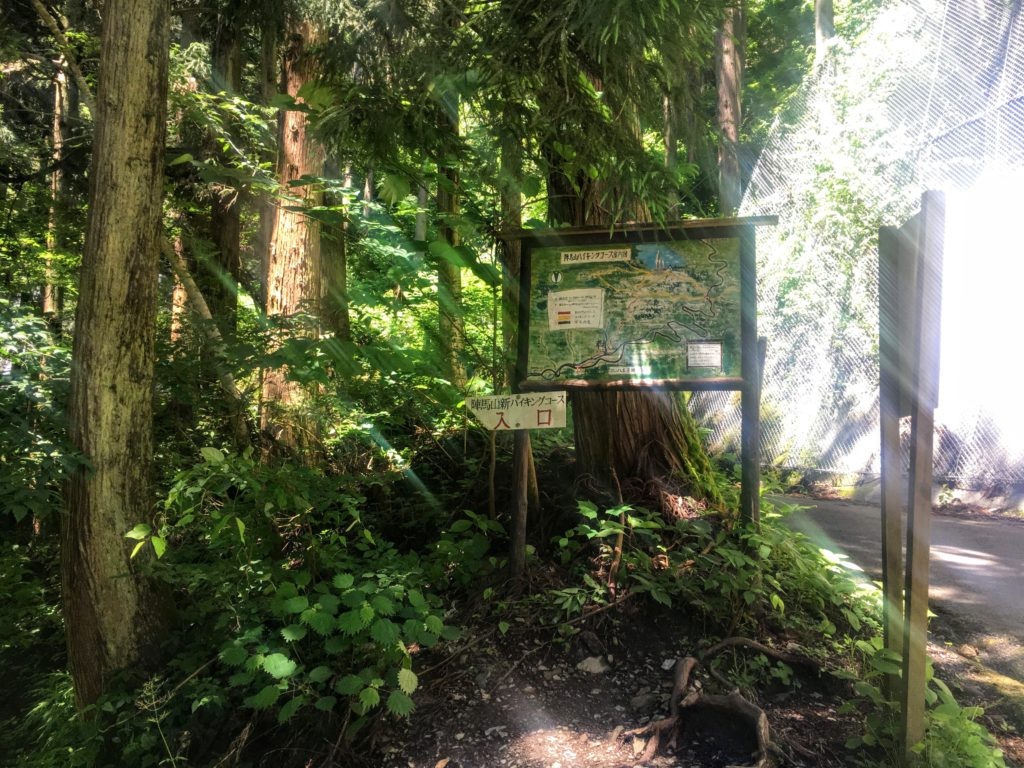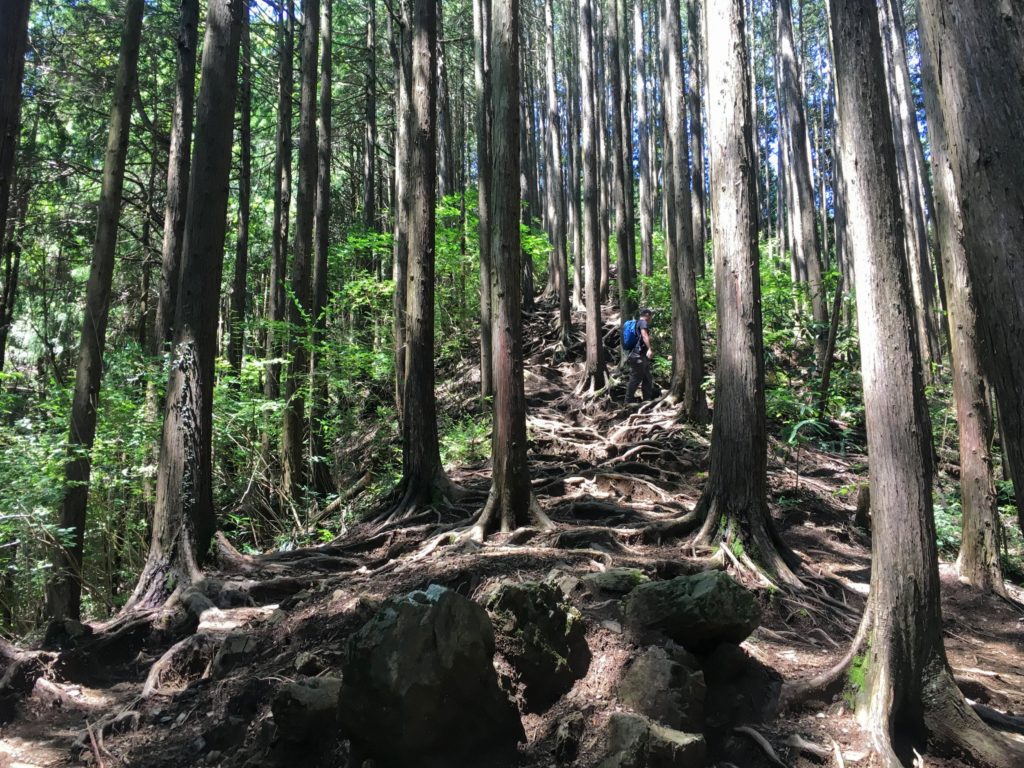 The trail is not wide but it is easy to follow, over tree roots and up a ridge towards Mt. Jinba. This was the steepest section of the trail hiking Mt. Jinba to Mt. Takao.
Occasionally, other trails merge with this one, but it's easy to figure out which one will take you to the summit of Mt. Jinba. Most forks in the road are marked with signs, and look for bright colored ribbons or white, red, or yellow spray-paint on the trees.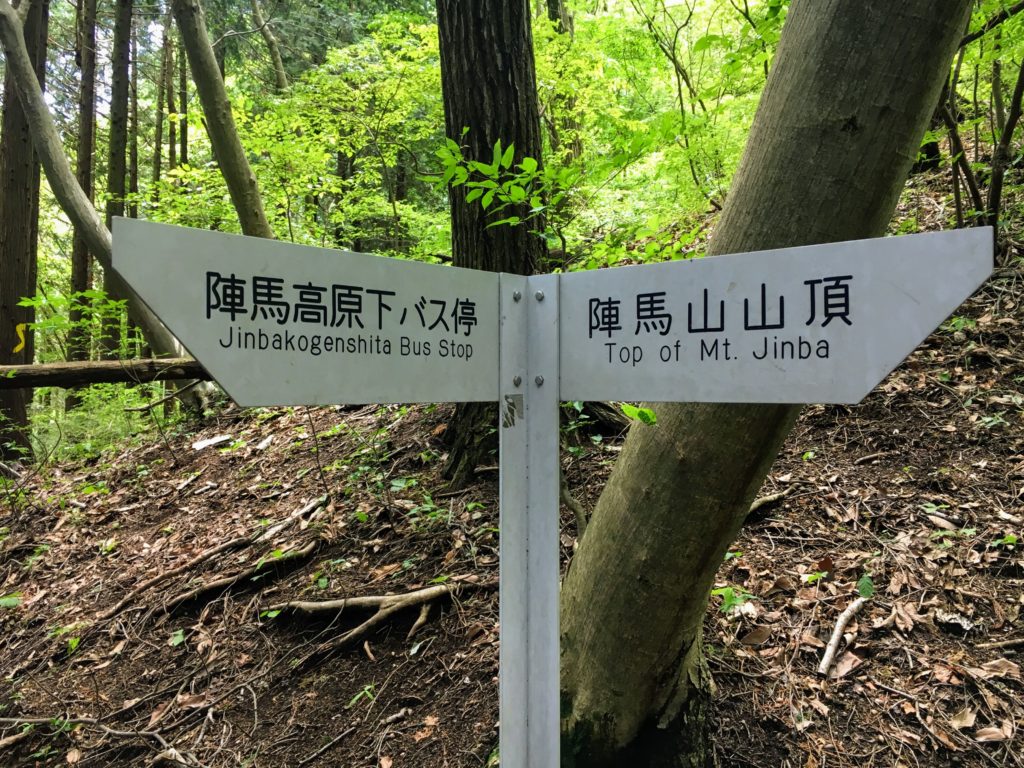 At the Mt. Jinba Summit
It took us just under 1.5 hours to reach the Mt. Jinba summit, from Jinbakōgenshita station. The claim to fame here is a curious-looking horse statue, but there are also great panoramic views of Mt. Fuji and the Kanto plain on a clear day.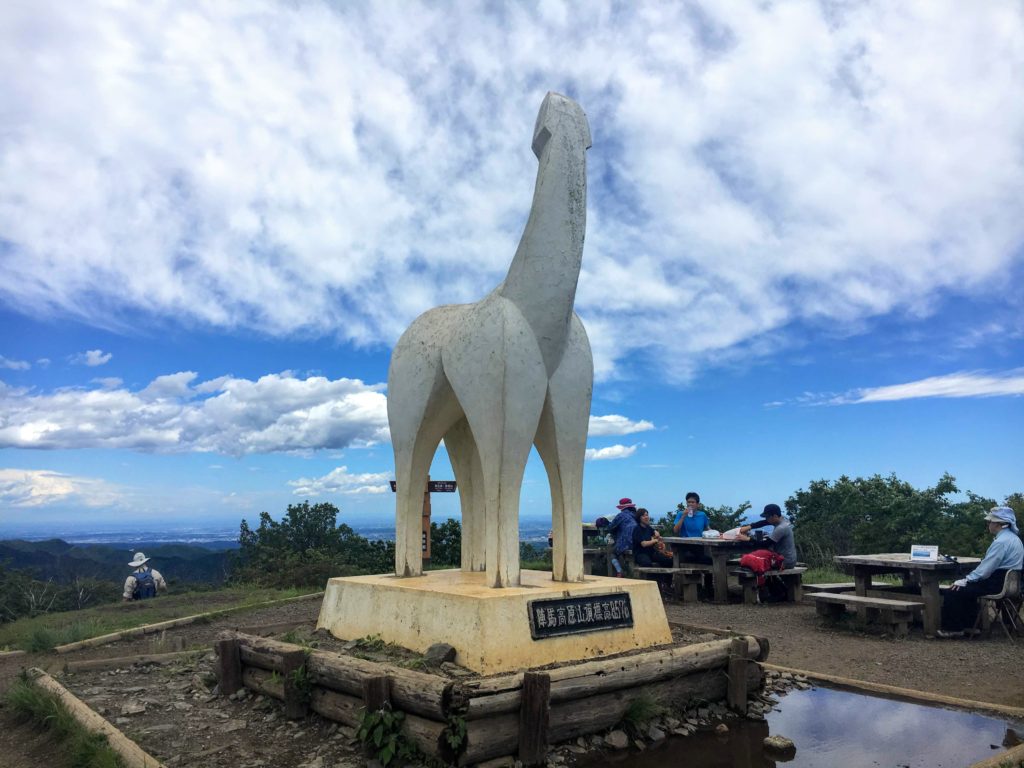 Aside from the Itcho-Daira Observation Deck 2 km away from the Mt. Takao summit, I thought the Mt. Jinba summit had the best unimpeded views of Mt. Fuji. The Kanto plain is a bit obscured by trees, but it's still possible to see Tokyo's countless skyscrapers and the Skytree. At the summit, there are many facilities available to trekkers! There are free public restrooms, as well as two restaurants that serve hot noodles, ice cream and bottled drinks. Mt. Jinba also has a wide grassy area perfect for picnics, and many picnic tables that are free to use as well.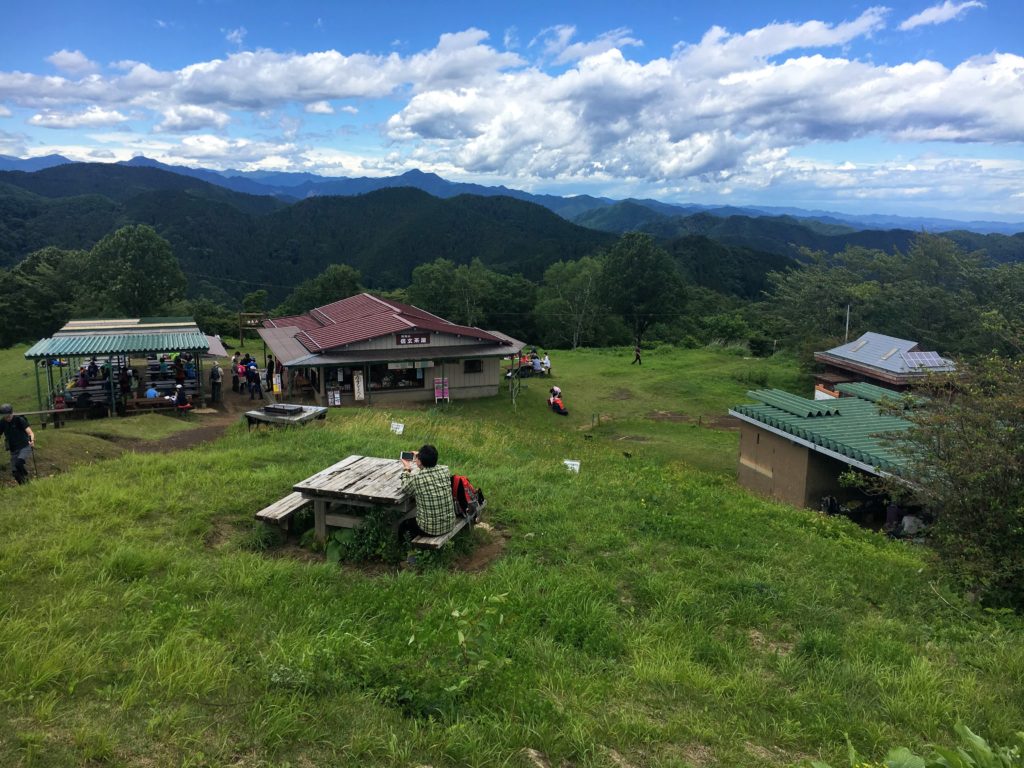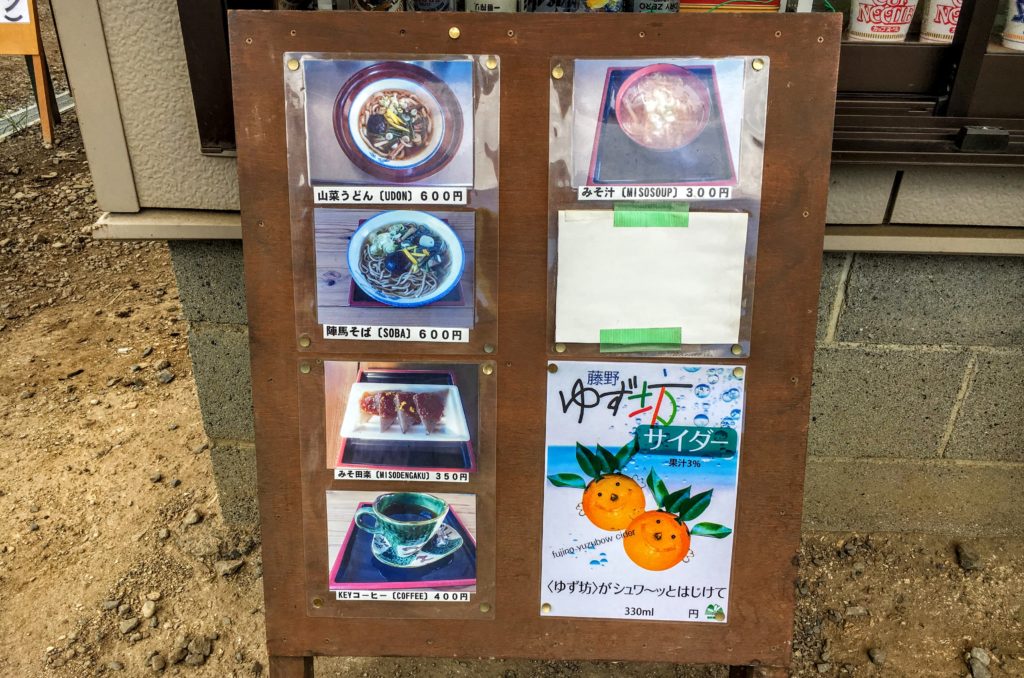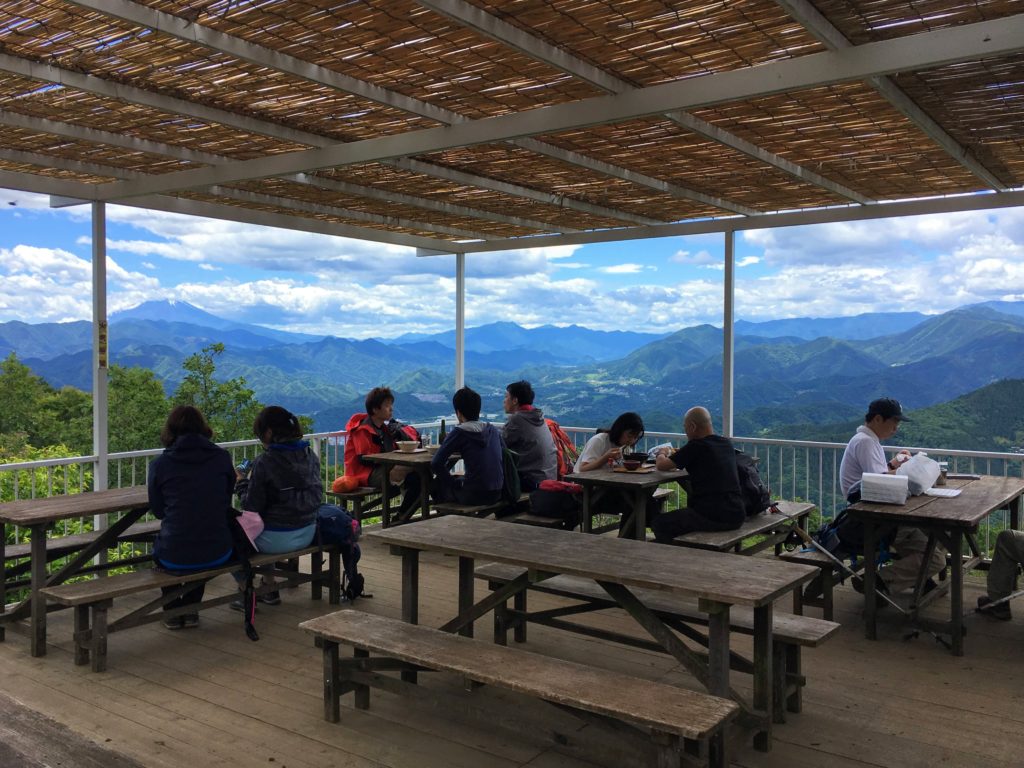 Part 2: Trek to Kagenobu Summit
From the horse statue, to get to Mt. Takao from Mt. Jinba you need to first reach Mt. Kagenobu. All signs between Mt. Jinba and Mt. Takao list Mt. Kagenobu first. This section of the trail between Mt. Jinba and Mt. Kagenobu is the easiest, because it is relatively flat and slightly downhill to reach the lower elevation Kagenobu.
On they way, you'll encounter a small rest area with another noodle and drink shop with a few chairs to rest on. The trail also splits a few times, but all paths lead to the same destination.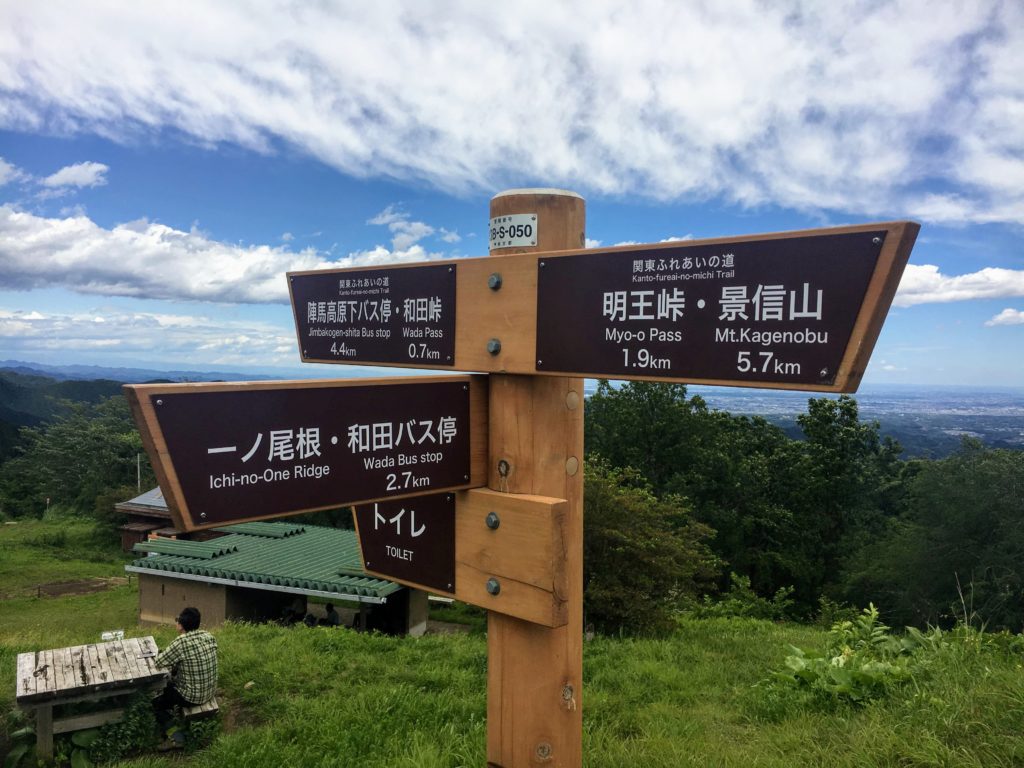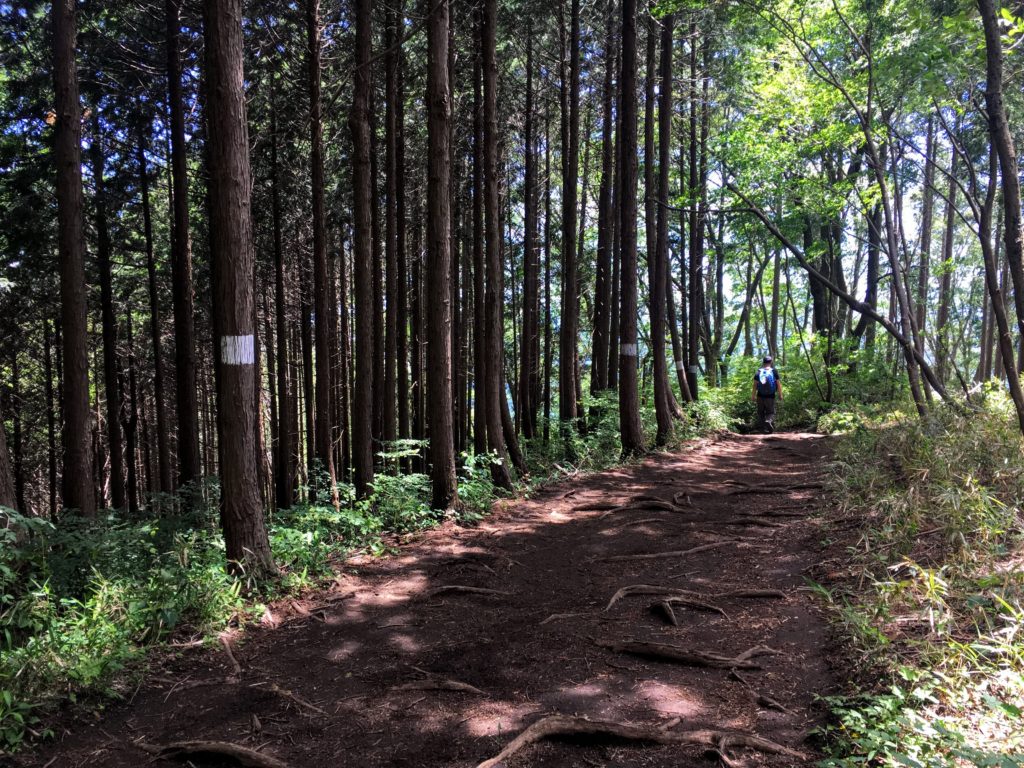 Mt. Kagenobu Summit
My favorite viewpoint and summit on the Mt. Jinba to Mt. Takao hike was this one. Mt. Kaegnobu has an amazing panorama of the Kanto plain, as well as a viewpoint of Mt. Fuji framed with trees.
Because most of the people resting here seemed to be locals, it was not crowded to take pictures of either viewpoint.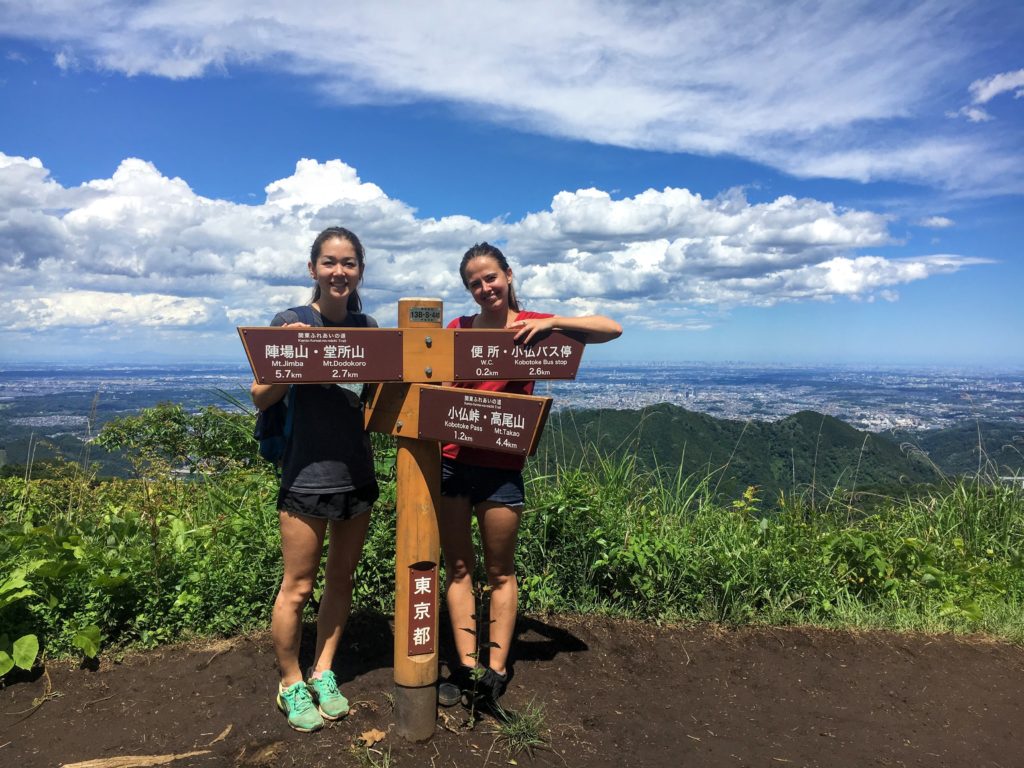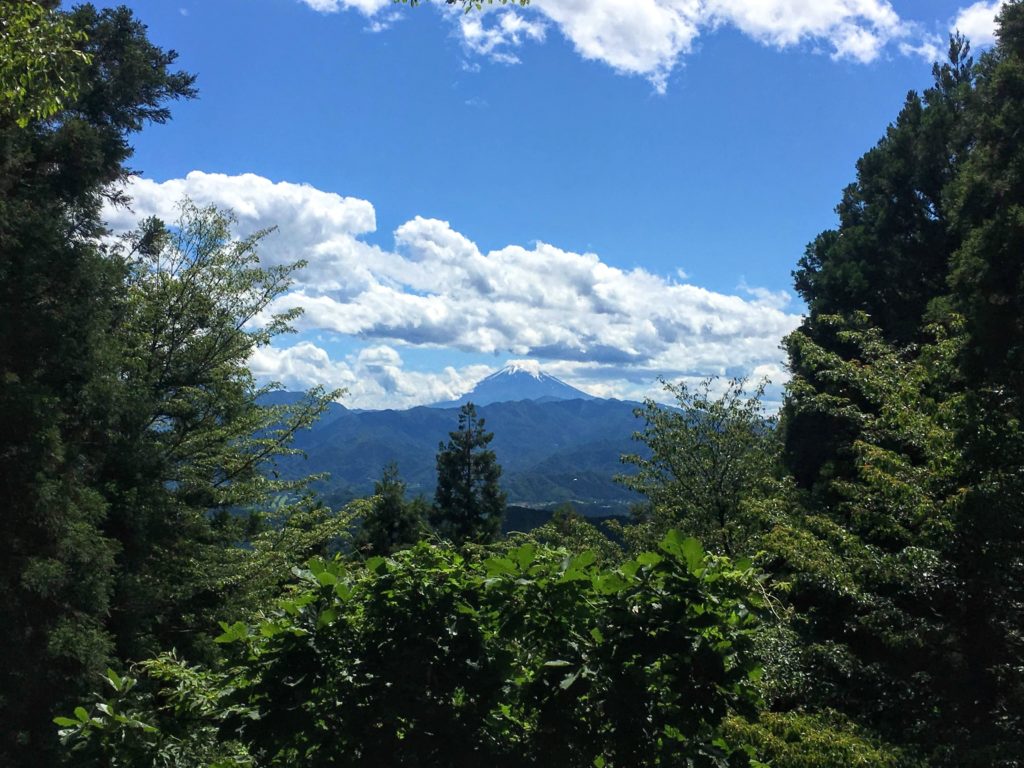 If you are trekking the Fureai no Michi, the signpost at Mt. Kagenobu is what you have to take a picture with to show you have completed this section of the trek. Read more about the Fureai no Michi and other multi-day hikes in Japan on my post here!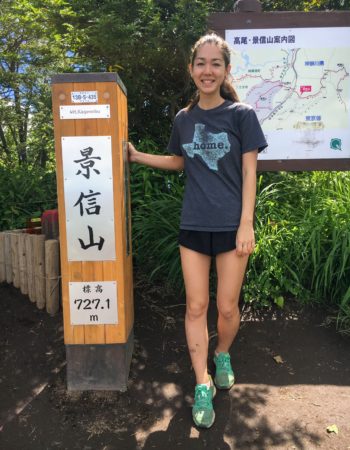 Mt. Kagenobu summit has a noodle and tempura shop, as well as the most benches in three different sections where you can have a rest and a picnic.
I was to do this hike from Mt. Jinba to Mt. Takao again, I would save having a rest until Mt. Kagenobu. There are endless benches with views of Mt. Fuji or the Kanto range, and the trek from here to Mt. Takao has a lot of ups and downs that are nice to rest before.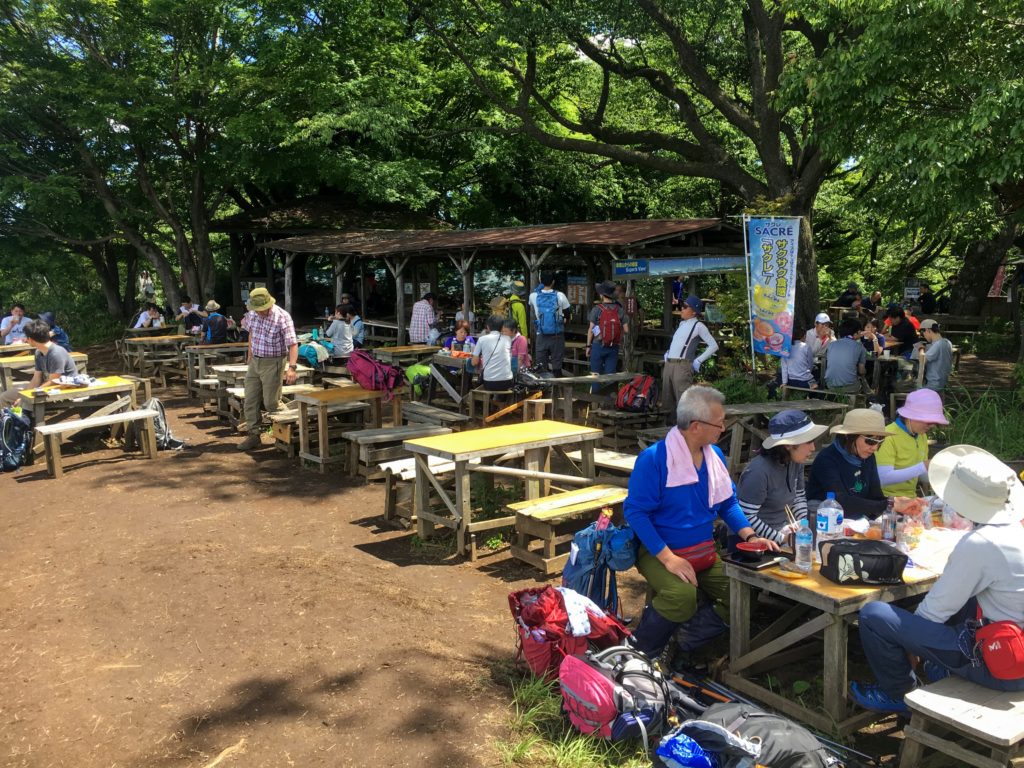 Part 3: Hike to Mt. Takao
A steep and sometimes slippery downhill starts right after leaving the Mt. Kagenobu summit. It's important to watch your step here, because many people were slipping on the loose rocks and thin layers of mud on the trail.
Similar to the section of trail between Mt. Jinba and Mt. Kagenobu, the trail splits here many times but eventually joins back together. The trails are either thin, long, and flat, or wide with steep ups and downs that cover shorter distances.
The next stop along the trail where there are facilities is at Shiroyama close to Mt. Takao, so it's a good idea to rest up at Mt. Kagenobu.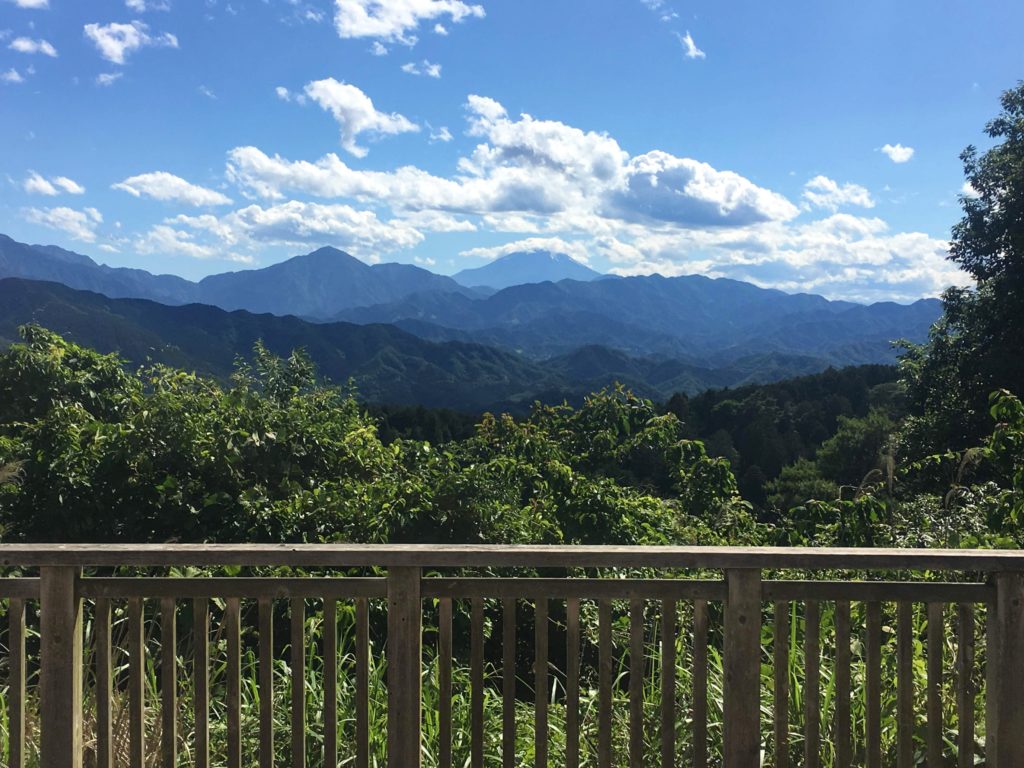 You know when you're close to reaching Mt. Takao because a wooden platform and steps have been built onto the trail. Be sure to stop at the Itcho-Daira Observation Deck, which has a great unimpeded view of Mt. Fuji, some steps to rest on, and a public restroom nearby. Just before reaching Mt. Takao you'll pass by another small noodle shop, labeled Momiji-dai on Google Maps. It's one last uphill push before reaching the summit of Mt. Takao!
Mt. Takao Summit
The first thing you'll see when reaching Mt. Takao is another viewpoint for Mt. Fuji, and this one will be crowded with people unlike all the other viewpoints on this trek.
At the summit are three restaurants where you can get (hot or cold) noodles and ice cream. Of course it wouldn't be Japan without vending machines too. There is also a small visitor's center with information about the Takao region, and where you can pick up some maps about the trails.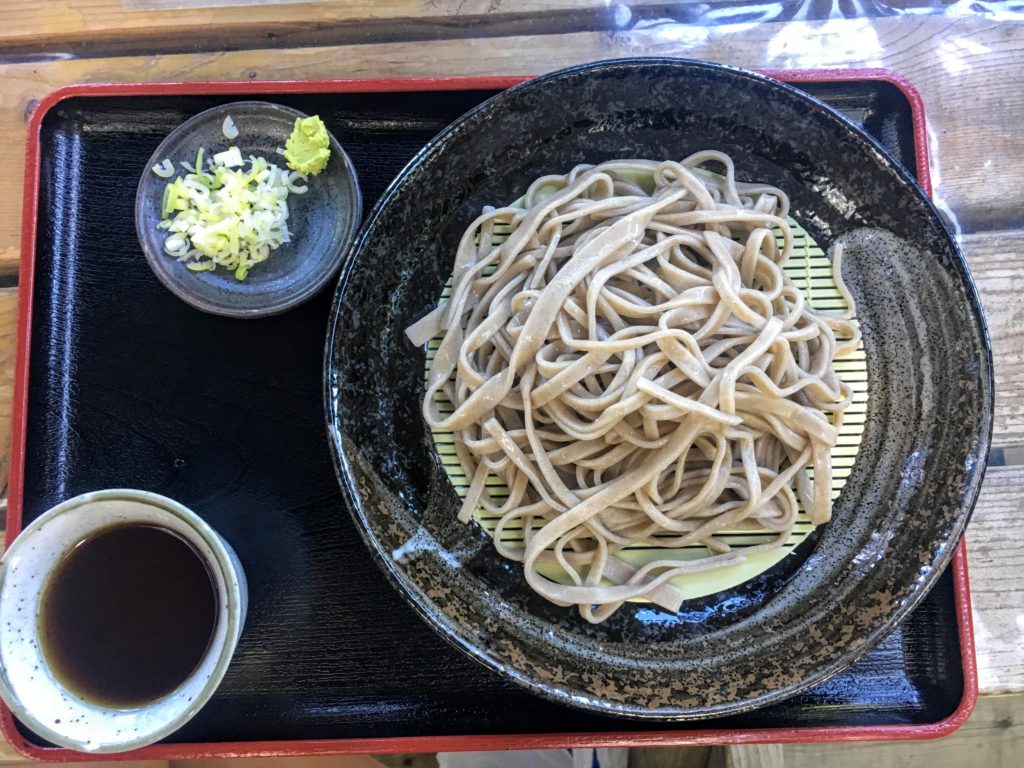 A short walk away from the summit is a large temple complex, where you can toss a coin and make a prayer, buy omikuji fortune, or buy a omamori prayer to take home.
The temples here are beautiful and traditional Chinese-style, with many ancient figures and wooden buildings.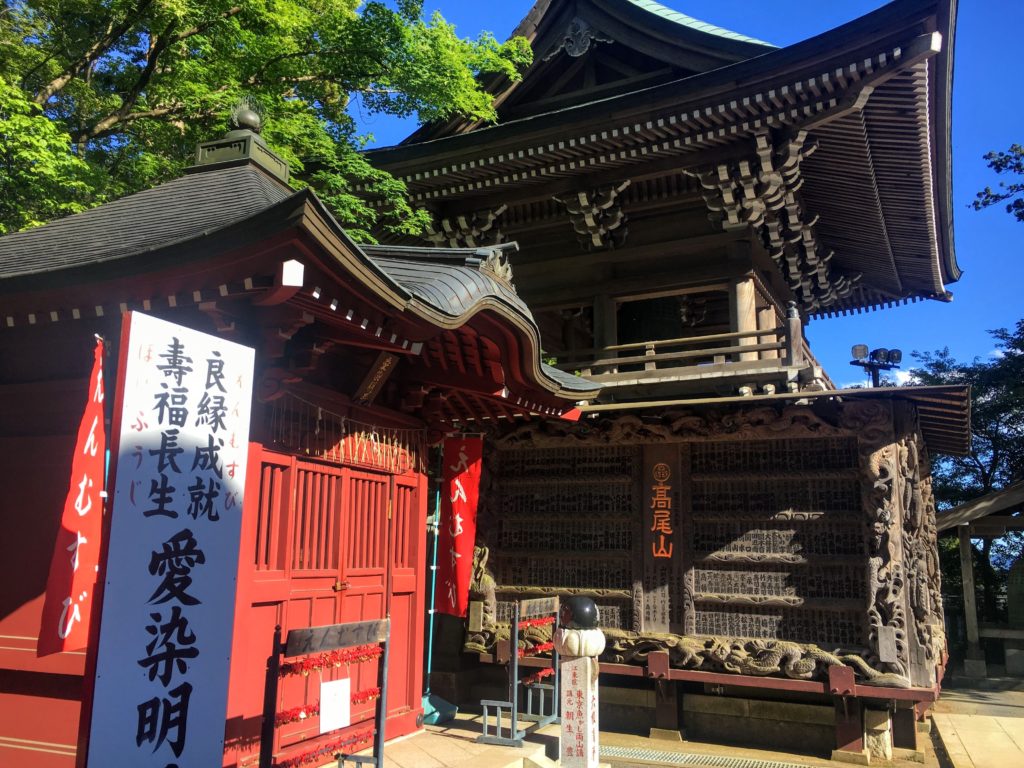 It's not far from here to where you exit the Mt. Takao area.
There are three ways to get down to Takaosanguchi station at the base of the mountain: walking, getting on a cable car, or taking the chair lift. Both the cable car and chair lift cost 490 yen per person to descend. Else it's a 2 kilometer, mostly downhill, paved road to the base of Mt. Takao. Tip: The chairlift closes at 4:30 pm SHARP, so plan accordingly.
Having started the Mt. Jinba to Mt. Takao trek at 10am, we reached Takao-san a little late and missed the last chair lift down. Many of the temple souvenir shops, and the snack shops at the base of Mt. Takao were closed by 4-4:30pm as well.
Getting Back to Tokyo from Mt. Takao
From the base of Mt. Takao, it's easy to navigate to nearby Takaosanguchi Station, which is to the left of all the souvenir shops. We were pleasantly surprised to find some buckets with scrubbing brushes outside the station for people to use. After hiking Mt. Jinba to Mt. Takao our shoes were muddy, and we could clean them off before getting on the train – only in Japan!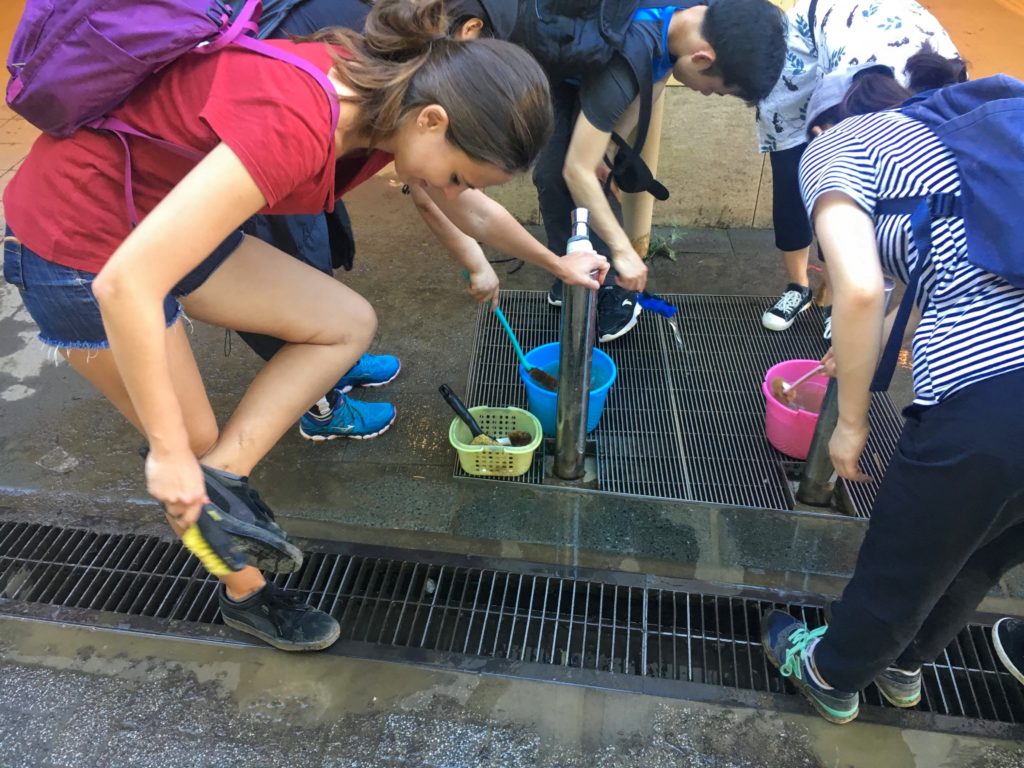 Take the Keio Express train from Takaosanguchi Station to Shinjuku Station, which costs 390 yen. Takaosanguchi is the starting station for this line, and trains depart about every 15 minutes.
Note: Trekking from Mt. Takao to Mt. Jinba (going the opposite direction)
It's entirely possible to hike starting from Mt. Takao, and ending at Mt. Jinba! The elevation profile will be the opposite, with a long and gradual incline from Mt. Takao, then a sharp decline after Mt. Jinba. I prefer hiking the opposite direction to start with less crowds, then ending at the more commercialized Mt. Takao.
Note, because the busses from Jinbakōgenshita to Takao Station only run once every hour, if you don't plan the timing of the hike correctly you could be waiting around a while at the bus station. At least you can grab some soba nearby!
Thinking about hiking Mt. Jinba to Mt. Takao? Pin this post!
Are You Prepared For Your Trip To Japan?
Be sure to check out my Japan home page for Japan travel information, insider tips, reading list, and must-haves for traveling to Japan!