Japan is home to a tiny Island of Rabbits – Okunoshima. "Rabbit island" is only 4km in circumference, easily accessible from Hiroshima, and is covered in friendly wild rabbits. Sounds like paradise, right? 
Japan's Island of Rabbits, officially Okunoshima, is an island that can be enjoyed by people of all ages. Rabbit Island is a perfect day-trip from Hiroshima, or a great stopover on a Japan backpacking itinerary between Hiroshima and Osaka. A visit to Okunoshima can even be extended to an overnight trip with accommodation right on the island!
Here's everything you need to know for your visit to the Island of Rabbits, Japan: Okunoshima.
Guide to Visiting the Island of Rabbits:
Budget for Okunoshima: At least 820 yen (~$8 USD per person)
Ferry – Adult tickets cost 620 yen round-trip 

Rabbit Food – 200 yen per bag at the port

Souvenirs and Cafe meals – Optional, budget 1000 yen per meal and 500-1500 yen for souvenirs
Time to Allocate for Okunoshima: 3-4 hours is enough time to feed the friendly rabbits and circle the island. Plan to stay longer if you want to go for a swim or have a meal at the island cafe. 
Amenities: Rabbit Island's hotel and information center has clean restrooms and is home to two cafes and a souvenir shop. There are not many places to purchase snacks and drinks on the Island of Rabbits aside from the hotel.
History of the Island of Rabbits
What happened on Okunoshima before it became Rabbit Island? The island has an interesting and dark back story, the remains of which can still be seen there today. 
Because of its isolation from the main land, Okunoshima used to be where the Japanese Imperial Army produced poison gas to use as a weapon of war.
Similar to Area 51 in the U.S., the top-secret status of the poison gas production site meant that dying workers exposed to the gas were not able to receive adequate treatment.
On Rabbit Island there are still ruins of old army outposts, poison gas storage buildings, and a poison gas factory that has been turned into a museum. When coming to feed the Okunoshima rabbits, be sure to check out abandoned, ivy-covered poison gas buildings as well!
How to Get to Rabbit Island
The Island of Rabbits in Japan can only be reached by ferry. The ferry to Okunoshima leaves from near Tadano-Umi station on mainland.
How to get to Rabbit Island from Hiroshima
From Hiroshima Station, if you have the JR Pass you can use the shinkansen bullet train to reach Mihara Station. Without the shinkansen you can also take the JR Sanyo line from Hiroshima direct to Mihara. Change at Mihara Station to the JR Kure line, which will take you to Tadano-Umi Station.
How to get to Rabbit Island from Osaka
Take the shinkasen bullet train headed south, and get off at Mihara station. Change here to the JR Kure Line, to Tadano-Umi Station. It takes about 4 hours one-way, even with the bullet train, so consider finding accommodation on Rabbit Island for the night, or visit Okunoshima on the way to Hiroshima. 
How to get to Rabbit Island from Tokyo
Even with the shinkansen, it takes a whopping 6 hours to reach the Island of Rabbits from Tokyo. Take the shinkansen to Fukuyama Station, where you'll transfer to the JR Sanyo Line until Mihara Station. From here, change to the JR Kure line to Tadano-Umi Station. Leave Tokyo early and keep an eye on the ferry to Okunoshima schedule so you don't get stuck on Okunoshima.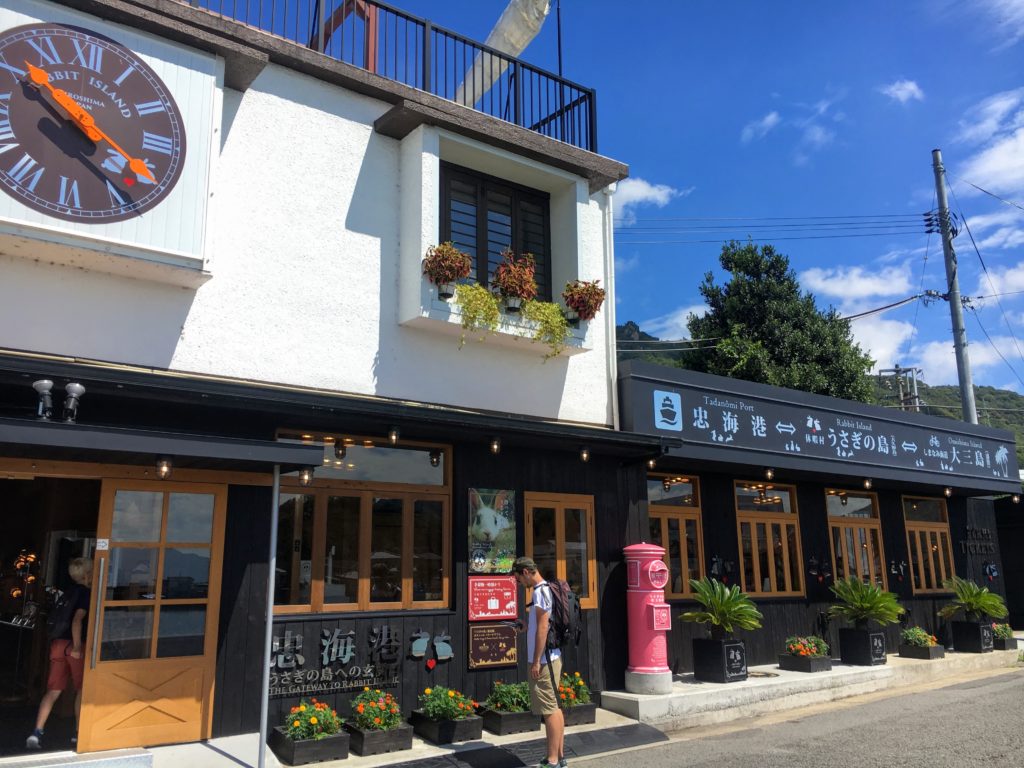 From Tadano-Umi station it takes about 7-8 minutes on foot to reach the ferry port. Take this extra time into account when planning which ferry/train combo to take to Rabbit Island.
The cafe across the street from the port is where you can purchase tickets for the ferry to Okunoshima. Either purchase tickets at the register, or use the ticket vending machine.
Ferry to Okunoshima Schedule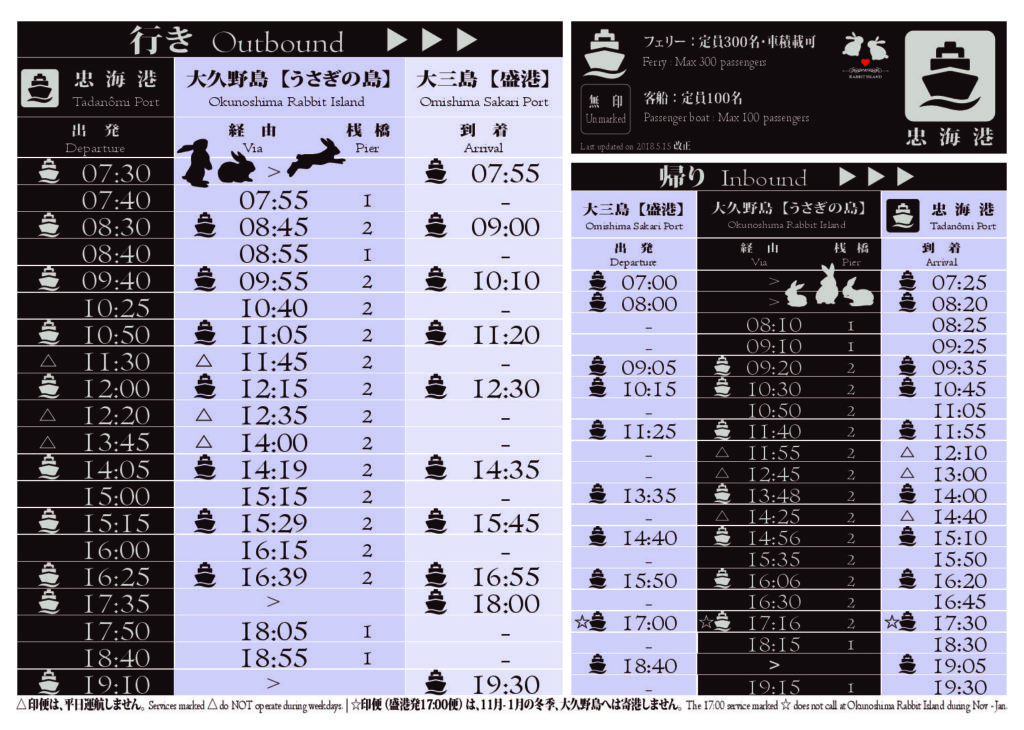 Tip: Buy Rabbit Food for Rabbit Island at the Port, Tadano-Umi!
If you're wondering where to buy rabbit food for your trip to the Island of Rabbits, there's only one place you can: Tadano-Umi Port. On Okunoshima island, there are no places to buy rabbit food. 
An important tip for visiting Japan's Rabbit Island is to purchase rabbit food in Tadano-Umi, before you get on the ferry to Okunoshima. 
Each bag of Okunoshima rabbit food costs 200 yen from the port's cafe. When you return the empty bag to the cafe, you will receive a free rabbit postcard.
Luggage Check Options at Rabbit Island
I visited Rabbit Island on a stopover between Hiroshima and Naoshima, on my Japan backpacking trip with the Seishun 18 Kippu. I had to leave my big bag somewhere so I wouldn't have to carry it around all day! 
The cafe at the port in Tadano-Umi has a luggage service, 500 yen (~$5 USD) per item. Ask the employees there to keep it behind their desk for you, and you get a numbered tag in return. 
After the ferry to Okunoshima, you can also check your luggage at the gift shop at Port 2 on Okunoshima island. A small number of coin lockers are available at a first-come, first-served. Small, backpack-sized lockers are 300 yen, while larger lockers are 500 yen.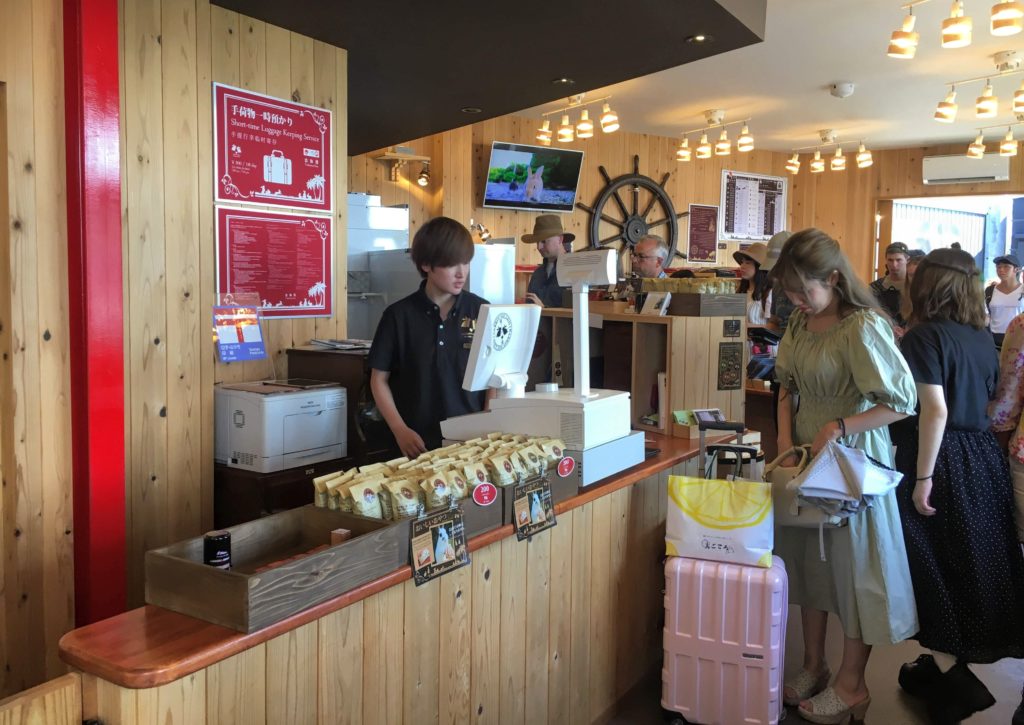 Rabbit Island Accommodation
Want to spend more time in Okunoshima, Japan? There are two options for accommodation on Rabbit Island. 
Stay at the Kyukamura Okunoshima Hotel and Resort, the comfortable option for Rabbit Island accommodation
Reserve a camp site to stay on the south side of Okunoshima. You'll be spending a lot of time with the rabbits if you opt for this accommodation on Rabbit Island, because the rabbits LOVE to hang out here where there is free-flowing water and plenty of shade.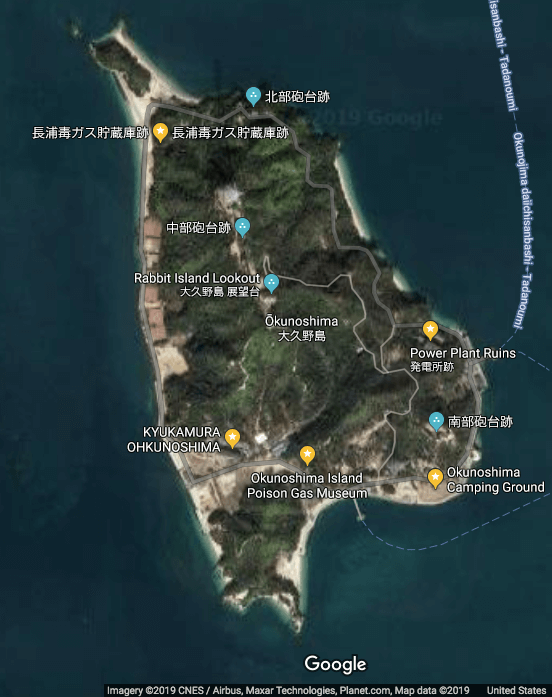 Okunoshima, Japan Ultimate Guide
Rules for Visiting Japan's Island of Rabbits:
Before you reach Rabbit Island, it is reiterated in the ferry ride that rabbits are fragile creatures. There are rules in place to protect them, yourself, and the nature that Okunoshima is famous for.
Do not feed the rabbits any human food – It is bad for rabbits to eat things like bread and sweets, and not all vegetables are healthy for them either. It's best to stick to feeding them the little rabbit nibbles that you can buy in bags at the Tadanoumi cafe.
Do not pick up the rabbits – these rabbits are technically wild creatures, and may panic and injure itself or you if you try to pick them up. When I visited, many rabbits were nervous about me petting their heads and backs, although they would eat happily out of the palm of my hand.
Do not feed the rabbits that are next to the road – this encourages them to stay where they may get injured. You can bring your car to the island on the larger ferries, so there are a few cars, a shuttle bus, and many bicycles on the roads. 
No littering – it's best to bring any trash off of the island with you. Try not to put unnecessary pressure on Rabbit Island's waste disposal services, or risk trash ending up in rabbit stomachs.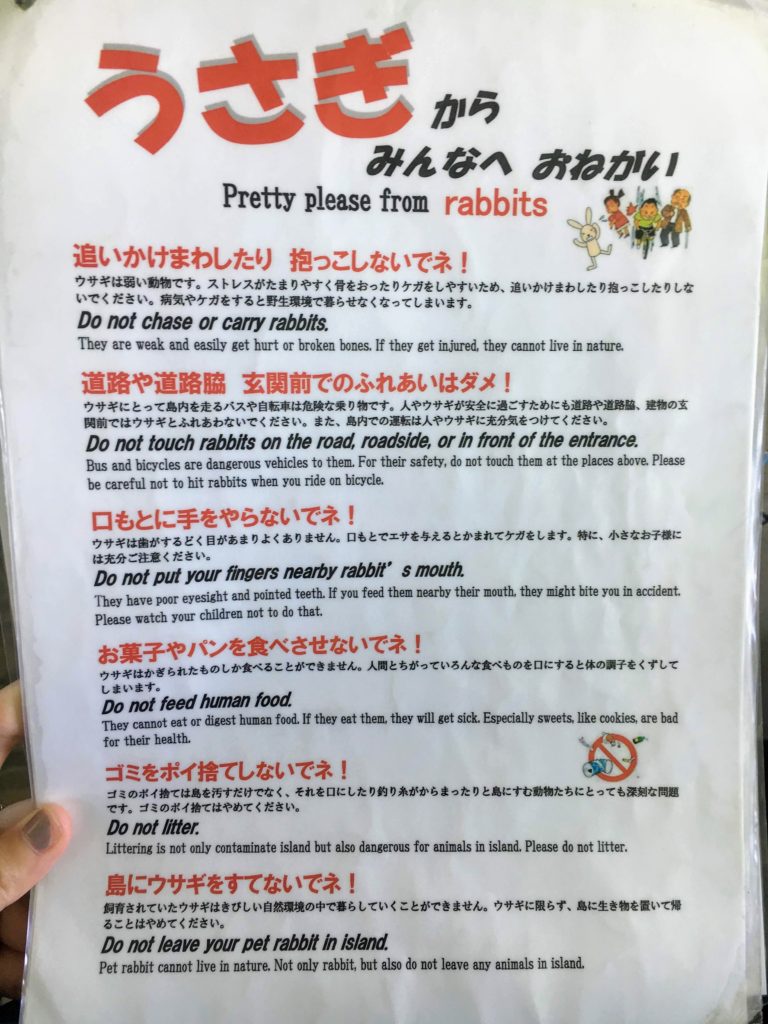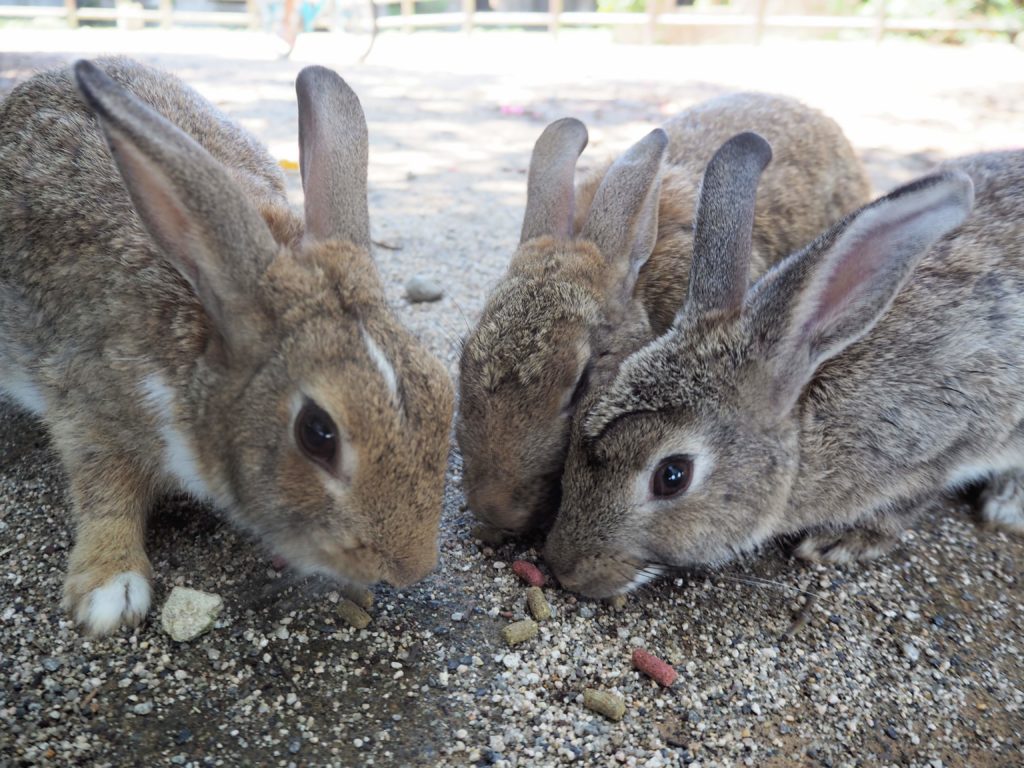 How Much Time to Spend on Rabbit Island?
I spent just under four hours on the Island of Rabbits. I arrived on the 10:00am ferry and left on the 1:50pm ferry back to Tadano-Umi. This was enough time for me to circle the island on foot, see the poison gas ruins, and spend some time feeding rabbits.
If you have less time to spend on Okunoshima, rent a bike to circle the island. Many bikes are available to rent on Okunoshima from the main hotel, rabbit island's only accommodation. If you want to spend more time here, I recommend bringing a picnic basket and a swimsuit so you can splash around at the beach!
Below are some things to do on the Island of Rabbits, including where to spend your time on the island, and the best places to feed the rabbits.
Things to do on the Island of Rabbits
1. Go Swimming at the Beaches or Pool
I had no idea before coming to Rabbit Island that there were nice beaches here, and even a public swimming pool! The locals knew though, and Rabbit Island seemed to be a perfect family destination to spend time in the warm island waters.
The public swimming pool is near to the hotel on Okunoshima. The main beach is also walking distance from the hotel, and is located near Port 1 (see the Rabbit Island map above) and the camping grounds. On the north side of the island, past the tennis courts, is a quieter, more secluded beach with many stone steps leading in to the water.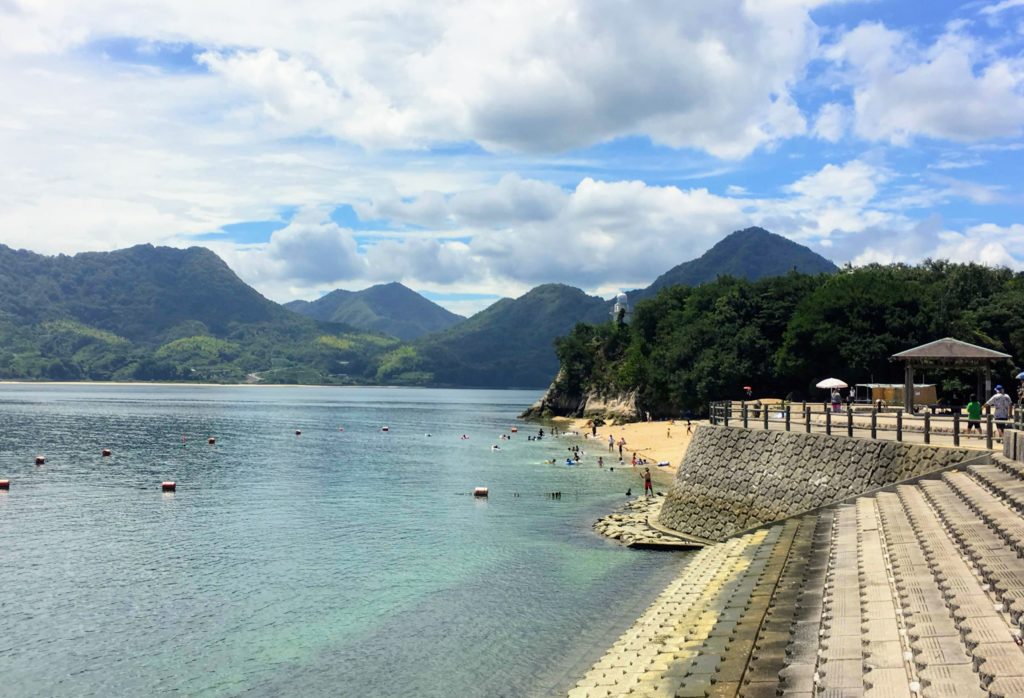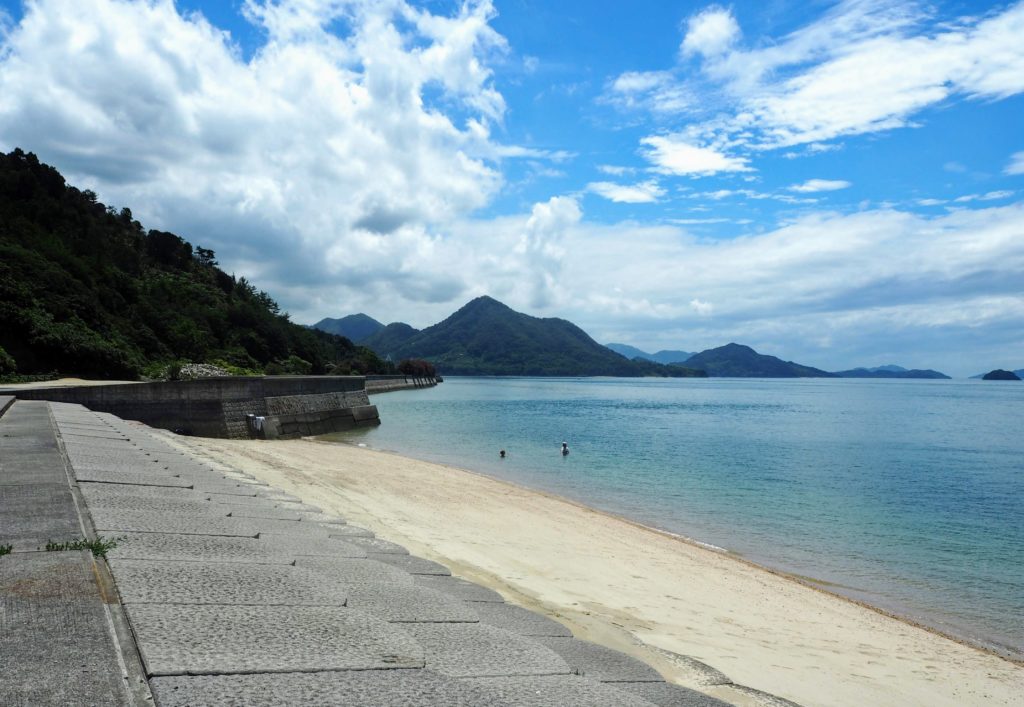 2. Visit the Poison Gas Museum
Okunoshima has a dark history of being home to a poison gas factory. The Japanese Imperial Army went to great lengths to keep Okunoshima hidden, so they could carry out production of poison gas for warfare. The thousands of tons of gas produced here included mustard gas, phosgene, and more. 
The poison gas museum is a reminder of the Okunoshima's dark history in the years leading up to the end of World War II. Inside, you can find artifacts that were used to produce poison gas on Okunoshima, and the clothes that workers wore to handle the gas. Viewer discretion is advised for some of the photographs showing effects of poison gas on the human body. 
Most of the small museum is in Japanese, however you can receive and English pamphlet upon paying for entry.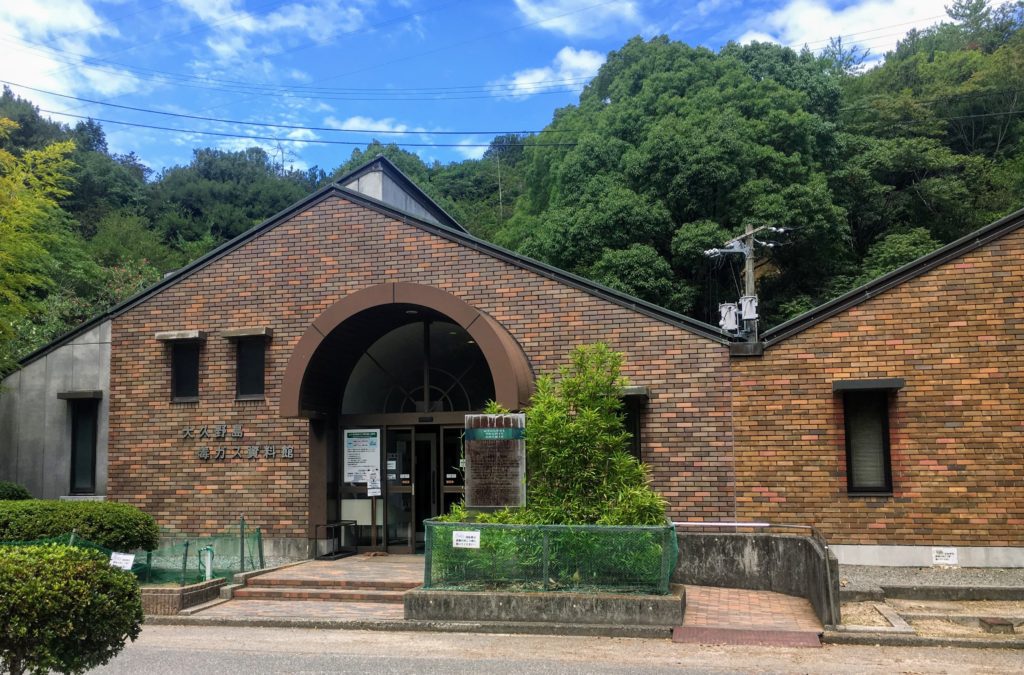 3. Discover Poison Gas Ruins around the Island
After Japan's surrender in World War II, the poison gas factories, storage buildings, and army posts on Okunoshima were dismantled and abandoned. Today, it is still possible to see the ruins scattered around the island. Grab a map of Okunoshima upon arrival at the main hotel so you know where to find the ruins.  
Buildings include a large ivy-covered power plant, many gas storage facilities, army barracks, and more.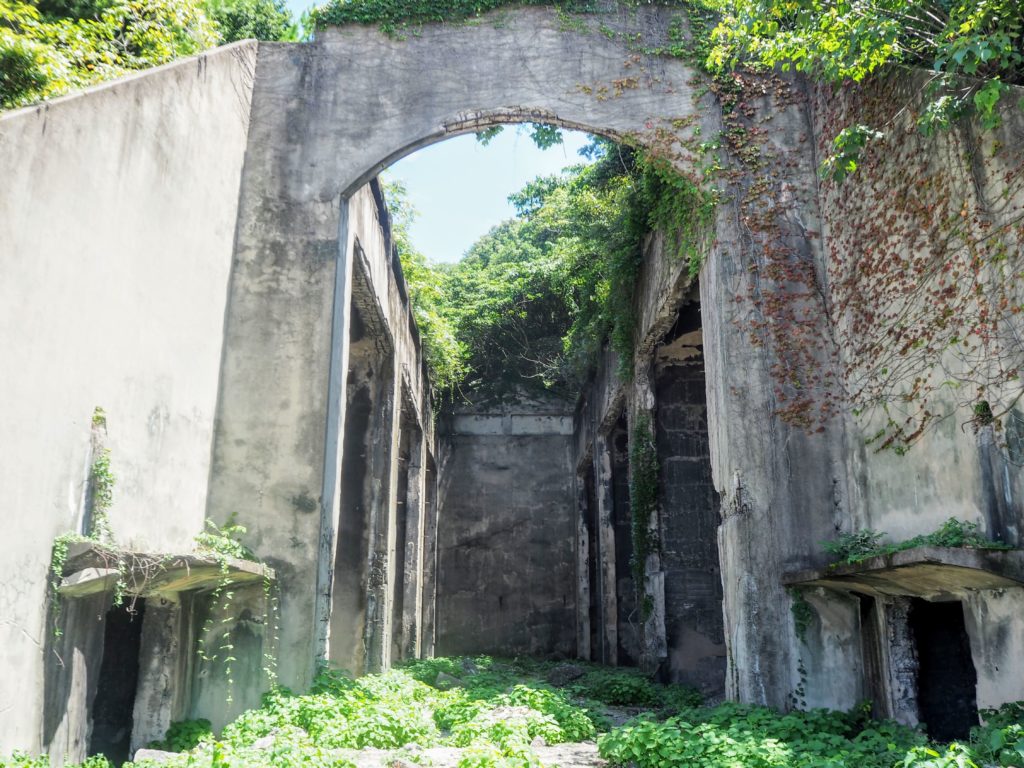 4. Camp During the Day or Overnight
The Island of Rabbits has a large campground area overlooking the water. To use the grounds requires reservations in advance, but you can freely walk around and use the picnic areas. 
The lawn that the tents are set up on is soft and flat, and there are many rabbits that hang out in this area too. Facilities include BBQ pits, running water, and a great view over the ocean and neighboring islands. There is an attached parking lot for cars and a public bathhouse you can pay to use.
Reserve your camp spot in advance here.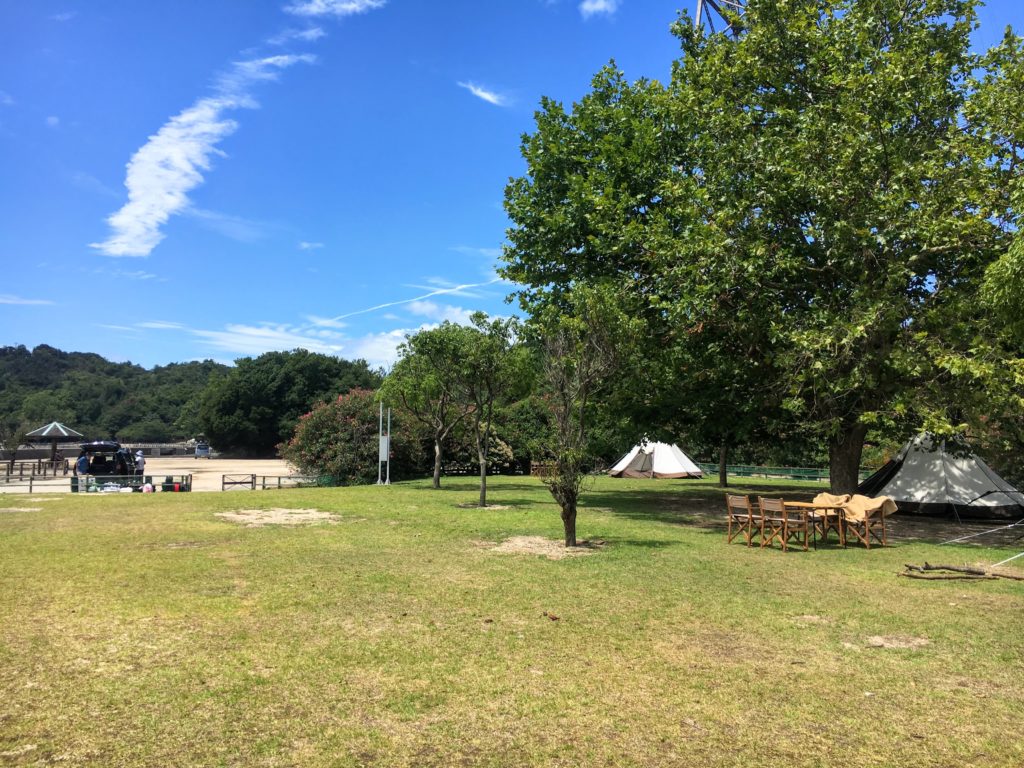 5. Rent a Bicycle to Circle Rabbit Island
There are countless bicycles available for rent from the main hotel for 600-800 yen per day, including kids bikes. If you rent a bike to get around, you could spend as little as 2 hours on the island and see everything. 
The road that wraps around the Island of Rabbits is only 4km (see Okunoshima map above), and is wide and safe for bikers. There are some hilly parts that are covered by a tree canopy on the far side of the island. There are a few trails, such as to the lighthouse, that are not accessible by bicycle. 
Be sure to watch for rabbits on the road!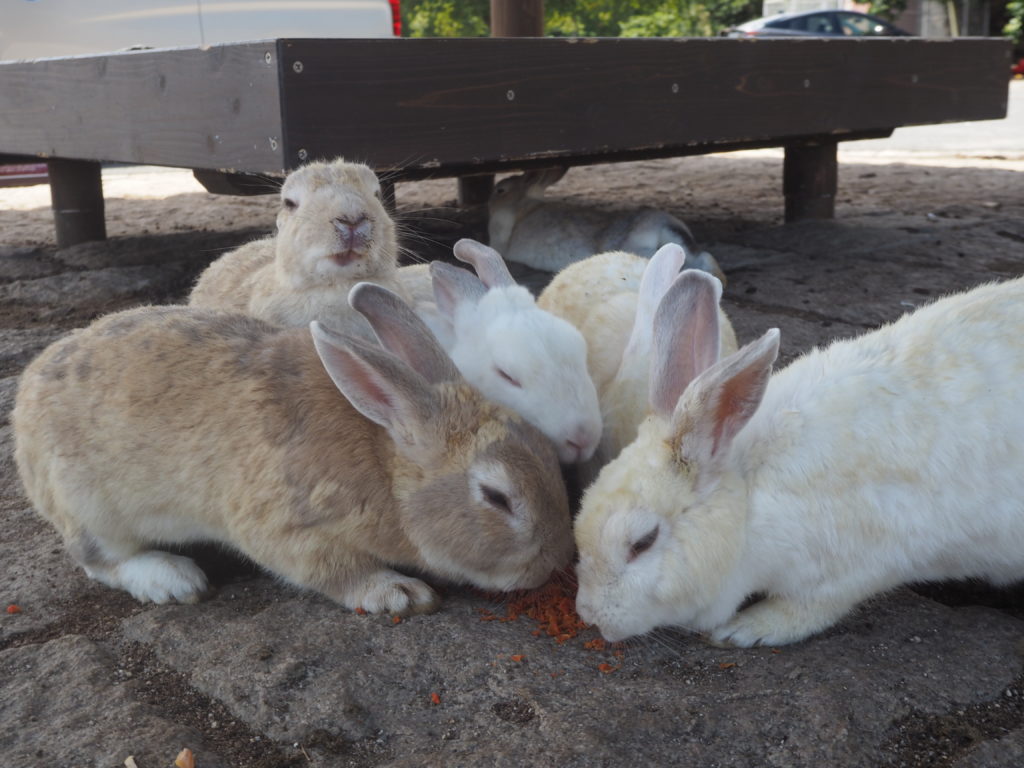 6. Lunch and Shop at the Rabbit Island Hotel
The only place you can get (human) food on Okunoshima is at the main Rabbit Island accommodation, the Kyukamura Okunoshima Hotel and Resort. You can stop by for coffee, ice cream, small finger food, and meals for about ¥900-¥1500 from their cafe, or have a larger meal at their restaurant. 
There is also an attached small souvenir shop, where you can buy things like rabbit keychains, stuffed animal rabbits, handkerchiefs, and more. Popular gifts with Japanese visitors include boxes of cookies and sweets with rabbit pictures on them! 
Half-Day Itinerary for the Island of Rabbits in Japan:
10:13 – Arrive to Tadano-Umi station from Mihara Station. Buy rabbit food at the cafe and round-trip ferry tickets for 620 yen.
10:25 – Depart on the ferry to Okunoshima
10:40 – Arrive on Okunoshima. Take the free shuttle bus to the Kyukamura hotel. Grab an Okunoshima map from the hotel. Start walking counter-clockwise around the island.
10:50 – Visit the Poison Gas Museum
11:00 – Circle the island while finding spots to feed rabbits. Examples include the shrine near the beach, and under the wooden walkway at the campground. 
12:00 – Discover the many ruins on the north side of the island: Army barracks, poison gas storage buildings, and more. 
12:30 – Return to the hotel area and walk the small trails around the lighthouse.
13:00 – Relax at the gift shop and cafe, then take a free shuttle bus or start walking to Port 2.
13:48  – Take the ferry back to Tadano-Umi port and station 
Total Time: 4 hours
Total Budget: 820 yen (620 for ferry tickets, 200 for one bag of rabbit food)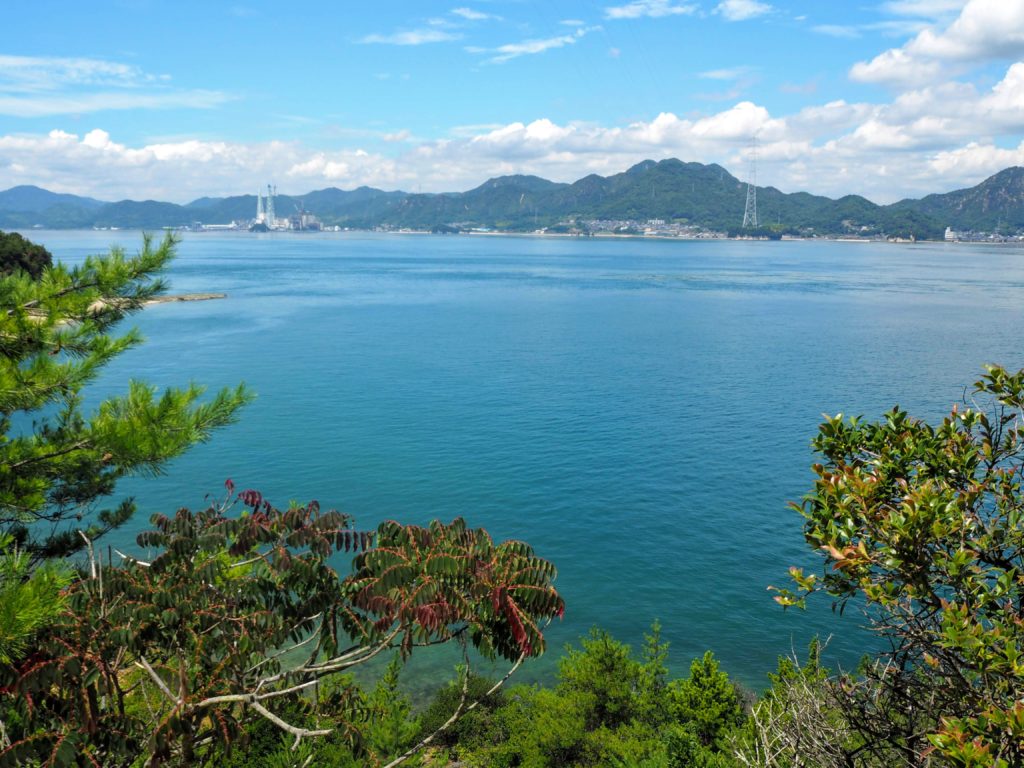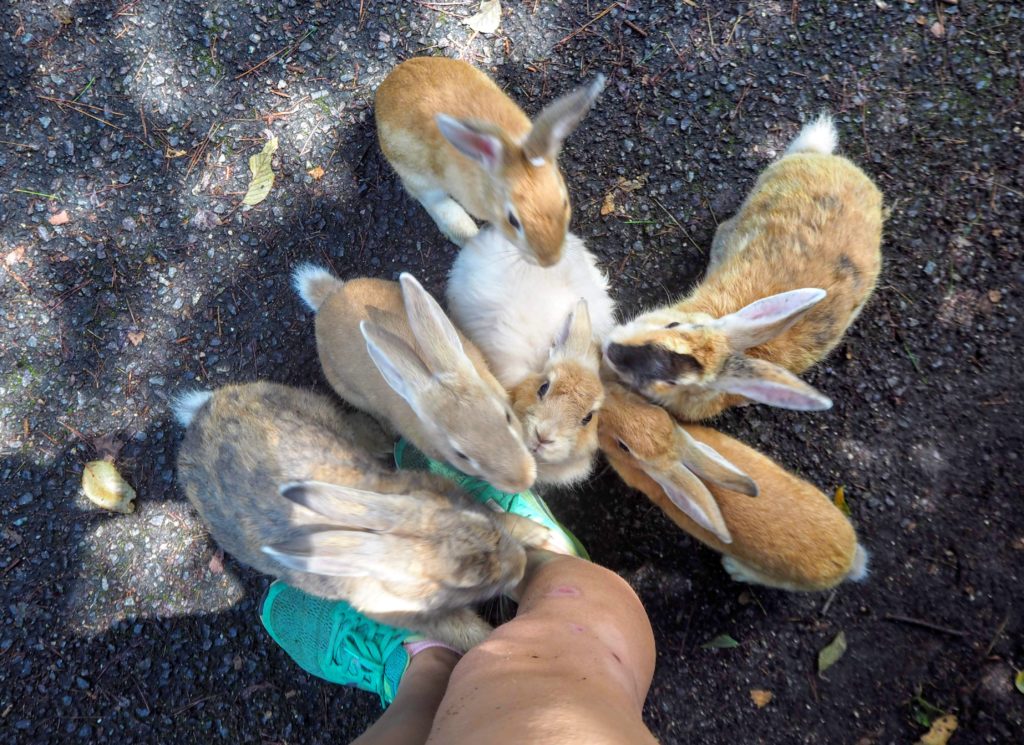 Like this Island of Rabbits Guide?
Pin This Post!
Are You Prepared For Your Trip To Japan?
Be sure to check out my Japan home page for Japan travel information, insider tips, reading list, and must-haves for traveling to Japan!