Naoshima, one of the Art Islands in central Japan, is the perfect place to spend a day between Hiroshima and Osaka during your Japan itinerary. Not only can you experience laid-back island life, but you can also explore the many museums and sculptures during your Naoshima one-day itinerary.
You may even recognize some famous art pieces, like Yayoi Kusama's pumpkins!
Because of its small size, it's possible to get everywhere in Naoshima on foot or by bike. During one day in Naoshima, you can see all the highlights of Japan's art island.
Note: Almost every museum on Naoshima is closed on Mondays. Do not visit Naoshima on a Monday!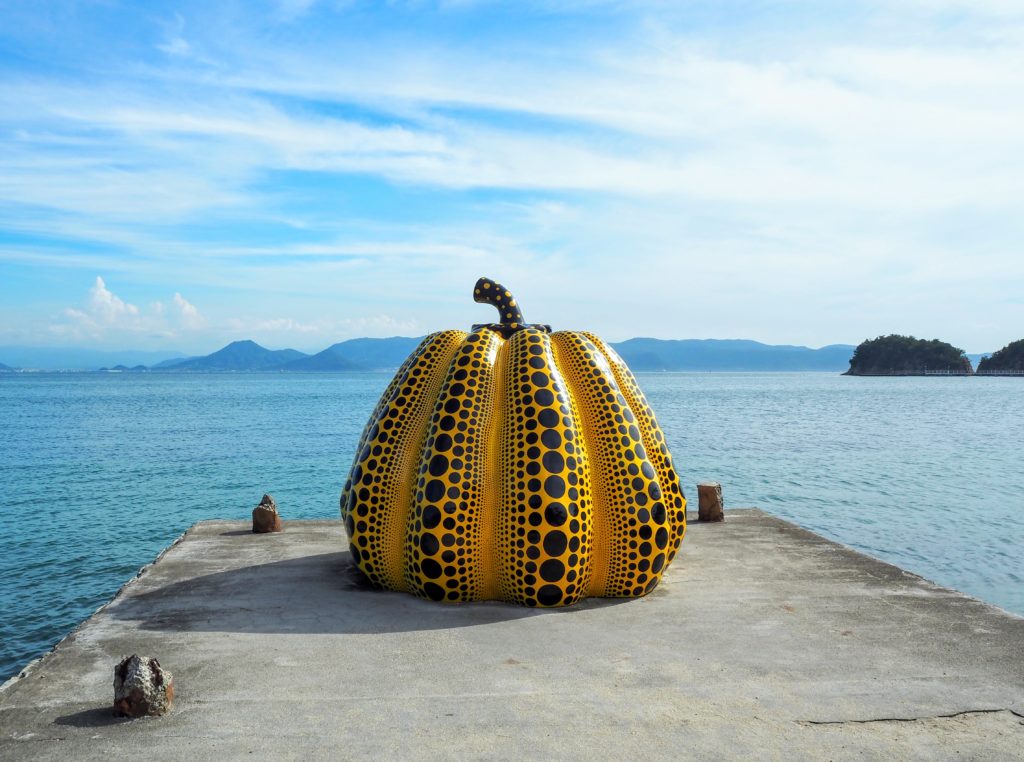 How To Get To Naoshima
Take the ferry from Uno Port to reach Naoshima to start your one day in Naoshima itinerary. Although the ferry is not covered by the JR Pass, the trains to reach Uno Port from Okayama are all JR local trains.
Okayama is between Hiroshima and Osaka, so you can take the shinkansen from either city to Okayama Station. From there, take the Uno JR line to Uno Station. If you are traveling with the Seisshun 18 Kippu, you can take the JR Sanyo trains until Okayama Station.
From Uno station, walk straight out of the station exit towards the shore until you see a building with a red sign – this is where the Naoshima ferry tickets are sold.
Naoshima Island's Miyanoura vs Honmura Port
From Uno, ferries to Naoshima's Miyanoura Port depart about once every hour, and ferries to Naoshima's smaller Honmura Port depart five times per day. The last ferry to Miyanoura is at 20:25, and the last ferry to Honmura is at 18:35. See the full schedule for both ports here.
Be sure to check before you depart, which Naoshima port is closer to your accommodation (it takes about 20-30 minutes to walk from one port to the other.)
If you stay in Uno instead of on Naoshima, the ferries run frequently enough that you can easily do a Naoshima one-day trip.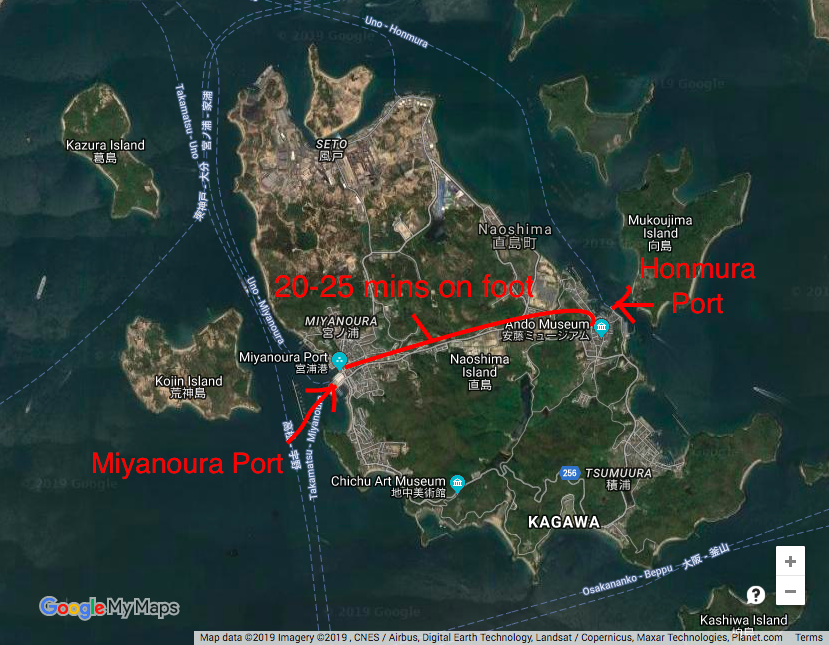 If you have time to kill before your Naoshima ferry, admire some of the artwork around Uno port and Uno JR Station.
There is also a very useful information center. Here, you can purchase Setouchi Triennale passbooks and schedule some museum visits that need reservations made in advance. They also have many helpful pamphlets about Naoshima and the surrounding Art Islands.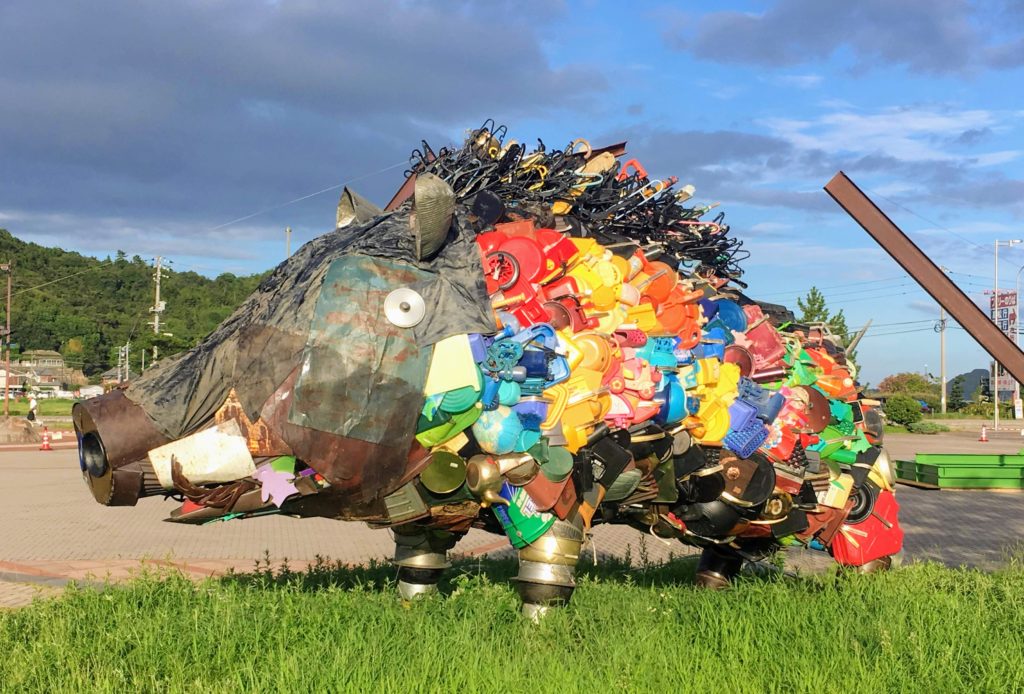 A little bit of Studio Ghibli in this sculpture?
Naoshima Accommodation – Where To Stay For Your One Day in Naoshima Itinerary
Naoshima is a small enough island that staying in any neighborhood will give you a great experience. You'll feel like you're living in Japan from 50 years ago. Traditional island life on Naoshima means living in well-preserved Japanese-style homes. Expect to sleep on a futon in a gorgeous tatami room!
Some Naoshima accommodation has a touch of the artsy twist that comes with living on an Art Island too. Some options include:
To stay in a hostel with dorm rooms during your Naoshima itinerary, check out Naoshima Backpacker's Guesthouse or Bamboo Village.
The most sought-after Naoshima accommodation is the Bennesse House, which is part-museum, part-hotel. It's difficult to get a room even when booking months in advance, and room rates start at $260 per night for two – Check availability for the Bennesse House here.
Tip: For the same price that you pay for a room on Naoshima, you can get something much more luxurious at nearby Uno or Takamatsu. The only downside is you have to catch a ferry in the morning, and you're not living on the Art Island. (Although I do have my eye on this trailer hotel on the Uno port!)
Naoshima Luggage Storage for a one day itinerary
At Naoshima's Miyanoura port, there are many lockers of different sizes where you can store your luggage during your Naoshima one-day itinerary. Naoshima luggage storage costs ¥200, ¥300, or ¥500 yen depending on the size of your bag.
The information center, as well as the nearby TVC Service business, provides luggage storage on Naoshima at a set ¥500 per item per day.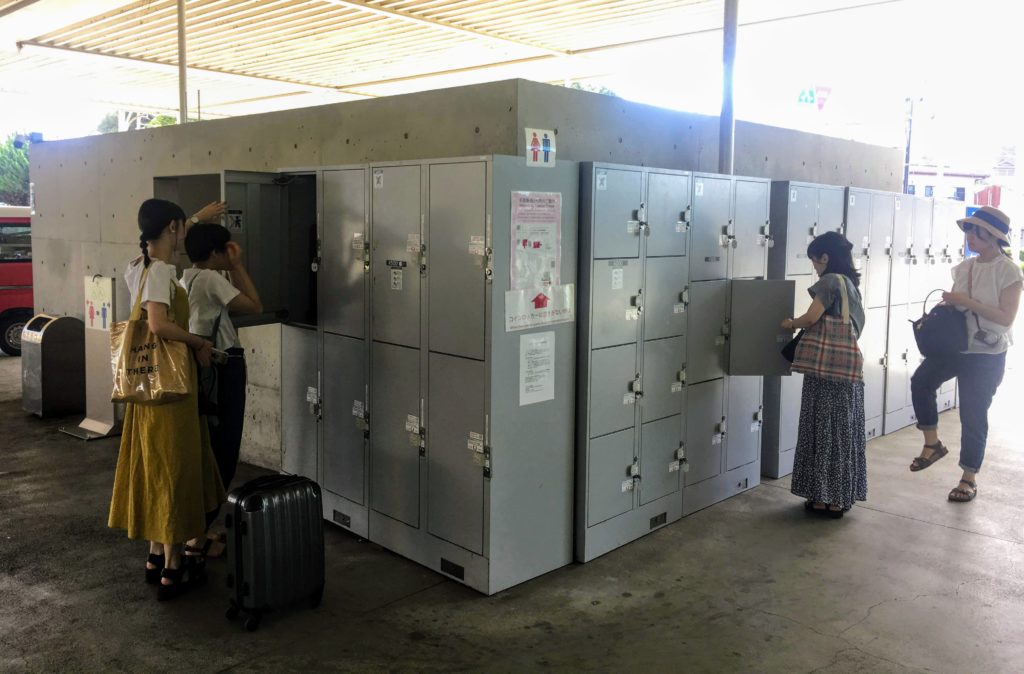 Planning Your Naoshima One Day Itinerary – What To Book In Advance
There are two museums on Naoshima that you have to reserve tickets in advance if you want to visit them. You cannot purchase tickets at the door.
The two Naoshima museums you have book in advance for your one day on Naoshima are:
Chichu Art Museum, home to some of Monet's Water Lillies collection. Credit card required.
Kinza Art House, one of the Naoshima Art House Project houses where only one person can enter at a time, for 15 minutes.
See my Naoshima one-day itinerary below, before estimating what time you should reserve a ticket to each of these museums.
Tip: If you fail to book tickets for Chichu Museum in advance like me, you can still walk by their beautiful garden in front of the museum!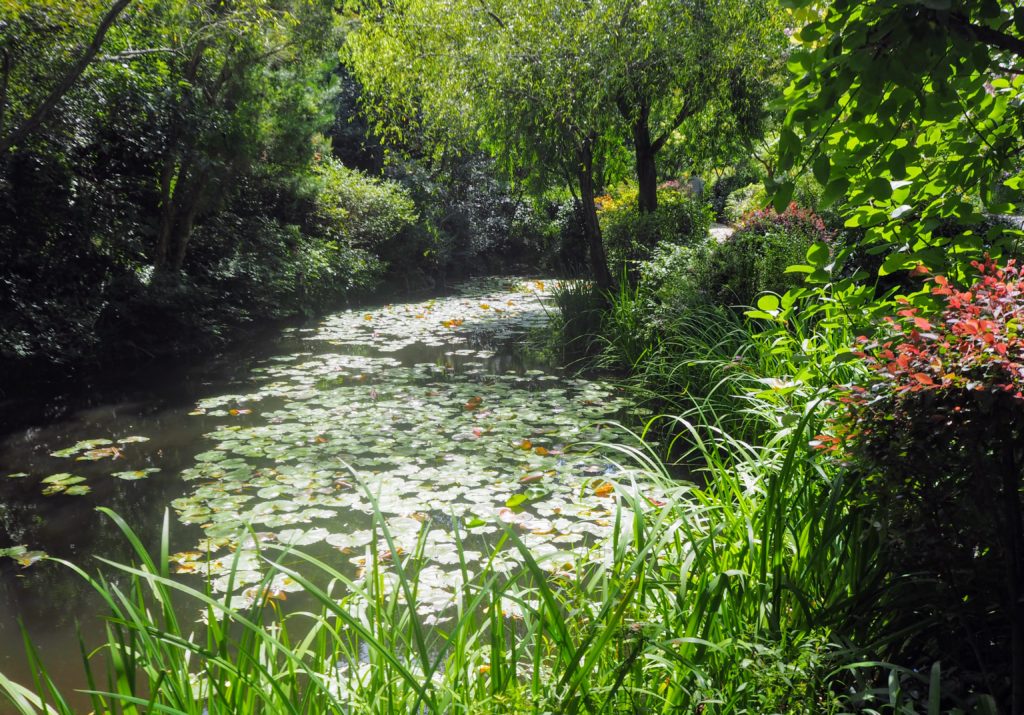 Naoshima One-Day Itinerary: Getting Around Naoshima
There are three main ways to get around Naoshima: bus, bicycle, and on foot. Since Naoshima is a small island and the museums are located in clusters, it's possible to see everything in your Naoshima one-day itinerary, even when going around on foot.
Getting Around Naoshima By Bus
Busses are adorable yet infrequent on Naoshima, so it's best to keep a schedule on you. There are two different busses that run on Naoshima, the Benesse House Area Free Shuttle Bus, and the Town bus.
The free Benesse House Area bus runs only between the Tsutsuji-so terminal station next to the beach, and the three art museums up the hill: Benesse House Museum, Lee Ufan Museum, and the Chichu Art Museum. Busses depart about every 30 minutes besides an hour-long break between noon and 1 p.m.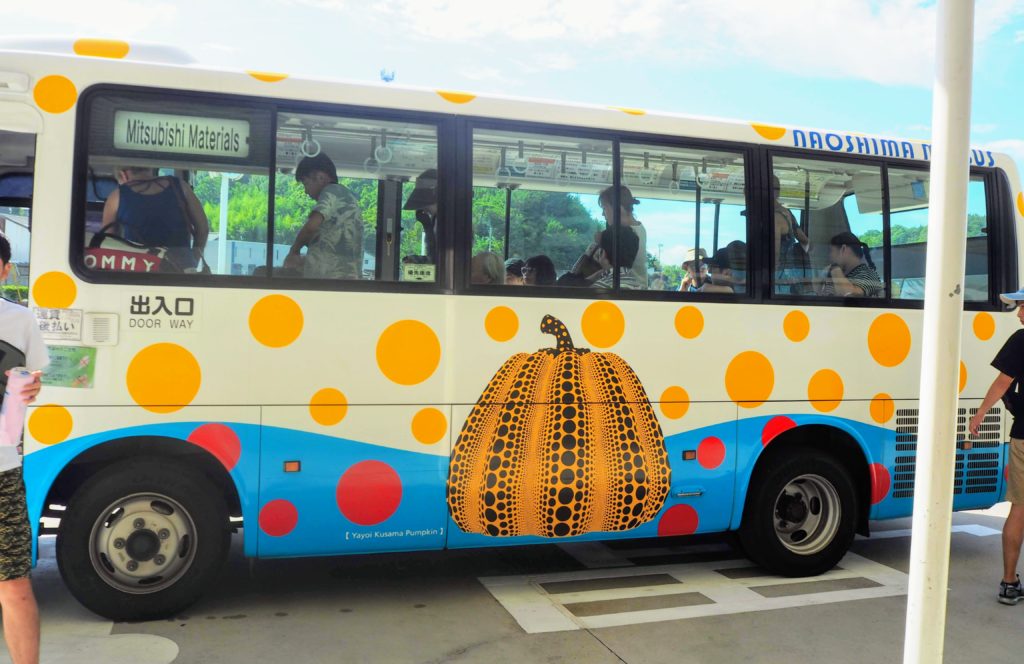 Naoshima One-Day Itinerary: Renting a Bicycle
If you want to get around by bicycle instead of relying on Naoshima's bus system, it's best to reserve a bicycle in advance too. Businesses where you can book your bicycle include:
TVC Service (+81-87-892-3212)
Little Plum (+81-80-1906-3751)
Ohgiya Bicycle rental (+81-90-3189-0471)
Yuunagi (+81-87-892-3046)
Naoshima bicycle rentals are a standard ¥500 per day. You can also look into getting an electric bicycle for ¥1500 per day. Since you have to call to reserve a bicycle, it's best to ask you accommodation to help you arrange this, prior to your day in Naoshima.
Note: I was able to see everything I wanted to during my Naoshima one-day itinerary without a bicycle. I took some busses, but was able to see much of the island on foot.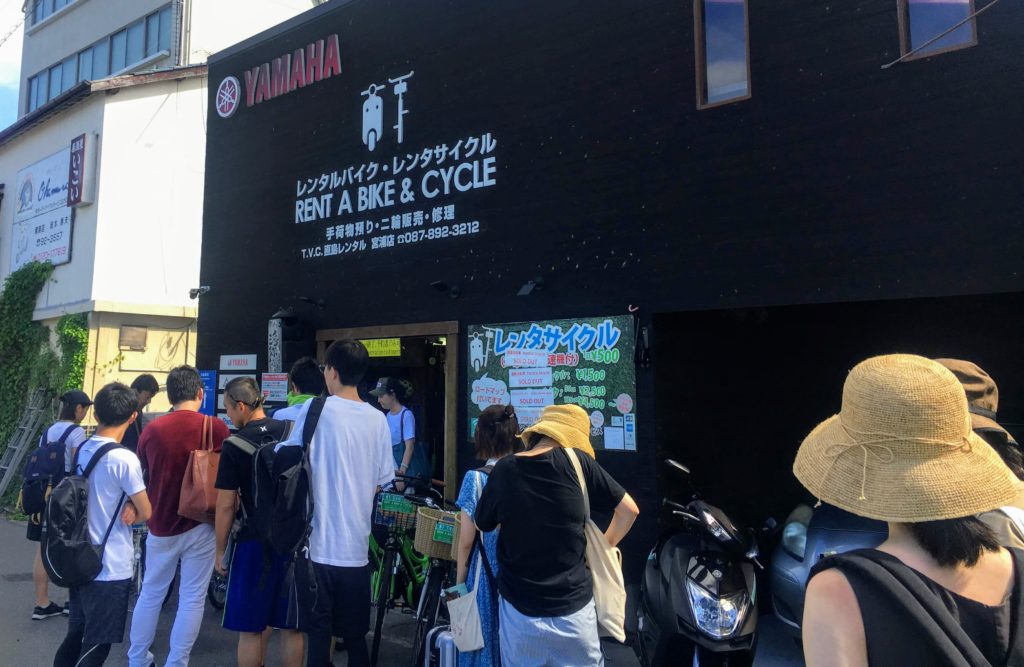 One-Day in Naoshima Itinerary
Overview: How to Spend One Day in Naoshima
Morning – Museum Area (2.5-3 hours)
Lunch – Honmura Area (1 hour)
Afternoon – Honmura Area and Art House Projects (2.5-3 hours)
Late Afternoon – Miyanoura (1 hour) optional visit to bathhouse (1 hour)
Evening – Take ferry to next destination (Teshima, Shodoshima, etc).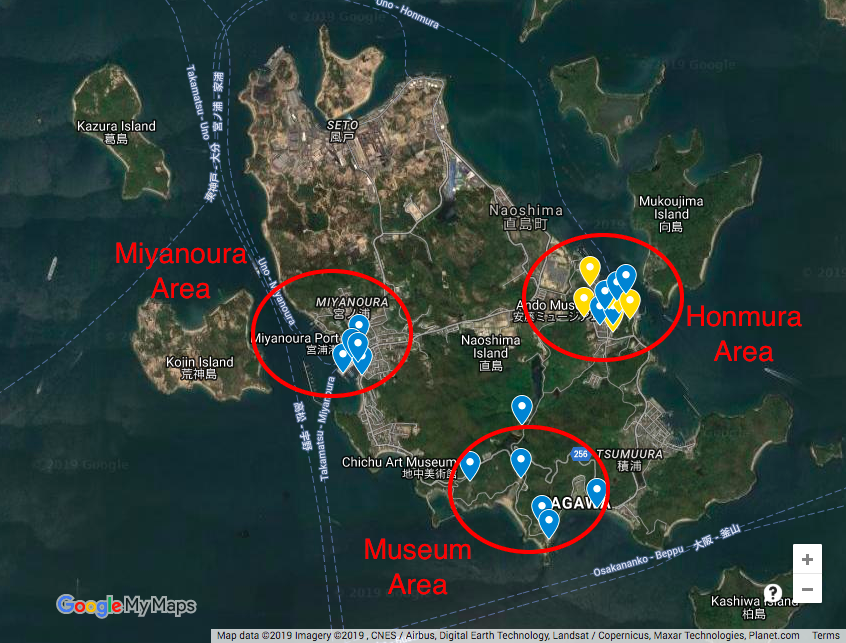 Morning – Museum Area (2.5-3 hours)
To start your one day in Naoshima itinerary, head to the Museum area, home to the Benesse House Museum, Lee Ufan Museum, and Chichu Art Museum.
To reach Naoshima's Museum area from Miyanoura or Honmura, you can take the Town Bus from either port to its terminal station, Tsutsuji-so, then take the free shuttle to its terminus, the Chichi Art Museum. The Town bus costs ¥100 per adult and ¥50 per child, which is paid in exact change upon exiting the bus.
See the full Naoshima bus schedule here.
A snapshot of the morning bus schedules is below:

Take the bus to its terminus, the Chichu Art Museum (reserve a ticket in advance for based on the bus and ferry schedule). If you didn't manage to get tickets to the Chichu Museum, it's possible to get off the bus at the Lee Ufan Museum.
All three museums in this area are within walking distance, and between the Lee Ufan Museum and Benesse House there are many sculptures to admire also. The entry fee for each museum is the following:
Chichu Museum (must buy tickets online in advance) – ¥2,060
Lee Ufan Museum – ¥1,030
Benesse House – ¥1,030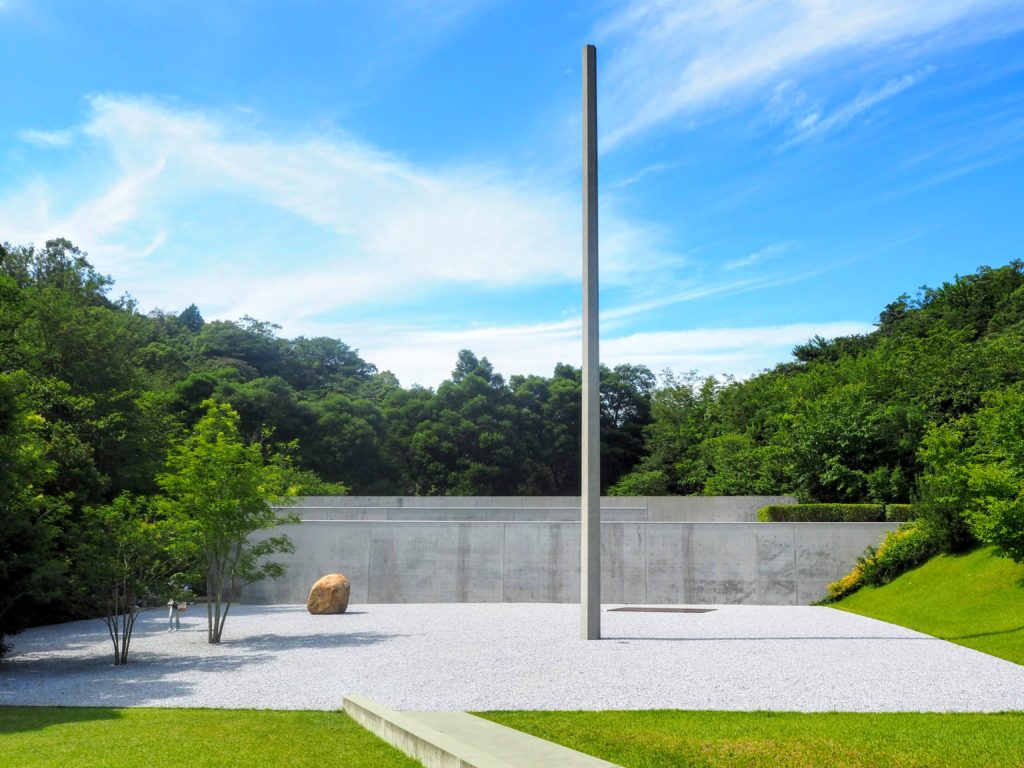 After visiting the Benesse House during your Naoshima one-day itinerary, go down to the shore to visit Yayoi Kusama's yellow pumpkin!
A small beach is near Naoshima's famous pumpkin where you can spend time in the water or on the floating dock. A few facilities surround the beach, like coin-operated showers, a gift shop, and a small cafe.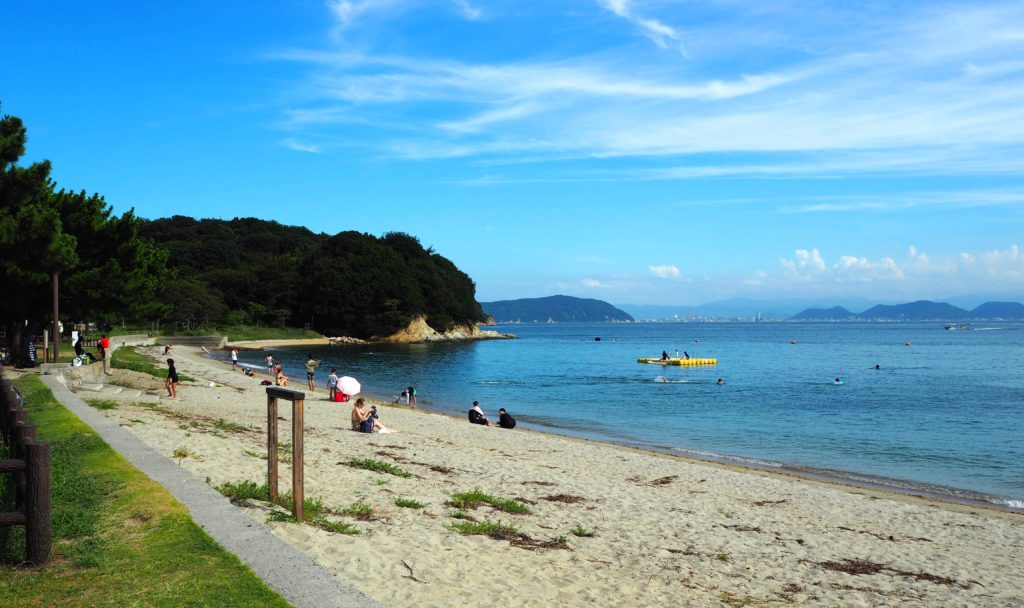 Lunch – Honmura (1 hour)
From Tsutsuji-so, take the Town Bus back to Honmura (or walk for about 40 minutes) to continue your Naoshima one-day itinerary.
Honmura is where most of the action is on Naoshima. It's home to many quirky restaurants and cafes, and has the largest gift shop inside the "Lounge & Archive" information center. It's also where all of the Naoshima Art House Projects are located, seven different traditional homes that were converted into art spaces.
Check out quirky konichiwa cafe for a quick bite and a drink, or sit down for a meal at highly-rated Cafe Salon Naka-Oku, or aisunao.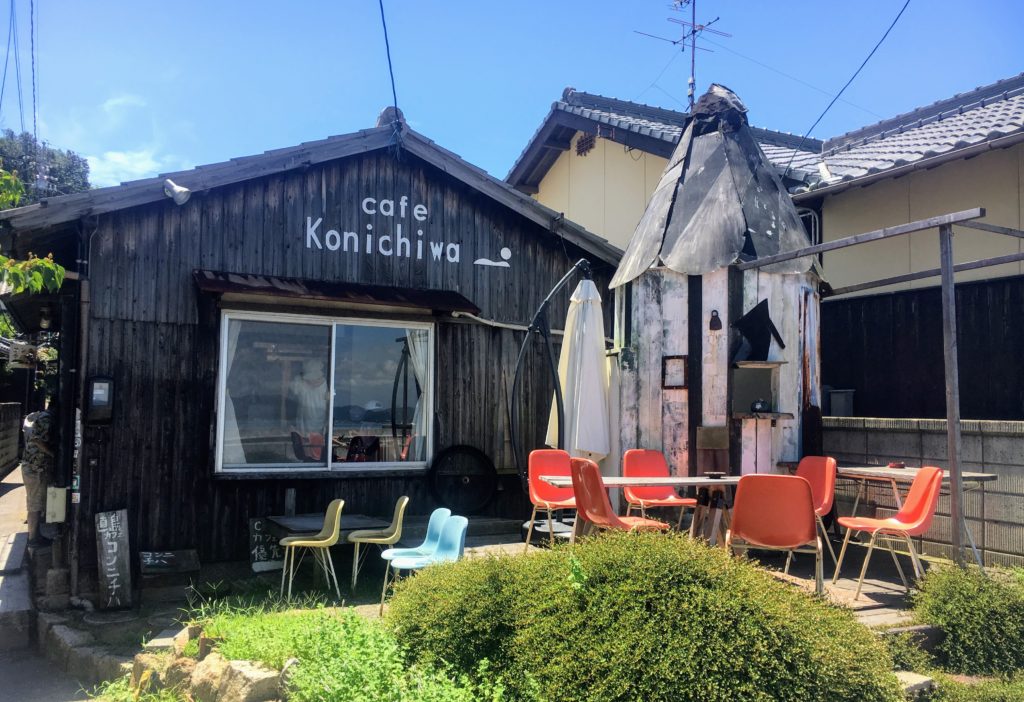 Afternoon – Honmura Port and Naoshima Art House Projects (2.5-3 hours)
There are many places to explore on the Honmura side of Naoshima island. The highlights are the following:
The Art House Project is a collection of seven old or abandoned residential houses that were transformed into art spaces. They embody what Naoshima itself is about: combining "traditional" with "modern." Each Art House Project is completely different from the next, and it's worth visiting all of them. Tickets to all arthouses costs ¥1030 ($9.50 USD) and can be purchased at the Honmura Lounge & Archive (this excludes Kinza which is reserved and paid for separately).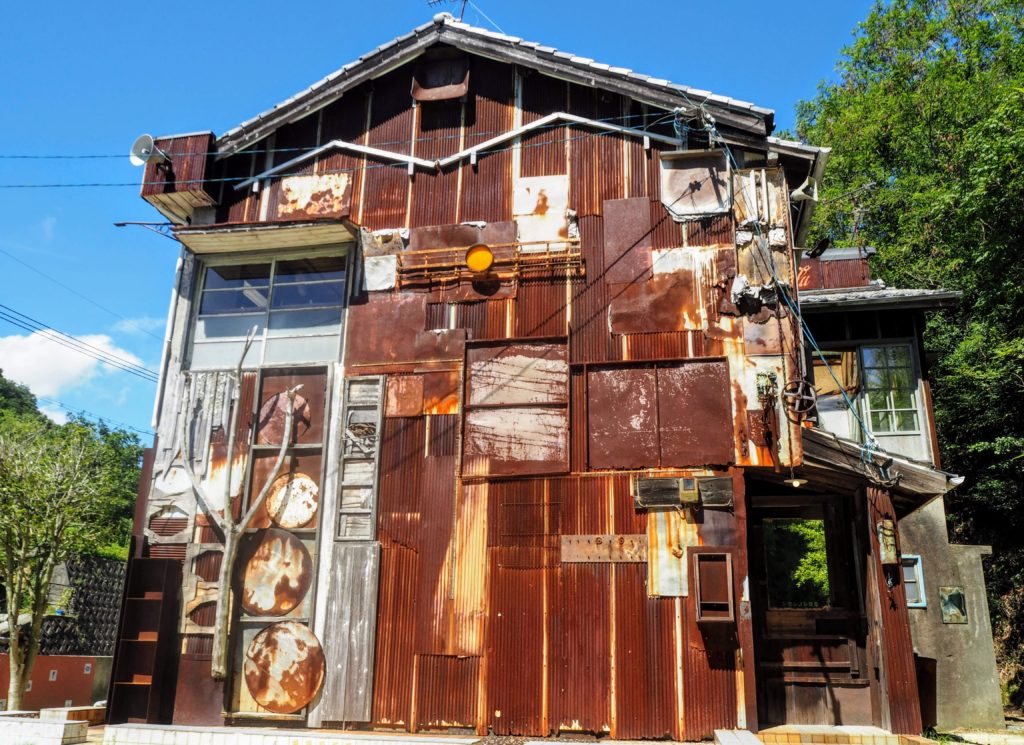 The ANDO MUSEUM is a popular museum celebrating Tadao Ando, which is located inside a 100-year-old Japanese home. The inside has been transformed with thick concrete walls and divided into chambers. Exhibits showcase the history of Naoshima and the work of Tadao Ando. Tickets are ¥510 per person and can be bought at the door.
The Honmura Lounge & Archives is a great place to relax and unwind, or get some gift shopping done. There are many facilities here including couches, books, and a bathroom to take a break from admiring art and architecture.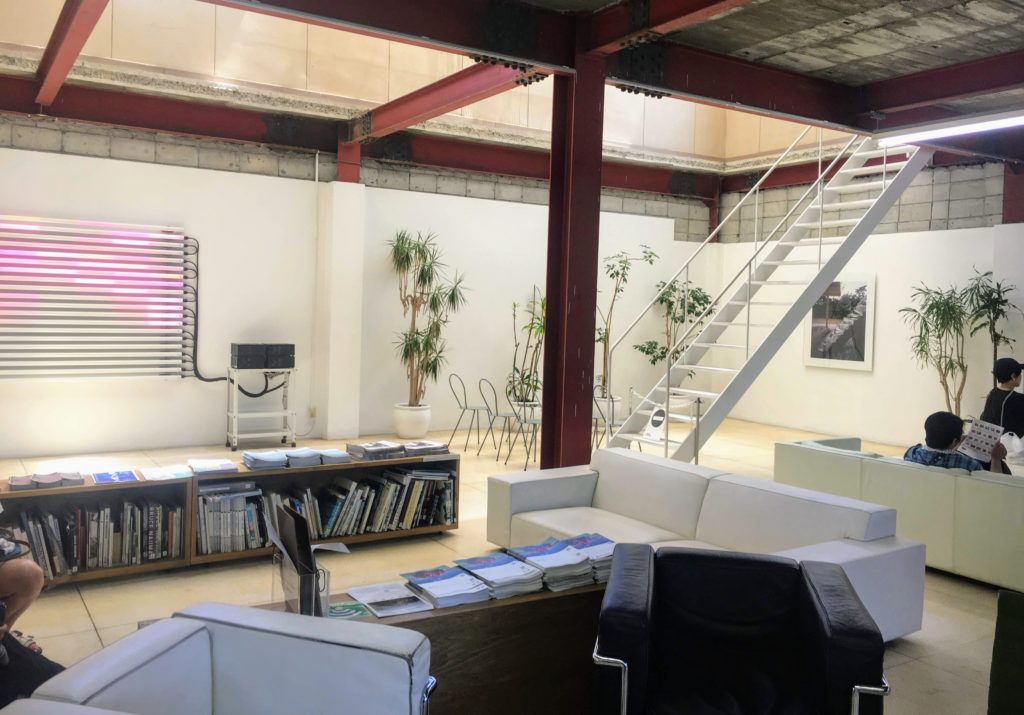 The Naoshima Plan 2019 水 (symbol for water) was one of my favorite museums because in the heat of the summer, I could dip my feet in the cool water there. It also included a beautiful Japanese garden, a traditional home interior, and visitors were free to take pictures.
Naoshima Hall is a community space for the locals on the island. It's free to enter and have a look around the large space and gardens that are used for theater and other performances.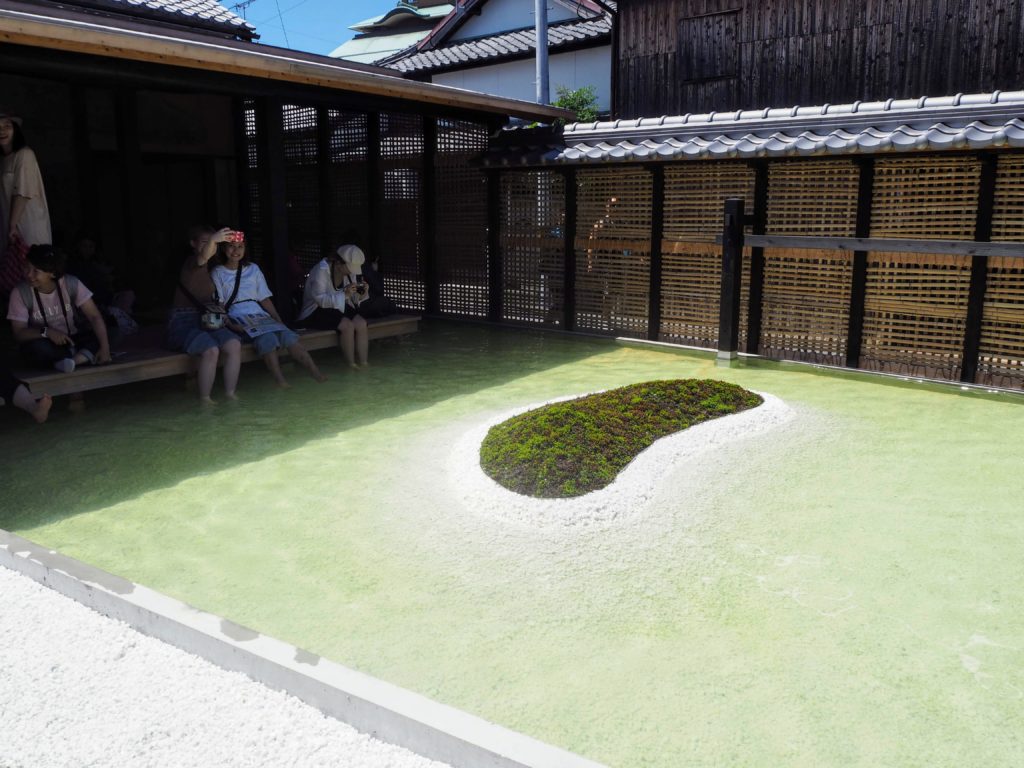 Late Afternoon, Miyanoura Port (1 hour)
The last stop on your Naoshima one-day itinerary will be Miyanoura Port. It can be reached by bus from Honmura for ¥100 per person, but it only takes 20-30 minutes to walk.
At Miyanoura, there are a few permanent exhibits and statues that you can see for free, including Yayoi Kusama's red pumpkin. The main information center at the pier is also known for its architecture, and has two gift shops and a small cafe inside.
Be sure to check out the Naoshima Bath house, "I <3 湯". The exterior is quirky as can be, patched together with several random items. Admission to take a bath costs ¥650 per adult, and ¥350 for children 15 and under. The bathhouse is open from 1:00 p.m. to 9:00 p.m.
It takes about one hour to see everything around Miyanoura Port, if you take your time. If you visit the bathhouse, expect to stay another hour or more there.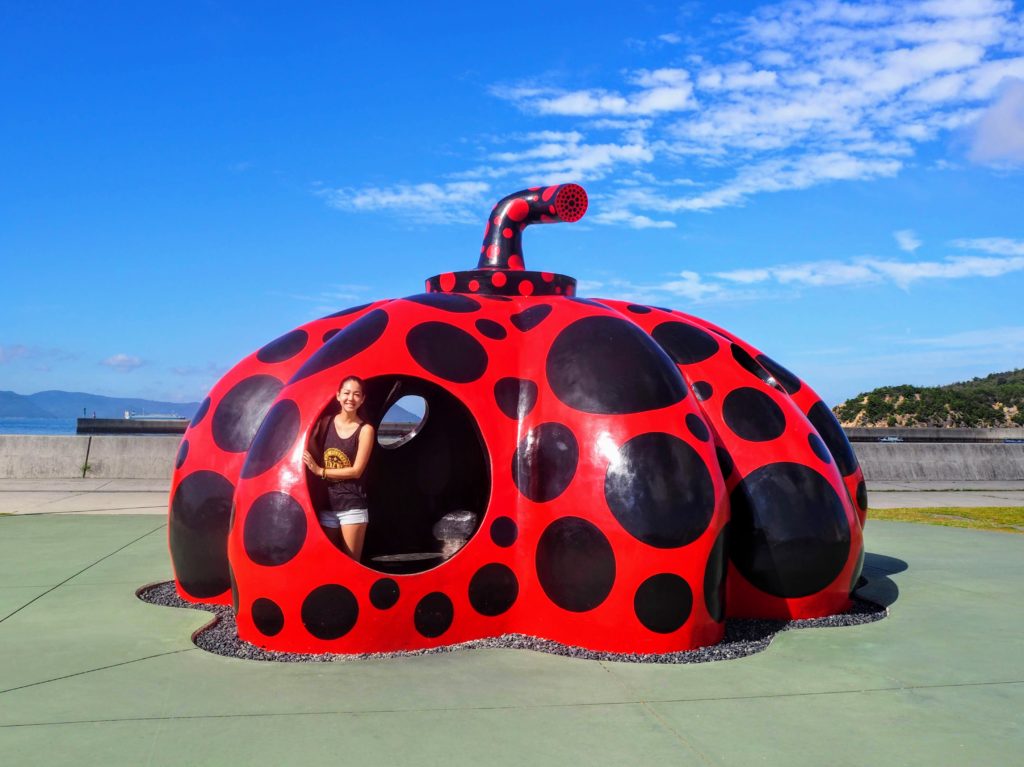 Evening – Ferry back to Uno
The last ferries from Miyanoura Port depart at 5:00 p.m. to Takamatsu, and 8:25 p.m. to Uno Port.
From Uno, it's possible to head to your next destination in Japan, be it Hiroshima, Osaka, or Kobe. If you want to go from Naoshima to Teshima, it's best to stay overnight and take an early morning ferry to Teshima.
From Naoshima to the other islands like Teshima, Inujima, and Shodoshima, there are few ferries, so it's best to check ahead of time. For example, the last ferry from Naoshima to the second most popular art island, Teshima, is at 2:50 pm. From Naoshima to Inujima, there are only three ferry departures at 9:20 a.m, 12:10 p.m., and 2:50 p.m.
Pin this Naoshima Itinerary for later!
Are You Prepared For Your Trip To Japan?
Be sure to check out my Japan home page for Japan travel information, insider tips, reading list, and must-haves for traveling to Japan!