New York City is one of the most difficult places, possibly in the world, to find accommodation on a budget. With sky-high prices and additional hidden fees, you might think to search shared rooms or further from city center to get a bargain in NYC. But wait! Pod Hotels, including Pod 51 and Pod 39, are amazing budget hotel options in New York City that provide private rooms with great amenities, for the right price.
On my recent trip to NYC I stayed in both Pod 51 and Pod 39, two of the most popular Pod hotel locations. I was impressed with both, and recommend staying at either during a trip to NYC. Below, I'll break down some of the pros, cons, and my own observations from Pod 51 and Pod 39.
I've included some recommendations for staying at Pod 51 or Pod 39 too, based on what type of traveler you are, and what you may be looking for in terms of budget accommodation in New York City.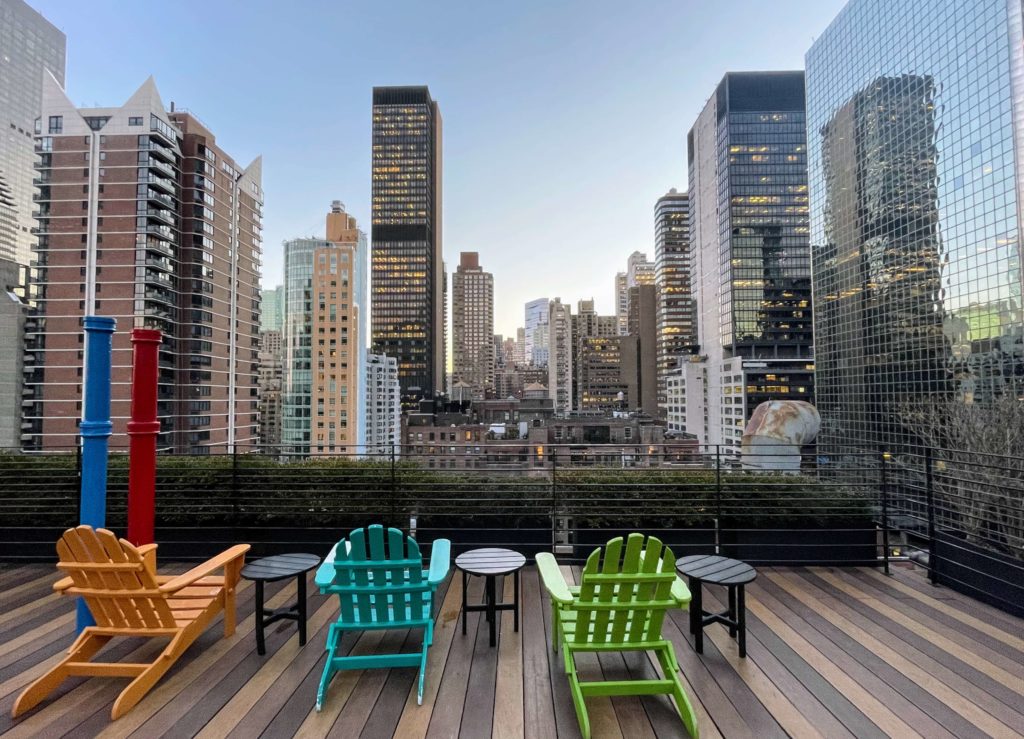 30-second snapshot of Pod 51 vs Pod 39
Here's my Pod 51 vs Pod 39 comparison and recommendation for NYC visitors. More details on each Pod Hotel below!
Overall – Both Pod Hotels in NYC are conveniently located and can be easily found when walking around NYC (Pod 51 is on 51st street vs Pod 39 is on 39th street). Common areas including couches, pool tables and foosball tables, and seating areas as well as city maps are available in both Pod hotels. Both Pod 51 and Pod 39 have amazing rooftop areas that can be used by guests only, and are located walking distance from top NYC sights and public transport options.

Pod 51 – Perfect for solo travelers and budget backpackers used to staying in hostels. Pod 51 is great for travelers exploring NYC on foot. It has great amenities and restaurants available on the same block. For a slightly cheaper price, Pod 51 offers shared bathroom facilities, as well as an amazing rooftop.
Pod 39 – Perfect for traveling pairs, families, and for business travel, with private bathrooms available in every room. Pod 39 is close in proximity to Grand Central Station, meaning easy access to trains and subways if those may be your primary form of transport to get around NYC.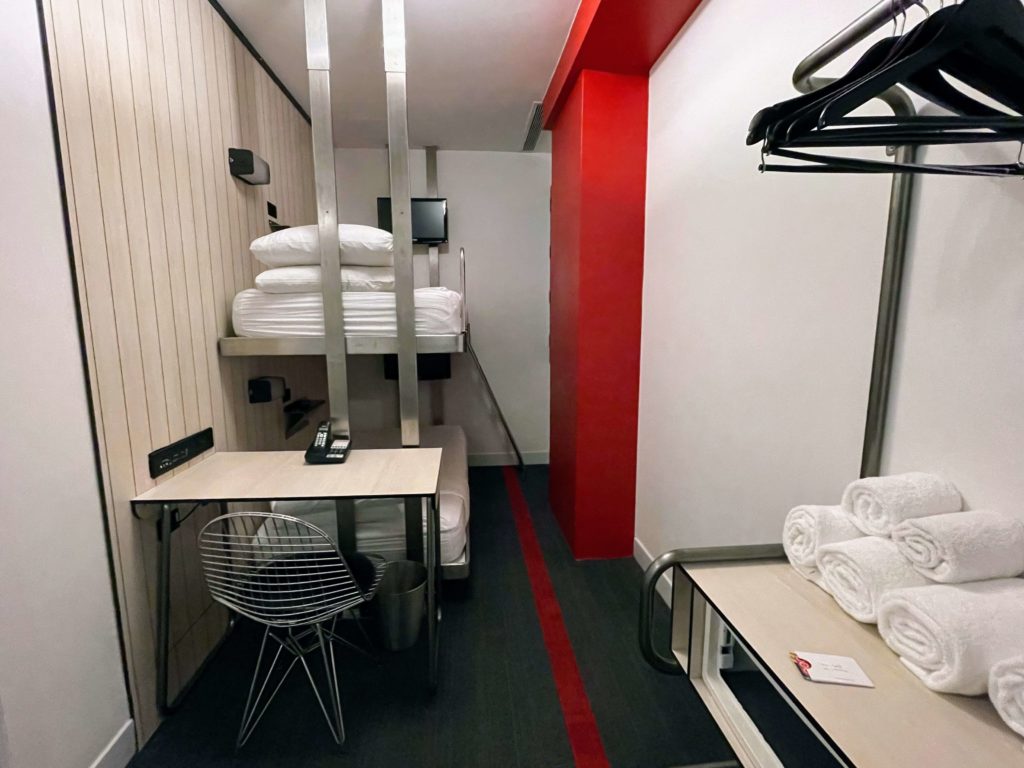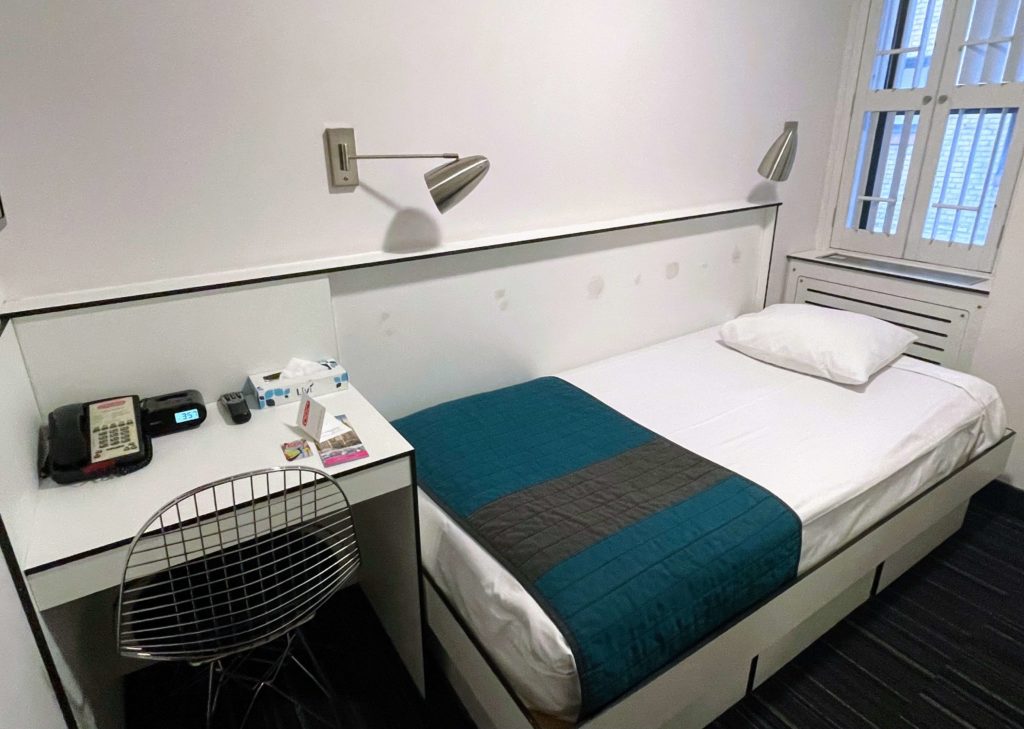 Pod 51 Overview - Key Information
Before we get started, here's some key information about Pod 51 in NYC.
Be sure to compare reservation prices on Booking.com, which offers special Genius discounts and mobile deals for Pod 51 and Pod 39 reservations through their website.
It's important to note the Pod Hotel website rates don't show the city tax rates nor a hefty $23 USD facilities charge to the cost of the reservation until the very end – Booking.com includes all costs upfront.
Checking in to Pod 51 and First Impressions
The Pod 51 reception area is similar to any hotel, and two receptionists were working when I checked in at 3pm. The colorful lobby has a small seating area, a long table that would be great for working digital nomads, and an outdoor garden and seating area as well. A desk near the check-in counter had some free maps of New York City.
The lobby also has bathrooms available for guests, and a security guard was posted at the base of the three elevators.
Checking in was simple: I showed my passport and credit card to the Pod 51 employee. My credit card was to pay for the room and to include a hold for any incidentals.
I did not receive any more information at check-in about my room, the shared bathroom situation, or where to go or eat in the neighborhood. There was no mention of the rooftop when I checked in, nor the "local gym" that all guests have access to with the $23 facilities surcharge included in the booking. This checking in straight-forwardness increased the efficiency of the check-in process, but might result in guests missing out on making the most of their Pod 51 stay.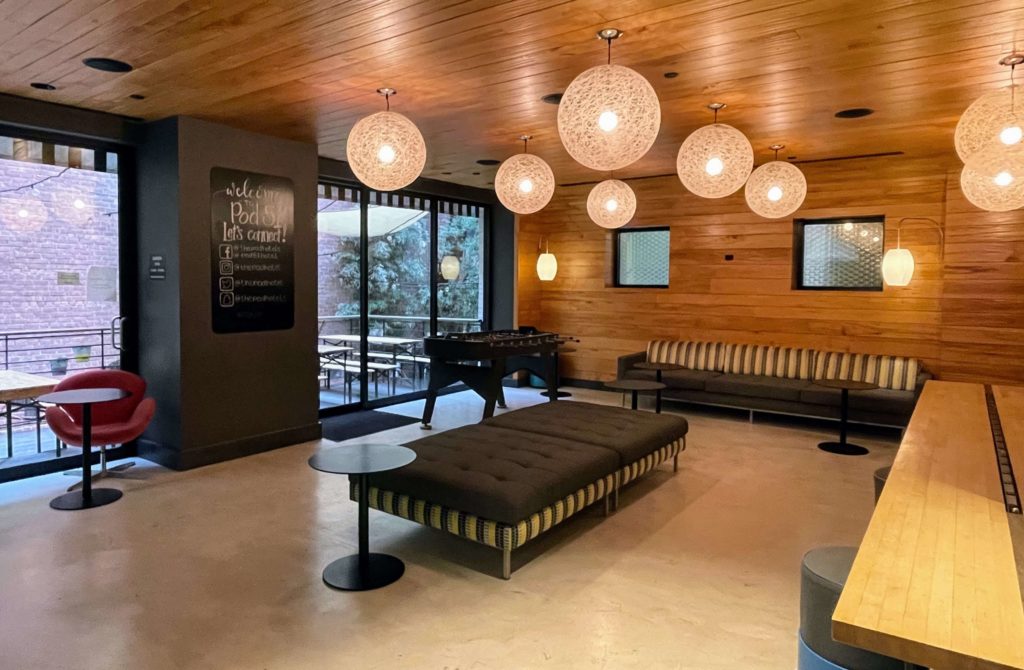 My Room at Pod 51, the Single Room with Shared Bathroom
I booked the cheapest room option at Pod 51 hotel in NYC: the single room with a shared bathroom. Having spent time in pod-like hostel rooms before, I had no issues with the size of the Pod 51 single room, and for one traveler I thought it was a perfect amount of space.
The main contents of the room were a single bed, a one-person desk, a TV, a sink, and some closet space. The room had primary overhead lights as well as two personal lamps. The desk and a thin shelf alongside the bed served as the two main surfaces to place my belongings.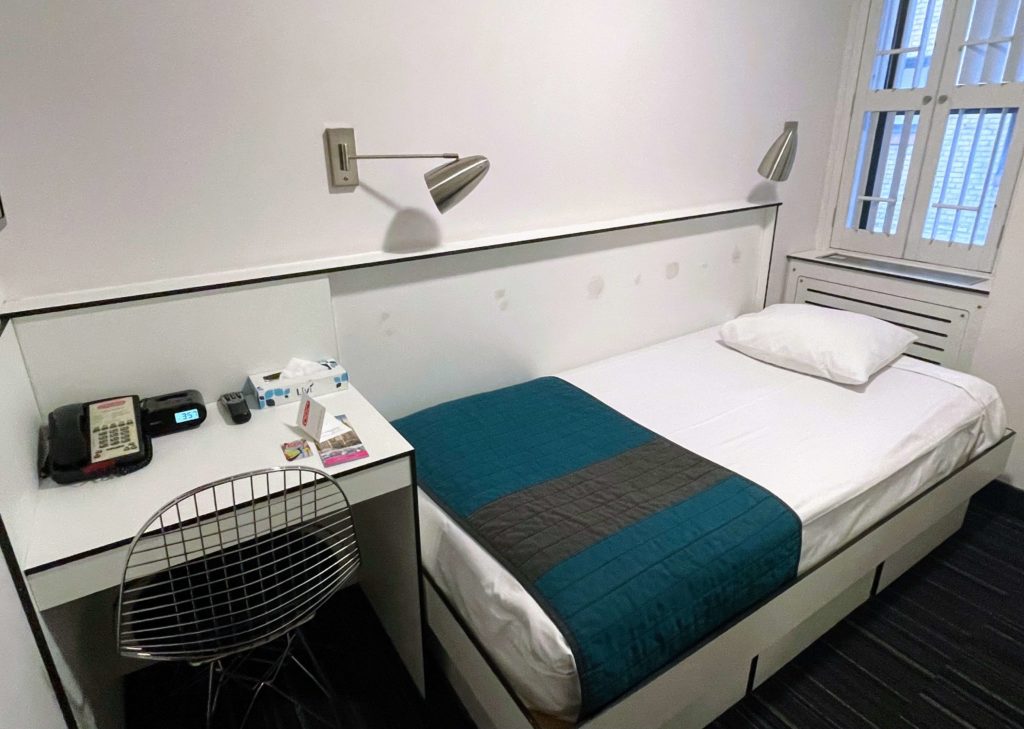 Things I was pleasantly surprised about in my pod room included having a tiny sink to use (plus a hair dryer and plenty of towels). This made brushing my teeth and washing my hands much easier than going to the shared bathroom each time. The Pod room also had bathroom light indicators above the door that showed which of the floor's four shared bathrooms were free or in use. Lastly, a personal thermostat on the wall let me adjust the fan and temperature of the room to my liking.
One aspect that I thought could be improved in the room was the availability of outlets near the bed. Outlets were only available above the sink and in the closet area, meaning with a regular phone charger I could not access my phone from anywhere convenient. There was also no view from the window either, which was to be expected for the price. At least there was a window!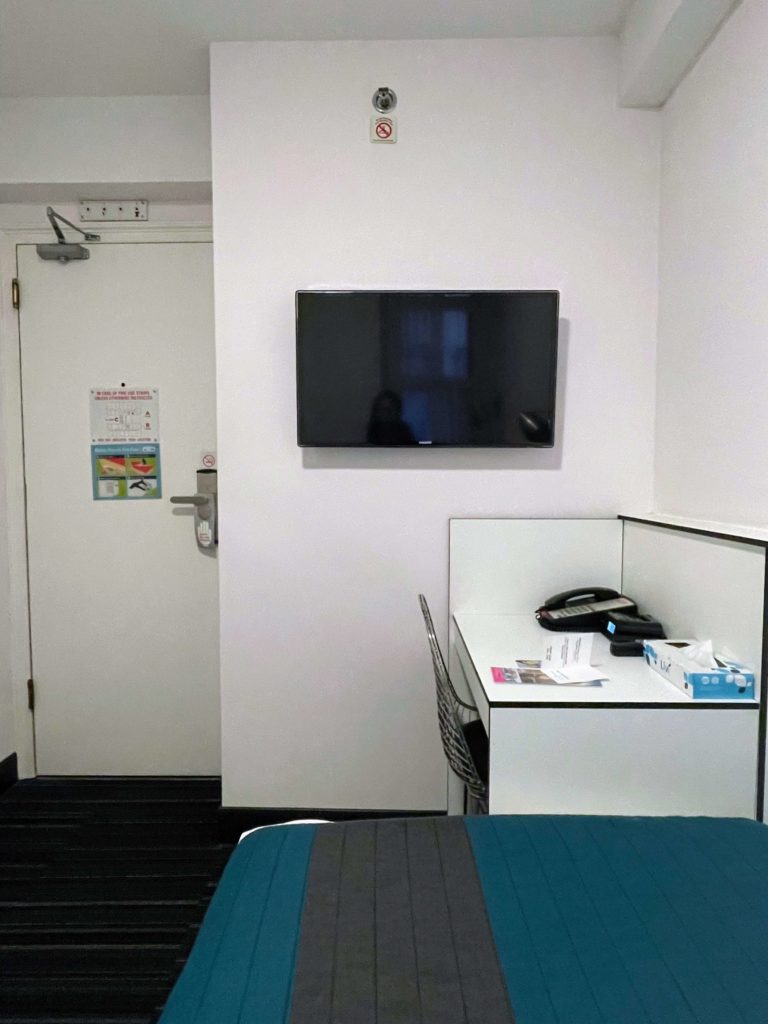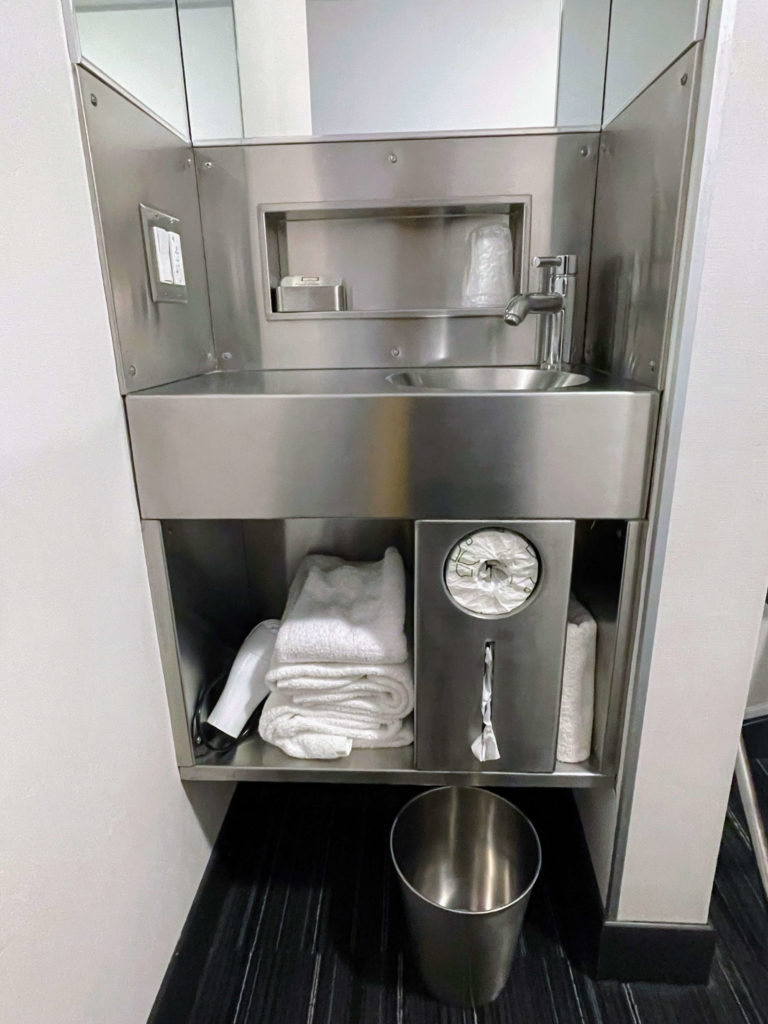 Pod 51 has a variety of other rooms available for guests, including single rooms with a private bathroom attached.
For couples or pairs traveling together, there is also a bunk bed room (with no private bathroom), as well as double rooms with and without private bathrooms. 
For a little extra space, queen rooms with private bathrooms and queen rooms with disability access can also be reserved.
Facilities and Amenities at Pod 51
The shared bathrooms at Pod 51 were actual private rooms that can be locked behind each individual user. The "shared" component is that the four bathrooms were shared with people on the same floor. Each bathroom had a toilet, sink and shower, with various layouts, and had shampoo and body wash available for use. 
The Pod room I stayed in had both towels and bath mat towels for use, so the floors of the shared bathrooms were never wet. As mentioned previously, my room had lights at the top of the door that showed which of the four shared bathrooms were occupied or not.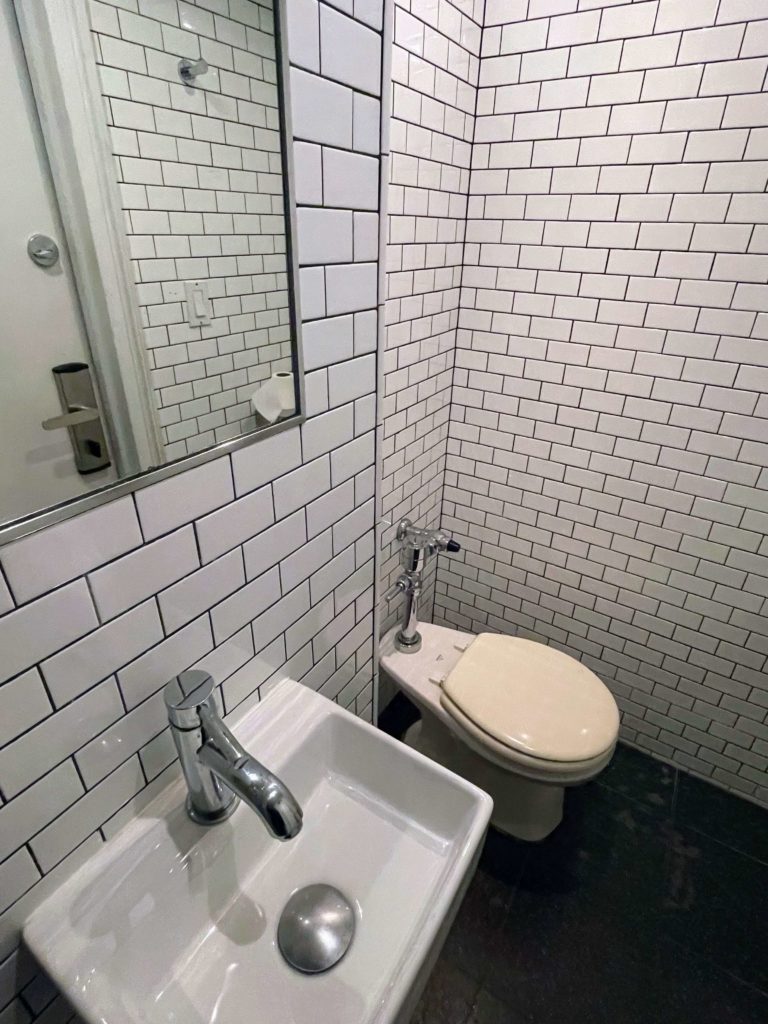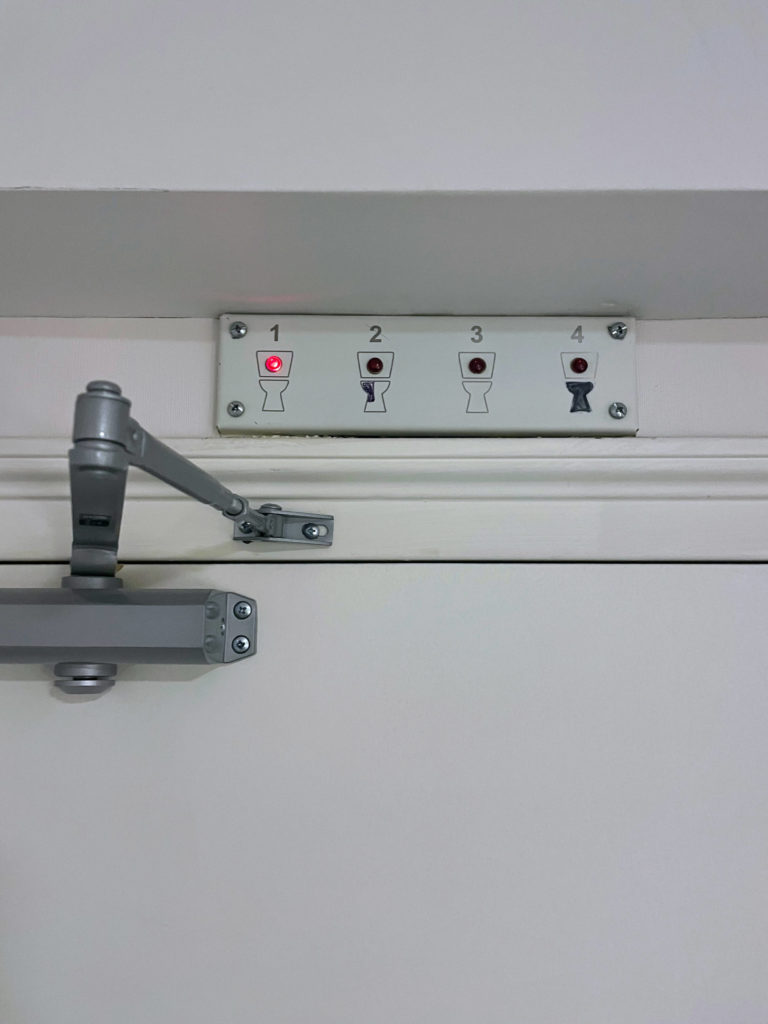 The best part about staying at Pod 51 in New York City was its incredible rooftop! Rooftops in NYC are an expensive commodity, and many rooftop lounges, restaurants, and bars require hefty cover charges to experience. 
At Pod 51, I had the entire rooftop to myself on a number of occasions during my stay there – even during golden hour! With a large table, additional seating areas, and colorful lawn chairs, the Pod 51 rooftop is a great place to spend some time reflecting and admiring skyscraper views in NYC.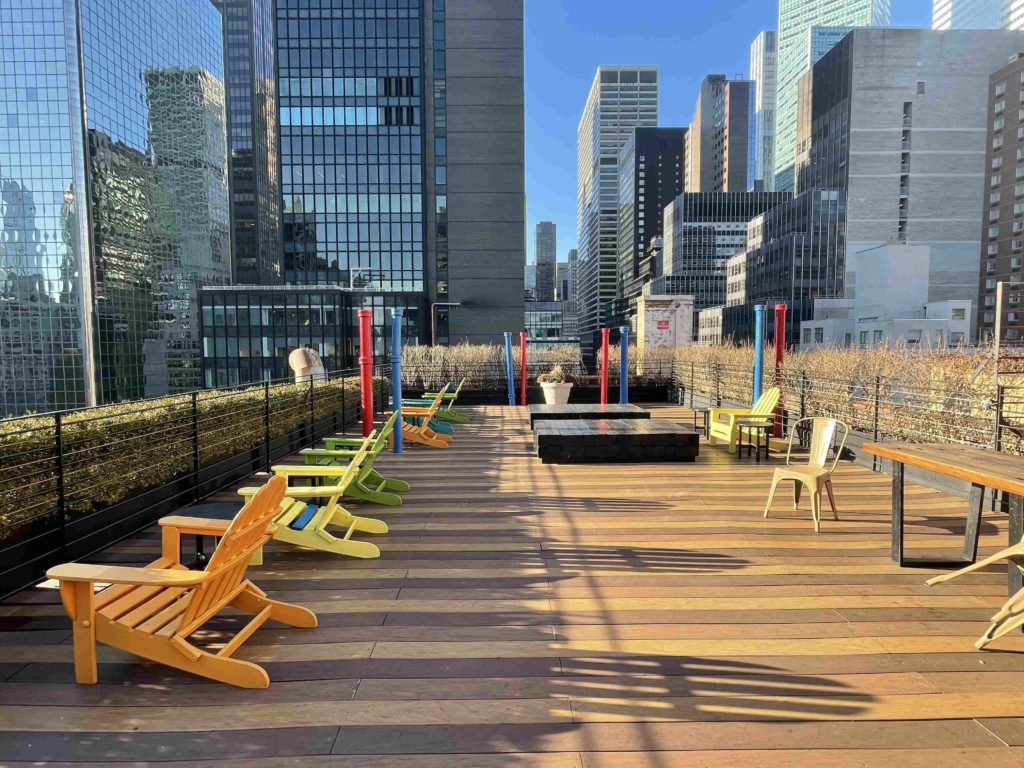 Around the Pod 51 neighborhood
The NYC neighborhood around Pod 51 is a lively one! Just next door to Pod 51 is Clinton Hall, a gaming pub, home to some awesome arcade games and board games, with craft beer on tap and award-winning burgers. 
Other restaurants and stores in the neighborhood include Sukhumvit Thai restaurant, Shima Sushi restaurant, a Panda Express, Cornerstone Tavern and sports bar, and Karizma lounge and hookah bar. A series of banks, FedEx and UPS mailing facilities, and the NYC Police Department's 17th precinct station are nearby as well.
Times Square is a 20-minute walk away from Pod 51, an amazing place to visit in New York City at night.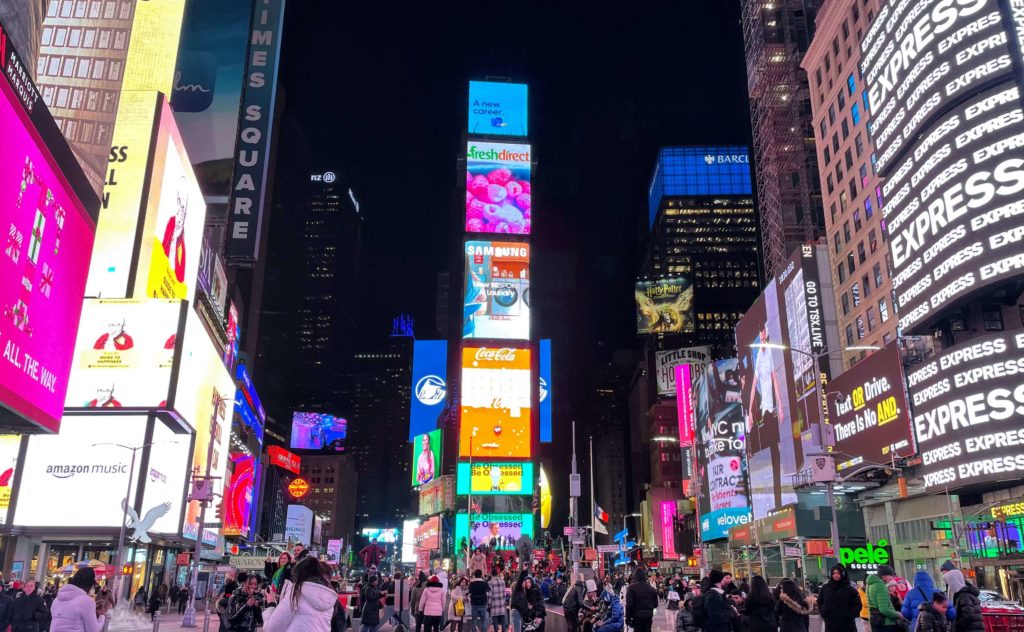 Pod 39 Overview - Key Information
Here's some key information about Pod 39 in NYC.
As mentioned above, be sure to compare reservation prices on Booking.com, which offers special Genius discounts and mobile deals for Pod 51 and Pod 39 reservations through their website.
Checking in to Pod 39 and First Impressions
Pod 39 is located in a street that has many hotels, so I was not surprised when the lobby of Pod 39 felt exactly like a regular hotel in NYC. Compared to Pod 51, Pod 39 to me felt more "business travel" hotel and less like a "young people/budget traveler" hotel. The lobby area has a small seating area and a TV, and in the back of the lobby is a fancy lounge area with pool table and bar stools.
The check-in process at the front desk at Pod 39 was just as efficient and minimal as Pod 51. Both my passport and my credit card were scanned as part of the process, and a deposit taken from my credit card for incidentals. I received no information about the building's lounge areas or rooftop, or any NYC travel information. I was just checked in and showed where the elevators are.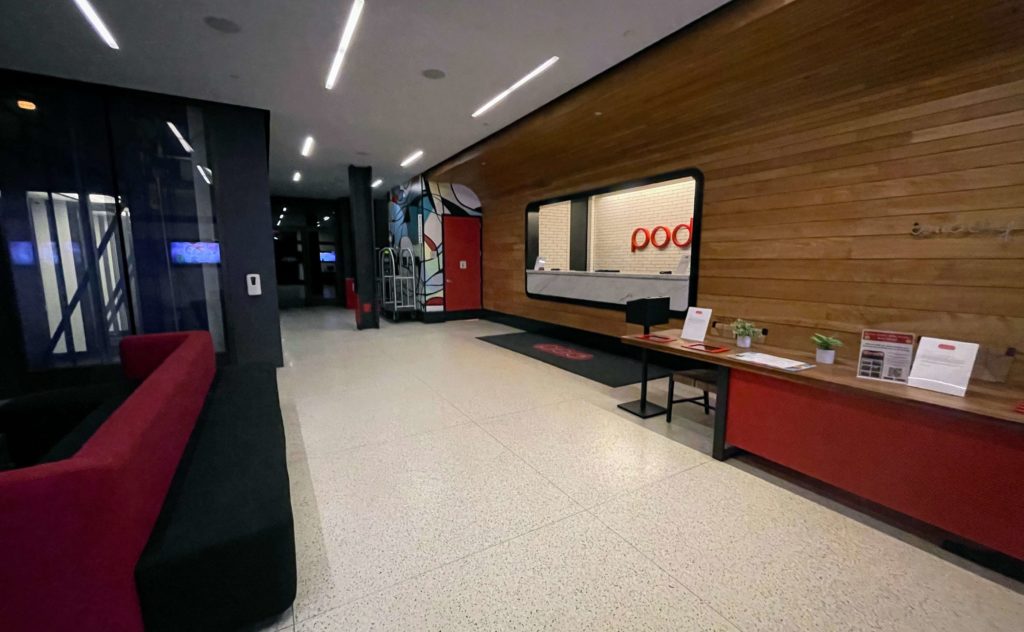 My Room at Pod 39, the Bunkbed Room
At Pod 39 I stayed in the bunkbed room. It was the same price as booking a single room, and came with an attached bathroom (shower, sink, and toilet), the bunk bed, once desk, and a shelf with a clothes rack and safe.
Each of the bunkbed beds had its own private TV and remote, its own light, and a small shelf with outlets that was perfect for phone charging or placing small objects.
I was pleasantly surprised at how spacious the bathroom was, and with the size of the room being slightly larger as well, the Pod 39 bunkbed room would have been great for two people wanting to stay somewhere on a budget in NYC.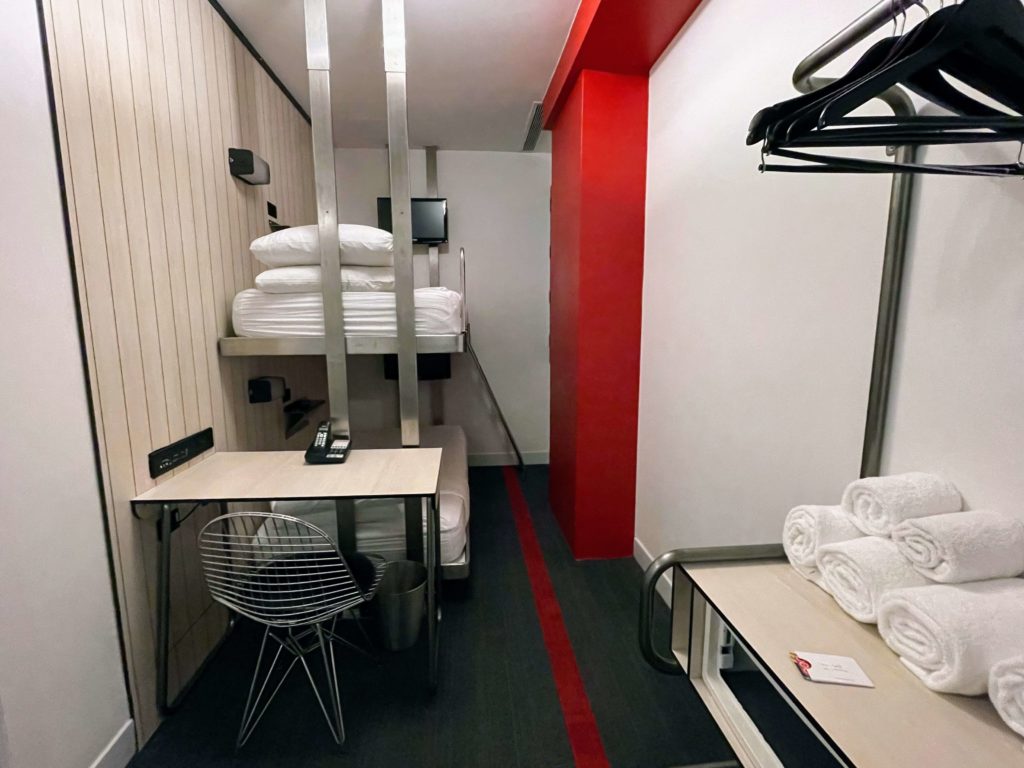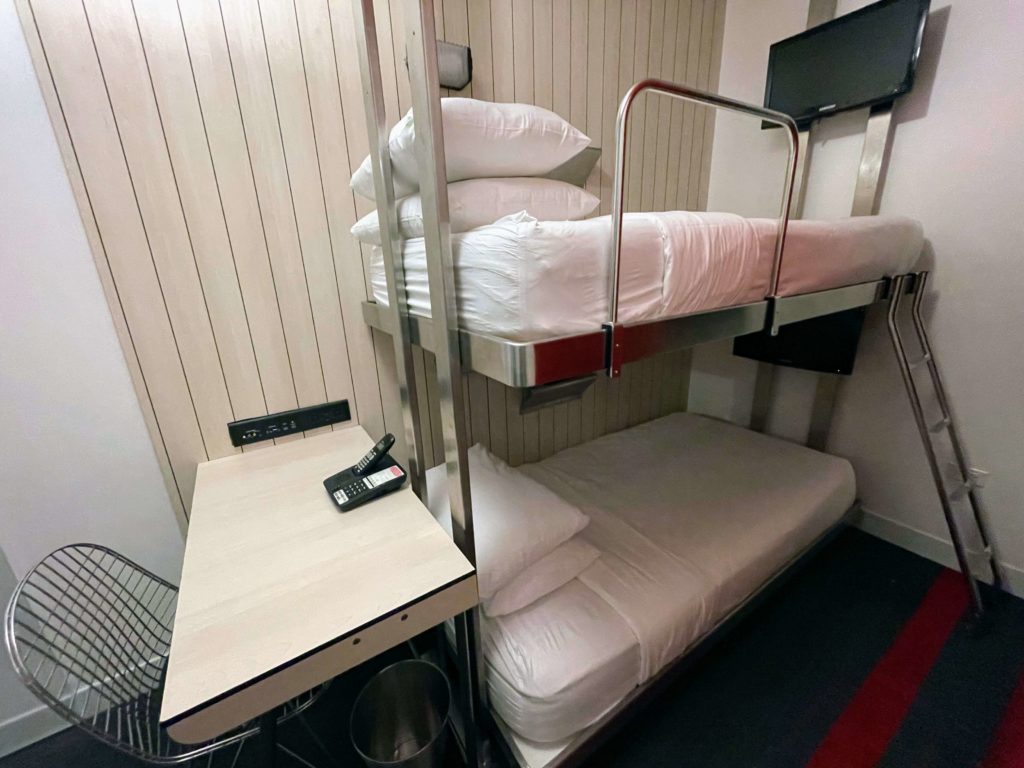 The only aspect to the room I was unsure about was the frosted glass door to the bathroom. While a single occupant or a couple may not have issues if the bathroom door is frosted (so partially see-through), two friends might be a little more uncomfortable.
With amenities like a hairdryer, body wash and shampoo, and many towels included, I felt like Pod 39 did go the extra mile to meet guests' needs. 
I chose this room because it was the same price as the single room, and I wanted to experience both room types to compare Pod 51 vs Pod 39. However, if traveling solo I would recommend going with a single room instead of the bunkbed room. 
This was because when I wanted to watch TV, I either couldn't see it well from the desk or had to lie down in bed to watch. Hanging out on the bottom bunk bed when resting in the room wasn't the best either because I couldn't sit up straight. If I'm by myself in NYC again, I'll be staying in the single room next time!
All of the rooms at Pod 39 have attached bathrooms, a key difference to Pod 51. Some of the other room types available here include a single room, a double room, a queen room for more space, and a queen room with disability access.
Based on other reviews and photographs of Pod 39, the bathrooms in the rooms for two people (including the bunk bed room) are larger than the attached bathrooms in the single room.
Facilities and Amenities at Pod 39
Unlike Pod 51 there are no shared bathroom facilities on each of the floors at Pod 39. The top floor however, with the rooftop access, does have separate restrooms that can be used.
The part of Pod 39 that I enjoyed the most was once again the rooftop, where you can see two iconic NYC skyscrapers: The Chrysler building and the Empire State building. A rooftop bar is available on-site, however it is only open seasonally and when I visited in the winter, it was closed.
On the ground floor was a beautiful lounge area and supposedly a restaurant serving Mexican fusion food and cocktails, although I didn't see anyone eating dinner when I was there.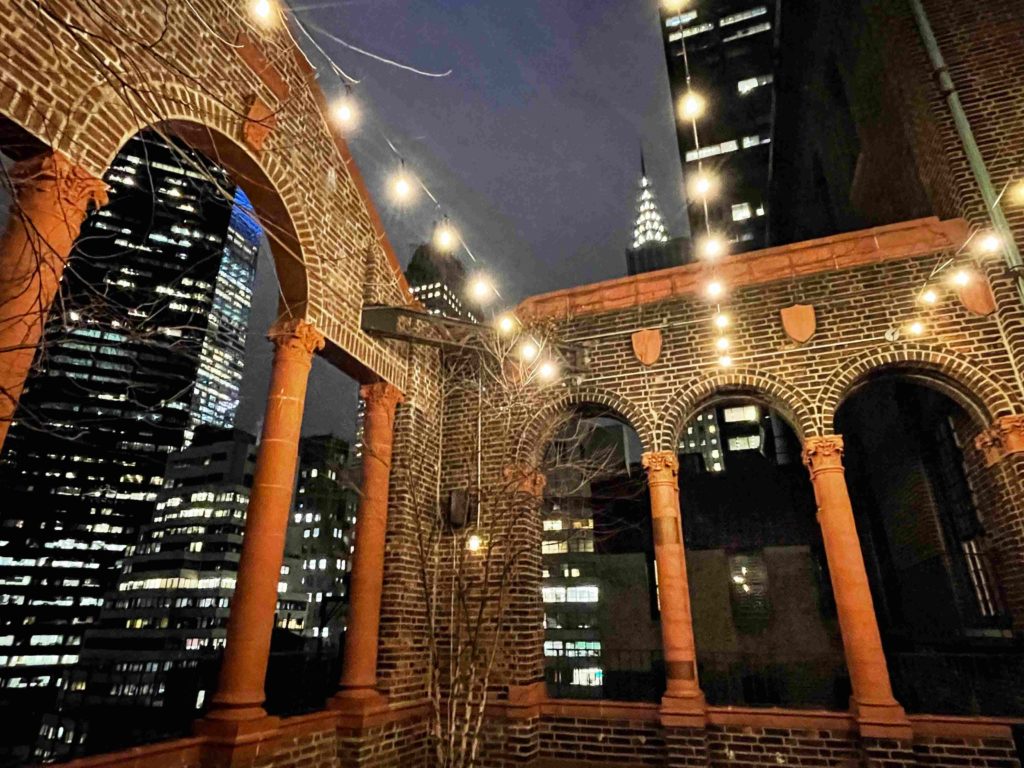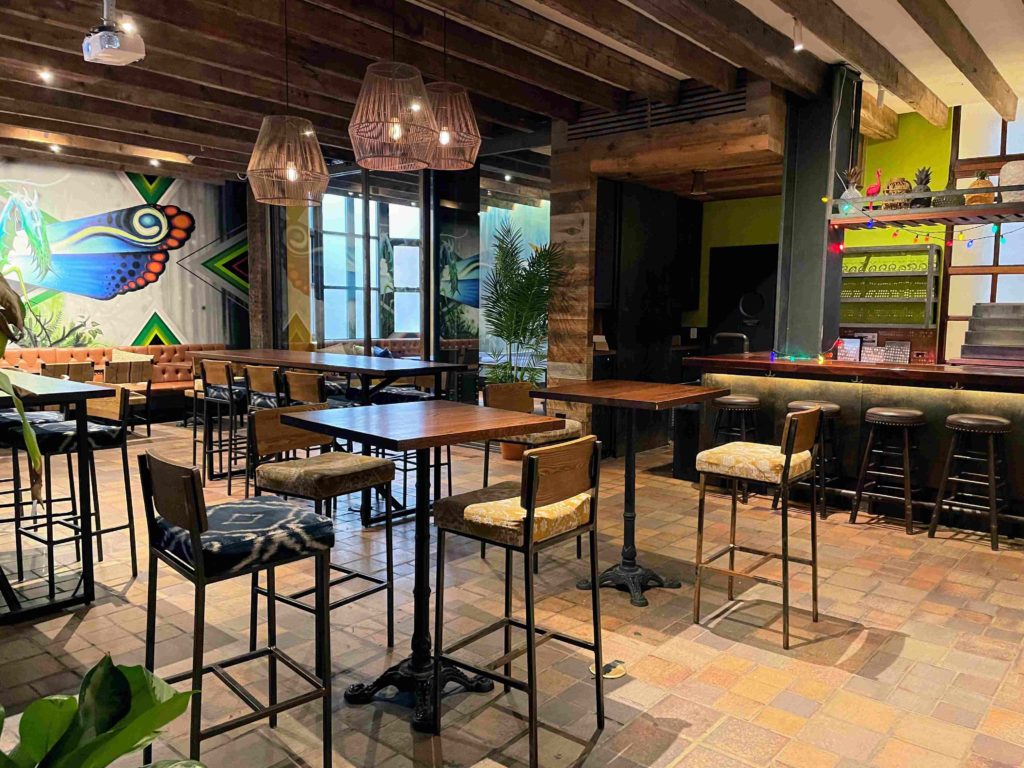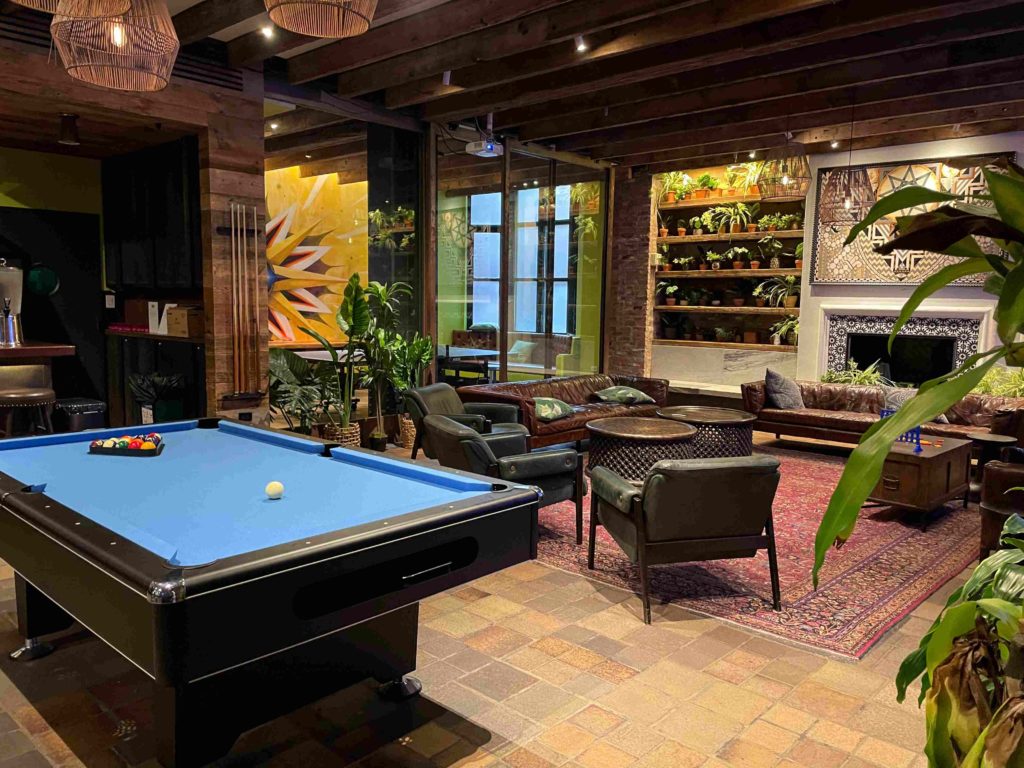 Around the Pod 39 neighborhood
Pod 39's most famous neighbor is NYC's Grand Central Station, a must-visit on any New York itinerary even if you're not getting on a train. Grand Central Station gives any traveler access to the broader East Coast's Metro-North Railroad lines (the Hudson, Harlem, and New Haven lines), various bus lines including airport busses, and the 4, 5, 6, 7, and S subway lines.
This means a straight shot to places like the Whitehall Ferry Terminal and their Statue of Liberty Tours (don't forget to stop by the 9/11 Memorial and the One World Trade Center), Queens, Brooklyn, and as far away as New Haven, Connecticut!
Surrounding Pod 39 are a number of other hotels and international embassies, therefore fewer restaurants than Pod 51. There is an Italian restaurant, Sam's Place, Previti Pasta and Pizza, as well as a number of delis and small grocery or convenience stores. You'll pass a lot of fast-food or takeaway food options when walking from central Manhattan (like Times Square) to Pod 39 though, making the neighborhood a great place to stay for travelers always on-the-go.
If you're interested in visiting one of the most Instagrammable observation decks in NYC, Pod 39 is very close to the SUMMIT One Vanderbilt experience as well.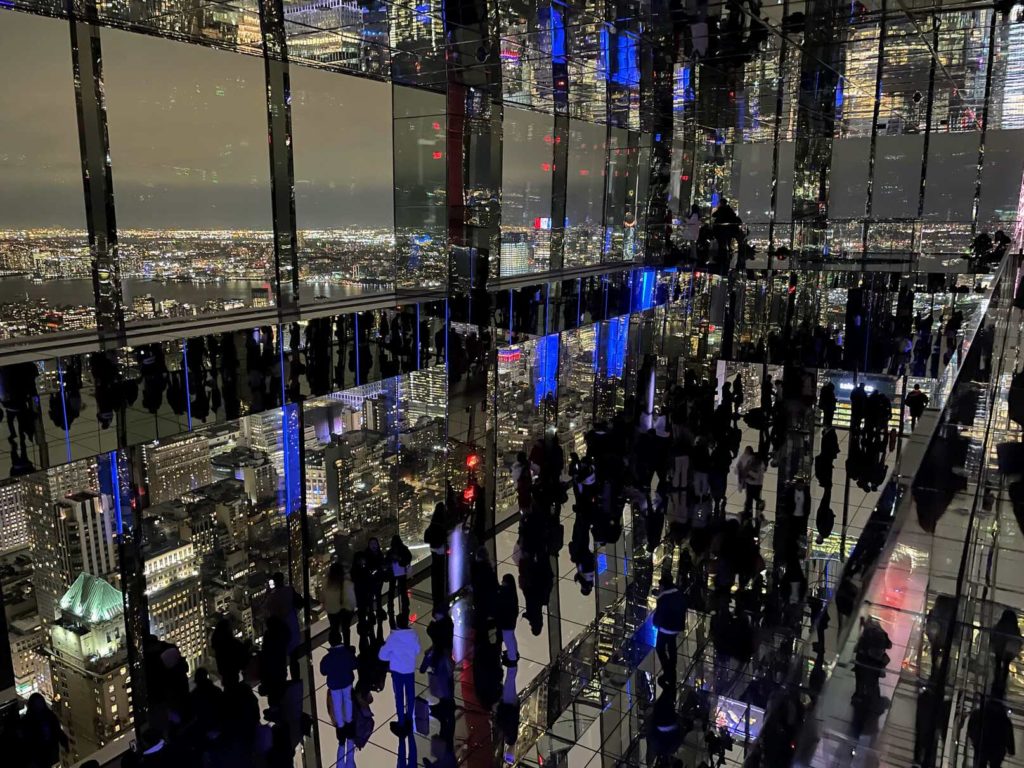 Pod 51 vs Pod 39 - which is better for budget travelers?
Answer: Pod 51 is the better option for budget travelers, with cheaper rooms (due to offering shared bathrooms). Budget travelers may also be more likely to travel NYC on foot instead of by train, and Pod 51 puts travelers close to awesome free things to do in NYC including Central Park, Times Square, Rockefeller Center, and meandering along the River.
Pod 39 is slightly more expensive, and is closer to paid attractions such as the One Vanderbilt summit and Broadway. Mid-range budget travelers may prefer to see the city by train, which is easily accessible from the nearby Grand Central Station.
Pod 51 vs Pod 39 - which offers the most comfortable stay in NYC?
Answer: Pod 51 if you book a room with private bathroom.
In my opinion, Pod 51 allowed for a more relaxing, comfortable stay in NYC vs Pod 39 for two reasons: its outdoor spaces and the neighborhood it is located in. The offerings of both Pod Hotels are about the same in terms of comfort and convenience, with both offering lounge spaces and adequate room amenities (TVs, hairdryers, free towels) for the price. This is especially true if booking a room at Pod 51 with an attached bathroom.
Pod 51 however, had the best rooftop chill-out space where you can relax and enjoy amazing NYC views, as well as an outdoor garden area. The neighborhood around Pod 51 offers a lot of variety in its places that you can go out to eat and drink, making popping out for a quick bite to eat, also stress-free.
Pod 51 vs Pod 39 - which is better located for exploring NYC?
Answer: Both Pod 51 and Pod 39 are great home bases for exploring NYC, for different reasons depending on what activities you are interested in. Both Pod 51 and Pod 39 are walking distance from Times Square, one of the tourist epicenters of New York City and an awesome place to visit in NYC at night.
Pod 51 is closer to the Upper East Side neighborhood and Central Park, if exploring these areas are at the top of your NYC to-do list.
Pod 39 is closer to SUMMIT One Vanderbilt, the newest observation deck in NYC, and is also close to Grand Central Station for visitors who expect to do a lot of NYC train travel.
If you expect to wander around on foot, including to Central Park and the Upper East Side, stay at Pod 51. If you expect to do a lot of train travel around NYC, including to its many boroughs, stay at Pod 39 to put you walking distance from Grand Central Station.
Pod 51 vs Pod 39 - which is better for large groups visiting NYC?
Answer: Pod 51 is the only Pod hotel which offers rooms for larger groups (must be booked over phone, and not available on Booking.com)
Both Pod 51 and Pod 39 have limited options for large groups, since most rooms are capped at two people. Pod 51 actually does have room options for up to four people, if reserved directly with them. If you're traveling in NYC with a large group and prefer to share a room together, your best bet is Pod 51.
Pod 51 vs Pod 39 - which is better overall when visiting NYC?
Answer: Pod 51 for backpackers, Pod 39 for work-related travel
As a budget traveler who has spent time in many eclectic hostels, there was something about Pod 51 that felt more like I was on vacation, or backpacking NYC. I enjoyed the laid-back vibes and the rooftop here, which was perfect for lounging around long enough to forget what day it is.
I felt Pod 39 was a better place to stay for anyone traveling to NYC for work and looking for budget accommodation. With private bathrooms and restaurant on-site, it's perfect for unwinding and disconnecting from the busy world after a hard day at the office.
That's a wrap for my Pod 51 vs Pod 39 article!
I hope you enjoy your next stay in NYC at one of these great budget accommodation options in the city. Be sure to book through Booking.com to receive the best discounts on Pod hotel rooms. I may also get a small commission at no additional cost to you. Use the links below to book your next stay!