The One Vanderbilt building is a 93-story skyscraper located on 42nd Street and Vanderbilt Avenue in Manhattan, New York City. The skyscraper was completed in 2020, making it one of the newest mega-skyscrapers to adorn the NYC skyline. It's also the fourth tallest building in NYC, and the tallest skyscraper in midtown New York.
SUMMIT One Vanderbilt is accordingly one of the newest observation decks in New York City, and easily one of the most popular. SUMMIT One Vanderbilt's most impressive city view rooms have glass-mirrored floors and ceilings. With a choreographed light show, it creates a feeling of "infinity" for its visitors. It's Instagram-perfect too!  With incredible NYC skyline views and reflective walls, the experience really comes to life in the evening. 
For a new and unique experience during your next trip to New York, add visiting SUMMIT One Vanderbilt at night to your itinerary.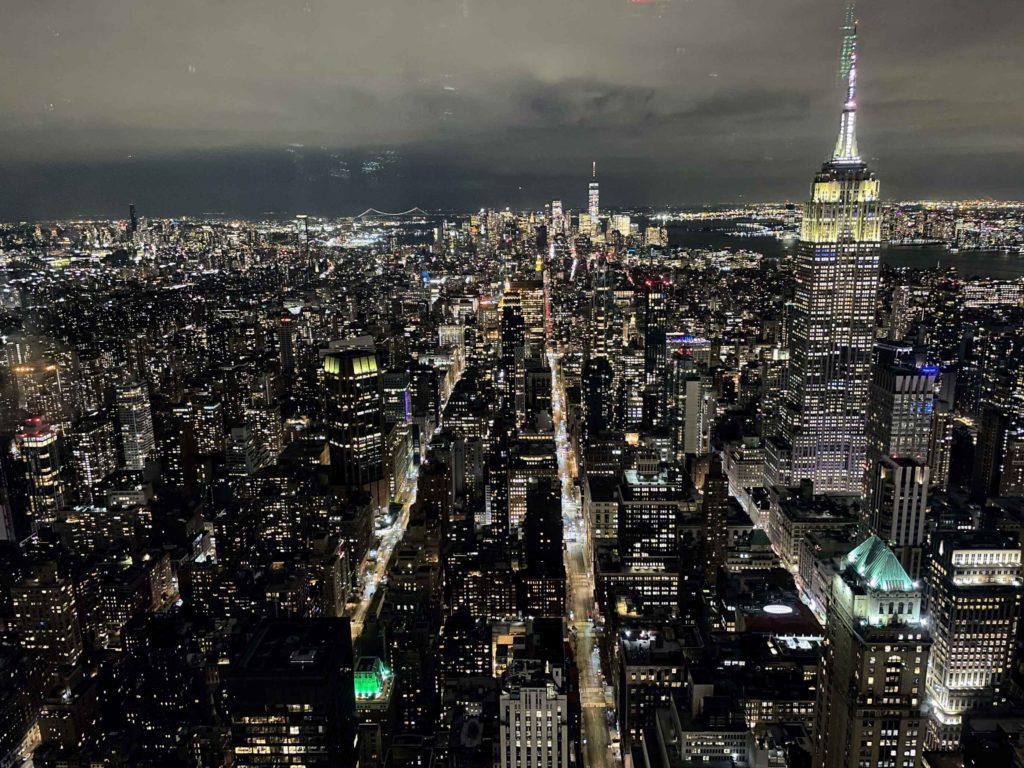 Tickets and Access to the SUMMIT One Vanderbilt
Tickets to SUMMIT One Vanderbilt
The One Vanderbilt observation deck is open between 9:00am and 10:30pm daily, with the last tickets of the day sold for 9:30pm. 
Purchase SUMMIT One Vanderbilt tickets at GetYourGuide, which are often available for a small discount (including for summiting One Vanderbilt at night). 
Buy tickets on the official website if you want to summit around sunset, which are the most popular times and cost a premium. 
Ticket kiosks are also available on-site to purchase tickets at the entrance to SUMMIT One Vanderbilt. Remember it's best to book in advance to ensure you can enter at the time you want.
Access to SUMMIT One Vanderbilt
Access to the One Vanderbilt summit is through Grand Central Station, which is perfect if you're coming from other parts of New York City. If you're arriving on foot, be aware that you cannot access the One Vanderbilt summit through the main lobby on the (pedestrian-only for one block) Vanderbilt Ave. This lobby is for office workers only! Instead, enter to the One Vanderbilt observation deck from East 42nd Street, next to the green TD Bank building.
Note: Don't worry, the wrong entrance has a security guard who will nicely direct you towards the proper entrance to SUMMIT One Vanderbilt.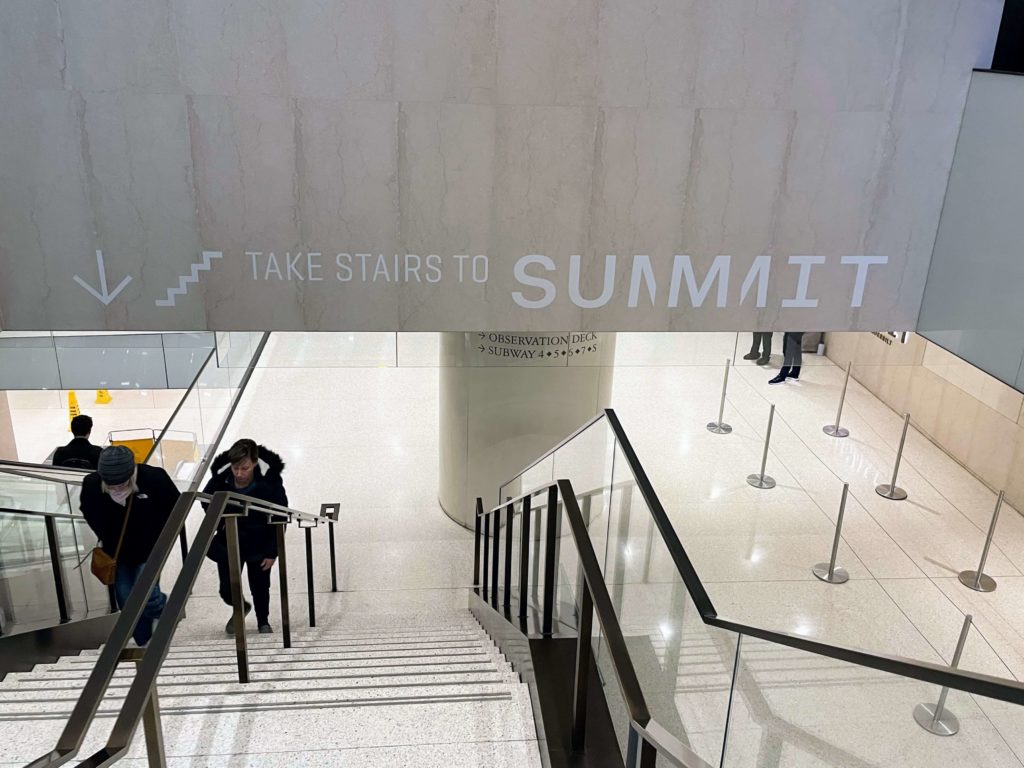 The Best time to visit One Vanderbilt: SUMMIT One Vanderbilt at Night
I recommend visiting SUMMIT One Vanderbilt (or other observation decks in New York City like the One World Observatory or the Empire State Building) at night! This allows you to make the most of your New York City itinerary, since many of the shops and other NYC experiences are not available or open after nightfall.
SUMMIT One Vanderbilt at night is an especially unique experience because of the light and digital art experiences that are available here. The light shows are more compelling and dynamic at night, when they can be complemented by the evening city lights and aren't out-shined (no pun intended) by the sun's rays.
The most popular, and expensive, time to visit the One Vanderbilt summit is during the sunset hours. At this time, visitors can experience both the beautiful sunset and see the glittering NYC skyline when night falls over the city. If you need time to experience other NYC attractions during the daylight hours though, I would highly recommend visiting One Vanderbilt at night.
Check out my post about things to do in NYC at night for other ideas for evening activities in New York City. 
What to expect on a SUMMIT One Vanderbilt visit
In the next few sections I'll take you step-by-step through my experience visiting SUMMIT One Vanderbilt at night.
Visitors to SUMMIT One Vanderbilt receive a wristband with a QR code as exchange for showing their tickets at the entrance. This QR code is how you can keep track of any photos taken of you during the One Vanderbilt experience.
The SUMMIT One Vanderbilt visit starts with visitors watching a short clip, one to get you fully pumped up for the unique New York observation deck you are about to experience. Here's some context to the video: One Vanderbilt completed construction in 2020 in the middle of the pandemic that saw NYC in total chaos and then lockdown. Visitors to the observatory will remember the fear and uncertainty in the world at that time. The video shows a NYC resident breaking through that fear, and finding herself completely free, basically floating through the air at SUMMIT One Vanderbilt. You'll have to see the video for yourself to feel the wonder that it evokes!
After the video, SUMMIT One Vanderbilt visitors are provided and requested to put bags on their feet. This is so the mirrored floors don't get dirty and scuffed up.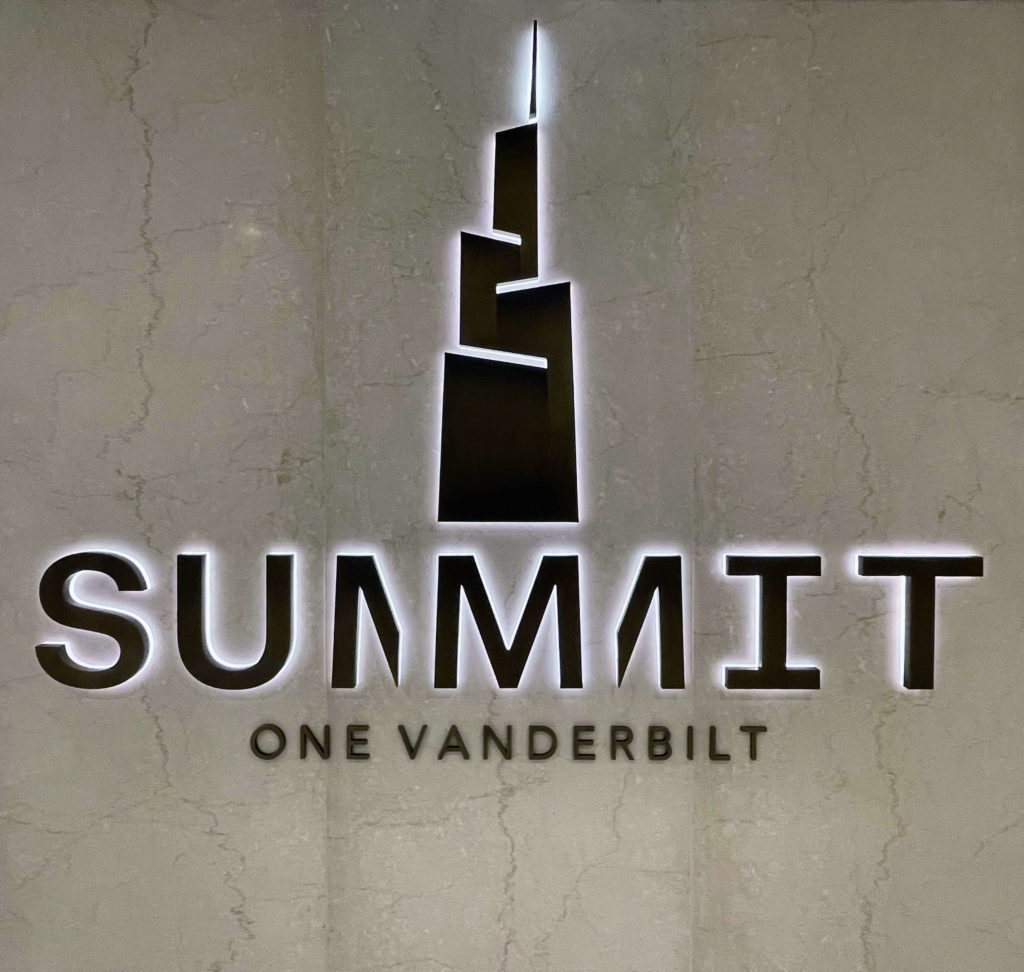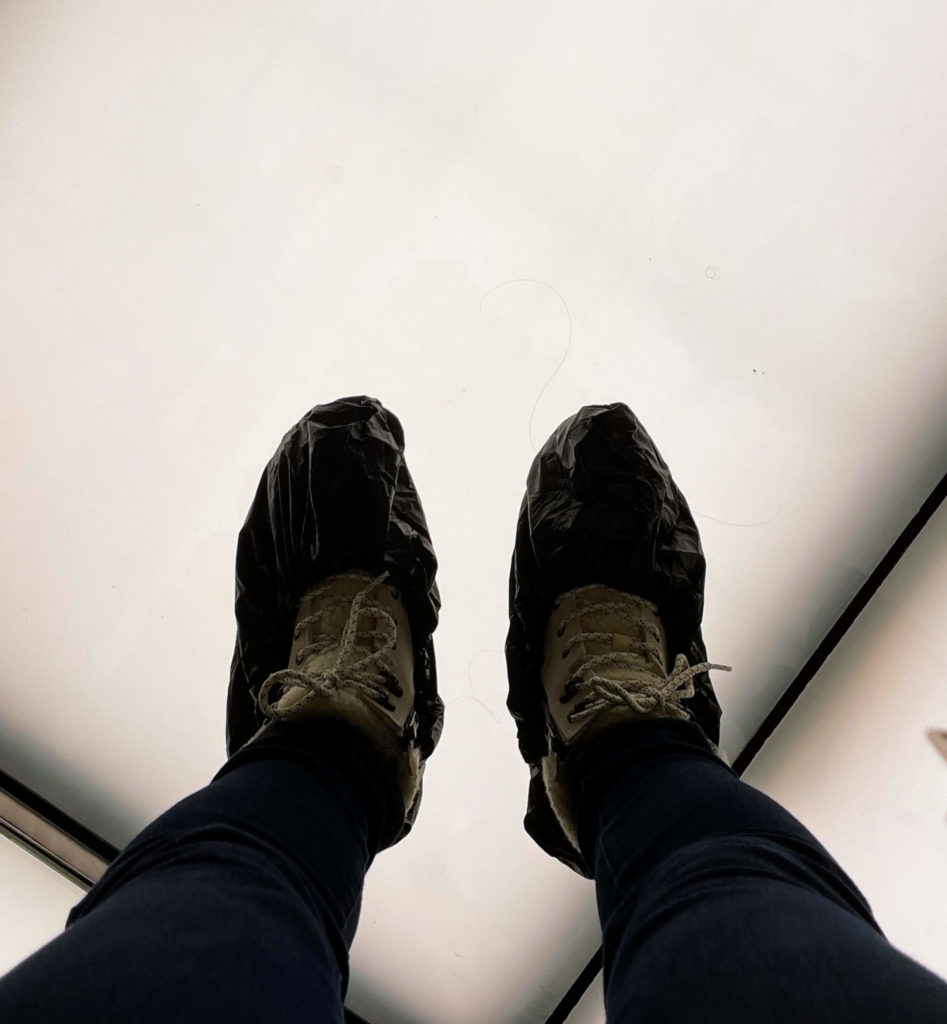 SUMMIT One Vanderbilt at night
Guests will then scan their wristband QR code and take a headshot photo, which will reappear in One Vanderbilt souvenir photos if you choose to purchase them afterwards. From here, the adventure begins! Enter into a super-fast, mirrored elevator with a light show to feel like you're shooting into another galaxy.
The first (and main) large room that guests will enter is called Transcendence. It's a two-story, mirrored room that is visited twice during the SUMMIT One Vanderbilt at night experience. 
When I say mirrored, I mean "ultra-clear, non-reflective glass", and that literally everything is mirrored: the floor, the walls, and the ceiling. It creates a feeling of being infinite with the NYC skyline, and prominently the Empire State Building, to one side. The lights that shoot up and down the walls as part of the nighttime-only light show are reflected on the floors and ceiling as well. This makes the room look and feel like you're in a limitless vortex!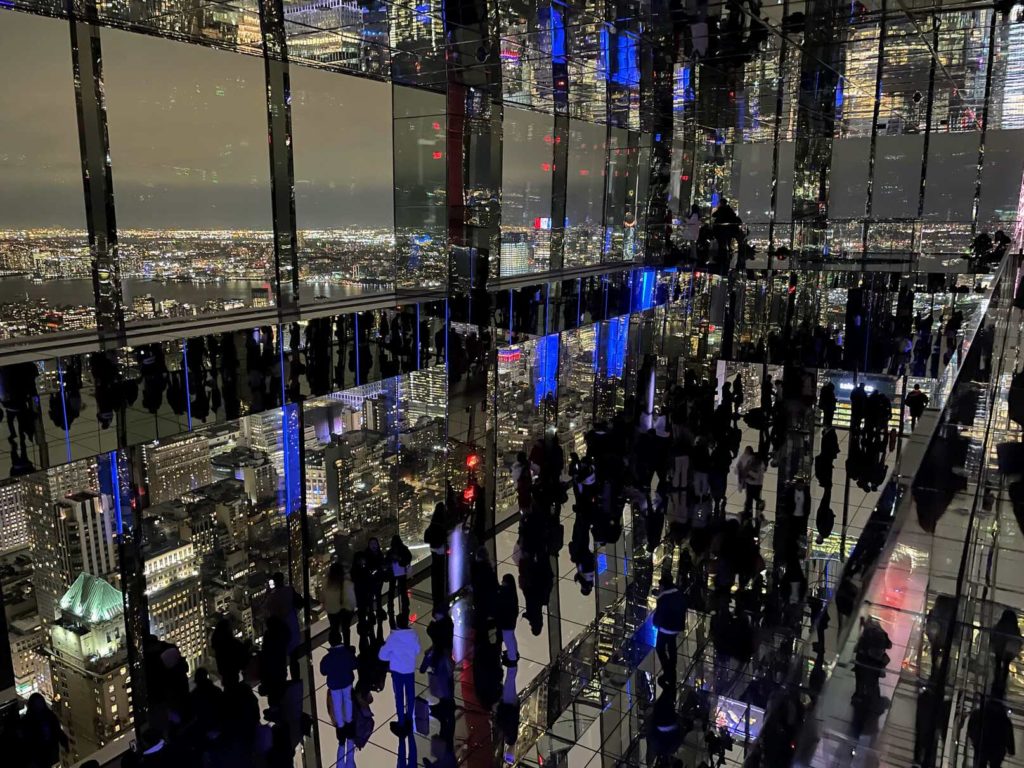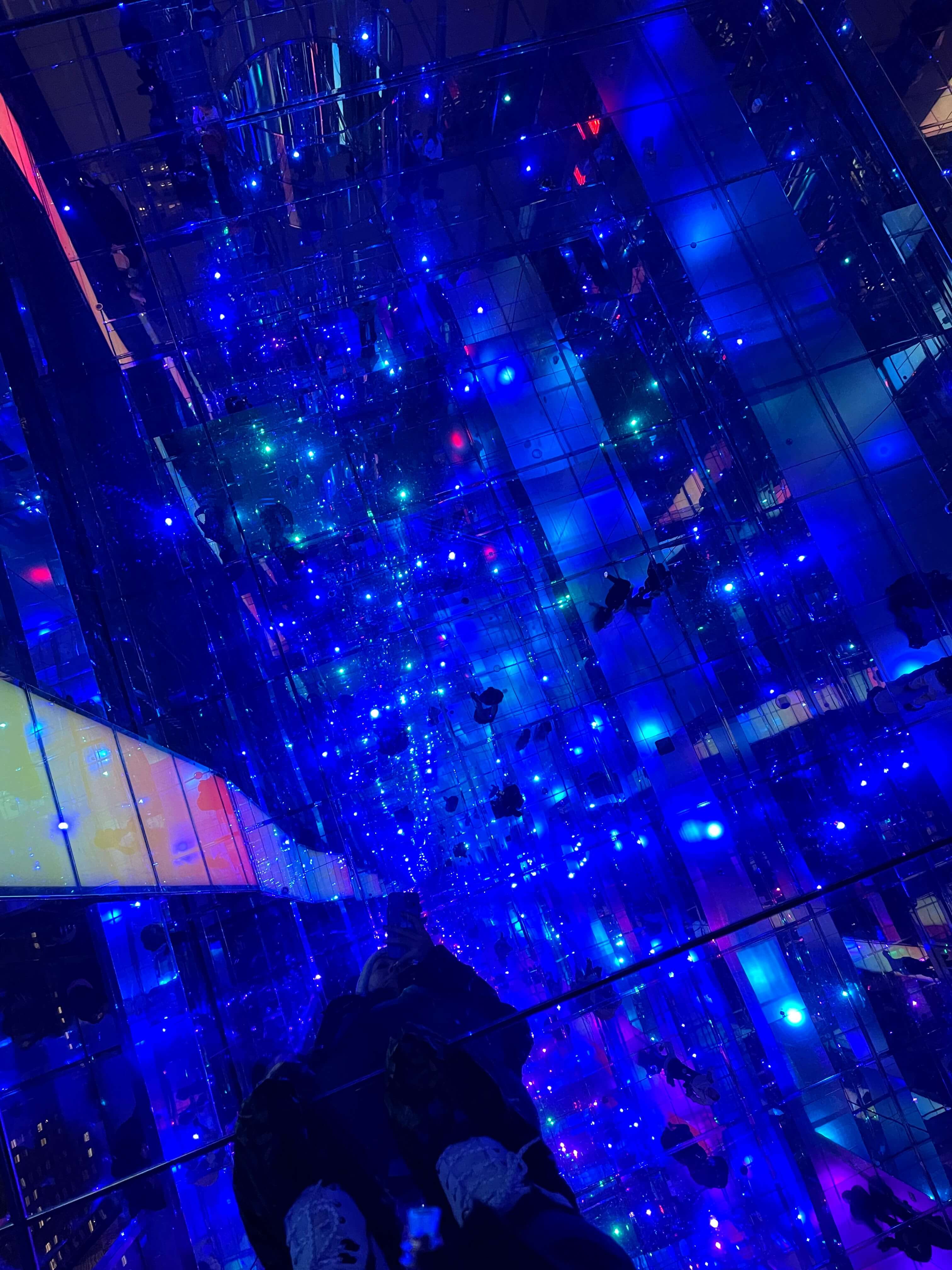 The following room features a work of art by one of my favorite artists, Yayoi Kusama (check out my article on visiting Naoshima, an art island in Japan with her world-famous polka-dot pumpkins). 
The room also had a miniature model of the One Vanderbilt building and an accompanying panel with interesting facts about the building. I've included a few of my favorite fun facts at the bottom of this post – keep reading!
Looking for a place to stay in NYC near SUMMIT One Vanderbilt? Consider the nearby Pod 39, a great budget accommodation option I reviewed in my post that compares Pod 51 vs Pod 39.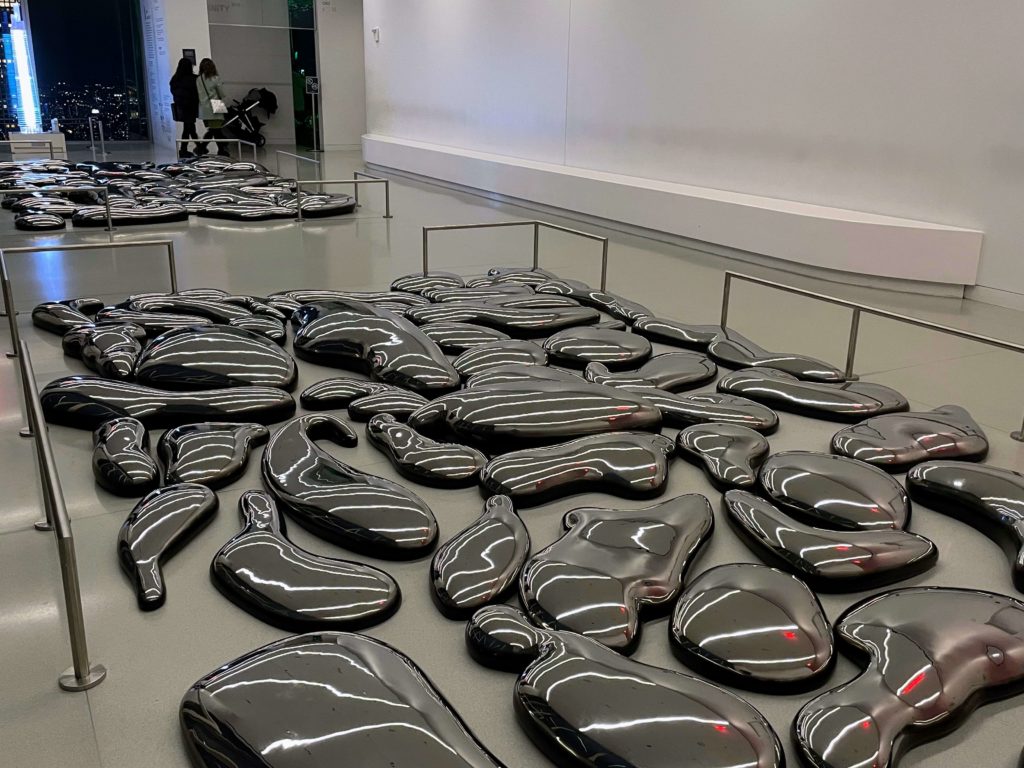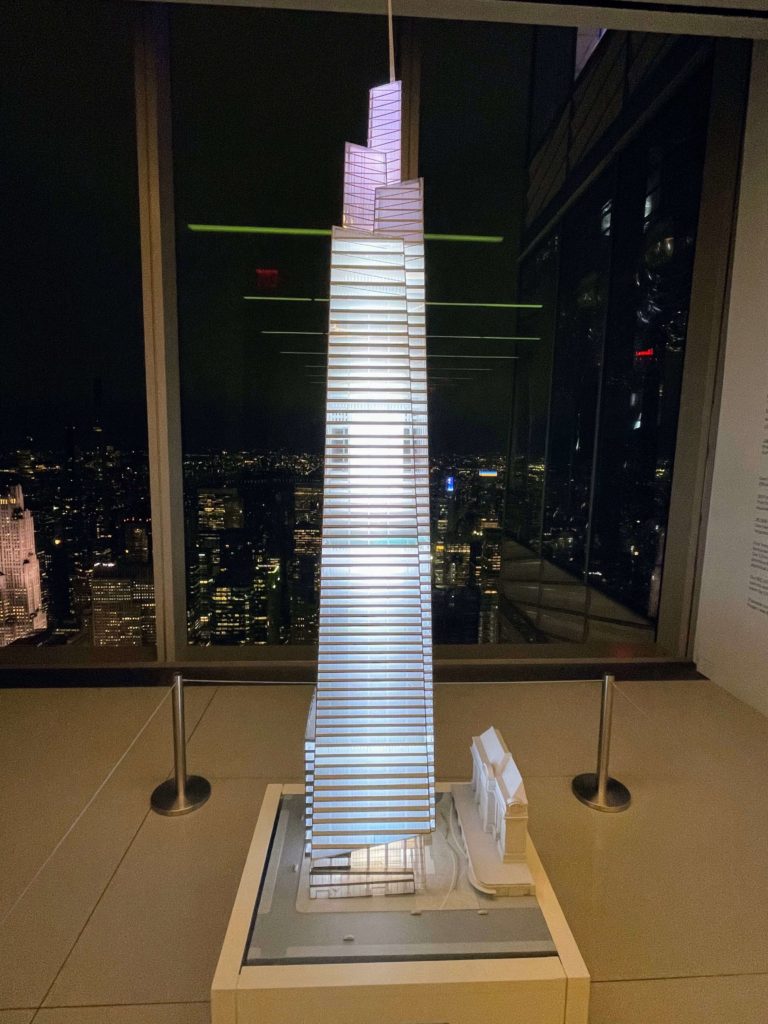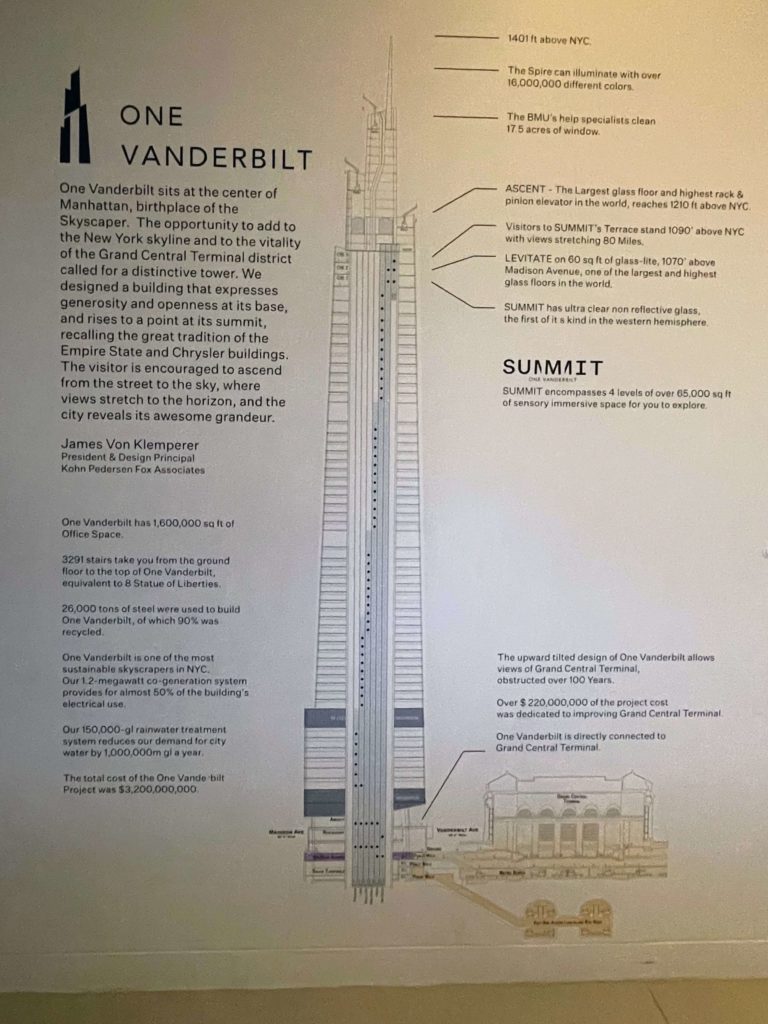 The next room was another favorite of mine. A second mirrored room was filled with silver reflective balloons that were floating up and down from the ceiling. This was a total dream for all the little kids in the room who were screaming with delight and punching every balloon within their reach. 
This is also an amazing room for Instagrammers, and makes for one of the best Instagrammable spots in NYC. 
The experience reminded me a lot of Teamlab Borderless and Teamlab Planets in Tokyo, where light and balloons are also combined to create a surreal, immersive experience.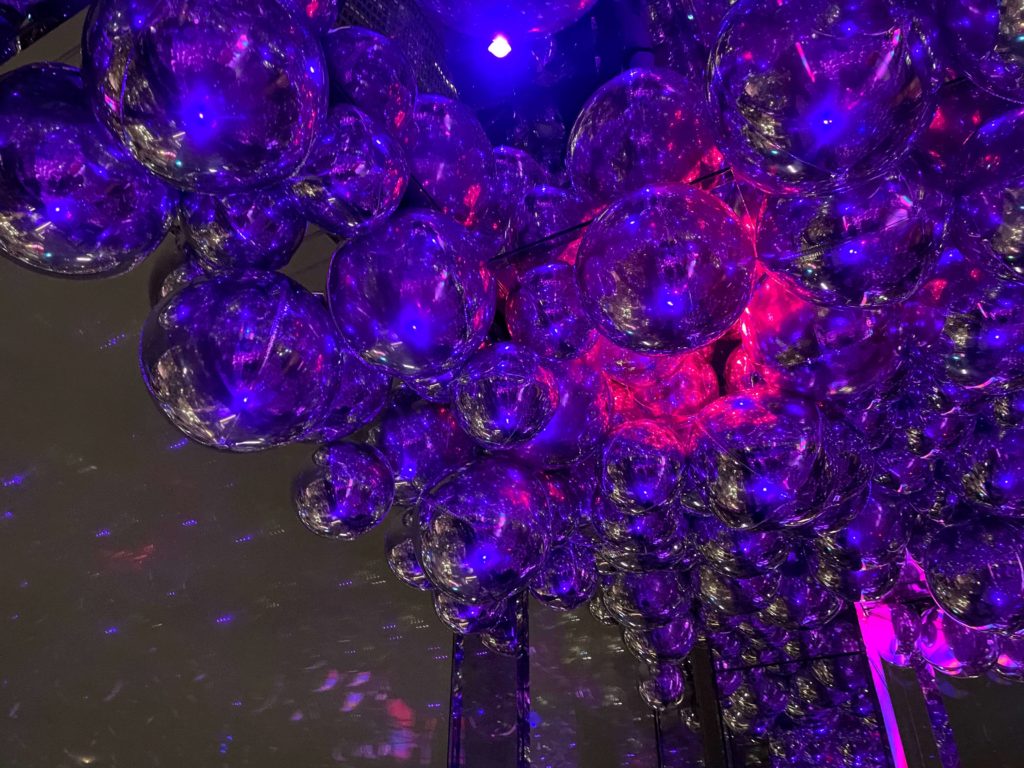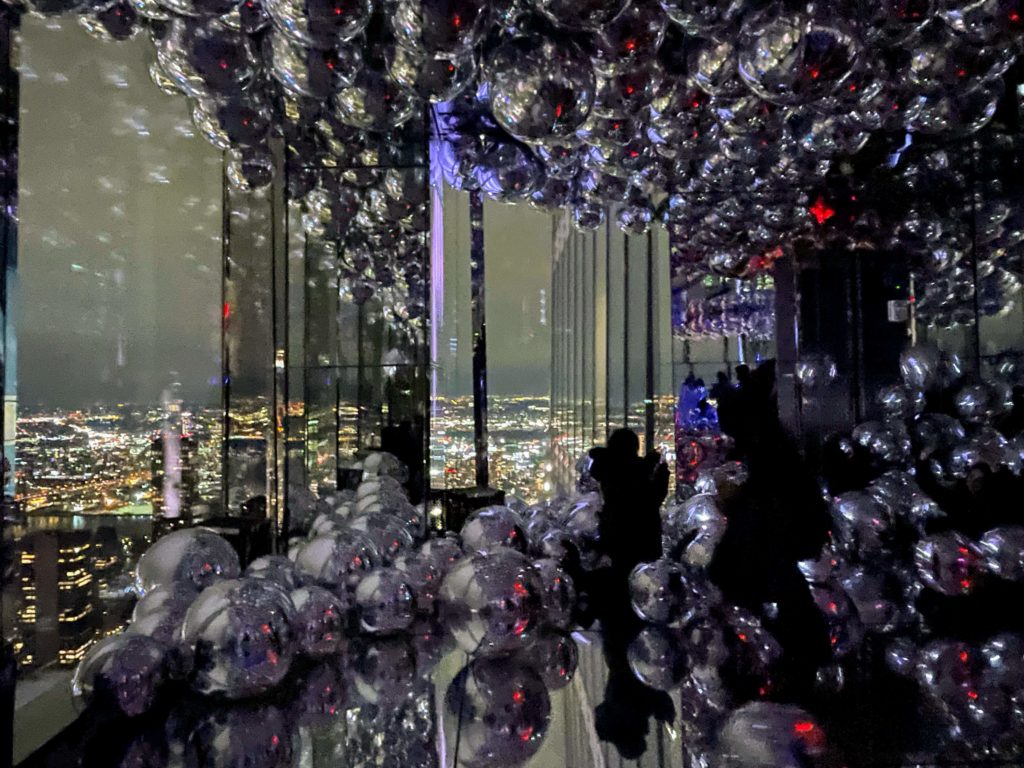 Visitors are then looped back up an escalator to the second floor of the Transcendence Room for another vantage point of New York City's skyline. To look down on the floor below with its choreographed light show created another spectacular feeing.
The following room, called Levitate, features a glass floor – one of the largest and highest glass floors in the world. When standing on this glass floor, you're 1,070 feet above Madison Avenue!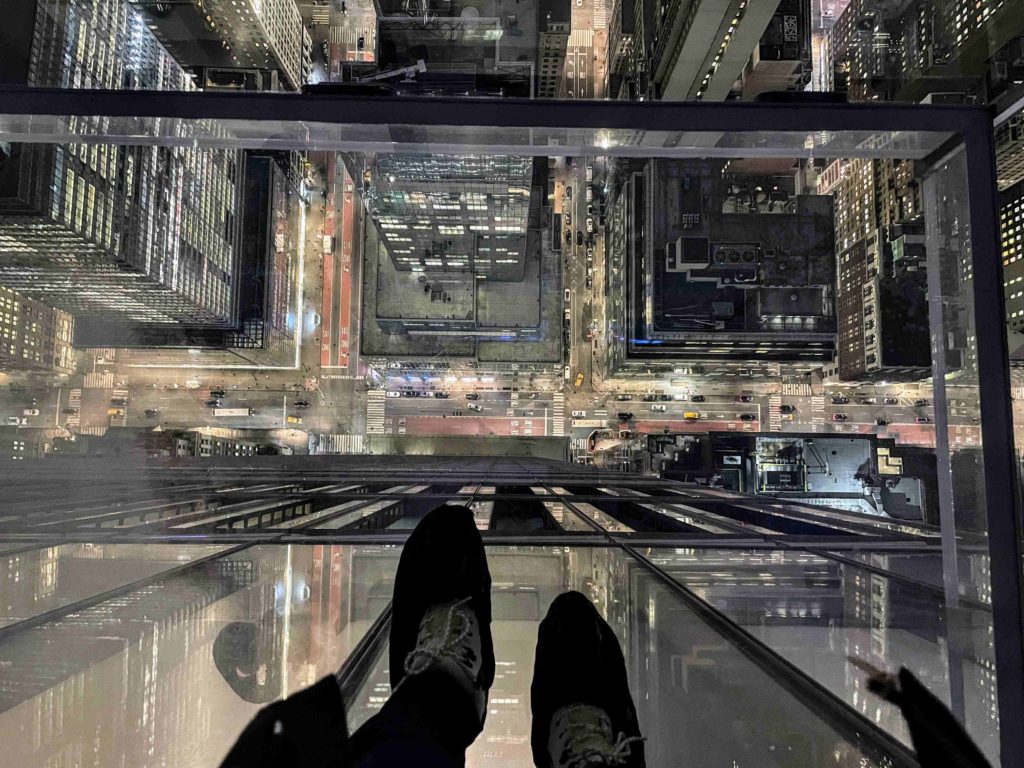 The last immersive room before being circled up another escalator is called Unity. This room, designed by Kenzo Digital, features a screen wall that evokes a sense of being surrounded by air, clouds, and wind.
As actual wind blows around you, listen to the sounds of air and watch the ebb and flow of the on-screen pixels. Overall, this immersive, meditative experience is hard to describe… you'll just have to go and experience it for yourself 🙂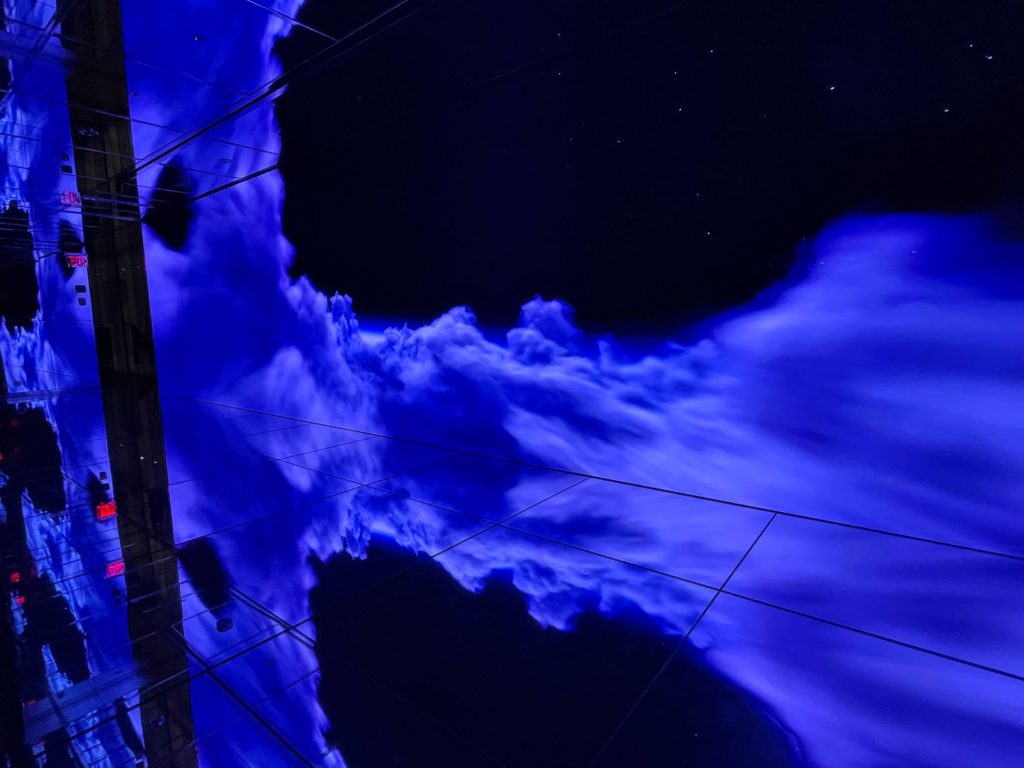 After Air, guests go up one last escalator to reach the SUMMIT One cafe and bar area. If you're not stopping for a bite to eat or a drink, continue around to the outdoor terrace and finally circle back to the gift shop. Here, you can participate in another photograph with your wristband QR code to commemorate your trip to One Vanderbilt at night. You can also pay extra and opt to take a glass elevator up another few floors up.
At the end, take the light-up elevator back down the countless floors, to the ground floor next to Grand Central Terminal in NYC.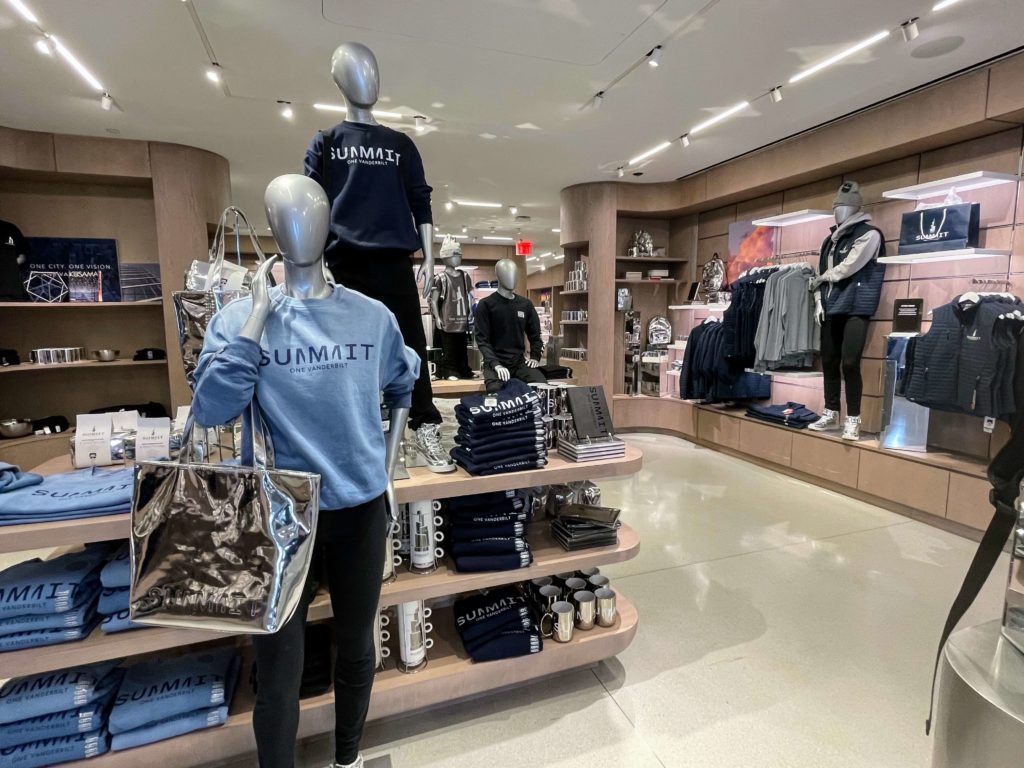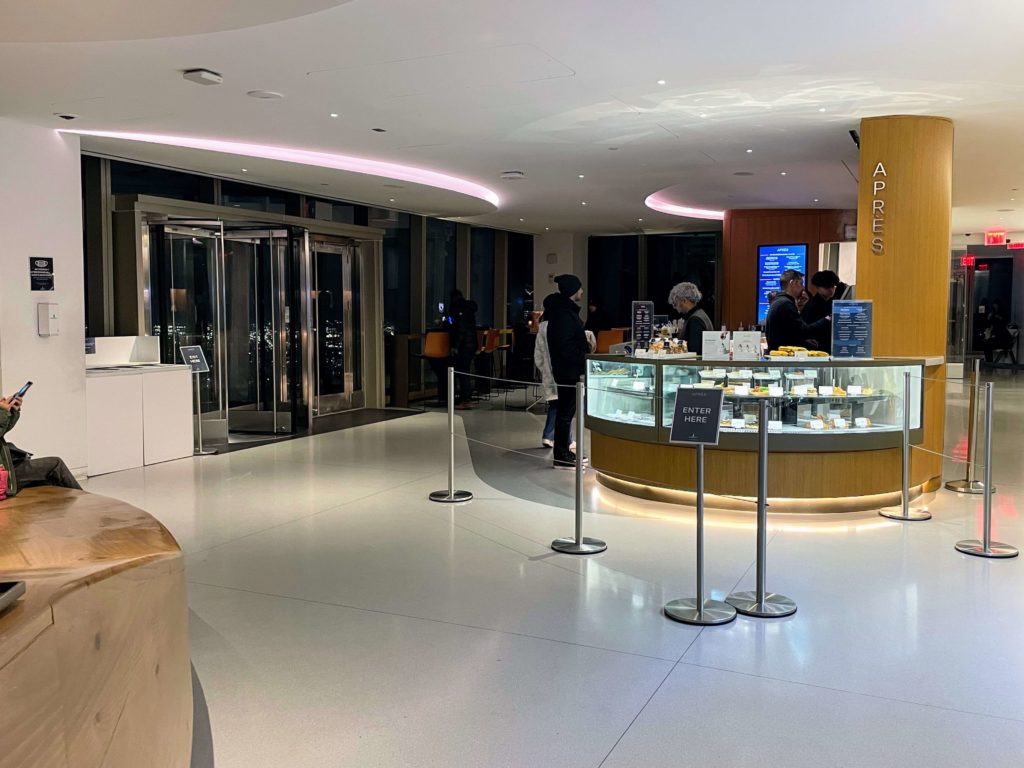 Important Information about visiting SUMMIT One Vanderbilt at Night
Opening Hours are from 9:00am to 10:30pm, with last entry at 9:30pm.
No high heels or other sharp shoes are allowed that may pierce the bags that visitors must wear on their feet. This ensures the One Vanderbilt observatory mirrors stay spotless and the feeling of walking on infinite glass levels is preserved for all visitors.
SUMMIT One Vanderbilt is the best NYC skyscraper for Instagrammers because of its beautiful digital art and light-up interior. It is not the skyscraper for visitors who want to learn about the history or significance of the surrounding New York City buildings. For interactive information about NYC, check out the One World Observatory or the Empire State Building instead. To keep up the aesthetic of the mirrored rooms, there are no informational signs available in SUMMIT One Vanderbilt. 
A list of additional prohibited items is shown below, and the full guest code of conduct can be found here.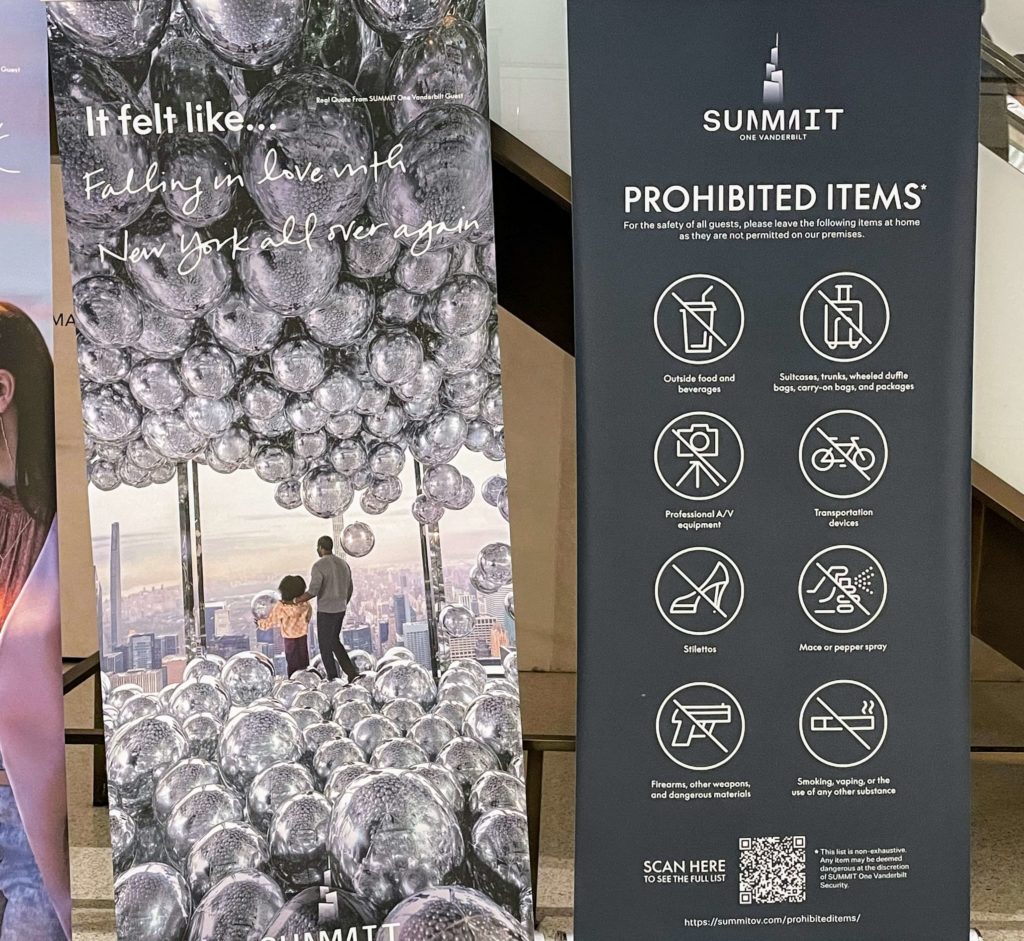 Tips for visiting One Vanderbilt at Night
It is not possible to backtrack when visiting SUMMIT One Vanderbilt, so make sure you take in every room to its fullest before continuing

Bathrooms and drinking fountains are available for guests on each floor of the summit.

Similar to Teamlab exhibits in Japan, mirrored floors and short skirts don't mix! Wear a long skirt, pants, or shorts for this experience. 

A gift shop, cafe, and cocktail bar can also be enjoyed by visitors on-site.

Many extras can be purchased at SUMMIT One Vanderbilt, including photos from your trip, souvenirs, and a ride on a glass elevator to go a few extra floors up the building.
Fun facts about the One Vanderbilt building
One Vanderbilt is one of the most sustainable skyscrapers in NYC. It has a massive rainwater treatment system and a 1.2 MW co-generation facility that can power 50% of the building's electricity. 26,000 tons of steel were used to build One Vanderbilt, of which 90% was recycled steel.

The Spire at the top of One Vanderbilt can illuminate 16 million different colors.

On clear days, the views from SUMMIT One Vanderbilt stretch 80 miles.
Looking for other fun things to do in NYC at night? Check out my post here for some more ideas on how to enjoy the city after dark. 
Are You Prepared For Your Next Travelventures?