New York City (NYC), New York is one of many cities that never sleeps. From flashing Times Square lights to rooftop bars to skyscraper summits, there are many awesome things to do in New York at night. Nightfall in NYC only means you'll be able to explore another side of the city!
Here are my top 5 things to do in NYC at night.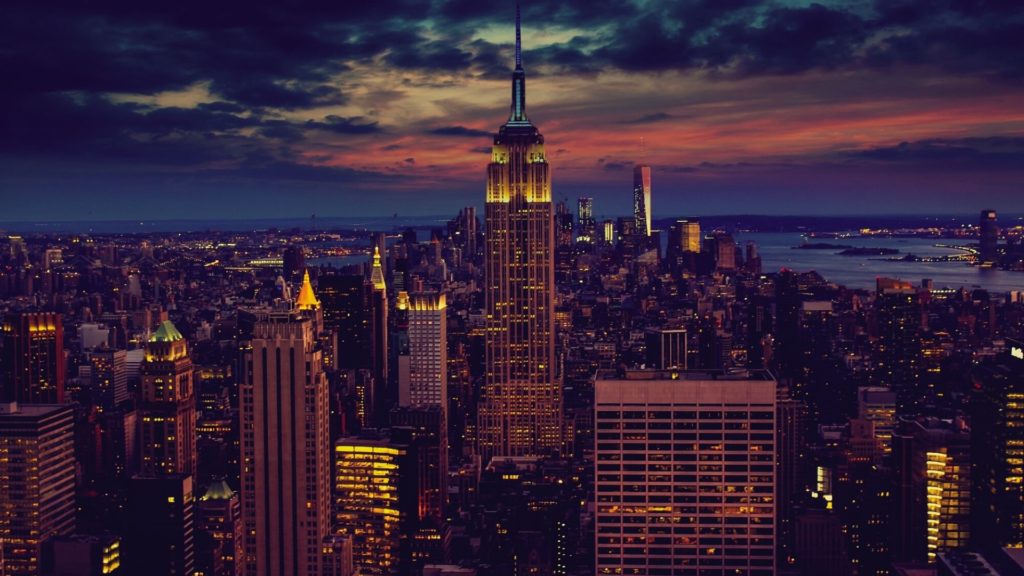 1. Head to a Skyscraper Summit
New York City has one of the highest concentrations of skyscrapers in the world, in the famous Manhattan neighborhood. Visitors to NYC at night are spoiled by the number of options available for summiting a skyscraper. The best part about this NYC at night activity is that the experience is totally different from summiting a skyscraper during the day. The glittering lights below of the New York nightscape are a must-see on any visit to New York City.
All summits required timed entry tickets to be purchased in advance. Ticket times change based on the season, but many offer timed tickets well into the night, making this a perfect thing to do in NYC at night. Here are some of the most popular summits and links to their ticket availability: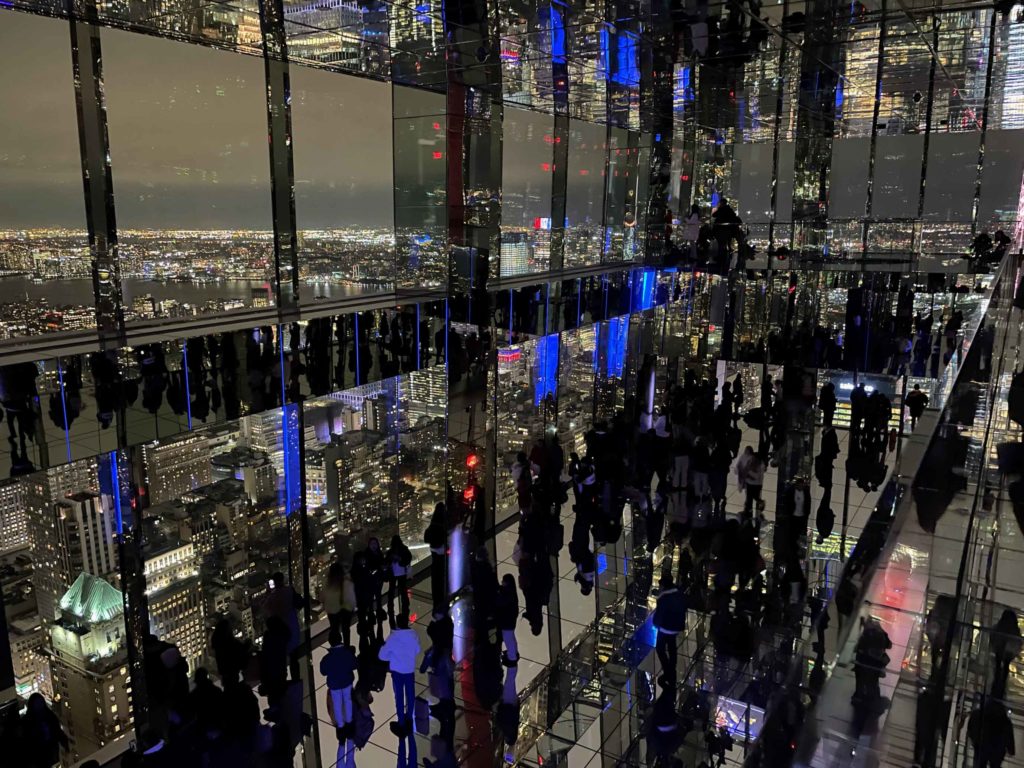 Times Square is one of the most famous intersections in the world, and a must-see during a visit to New York City. Seeing Times Square during the day is one thing, but when the sky is dark and the whole area comes to life, you can experience something completely different. 
Visiting Times Square is the perfect thing to do in NYC at night not just to see the bright flashing banners and to soak in the atmosphere. The shops and restaurants around this area also stay open for longer hours into the night compared to many other parts of the city. Shop at places like the M&M store, the Disney store, the LINE friends store, and of course of a number of iconic I "heart" NY stores here too.
Seeing Times Square at night will make you feel like you are in the heart of NYC!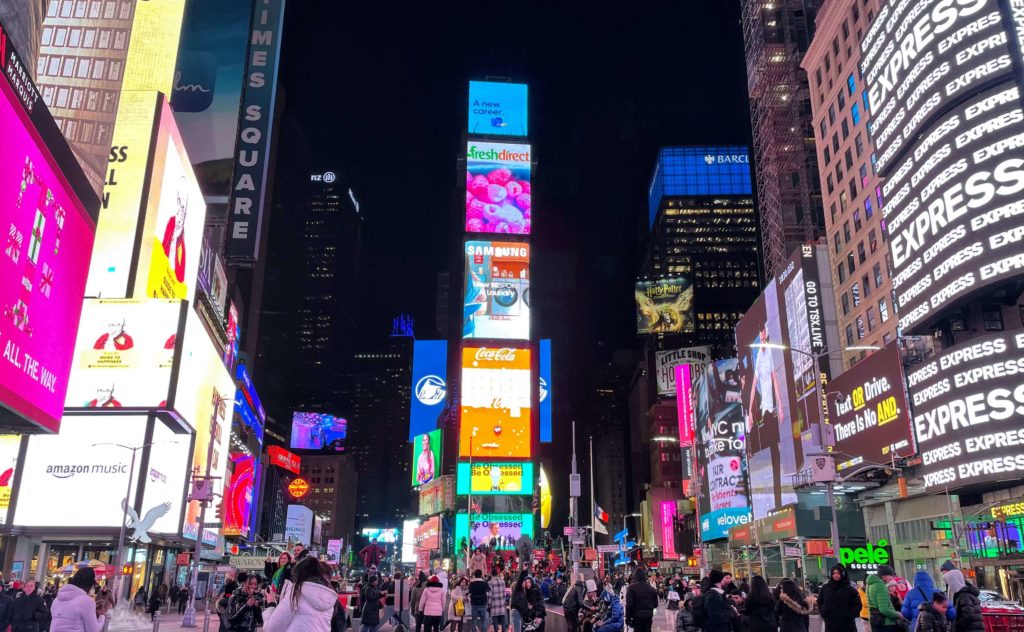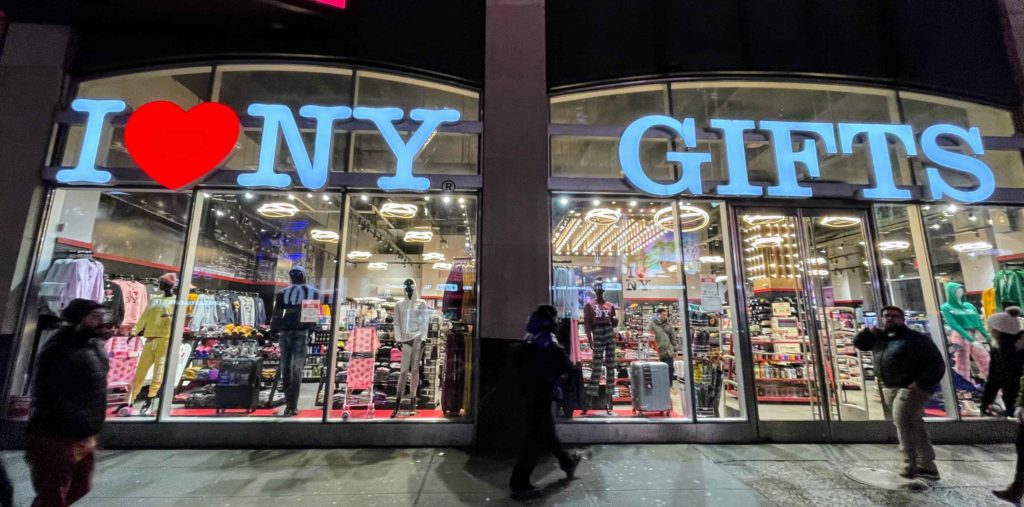 3. Catch a Broadway Theater Show
Attending a Broadway theater show in New York City is a must-do activity for first-timers to the city. Most Broadway performances have show options starting at 7:00pm or 8:00pm, making it a perfect nighttime activity in NYC! 
Some of the most famous Broadway shows to consider watching in NYC at night include: 
Be sure to secure Broadway tickets
before
your arrival in New York City to guarantee a seat for popular performances.
If you didn't manage to purchase any tickets ahead of time, resale vendors around Times Square may have some last-minute tickets available for Broadway evening performances.
4. Go on a Night Tour of NYC
A number of tour companies offer specific night-time NYC tours, which are a great thing to do in NYC at night. Similar to my comments above, being driven around in NYC at night (
open-top bus
, anyone?) is a great way to see a different side of the city. 
You'll see many of NYC's iconic sites that you may have visited during the day, but from a completely new perspective.
Some examples of night tours around NYC include:
New York City Guided Bus Tour at Night – Starts at 5:30pm and runs for 4-4.5 hours. Explore neighborhoods like Chelsea, Tribeca, Times Square, and end at the Rockefeller Center for an optional summit to the Top of the Rock. 
New York City Skyline at Night Tour – Starts at 5:30pm and runs for 4 hours. Stop by Liberty Park for views of the Statue of Liberty, the 9/11 Memorial, and see the Manhattan Skyline. 
One unique tour of NYC at night is the 
Gangsters and Ghosts tour
, a unique New York City history lesson and walking tour. Tours start at 8:00pm and run for two hours through places like Little Italy, Greenwich Village, and Five Points neighborhoods.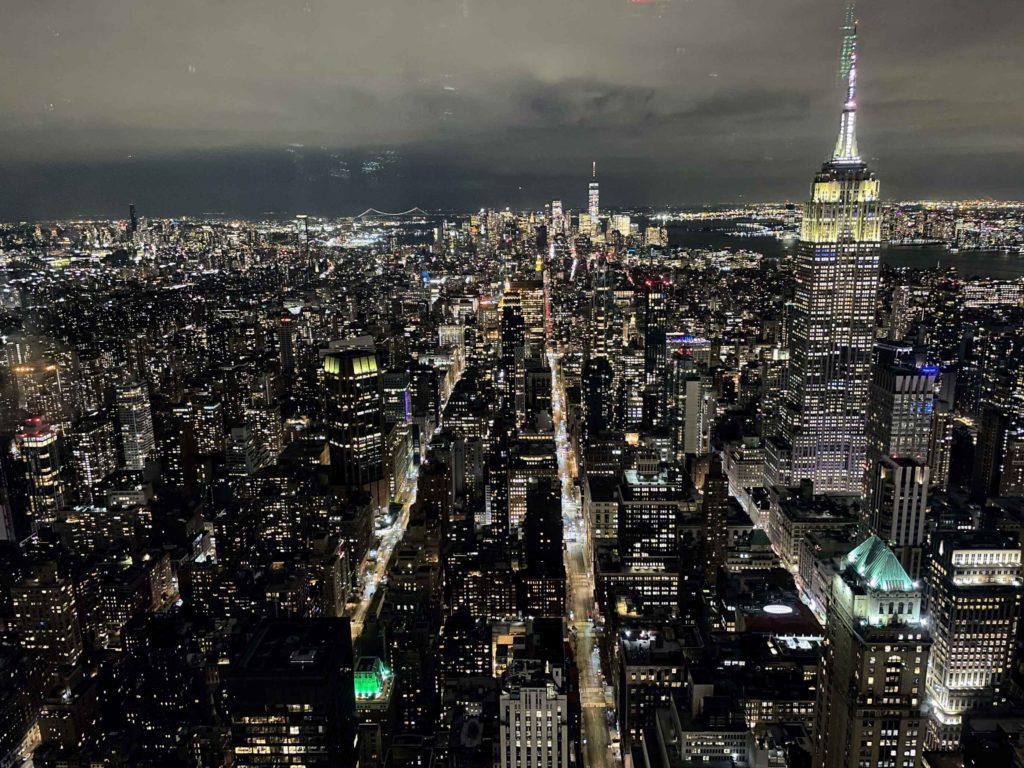 Getting high in NYC is one of the best ways to experience New York at night. Visiting a rooftop bar is a guaranteed way to take in beautiful views of the city's many skyscrapers and even catch glimpses into the lives of New Yorkers. 
When partaking in this NYC at night activity, it's best to do a bit of research ahead of time into whether a reservation or cover charge is required or whether a dress code applies. 
Some of New York City's most popular rooftop bars include:
If you prefer to leave the NYC at night bar-hopping itinerary to a local, check out this tour options from GetYourGuide:
Where to stay in NYC to explore the city at night
If traveling to NYC on a budget, consider staying at the Pod Hotels. Pod Hotels offer small single and double rooms (some with bathrooms attached) and are easy on the wallet compared to many other New York City hotels. I've stayed at both Pod 51 and Pod 39 which are walking distance from Times Square, SUMMIT One Vanderbilt, and other things to do in NYC at night. I recommend them both when spending a few days exploring New York City!