The metropolis of Tokyo is back on everyone's radar after it hosted the 2020 Olympics. The six months I lived there in 2019 feels like decades ago. To face my FOMO head-on, I've re-worked my Top Things To Do In Tokyo list to form an Ultimate Tokyo Bucket List.
I hope this will only day help to plan your (and my) future trips to this one-of-a-kind city. If I was showing a Tokyo newbie around the city, you bet I'd be taking them to every one of these Tokyo bucket list attractions. By the way, my blog is filled with information about Japan and Tokyo if you're looking for more inspiration. 
Check out a list of Weird & Unique things to do in Tokyo or some off-the-beaten-path locations to add to your Tokyo bucket list too!
1. Visit Sensoji Temple and Nakamise Street in Asakusa
No matter how short your Tokyo itinerary is, Asakusa should be at the top of your ultimate Tokyo bucket list. Seeing the massive Sensoji Temple and its iconic massive red lantern for the first time in person will make you say, "Yep, this is why I came to Japan." 
Sensoji Temple is still used by locals today as a place to pray. Take part in traditional temple customs including drawing omikuji or fortunes, lighting incense, and tossing a coin into the temple box and praying to the gods. 
A bustling souvenir shopping street, Nakamise-dori, leads right up to Sensoji temple. It's a great place to get souvenirs like Japanese t-shirts, keychains, chopsticks, sensu fans, and other knick knacks. Try some Japanese street food along this street too!
Tip: Add the nearby Kappabashi-dori to your Tokyo bucket list as well, which is the kitchen goods street and an off-the-beaten-path place to visit in Tokyo. From Sensoji Temple, it's about 15 minutes by foot. 
2. Get High - Find a viewpoint over Tokyo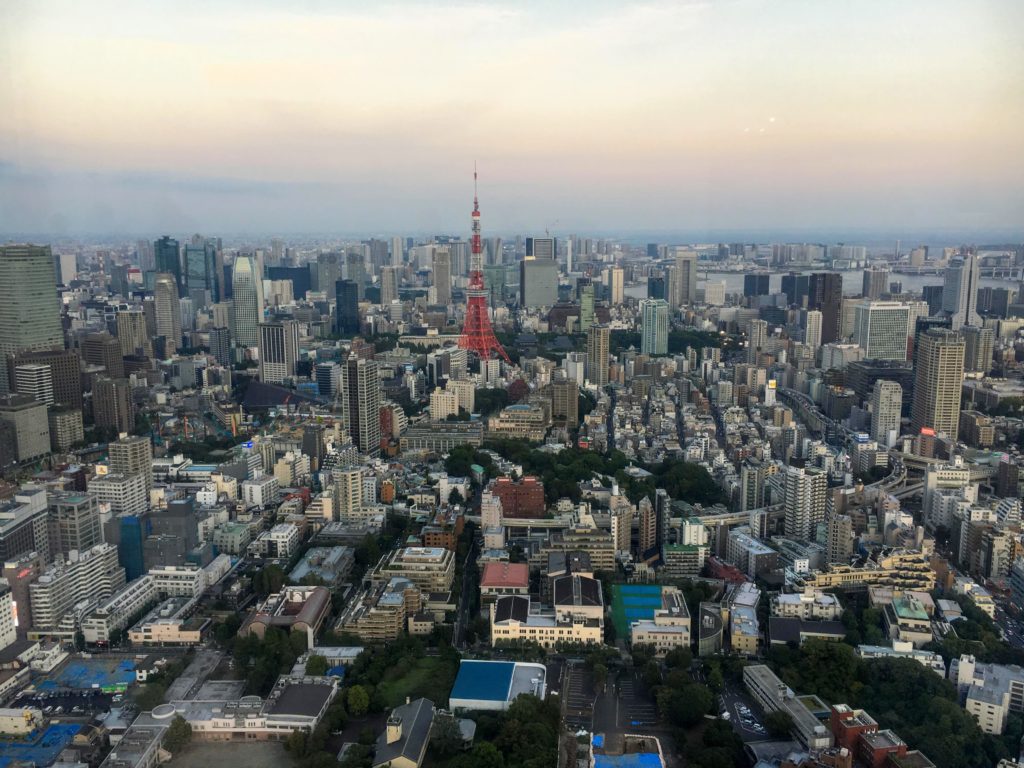 I learned from my dad that the best thing to do in a new city is to gain some elevation over it. There are many different viewpoints that you can reach around Tokyo, and I recommend putting at least one of them on to your Tokyo bucket list. I've listed all the viewpoints in a separate post here. 
For ultimate bucket listers should know the biggest and baddest viewpoint is the Tokyo Skytree. At 451 meters, it's the highest viewpoint in all of Tokyo. It towers over all the surrounding buildings, giving beautiful 360 degree views of the city. 
The Shinjuku Government Building is a free viewpoint in Shinjuku. On the 48th floor, the observatory has great views over Tokyo's CBD. It's good to note however, that because it's surrounded by Shinjuku's other tall buildings, you won't get a full 'panoramic' view.   
Other viewpoints include Ikebukuro's Sunshine City Sky Circus on the 60th floor, and the MORI Tower City View in Roppongi.
3. Discover Kawaii Culture at Takeshita Street in Harajuku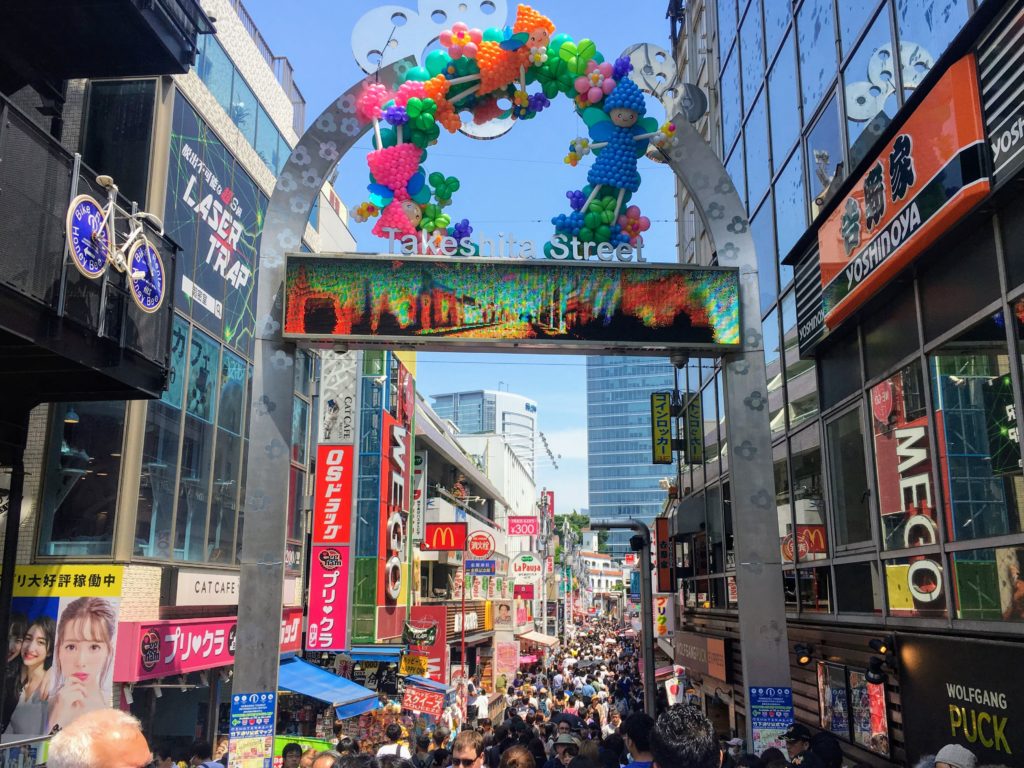 Visiting Harajuku is the next on the ultimate Tokyo bucket list, which is located conveniently between Shinjuku and Shibuya. The heart of Harajuku is Takeshita Street, a shopping street popular with both tourists and local girls to buy all things kawaii (cute). 
You can buy things like kitten and unicorn t-shirts, thigh-high platform boots, hip-hop snapbacks, cute jewelry, vintage jackets, silly socks, and Japanese souvenirs here. 
Takeshita is home to the Totti Candy Factory where you can get a massive, rainbow, Instagram-worthy cloud of cotton candy. Nearby is also the Kawaii Monster Cafe, where you can try more rainbow and character themed-foods served by girls dressed up as monsters. Make a reservation here!
4. Visit Meiji Jingu and Yoyogi Park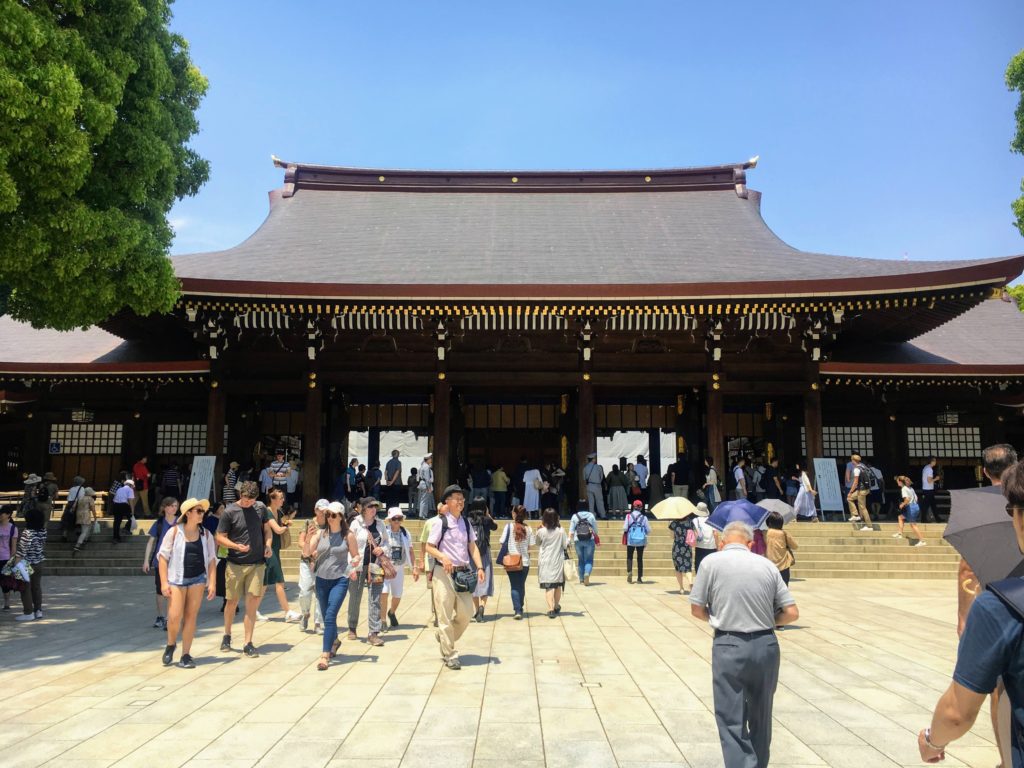 One of the most culturally important areas of Tokyo is the Meiji Jingu shrine, which makes it a top Tokyo bucket list item. The shrine's dedicated kami, the god or soul that is enshrined there, is Japan's first Emperor Meiji and Empress Shoken. It's an impressive Shinto structure where many locals go to pray, especially on New Years.
Although it's right next to quirky Harajuku, Meiji Jingu still feels like an escape into a holy forest.
Wash your hands at the water basin to purify yourself before entering (right hand, left hand, then right again). When praying to the gods, bow twice, clap twice, pray or make a wish, and then bow again. At the Meiji Jingu you purchase omamori, or good luck charms, as a souvenir, and draw omikuji fortunes.
Tip: Next to Meiji Jingu is Yoyogi Park, which is home to several festivals and events throughout the year. Keep an eye out for cool events to add to your bucket list too!
Looking for more Tokyo bucket list ideas?
Read about some other top Tokyo activities!
5. See Shibuya Crossing and hang out in Shibuya Shopping Gai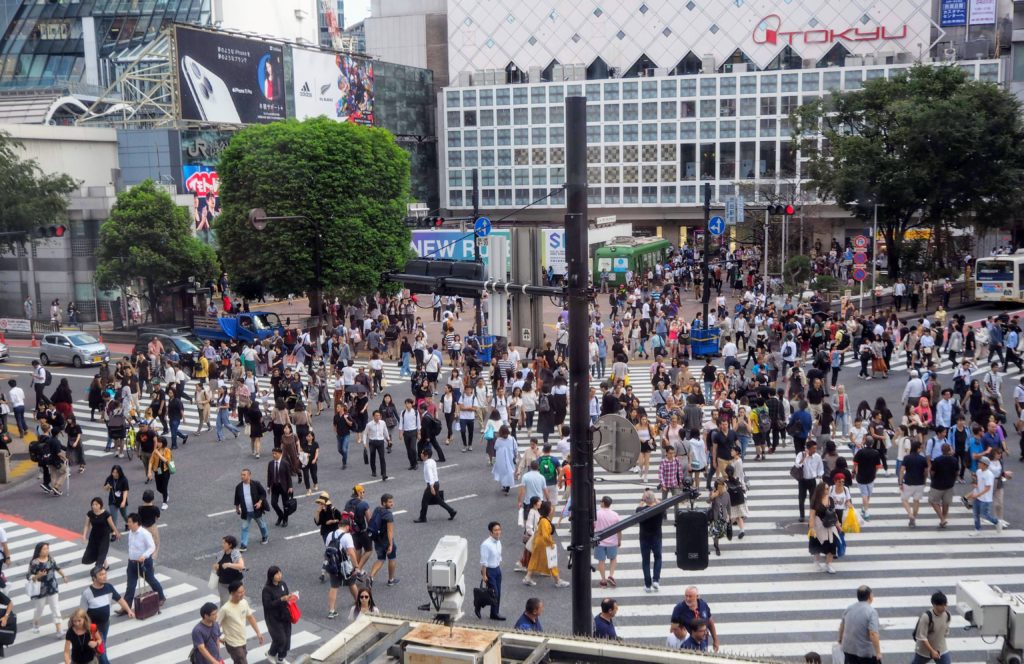 Visiting Shibuya, home to the famous Shibuya Crossing and Hachiko dog statue, is another Tokyo bucket list item that should be near the top of everyone's itinerary. Shibuya is a popular neighborhood for young adults, and has many brand-name shops including H&M, Bershka, UniQlo, and what was once of the largest Forever 21's in the world. 
Girls love shopping at Shibuya 109, a fashion store that sells every style from 'Lolita', punk, street, and boutique fashion, as well as a variety of shoes, bags and jewelry. Check out the massive Shibuya Loft stationary and home goods store too. 
Tip: At the Starbucks overlooking Shibuya Crossing, you can get a great view of the scramble of people. You may have to wait a while to grab a seat by the window, but it's worth the one-of-a-kind view! 
If you love Starbucks, you can also walk from Shibuya to the Naka-Meguro Starbucks Reserve Roastery.
6. Go for a drink with the Shinjuku crowd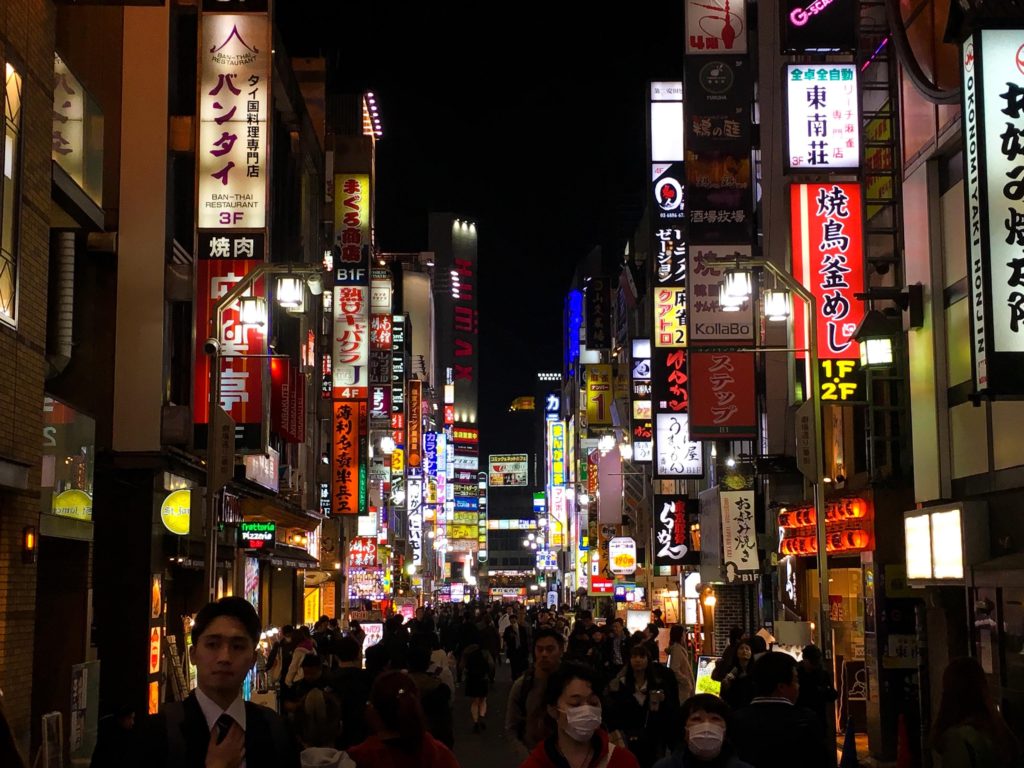 Shinjuku is another bucket list Tokyo neighborhood, best enjoyed at night when the lights come on all the buildings. Taking in the nightscapes of Shinjuku is a dream for photographers – it's filled with bars and restaurants that cater to the stereotypical Japanese business men or the salary-man. I recommend stopping by a local ramen, udon, or conveyor belt sushi restaurant, before heading to the bars. 
Shinjuku Gai is a grid of tiny bars, and is not just a top tourist destination. Many locals stop by here to get their fill of cheap beer with good company. Even if you don't drink, the lantern-filled streets of Shinjuku Gai are a sight to behold and should be added to your Tokyo bucket list! Join a food tour in Shinjuku to make the most of your experience.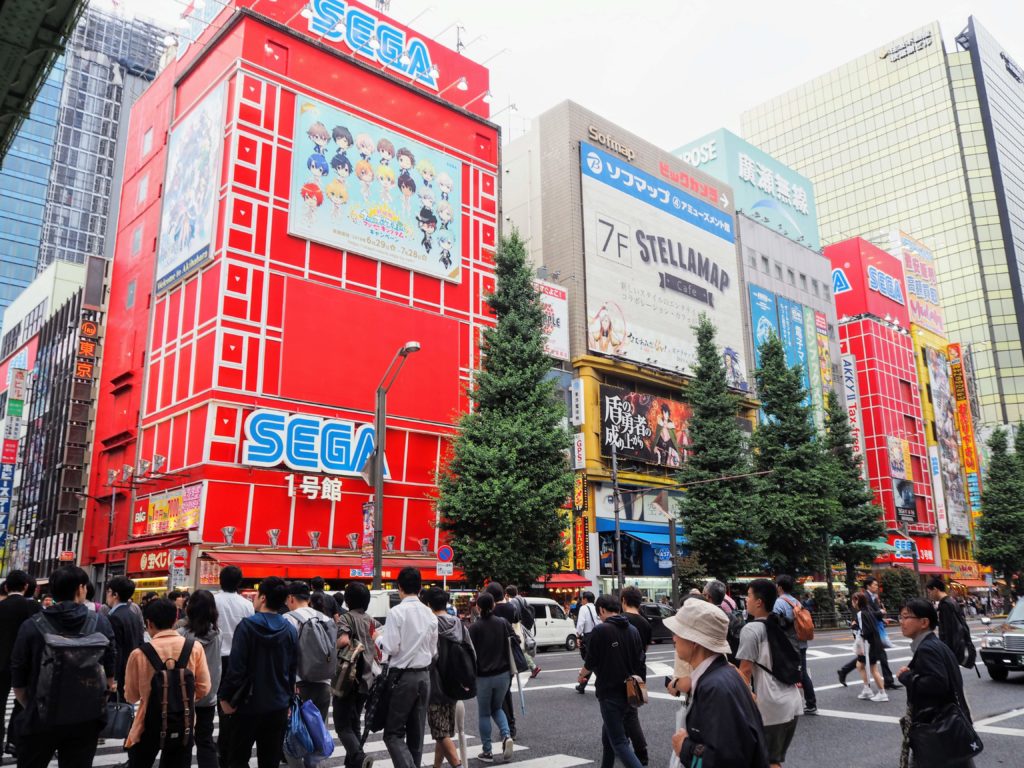 If you came to Tokyo a fan of any anime, manga, video game, boy band, girl band, you name it… visiting Akihabara has got to be a top Tokyo bucket list item. It's the favorite neighborhood for otaku, the Japanese term for someone obsessed with electronics, or some aspect of J-pop/anime culture. Home to large SEGA game centers as well as video game stores, anime stores, and many maid cafes, Akihabara is a very modern corner of Tokyo and the heart of Japanese pop culture. 
Famous places to visit here include the Akihabara Gamers Store, Mandarake, and Akiba Cultures Zone. Grab a bite at the AKB48 Cafe or Gundam Cafe near Akihabara Station. 
If you're not really into anime, electronics, or game centers though, you can probably give this neighborhood a pass and focus on other Tokyo bucket list destinations. 
8. Sample fish at Tsukiji Fish Market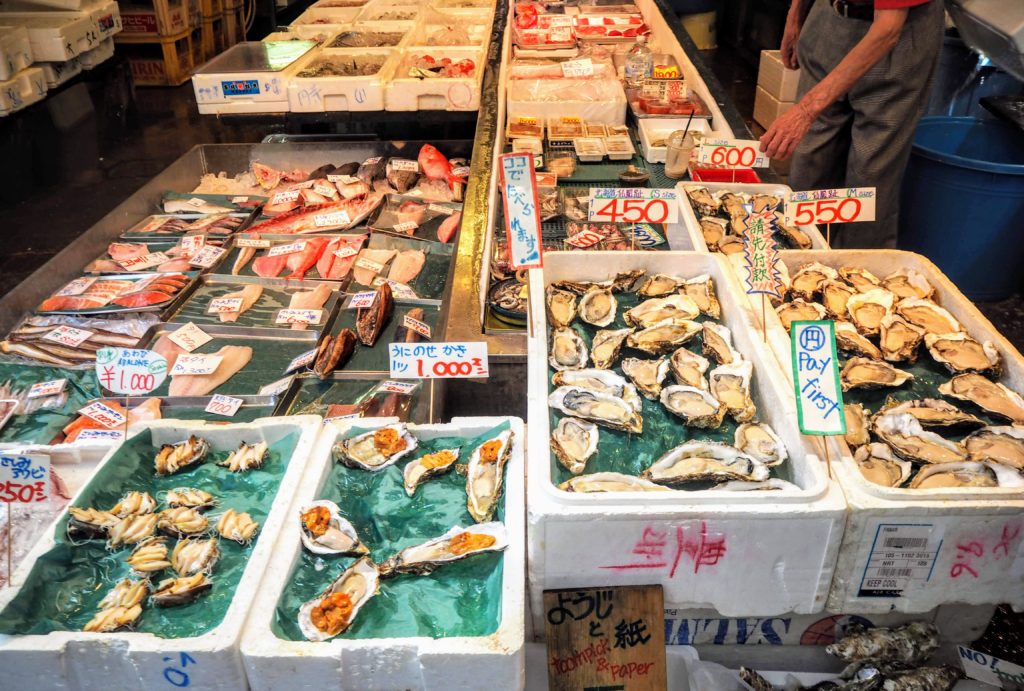 Tsukiji Fish Market was home to the famous tuna auction of Tokyo and one of the world's largest wholesale fish markets. Since 2018, the auction and wholesale market has been moved to Toyosu, only two stops away on the Yurakucho subway line. 
Checking out Tsukiji Market is a Tokyo bucket list item for foodies, especially seafood lovers, because it's a great place to get a taste of Japanese street food and delicious sushi in an authentic Japanese setting. There are still a handful of fish stores, many of which sell oysters or sea urchin that you can purchase to eat right then and there. Some will also cook up some lobster, crab legs, even wagyu beef sticks for you. 
You can also choose from various sushi restaurants, including popular Sushizanmai.
Even if you're vegetarian like myself, I think it's worth checking out Tsukiji for the cultural aspect. Check out a famous tamagoyaki (Japanese omelette) street food stand there that makes amazing omelettes on sticks. If you're vegan, or looking at dead fish makes you queasy, give this Tsukiji a pass on your Tokyo bucket list. 
9. Watch Sumo Wrestling at the Ryogoku Kokugikan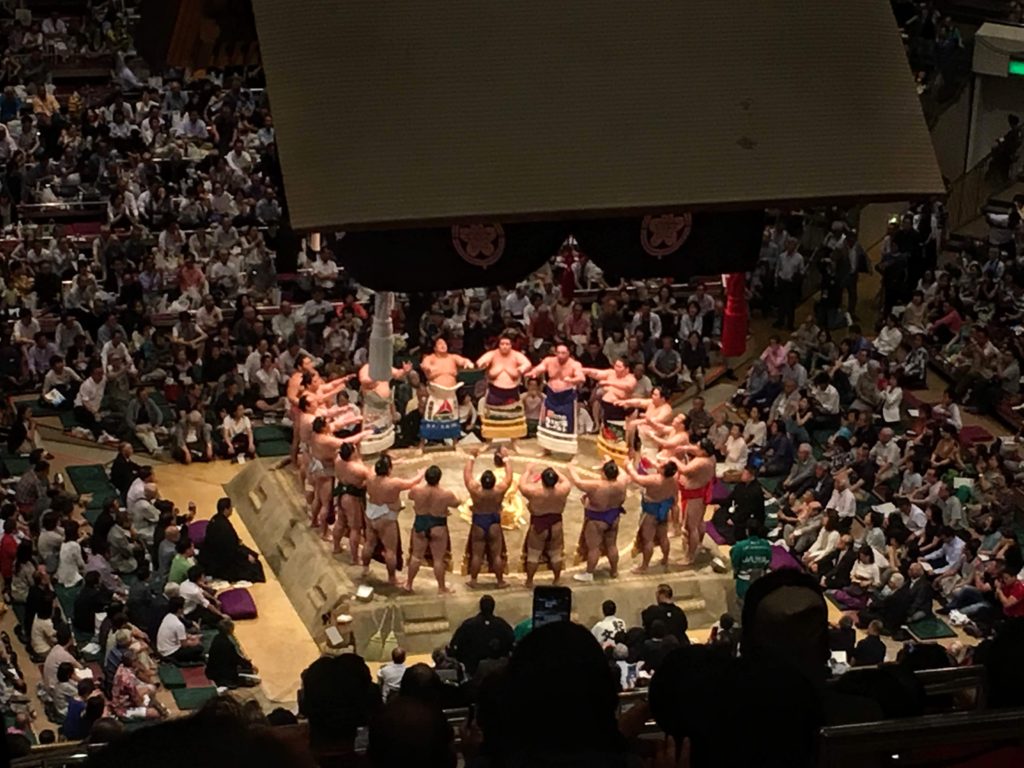 Three months out of the year, for 15 days at a time, you can watch sumo in Tokyo at the famous Ryogoku Kokugikan stadium. If you're visiting Japan in January, May, or September, be sure to add sumo wrestling to your Tokyo bucket list and itinerary! 
Read my post about how to get sumo tickets last-minute, by waking up early to line up in front of the Ryogoku Kokugikan ticket office. It's the cheapest way to get tickets and you'll find many locals prefer this method as well. 
If you're visiting Tokyo outside of these months, you can join a tour to a sumo-training session. 
10. Wander around the Imperial Palace Gardens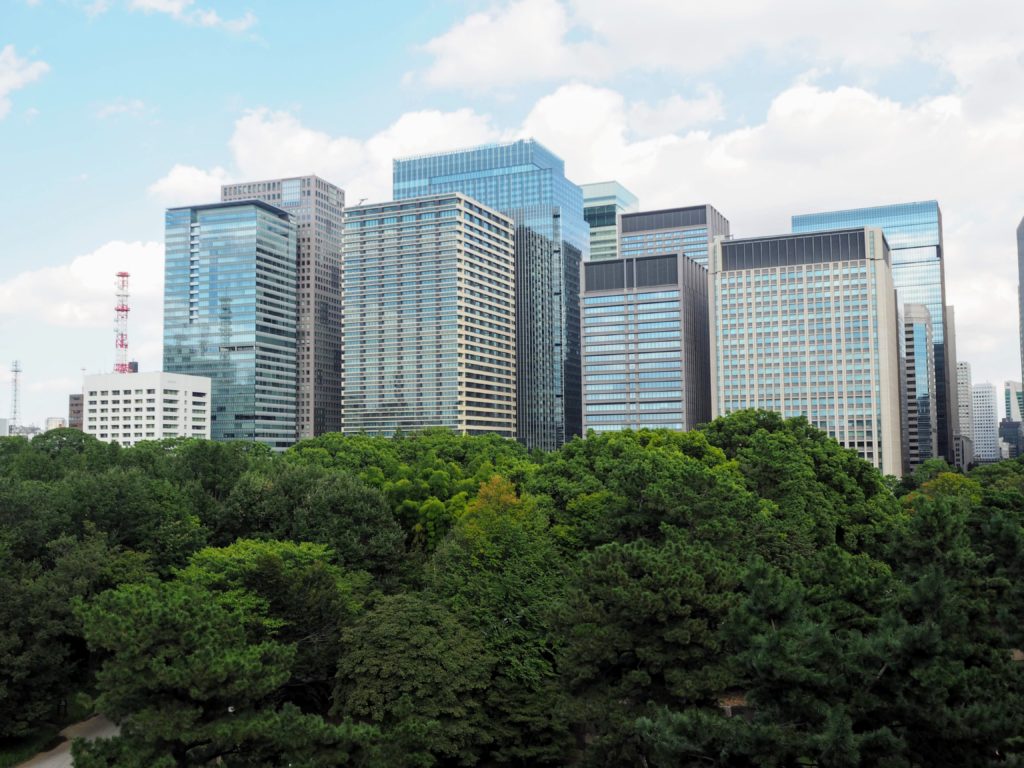 The Imperial Palace is an area with a lot of historical significance in Tokyo, and visiting it is a great Tokyo bucket list activity. The current palace was built on the former Edo Castle, which was home to Japan's Tokugawa Shogunate from 1603 to 1867. After the Shogunate was overthrown, the country's capital was moved from Kyoto to Tokyo, and the Imperial Palace was built over the Edo Castle. 
Because the Imperial Palace is the residence for the Emperor of Japan, on most days of the year, only the surrounding gardens and moat area are open to visitors. It's still a wonderful escape into nature, in the heart of Tokyo. 
Tip: Just a short walk from the Imperial Palace is Tokyo Station. Famous for its European-esque architecture, it's a great place to eat, shop, and have a rest. 
11. Visit the Studio Ghibli Museum in Mitaka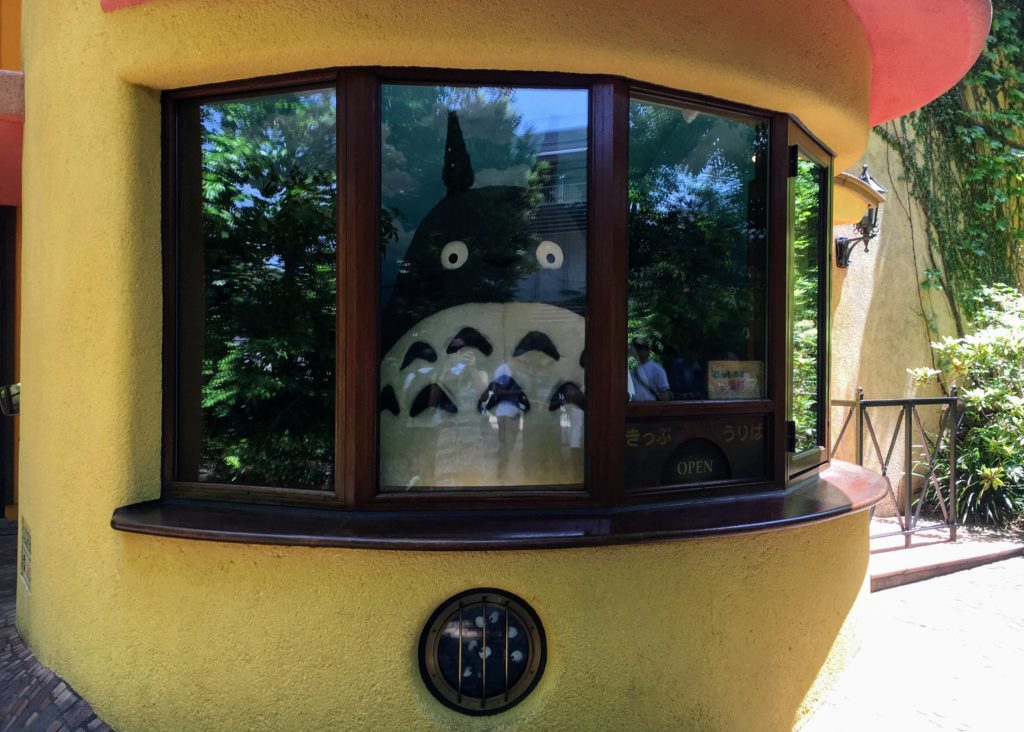 Studio Ghibli is the animation studio behind world-famous movies like Princess Mononoke, Howl's Moving Castle, Spirited Away, and My Neighbor Totoro. Led by famous director Hayao Miyazaki, Studio Ghibli's charming, lovable characters, are some of the most well-known characters in Japanese pop culture. Especially for movie and anime buffs, visiting the Studio Ghibli Museum is a no-brainer Tokyo bucket list item. 
Give Kiki, Totoro, Ponyo, and Chihiro a visit at the Studio Ghibli Museum, which contains special animation exhibits, a rotating special exhibit, a large gift shop, and a cafe. Short Studio Ghibli movies are shown in the theater room here, that are exclusive to the museum too! 
Be aware that tickets need to be purchased months in advance, and they are very expensive to get last-minute. 
Not into anime? I dare you to watch just one Miyazaki film and I guarantee the Ghibli Museum will be making its way to your Tokyo bucket list. 
12. Shop at Ginza, the 5th Avenue of Tokyo
Ginza is the high-end neighborhood of Tokyo, but great for travelers of all budgets to visit. On the weekends, the main street is closed off to cars, making room for the masses of people who come to shop (or window shop) here. If you're a shopper, shopping in Ginza should surely be on your Tokyo bucket list. 
Large stores in Ginza worth checking out include a massive Loft, a home goods store, Itoya, a stationary store, and Ginza Six, a high-end shopping mall. 
If shopping isn't your thing, give this one a pass for your Tokyo bucket list, but be sure to check out nearby Tokyo Station for a hearty meal. 
13. Picnic at Shinjuku Gyoen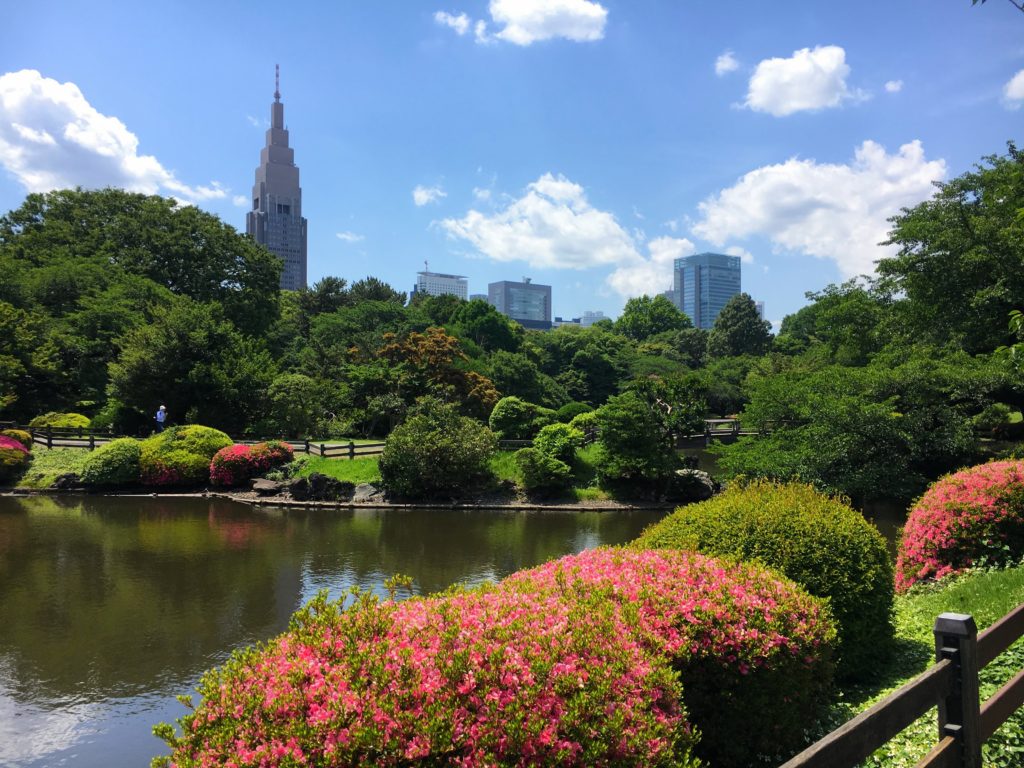 One of the top things to do in Tokyo is to visit a beautiful park and Japanese garden. Shinjuku Gyoen is the perfect place to have a family picnic, or just lay in the grass and enjoy the outdoors. It's easily accessible from Shinjuku Station on foot, and has a small museum, shops, teahouses, and a greenhouse within its boundaries. 
Shinjuku Gyoen was historically the garden of the Imperial family, before it was opened to the public. It is especially popular to visit during the spring cherry blossom season, and the fall koyo colors season. Entrance costs ¥500 per adult… but it's worth it if you spend time picnicking there! 
If you want to visit some more off-the-beaten-path Japanese gardens, check out my other posts about Tokyo. 
14. Visit a Teamlab Museum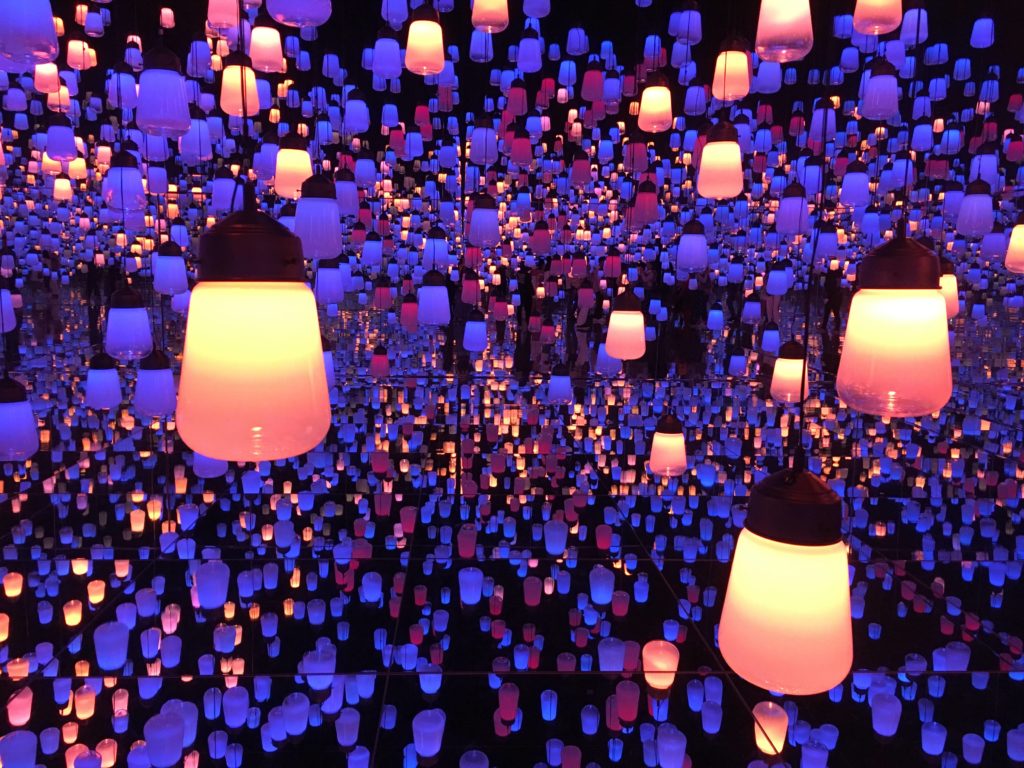 Tokyo is home to two incredible digital art museums and visiting one of them has to be on your Tokyo bucket list. The most famous is Teamlab Borderless in Odaiba, and Teamlab Planets is its little sister museum in nearby Toyosu. Although the museums have little to do with Japanese culture, to immerse yourself in the digital exhibits is an unforgettable experience and I cannot stress enough how cool the experience is! 
Teamlab Borderless is an open-concept museum with several rooms to freely explore, including a large room filled with moving flowers and a waterfall, and one with digital whales swimming around. Teamlab Planets has one path to follow, and has exhibits where you walk knee-deep in water. 
Some of the main exhibits are the same, so it's not necessary to visit both during your trip to Tokyo. Check out my post on Teamlab Borderless here, or read about which museum you should visit: Teamlab Planets or Teamlab Borderless? 
15. Escape to nature at Mt. Takao, Mt. Jinba, or Mt. Mitake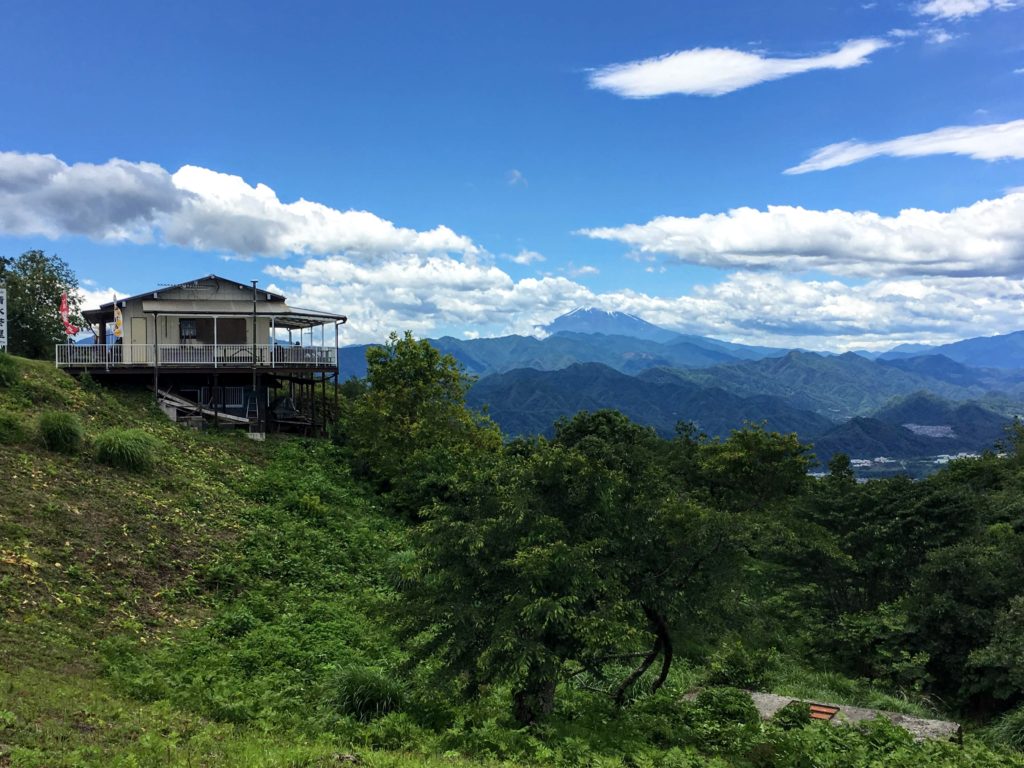 If you've been in Tokyo city center for a few days, you may want to escape into nature for a breath of fresh air. One of the top things to do in Tokyo is visit Mt. Takao, which is less than an hour by train from Shinjuku. Mt. Takao is famous for its views of Mt. Fuji, its beautiful fall colors, and its many temples that adorn its holy summit. 
For avid hikers, add a day to hike from Mt. Jinba to Mt. Takao to your Tokyo bucket list. You'll spend a rewarding day hiking in the mountains near Tokyo. An alternative to visiting Mt. Takao is a neighboring holy mountain, Mt. Mitake. Its summit was once a pilgrimage site, so there are many beautiful Ryokans offering accommodation on Mt. Mitake.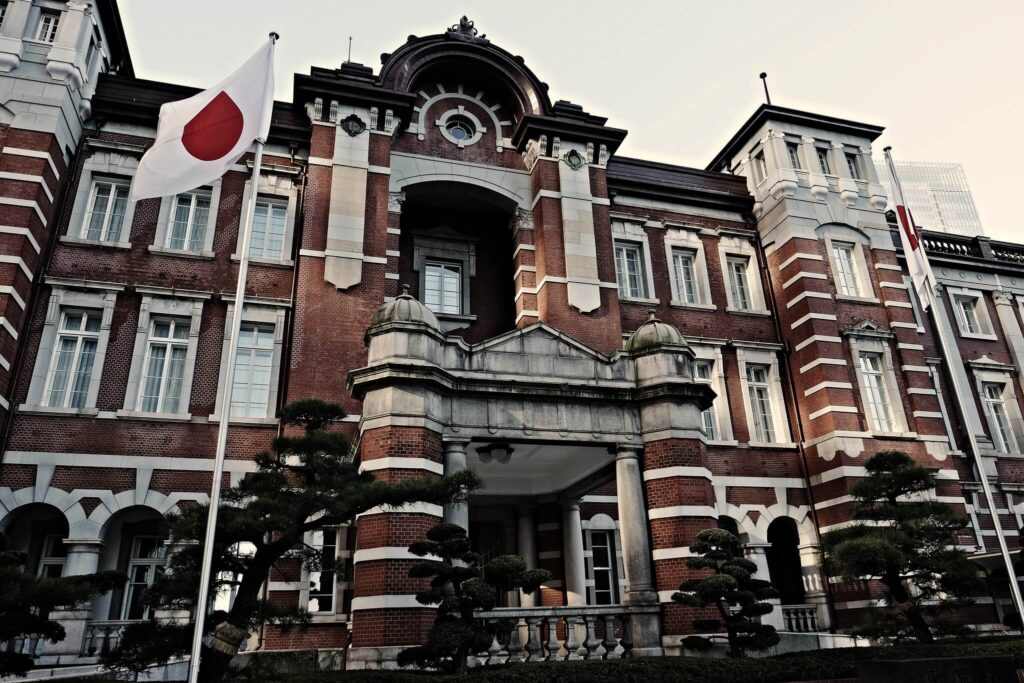 As I've hinted in the other bucket list sections, visiting Tokyo Station is a must during your time in Tokyo. This iconic building is said to be based on Amsterdam Centraal station, hence its European-looking red brick facade. Inside is one of Japan's busiest railway stations, and a terminal station for many shinkansen bullet train lines. 
Tokyo Station is a great place to grab a bite to eat, such as at the Tokyo Ramen Street at the Yaesu South exit. Several famous ramen restaurants from different parts of Japan are located here, and many are popular enough to get long lines forming in front of them! Kitchen Street is another option which has renowned Japanese-style restaurants that serve different local cuisines from around Japan.
Traveling with kids? Don't miss Character Street at the Yaesu North exit, where dozens of shops are dedicated to special childhood cartoons. Find Snoopy, Pokemon, Hello Kitty, Studio Ghibli, Crayon Shin-chan, and others.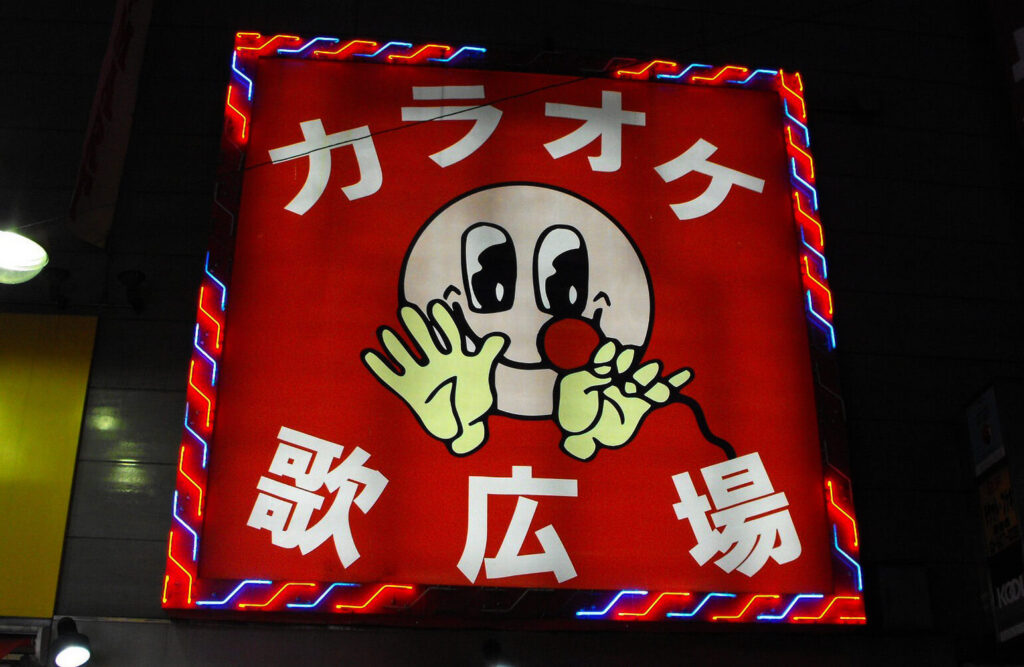 Did you really go to Tokyo if you didn't find yourself drunk singing at a karaoke bar at 4am? Some of my fondest memories of living in a sharehouse in Tokyo revolve around our karaoke nights, and you better believe this is going on my Tokyo bucket list for the next time I visit. 
Karaoke bars are often found close to train stations in Tokyo. Just look for the characters カラオケ. You can also look for the smiling face on the sign above, which is the mascot for a popular karaoke bar chain. 
Inside the karaoke bar, you rent a room per hour, usually costing 1000-2000 yen per person, depending on whether drinks are included in the deal. Often times the front desk will have costumes and maracas or other instruments you can take up to your karaoke room as well. The room will have a tablet from which you control the song choice, and at least two mics to get you started! 
18. Splurge at a Conbini (Convenience Store)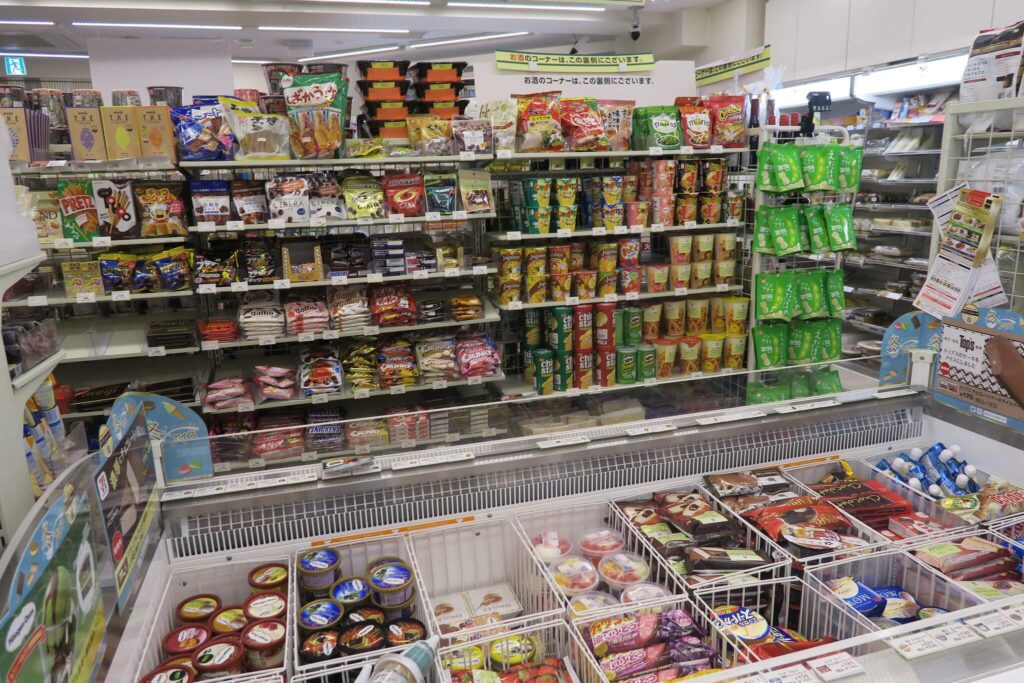 Tokyo is covered in convenience stores, and you'll surely be visiting one regardless of whether it's on your Tokyo bucket list or not. 7-Eleven, Lawson, and Family Mart are the three largest chains, but shops like Ministop, Daily Yamazaki thrive as well. 
Convenience stores are a great place to find hot and cold drinks, snacks, ice creams, and for budget travelers, ready-made meals. Famous for their cleverly packaged onigiri (rice balls), they also have cup ramen that can be made on-site, bento-style noodles, and even hot hash browns, karaage fried chicken, and oden soups near the checkout counter. 
You'll find everyday essentials like basic medicines and undergarments, magazines, small toys, and toiletries too. Although only some stores have toilets, they will all have ATM machines and sometimes printing machines too.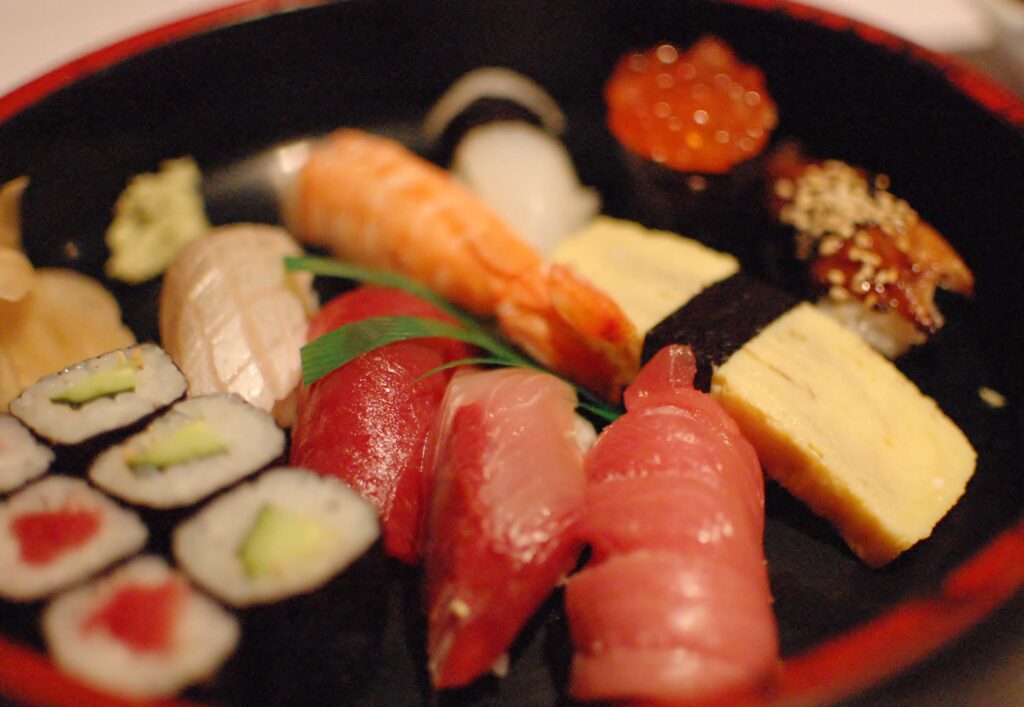 Surely eating authentic Japanese sushi is on everyone's Tokyo bucket list, right? And I'm not talking the dragon-california-cream-cheese sushi roll abominations. I'm talking simple and authentic Japanese sushi, which luckily can be found all over Tokyo for any budget and level of refinement.
At the high end of the sushi budget scale, you can visit one of several Michelin-starred restaurants in Tokyo and order omakase, which means the menu is left up to the sushi master to put together based on the freshest ingredients. Check out Sushi-ya, a well-known high-end Ginza sushi joint frequented by locals. Be sure to make a booking ahead of time.
One of the most famous sushi restaurants in Tokyo is located in Roppongi. Sukiyabashi Jiro is owned by Jiro Ono from Jiro makes Sushi! A booking can be made online, and although you may not meet Jiro himself, his eldest son also works at the restaurant.
If sushi in Ginza or with Jiro is a bit out of your budget, head to a conveyor belt sushi restaurant, which can be found in any Tokyo neighborhood. The best conveyor belt sushi restaurants are Kura Sushi, and Sushiro, neither of which will break your bank and have vegetarian friendly options as well.
20. Visit A Tokyo Disney Resort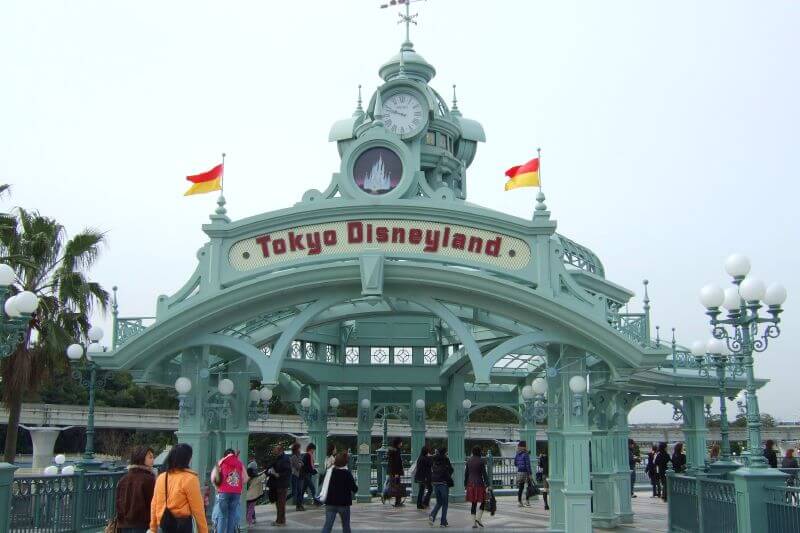 If you're traveling with kids, surely visiting Disneyland is at the top of their Tokyo Bucket List. Tokyo Disneyland and Disneysea are known as two of the best in the world, with extremely kind staff and a plethora of characters to take pictures with. 
What's the difference between Disneyland and Disneysea? After asking several local experts (my sharehouse members) who have regularly visited both, the main difference is that Disneysea caters more to an adult crowd with bolder theme park rides and the serving of alcohol. Some families and adults happily visit both however. 
Visiting one of Tokyo's Disney resorts is an all-day mission however, so be sure to set aside a whole day for this activity if you've added it to your Tokyo bucket list. Be sure to book your tickets and plan your transport in advance as well. Buy tickets for Disneyland including pickup here and Disneysea here! 
21. Hanami - See the Cherry Blossoms
Hanami, or cherry blossom viewing, is a cultural tradition in Japan that you can partake in every spring. The cherry blossoms are usually in full bloom in Tokyo from the end of March to the beginning of April, and enjoying them at one of the city's beautiful parks is a must-do Tokyo bucketlist item. Pack a blanket, some snacks, beer, a portable karaoke machine, and have a hanami picnic party.
Many websites track the best times to see the cherry blossoms across Japan, such as this one. Although 2020 saw one of the earliest cherry blossom blooms in history, generally the hanami season runs from March to April across Japan. Kyushu and the southernmost Japanese islands see full bloom by mid-March, while Sapporo in the north sees it in mid-April.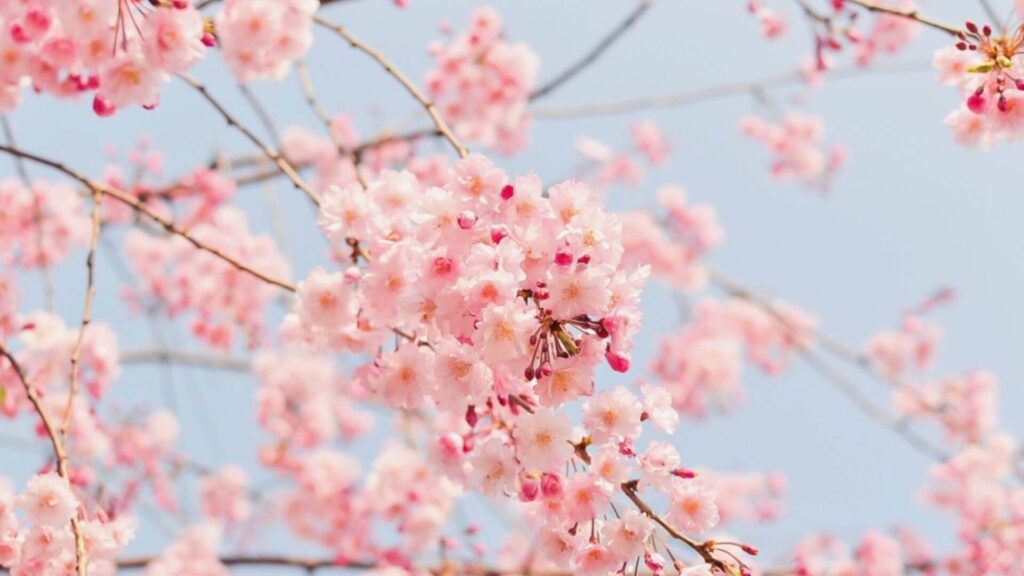 Pin These Tokyo Bucket List items for later!
Are You Prepared For Your Trip To Japan?