Sun Moon Lake is one of the most popular tourist destinations in Taiwan, with over six million visitors every year. The region's natural beauty, well-preserved culture, and many activities makes it a fun place for all types of travelers. Sun Moon Lake from Taichung and Taipei will take at least a full day trip, because it's located a little ways into the mountains.
Here's all you need to know for your day trip to Sun Moon Lake Day from Taichung!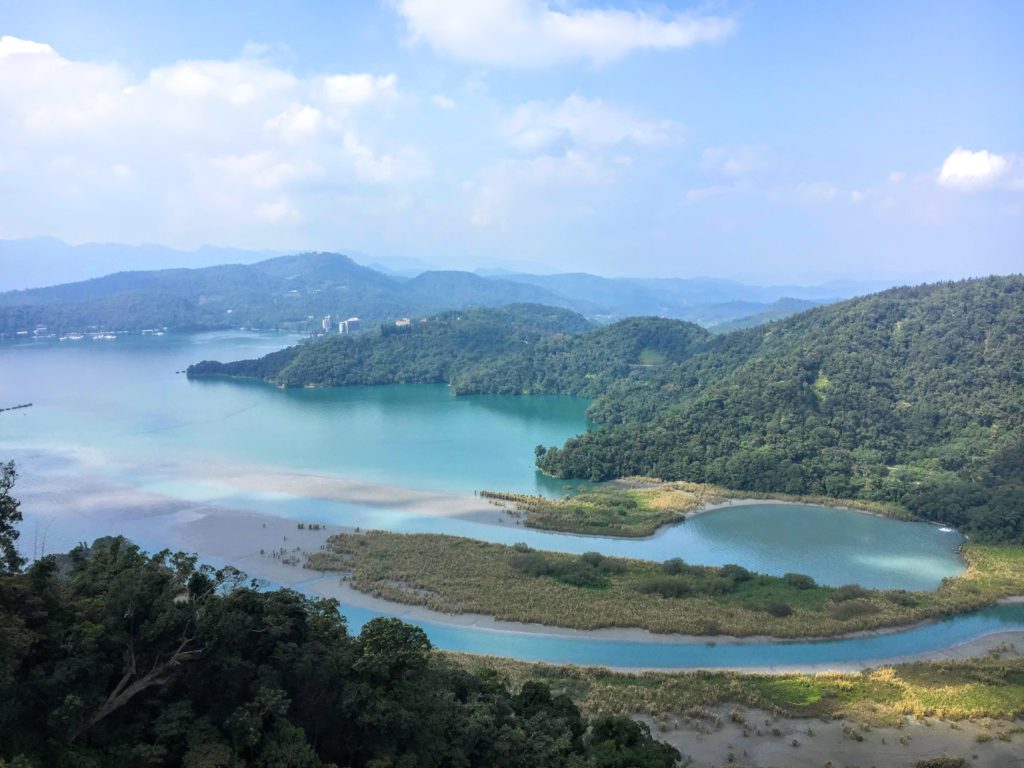 Day Trip to Sun Moon Lake, or Overnight Trip?
Many people choose to stay one night near Sun Moon Lake so they can spend more time in the area. Depending on your Taiwan itinerary, you could spend the night at Sun Moon Lake and return to Taichung in the morning, and travel to your next destination from there.
Two great backpackers hostels near Sun Moon Lake are Yue Lake Backpackers and Deer Traveler Hostel
More luxurious options include Sun Moon Inn, Doris Home, and Blue Sky Bay B&B
How to go to Sun Moon Lake from Taichung
The Nantou bus company has the most direct busses departing for Sun Moon Lake from Taichung. Nantou bus company's Sun Moon Lake shuttle busses are what the best busses to take from Taichung to Sun Moon Lake.
A round-trip ticket costs 390 TND ($12 USD) and is bought on the day of departure only in Taichung. If you purchase a bus ticket from the ticketing desk, you'll receive a transit card with 390 TND on it. Tap it each time you board and get off the bus.
Many locals were also just using their own transit card to board the bus.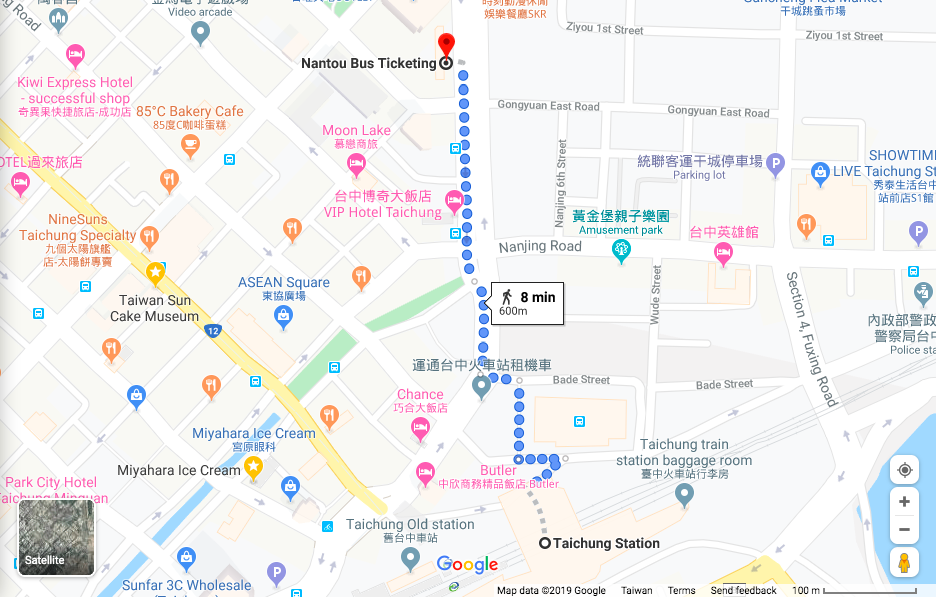 The Nantou bus station in Taichung is a quick walk up the main road from Taichung Station.
Taichung to Sun Moon Lake Bus Station: Look for a red sign with the symbols 日月, which mean "sun" and "moon".
You can also opt for a shared transfer van or a private transfer to Sun Moon Lake from Taichung, both bookable through Klook.
Sun Moon Lake Day Trip Special Passes
I opted to purchase a Taichung to Sun Moon Lake special pass from Nantou Bus company for 790 NTD ($26 USD). These passes can only be purchased on the day of travel.
The Taiching to Sun Moon Lake special pass includes the cost of the round-trip bus ticket from Taichung to Sun Moon Lake, a voucher for unlimited boat rides on the lake, a voucher for the cable car ride, and unlimited lakeside bus rides. I used all three, so the money was worth it.
Other special passes are more expensive, but include more perks. Here are all the available passes and their descriptions in English, from Nantou bus.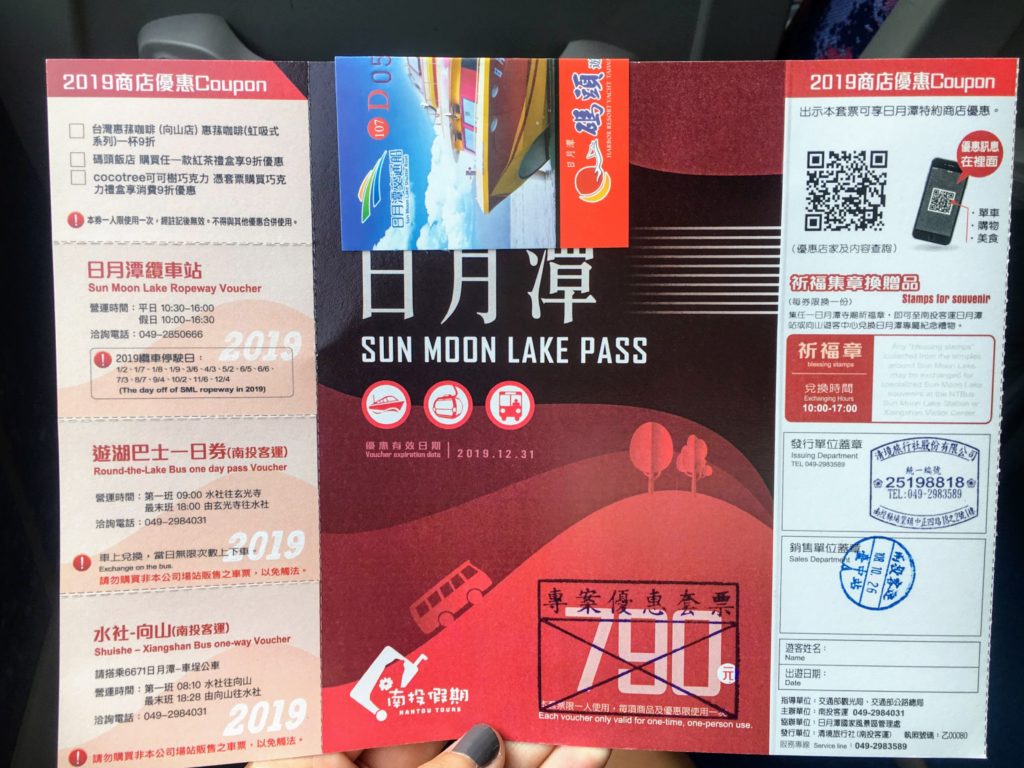 Sun Moon Lake from Taichung
Upon arriving at Sun Moon Lake, I was immediately confused about how to get my day started. There were half a dozen locals bombarding me with offers to rent bikes or get on busses, leaving me a bit frazzled as I walked towards the lake as a start.
I recommend heading to the pier and getting on a boat as the first step in your Sun Moon Lake itinerary. Including Suishe Pier where the busses drop people off, there are three piers to explore around Sun Moon Lake. If you're at Sun Moon Lake for biking, you can start by renting at bike at Suishe Pier too.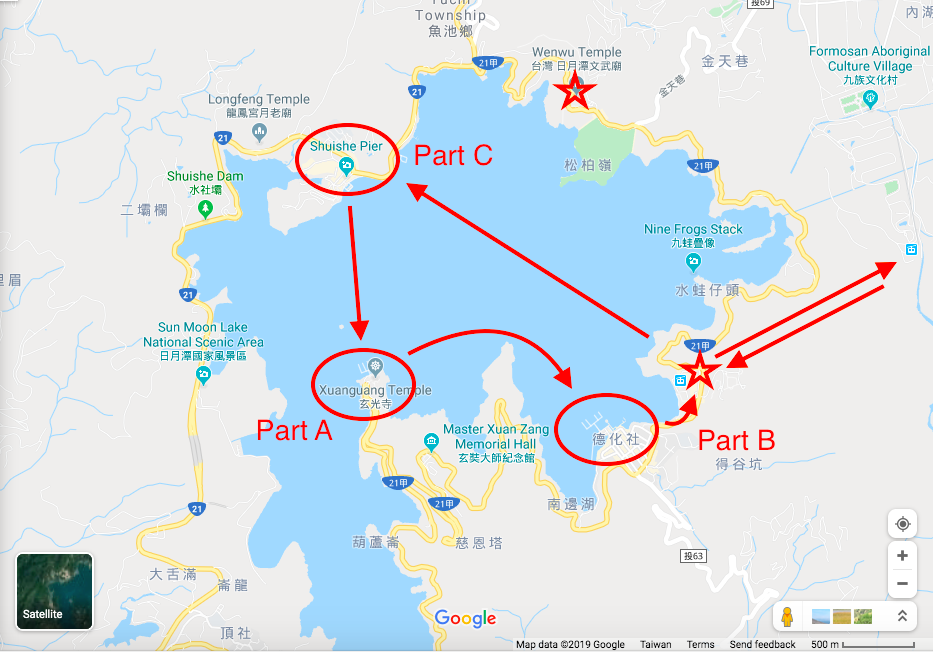 Taichung to Sun Moon Lake Day Trip Itinerary
Part A – Boat from Suishe Pier to Xuanguang Pier
At Suishe Pier, head to any boat company to show them your boat ticket voucher from the Nantou Bus Pass. They will stamp your hand so you can ride unlimited boats for the day. Alternatively, if you don't have a voucher, you can pay 300 NTD ($9.80) to purchase unlimited rides.
Things to do at Xuanguang Pier:
Listen to and donate to aboriginal Taiwanese groups who may be performing local music and dance
Try Taiwanese tea eggs from the small shop at the pier – a local delicacy of eggs hard-boiled in a big pot of tea and spices
Walk up to the Xuanguang Temple, a Buddhist temple dedicated to a monk who spent his life spreading Buddhist teachings after making a pilgrimage to India
Take a picture with the Sun Moon Lake commemorative stone here (it has the 日月 "sun" "moon" symbols on it)
Hike up to Xuanzang Temple, a larger temple with a beautiful viewpoint. It's a nice uphill nature walk to get there
Hike up again, 1 km, to the Ci'en Pagoda which has the greatest viewpoint overlooking Sun Moon Lake.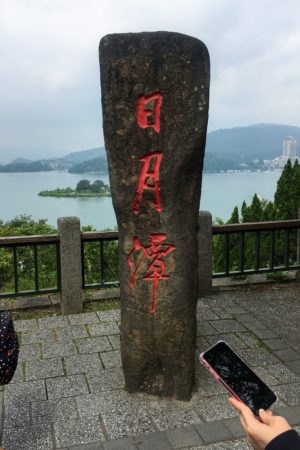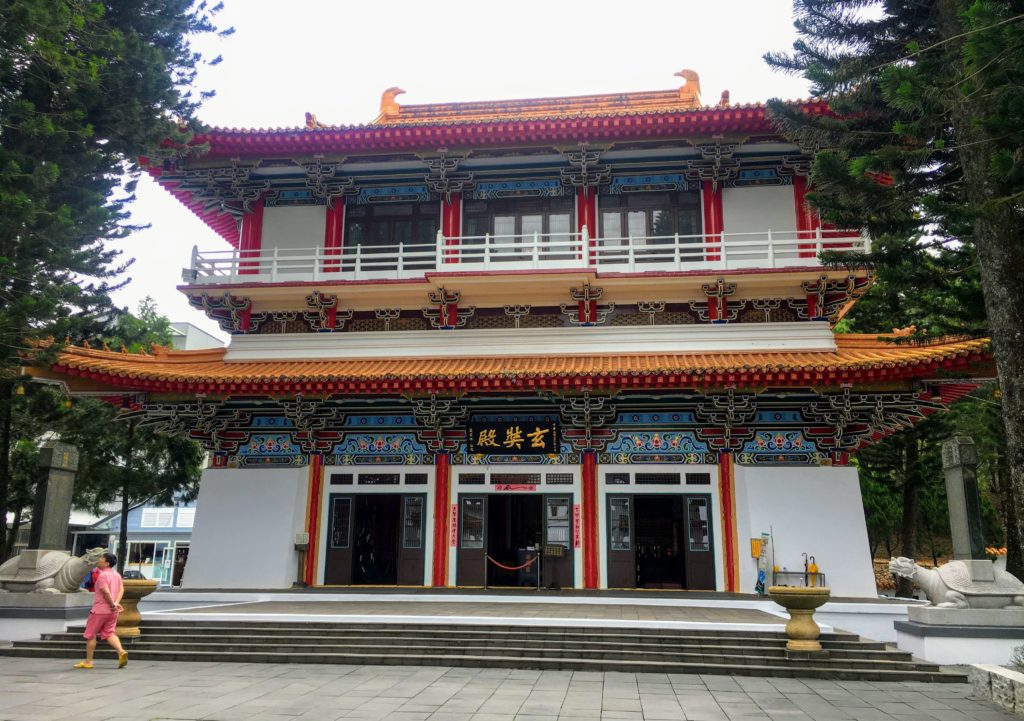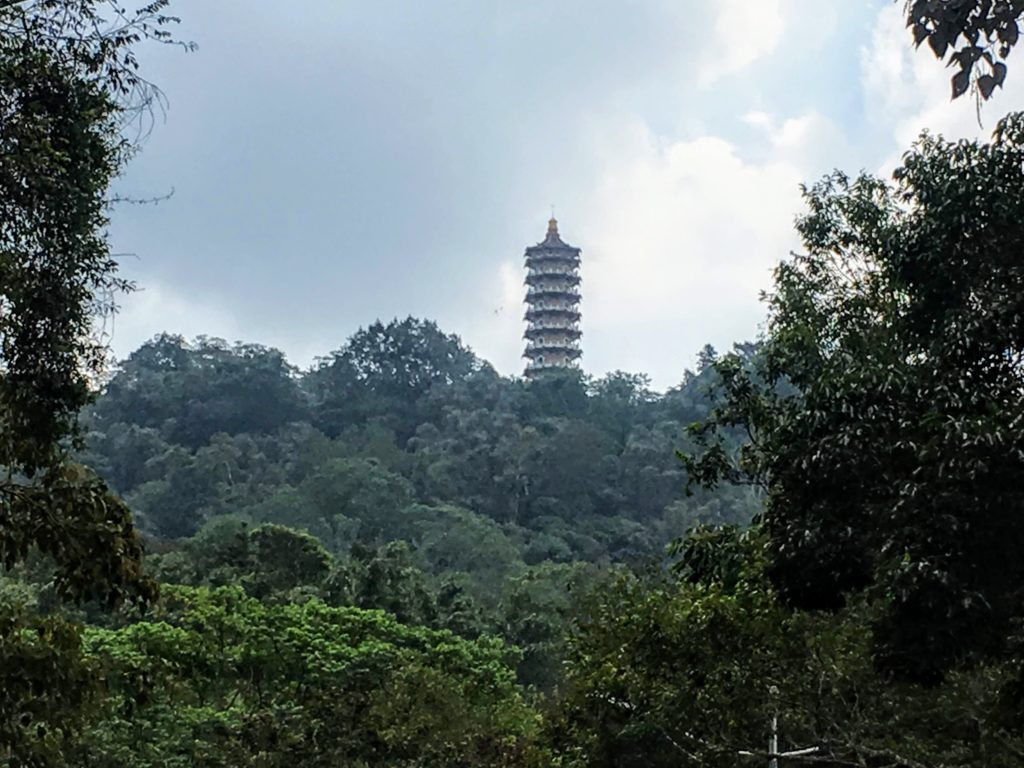 Part B – Boat from Xuanguang Pier to Ita Thao
There's not really any signage at Xuanguang Pier, so just remember which section of the pier you got off your boat, and wait there for the next departing one. All boats make the same counter-clockwise loop around the lake, so you won't accidentally head back to where you started.
Things to do at Ita Thao:
Check out the Ita Thao visitor's center and gift shop, which is informational and sells nice handicrafts
Walk the scenic Yidashao Lakeside Trail, an easy stroll over a boardwalk to the Cable Car Station
Take the cable car ride to its terminus, then back again. It costs 300 NTD, or $9.80 USD if you're buying tickets separately.
Visit the Aboriginal Village Theme Park
Eat your fill of street food at Ita Thao's main shopping street. Try the bao buns, the aboriginal pork sausage, or some bubble tea!
Do you souvenir shopping in all the gift shops and handicraft shops along the same street.
Hike part of the Shuishe Great Mountain Nature Trail, which stretches from Sun Moon Lake to the Shuishe Great Mountain, the highest peak overlooking Sun Moon Lake (you'll need several hours for this).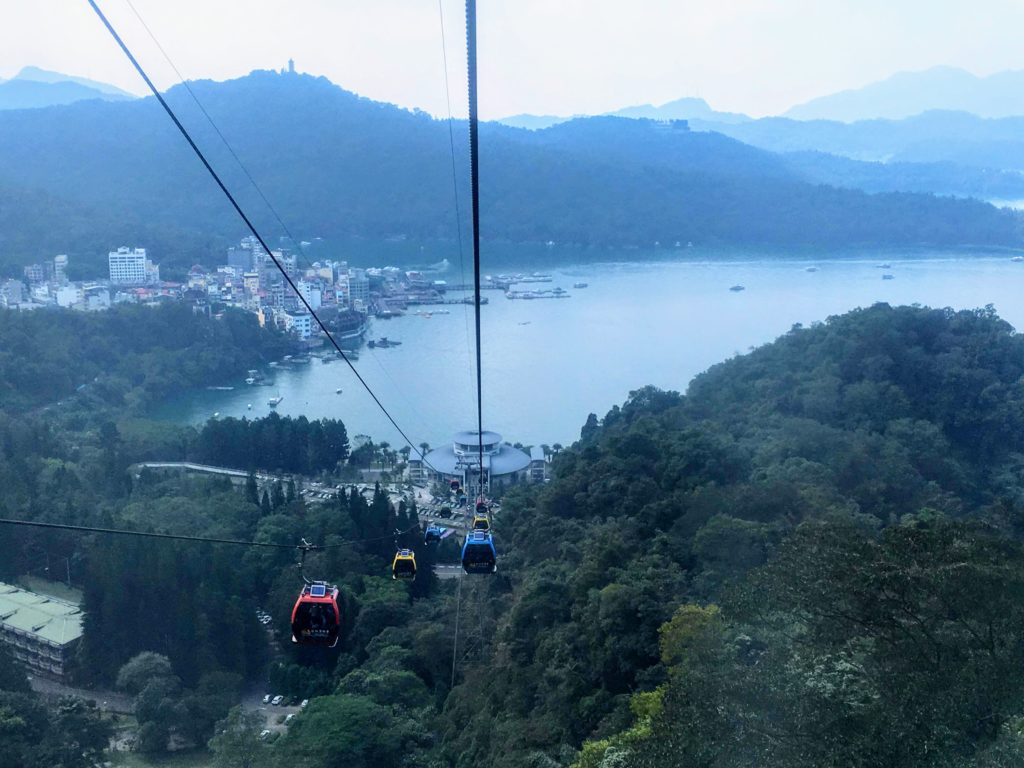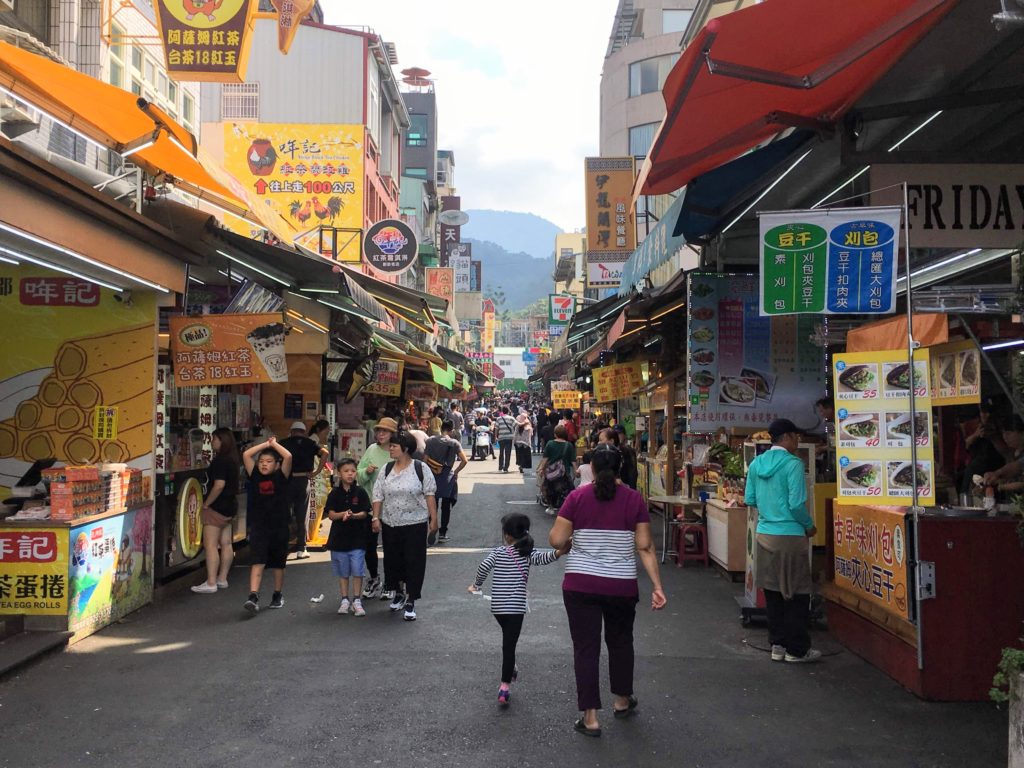 Part C – Boat from Ita Thao back to Suishe Pier
Ask at the visitor's center or at the building selling boat tickets, which boat to board back to Suishe Pier. Each boat company has its designated pier here.
Things to do at Suishe Pier:
Walk up to the pavilion at Meihe Park, a nice viewpoint over the pier and lake.
Rent a bike to take in either or both directions around the lake from Suishe Pier. Sun Moon Lake Circular Walk path runs counter-clockwise, and Suishe Lakeside Walk path runs clockwise from Suishe Pier. Both are gentle, wide boardwalk paths with amazing views of the lake, perfect for biking
Chill at the Starbucks, which has a view over the lake from its outdoor patio.
Shop at the many handicraft and tea stores along the main road
Board a bus to Wenwu Temple, the highlight of the Sun Moon Lake Day Trip from Taichung! It deserves its own heading… see below.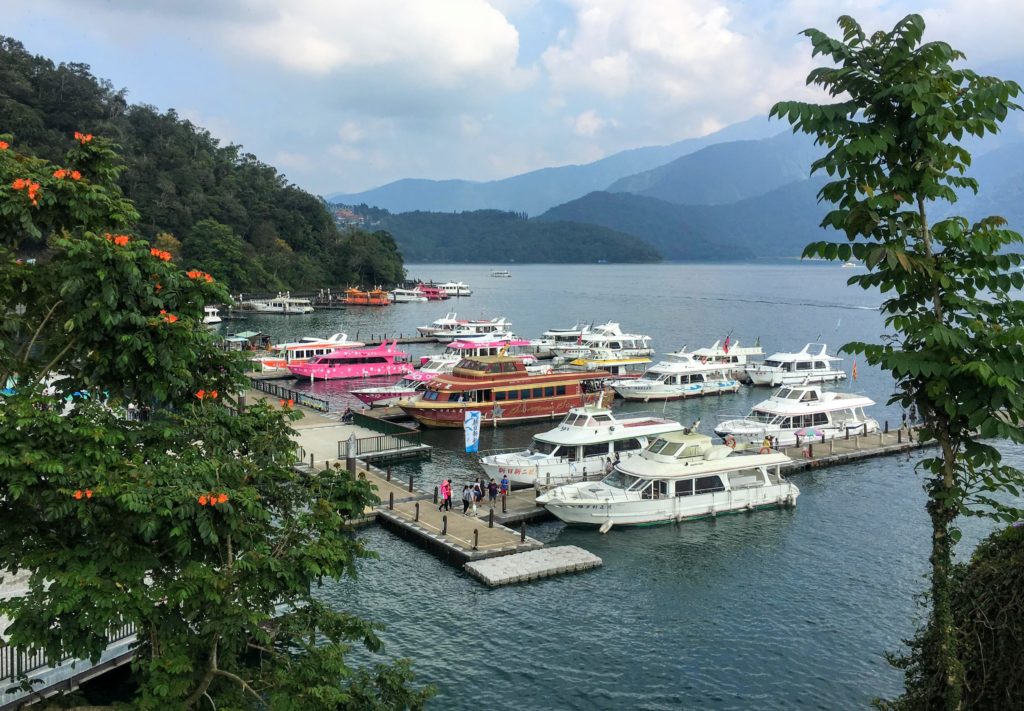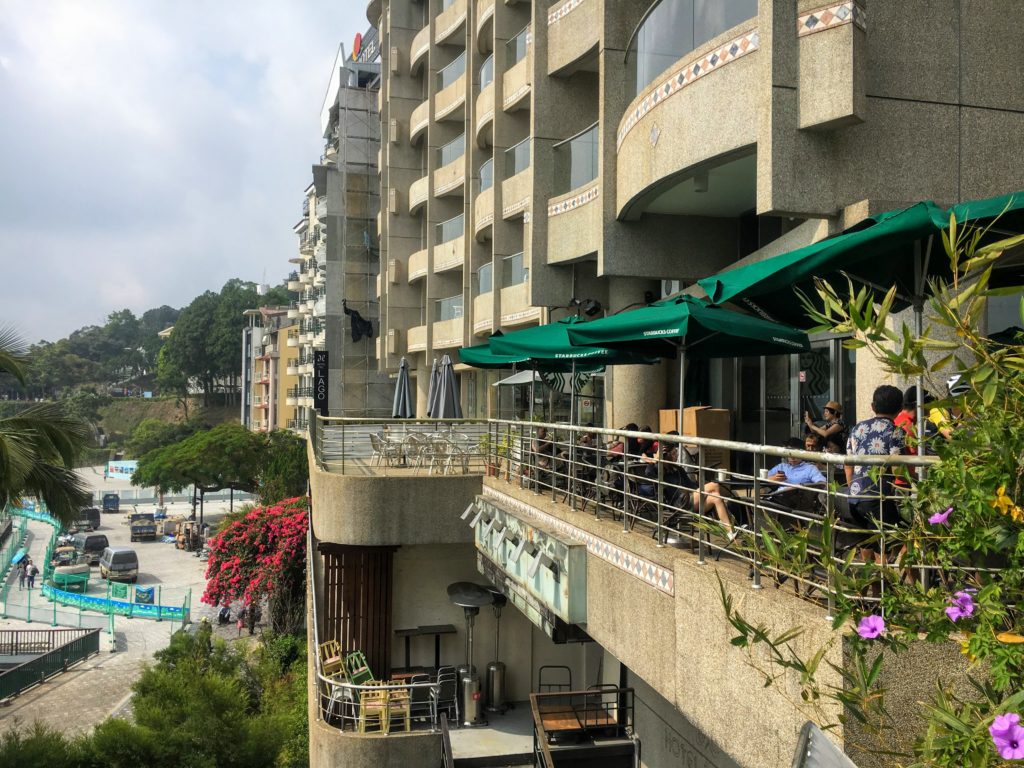 I've seen a hundred temples during my time in Thailand, Myanmar, Japan, India, and other parts of Asia. Wenwu Temple still stands out to me as one of the more magnificent temples. It's a little bit hard to get to during a day trip from Sun Moon Lake to Taichung, but it's 100% worth the hassle.
From Suishe Pier, you need to wait at the main bus station for a local lakeside bus to come. There is usually an attendant there that you can ask about which bus to board. The bus station for Wenwu temple where you get off is located just past the temple itself so you won't miss it.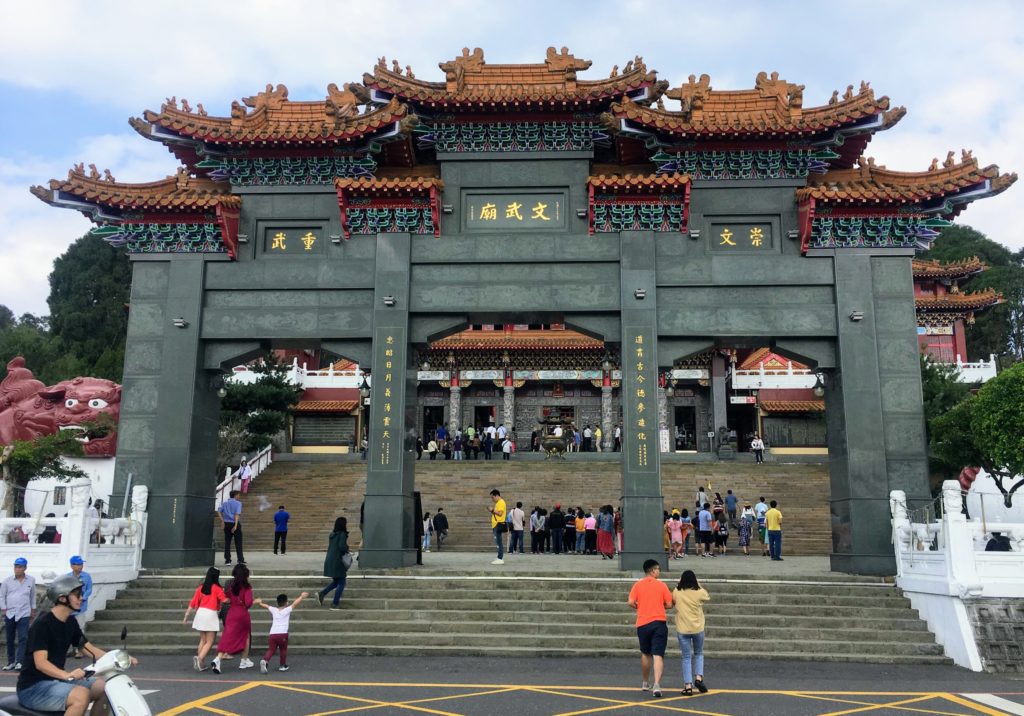 Plan to spend 30-50 minutes here when at Sun Moon Lake. Check the bus timetables so you don't miss the bus on the way down, because they only come every hour.
At Wenwu Temple, admire the architecture, the art, and the different temple buildings where visitors can pray and receive fortunes. Walk up to the very top gate, climb up to the viewpoints on top of the temple, and admire Sun Moon Lake below. You can even donate 2000 NTD ($65 USD) to have your name inscribed in the wall of temple donors.
During your Sun Moon Lake day trip from Taichung, be sure not to miss Wenwu Temple!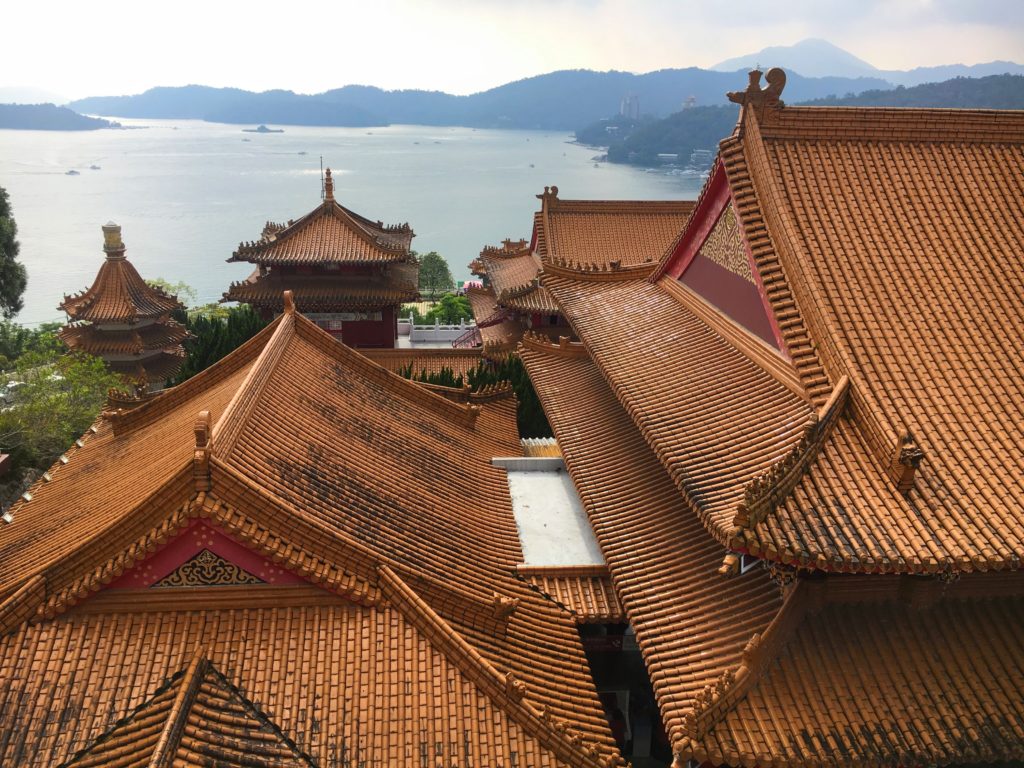 Getting from Sun Moon Lake Back to Taichung
From the Suishe Pier bus station, it took about two hours to return to Taichung. Nantou busses depart about every half an hour, and the attendant at the bus station was directing people to different lines depending on their destination. Some busses arrive part-full however, so out of all the people lining up to board my bus at 3:30pm, about 1/4 of the line had to wait longer for the next bus.
Last busses from Sun Moon Lake to Taichung leave at 18:25 and 19:25, with an extra weekend bus departing at 18:40.
Tip: Don't show up at the last second and expect to have a spot on the next bus back to Taichung from Sun Moon Lake.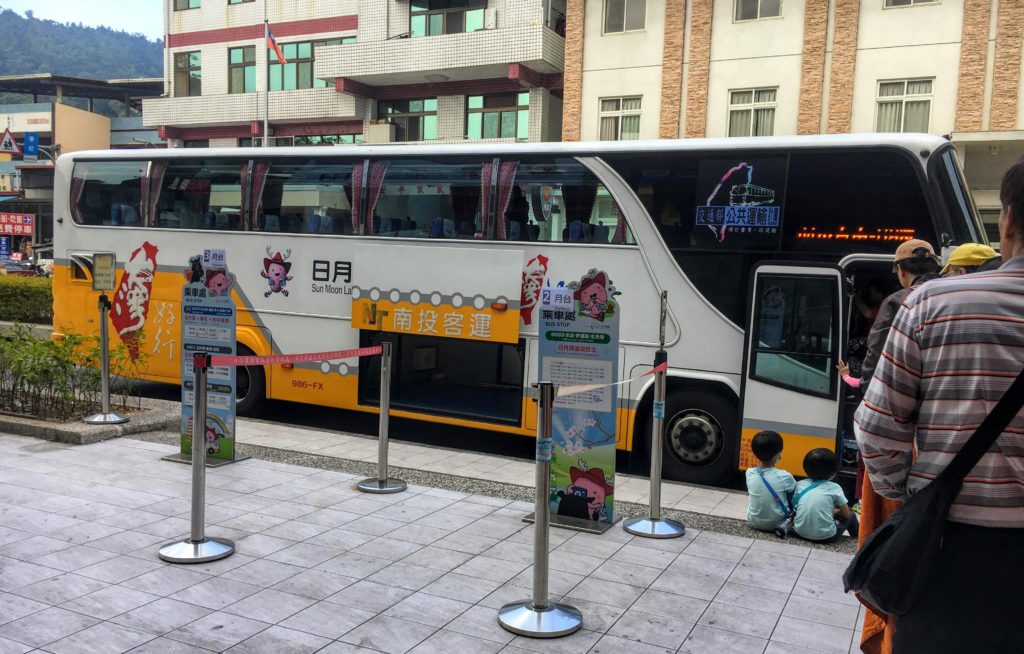 Getting from Taichung to Taipei
The bus from Sun Moon Lake to Taichung drops people off at the Taichung High Speed Railway Station and the regular Taichung Station. From here, it would be possible to board a train here and make it a late evening back to Taipei or other destinations.
Traveling from Taichung to Sun Moon Lake? Pin this Post!