Yokohama is the second largest city in Japan, located just south of Tokyo. It's known for being a massive port city home to an impressive Chinatown, and it's a popular day trip from Tokyo. Famous tourist spots in Yokohama include the Yokohama Cup Noodles Museum and the Red Brick Warehouse shopping and dining centers. 
For locals, Yokohama is a favorite date spot and shopping destination when wanting to get out of Tokyo. Located a quick and convenient 30 minutes away by train, instead of a Yokohama day trip you could even spend a half-day in Yokohama or just come for the amazing sunset views. 
I recommend spending a whole day in Yokohama as part of your Tokyo itinerary, and making a Yokohama day trip from Tokyo! 
How to get to Yokohama from Tokyo
There are a few direct trains that leave from large stations in Tokyo to Yokohama.
From Shinjuku Station, you can take the JR Shonan-Shinjuku Line to Yokohama station (33 mins, ¥570). You can also take the Fukutoshin Metro line (41 mins, ¥450).
From Tokyo Station, you can take the JR Tokaido Line (25 mins, ¥480), JR Yokosuka Line (30 mins, ¥480), or the Keihintohoku Line (39 mins, ¥480). 
Although you'll mostly be walking for this Yokohama Day Trip from Tokyo Itinerary, the Minatomirai Line or JR Negishi Line are the most common to get around Yokohama. 
Yokohama Day Trip from Tokyo Itinerary
Morning – Sankeien Gardens
Start your Yokohama day trip from Tokyo from Yokohama Station by taking the #148 or #8 bus from Yokohama Eki Mae bus station to Sankeien Gardens. 
This picturesque traditional Japanese garden used to belong to a wealthy silk merchant, Sankei, and was opened to the public in 1906. The property includes a three-storied pagoda, bridges, bamboo groves, and the impressive former residence of Sankei. 
Explore Yokohama Chinatown
After having a relaxing stroll through Sankeien Gardens, take the same #148 or #8 bus back to Yokohama Chinatown. During a Tokyo to Yokohama day trip, this is a stop that shouldn't be missed.
The history of Yokohama Chinatown spans over 160 years, from when Yokohama port first opened its doors to foreign traders in 1859. Yokohama's Chinatown is now the largest Chinatown in Japan. It's super clean and packed with Chinese restaurants, merchants, jewelry stores, and of course, bubble tea stands! 
Chinatown is the perfect place to bargain shop for things like cute jewelry, kitchenware, and wholesale teas. Experience bits of Chinese culture and architecture here by admiring the Chinese gates located at the Chinatown entrances. There are also a few colorful Chinese Buddhist temples where you'll see elderly locals playing games of Mahjong.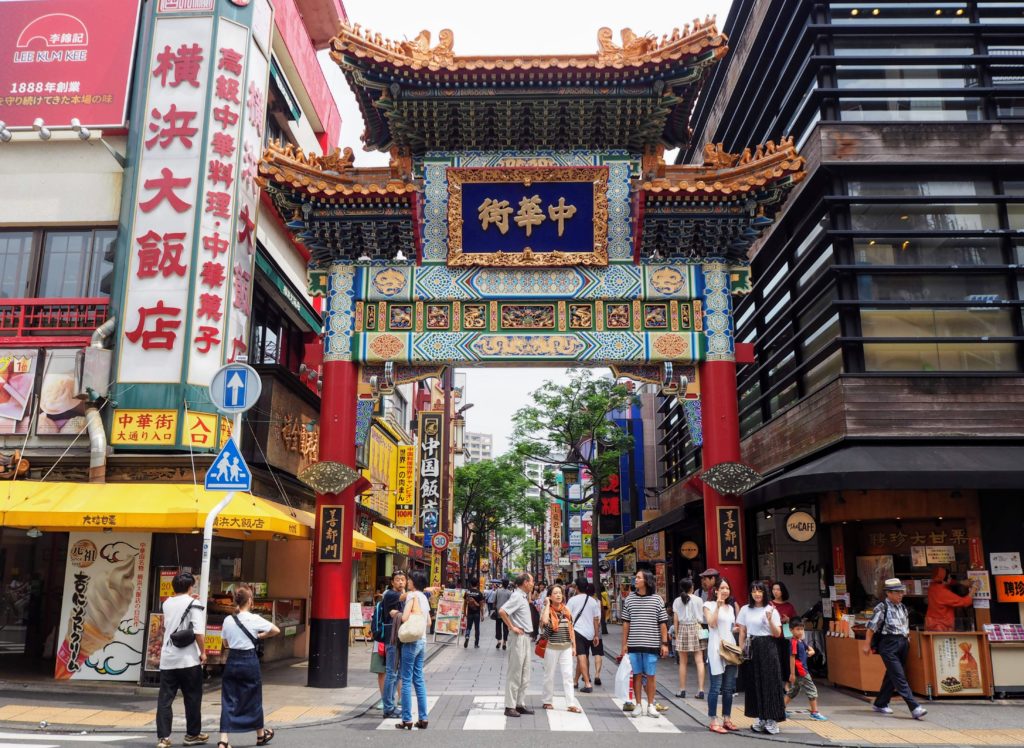 Lunch at Yokohama Chinatown
There are many street food stands scattered throughout Yokohama Chinatown which is the perfect place to stop for lunch during your Yokohama day-trip. The most popular snack here has to be the steamed buns, which are usually filled with a mixture of ground pork. Some even come in the shape of a kawaii pig or panda head! 
Other street food include egg tarts, goma-dango or sesame balls filled with red bean paste, and roasted chestnuts *wipes droll off face*
If the street food doesn't fill you up, head into a sit-down restaurant for some dim sum. Order a variety of small dishes to try all the different flavors that Yokohama Chinatown has to offer. Highly rated dim sum restaurants include Saikoh Shinkan, and upscale Manchinro.
Yokohama Day Trip from Tokyo Itinerary - Afternoon
Yamashita Park and Yokohama International Passenger Terminal
Just north of Yokohama Chinatown is Yamashita Park, a sprawling seaside park filled with benches and picnic spots. On foot, it's 5-10 minutes from Chinatown. During a Tokyo to Yokohama day trip, it's worth swinging north of Chinatown to walk through this tranquil park. 
For people interested in the boating history, check out the NYK Hikawamaru. It's a Titanic-like passenger ship that sailed across the Pacific Ocean 200+ times, survived World War II, and is now on display here. Entry costs ¥300 per adult, to explore the passenger cabins and learn more about the history of 1930's passenger boats. (It's closed on Mondays)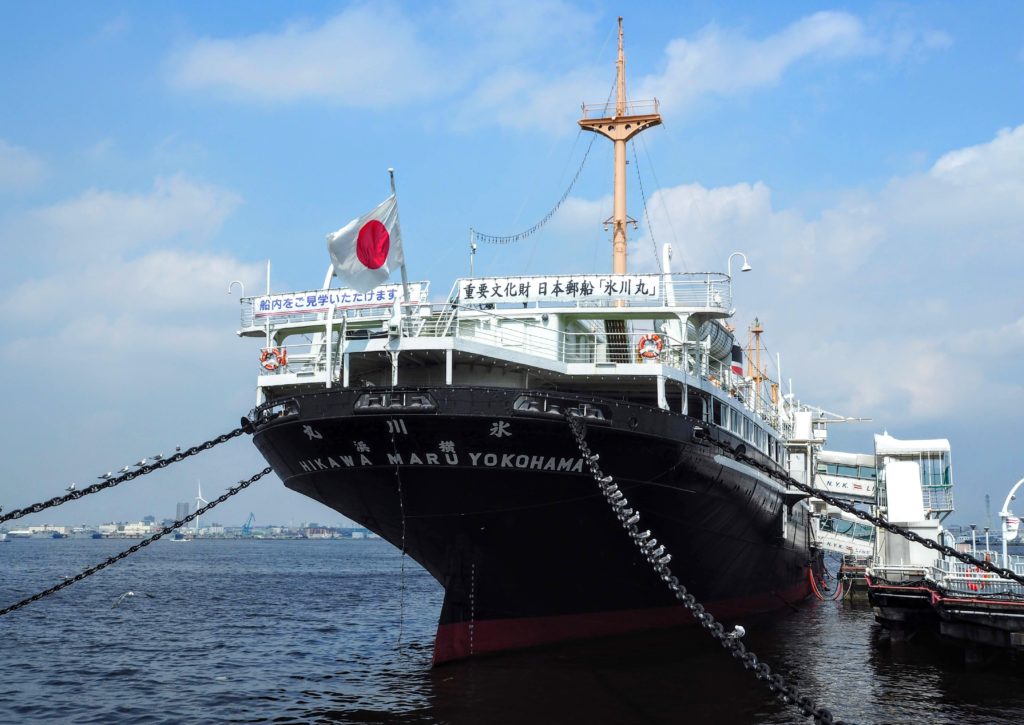 A popular activity in Yokohama is to go on a boat cruise – it's a port city after all. Most cruises depart from Yamashita Park's port, or from the Yokohama International Passenger Terminal. 
The Yokohama International Passenger Terminal has a wide open rooftop space that you can explore without a cruise ticket. It has great views of Yokohama City Center on one side, and the Yokohama Bay Bridge on the other.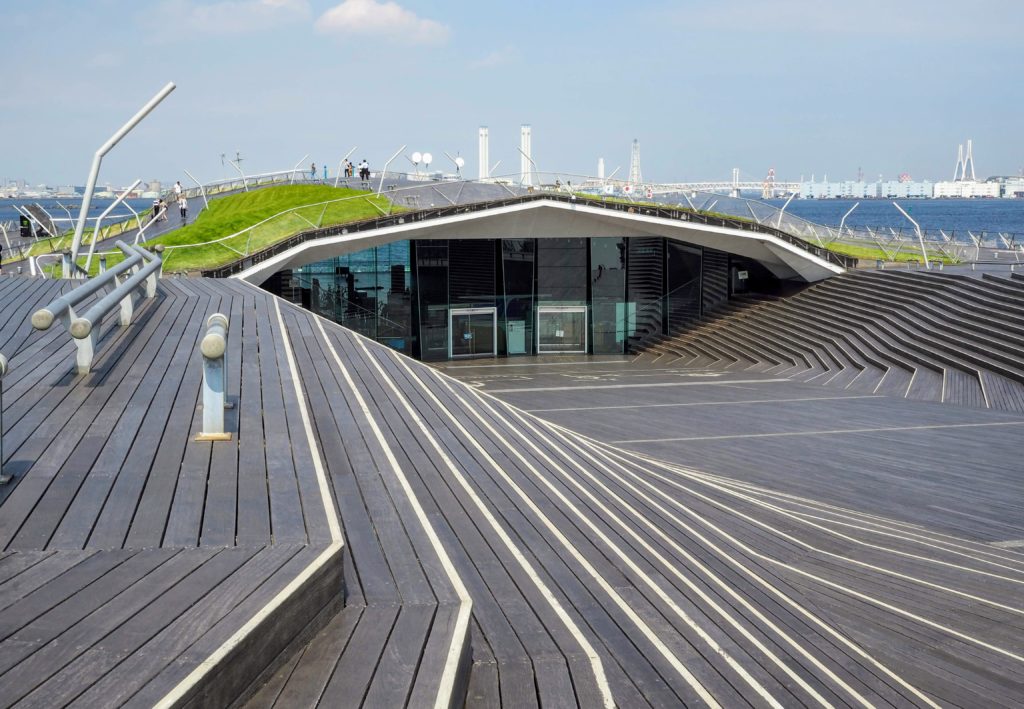 Yokohama Day Trip from Tokyo
Afternoon, continued – Red Brick Warehouse
On foot from the Yokohama International Passenger Terminal, you can reach the Red Brick Warehouses in 15-20 minutes. 
The Red Brick Warehouse shopping, culture, and dining centers are historic to say the least: they were completed in the 1910's when Yokohama was becoming a booming port city. A few renovations and 100+ years later, they are now filled with gourmet restaurants, and boutique fashion and souvenir stores. Often there are cultural or community events taking place between the two warehouse buildings too.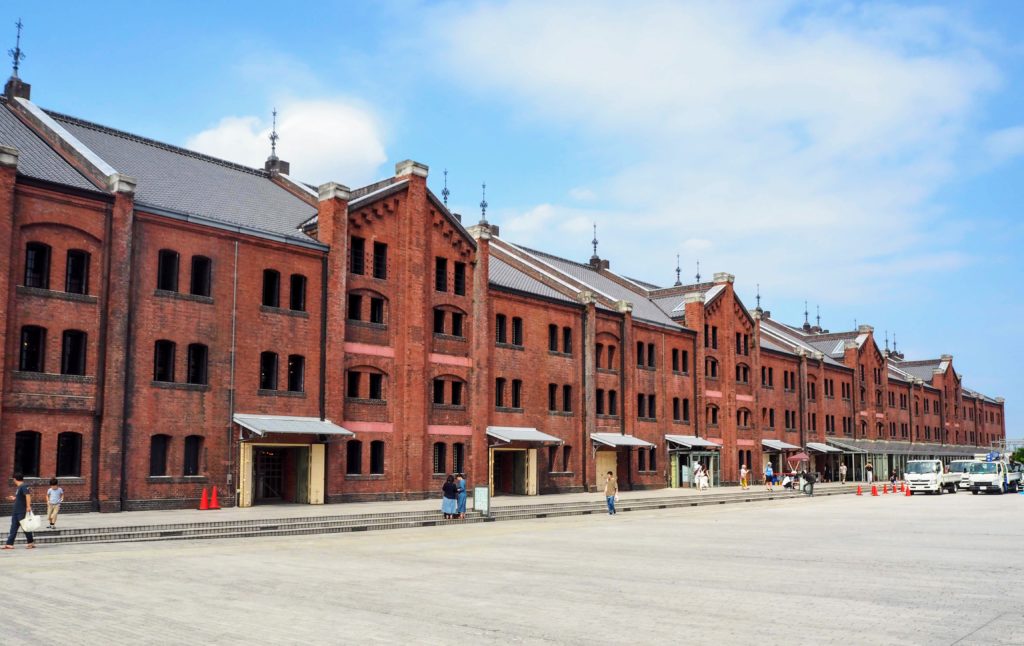 Yokohama Cup Noodles Museum
Walk from the Red Brick Warehouses towards the large ferris wheel in the distance. At the base of the ferris wheel is the Yokohama Cup Noodles Museum. 
A popular activity here is  making your own cup ramen to take home with you! When you enter the Cup Noodle Museum, there are screens above the ticketing area that let you know how long of a wait there is for the "make-your-own cup noodles" activity. 
If it's a short wait, you can buy entry tickets immediately. If it's a long wait, you can spend more time exploring Yokohama before you enter, such as the Cosmoworld amusement park just across the street from the museum.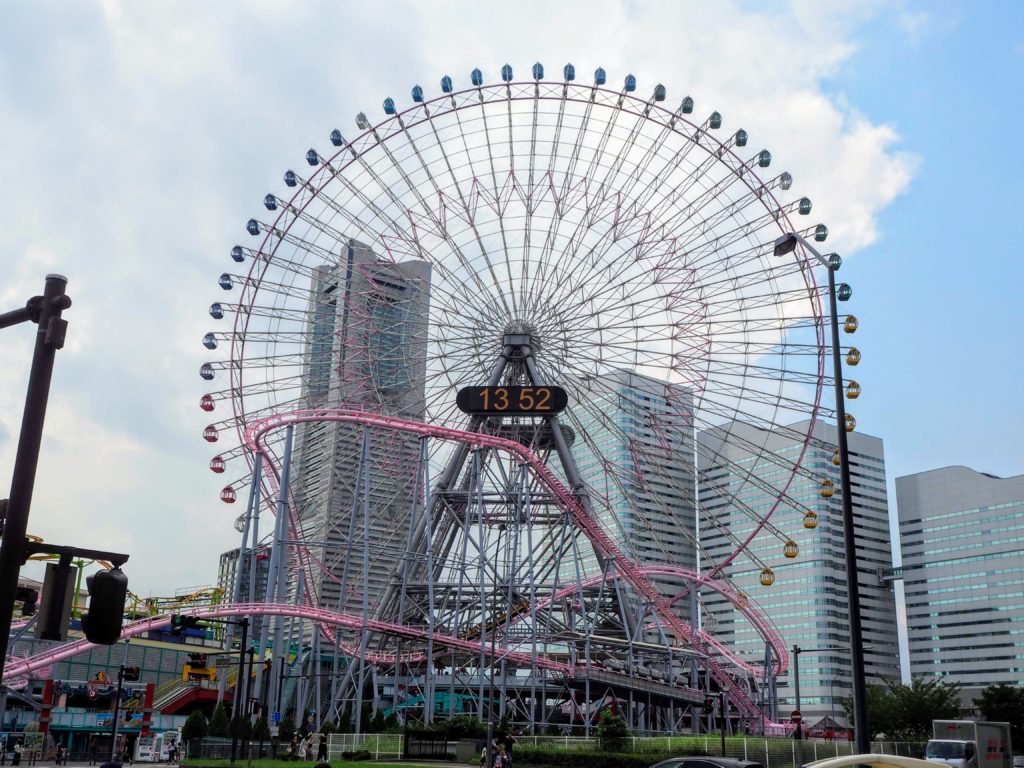 Inside the Cup Noodles Museum you're greeted by wall of different instant-noodles from through the decades. There's also a short movie clip about Momofuku Ando, the father of instant noodles, and a recreation the small shed he discovered instant noodles in.
A floor above the make-your-own cup noodles section is a food court where you can try street food noodles from around the world! 
Even if you decide not to make your own cup ramen at the Yokohama Cup Noodles Museum, I think it's worth a visit. 
Evening - Enjoy A Yokohama Sunset
As the sun is setting over Yokohama, you should most definitely find a great spot for sunset. There are a few options here:
The free option is back-tracking to the rooftop of the Yokohama International Passenger Terminal pier, where you can see all of Yokohama's CBD and the ferris wheel light up after sunset. 
Go up into the Cosmoworld Ferris wheel, the "Cosmo Clock 21", which is only ¥700 per person for admission.
Head up Yokohama's tallest Landmark Tower to the Sky Garden, for ¥1000 per adult. From here are unobstructed views overlooking Yokohama and in the distance, Tokyo's skyscrapers. Buy tickets ahead of time for a small discount here. 
For a really special experience, you can book a helicopter tour from only $113 USD per person to take you up and around the Yokohama area too! 
Dinner: Shin-Yokohama Ramen Museum
Hope you're not ramen-ed out yet, because some of the most amazing ramen in Japan can be found a short train ride from Yokohama Station. Partway between Yokohama and Tokyo is Shin-Yokohama, home to another Ramen Museum. The Shin-Yokohama Ramen Museum is totally different from the Cup Noodles Museum, and is more about trying different authentic ramen in a traditional Japanese atmosphere.  
The "museum" section of this Ramen museum is just a few informational panels and a short video clip, highlighting ramen in Japan through the ages. The real treasure here is the food court in the basement level.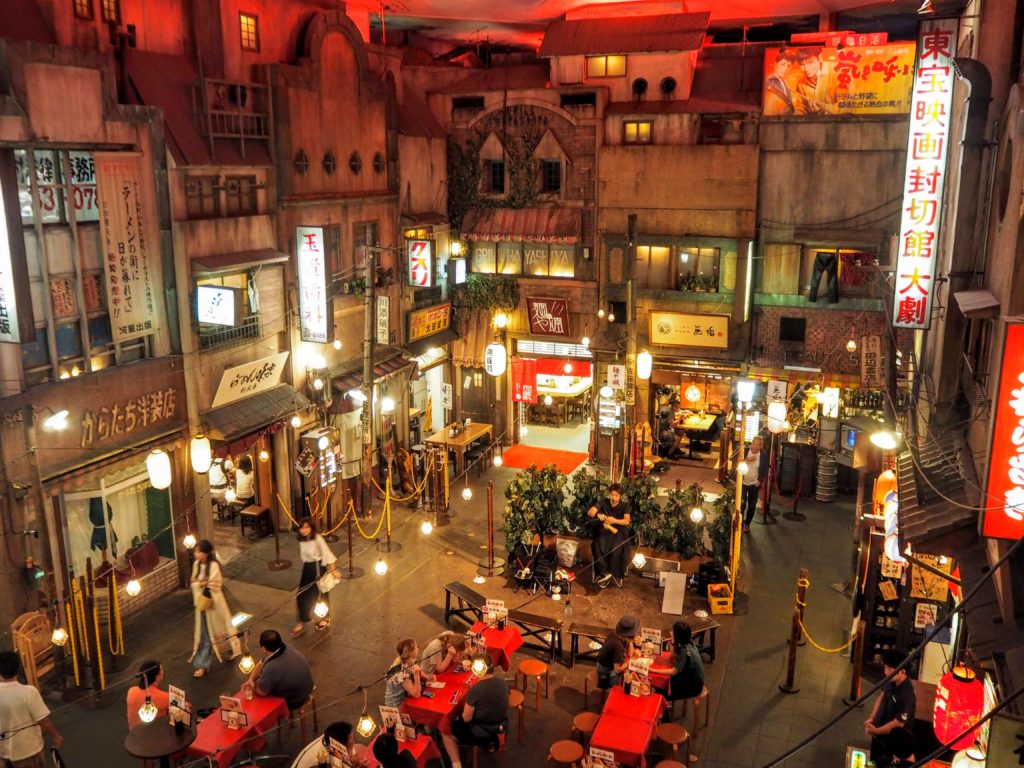 Heading downstairs you are transported to old-time Japan. Half a dozen small ramen shops are lined up here, each with a vending machine out front to order from. Each store serves ramen in a special style from a different region in Japan. There's a small traditional candy shop and a bar here too! 
The Shin-Yokohama Ramen museum is the perfect place to cap off a Yokohama Day Trip from Tokyo. 
Pin This Tokyo To Yokohama Day Trip!
Filled with ideas for your Yokohama Day Trip from Tokyo? Check out my other Day-Trips from Tokyo posts!
Are You Prepared For Your Trip To Japan?
Be sure to check out my Japan home page for Japan travel information, insider tips, reading list, and must-haves for traveling to Japan!