The two most popular points of entry to get to Cambodia are by air to Phnom Penh, or by bus overland from Thailand, which takes you to Siem Reap. Because tourist transportation within Cambodia is so well established, it's easy to start from either city and take busses or vans to anywhere else in the country. I personally entered Cambodia overland from Bangkok, where I had been staying with friends over New Years. 
Check out a 3-days in Bangkok itinerary before your head to Cambodia!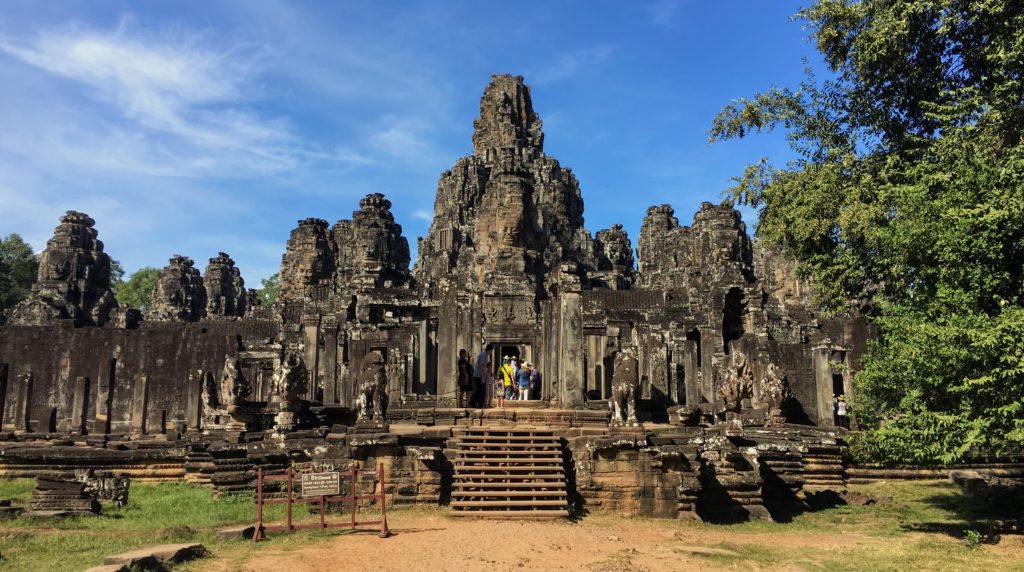 Thailand to Cambodia Overland Border Crossing
I booked the Bangkok to Siem Reap bus ticket online at bookmybus.com.  The bus was operated by a company called Nattakan, and cost me $28 USD. 
The bus departed from Mo Chit bus terminal near Chatuchak market in Bangkok (accessible by tram), and dropped me off at the Nattakan building on Angkor Pet Road in Siem Reap, about a 30 minute walk from the center of the city. 
I had an unusually good experience with the Nattakan company in comparison to others who did the same trip as me. With Nattakan, the bus attendants spoke a decent amount of English and were joking with the passengers as they explained the visa and border crossing process to us. They gave us juice boxes, water, coffee, and a banana muffin in the morning, a simple take-away lunch of rice and sautéed veggies for lunch, and there was a toilet on board for the long journey ahead of us (~10 hours, but we arrived 1.5 hours early). 
Many people I met just bought a random bus ticket from tourist offices in Bangkok for half the price, but had awful experiences with threats and scams at the border.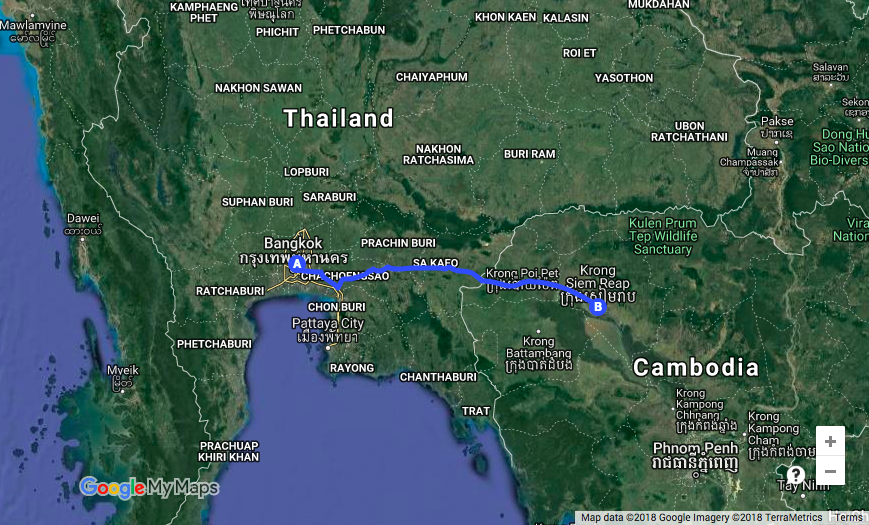 Beware of Scams at the Thailand-Cambodia Border Crossing
The visa to Cambodia costs $30 USD. I had heard many scams where people try to charge $10-$15 more, insisting that the cost of the visa is actually much more. 
My friend who traveled to Siem Reap two days before me paid about $20 for a bus ticket from a tourist office in Bangkok, but was forced to pay $15 extra for the visa so the bus operator would get the visa for him and the other tourists. 
They were dropped off at a sketchy location a little ways away from the border, and they were threatened with being abandoned by the bus if they didn't pay, or if they even TALKED to one another! 
Another friend had a similar experience, where the passengers were dropped off at a restaurant near the border and told to pay $5 to the bus operator so he would get their visas for them, or they could try to get it themselves but "the bus may leave without you."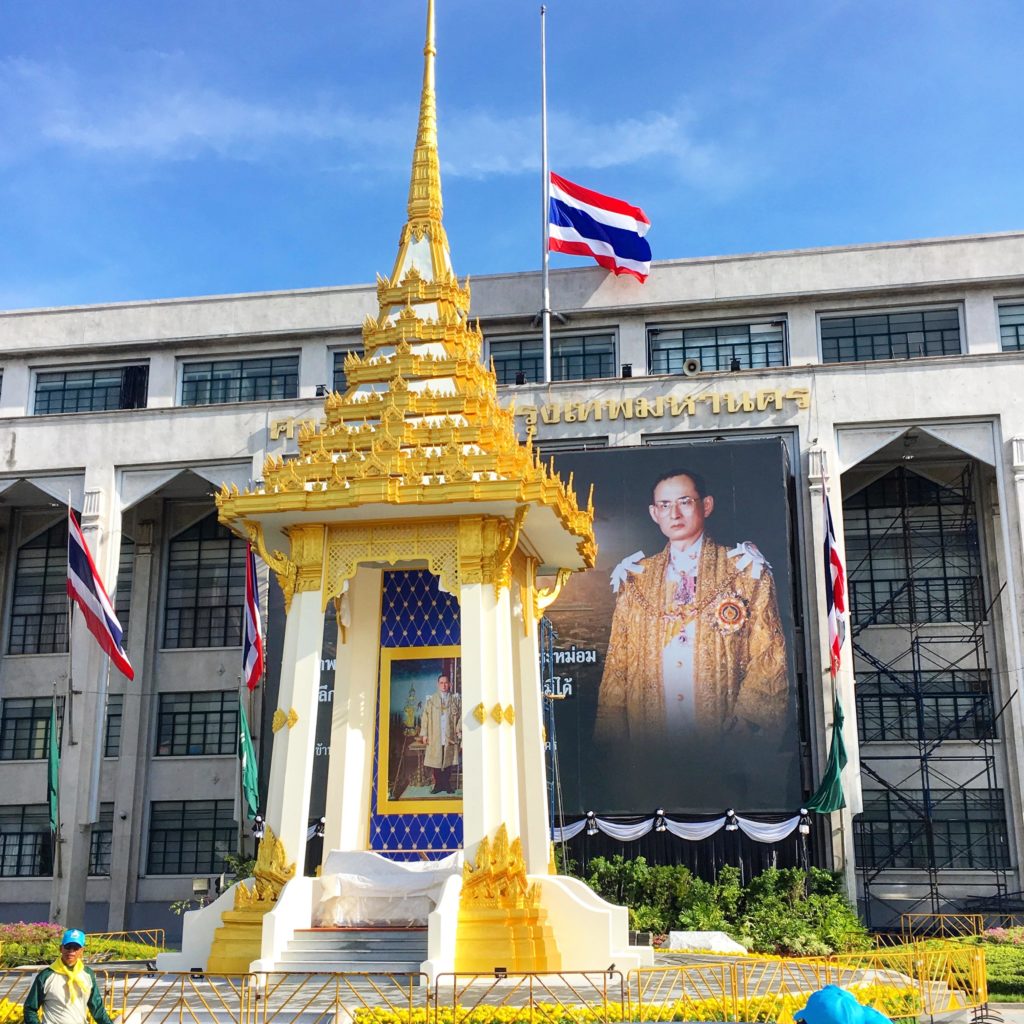 To be fair, my bus operator also charged us extra – he said if we were ok with leaving our passport with the border agents to get our visa delivered to us the next day, it would only be $30. If we wanted our passport back in the same day, it would be 100 baht or $3 extra. In addition, if we wanted to just stay on the bus while the attendant went to the border agents to get the visa for us, it would be an extra 20 baht (60 cents).  
Most everyone on board just paid the 120 baht extra to be able to stay on the bus. It was a negligible scam and not threatening in comparison to some other stories that I had heard. Two French people sitting behind me decided to go get the visa themselves, so they de-boarded with the bus attendant and came back at the same time as him without any problems.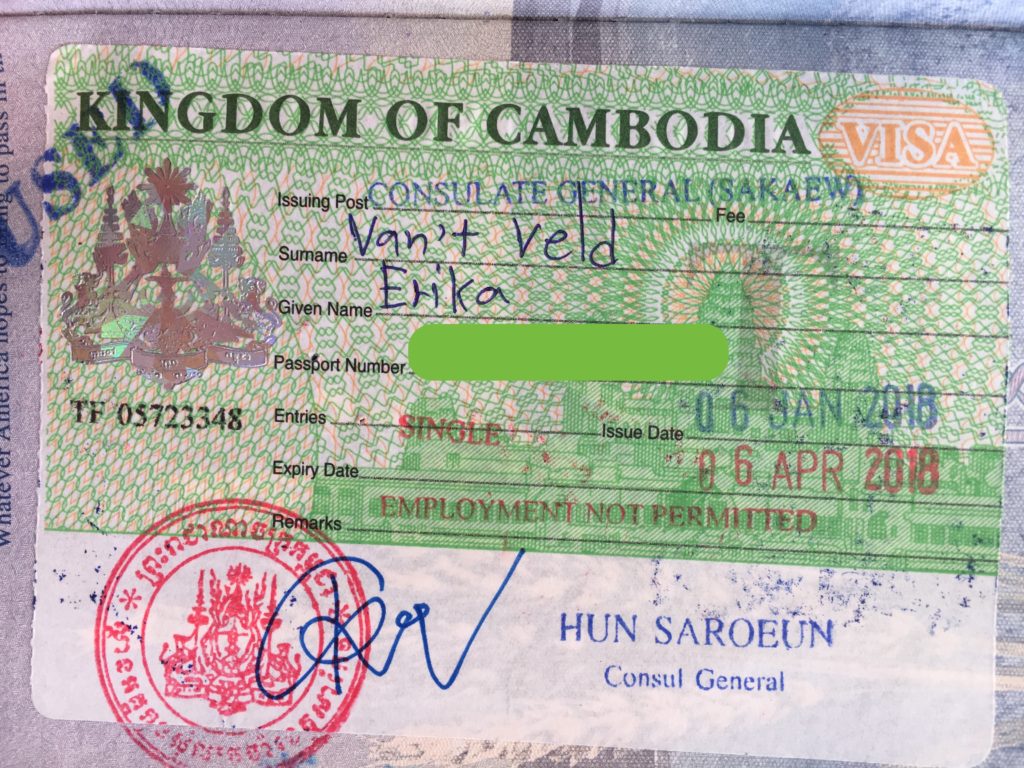 $30 USD, in crisp bills (Nowhere in Cambodia accepts old or wrinkly bills)

 

~200 Thai baht and/or ~$5 USD to pay for scams/bribes (Maybe more and I just got lucky)
One passport photo for the visa application (Before leaving Mo Chit bus station, the passengers on my bus were asked if we had passport photos. Those who didn't went with the bus driver to get them printed at the station!)

 
At The Thailand-Cambodia Overland Border Crossing
There are two stops at the border, the first one we didn't get off of the bus because the attendant took care of getting the visa sticker. The second stop we all got off with our passport in hand, to give our fingerprints and get an entry stamp, before boarding the bus again. The whole process took maybe one hour. 
The bus attendant did a good job making sure that every passenger was accounted for, and warned us in advance to watch our personal bags and not give anything to the many beggars and peddlers on the street around the border crossing. No one ran into any problems.
The poverty of the people who hang around the border area may be appalling to some – be aware that Cambodia is a much poorer country than Thailand, and you'll see it and feel it from the moment you get off the bus at the border. Our Thai jokester of a bus attendant (who had a Cambodian girlfriend in Phnom Penh), welcomed us to "North Korea" after we crossed the border were on our way to Siem Reap. When we arrived at our destination at the Nattakan office in Siem Reap, he wished us good luck, to have fun, and to stay alive.
As soon as you get off the bus, there are hoards of tuk tuk drivers offering to take you to your destination. They said it was included in the price of the bus ticket, but may ask for a tip at the end. Since I didn't have anything smaller than a $100 US bill, I decided not to risk the confrontation and I walked 30 minutes to my hostel instead.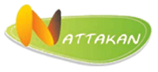 If I were to cross overland to Siem Reap again, I would definitely pay the extra money to go with Nattakan. For me, it's worth paying a bit extra for a stress-free, scam-free and threat-free ride.
Please share any experiences you had with the Thailand-Cambodia overland border crossing in the comments!