Khao Sok National Park in southern Thailand consists of dense, untouched jungle and a massive man-made lake.  Towering over the lake are impressive forested cliffs and a number of bare treetops also stick out of the water. Visitors to Khao Sok National Park most commonly take part in a 2-day and 1-night tour from nearby Khlong Sok town. Part of the tour is one of the most unique experiences in Thailand: staying overnight in floating accommodation on the lake! 
These are my tips and experiences for an amazing trip to beautiful Khao Sok, Thailand when I embarked on the 2-day, 1-night tour of the national park as well. 
Starting at Khlong Sok village - How to get to Khao Sok National Park, Thailand
Khlong Sok is a small village in Surat Thani providence and the most popular starting point for the 2-day, 1 night tour to Khao Sok National Park. 
Khlong Sok can easily be reached from other tourist locations within Thailand, with many tourist hubs in southern Thailand like Krabi, Phuket, Surat Thani, and even Bangkok offering direct transport by bus or van to Khlong Sok/Khao Sok National Park.
Khlong Sok is a peaceful village surrounded by nature and just bordering Khao Sok National Park. In fact, at one edge of the village is a remote entrance to the park which as a number of walking trails leading from it. Most of the accommodation here can help tourists secure tickets for the 2-day, 1-night tour of Khao Sok National Park or other tour options as well.
Where to stay in Khlong Sok
Here are a number of incredible options for places to stay near Khao Sok National Park! All located in or around Khlong Sok village in Surat Thani providence, these hostels and hotels put you right at the starting point to Khao Sok National Park tours. 
Budget Accommodation Options:
Coco Khao Sok Hostel – a popular hostel known for its friendly staff, a travel sustainable property with tour desk and restaurant attached.
Chillax Khaosok Hostel – this sleek, modern hostel will provide a comfortable night's sleep before heading on a Khao Sok tour. Beautiful limestone cliff views from the terrace too! 
Mid-range Accommodation Options:
Khao Sok River & Jungle Resort – offers romantic cabin accommodations with balconies and river views. 
Khaosok Riverside Cottages – located a short distance away from Khlong Sok, these secluded cottages are right on the river and surrounded by the jungle that Khao Sok is famous for. 
Luxury Accommodation Options:
Rock and Tree Resort – this resort was built to blend into the natural scenery, with fun perks like tree houses and water features
Khao Sok Jasmine Garden Resort – this luxurious stay has air-conditioned bungalows with attached bathrooms. With gorgeous mountain views and a pool, what's not to love!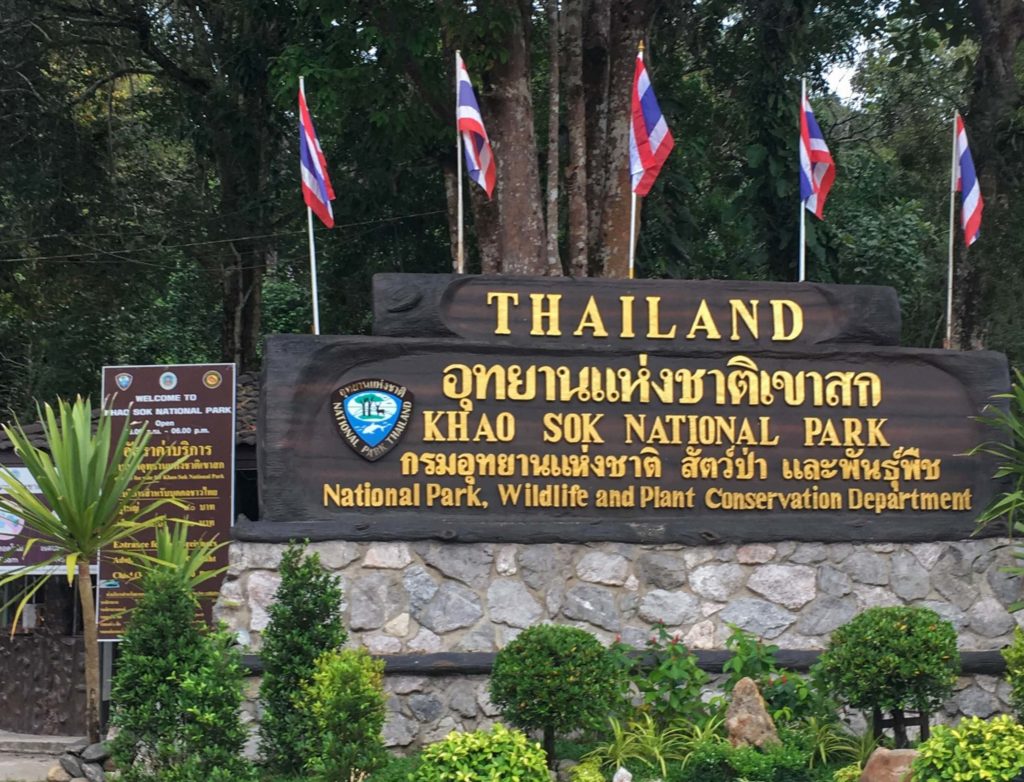 Khao Sok National Park Tour Options - Book ahead!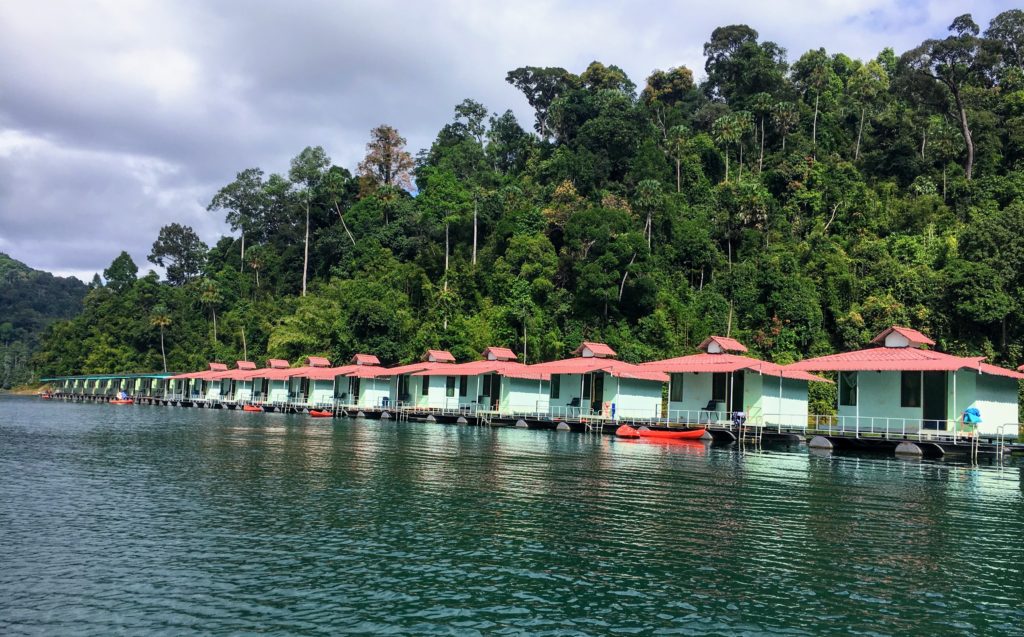 Khao Sok National Park 2-day, 1-night tour option
In Khlong Sok I booked the 2-day, 1-night tour from the tour desk at my hostel, for 2400 baht (about $72 USD). Visitors have to pay an additional 300 baht ($9) for the entry to the national park while on the tour.
The 2-day, 1-night tour I embarked on included breakfast, a boat ride to Cheow Lan lake, lunch, a jungle and cave hike, and dinner the first day. You spend a night on the lake on floating bungalow accommodation. The next day, the tour includes a sunrise boat safari, breakfast, a boat tour with more caving, and lunch before getting dropped off again in Khlong Sok around 3pm.
Day 1 - Floating bungalows, lake and cave tour
First thing in the morning I was greeted with a wonderful breakfast at the hostel, and given a rain poncho by the Khao Sok tour operator in case of rain. I was then picked up by a minivan that went to a number of other accommodations around town until it was at max capacity.
The first stop on the tour was a local market partway to Khao Sok National Park. This wasn't explained to us as being part of the itinerary, but the driver stopped here to pick up fresh fruits that we ended up having for dinner. It gave us a chance to buy some snacks for the road, and anything we may have forgotten to pack for the trip. 
We were then dropped off at the entrance to Khao Sok National park, at a port for Thai longboats. Here we paid our national park entrance fee, got our tickets, then boarded the longboards and set off on the lake. The geological cliff formations surrounding us were incredible. The mountains and limestone cliffs stick out so drastically from the deep blue lake, it looks like they were just dropped there.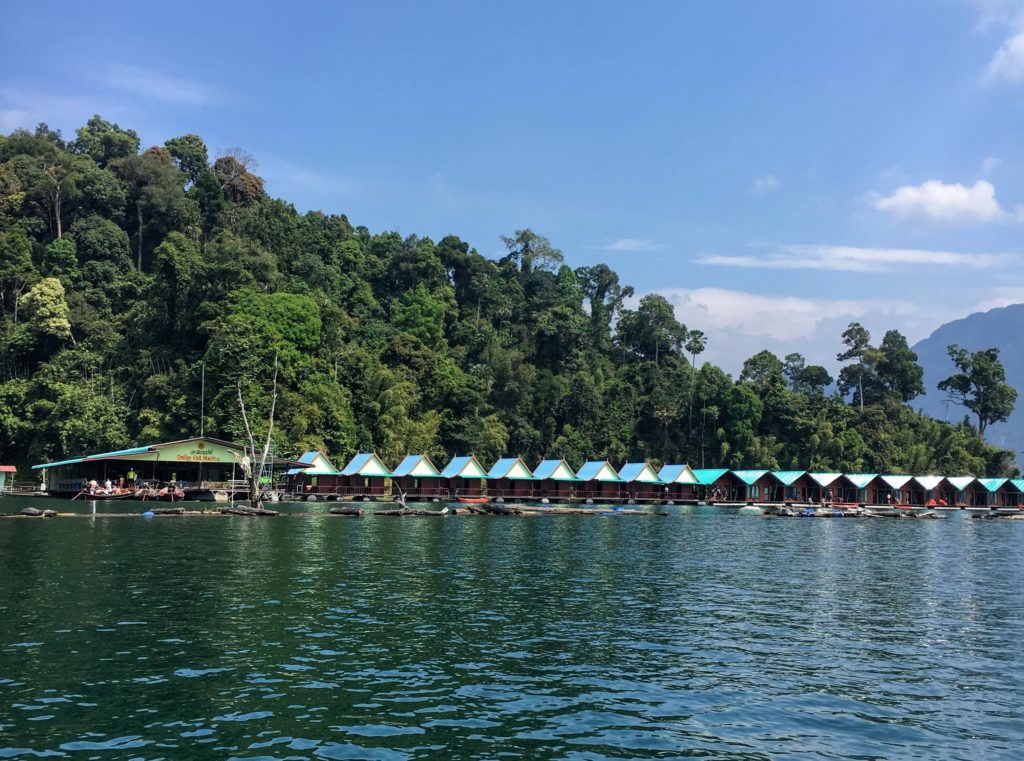 After an hour on the boat, we reached our floating bungalow accommodation in Khao Sok National Park! Two huge rows of identical bungalows were connected in the middle by a large common area, and everything was floating on the water. The tour guide assigned us four-bed or two-bed bungalows, and we were given some time to unpack and unwind. 
After lunch we went back on the longboats for the jungle and cave trek portion of the tour. We were told to wear swimsuits because in the cave there would be some portions where we need to swim. Gulp.
The hike through the jungle at Khao Sok National Park was beautiful and there were many sections where the trail crossed a river. I was glad to be wearing my Chacos (sandals with a hiking boot sole), and I recommend wearing waterproof shoes for this tour as well.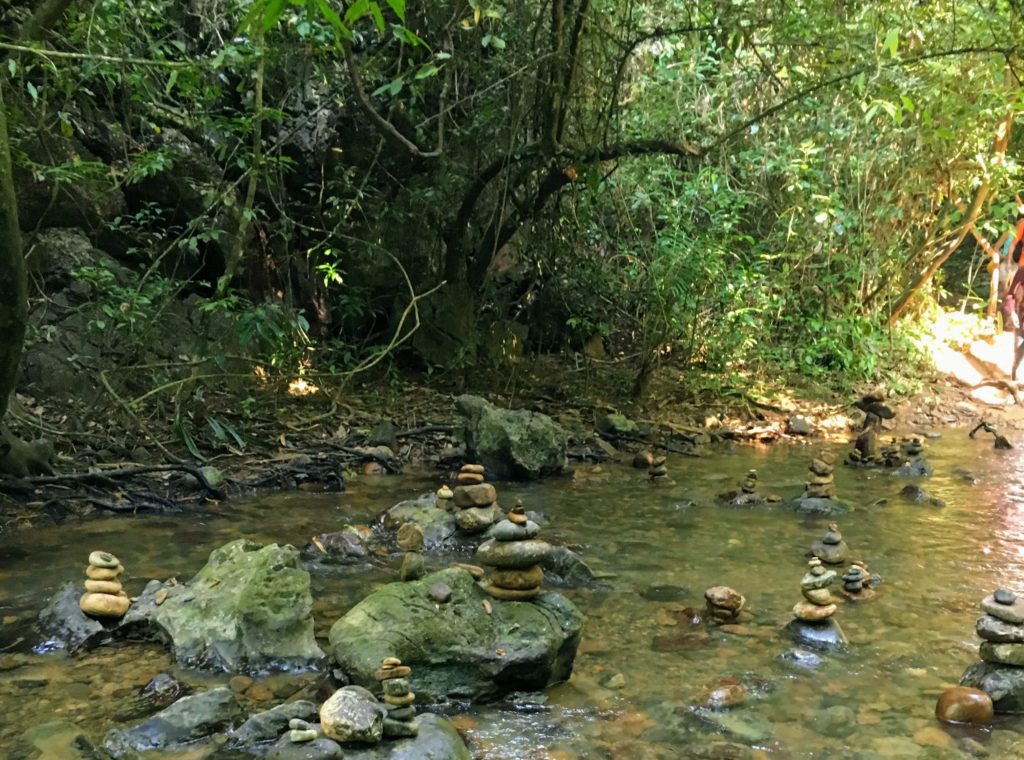 Right before the entrance to the cave, the guide told us to leave our bags and clothes we want to keep dry around a designated tree, and that anyone who is nervous about dark, small spaces should sit this one out. We were then given head lamps, although there were only enough for about 2/3 of the participants. Tip: Bring your own head lamp!!
We descended into the cave, some people barefoot, and followed a little river into the darkness.
At first the water was ankle deep. Gradually the light from the entrance of the cave faded away, and the water got up to my knees and started moving faster. 
It was exhilarating taking each step in the dark, not knowing how deep the water is beneath you or how stable your footing would be. Even pointing the headlamp down at my feet, it was impossible to tell how far down I could drop. I was holding on to the rocks around me for dear life! People were alternating between screaming and laughing as they continually lost their footing with the gush of the river.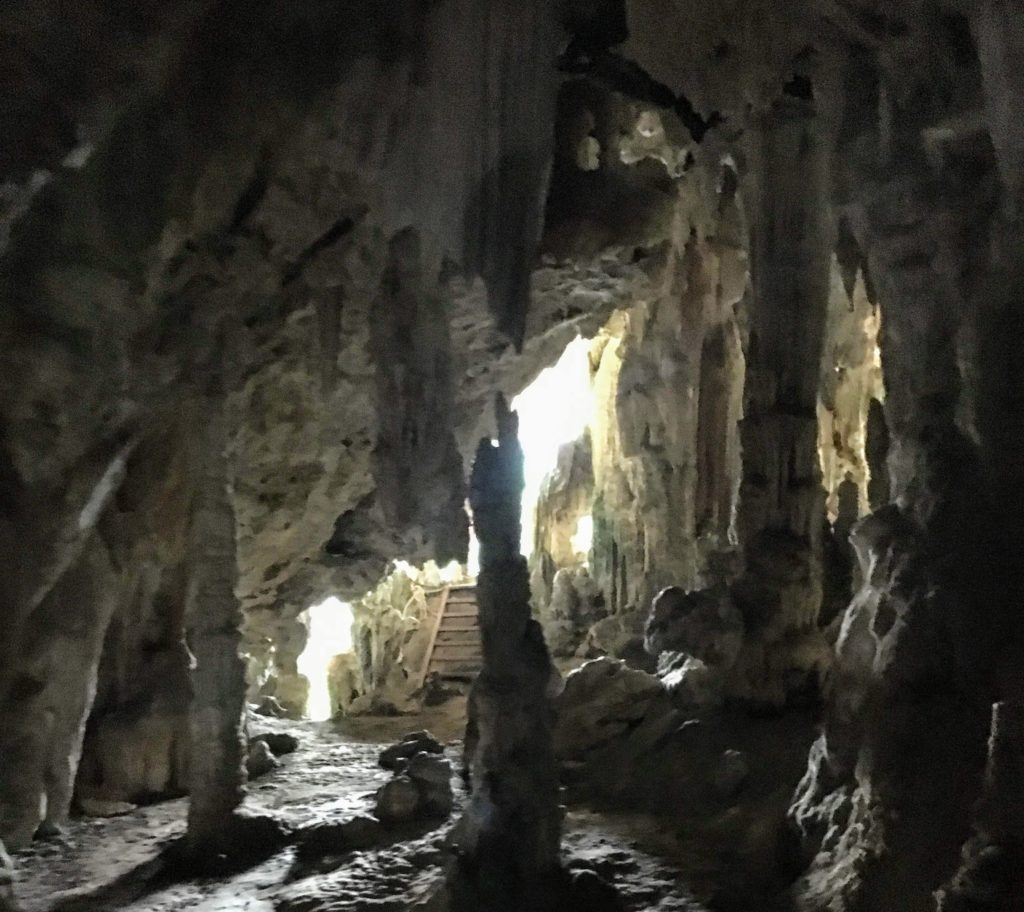 Occasionally the guide would point something out in the cave – big spider-cricket bugs that were hiding between the rocks, or small bats that were flying in circles above us.
Towards the end of the cave was when the river trail got insane. The guide led us through a small lagoon, where I took a step forward and suddenly there was no footing below me. I doggie-paddled five seconds and reached the other end where I saw the people climb up out of the water. Luckily the rocks are easy to grab onto, to keep your head above water until you can hoist yourself up to shallower waters.
The next portion of the cave was a steep staircase wide enough only for one person. I had to grab on to a rope on one side to keep my balance as the river cascaded past my legs. I almost took a serious tumble here when I slipped on a rock below. The only thing that kept me from creating a domino effect with the others down the waterfall was that I was holding on to the rope.
I do not know how it was possible for 50+ people to go through this dangerous cave-river in almost complete darkness, without one person twisting their ankle or otherwise injuring themselves. In the end, we all made it!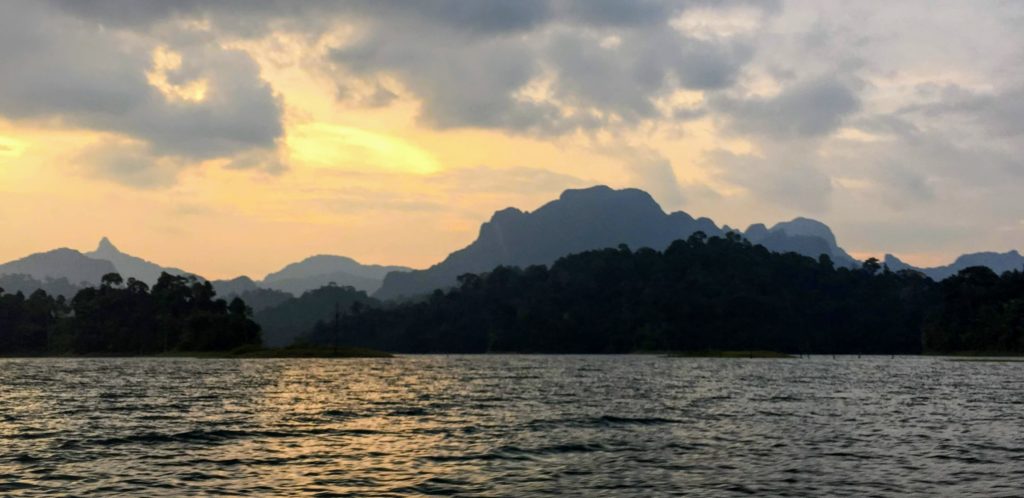 After existing the cave and grabbing our belongings, we took the same jungle trail back to the longboat. The driver took us a scenic way over the lake back to the overwater bungalows.
We had a bit more down time to swim or take kayaks out onto the lake or relax in the common area before the buffet dinner was served. The chefs made a vegetarian and a meat version of a number of different Thai curries and fried rice as well. They brought around some fresh caught fish that they had grilled, and put one on each table. For dessert there was the fruit from the market!
In the evening some people were buying and drinking beers (they even had buckets of alcohol available… because Thailand). Since the next morning there would be a sunrise longboat safari, most people went to bed early.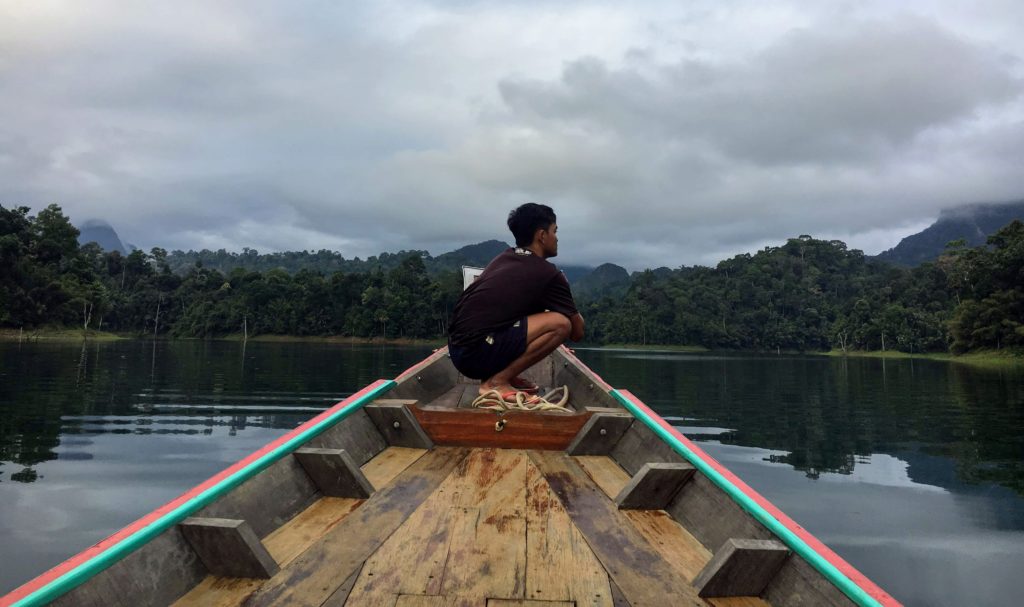 Day 2 - A boat safari, lake ride, and exploring a dry cave
As the sun was coming up on the next morning of the 2-day, 1-night Khao Sok National Park tour, even before breakfast, we embarked on the longboats onto the lake. The morning wind on the boat was COLD, and there was a mist floating above the surface of the lake.
This longboat tour had a wildlife spotter sitting at the front of the boat with a paddle, looking around alertly at the trees and over the surface of the water. He pointed out to us some massive toucans, two different species of monkeys, and some other large birds. At one point he pointed to the trees and yelled "Lady Gaga! Lady Gaga!" Turns out he was referring to a family of monkeys who had a circle design on their face.
We had breakfast back at the overwater bungalows, then we packed up our bags to head back to the mainland.
On the way back the tour continued to another cave. This one was a small 'dry' cave with stalagmites and stalactites, bats, and a pool of water with some elusive cave fish in it.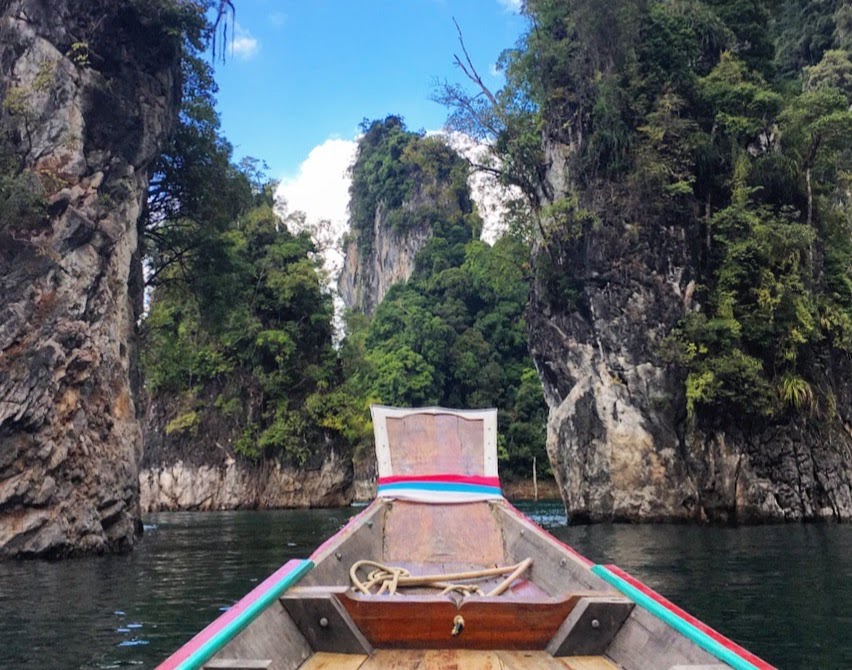 For one last stop on the way back to the longboat port, we passed by a famous geological structure of three limestone cliffs sticking straight out of the water. Known as the "three sisters", the boat circled around them for a bit so everyone could take pictures.
We went back in the minivan then were dropped off at a small viewpoint for lunch. The guides passed out little pack lunches for all of us that had fried noodles in it, and they gave us some pineapples as well. We had about 45 minutes to wander around the rest area where there were great views of the lake and a Buddhist temple at the top of a small hill.
After this it was a straight drive back to town!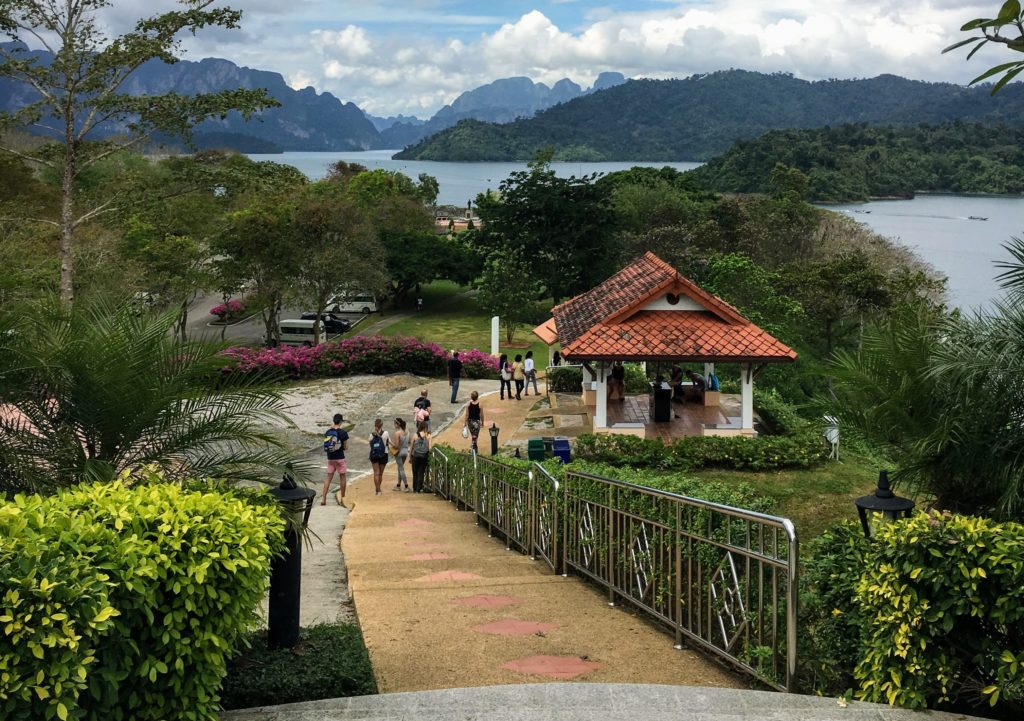 I had a 4:30pm pickup for an overnight bus to Bangkok, so I was glad that we made it back to Khlong Sok town around 2pm, earlier than planned.
Overall, I thought the tour was a great value. Although it is on the expensive side for a budget traveler, I would never have had the same experience if I decided to just hike around Khao Sok National Park on my own.
Since it was so different from other Thailand activities like island-hopping and exploring cities, splurging on a tour like this was a nice change. For anyone visiting southern Thailand and who wants to spend some adventurous, detoxing time in nature, I highly recommend this 2-day, 1-night tour to Khao Sok National Park!