Shinjuku Gyoen is to Tokyo what Central Park is to New York. It's place for locals and tourists alike to enjoy the outdoors, relax with friends, and escape from the city for a couple hours. 
Because its Tokyo's "Imperial Garden", the quality of the park, its cleanliness, and facilities are top-notch! 
The History of Shinjuku Gyoen
1590 – The 

Shinjuku

 Imperial Garden was given as a gift from one ruling family to another. 
1872 – The massive greenhouse on the property was built when Japan wanted to increase agricultural research 
1906 – The garden was completed to look mostly as it does now, for use only by the Imperial families 
1949 – Shinjuku Gyoen was opened to the public as a national park 
Read more about the history of Shinjuku Gyoen here:
How to get to Shinjuku Gyoen
The park has only three entrances, and the rest of its circumference is fenced-off!
Northwest – Shinjuku Gate
Shinjuku Gyoen is most commonly accessed from the Shinjuku side – it's right next to Shinjuku Station after all.
Northeast – Okido Gate
The north east entrance opens up to Tokyo's Yotsuya area. Okido gate is closest to Yotsuya-sanchome station on the Marunouchi subway line.
South – Sendagaya Gate
To the South is also one entrance, closest to Sendagaya Station on the Chuo and Chuo-Sobu JR Lines. It's also accessible from Yoyogi on the Yamanote Line, and is the least crowded entrance. 
Shinjuku

 Gyoen is a great park to pass through if you're walking

between 

Shinjuku

 and Harajuku in Tokyo

. About a 10-minute walk from 

Shinjuku

 Gyoen's south exit is one entrance to the Meiji Jingu Park, or 20 minutes from the south exit is the shopping paradise of Harajuku.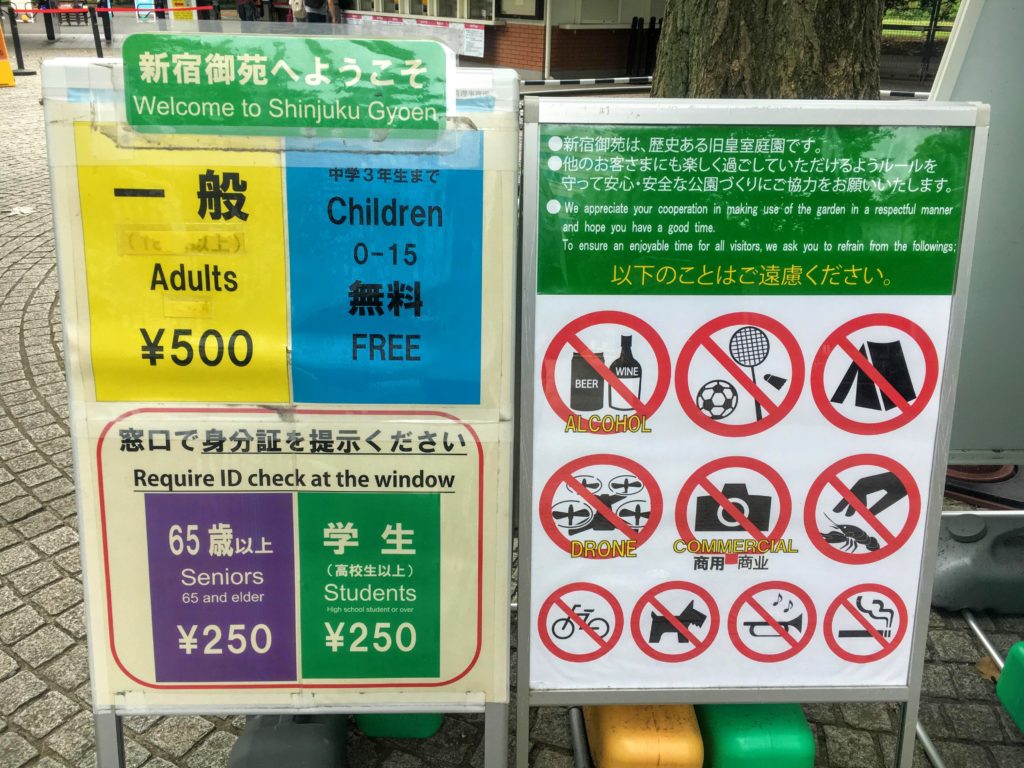 Some people may be surprised about the fact there is an entrance fee to the park. And 500 yen at that! 
Part of the reason for this fee is because there is a LOT of work going into the upkeep of this park and all of its facilities. Shinjuku Gyoen is technically part of the Imperial family's property so it stays looking immaculate. 
For the one-time fee, if you spend time in their greenhouse, admiring the Japanese garden, chilling in their rest house, having a picnic in the wide open space, and using their super clean restrooms… I promise 500 yen is worth it.  
As of March 2019, the following are the fees to enter 
Shinjuku

 Gyoen:
Adults – 500 yen
Seniors (over 65) – 250 yen 
Students (with student ID) – 250 yen
Children 15 and under – FREE
Annual Pass – 2000 yen 
If you plan on visiting 
Shinjuku
 Gyoen more than four times during your stay in Tokyo and Japan, it's worth it to get an
Annual Pass for 2000 yen
. The application process can be done on the spot at any of the park's entrances, and you'll walk away with an ID card with your picture and a QR code on it as a nice souvenir!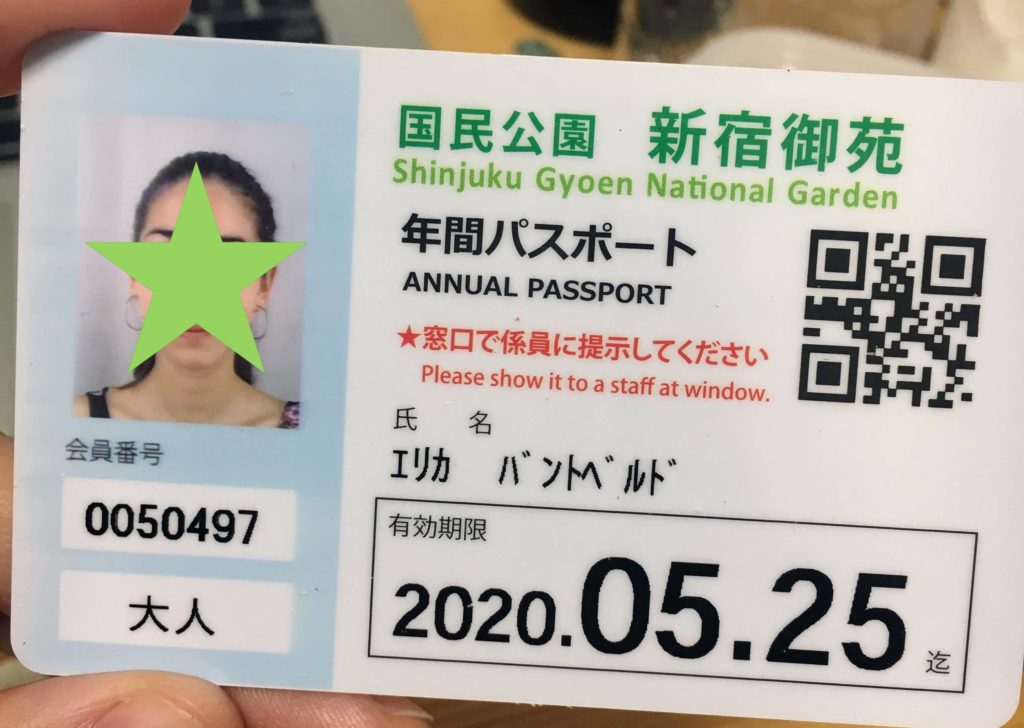 From July 1st to August 20th, the Shinjuku Gyoen is open from 9:00am-6:30pm, with gates closing at 7:30pm.
Outside these months, from March 15th to September 30th, the park opens at 9:00am and closes at 5:30pm, with gates closing at 6:00pm 

Shinjuku Gyoen is closed on Mondays!
Park Facilities
Bathrooms – lots of them! And they're CLEAN!
Water fountains
Trash cans
Many, many benches
Rest buildings – Lots of picnic tables you can use. You can buy snacks, ice cream, and souvenirs from the store, or a drink from the vending machines. If you forgot a picnic mat, you can buy one here!  
Wide open grassy areas, tall trees giving shade
Maps are available at every entrance in Japanese, English, Chinese, and Korean  
Coin Lockers 
Rules of the Park
Because of Shinjuku Gyoen's importance to the Imperial family, there are a few rules to the park that many seem a bit unusual. The overall rule is to just be respectful of the park and to others:
No dogs, No alcohol (but everything else is allowed for your own picnic!), No playing music, No smoking, No bicycles, No ball games/frisbee!
Shinjuku Gyoen Points of Interest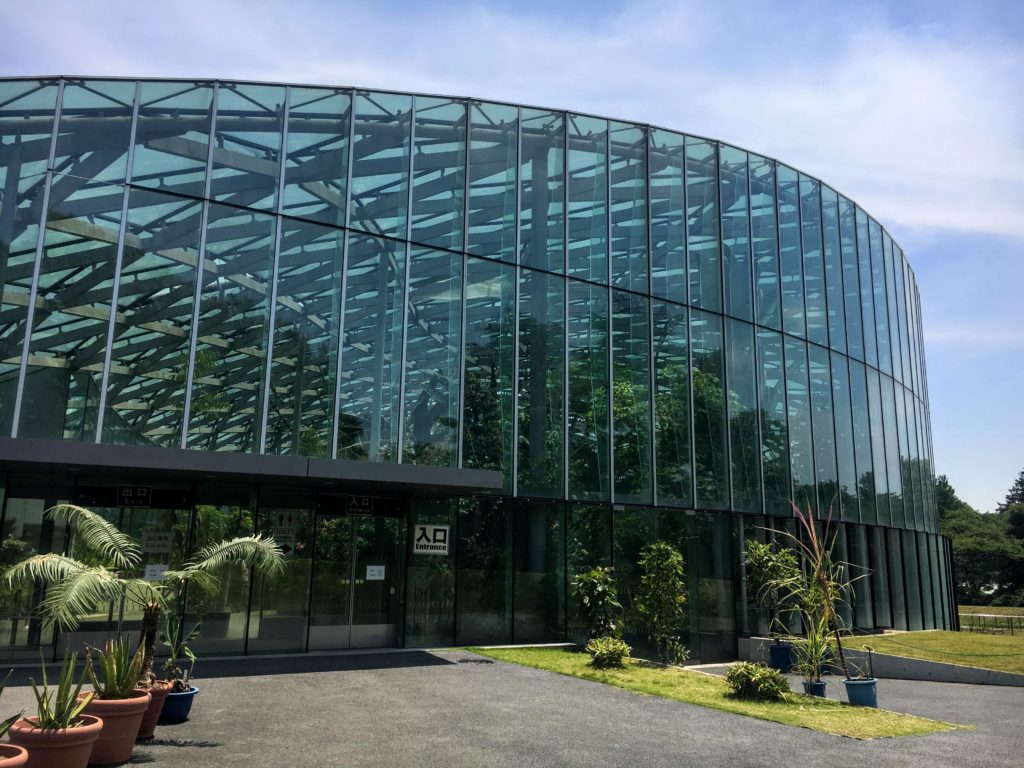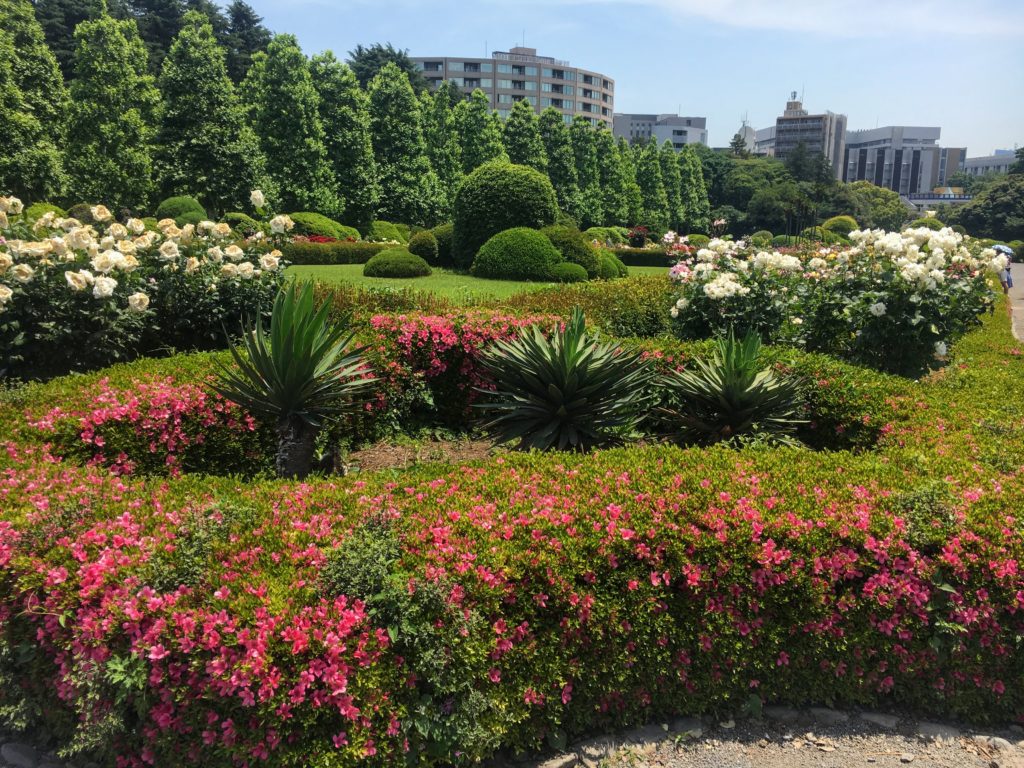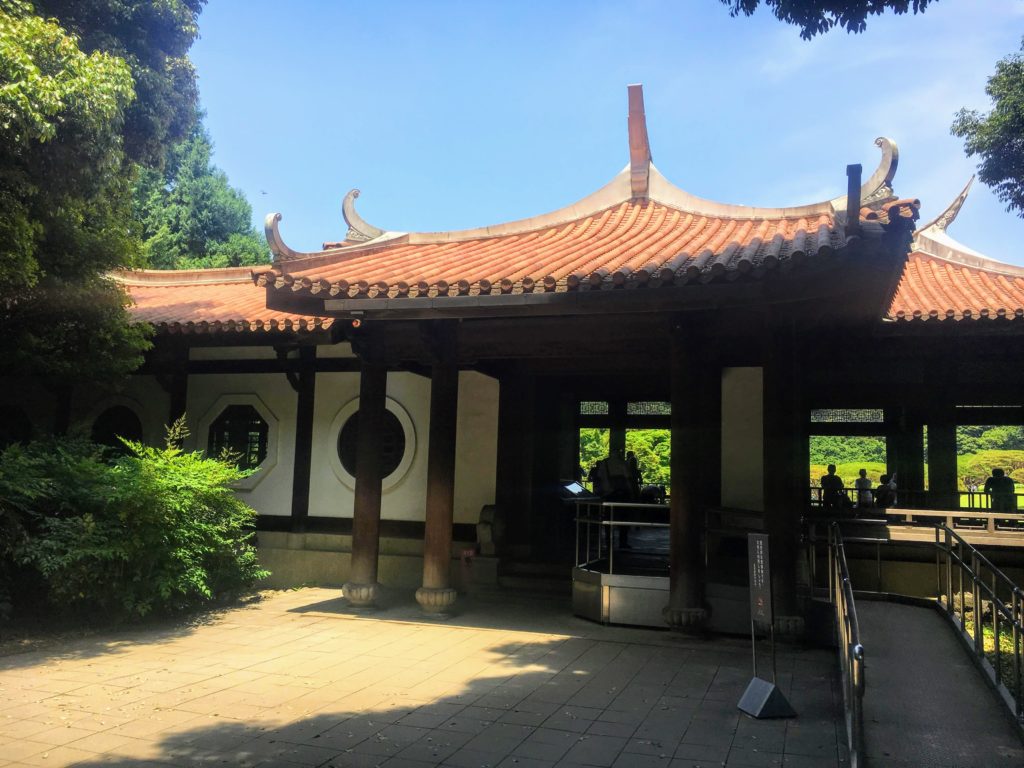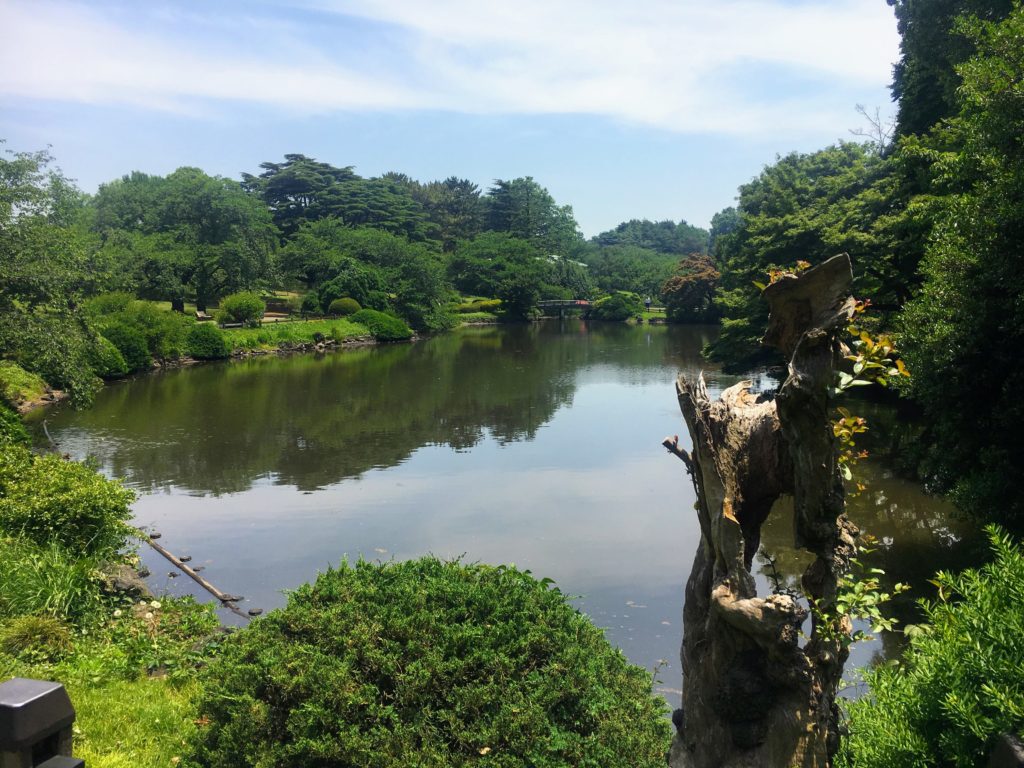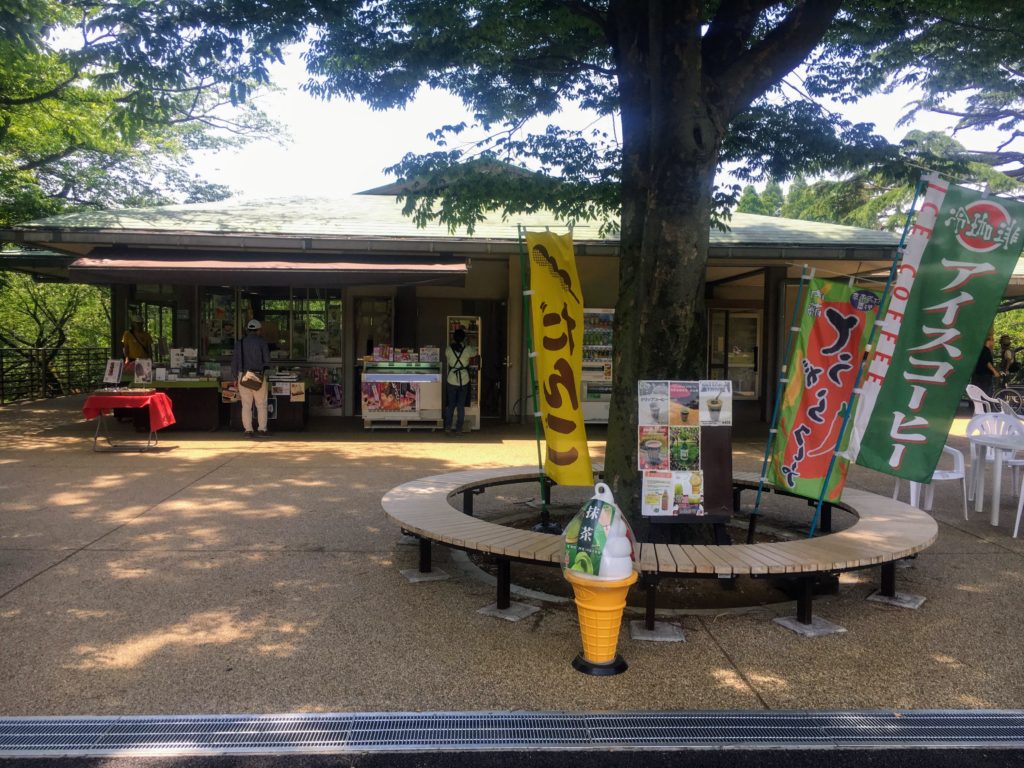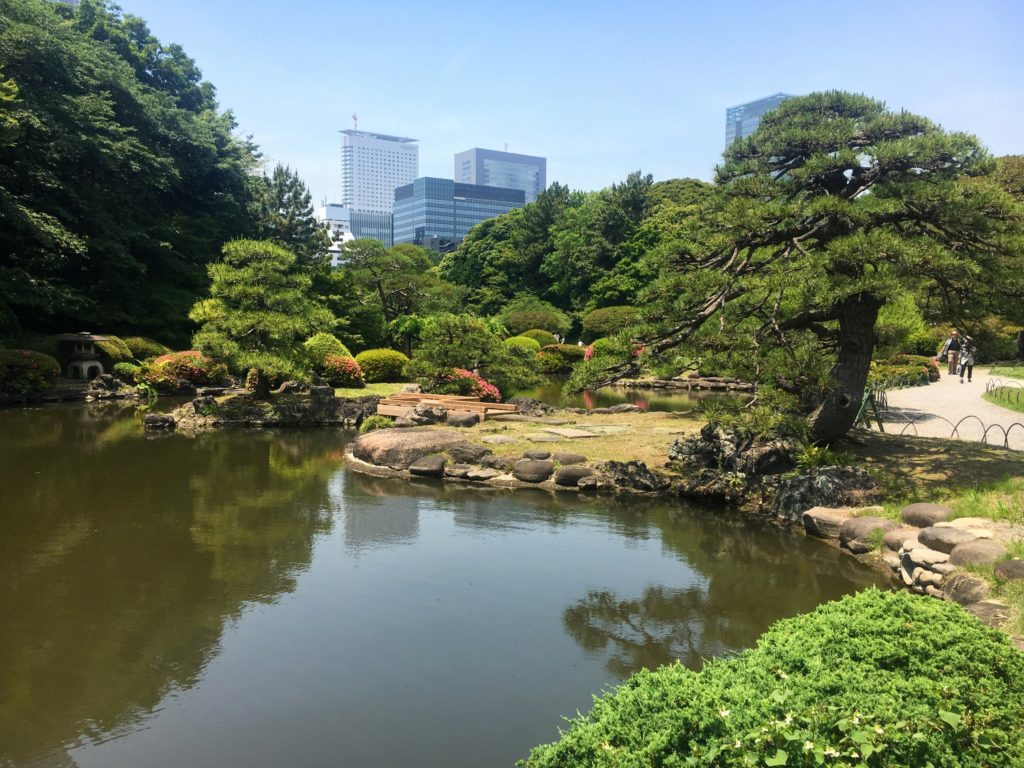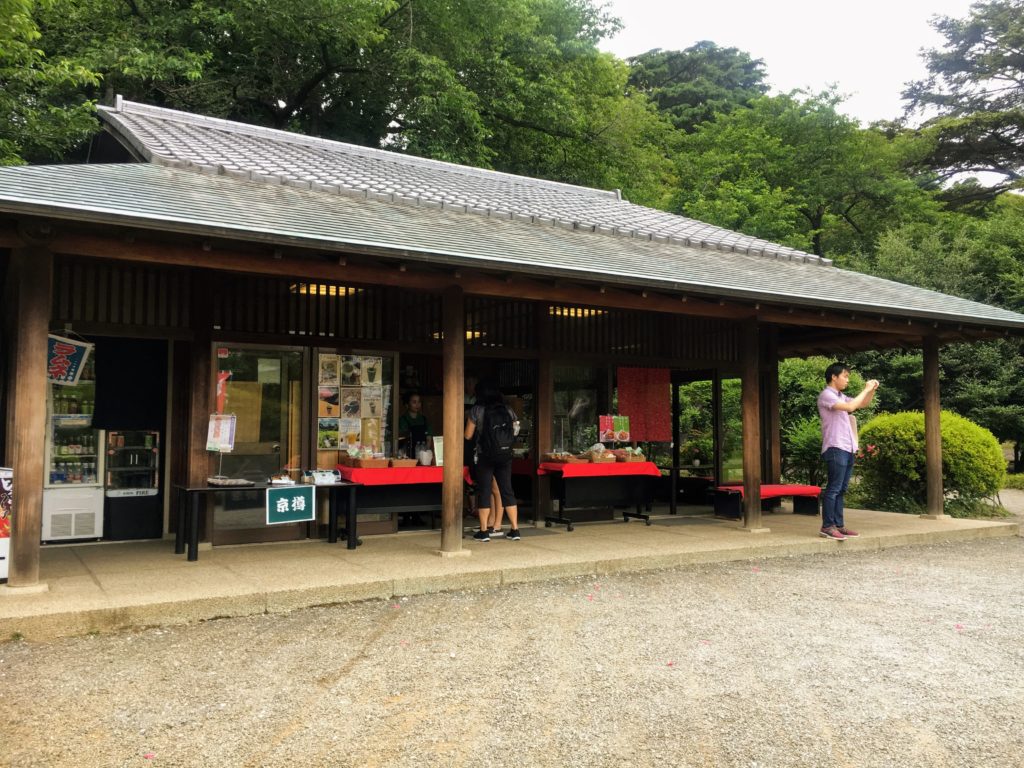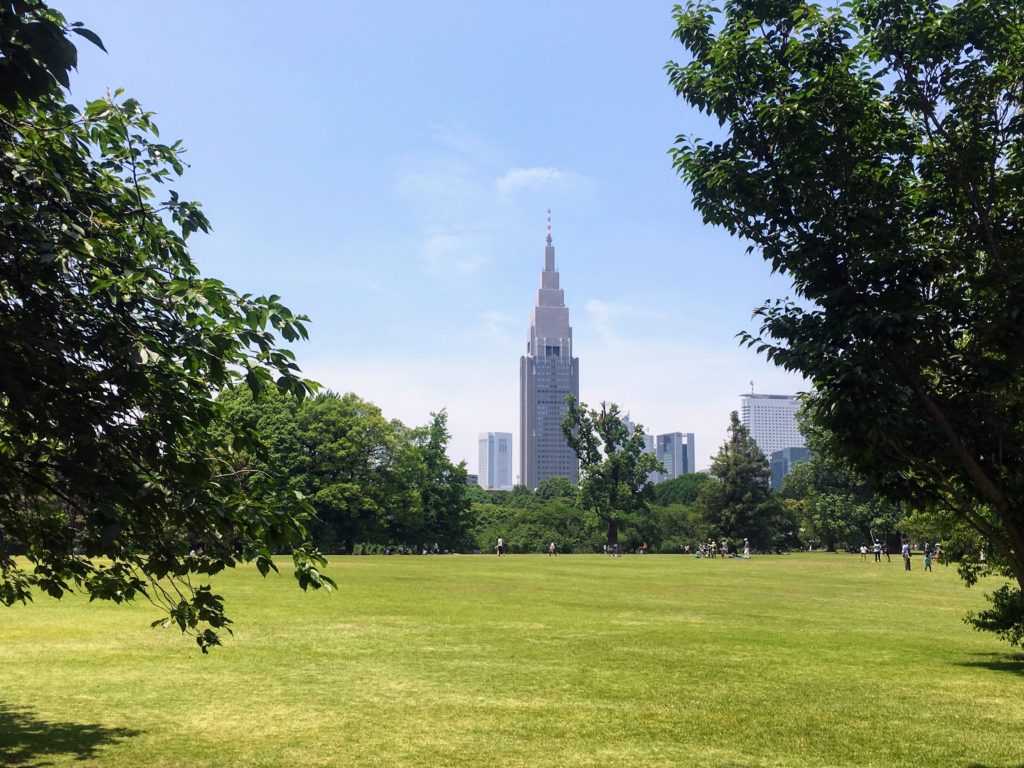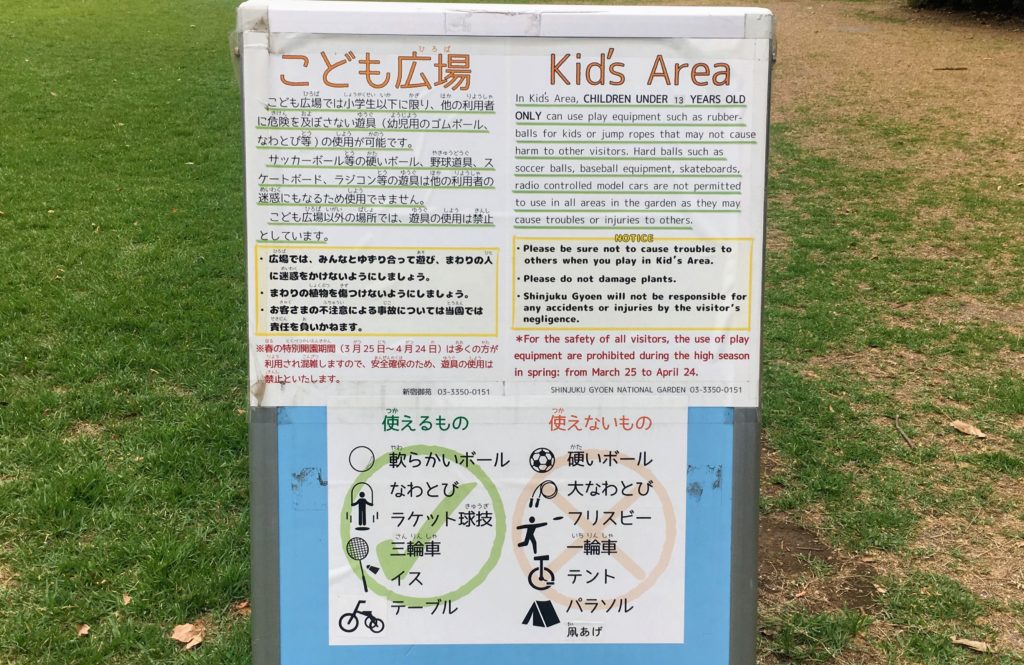 Visiting Shinjuku Gyoen during Sakura season  
Beware the lines to get in to Shinjuku Gyoen during sakura season are truly outrageous. If you're not a fan of crowds, it might be best to visit in the morning on a weekday, or visit in the off-season. 
There are cherry blossom trees planted in Shinjuku Gyoen that bloom a bit earlier and a bit later than the most popular type of tree in Japan. So even if you don't join the stampede of people, you'll still be able to enjoy the flowers! 
Visiting Shinjuku Gyoen? Pin this post!