Dubai is an extravagant city to say the least. It's home to the tallest building in the world and countless shopping malls, high-end hotels, and restaurants. It's also a massive transit city, with one of the largest airports in the world by passenger number. Dubai for most visitors starts and ends in the airport, during a stopover between two long-haul international flights.
I designed my Dubai layover to be two days between my flights from Georgia to the Philippines. Aside from spending a day going to the Sheik Zayed Grand Mosque in Abu Dhabi, I had 24 hours to see the highlights of Dubai. 
This is what I did in 24 hours in Dubai: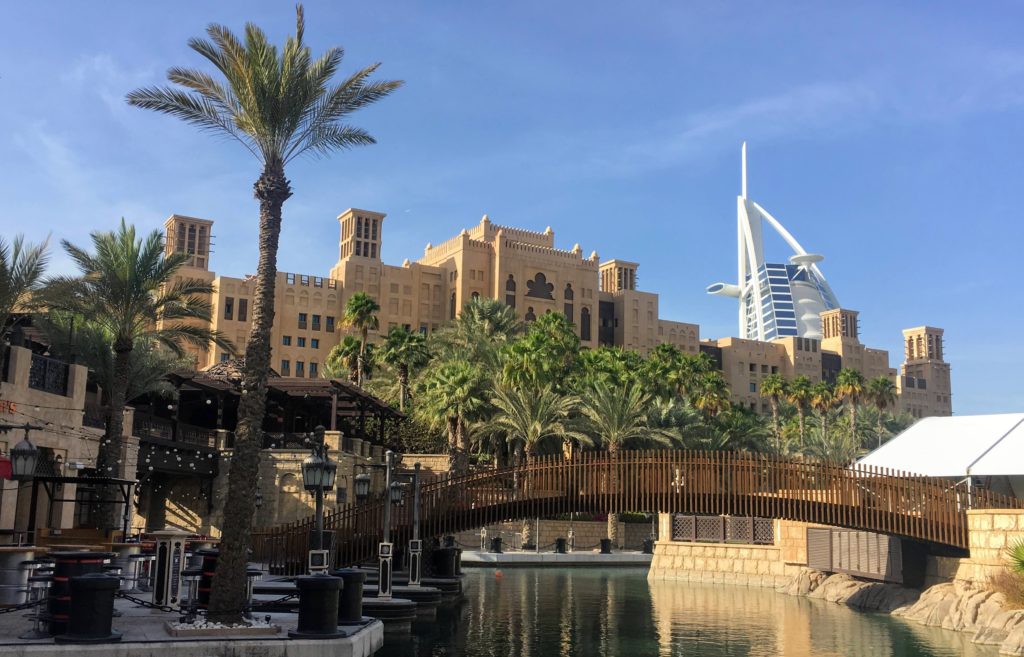 This canal-ridden shopping, dining, and hotel complex mimics the architecture of old Dubai. As you wander through spotless streets, over arched bridges and through the flashy central bazaar, you'll get a feel for what an Arabic medina would be like if was translated to the 21st century. 
Madinat Jumeirah is a bit like a theme-park with boats to take you around the canals, and designated "selfie" spots. It's a great place to have dinner, grab a beer by the water, or get some shopping done. There's a view of the Burj Al Arab as well, although the best views are in roped-off sections reserved for hotel guests only. Head to the beach for better views of the Burj Al Arab, h. 
How to get there:
Take public bus 88 or X28 for six Dirham from the Dubai Internet City Metro/bus station to be dropped across the street from Madinat Jumeriah.
You can also take the Red Metro line to the Mall of the Emirates. From the mall you can take a taxi for 15-25 Dirham to be dropped in the heart of Madinat Jumeriah.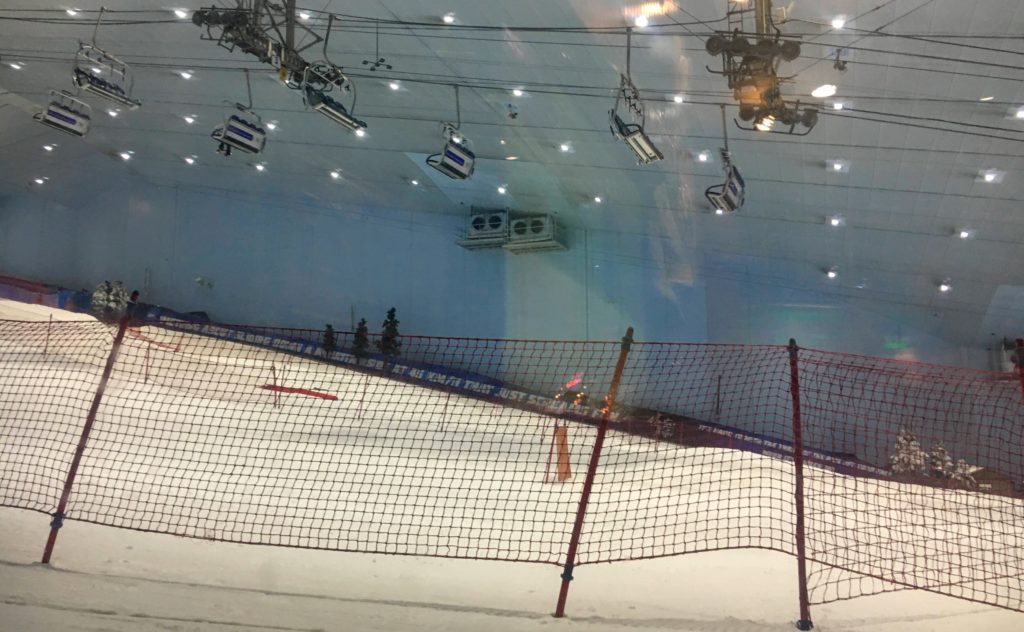 The Mall of the Emirates' claim to fame is the ski area inside of it! There's one small ski lift and a snowy slope inside a cooled glass enclosure. You pay to rent ski gear in an area that was built to look exactly like the inside of a ski lodge. Smaller kids can play in the snow and go sledding (have their parents pull their sleds) at the base of the hill. 
For people who may never have seen snow, I can imagine this is a really exciting experience!
How to get there:
Dubai's Red Metro line connects directly to the Mall of the Emirates.
3. Old Town: Old Souk, Gold Souk
If you're looking for a more cultural Dubai experience, there IS such a place! "Souk" is the Arabic word for a bazaar, a set of stalls packed close to one another and usually selling similar products. 
The north part of the city has a few of these souks, where you can buy things like gold, jewelry, clothes, and other knick knacks. You'll be harassed at every step by someone asking to come look at their products, come into their store, just looking, just looking! 
There's not as much sugar-coating for tourists here, as you'll notice while passing unkept alleyways. It's definitely authentic UAE.
How to get there:
Transfer from the Red Metro line to the Green Metro line, and exit at the Al Ras station. If you walk 10-15 minutes, you'll find yourself lost in the heart of the souks!
4. Burj Khalifa Light Show and Dubai Fountain Show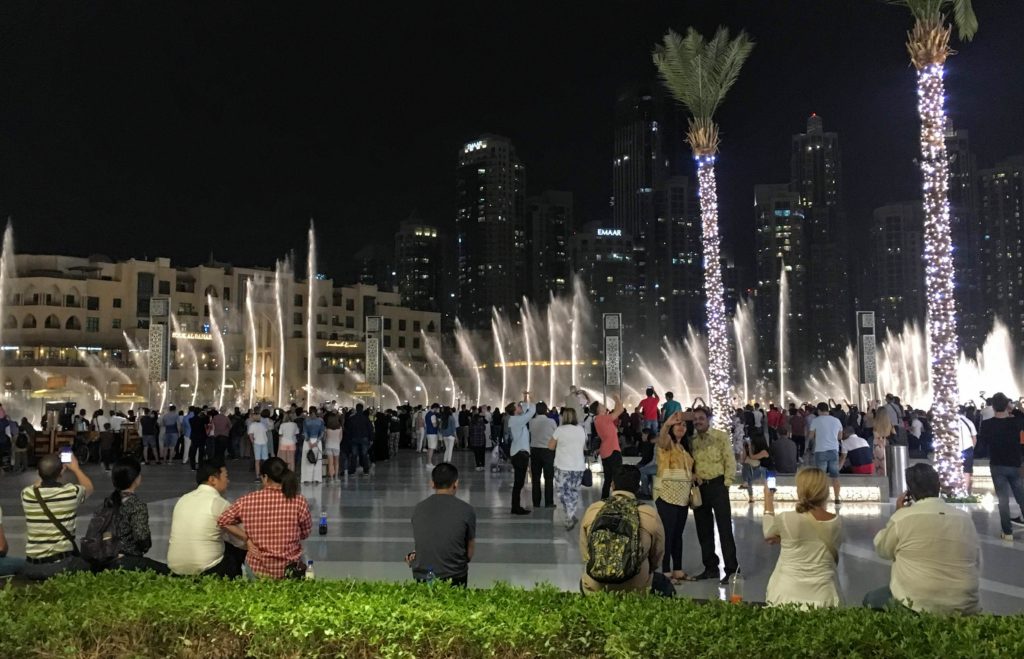 This was my favorite stop in Dubai. There's a dancing fountain light show every 30 minutes here between 6pm-11pm. On some days there are also afternoon fountain shows between 1-2pm. Check the schedule here. 
The Burj Khalifa's light show is a recent addition. On Sunday to Wednesday the light show happens every hour from 7:45pm to 10:45pm, and on Thursday to Saturday it's every half hour from 7:45pm to 10:45pm.
Several restaurants and fast food chains (Hi Pret-A-Manger and KFC) have outdoor seating here, so you can enjoy the fountain show from your dinner table.
How to get there: 
The Red Metro line has a Burj Khalifa stop, but beware it's about a 30 minute walk from the metro station exit to get to the fountain! If you're trying to time your visit to see the light shows, be sure to factor this in.
5. The Dubai Mall and Dubai Aquarium
The Dubai Mall is a great place to hang out and get all your shopping needs fulfilled before or after the fountain show. The mall has stores from all over the world, which is a treat for someone who travels a lot. I hadn't seen some of my favorite stores in years until I wandered through here! There's also a massive supermarket on the ground floor.
The two-story aquarium and "underground zoo" is a highlight of this mall. You can pay 120 AED ($32 USD) to enter and walk through the Instagram-famous shark tunnel, open from 10am to midnight.  You can purchase several VIP experience tickets as extras as well. There are free viewing points in the mall for a massive tank filled with sharks, schools of large fish, and stingrays. 
How to get there:
The Red Metro line drops you about a 15 minute walk away from the entrance to the mall. The entire walkway between the metro to the mall is covered and complete with moving walkways
Want to visit the Sheik Zayed Grand Mosque in Abu Dhabi during your Dubai layover? Check out this blog post! 
Other things to do in Dubai
I quickly realized that 24 hours is not nearly enough time to see all of the cool things that Dubai has to offer. Not even 48 hours later would I have been bored of such a commercial city. 
Here are some other activities in Dubai that should be considered during a layover here:
Head to the top of the Burj Khalifa. The official ticketing site will charge $142 USD for entry to levels 148, 125, and 124, but you can purchase tickets at Get Your Guide for $105 USD. Entry to levels 125 and 124 only (still pretty high!) costs $40 USD here. 
Go on a Desert Safari. One of the most popular tours from Dubai is all about desert adventures, like riding jeeps over dunes and having a BBQ at a desert camp. You can also ride quad bikes and go sandboarding too! 
Chill at the Dubai Marina. A ritzy section of Dubai filled with fancy restaurants, big yachts, and tall buildings, a popular activity here is to take a speedboat tour to experience the luxury. 
Go to the beach! Enjoy a bit of nature and escape the heat by heading to the beach. A few beaches are open to the public with no admission fees, including Jumierah Public Beach. It has great views of the Burj Al Arab, and it's ok for women to wear bikinis here.
Explore an indoor rainforest at the Green Planet. Get a ticket to skip the line here, for only $2 more than the official ticketing site's entrance fee of $24. You can also pay extra for the "Sloth Experience" or "Sugar Glider Encounter"
Visit Abu Dhabi. There are also half-day tours that go to Abu Dhabi and the Sheik Zayed Grand Mosque there.
Take a Helicopter Tour. For those with a little extra dough, fly over Dubai to see the city in all its grandeur!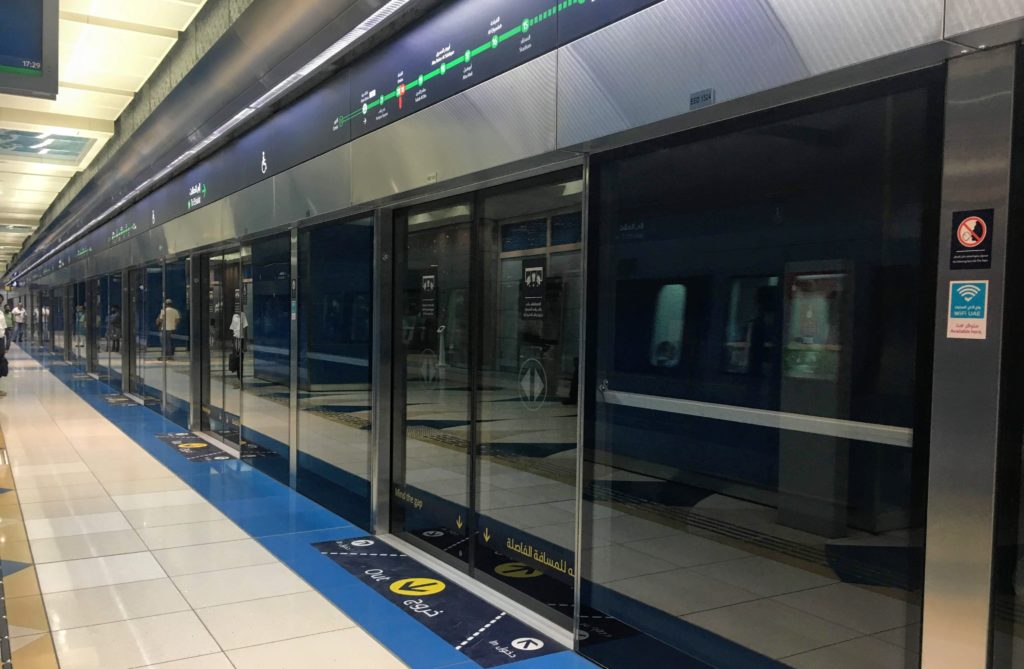 The main method of transportation I used in Dubai was the metro. At the airport, you can purchase a rechargeable Silver Metro Card (costs 25 Dirhams but you get 19 Dirhams credit on it). I used just about 100 Dirham on Metro rides during my 48 hours in Dubai. 
The map of the metro is simple. The Red Line spans across town, then a smaller Green Line intersects the Red Line twice and makes a small loop in the north part of town.
Your fare will change depending on the 7 zones that you may ride through on the Metro. It ranges from 6 Dirham ($1.63) to 15 Dirham ($4.08) per ride, including metro line transfers. An in-depth explanation of metro cards and fares can be found here.
Accommodation in Dubai
Dubai's budget accommodation options can be found on Hostelworld.com. 
Check out everything from budget options to super extravagance on Booking.com, one of the most comprehensive accommodation sites for Dubai. 
The United Arab Emirates Dirham (AED) is the currency used throughout Dubai. The conversion rate is roughly as follows:
$1 USD = 3.67 AED
1 AED = .27 USD
I spent the following amounts when I went for a breakfast run to a 24-hour convenience store near my hostel: 
Small loaf of bread – 9 AED ($2.45)
250 mL milk – 5 AED ($1.36)
6-pack carton of eggs – 6 AED ($1.63)
Pack of sliced Edam cheese – 15 AED ($4.08)
Overall, prices were similar to in the United States or other Western countries. 
Things to Keep in Mind - Don't do this in Dubai
I felt very safe while I was in Dubai. It's a progressive country with lots of wealth, independent women, and great infrastructure. However, it is still a Muslim country ruled under Shariah Law. This means there are some things that are illegal or have harsher punishments than what you would expect from other countries with similar levels of economic development.
Public displays of affection – holding hands is only allowed for married couples. Hugging and kissing someone you are not married to may get you in legal trouble if the police catch you.
Drinking alcohol – allowed only in licensed establishments such as hotels and restaurants
Accommodation – will always be separated by gender. Male and female dorms will be separate in hostels. Unmarried couples, especially unmarried Muslim couples, are not allowed to sleep in the same hotel room together.
Sex outside of marriage – illegal, could result in jail time, large fines, and deportation
Taking photos of others – illegal, without their permission
Flipping the bird – considered an obscene gesture, this and other insulting behavior is considered criminal activity and may result in arrest