One main highway runs from Bulgaria to Turkey, connecting Sofia to Plovdiv to Istanbul. Travelers cross this border in troves every day, from Bulgaria to Turkey, or the opposite, from Turkey to Bulgaria, overland. 
The landscape along this highway changes drastically, from Bulgarian villages in green foothills, to dry, desert-like landscapes of Turkey. Signs along the road written in Cyrillic and Roman alphabets turn to ones adorned by Arabic script. The small churches, overgrown cemeteries, and crosses you see in Bulgaria are replaced with towering mosques and minarets across the Turkish skyline.
This journey overland from Bulgaria to Turkey can be made by bus or train. Sofia or Plovidv in Bulgaria to Turkey's Istanbul takes about 10 hours regardless of transportation type. It requires passing two immigration checkpoints. 
I took a bus from Plovdiv to Istanbul in September, 2018. This is my experience with the bus, immigration, and getting to Istanbul city center.  Here's how to get from Bulgaria to Turkey overland! 
Before We Begin... Check Visa Requirements for Turkey (or Bulgaria):
Bus vs Train from Bulgaria to Turkey
Several busses and a train will take you overland from Bulgaria to Istanbul, Turkey.
Most busses and the one train are overnight journeys with a 4am wake-up call to go through immigration.  There are also a few day busses that depart from Bulgaria to drop you to Istanbul in the evening. 
Overnight Train Schedule - Sofia to Istanbul
Bus Options - Metro Bus Company
According to the Turkish Metro company website, these are the departure and arrival times from Sofia to Istanbul:
9:00 – 18:30
12:00 – 22:15
17:00 – 2:30
20:30 – 6:00
23:00 – 9:15
Take the arrival times with a grain of salt, because you never know with border control and traffic delays, what time you will actually arrive in Istanbul. 
The picture below shows the times that the same busses depart from Plovdiv.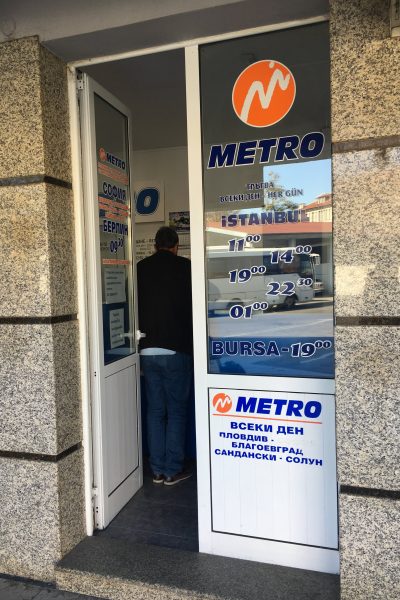 My Experience Bussing Overland from Bulgaria to Turkey
I had been taking overnight busses across Europe and it would have made sense to do it again to cross overland from Bulgaria to Turkey. But overnight busses with a border crossing in the middle of the night are the worst ones to get sleep on. I didn't want to spend two days in Istanbul recovering from no sleep, so I opted for the earliest day bus that would get me into Istanbul in the evening. 
This bus runs from Sofia to Plovidiv to Istanbul overland, as must busses do. It leaves Sofia at 9am, then Plovdiv at 11am (ended up leaving closer to 12). The bus was packed with people, who all seemed to have three or four massive bags with them. The luggage storage at the bottom of the bus was packed to the brim. 
After the bus left Plovdiv an hour late, it took about three hours of driving through Bulgaria, to reach the border to Turkey. The ride included a short lunch-and-restroom break at a road-side Bulgarian restaurant.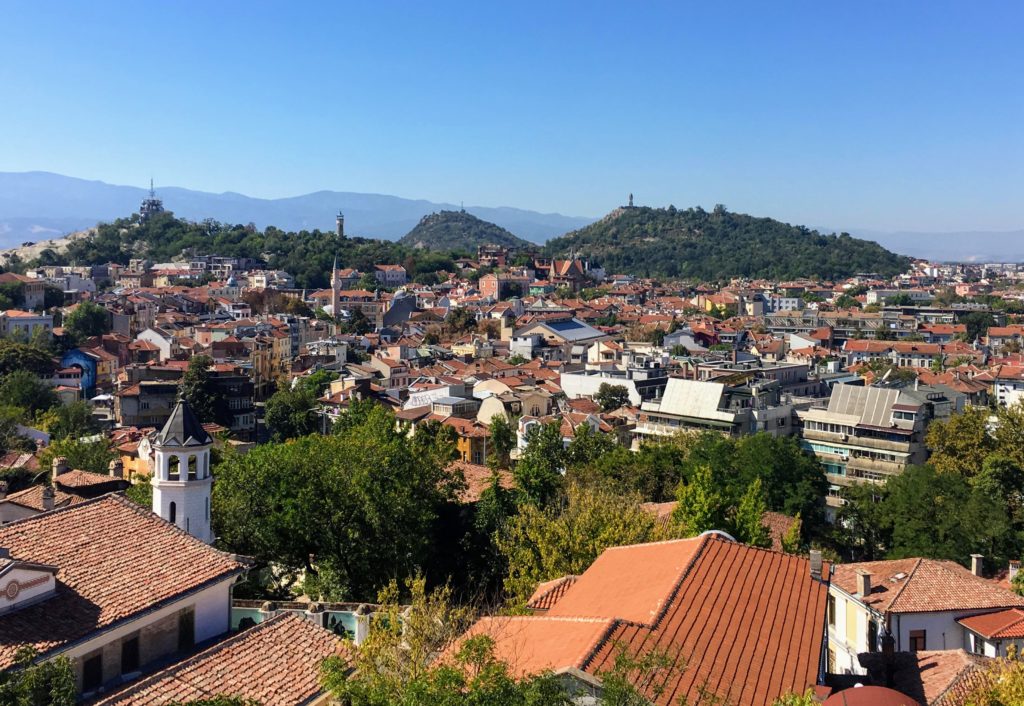 There was no line leaving the border in Bulgaria, with two open lanes for immigration. Basically a miracle! The bus pulled up to the checkpoint and we all filed off with our passports. Turkish passport holders passed inspection quickly, but the border control took their time with other passport holders. 
After filing back on the bus, we drove a hundred meters down into the free-zone between Bulgaria and Turkey. The bus stopped next to a multi-story duty-free store so passengers have a chance to do some shopping and use the restroom. 
We had JUST stopped for a restroom break so I thought no one would get off, but of course three or four people did, then came back 15 minutes later with some duty-free bags.
The entry point to Turkey had much more security. There were large metal gates opening and closing behind every bus that went through. Armed guards on plastic chairs were holding big guns on their laps. We waited about 20 minutes for two other busses in front of us to re-load their passengers and drive off, before the metal gates rattled open for our bus.
Things You Need: Passport and Visa for Turkey
We took all of our belongings off our bus to bring to the immigration building. We lined up in front of one immigration officer, and I gave him my passport and printed Turkish E-visa. 
Get your Turkish E-Visa from here.
The immigration agent examined my passport, looked up at me and asked, "Erika?" When I replied, "Yes, sir," he nodded approvingly. He stamped it without asking any more questions and I was free to enter Turkey.
In the next room both my bags were scanned. One woman was looking at her phone behind the X-ray screens, and didn't say anything as I took my bags off the belt. When I left this room there was a small seating area, but right outside was our bus, waiting for the passengers to get back on.
Purchasing an Emergency Visa at the Turkish Border
One American woman who was in front of me in the immigration line had entered the wrong dates on her Turkish E-Visa. She was told by the officer that she could only enter Turkey at midnight using her visa, so wait at the border to get stamped at midnight, or buy a new visa. 
Luckily you can purchase an E-Visa on the spot at the Turkish border (not sure if the option is available at all times of the day though!) She was able to purchase a new visa then and there, and continue on the bus with us without any delays.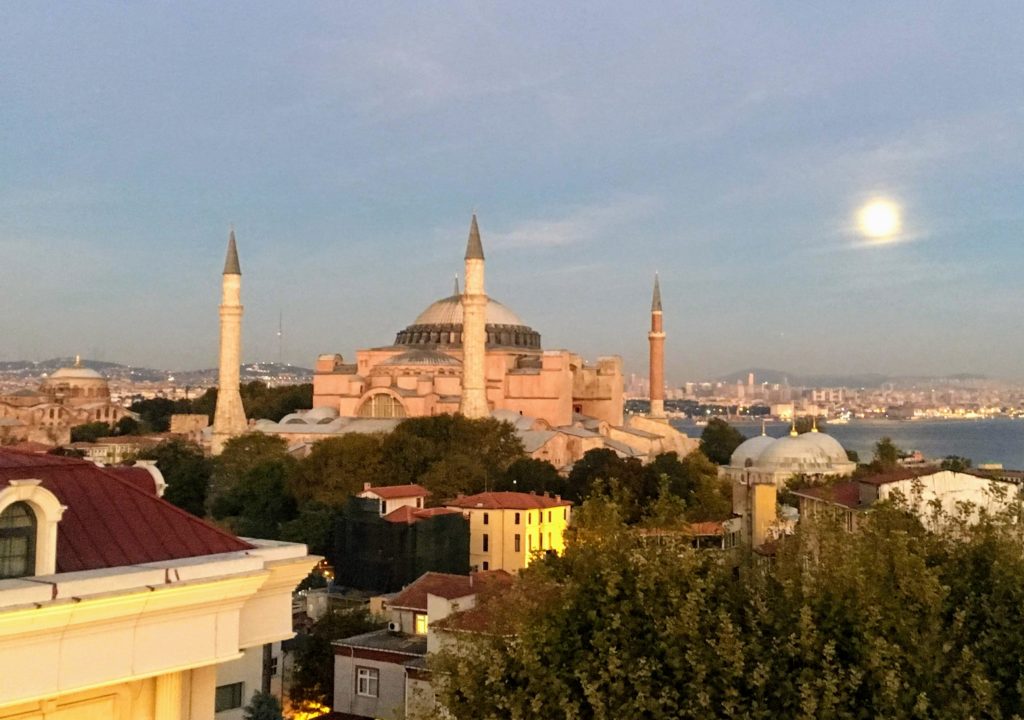 The first structure your eyes will be drawn to across the border is a huge mosque, taller than any of the border patrol buildings. As the bus drives through the barren landscape, there are only distant minarets in sight to mark where small villages lie. 
As dusk was approaching around 7pm, the bus took us into the suburbs of Istanbul. San Francisco-esque hills upon hills are lined with towering concrete apartment complexes and more mosques. 
After navigating through traffic, we finally pulled in to our final destination, Otogar Coach Station. I have never seen a place so packed with busses, as far as the eye could see. There was a massive building filled with tour company offices with little side shops and restaurants. Tourists with suitcases were rushing around just like the locals pushing goods around on trollies. 
Crossing Bulgaria to Turkey Overland:
Getting to Istanbul City Center
Istanbul has an incredibly modern, clean, and organized metro and tram system. Passengers can all use the IstanbulKart, a pre-loaded transit card, to scan their way around the city.
When I got off the bus and took my luggage, I was engulfed in locals asking if I wanted a taxi ride to town. I rushed passed them with my head down and went straight to the large building opposite. I was looking for an ATM, a Metro ticketing point, and the Metro itself. 
The first large building was just tour offices and restaurants. When I walked through this one to the other side, there was a second identical massive building, where a local told me to go to catch the Metro. This building had more local shops on the inside selling clothes, shoes, watches, and local fast food. 
There are a row of ATMs here to withdraw Turkish Lira from, then other ATM-like ticket machines where you can purchase an IstanbukKart. 
There are ATM-like machines where people can purchase IstanbulKarts at all Metro stations. They cost 6 Lira ($1.15) for the physical, plastic card, each ride is 2.6 Lira (50 cents), and transferring adds another 25 cents. For any amount of time you spend in Istanbul, I think it's worth purchasing a card to make getting around easier. 
Otogar Station to Aksaray Station
I took the red M1 line from Otogar Coach Station Metro to Aksaray, which is the beginning of the tourist neighborhood of Istanbul. From here, I took the blue T1 like to Sultanahmet, which is where the Blue Mosque and the Hagia Sofia are located. Here there are endless restaurants, hotels, and souvenir shops. The Big Bazaar and Spice Bazaar are also a 15-20 minute walk from here. 
As a solo female on the public transit in Istanbul, I never ran into any issues or felt unsafe. There were about as many women as there were men on all the rides I took, and the closer I got to Sultanahmet, the more tourists came on board as well.
Other Helpful Links for Crossing Overland from Bulgaria to Turkey
Find a Place to Stay in Sultanahmet, Istanbul
Istanbul Tours under $20 USD
Are You Prepared For Your Next Travelventures?