Bukhansan National Park is a must-visit location just outside of Seoul city center in South Korea. The national park is a beautiful escape into nature, it's free to visit, and it's easy to reach from Seoul. If your Seoul itinerary has enough leeway for a day-trip or half-day hike, consider Baegundae Summit in Bukhansan National Park! 
Baegundae Summit is a moderate-level hiking trail that takes about 4-5 hours to complete. To reach the summit, you'll need to hike up steeper and steeper terrain until you're scrambling up the surface of a rock, with the help of fixed ropes. If you're looking to spend time outdoors in Seoul and want to feel a burn in your calves, the activity for you is hiking Baegundae Summit in Bukhansan National Park.
This post will walk you through getting to Bukhansan National Park, navigating the trail, what to expect at the Baegundae summit, and how to get back to Seoul. 
Bukhansan National Park Overview
Reaching Bukhansan National Park from Seoul is so easy to do, that the park is wildly popular with the local hiking crowd. The national park is technically still located within the Seoul metropolitan area, so hiking Baegundae mountain summit at an altitude of 836m (2,742 ft), is the same as reaching the highest point in Seoul.
When hiking Bukhansan National Park, try to leave Seoul city center before 9am, in order to beat the local crowd, especially on the weekends.
If you want to spend all day in Bukhansan National Park, there are plenty of opportunities to do so. After summiting Baegundae mountain, there are other smaller summits you can hike, or side treks to different Buddhist temples.
Baegundae Summit Hike Packing List
No larger than a 24L backpack or daybag
Hiking boots (I went with my Merrells) or shoes with grippy soles (such as Chacos) are highly recommended for this hike, because of the steep sections over slippery rock near the summit
Refillable water bottle – part of your sustainable travel packing list! 
Trekking poles (optional)
Anti-slip gloves for the fixed ropes/cords (optional, but many locals were sporting these bad boys)
Windbreaker for the summit, where it is colder and windier than the rest of the trail
First Aid Kit for potential cuts and scrapes from the summit push

Snacks, a packed lunch, and water

A picnic mat or small stool to sit on during rest breaks

T-money card with at least 5000 won on it for transportation
Getting to Baegundae Summit Trailhead from Seoul
To reach the start of the Baegundae Summit hike, head to the Western entrance of Bukhansan National Park. The closest metro station to this entrance is Gupabal, which is along Line #3, the orange-colored line, from Seoul. Large metro stations that are on Line #3 connecting to Buhkansan National Park include Anguk and Jonjno in the Insadong neighborhood.
Once you reach Gupabal, take exit #1 which is closest to the bus station. Take the local bus #34 or #704 for about 10 minutes to Bukhansan Fortress Entrance station. There are usually many locals embarking on this same hike, so even if you're confused about which bus to board, follow the line of local hikers with their trekking poles and colorful windbreakers.
You can use a T-Money card for both the Seoul metro and the bus system.
From the Bukhansan Fortress Entrance bus station, walk a few meters up the road and turn right, where there is a sign for Bukhansan National Park's entrance. Follow this road to the start of the hike.
Bukhansan National Park West Entrance
The entire road leading from the turnoff to the entrance of the National Park is filled with hiking goods stores, cafes, and convenience stores. This is great news for anyone who came entirely unprepared! Buy water, snacks, a jacket, trekking poles, and even hiking boots for your upcoming Baegundae summit hike in Bukansan National Park.
At the entrance of Bukhansan National Park is a large map of all the hikes in the region, a free public restroom, and an information stand. Enter the park and head up the trail, where you will see signs at every fork in the road pointing you to the Baegundae summit along with how many kilometers remain.
Hiking to Baegundae - What to Expect
The first hour of the trek is incredibly scenic, and runs mostly along a small creek. A lot of the trail is over a wide boardwalk, complete with stairs and handrails, and not over dirt.
Cross the second bridge on your left to the opposite side of the river, where the uphill begins. Although it looks like Baegundae summit is straight up, there are meandering stone staircases that help you gain altitude quickly. There are plenty of spots to break away from the trail and have a rest or even a picnic, or to just let the people behind you pass.
Reaching Baegundae Summit - The Steepest Part!
Once the steep stone steps turn into another boardwalk with stairs, you're almost at the top! First, you are greeted by a fortress wall, which was built hundreds of years ago to protect Seoul against foreign invaders. Go through the small entryway and then the steepest part of the trail stars. After a few flights of stairs, you will be holding on to fixed cords to help pull yourself up the mountain.
If you are summiting at the same time as the local hiking crowds, be prepared for bottlenecks here. There are usually two paths side-by-side, one for ascending and one for descending, but sometimes these squeeze to only one path.
It took me two hours to reach Baegundae summit from the Bukhansan Fortress Entrance bus station.
At Baegundae Summit, the Highest Point in Seoul
The summit has breathtaking 360 degree views of Seoul, its suburbs, and the other summits in the surrounding Bukhansan National Park. The 20+ story apartment complexes lined up in the distance look like tiny LEGO buildings. It's hard to imagine that you came from a massive metropolis when you've spent so much effort climbing through forest and over rocks to reach this summit.
A South Korean flag waves proudly in the wind at the summit, which makes a great photo opportunity. If you're here on a weekend, be prepared to queue for a picture. Many people will be picnicking here despite the strong winds and sheer drop off if you stray a little too close to the edge.
The summit has no restrooms or places to buy food or water, so be prepared by bringing everything up yourself, and carry everything down with you too.
Descending from Baegundae Summit: Back to Seoul
Take the same narrow path down to the side of the fortress wall. From here, you can either descend to the Bukhansan Fortress Entrance bus station that you started from, or descend down the opposite side of Baegundae to Bukhansan Ui Subway Station.
The descent is a relief on the calves but pressure on the knees, because it is just as steep as the ascent. Trekking poles would have one in handy here.
A small mountain lodge selling hot noodles is close to the top of this trail, and from behind here is a long downhill section. You'll also pass a Bukhansan National Park Rescue Hut, there in case of emergencies.
At the base of this trail is a larger information center, as well as a parking lot and turn off for a temple if you are interested in visiting it. You can hire a taxi, if available, to take you back to Seoul or down the remaining 1.5 kilometers to Ui-Dong and the subway station. The rest of the walk takes about 30 minutes on more gradual paths, no longer dirt but a boardwalk again.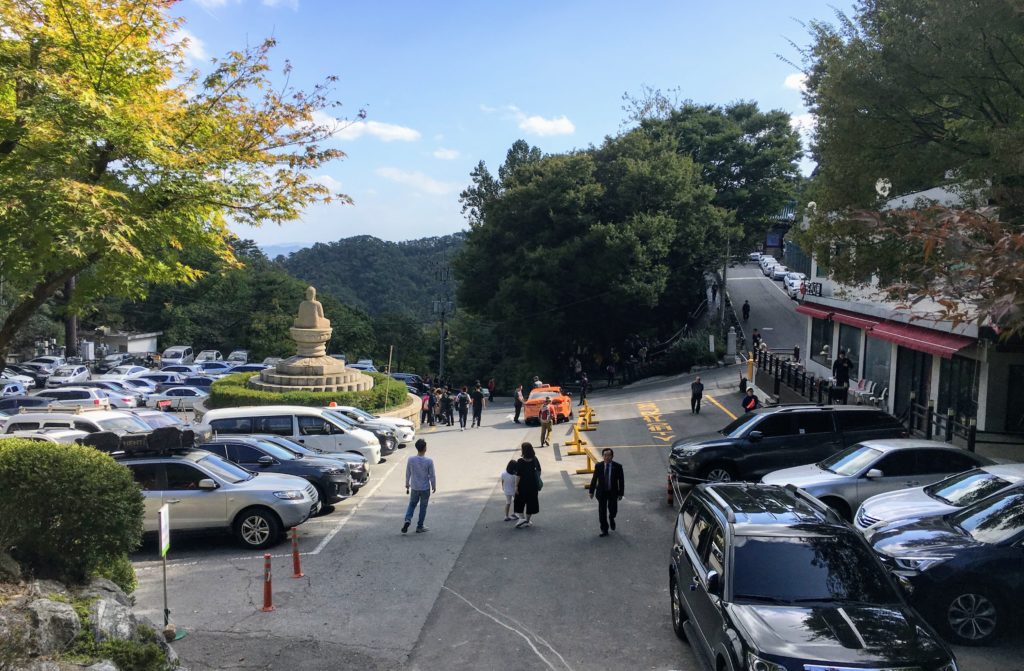 It took me 1.5 hours to reach Ui-Dong town and the Bukhansan Ui Sunbway Station from the fortress wall near the Baegundae summit. Since I spent about 20 minutes at the summit, the trek was in total four hours. 
Bukhansan Ui-Subway Station
There is a small town that you pass through, with shops and restaurants, in order to reach the subway station at the end of the road. Bukhansan Ui-Subway Station is on the Ui-Line, which connects to the regular Seoul Metro lines at its last three stops, Sungshin Women's University (Line #4), Bomun (Line #6) and its terminus, Sinseol-dong (Lines #1 and #2).
You can use the T-Money card again here to take the Ui-Subway and any connecting subway lines back to Seoul.
Hiking to Baegundae? Pin this Post!