Mt. Koya, or Koyasan, is a holy mountain in central Japan that is reachable as a day-trip from Osaka or Kyoto. Traditionally, Shinto pilgrims would walk from the base of Koyasan to the top, then stay in a temple accommodation at the summit. These days it is still common to stay overnight in a temple or ryokan on Koyasan. 
Although it's now rarely used, the pilgrimage trail to Koyasan still exists! The best part is, it's only a quick 45-60 minute hike to reach the summit. 
Whether you are staying overnight or just making a day-trip, try hiking Mt. Koya! If you're an avid hiker, consider the multi-day Kumano Kodo pilgrimage hike in this region too. Out of the five different Kumano Kodo trails, one of them reaches Koyasan from the south side. Read more about this hike in my list of multi-day hikes in Japan.
Getting to the Koyasan Pilgrimage Hike Trailhead
The Koyasan trailhead starts at the Gokurakubashi Station. This station can be reached from Osaka Namba Station on the Nakai Line without any transfers.
Most visitors, once arriving at Gokurakubashi Station, will rush from the train to the cable car (which can be ridden by tapping your IC card). However, there is a small side exit where you can tap out of the station with your IC card too. From here, follow a small road that runs under the station. The path loops to near the train tracks, then over a scenic red bridge to cross the ravine below.
What to Expect on the Koyasan Pilgrimage Hike
When I visited Koyasan in peak tourist season, I was the only one on my train from Osaka that opted to hike Koyasan instead of taking the cable car.
The pilgrimage road starts paved, then gains elevation and becomes narrower. It's not long before you can't hear any sign of civilization: it's just you and nature. There's even a sign that warns against bears!
Eventually there is a turn-off, where you have the option to follow the paved road, or turn onto a small dirt path – the original pilgrimage trail. I opted for the original pilgrimage trail to hike to Koyasan, which was a series of steep switchbacks. 
For everyone reading this, I would recommend just sticking to the larger trail because of one word: SPIDERS.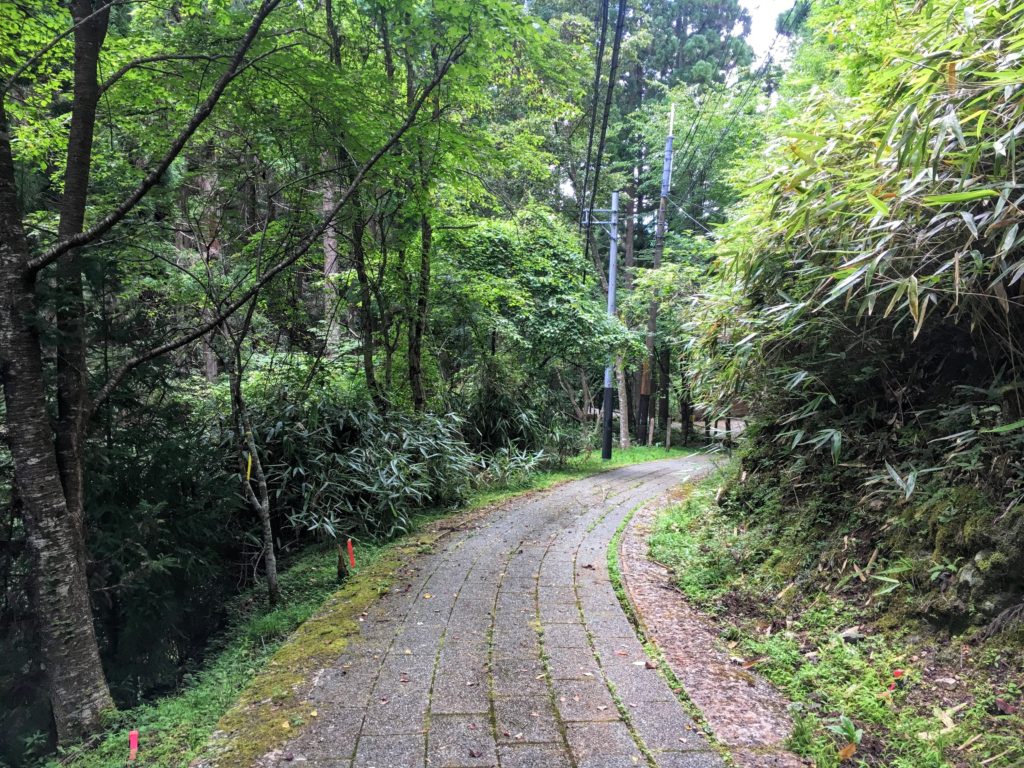 Hiking Koyasan - My Pilgrimage
It quickly became obvious to me that not many people opt to hike this pilgrimage route to the Koyasan summit. On about the second or third switchback, I walked head-first into a massive spider web that spanned the trail. 
As I was trying to brush the web off of my entire front-side, I saw a massive spider, also in a panic, running up its ruined wed towards my arm. I frantically brushed it away but lost sight of it (who knows, maybe it's still in my backpack).
The rest of the pilgrimage I walked while waving a big stick in front of me. There were countless other spider webs that I broke through (sorry not sorry) and I walked with the perpetual fear of running into more spider webs on the narrow paths.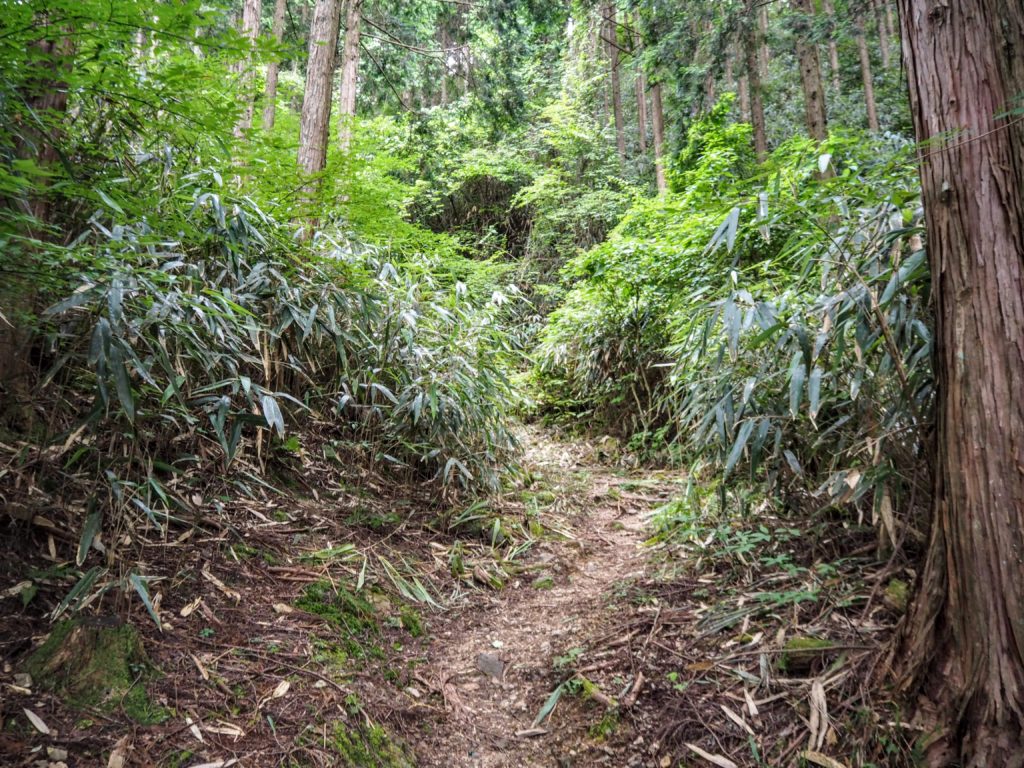 Side Note: Jorogumo Urban Legend in Japan
Let's take a break from my Koyasan summit hike post to talk about the significance of this type of spider in Japan. 
The most common spider in the mountains of Japan, and anywhere else where there are trees or bushes, is the jorogumo, or the orb-weaver. This beast can grow to be the size of a child's hand, and is capable of catching small birds as prey. It is identified by its long spindly legs, which are striped yellow and black.
There's even an urban legend in Japan, about how when one of these spiders lives to be 400 years old, they will gain an appetite for human flesh and transform into a seductive human woman. The spider-woman will lure lonely men to her home, wrap them in her web to devour them at her convenience. 
(Check out my article for GaijinPot about Yurei and Yokai of Japan)
Reaching the Koyasan Summit
I was immensely relieved when the small pilgrimage trail linked back up with the paved road. I swore off the dirt trails and stuck to the wide ones after that (although jorogumo are able to spin webs many meters across). 
It took about 45 minutes for me to reach the entrance temple at the summit of Koyasan from the trail station. As a day-hike to get a little exercise in, the distance of the Koyasan hike was perfect.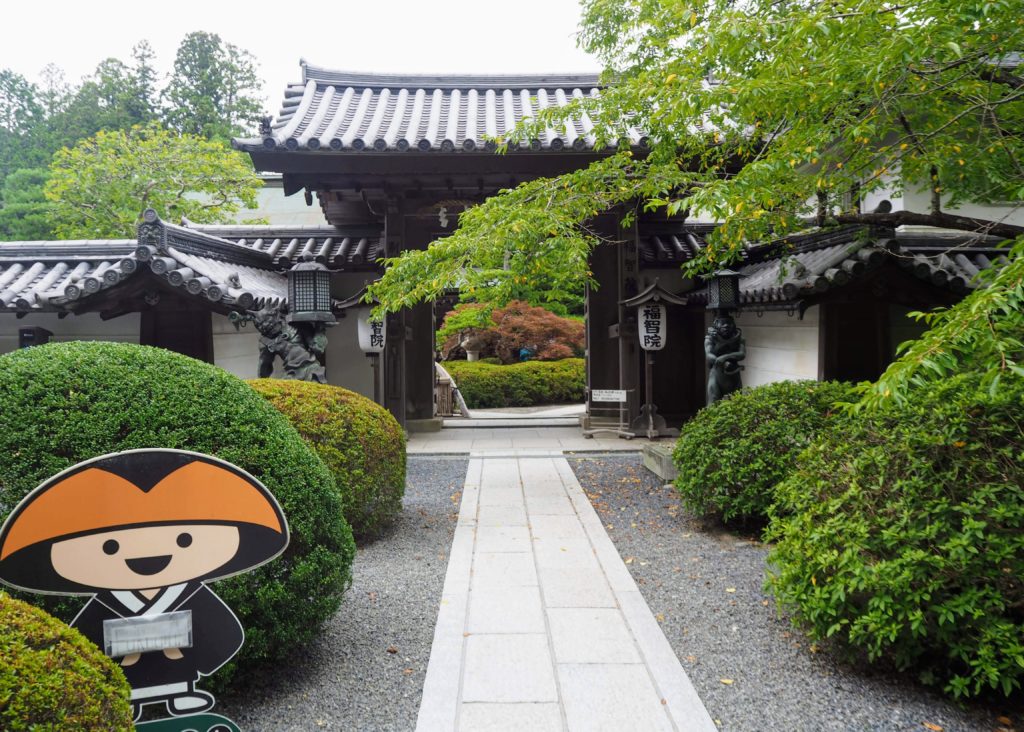 Stay in a temple if your budget allows for it. 
Visit the many temples on Koyasan where you're there, including the Danjo-garan, Kongobuji, the Daimon Gate, and more. To go around to all the main temples at a leisurely place should take about 2-3 hours. 
Walk through the Okunoin Cemetery – It doesn't sound as dreary as you expect. This centuries-old cemetery is a beautiful, moss-covered area where nature has taken over some of the forgotten burial grounds. There is a wide path for people to walk through, and is a common stop for visitors to Koyasan. 
Continue hiking down the other side of Koyasan, which links up with one of the several Kumano Kodo pilgrimage trails. The Kumano Kodo is one of the best multi-day hikes in Japan.
Getting Back to Osaka from Koyasan
Needless to say, I opted not to hike the pilgrimage trail back down Koyasan. Instead of hiking from the shrine region, you can take the local bus to the cable car station, and use your IC card to cable car down. 
From Gokurakubashi Station, take the Namba line back to Osaka Namba Station. 
Thinking about the Koyasan Hike? Pin this Post!
Are You Prepared For Your Trip To Japan?
Be sure to check out my Japan home page for Japan travel information, insider tips, reading list, and must-haves for traveling to Japan!