A great way to see a hidden side of Myanmar is taking a boat between Mandalay and Bagan on the Irrawaddy River. You'll catch a glimpse into the life of local riverside villages: women doing laundry in the river as kids play in the water around them, and fisherman canoeing against the river's tide. You'll see gold dredging boats, fisherman huts built on floating bamboo rafts, flocks of cranes, water buffalo, and more on this scenic ferry ride. 
Although taking a boat is not the fastest way to get between Bagan and Mandalay (busses take 6-8 hours), it's probably the safest and most enjoyable. 
Here's what to expect if you decide to skip the busses and trains, to take a scenic ferry from Bagan to Mandalay (or ferry from Mandalay to Bagan) down the Irrawaddy River in Myanmar!
Purchasing Your Bagan-Mandalay Boat Ticket
There are two boat companies operating between Bagan and Mandalay, MGRG and RV Panorama. MGRG from Bagan was $5 USD cheaper per person, but since RV Panorama offers a hotel pickup service (usually costs 10,000 kyat ($6.50)) the cost difference becomes negligible. 
Marty and I went with RV Panorama, thinking it would give us an extra bit of comfort on the water, like JJ Express did when we bussed overnight from Yangon to Bagan. For a ticket that includes breakfast and lunch on the boat, we paid $37 USD per person, going from Bagan to Mandalay. Taking the boat from Mandalay to Bagan costs a little more because it's a more popular route.
To book tickets online to go from Mandalay to Bagan check here. 
Note: Ferry from Mandalay to Bagan (opposite direction)
Taking a ferry the other direction from Mandalay to Bagan, there are more boat companies and more variety in boat quality. The same boat ride going from Mandalay to Bagan with RV Panorama costs $58 USD per person. An extra perk is a sightseeing stop at a local village around the halfway point.
Buy ferry tickets from Mandalay to Bagan here! It includes a stop at Yandabo village and a buffet lunch for only $41 USD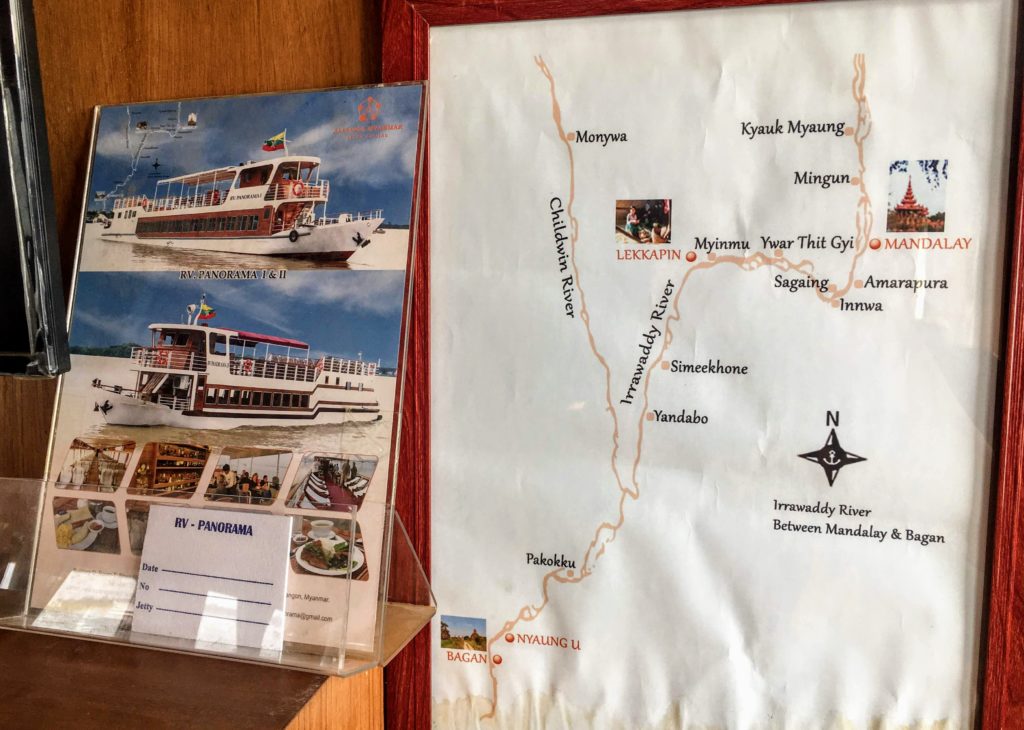 Day of Departure: Bagan to Mandalay Ferry
The pick-up from our Bagan hotel was at 5am for a 5:30am departure. The taxi drove us north of Nyuang-U about 15 minutes. Both the MGRG and RV Panorama ferries were parked on the river, both mostly empty.
We walked over a thin wooden plank onto the boat (the handrail was a bamboo stick held up by two workers). When we entered the seating area downstairs, we were told there are only six passengers on a ship for 60, so we could sit wherever we liked and could spread out.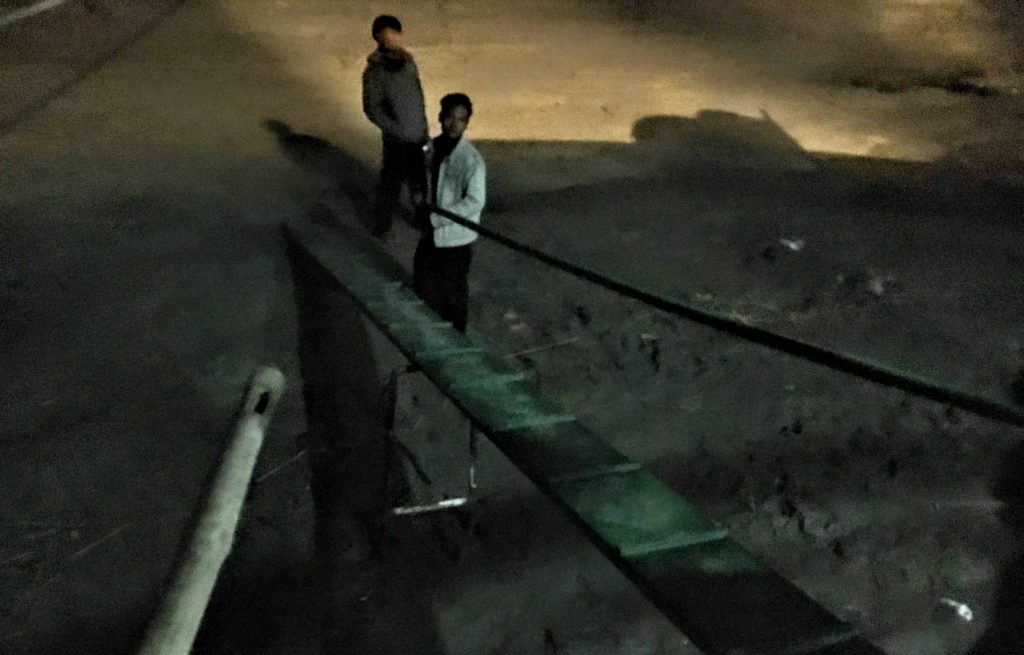 The boat was surprisingly comfortable for a ferry in Myanmar! On the lower level there were 60 chairs, each row with two (working!) electrical outlets and life vests under the seats. 
In the back was a luggage storage, two (clean!) bathrooms, and the staff kitchen. 
Upstairs was the captain's cabin, a mini-bar area, and restaurant-like tables with chairs. On the back deck were lounge chairs perfect for getting some sun.
The luxurious lower deck and scenic upper deck were enough to convince me that taking a boat between Mandalay and Bagan was a brilliant idea. 
A Fresh Morning on the Irrawaddy River!
There was a beautiful sunrise at around 6:30am that could be seen from the top deck of the boat, as well as from the large windows surrounding the downstairs seating area. Because there were so few passengers, it was nice to spread out on three seats and have a good sleep before breakfast at 8:30am. 
I'd recommend keeping a jacket handy, it's especially cold on the upper deck because of the constant breeze!
Breakfast and Lunch on the Boat
Breakfast exceeded our expectations for Myanmar. We had toast, eggs, and bananas, with unlimited coffee and tea refills. Just as the sun was rising, it was a beautiful and refreshing start for our boat from Bagan to Mandalay. 
Lunch at 12:30 was also nice with a lentil soup starter, then a main of rice, vegetables, and a choice of vegetable curry, fish, chicken, or pork. We even got a little dessert at the end!
As a vegetarian, they skipped the main meat of my lunch and gave me a wonderful vegetable curry. 
A Cultural Demonstration on the Boat
At 4:30pm there was a fun cultural demonstration on the boat from Bagan to Mandalay. The staff showed us many different ways you can tie a lungi, the wrap-around skirt that both men and women wear around Myanmar. 
They also demonstrated how to make thanaka, the yellow paste that locals put on their faces. Both the staff and us passengers had a great time during the demonstration. We all had a laugh when they were showing us silly ways to tie a lungi around your head to entertain children.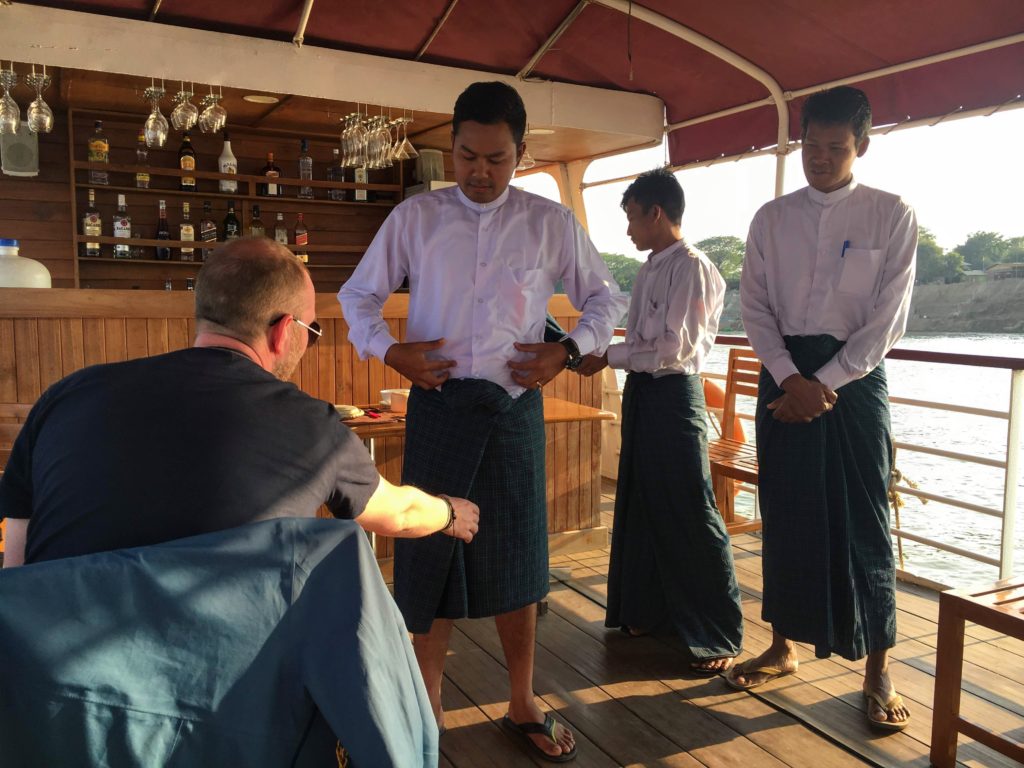 Just as a spectacular sunset over the hills of Mandalay came to an end (around 6pm), the boat arrived at RV Panorama's Mandalay port. Of course we were immediately bombarded by people asking if we wanted a tuk-tuk or taxi anywhere. 
I had planned on getting a Grab to our hotel in Mandalay, but when I showed a tuk-tuk driver the estimated Grab fare, he said he could take us there for the same price.
Where to Stay in Mandalay
In Mandalay we stayed at the Man Shwe Li Hotel, which has a great location, wonderful staff, and a massive buffet breakfast each morning. 
Summary: Ferry between Bagan and Mandalay
All-in-all, I had a great time taking the ferry from Bagan to Mandalay. For $37 USD per person, we were well fed, entertained, and the ride itself was luxurious compared to other ferries in Southeast Asia. 
Taking a ferry going the opposite direction, from Mandalay to Bagan, is only $41 with a village tour included. For the experience, I thought the money was well worth it. 
It was a relaxing 12-hour journey that felt safe and had amazing sights. The freedom to stretch and walk around the ship was an added plus. For the smoothest and most comfortable journey between Bagan and Mandalay, I would definitely recommend taking a boat on the Irrawaddy River.
Boating between Mandalay and Bagan? Pin this post for later!