Kathmandu, Nepal will steal anyone's heart who is looking for an authentic backpacking experience. The city is extremely budget friendly and has many cultural attractions, as well as great restaurants, bars, and clubs for nights out. There are countless places to visit while backpacking in Kathmandu, as well as in the surrounding Kathmandu valley. Kathmandu is also the hub where trekkers from around the world fly into before starting iconic treks in the Himalayas!
Before embarking on the Annapurna Circuit, the Three Passes Trek, or Everest Base Camp Trek, check out this guide to backpacking Kathmandu, Nepal! 
Navigating Kathmandu's Airport
Flying to Kathmandu's Tribhuvan International Airport is the most common entryway for backpackers in Nepal. It's small with very few facilities, but has the basic necessities: bathrooms, ATMs, and taxis waiting outside. 
Upon arrival at the airport, there are three separate lines that you need to wait in (sometimes for hours): 
The first line is for printing out the visa application. There are a few ATM-like machines that take your photo and your passport information, then give you a print-out of your details.
The second line is for the visa payment, where you pay for your visa and receive a receipt for the payment.
Finally, the third line is for immigration, where you hand the officer your visa application and payment receipt. 
There are three different visas on arrival that backpackers can purchase in Kathmandu:
15-days for $30
30-days for $50
90-days for $125 
After you enter your passport information and have your picture taken at the electronic machines in the airport, go to the payment window to pay for whichever visa you want. You can pay for the visa in US Dollars, Canadian Dollars, Australian Dollars, Euros, Japanese Yen, and British Pounds. It's best to bring exact change!
SAARC country passport holders can receive a 30-day visa on arrival for free. 
It's also possible to get a visa for Nepal at a Nepali embassy in your home country, to save time and a big hassle at the Kathmandu airport.
Getting to Thamel, Kathmandu
Thamel, Kathmandu is the most popular place to stay for backpackers, and is known as Kathmandu's backpacker area. Thamel is filled with great restaurants, souvenir shops, and trekking goods stores to stock up on items before heading to the Himalayas.
A prepaid taxi from the airport to hostels in Thamel, Kathmandu costs 750 Nepali Rupees ($7.50 USD). At night, drivers may charge 100-200 rupees extra. 
Its possible to ask the driver to stop at an ATM on the way to Thamel if you didn't get a chance to withdraw Nepali Rupees at the airport. Most drivers can speak conversational English. 
Many backpacker hostels in Thamel and Kathmandu will offer an airport pickup for a similar price. This may be a good option if arriving at night, because drivers unfamiliar with your accommodation's location may have a hard time navigating Thamel's alleyways in the dark. 
Where to Stay in Kathmandu for backpackers
I recommend backpackers stay in Thamel or just outside of Thamel in Kathmandu. You'll be close to all the amenities you'll need there, and it's a beautiful place to stay with prayer flags adorning shop entryways and draped across the alleyways! 
Thamel has countless hostels where backpackers can meet other travelers. These are my top choices: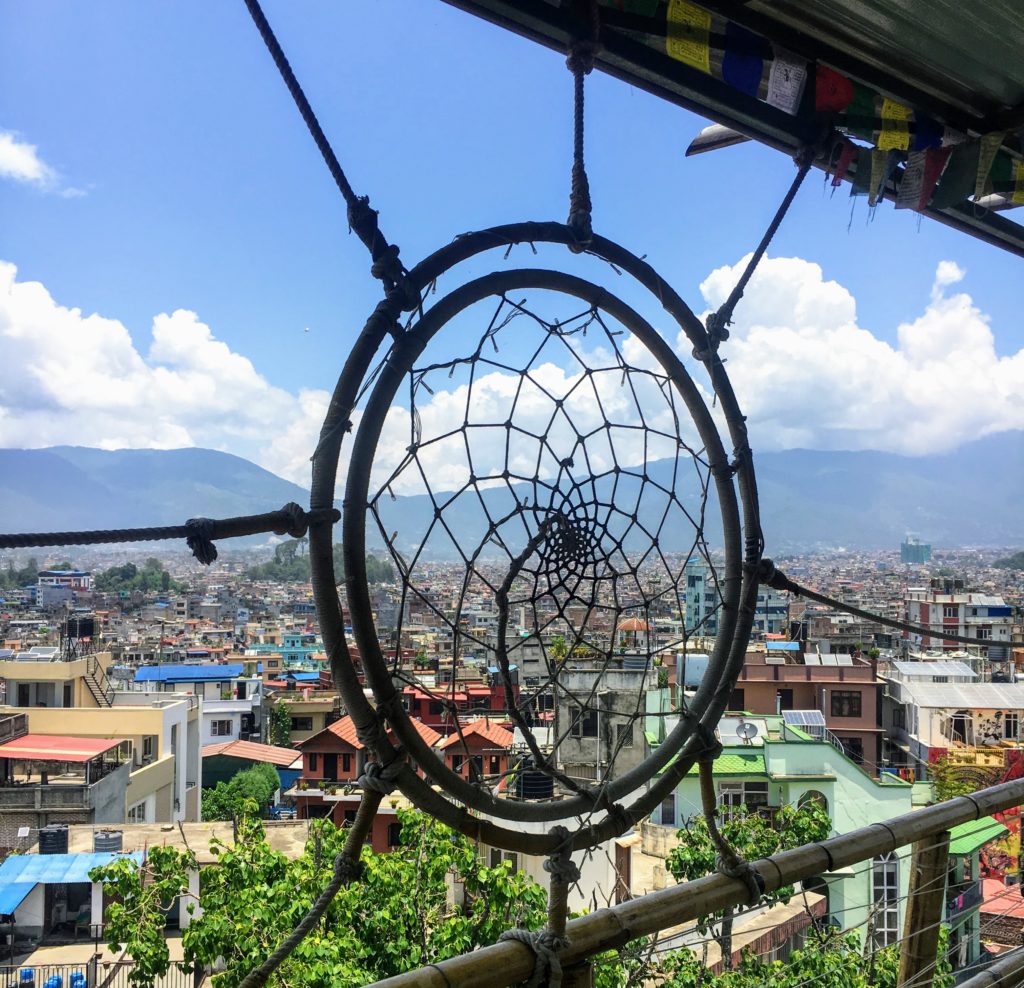 Where to Eat in Thamel, Kathmandu
Kathmandu is filled to the brim with amazing restaurants, serving both local and international cuisine! 
Where to eat local food in Kathmandu?
Stick to the streets just outside of Thamel. If you're staying at Zostel, Shantipur, or WanderThirst backpacker hostels, you're close to Paknajol Marg street which is lined with tiny mom-and-pop Nepali restaurants. 
From local hole-in-the-wall restaurants, try Nepali momos (dumplings), dah baht (lentil soup, curries, and pickles with rice), thukpa (noodle soup), and fried rice and fried noodles. There's a vegetarian-friendly option for everything, and most dishes won't cost more than 100 rupees ($1)!
Try Nepali-style burritos or Katti Rolls at Syanko Katti Rolls, which have naan bread on the outside and amazing choose-your-own fillings and sauces on the inside. 
My favorite place for momos is Momo King, which is at the end of a local shopping street. Look for large cylinders on burners placed outside storefronts – those are momo steamers!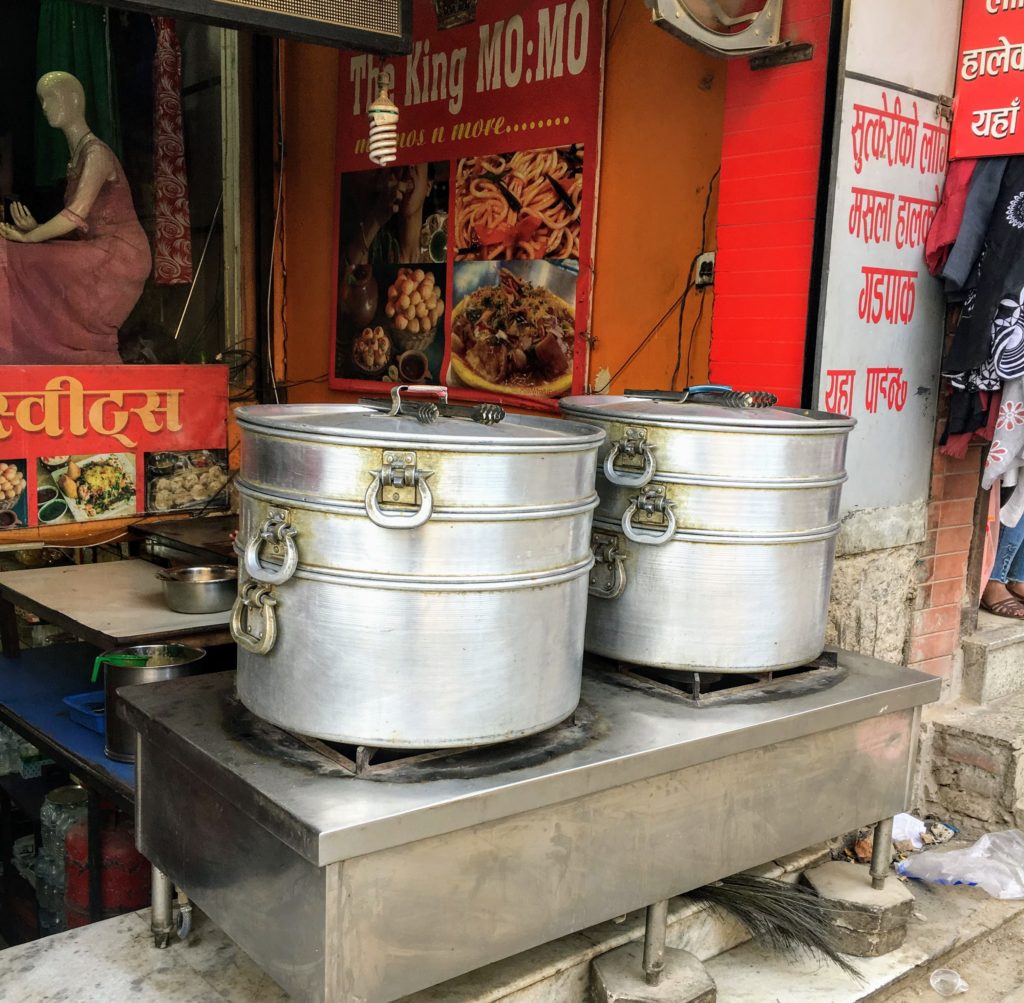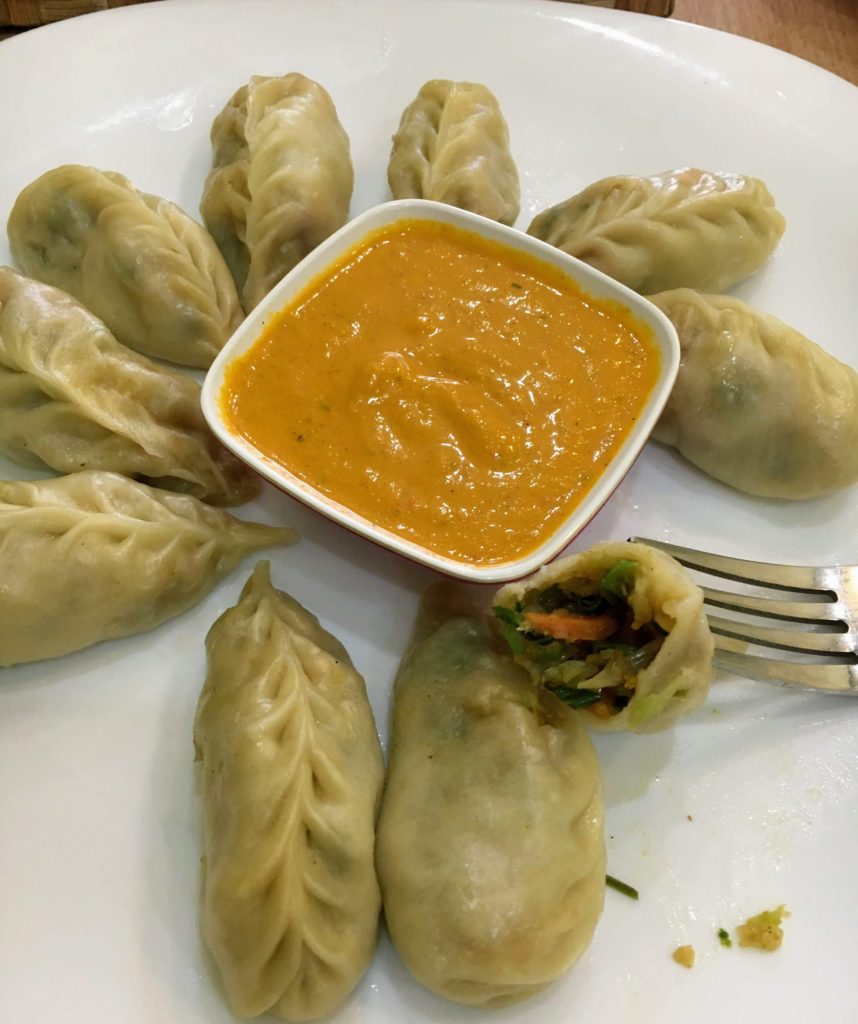 Where to eat Western or International Food in Kathmandu?
OR2K – An Israeli vegetarian establishment also has local and Western food favorites on their extensive menu. Most popular dishes are platters to share, and low tables are arranged with cushions on the ground for a cozy feeling. OR2K is super popular with backpackers in Kathmandu and is one of the best places to visit in Kathmandu for a great, healthy meal. 
Fire & Ice Pizzeria – Popular with families and backpackers in Thamel, Fire & Ice is a great place to enjoy Western comfort food in a lively atmosphere. Pizzas are made in a wooden oven and are priced reasonably.
Roadhouse Cafe – On the fancier side of the restaurant spectrum, Roadhouse Cafe is a classy establishment that serves quality Western food options. There are wood-fired pizzas, pastas, and yummy cocktails!
Kathmandu Nightlife: Where to Party in Thamel
Backpackers in Nepal love a good party, and Kathmandu has plenty of options to choose from. Check out these bars and clubs to let loose:
Best Things To Do In Kathmandu for backpackers
Kathmandu has several cultural attractions that remain an integral part of the lives of the locals. Nepali people come to these temples to pray, to be blessed, and leave offerings for the Buddha and other gods. If you have time, take a full-day tour of Kathmandu to see all of the best places to visit in Kathmandu. 
Here are the best things to do in Kathmandu for backpackers: 
Swayambunath Stupa (Monkey Temple) – This temple is a very cultural spot just outside of Thamel with a beautiful view overlooking Kathmandu. Hike up to the top to see the amazing view, one of the best places to visit in Kathmandu. Spin the prayer wheels with your right hand while walking clockwise around the stupa for good luck! 
Boudhanath Stupa – A massive stupa a taxi ride away from Thamel is a peaceful escape from the noise of Kathmandu. It's covered in prayer wheels and prayer flags, and many locals come here to pray on the regular.
Kathmandu Durbar Square – This historic part of Thamel is well-protected, and costs 1000 rupees ($10) for foreigners to enter. Unfortunately many of the temples and buildings in Kathmandu's Durbar Square were destroyed by the earthquake in 2015, and recovery has been a slow process. You can see some of the buildings from the street alongside it, if you don't want to pay the entry fee.
Pashupatinath Temple – A Hindu temple complex located next to the Bagmati river, is where local Hindus come to cremate their deceased. Be extra respectful here about taking pictures, because many people are in mourning. Foreigners are not allowed to enter some sections of the temples.
 Panoramic Everest Flight – This activity may not be in the budget for many backpackers, but for what you get, $180 doesn't sound too shabby!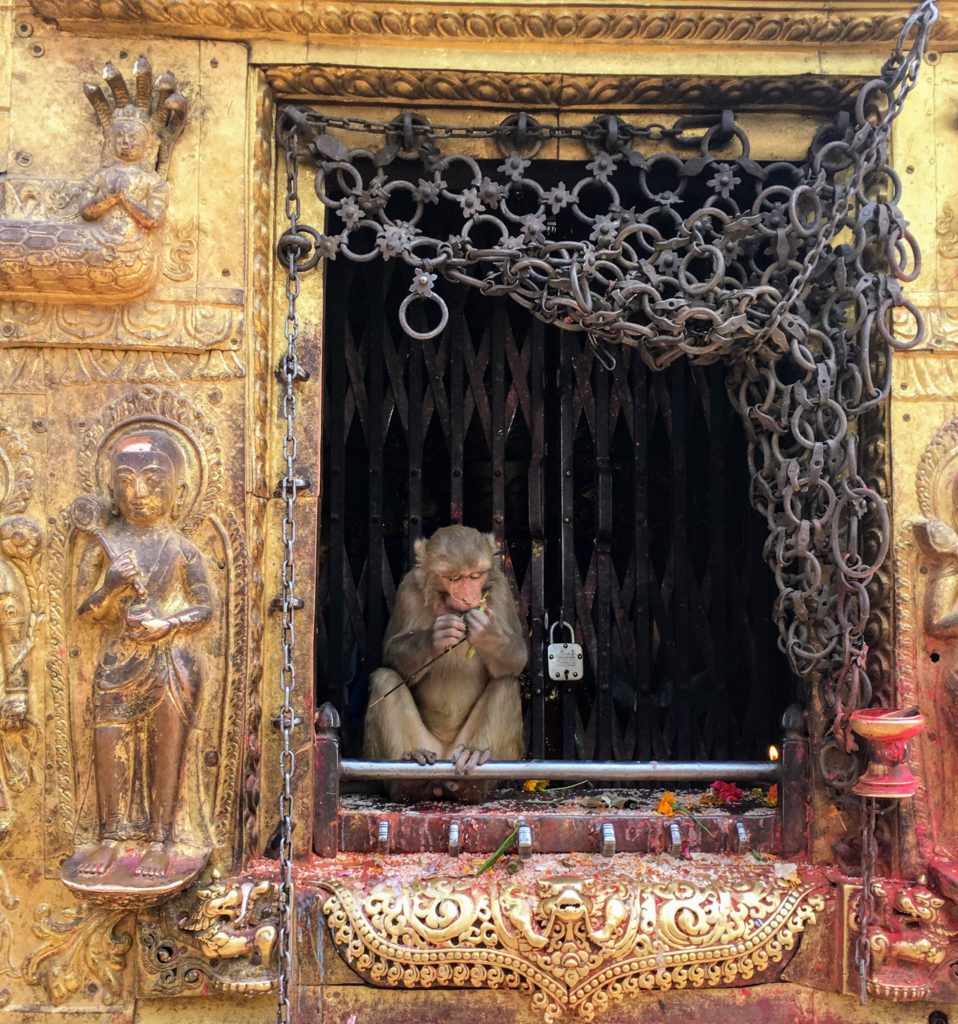 Bhaktapur – Home to a massive Durbar Square, Bhaktapur is a little town that will transport you back decades in time. It costs $15 for tourists to enter this area that's still home to a small local population. 
Nagarkot – A local town in the mountains surrounding the Kathmandu valley boasts views of the Everest mountain range. Supposedly you can see Mt. Everest itself on exceptionally clear days! 
Most tourist agencies have tours going out to both of these towns. The most popular time to go to both Nagarkot and Bhaktapur is for sunrise. 
For an extra adventure, take local transportation to either of these places!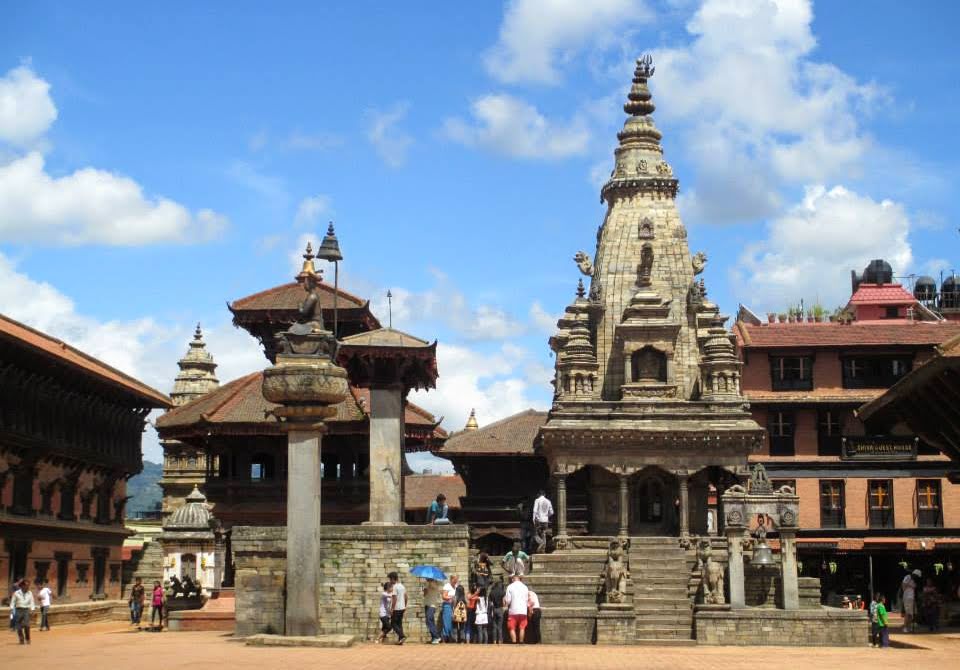 Where to go after Kathmandu for backpackers
Pokhara – The second-most visited town in Nepal is located next to a beautiful large lake and has views of the Himalayas on clear days! It's home to many expats and has a wide range of amazing restaurants, cafes, and hostels. Busses and minivans from Kathmandu to Pokhara are plentiful (500 rupees for a 8-10 hour ride). Pokhara is close to the starting point for many treks, including the Annapurna Circuit, Poon Hill, Annapurna Base Camp, and Mardi Himal. 
Lumbini – Known as the birthplace of the Buddha, Lumbini is a religious site covered in Buddhist temples. I recommend staying in the Korean Monastery (500 rupees per day) to see what it's like to live as a monk! 
Chitwan National Park – Chitwan is home to many elusive, large Nepali wildlife. There are many tours and treks you can do around here to try and spot some rhinos, deer, monkeys, wild boar, and even tigers! 
Everest Base Camp or Three Passes Trek – Jump on a jeep to Salleri or a flight to Lukla to start one of these epic treks! 
Langtang – This 4-7 day trek is located a long bus ride to the north of Kathmandu. This region was heavily affected by the 2015 earthquake, but has recently gained popularity among trekkers.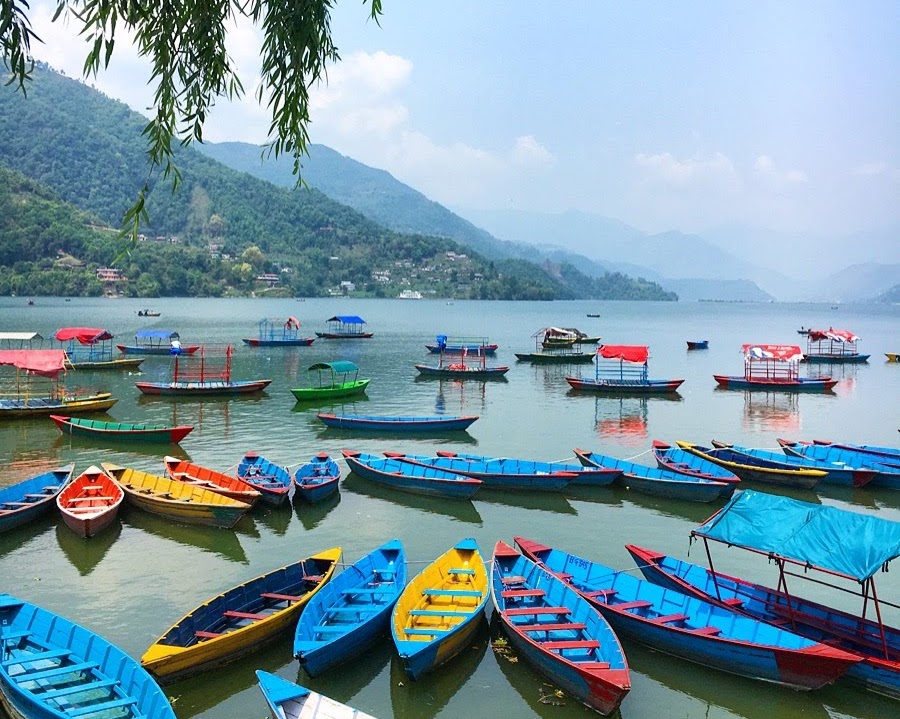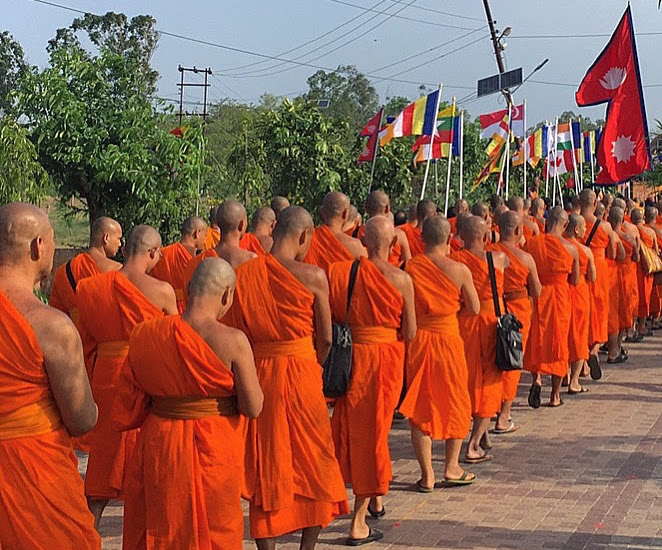 Tip: Join Nepal Backpackers Facebook Group
A great Facebook group to join is Nepal Backpacker's Club. People post on here for a variety of reasons and you can too:
Nepal travel advice – itineraries, what not to miss, where to go
Buying or selling used trekking gear – you can find jackets, trekking poles, backpacks, sleeping bags, and more at a discounted price vs the Thamel shops! 
Finding trekking buddies
Trekking information – how many days it takes to trek different routes, what the trail conditions are (often someone has just finished a trek you're thinking of starting!)
Check out my other Nepal posts!
Pin this Kathmandu Guide for later: