There are a few options to get from Yangon to Bagan in Myanmar, famous for its thousands of temples and beautiful sunrises and sunsets. There are busses that leave in the morning, more frequent overnight busses, and a daily overnight train. 
The overnight train from Yangon to Bagan is probably the more 'local' experience, which takes 16 hours. Taking the overnight bus from Yangon to Bagan was a bit more plush and tourist-oriented. While there are multiple, frequent busses, the one night train sells out of sleeper seats quickly.
When I was in Yangon and went to book tickets for the overnight train, I was told the sleeper-class seats were sold out for the next three days! Plan B was taking the overnight bus from Yangon to Bagan.  
Where to Book Overnight Train Tickets from Yangon to Bagan
Yangon's train ticketing office is on Bogyoke Aung San Road, a couple blocks down from Bogyoke Aung San Market. There are several ticket windows but very few people, so I walked to the first one to ask where I can buy train tickets to Bagan. 
Unfortunately they let me know that the sleeper seats were booked for the next three days. There were upper class seats available, but I opted out of that to avoid being crammed in an upright seat for a 16-hour ride.
Learn more about train travel in Myanmar from the Man in Seat 61.
Tip: If you want to take the train from Yangon to Bagan in a sleeper seat, be sure to book your tickets many days in advance.
Tickets for the Overnight Bus from Yangon to Bagan
There are countless travel agencies in Yangon that can assist with purchasing tickets for bussing from Yangon to Bagan. Some bus tickets can also be purchased online at 12GoAsia and printed. 
Search for Yangon to Bagan bus tickets here:
I went to the travel agency Dana Moe across the street from the train station, to purchase my tickets for the night bus from Yangon to Bagan. 
The company I was booked with, JJ Express, is an expensive bus company, but it's well vetted and is a favorite among tourists to ride with for long bus rides. 
This specific night bus ride I took can be found on 12GoAsia as well.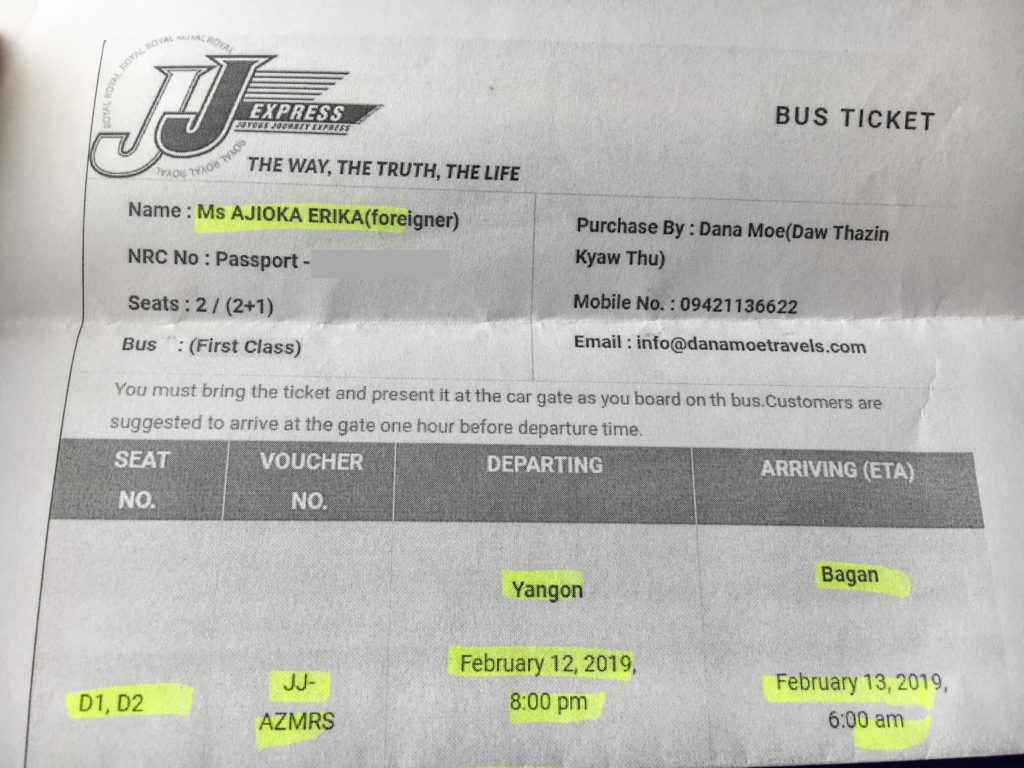 The night bus from Yangon to Bagan I was booked on departed from Aung Mingalar Bus Station at 8pm, with check-in starting at 7pm. The bus is supposed to take around 10 hours, with an arrival time in Bagan of 6am. It cost $19 USD per person for a first-class seat on the JJ Express bus. 
Before leaving, I was warned that rush-hour traffic in Yangon starts around 6-7pm, so I should budget an hour and a half to get from downtown Yangon to the Aung Mingalar Bus Station. 
Tip: When searching for tickets for the night bus from Yangon to Bagan, set your destination to "Bagan" or "Nyuang-U". Nyuang-U is the town where the Bagan bus station is actually located. 
Day of Departure - Bus from Yangon to Bagan
A Grab from Yangon's Chinatown area to the Aung Mingalar Bus Station took one hour and cost 10,500 kyats ($7) when Marty and I left at 5:30pm. The Grab pulled into the bus station and in front of the JJ Express office at 6:30pm. Upon showing JJ Express desk attendant our tickets, she gave us each a sticker with the bus number and our seat numbers written on it.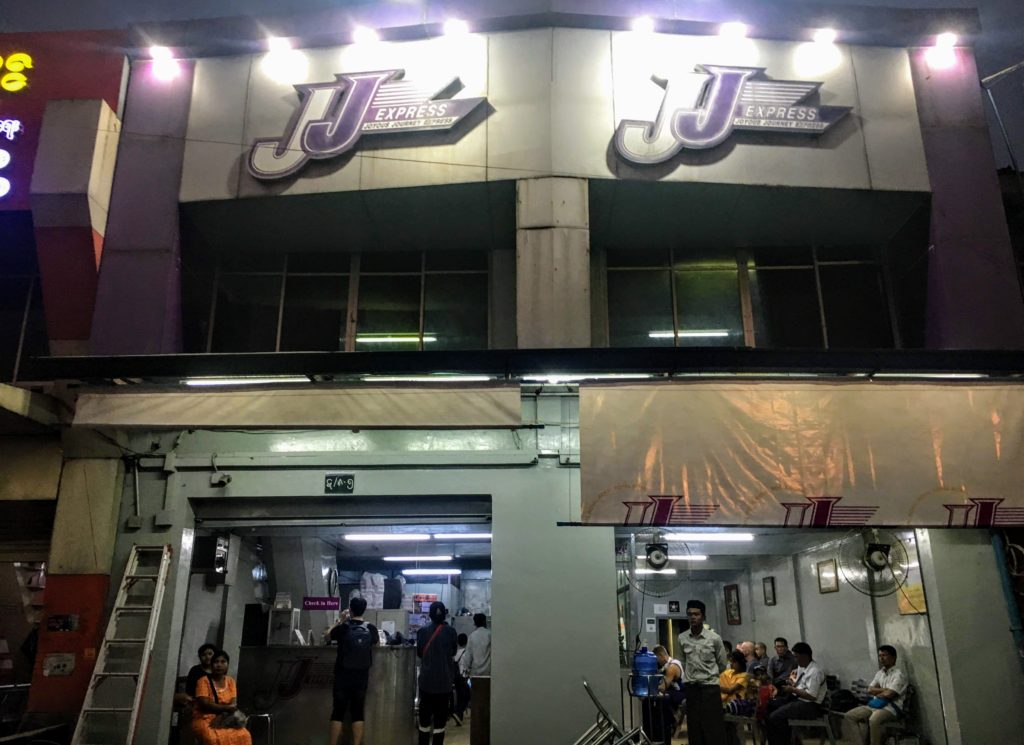 Aung Mingalar Bus Station is massive, with dozens of night busses lined up. Luckily, our taxi driver knew where the JJ Express bus company office was, and dropped us off right in front! There are several little shops and street food vendors where you can pickup a last minute meal or some snacks for the road.
At ten minutes before the 8:00pm departure time, JJ Express workers came through the waiting area telling those of us taking the 8:00 pm night bus from Yangon to Bagan to board. When we put our big bags under the bus, we received small number tags that identified us as the owners of our bags.
The inside of the bus was very comfortable. The seating arrangement is 2+1, so the seats are king-sized with lots of foot space. 6'4" Marty had plenty of space to stretch out his legs without impeding my space, which was a travel first!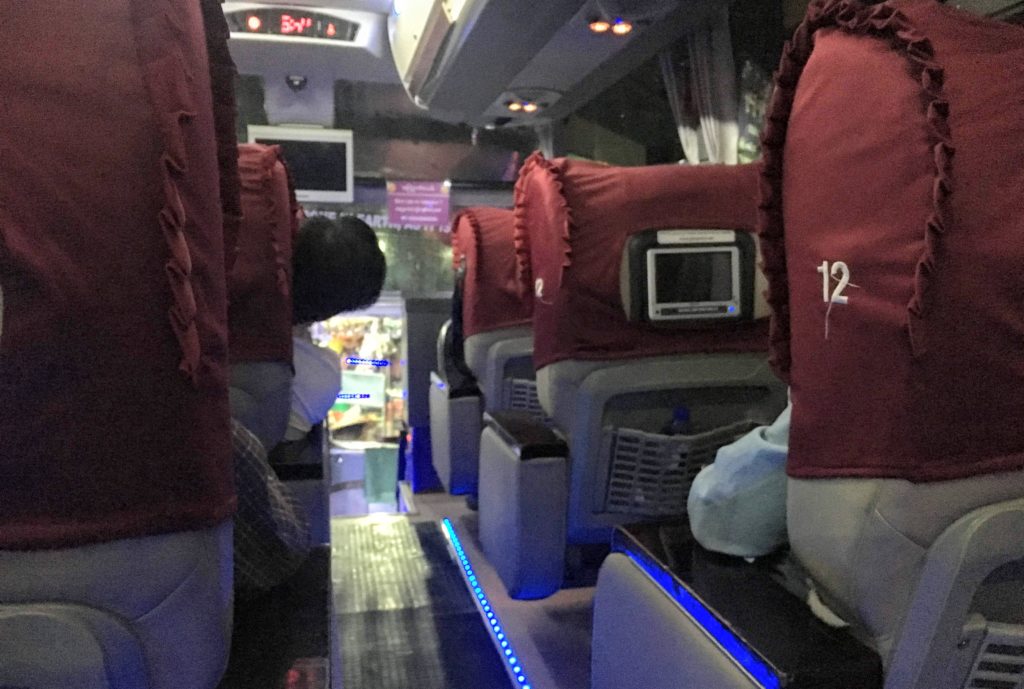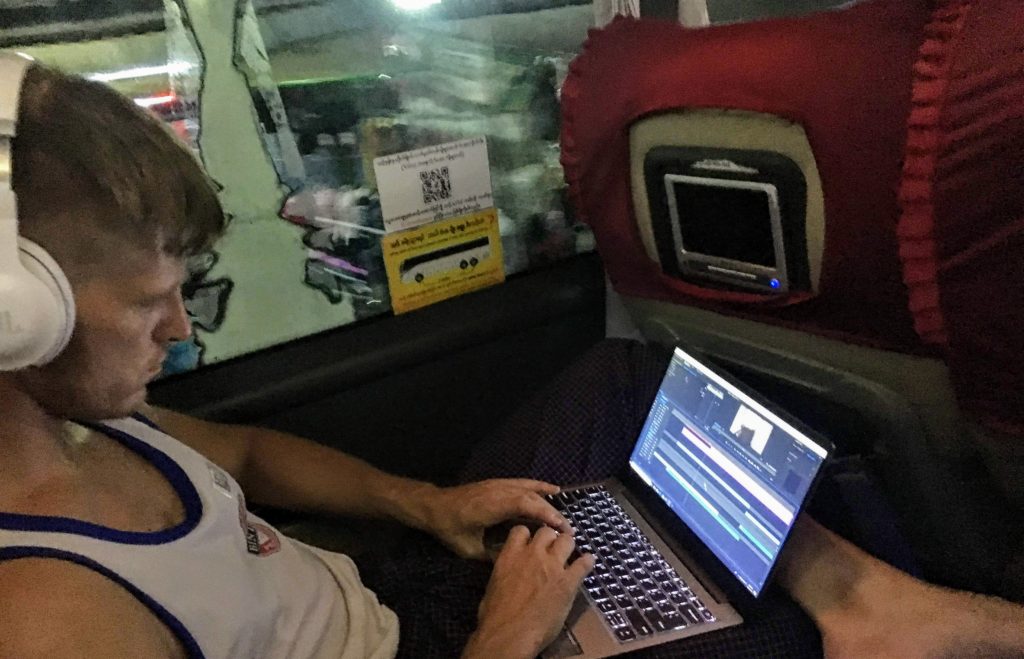 Each of us had our own water bottle and blanket waiting for us on our seats. The seats are also complete with a foot rest and little TV monitor with three whole channels on it! The AC was a bit strong at times, so I was glad to have packed my warm socks and jacket on board with me.
When the bus pulled out of the station in Yangon, the bus attendant distributed a box of snacks to each passenger. She used a handheld speaker (karaoke machine?) to tell us about the safety rules of the bus.
Rest Stops during the Overnight Bus from Yangon to Bagan
At 10:00pm I woke up to the bus stopping and this smiling face looking down at me:
The dinner rest stop was large, with many clean toilets with toilet paper provided. There was a shop to buy takeaway snacks, a KFC, and two local food places where I was able to buy some vegetable samosas for cheap (3 for 1000 kyat, or 65 cents). We had 30 minutes there before departing again.
Sometime around 2am the bus stopped again for a restroom break.
Arriving at Nyuang-U Bus Station (Bagan)
At 5:15am I was woken up by the bus attendant's speaker/karaoke machine, saying we are about to arrive at Nyuang-U bus station. Nyuang-U is the town where most of the restaurants and hotels for tourists are located, near to Old Bagan and New Bagan.
The bus station is a couple kilometers away from Bagan town, meaning everyone has to take a taxi from the station to their accommodation.
Taxi from Nyuang-U Bus Station to Nyuang-U Town, Old Bagan, or New Bagan
Luckily there is NEVER a shortage of taxi drivers in Southeast Asia. Drivers started yelling "Taxi! Taxi!" before the bus even came to a complete stop at the station. 
There was a board with the set prices for driving to each town: Nyuang-U, Old Bagan, and New Bagan, with taxis to Nyuang-U starting at 6,000 kyats ($4). This price isn't for a whole taxi though… We shared a taxi from the station with two others who were going to Old Bagan, who paid 10,000 kyats ($6.50) together. 
The main road leading from Nyuang-U bus station to the other towns has a checkpoint, where all foreigners have to pay to enter the Bagan Archeological Zone. The fee is 25,000 kyats ($16) per person, and the ticket is valid for five days from the date of purchase. Keep this on you at all times when in Bagan, you never know when someone will come to check for these!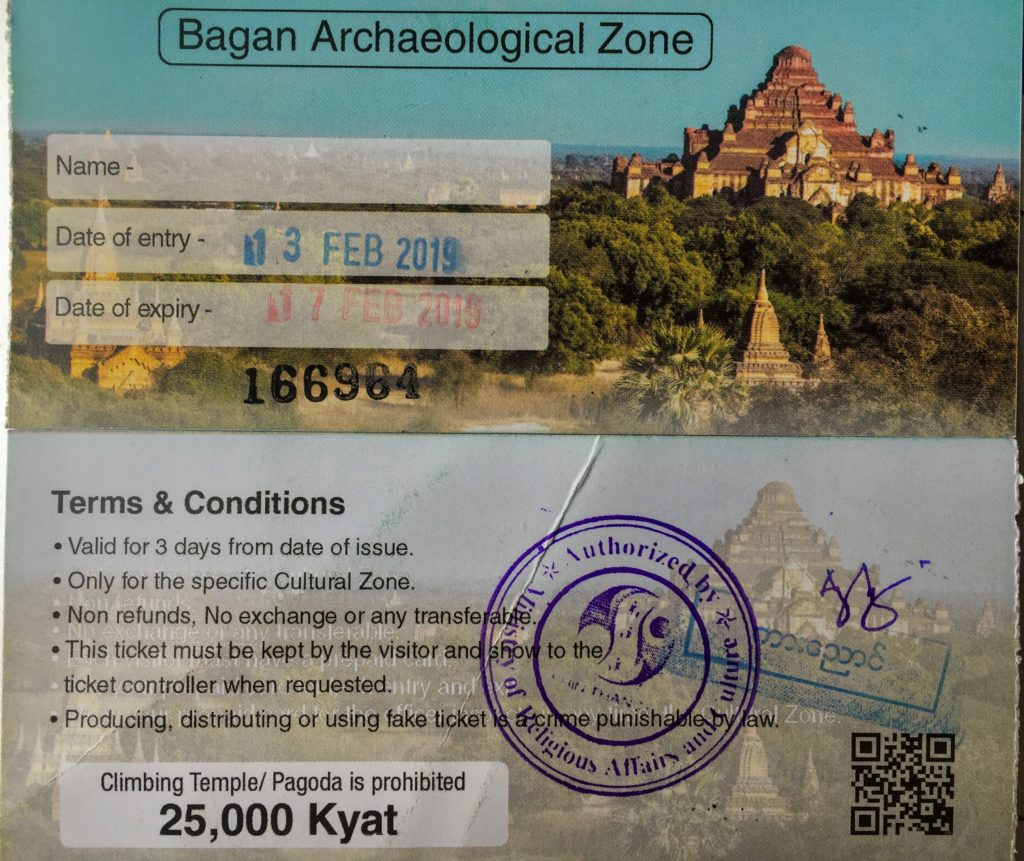 At 5:45 am the taxi pulled into our Bagan hotel at the same time that current hotel guests were getting ready on their electric scooters to leave to see the sunrise. 
Although the room that we booked was still occupied, the owner let us know that most people leave around 8am to bus or train to their next Myanmar destination, so we'd be able to check in by 9. If our room had been unoccupied, we would have been able to go right to sleep at 6am!
Tip: Book a hotel that will let you check in early (5-6am) if the room is open! Bonus points for if they let you eat breakfast when you arrive too. Our hotel in Bagan, Sunrise Bagan Hotel, did both of these for us. 
Overnight Bussing from Yangon to Bagan?
Pin this Post!