Ubud is a town in Bali, Indonesia that used to top the list of best places to live and work for digital nomads. Although this spot is taken now by coastal Canggu, Ubud still boasts dozens of amazing cafes and coffee shops with speedy wifi and a great vibe. 
These were my favorite cafes to work at in Ubud. I've described the pros, cons, wifi strength, price, and AC availability for each one, so you can determine which is the best cafe in Ubud for you.
Want to explore more than just Ubud? Check out this 7-Day Bali Itinerary for inspiration. 
Pros: The best coffee, many outlets, balcony, AC room option
Cons: Can get crowded, WiFi sometimes drops
WiFi: 4 out of 5
Price for a Coffee: 30,000-47,000 rupiah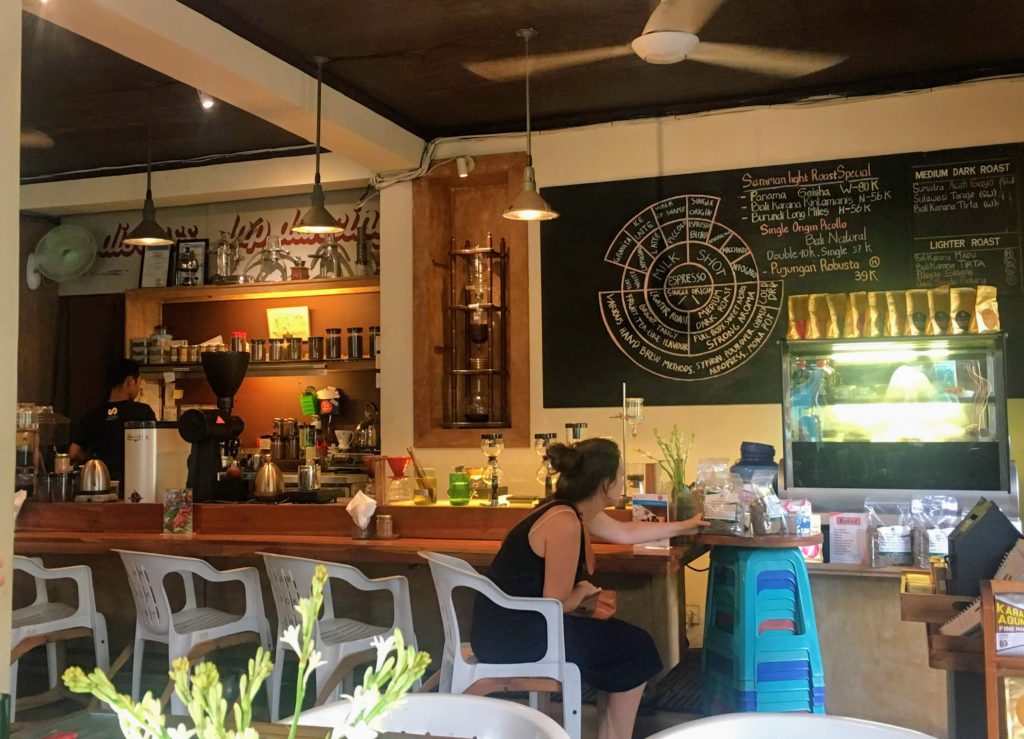 You can tell by the number of fancy coffee machines and brewing stations a place has that its coffee quality is going to be spectacular. Seniman Coffee Studio was one of the best cafes in Ubud for coffee and workspaces. It has a large indoor work space with several outlets for charging laptops, and an open balcony area to people watch. Seniman Coffee Studio a separate, less cozy room with AC, but the main indoor space has many windows and a nice breeze coming through. 
The coffee here is served on a wooden plank, complete with water and a little cookie. There are many health drinks, smoothies, and fusion snacks and meals available. They also serve beers and cocktails! 
The WiFi was fast and consistent until this best Ubud cafe started to get crowded. People were Facetiming or streaming videos left and right when it was busy, slowing down the WiFi.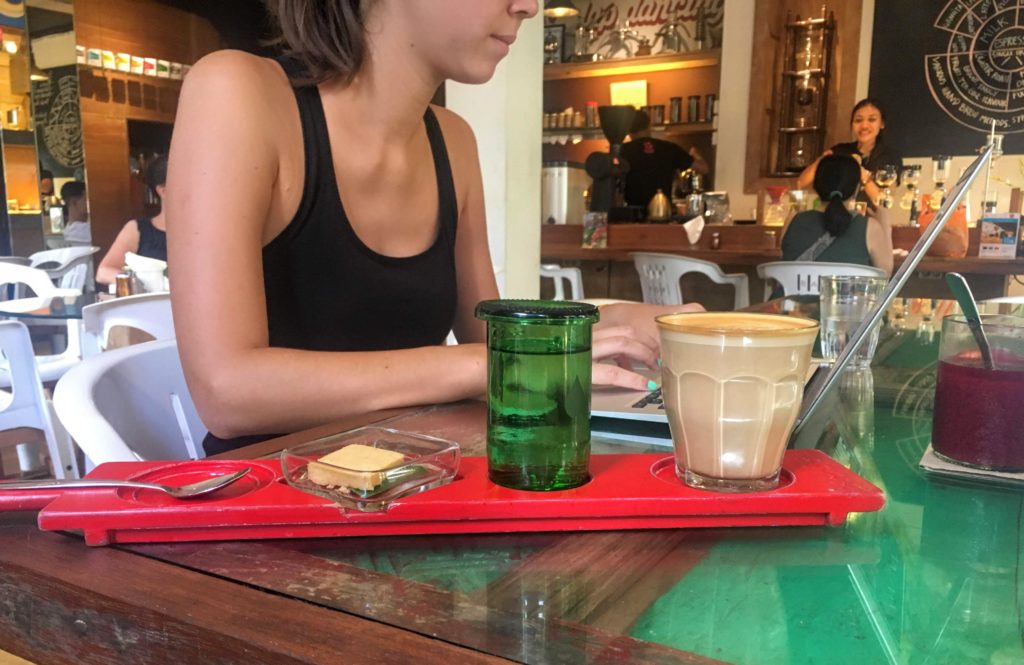 Pros: The best WiFi, lots of seating options, many outlets
Cons: Limited food options, noisy on main road
WiFi: 5 out of 5
Price for a Coffee: 23,000-46,000 rupiah
Anomali Coffee Ubud, with locations across Indonesia, is the most Starbucks-esque cafe that I visited and one of the best cafes in Ubud. There's a large seating area outside next to the main road, a large second floor, and a main AC room that has many outlets. Like Starbucks, you order your drinks and food at the counter and pay first. 
Animali Coffee Ubud's food selection is limited to some pastries in their display case, small but pricey finger food, and some generic meal options like sandwiches and burgers. Find their coffee and drink menu here. 
The WiFi here was consistent and speedy, even with many others streaming videos and working on laptops around me. For internet-intensive work, this is THE best cafe in Ubud!
Pros: Best food options, nice atmosphere
Cons: Slow WiFi, very few outlets 
WiFi: 3 out of 5
Price for a Coffee: 25,000-30,000 rupiah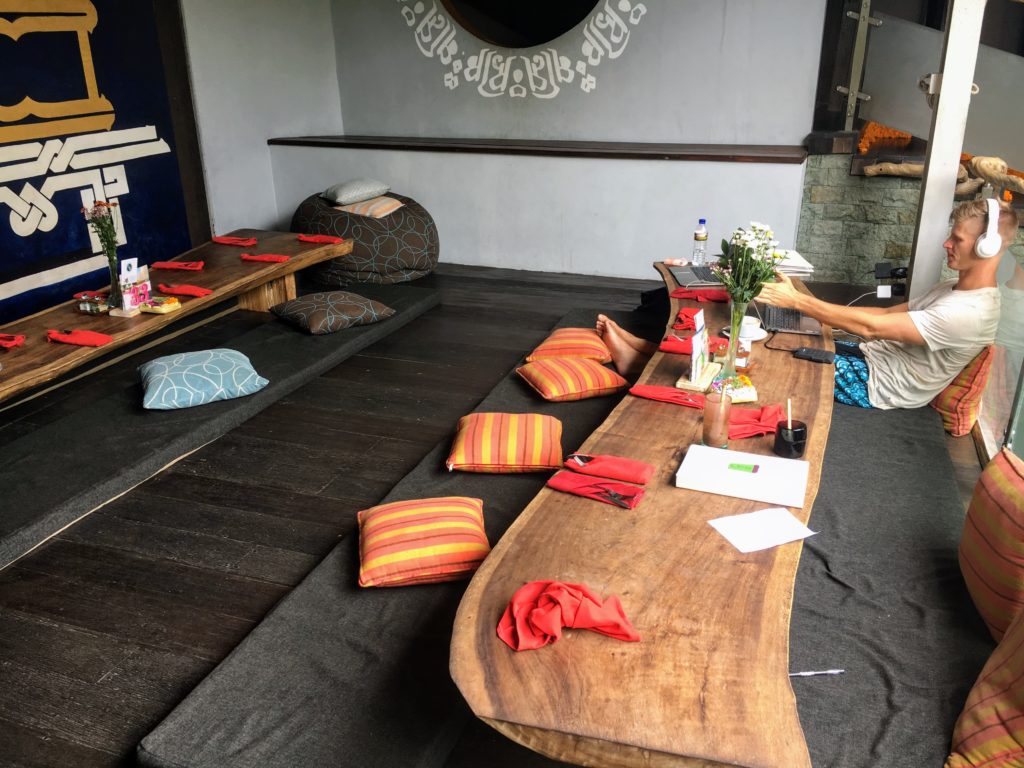 Clear Cafe is one of the most famous restaurant/cafes in Ubud and is a must-visit for anyone wanting to experience Bali expat life. It has a massive interior including a beautiful hobbit-like entryway. The front seating area has tables and cushions, then towards the back is a spiral staircase. 
At Clear Cafe, there's even a fireman's pole you can slide down from the second floor! Although there is no AC here, the building's open concept allows the breeze to pass through.
It's one of the best cafes in Ubud to eat and drink healthy while working. Food options here are endless and cater to every diet. The coffee menu is limited but there are some great juices, smoothie bowls, and detox drinks! See Clear Cafe's entire menu here.
WiFi strength was a negative here. It was not so consistent and sometimes wouldn't work at all for me. With only one router for dozens of people though, maybe it can't be helped!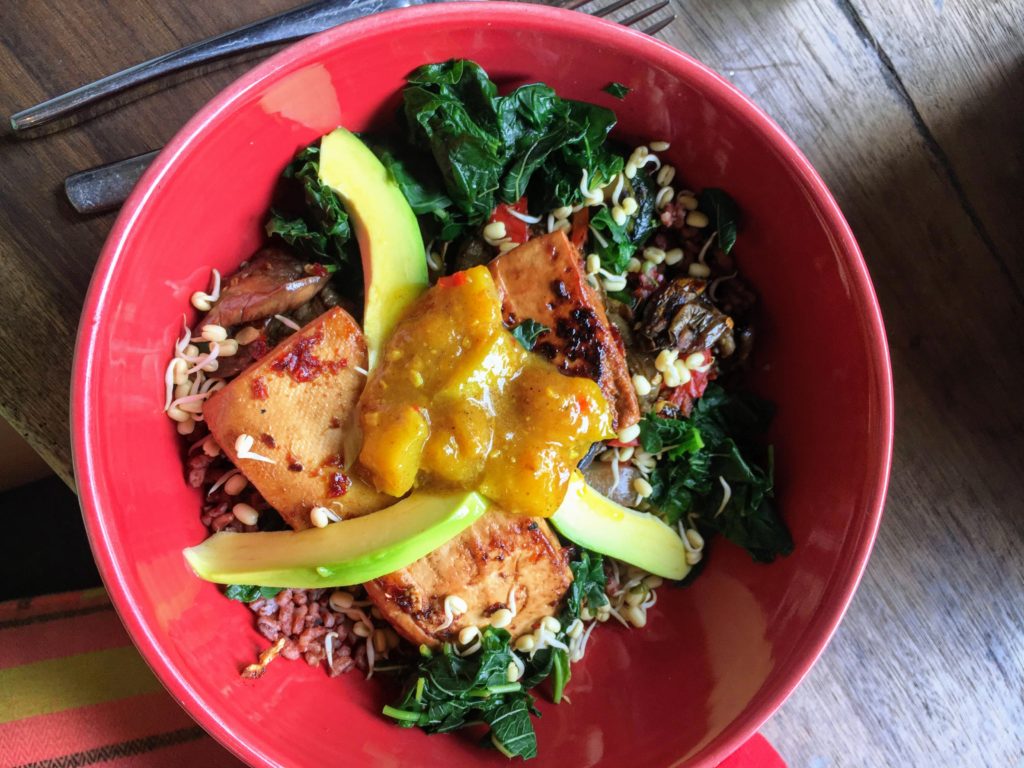 Pros: Comfy and welcoming atmosphere, great food
Cons: Few seats, even fewer outlets, hot without AC
WiFi: 3 out of 5
Price for a Coffee: 25,000-45,000 rupiah
Tucked away in an inconspicuous entryway, Lazy Cats Cafe is a super cozy cafe in Ubud that's adored by expats. It's a well-rounded establishment that's a perfect place to grab a coffee and some brunch. 
Even if you're not working, Lazy Cats is one of the best cafes in Ubud to come to with a book to get away from the busy streets of Ubud.  They have seating on their balcony overlooking the main road, or at their many little tables inside. You'll have to be lucky to snag a spot on the comfy couches or next to an outlet however. 
There's no AC here, and sometimes it can get a little hot inside even with the fans running. To mitigate the heat, grab a cold juice or coffee!  
The WiFi here was a bit slow, but consistent.
Summary of Best Cafes in Ubud:
Why is Starbucks omitted from the Best Cafes in Ubud with WiFi list??
There's a Starbucks on the main strip in the heart of Ubud. It's a popular spot to have a rest in the AC and take in the view of the temple next to it. However, it's definitely NOT the best cafe in Ubud because WiFi access is only for one hour!  
After you've spent time at Ubud's best cafes… Check out a popular tour:
Are You Prepared For Your Next Travelventures?