The Gili Islands are a trio of tiny islands located off the coast of Lombok island, Indonesia. From the left to right, they're named Gili Trawangan, Gili Meno, and Gili Air. 
While Gili Trawangan (Gili T) is the largest and known as the party island, Gili Air is the smallest and quieter. Gili Meno is somewhere between the two, literally and figuratively.
In January 2019 I spent three weeks on Gili Air, enjoying the island life. I chilled hard every day by the pool or the ocean, worked on the Gili Air blog, drank some Bintang beers, and enjoyed many Gili Air sunsets.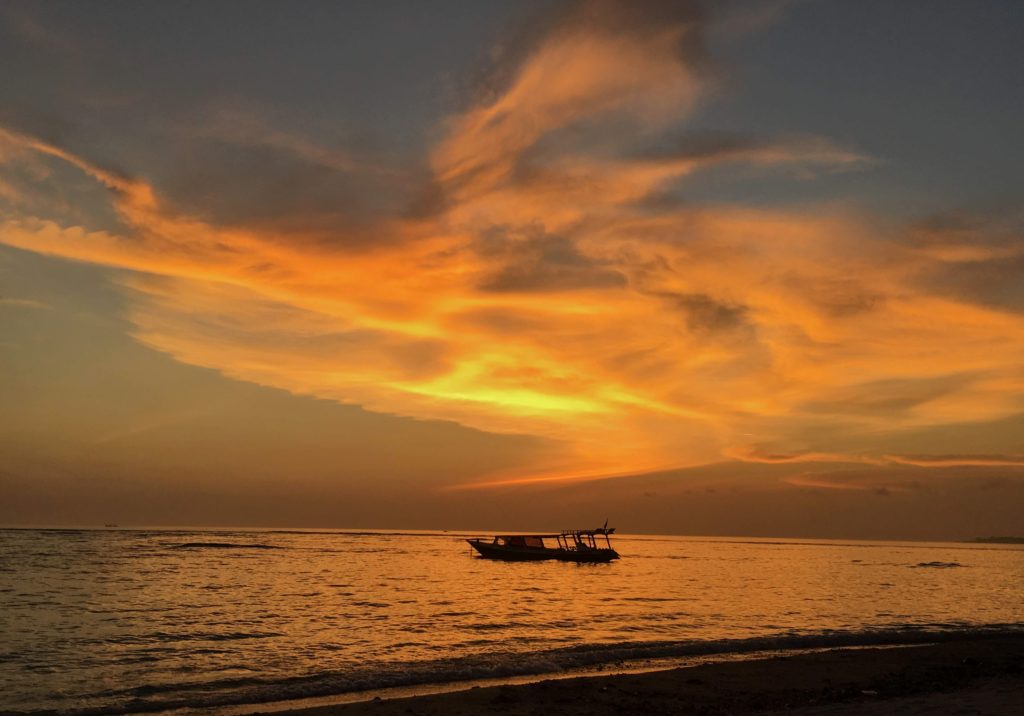 There are things to do on Gili Air for everyone!
Gili Air is kid friendly, great for a couple's getaway, and backpackers of any age can meet other people and have a social time. You can experience Gili Air's nightlife at late night parties, as well as a chance to experience the laid-back island life. 
Gili Air is a majority Muslim island where you'll hear the mosques going off five times per day. However, most locals are quite liberal and you'll get to know some of them well from the sunset bars and all-night Gili Air parties. 
When to Visit Gili Air and the Gili Islands
To get good weather but avoid the crowds, shoot visiting Gili Air during the shoulder months of April-May, and September-October! 
The busiest months coincide with the holidays, especially Australian holidays, from June-August, and around Christmas. This means more crowds and increased hotel prices. 
The dry season in Bali/Indonesia is April to October. 
After the Lombok earthquake in August 2018, many countries placed travel warnings on the country, dropping tourism to the Gili Islands significantly. At the time of writing (February 2019), the Gili Islands are still much quieter than they were before the earthquake.
Getting from Bali to Gili Air
There are fast boats that leave from Bali to the Gili Islands every day, which you can reserve the day before they depart. I paid 400,000 rupiah ($28.60) for a round-trip ticket (which has an open return date). Most advertised prices range from over 1,000,000 rupiah ($71.40) for a round-trip ticket, or 850,000 ($60.70) for a one-way. Haggling is required to get a good price!! 
My 400,000 rupiah ticket included a pickup from my hostel in a shared van, the fast boat ride to the Gili Islands with an open return for a boat back to Bali, plus a van transfer back to anywhere on Bali (including Kuta, Ubud, Seminyak, etc). 
I was picked up at 7am from Kuta to head to Padang Bai pier, which was a 2 hour drive away. The boat ride to Gili Trawangan, the first stop, was about 90 minutes. Then it was a short 10 minutes to Gili Air. 
If you want to book ahead, find good deals on ferries between Bali and Gili Air on 12GoAsia!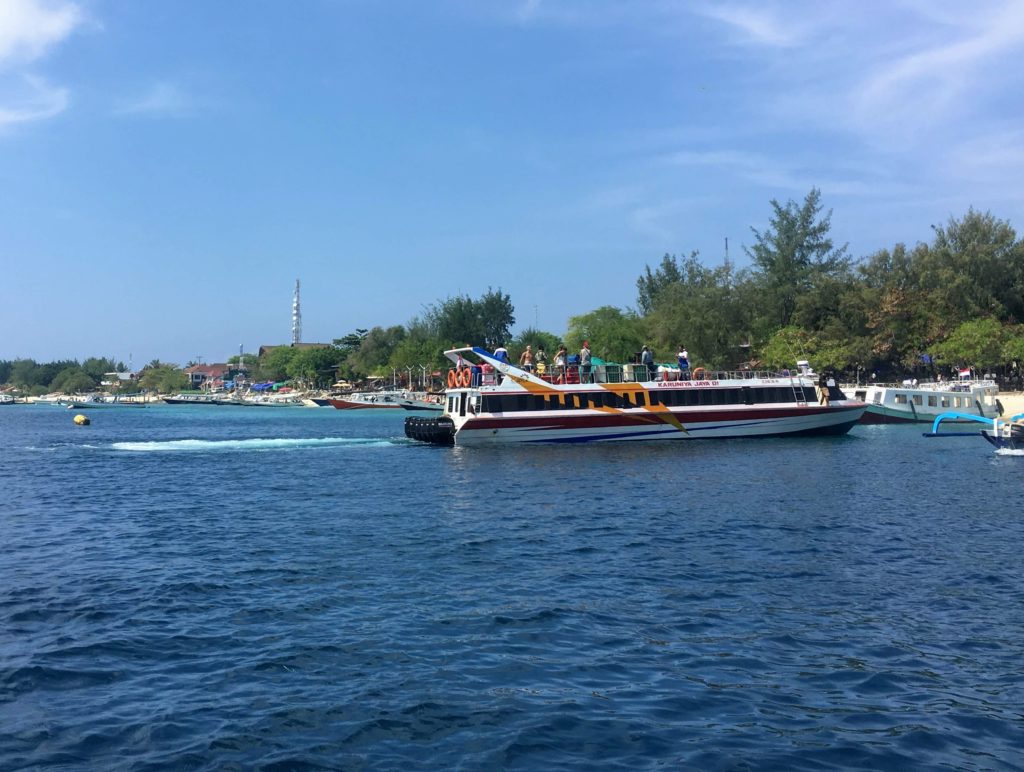 The main method to get around Gili Air is by foot – you can get anywhere on the island in 30 minutes! 
Because there aren't any motorized vehicles on Gili Air, the only alternative to get where you want is by horse and buggy. You'll find these guys running all around the island transporting tourists and goods alike. Be aware that it seems a bit cruel to the horses to promote this method of transportation. 
Where to Stay on Gili Air
Gili Air is 5km around so wherever your Gili Air accommodation is, it's never more than a 30 minute walk to get anywhere. Where to stay on Gili Air depends on what you want to experience while staying on the island.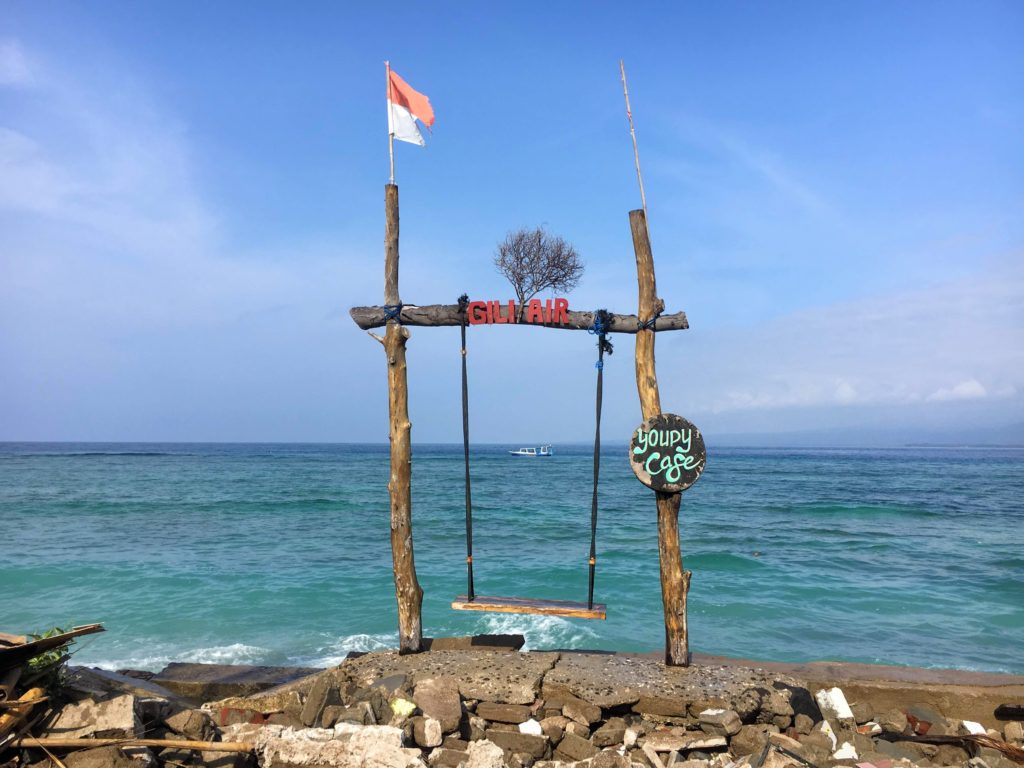 Where to Stay on Gili Air
The 

West

 side of the island is for those who love eating out, being social, and don't mind staying near nightlife. If you want to see Gili Air sunsets from your accommodation every day, stay on the West side of Gili Air.
The Center of the island is where the local population lives, and where you can find the cheapest accommodation on Gili Air. You'll be surrounded by daily island Indonesian life: mosques, chickens, and playing children.
The East side of the island is lined with resorts and restaurants that have tables right up to the water. Here you'll have the most variety in terms of places to stay, and since the water is the calmest, it's the best place to stay on Gili Air for snorkeling and water sports. 
The North side of the island is the most serene in my opinion, with cabanas lining the beach outside every hotel. There are also dive shops, and the occasional pub where late-night Gili Air parties happen.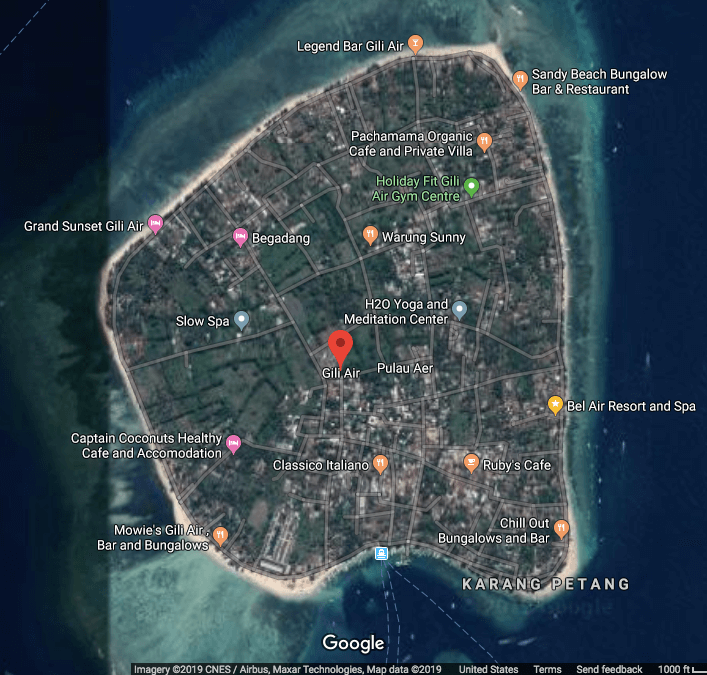 Accommodation on Gili Air
Low budget accommodation:  
Begadang – $9 per night for a private hut for two people, with dorm rooms also available. It's located on the western side of the island, and the best place to stay on Gili Air for backpackers. Nearby is the beach, many local eateries, convenience stores, and the chilled out Space Bar. There's a giant mushroom-shaped pool where everyone gathers to socialize.
Medium budget accommodation:
Bel Air Resort and Spa – $31-$37 per night for double rooms. Bel Air is on the East side of the island, close to great restaurants on the beach. It has an amazing pool, great service, and the food at their restaurant was some of the best! This is where I stayed for three weeks, and I highly recommend this accommodation on Gili Air.
Mola2 Resort Gili Air – $44 per night for a suite room for two. Mola2 is located right across from the ocean on the West side of the island, and has a great-value BBQ + buffet restaurant attached to it. It's a short walk to any of the popular bar, live music, and sunset spots, and a great place to stay on Gili Air. 
High budget accommodation:
A Villa Gili Air – $85 for a villa with a private pool. A beautiful property, centrally located, and each villa has a private pool, outdoor kitchenette, massive bed, and a bathtub. For those with the budget, it's a great place to stay on Gili Air to relax and spend quality time with a partner.
Pink Coco Gili Air – $70-$100 for a variety of cottages and villas. This property on a secluded section on the north side of the island is hard to miss because of how aggressively pink everything is! There's a shared pool and plenty of (pink) lounge chairs, and some villas have their own bath tubs and living rooms. The perfect place to stay on Gili Air for girl groups.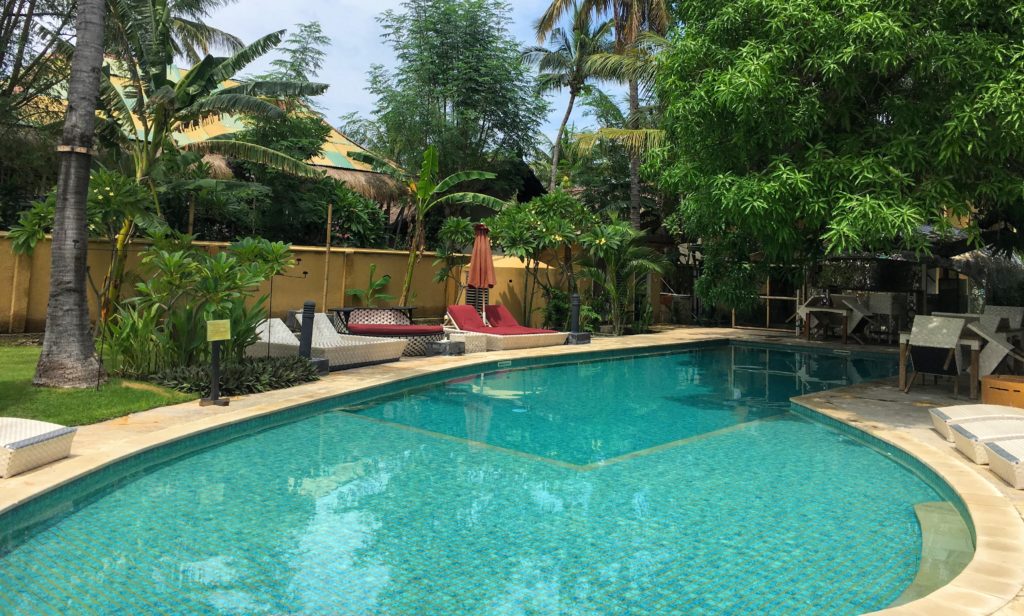 Low Budget: 
Warungs (Warung Sunny, ZZZ Warung, Warung Bambu, Muslim Warung, etc). Warungs are local eateries on Gili Air that serve Indonesian food and interpretations of Western food to cater to tourists. 
You can order the standard Nasi or Mie Gorengs (fried rice or fried noodles), Gado-Gado (tofu and vegetables in peanut sauce) and different curries for 25,000-35,000 Indonesian rupiah ($1.80-$2.50) per dish. 
Some Warungs, like Warung Lalapan Saba and Warung Pardia serve rice on plates or in a cone, and you can add unlimited toppings like fried vegetables, tofu, fried fish, and more, all for a set price of 25,000 rupiah ($1.80).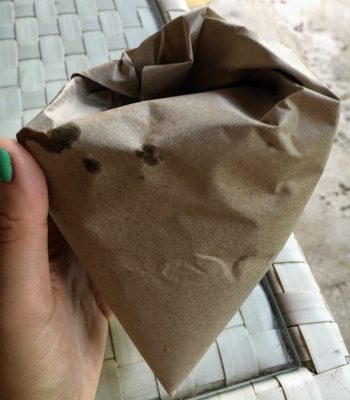 Gili Air Guest House Restaurant also serves traditional Indonesian dishes, but with massive portions.
Some people may struggle with the small portions that are standard around Indonesia, and this restaurant was the answer to that problem! A large Nasi Goreng with five extra eggs was only 40,000 rupiah ($2.90), enough for even the hungriest gym bros to feel full until dinner.
Medium Budget:
Gili Air is no stranger to the health food craze that has taken over nearby Ubud on Bali. There is plenty of great local food for 
vegans and vegetarians
, and a few 
organic and wellness cafes
 where you can get your smoothie bowl and greens fix.
Musa Cookery
 is a cozy vegetarian/vegan place with fresh vegetables and great coffees and smoothies. 
Pachamama
 is veg-friendly but has omnivore-friendly dishes as well. 
Good Earth Cafe
, attached to a yoga and meditation center, has vegan, raw, and gluten-free options on their menu! 
Expect to spend about 80,000-100,000 rupiah ($5.70-$7.10) at these "Western" places for a meal plus drink. Still a great value!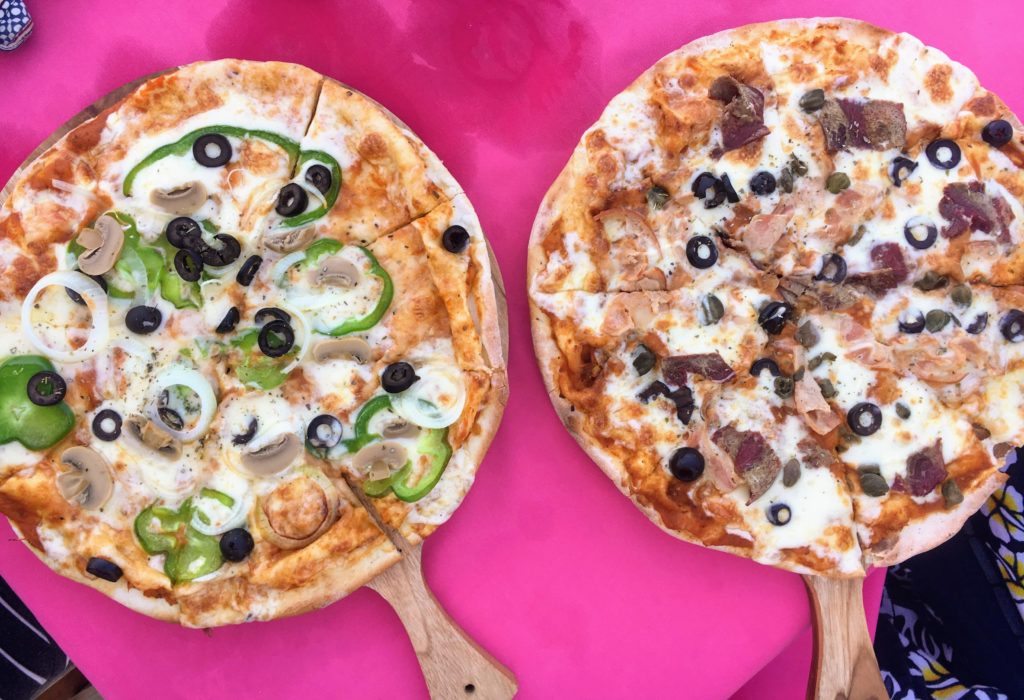 There are a couple of BBQ restaurants dotting the circumference of Gili Air, that offer a BBQ item off their menu plus all you can eat salad bar. 
My favorite was D'Maiq Restaurant in front of Mola2 Resort. It had several fish and chicken options for BBQ, or tofu/tempe skewers or veggie skewers for vegetarians. Their buffet wasn't only salad, they had pizza, grilled veggies, potato wedges, soup, bruschetta, and a pasta station!  The value was amazing at 50,000 rupiah ($3.50) for the tofu/tempe skewers, and 80,000 rupiah ($5.70) for BBQ chicken, buffet included! 
$7-$8 is about as high as your food spending will get on Gili Air without alcohol. Some resorts and restaurants will offer imported wines for 75,000 ($5.36) a glass, which can also be purchased by the bottle. Standard cocktail prices are 75,000-100,000 rupiah ($7.14) but are buy-one, get-one free during happy hour!
Water Activities
Rent snorkeling gear. On the north and east side of the island you can just walk out into the water to see fish and even sea turtles! The standard renting price is 50,000 rupees ($3.50) for a day. Alternatively, go on a snorkeling day-trip for cheap.
Rent stand-up paddle boards or kayaks to take out on the calm water on the east side.
Learn how to scuba dive with many of the dive shops available on Gili Air. You can take a three-day, Open Water course for as little as $420 (link for Gili T)!
Learn how to free-dive! 
Tours
Move Your Body (on land)
Go to the gym! Gili Air is home to the Holiday Fit Gili Air Gym Center. You can workout for 50,000 rupiah ($3.60) a day, or buy weekly subscriptions. There are four AC units inside, and many cardio and free weight machines. There's an attached cafe too where you can unwind with a smoothie bowl or protein shake after your workout.
Rent bikes to circle the island. Try to rent the bikes with the fat tires, which may allow you to power through sandy sections. 
Enroll in a yoga or meditation course. Yoga centers on the island include H2O Yoga and Flowers & Fire Yoga. Both have yoga and meditation classes multiple times per day for 120,000 rupiah ($8.60), and have restaurants on site where you can enjoy wholesome food or fresh smoothies after each session. 
Watch Movies
Flowers & Fire Yoga has a curry and movie night every Monday, where you can watch a movie and have unlimited vegetarian curry for 80,000 rupiah ($5.70). 
Hotel Ombak on the southwest side of Gili Air has movies at 8pm daily for 50,000 rupiah ($3.57). Their property on the beach is lined with lawn chairs and bean bags, and there's a large screen that the movie is projected on. 
Cooking Classes
Learn some Indonesian cooking styles while visiting Gili Air! Gili Cooking Classes is right next to the port, making it easily accessible for those coming from Gili T or Gili Meno. They have classes for learning four, five, or six different Indonesian dishes, starting at 290,000 rupiah ($20). 
For 250,000 rupiah ($17.80), try the cooking class at Warung Sunny in the center of the island, which is attached to a local eatery and has raving reviews on TripAdvisor.
Shopping
I was surprised to see there were a dozen or so boutique shops on Gili Air. For those on vacation and looking to bring home some new souvenirs, jewelry, and clothing, there are many shops that line the circumference of the island and some on the main road leading from the pier.
Where to Chill Out on Gili Air
Gili Lumbung, a bar and restaurant on the west side of Gili Air, was my favorite place to watch Gili Air sunsets. It has dozens of bean bags out on the beach, fairy lights strung up above them, and a stage for live music in the evenings. The staff are friendly and efficient, there are great happy hour cocktail options, and the food there was amazing too! 
Coffee & Thyme next to the Gili Air pier is a great option for daytime relaxing and people watching. It has amazing coffees, comfy seats spread out through the garden and restaurant, and a relaxed ambiance although it's located at one of the busiest parts of the island. 
Where to Party on Gili Air
Gili T isn't the only island for parties. On specified days, Gili Air's nightlife explodes as bars host late night raves for locals and tourists alike. Gili Air parties can last until 3am, or if there's enough people, until the next morning! 
Cheeky Monkey is the center of Gili Air's nightlife, and has their big rave parties on Tuesdays. Their lit DJ booth features progressive and deep house music which you can enjoy on bean bags or at the bar until people start getting up on the dance floor. If you want to experience a Gili Air party, Cheeky Monkey is the place to be.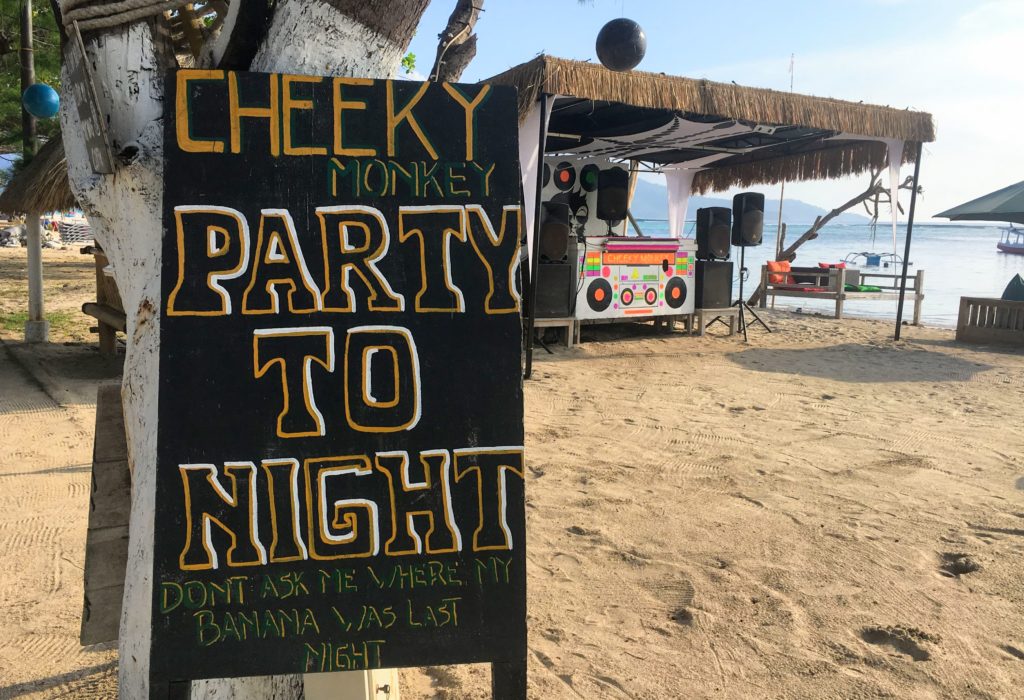 Lucky's Bar is a couple properties down the street from Cheeky Monkey bar. Lucky's has trance and techno parties on their day of the week (varies).
Space Bar, famous for their mushroom shakes, are always blasting their hard trance music but has the biggest Gili Air parties on Wednesdays. Many people start the party here, then head to Legend's Bar on the north side of the island.
Legend's Bar, an Aussie-expat owned reggae-themed bar, has Gili Air parties on Wednesday night until Thursday morning, with deep house music. 
Renewing your Indonesian Visa from Gili Air
Want to stay longer on Gili Air?
Many visitors to Indonesia plan to stay for 2 months, instead of the 30 days that the free visa allows. If you purchased an Indonesian visa upon arrival and want to extend it while you're on Gili Air – there's an immigration office close by in Lombok!
You'll have to make two trips from Gili Air to Lombok's immigration office. The first visit is to drop off your passport and fill out the paperwork, the second is about 5 days later to pick up your passport and visa.
The boat to Lombok costs 20,000 ($1.40) rupiah, and a 45-minute taxi to the immigration office costs about 200,000 rupiah ($14). You'll need your entry and exit flight information, a copy of the photo page in your passport, and 350,000 rupiah ($25). 
Check out my other posts on Southeast Asia
Find the Perfect Place to Stay on Gili Air!
Like this Gili Air Blog? Pin it!