Yangon is a bustling and cultural city that I fell in love with the moment I stepped out of my cab in Chinatown. Yangon retains its Myanmar authenticity as a place filled with hawkers and small businesses, selling things like fruits and vegetables, samosas, and desserts on any open plot of pavement. Buddhist monks of all ages, male and female, make their alms rounds to storefronts. Little plastic stools and tables spill out into the crowded road, filled with people stopping for a quick bite of street food. The top things to do in Yangon include just walking the streets to get a feel for the city. 
Here are my highlights of the city, and what I think are the top things to do in Yangon, Myanmar! 
Visit the Shwedagon Pagoda at sunset
Visiting the magnificent Shwedagon Pagoda should be first on your things to do in Yangon list. The pagoda is within a large temple complex that's covered in small pagodas and statues of the Buddha. It retains its importance in the lives of Yangon locals, who come here to pray and give offerings. Foreigners have to give a 8000 kyat 'donation' to enter, which all goes to the upkeep of the pagoda and its surroundings.
At the time of writing (March, 2018) the pagoda is wrapped in a bamboo scaffolding, but you can still see the sparkling gold exterior through it. Sunset is an especially good time to come and watch the pagoda change colors with the sunset. When night approaches, the entire complex is bathed in spotlights, creating another beautiful sight. 
Explore Yangon's Chinatown
For a great cultural immersion, wander around the streets of Chinatown and Downtown Yangon. People from all over Yangon and its suburbs accumulate here to sell their goods each day. You'll see small carts being pushed around the streets, the backs of small trucks opened up to display the homemade food inside, or fruits and veggies stacked up high on large woven bamboo trays. 
The street food you'll see being served here may be appalling to a Western stomach (fish and other meats sitting in the sun and dust for hours) but it can all be whipped together with some rice for a wholesome local meal. Having some street food in Chinatown, even if its just a few skewers, is another one of the top things to do in Yangon! 
Chinatown is also home to hundreds of gold shops, and you'll see some of them packed with locals examining their next shiny purchase. 
Shop at the Bogyoke Aung San Market
Bogyoke Aung San Market is hands-down best place to get some shopping done in Yangon. Visiting this market, whether you're shopping or not, is one of the top things to do in Yangon. Bogyoke Aung San Market is where you can buy clothing, lunghis, jade, artwork, tea, bamboo crafts, souvenirs, and more! 
If you think you could spend hours here, there's also a NEW Bogyoke Aung San Market across the street with more modern fashions and electronic goods. A modern, multi-story mall, Junction City, is also right next to here. It's complete with a supermarket, food court, and movie theater! 
While you're at Junction City, check out Yangon's famous and delicious chain restaurant 999 Shan Noodles.
Loop around the Sule Pagoda
Located in the center of a busy roundabout in Yangon, the Sule Pagoda is an impressive example of Myanmar's architecture and a famous landmark in Yangon. Small shops surround the whole pagoda, but be careful trying to cross the street because cars don't like to stop for anyone! Visiting the inside of the Sule Pagoda, or just admiring it from the outside, is one of the top things to do in Yangon. 
Next to the Sule Pagoda is Maha Bandula Park, an open grassy area frequented by locals and home to the Independence Monument obelisk. If you're lucky you may be able to catch a promotional event or concert here! 
Admire Old Colonial Buildings near the Yangon River
A reminder of British colonial times, many of these old buildings are clustered around the south part of Yangon near the Ferry Terminal. These buildings are still used to this day as customs offices, banks, and offices. 
There's a bridge over a double-lane road and railroad tracks that gives you a great view of the buildings and of the bustle of the city around you. Photographers and videographers – this bridge is a great place to take a time-lapse in Yangon. 
Have BBQ Skewers and Beer on 19th Street
This was my favorite night-time activity while in Yangon, and definitely one of the top things to do in Yangon. 19th street is always buzzing as the lifeline of Yangon's Chinatown. During the day it's bustling with street vendors, and at night it transforms into a hot spot for locals to come get some grub, have a drink, and let loose with their friends!
The experience is complete with small plastic chairs and tables, Myanmar beer, and street performers. Except to pay about $10-$15 USD per person for a super filling meal, plus beers!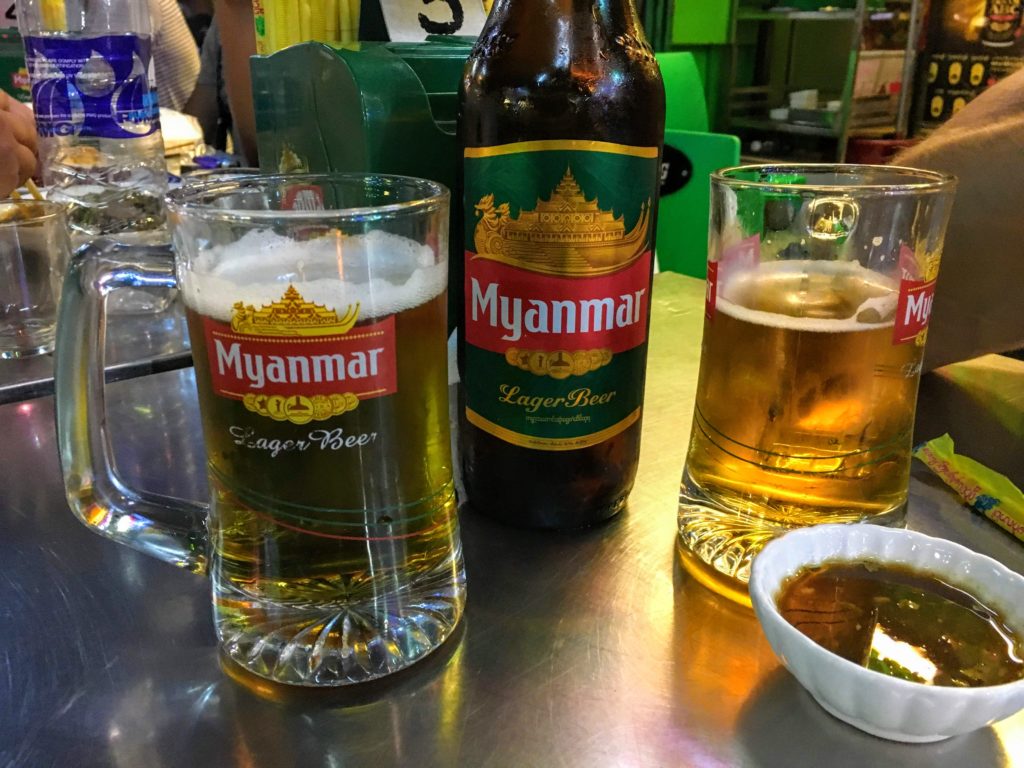 Check out Intrepid Road's Things To Do In Yangon Video:
Pin These Things To Do In Yangon!