Bohol is one of the most popular islands for tourists visiting the Philippines. The island located in the south of the Philippine archipelago. Bohol, Philippines is famous for a few things: its chocolate hills, which are a strange land formation of grassy mounds, and the tarsier, the world's smallest primate who lives in a conservation area here. Bohol is also famous for its beaches and surrounding coral which makes a great destination for snorkeling and diving! 
Bohol island hopping tours all head to Balicasag Island for snorkeling, which is home to countless beautiful marine life species. Balicasag Island and Marine Reserve is the best snorkeling and diving spot in Bohol, and should be added to any Philippines island hopping itinerary! 
About the Bohol Snorkeling Tour
Every tour company, restaurant, hotel, and random shop offers the same tours around Bohol. One is to go to the chocolate hills and see the tarsiers and one takes you to Oslob to swim with whale sharks. A standard Bohol island-hopping tour from Panglao heads to Balicasag island for snorkeling, which is offered for a variety of different prices depending on who you ask. 
Marty from Intrepid Road and I paid 700 pesos ($13 USD) per person for the snorkeling tour, a great bargain compared to the hotels that were offering it for 1500 pesos ($28 USD). The guy we bought the tour from, Gili, also included swimming fins for us in the price!
There are two options to book, one that leaves at 6am to try and see some dolphins in the water, and one at 9am that skips the dolphins. Since we were in a habit of waking up closer to noon every day, we decided to book the 9am tour. Gili told us to come to this same tourist street to meet just before 9am, and that the tour will be over at 2pm.
Check out my other Philippines travel blog posts:
Bohol Island-Hopping Tour Packing List
Underwater Camera – I used my GoPro Hero
Water
Snacks
Money to use the restroom, buy food and water
Flip flops or water shoes
Balicasag island and marine reserve is a fully developed island (except the bathrooms) with stores and restaurants that offer visitors food and drinks the moment they step on land. For this reason, it's not necessary to pack food and water, but most people had brought their own anyways. 
How to Book a Bohol Snorkeling Tour
Tourists can wait until they arrive in the Philippines to book a spot on the Bohol Snorkeling Tour. Many hostels, hotels, and tourist agencies can assist in booking the tour.
If you're traveling to the Philippines during the high tourist season, I recommend booking a spot ahead of time through Klook. Though it's a bit more expensive, the Bohol island-hopping tour starts earlier for a chance to see some dolphins.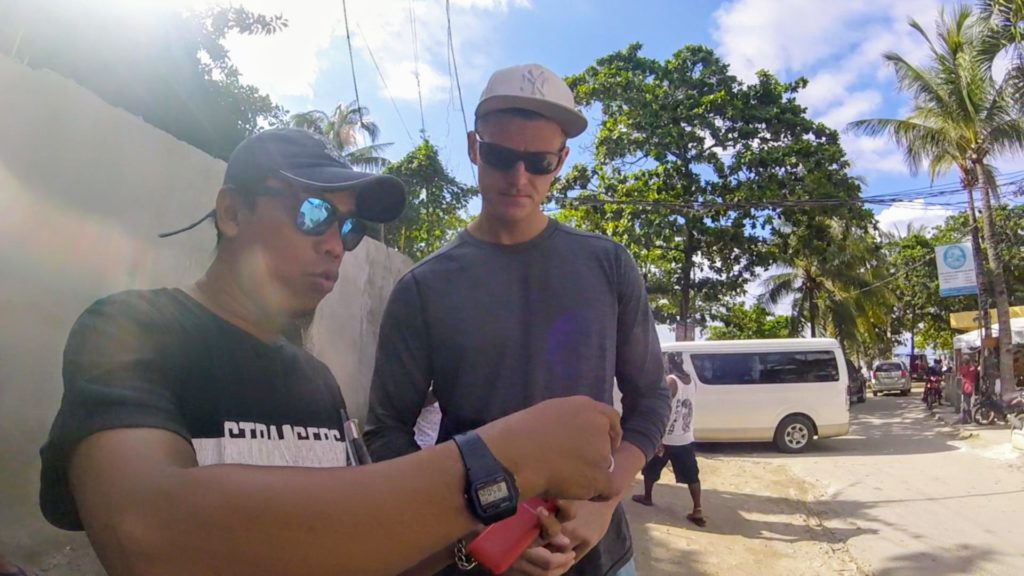 Starting the Bohol Snorkeling Tour - 9 a.m.
At a quarter to 9, we arrived at the meeting location for the Bohol island-hopping tour. Around 9:30 our catamaran was paddled in to shore for us to board. In total we were about 20 people, and we waited about half an hour longer for one late couple to arrive. 
It was hard to have a conversation over the sound of the obnoxiously loud roaring of the boat's motor, so we all just enjoyed the view of the deep blue ocean water rippling around us and Panglao Island shrinking further behind us.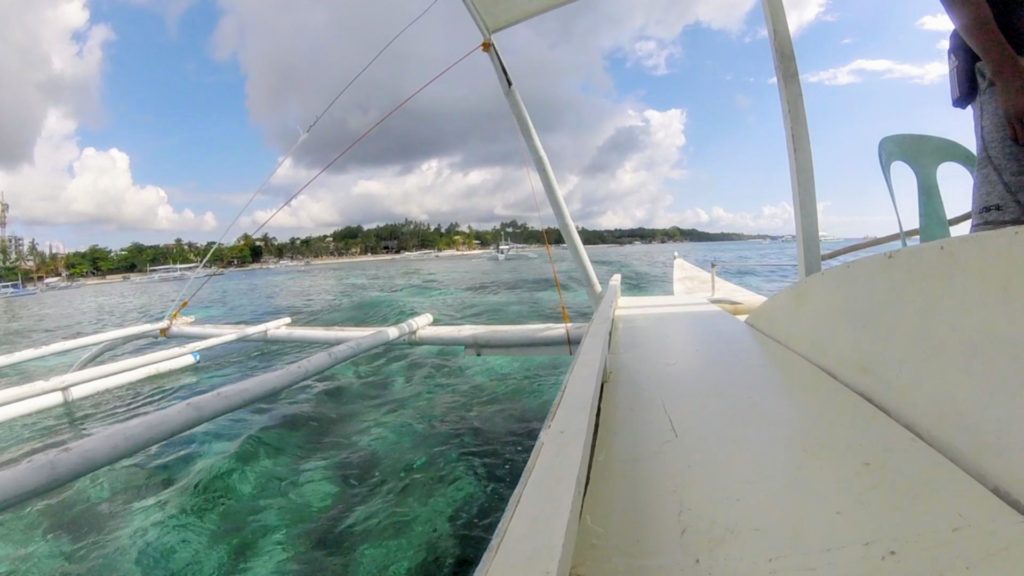 The catamaran dropped us off on Balicasag Island, Bohol, and I was surprised to see a whole grid of picnic tables and small snack shops lining the perimeter. As everyone on our tour settled around two of the tables, locals holding menus and trays of souvenirs walked up to us. They were urging us to buy something from them, asking if we wanted breakfast. It had only been 30 minutes or so since we left town, so of course everyone refused. 
Eventually the guides gave us snorkeling masks. Marty and I got our fins, while others paid 150 pesos ($2.80 USD) extra to rent them for the day. The guides tried to charge us too, but when we told them that we bought our tickets from Gili and that fins were included for us, they laughed with each other, all smiles: "Ohhh Gili! Gili! Ok, ok."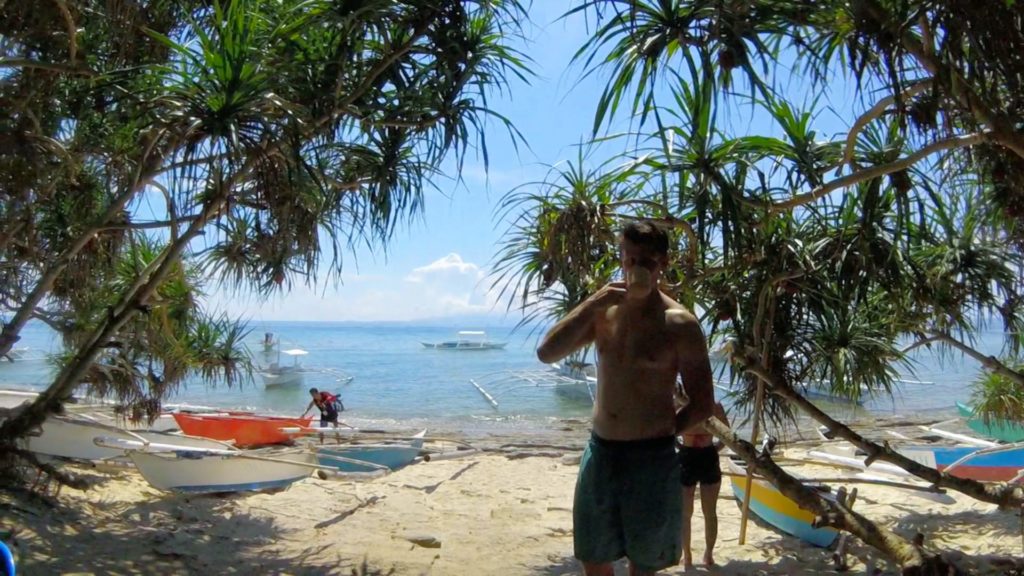 When we went back out in the water this time, we were put on small wooden boats. Each boat held four people and one local to paddle us around. 
Stop 1: Swimming with Sea Turtles! 
Our first stop on the Bohol island-hopping tour was to see some sea turtles! I thought these creatures were super rare in the wild, but apparently they're always hanging out around Balicasag Island in Bohol. 
At one point the driver stopped the boat, and told us to jump out. It's a scary feeling to be securely sitting on the wooden boat then be told suddenly to jump in the deep water where anything could be lurking. Lucky for us, all there were were a school or two of fish, and some turtles!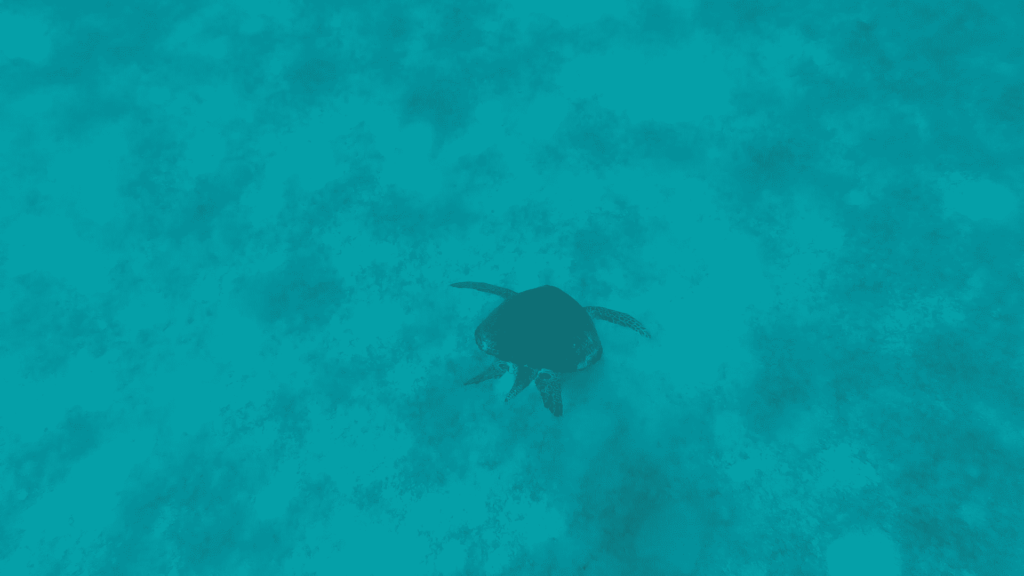 On the ocean floor the first turtle we saw was feeding on something, 4-5 meters below us. It was nestled in the sand and digging its mouth into it to munch on whatever was there. As we were watching it, someone pointed to the side and we saw an even larger turtle that was swimming close to the surface. We saw a couple more swimming around as time went on. 
The turtles swim so casually with their slow-moving fins, seemingly without a care in the world! They reminded me of the caricature of a chilled-out sea turtle, Crush, from Finding Nemo. 
We had about 30 minutes of swimming here before we were told to get back on the boat.
Stop 2: Balicasag Island, Bohol Coral Gardens
Our second stop on the Bohol Snorkeling Tour was to the coral reef surrounding Balicasag Island. There was a steep drop off into the abyss (also like Finding Nemo!). The ridge lining it was covered in corals and fish of all shapes, colors, and sizes swimming around.
Because the water was super clear, and we could swim so close to the fish, the experience felt really special. The water was only about two meters deep, so the colors of the coral and fish were vibrant, although my GoPro had a hard time capturing the colors.
After maybe 45 minutes to an hour in the water, we were told to return to the boat to go back to shore. Since we were stubborn in taking our time to get back to the boat, our guide jokingly said we can swim back ourselves. To us, this actually sounded like a good idea, so that's exactly what we did. It was only about half a kilometer back, and a quick swim since we had fins to propel us.
The ocean floor turned from coral to rocks as we got closer to Balicasag Island, but there were still colorful fish and the occasional electric blue starfish to grab our attention.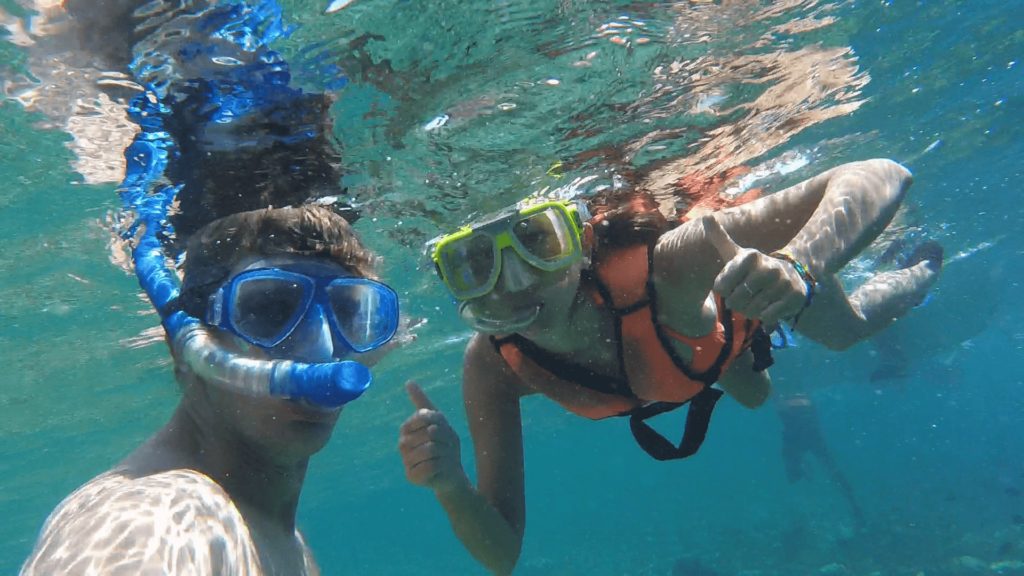 When we returned to Balicasag Island shore, we had about another hour to just hang out and refuse more offers to buy food or souvenirs. Eventually we boarded the boat again, thinking we were heading back early. 
Turns out, the boat took us to another famous tourist attraction off the coast of Panglao: Virgin Island. Virgin Island is only accessible during the low tide, and is basically a tiny sandbank that has no permanent structures on it. During the low tide, locals come with their grills, some sticks, and a tarp, to set up a little seafood shop for the tourist boats.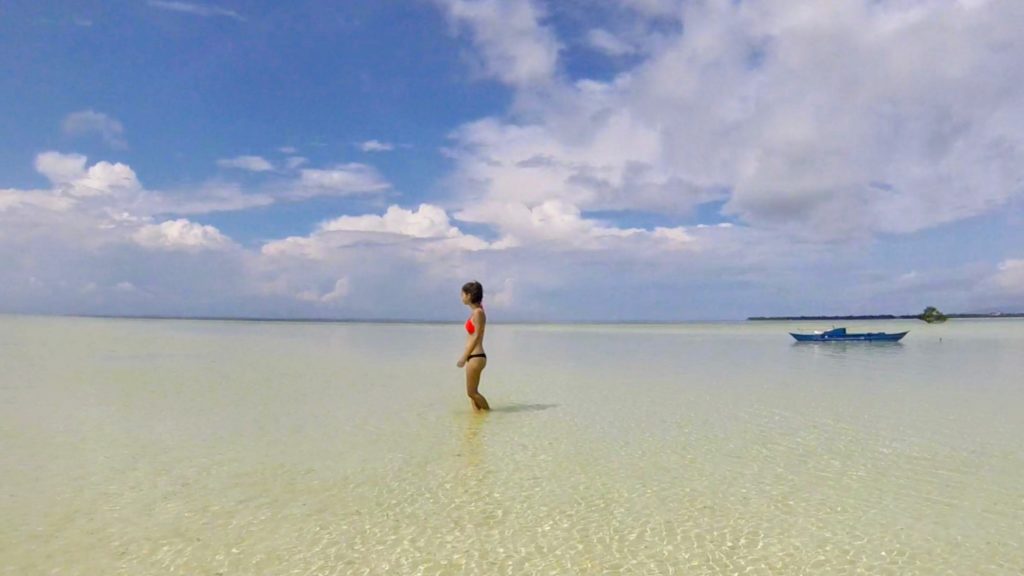 Since we had spent hours in the sun snorkeling around, we were a bit tired to be in the blazing hot sun again being pestered by people trying to sell us more souvenirs. There was hardly any shade to stand in, so we huddled under the tarp of a grill shop where some tourists were eating something that looked like green sea snails. 
To be fair, it was a perfect spot to take pictures of the clear, shallow water that seemed to stretch on for miles!
In the end, we returned to Alona Beach on Panglao right around 2pm like Gili promised!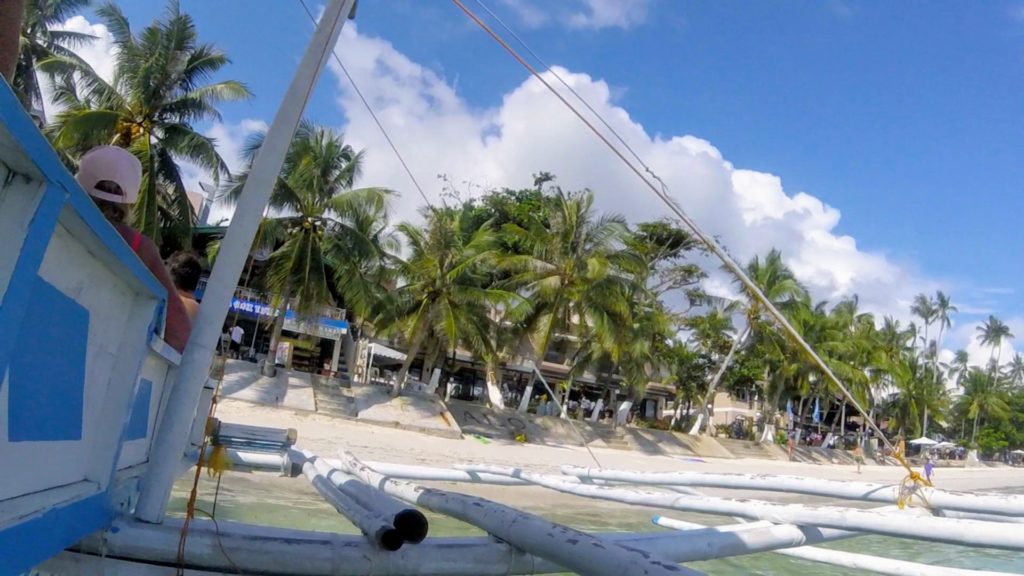 Are You Prepared For The Philippines? 
Read my Philippines Island-Hopping Itinerary to plan your perfect Philippines Itinerary! 
Book Your Flights – To find the cheapest flights, flexibility is key. I use both Google Flights and their low fare calendar, and Skiplagged, which uses airfare loopholes to get the lowest prices. 
Book Your Accommodation – Check out Booking.com for the largest selection of accommodation around the world. For backpackers, Hostelworld.com is also a favorite. 
Buy Travel Insurance – It's better to protect yourself from mishaps when traveling. Get a quote from World Nomads to see how much it'll cost to get you covered! 
Stay Connected with a SIM card/WiFi device – I used a Globe brand SIM card for my Philippines itinerary to stay connected. If traveling with a group, consider getting portable WiFi that lets you connect 5 devices at once. 
Check Visa Requirements – From E-Visas to Visas-on-Arrival, iVisa has all the info on country visa requirements. If one is required, you can order one hassle-free through their site.  
Book Local Excursions – Don't miss out on world-class experiences by booking tours and tickets online, ahead of your arrival. GetYourGuide and Klook both have fun experiences from around the Philippines like Island-Hopping in El Nido, a Boracay Island Tour, and the Coron Ultimate Tour.
Pack Your Essentials – Check out my posts about Long Term Travel Gear, and Carry-On Luggage Packing Essentials.