During my first year on the road I visited 24 countries on a backpacker's budget. The countries varied from cheap and backpacker-friendly Southeast Asia, to expensive summer prices in Western Europe. If you've ever wondered how much it costs to spend time in different countries and regions around the world, you've come to the right place! 
Below is my average daily cost for 6 countries I visited during my first 8 months on the road. It's my travel budget for Southeast Asia and South Asia. 
I've broken down each daily budget by how much you can expect to spend on Visas, Food, Accommodation, Transportation, and Tours & Activities. 
The costs below do not include flights or travel insurance that should also be included in your travel budget for Southeast Asia and South Asia. 
Since I was traveling on a backpacker's budget, these numbers should be seen as the low end of the scale when budgeting for these countries. This means I was sleeping in cheap hostel dorms, taking budget transport options, and eating local food.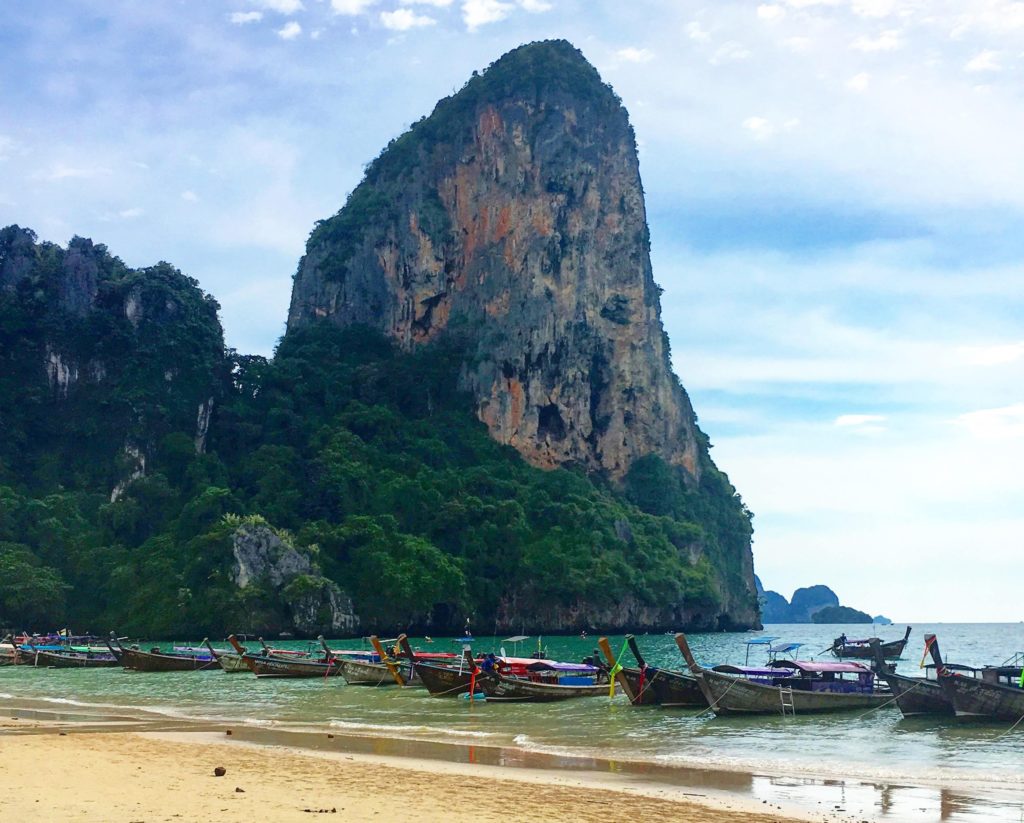 I spent six weeks in Thailand, split up into two separate visits. The first four weeks in Thailand I was in super budget mode, and spent about $29/day. The second time in Thailand, I was there two weeks over Christmas and New Years so I spent much more, at $37/day. 
The increase in cost the second time was due to an expensive overnight tour in Khao Sok National Park, and the costs of holiday festivities 🙂 
$33/day is a comfortable backpacker's budget for Thailand.
Visas 
Free on arrival for visits 30 days or less. You have an option to extend the visa another 30 days for 1900 baht ($58).
Accommodation
Dorm beds can cost $3 at the low end, and the highest I paid was $15 per night on Koh Phangan for the Full Moon Party. On average $8 per night is a good backpacker's budget for Thailand accommodation. Private rooms in hostels usually cost about double the cost of one dorm bed ($16-20 per night).
Food
When eating mostly street food (Pad Thai!) you will spend $2 or less per meal. Of course it's nice to get out to cheap restaurants, which may cost $5-$8 for a meal. 
Beers come in big bottles, and can cost $2-3 each. The infamous liquor buckets can cost as low as $3, but you might want to pay closer to $6-7 if you don't want to consume suspicious alcohol.
Transportation 
Inner-city transport in Bangkok costs about $1-2 per trip on the BTS light rail, or 50 cents to take the bus similar distances. If you don't get ripped off, tuk-tuk, motorcycle taxi, or Grab (SE Asia's Uber) rides around center city Bangkok may cost $5-$10. 
Long-distance busses, such as from Bangkok to Phuket, set me back about 700 baht ($21 USD). It's possible with some planning ahead and no check-in luggage, to take domestic flights for similar prices ($25-$40 USD).
Take tourist vans for shorter distances, such as to and from Phuket, Ao Nang Beach or Surat Thani. Vans cost about 200-300 baht ($6-$10) per ride and includes hotel pickup. 
Ferry transfers between the Thai islands (Koh Phi Phi, Koh Lanta, Koh Samui, Koh Phangan, and Koh Tao are the most common ones) cost me on average 300 baht ($10) each.
Renting a scooter on the islands costs $5-$7 per day.
Tours & Activities 
Entrance to Grand Palace, Bangkok – 500 Baht ($15 USD)
Tour to Ayutthaya and the floating markets from Bangkok – $43 USD
All-day snorkeling and beach-hopping tour from Koh Phi Phi – $20-$30 USD
Koh Phangan's Jungle Party – 600 baht ($18), Full Moon Party – 100 baht ($3). Expect to spend $30-$40 on alcohol! 
A 2-day, 1-night tour in Khao Sok National Park (highly recommended!) cost me $82 USD. See a more luxury option here.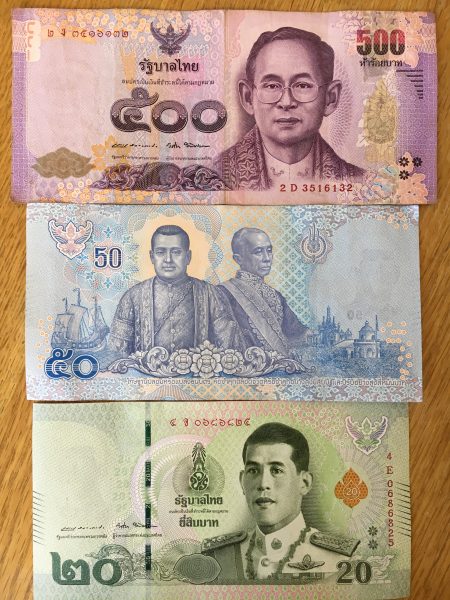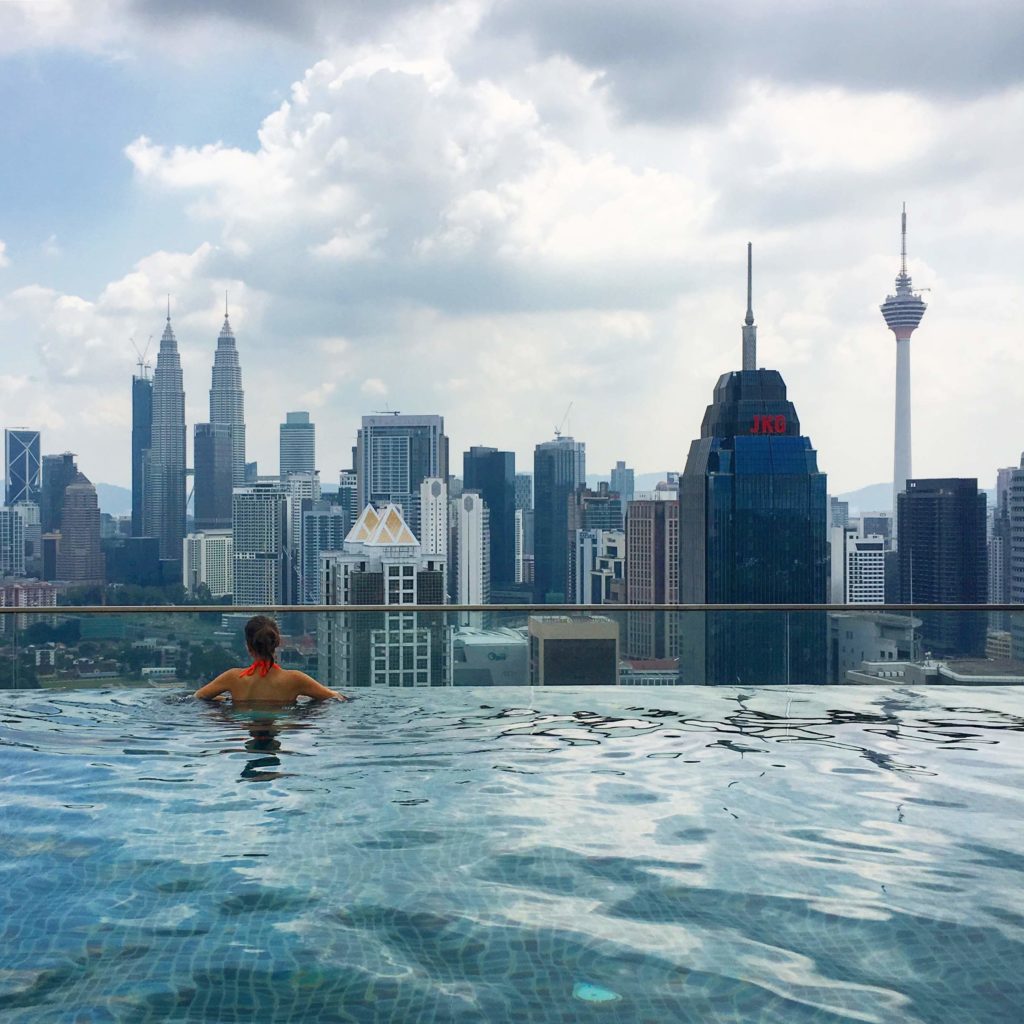 I spent six weeks in Malaysia – it's one of the few Southeast Asian countries that lets you stay for 90-days visa free! I spent all my time on the West coast of Malaysia because it was typhoon season on the East coast when I was there. That's why I missed out on the (expensive) Perhentian Islands… as a result I spent less of my budget for Malaysia. 
Check out my two-week itinerary for Malaysia.
Visas
Free on arrival for up to 90 days! 
Accommodation
Dorm beds cost $3-$4 on the budget end of the spectrum, highly rated backpacker hostels may cost about $5. The most I paid for a dorm bed was $13 in Kuala Lumpur at a hostel in the Regalia Suites building, for access to a rooftop swimming pool and view of the city (1000% worth it)! Double rooms were, on average, twice the cost of dorm rooms in Malaysia. 
Overall I paid about $5 per night for a dorm bed in Malaysia. 
Food
Eating out in local street markets will cost 5-10 Ringgit ($1-$2) per meal, drinks for $1, and cheap restaurants may set you back $5-$7 per meal. 
Beers and alcohol are taxed quite a bit on mainland Malaysia, so small 330ml bottles may cost 12-16 Ringgit ($2-$4). Many pubs in Georgetown have buy one get one free rail drinks, or an hour of free drinks which you can take advantage of! If you're a heavy partier, keep a buffer in your budget for Malaysia. 
Langkawi island however, is a tax-free island where you can buy alcohol for 50 cents a can or bottles for cheaper than US prices!  
Transportation
Ferry tickets from Georgetown, Penang to Langkawi and vice versa costs 70 Ringgit ($16) each way. 
Renting a scooter on Langkawi cost $6-$7 per day depending on the quality of the scooter.
Tourist busses are fairly cheap within Malaysia, and will cost about 30-40 Ringgit ($7-$10) to get between cities. Local busses within cities cost less than $1 for each ride. 
KL's light rail, LRT, is an organized and well-connected way to get around. It costs 30 cents per ride. Using taxis or Grab will probably cost $5-6 or less around central KL.
Tours & Activities 
Batu Caves outside of KL – free entry! Just pay for public transport and if you want, a guide.
Petronas Towers viewing deck in KL – 80 Ringgit ($19) for adults, or $30 to skip the line.
Half-day tea plantation tour in the Cameron Highlands – 50 Ringgit ($12)
Taman Negara National Park: (Without a tour) Round trip busses from KL, Park Entrance, Canopy Walk, and River Crossing ~ 52 Ringgit ($12.50).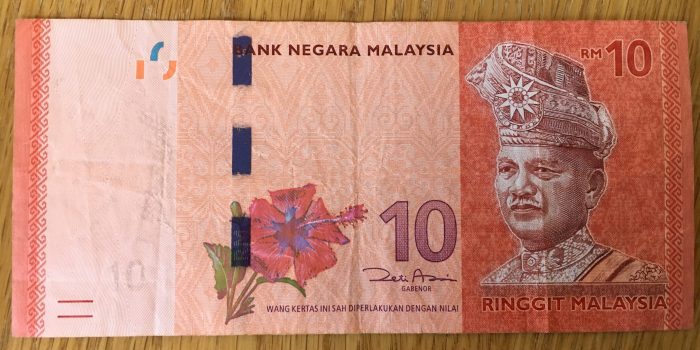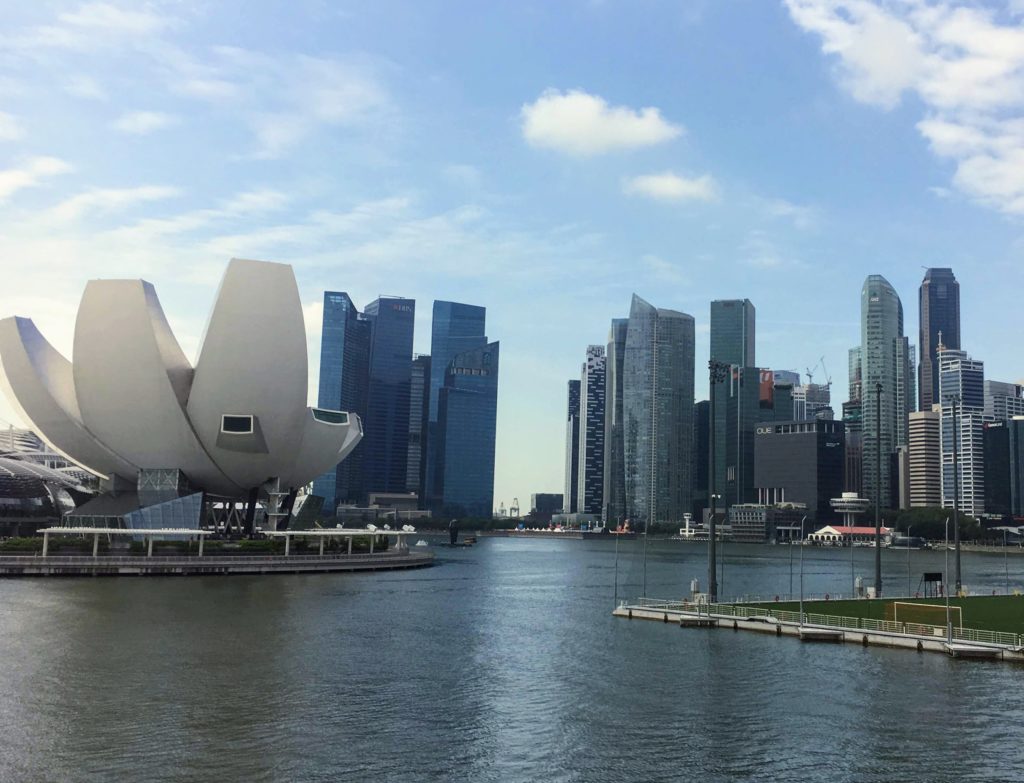 I only spent 24 hours in Singapore after arriving overland from Malaysia and before my flight back to Thailand! I saw the city mostly by kick-scooter and foot, and skipped out on any attractions that I had to pay for. Luckily there are a lot of free things to see, keeping my budget for Singapore low.
Visas
Free on arrival for up to 90 days! (not that I could afford staying for that long)
Accommodation
I stayed at the Inn Crowd Backpacker's Hostel for $13 per night. I really recommend this place because of a free kick-scooter tour around Singapore that they had for guests on Tuesdays and Thursdays (and free breakfast)! Other hotel dorms cost at least $11 per night, and on average you may spend $15-$20 per night out of your budget for Singapore. 
Food
Expect to pay at least $5 per meal. This is the cost for a meal in Little India or street food in China Town. Check out the Lau Pa Sat Food Court in the central business district of Singapore for $4-$5 meals not including drinks. On average if you're eating out, meals may cost $8-$10 (expect to pay this much at McDonald's and KFC too!).
Transportation
Central Singapore, where all the sights and attractions are, is a very walkable area. This is great news for your budget for Singapore! You may not even need to take transportation during your stay here, aside from getting to and from the airport/bus station. A one-way trip paid in cash, for up to 3 km, is $1.4 Singaporean dollars, or $1 US.
The best way to get around is the EZ card, which can be used on all public transit in Singapore including the light rail and busses. Up to 3km, the ride is .77 Singaporean dollars, or 50 cents US, and prices includes marginally from there. The EZcard costs $12 ($8 USD) to purchase, and comes with a balance of $7 ($5 USD). 
Tours & Activities
Free things to do:
Marina Bay Sands Light-up Fountain Show – Show times are 8:00pm and 9:00pm every day of the week, with an extra 10:00pm show on Fridays and Saturdays.
Gardens By The Bay Light Show (at night) – At 7:45pm and 8:45pm every day of the week, there's a light and music performance of the iconic "Supertrees"!
Gardens By The Bay (during the day) – free to hang out in this beautiful green park, but there are many paid attractions here as well
Paid Attractions:
OCBC Skyway, Cloud Forest, and Flower Dome at the Gardens by the Bay – $23 USD
Marina Bay Sands SkyPark Observation Deck on the 57th floor of the hotel – $23 SGD ($17 USD)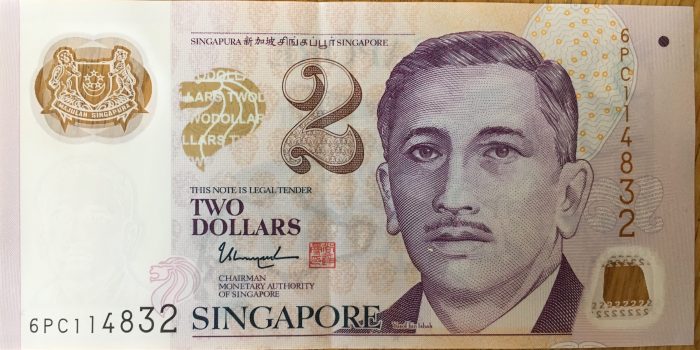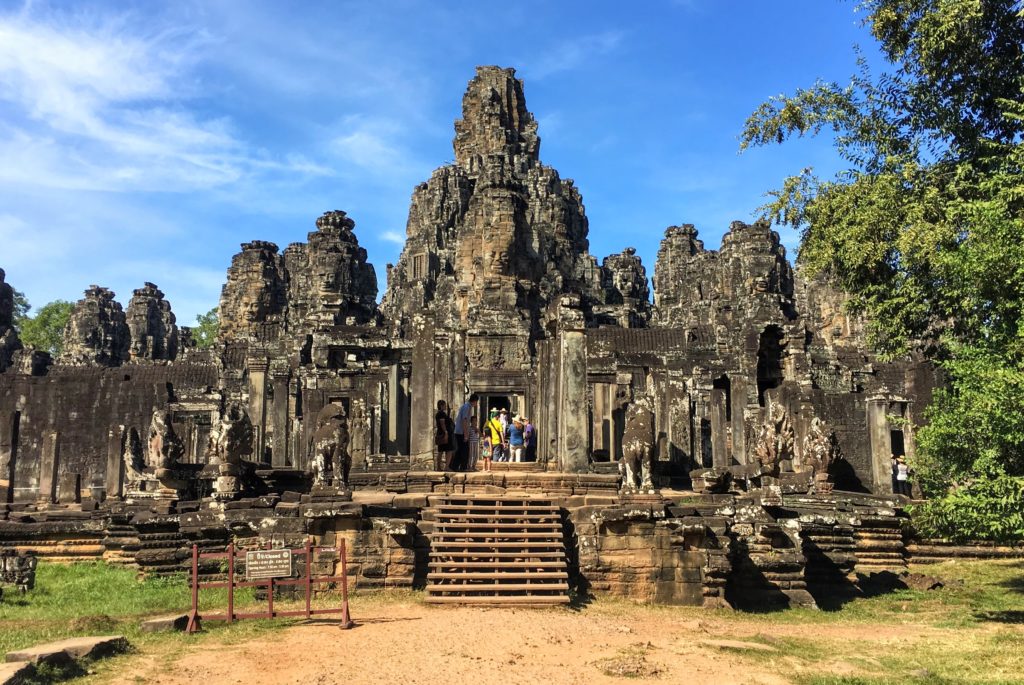 I spent almost 4 weeks in Cambodia, the land of $2 dorm rooms and $1 meals! I took a bus from Bangkok to Siem Reap, then followed the typical backpacker's route through Cambodia. 
My most expensive excursion was visiting Angkor Wat, since I bought the three-day pass ($62) instead of the one-day pass ($37). 
Cambodia uses the U.S. Dollar as currency more than their local Cambodian Riel, making conversions easy. However it's a bit of a hassle when their ATMs spit out only $100 USD bills and everything in the country costs $1!
Visas
Tourist visas for visits up to 30 days cost $30, and can be bought at the airport or the border. Costs are subject to change due to scams, especially at the overland border crossing. It may end up costing $40 or more if you're unlucky… 
Accommodation
Cambodia's mainland hostel dorms are incredibly cheap, usually $2-$3. Hostels include awesome amenities like free breakfast, a pool, and air conditioning too! For a double room, you should expect to pay a little bit more, at $10-$12 per room. On the islands of Koh Rong and Koh Rong Sanloem, the dorm rooms may cost $5 per bed.
Food
Delicious street food in Cambodia costs about $1-$2 per plate. Street food includes the standard fried noodles and fried rice, and banh mi-like sandwiches. For 50 cents you could have meat added to your dish, or get a whole ear of boiled corn! 
Transportation 
Because there are so many backpackers and tourists in Cambodia, it's very easy to find busses and vans that will take you from one town to another. Busses cost about $6-$10 for day transport, and overnight busses (from Battambang or Siem Reap to Phnom Penh or Sihanoukville for example) may cost $20-$25.
Tuk-tuk rides around town may cost $3-$6 per person. It cost me $12 to hire a tuk-tuk from Siem Reap to the Cambodian War Museum and back, including wait time at the museum. 
The ferry from Sihanoukville to Koh Rong or Koh Rong Sanloem is a standard $22 for a round-trip ticket with open return from either island. A one-way ferry ride is $12, and ferry rides between the islands or around the same island costs $5-$8. 
Tours & Activities
Angkor Wat and surrounding ruins, Siem Reap – 1-day pass ($37), 3-day pass ($62), 7-day pass ($72) plus the cost of hiring a tuk-tuk to take you around ($6-$20 depending on how many people you split the cost with). It's also possible to hire a bicycle to bike around ($5)
Cambodian War Museum, Siem Reap – $5 entrance fee, $12 round-trip tuk-tuk from Siem Reap
Koh Rong deserted island party – $20-$25 entrance, depending on the day, includes entrance and transportation to the island
Killings Fields and S21 Prison, Phnom Penh – entrance fees, audio guides, and shared tuk tuk for the day ~$25-$30 USD. Book a bus tour ahead of your travels here.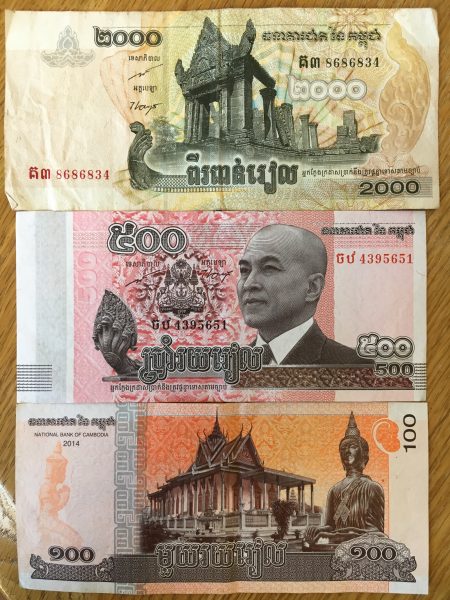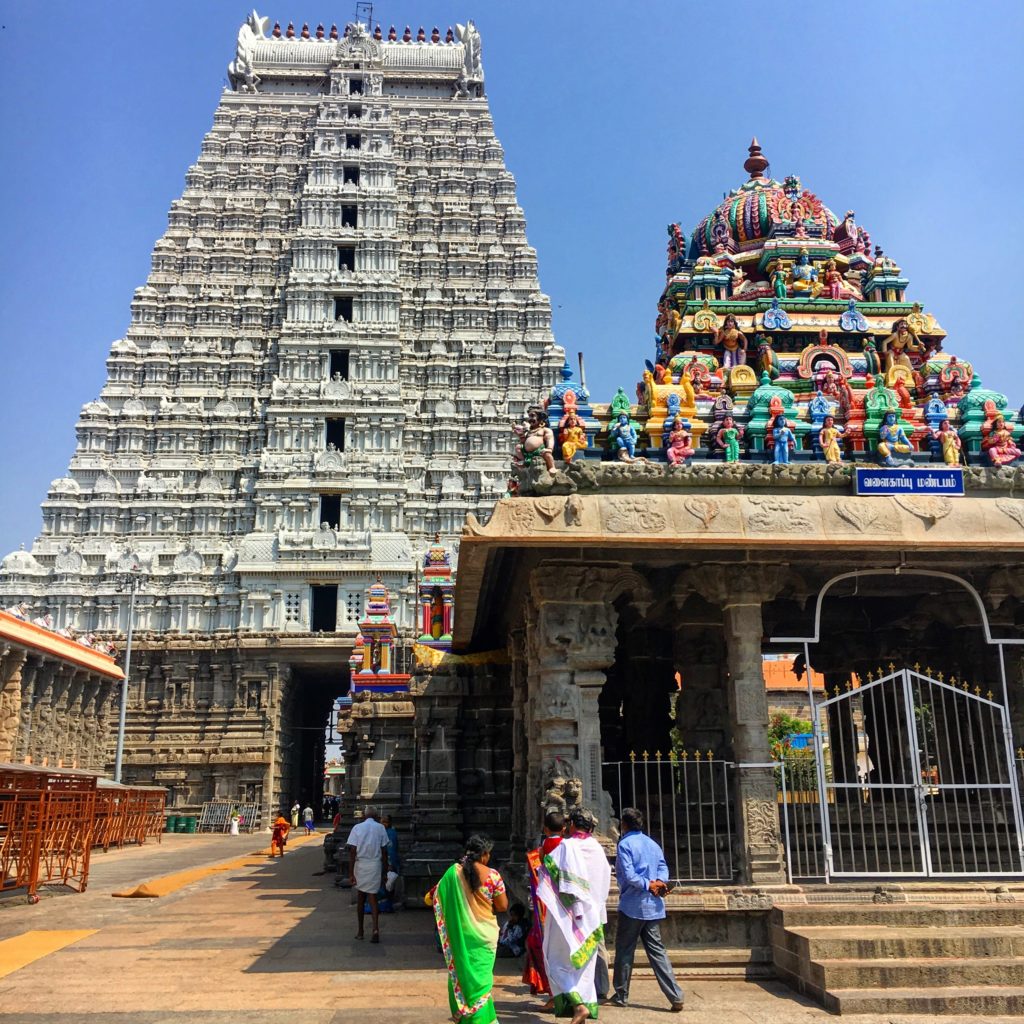 India is by far the cheapest country that I visited. I spent one month's worth of my travel budget over two months in India! 
I spent most of this visit in South India, and the state of Kerala. Street food there is amazing and costs actual pennies (20-50 cents for a meal). Ubers and public transportation are laughably cheap, and there are some great backpackers hostels to stay at for cheap as well! 
Visas
An E-Visa for India can be purchased online for $68 USD, and allows you to stay in India for 60 days. It took me about three working days to receive a response after I submitted my application. Apply here. 
Accommodation 
In recent years there have been several great hostels for backpackers popping up around India. There are low-quality dorms for as little as $2, but for a backpacker's atmosphere it's best to pay $4-$6 for a bed. 
Popular backpacker hostel chain Zostel has dorms for $6-$7 per night. With the higher price tag comes great amenities and atmosphere at all of their hostels around India. If you want to pay for a private room, you may be able to get low-quality rooms for $5-$10, but it might be worth paying a little more to stay in a proper hotel. 
Food
India is street food heaven! From 5 cent samosas to idli, chapati, and all-you-can-eat thali, it's impossible to go hungry in India even on the tiniest of budgets. 
You could spend only $5 a day on food if you're frugal, but since I splurged on some nice bakeries and restaurants in Pondicherry and Mumbai, my food budget was probably closer to $7-8 per day.
Transportation 
Public busses and trains in India are incredibly cheap, even for long distances you could pay only $2-$5. 
Overnight busses usually cost more, especially "sleeper" busses, because they have curtained-off beds instead of seats. These 8+ hour bus rides on tourist busses may set you back $20-$30 USD. At Redbus.in, you can check prices for busses across India.
Uber is a really cheap and handy option for getting around cities, even cheaper than rickshaws! I once paid only 120 rupees ($2 USD) for a 2-hour Uber pool across Mumbai.
Renting a scooter can cost $3-$6 per day depending on location, and whether it's high tourist season or not.
Tours & Activities
Taj Mahal in Agra, Uttar Pradesh – 1100 rupees ($16 USD), skip the line for $20 USD
Humayun's Tomb, Delhi, Uttar Pradesh – 550 rupees ($8 USD)
Agra Fort, Agra, Uttar Pradesh – 550 rupees ($8 USD)
Lotus Temple, Delhi, Uttar Pradesh – free
Bangalore Palace, Bangalore, Karnataka – 450 rupees ($6 USD)
Mysore Palace, Mysore, South India – 50 rupees ($1 USD)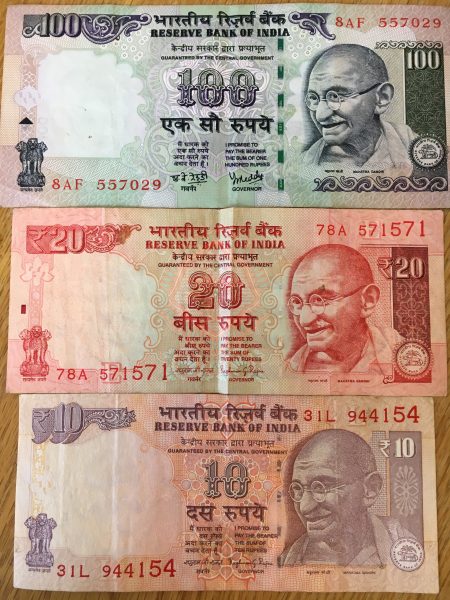 Nepal - $32/day with trekking, $23/day without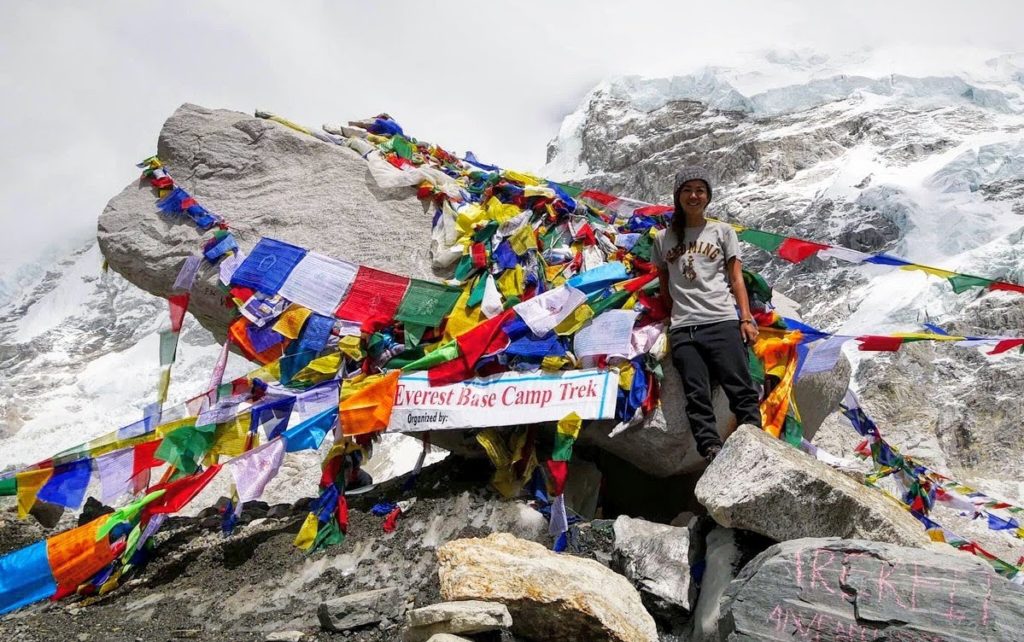 Nepal is comparable to India in terms of price. You can easily live in Kathmandu with a $20/day budget, even $10/day wouldn't be a stretch! I spent a lot of money in Nepal however, because I spent 30+ days in the Himalayas trekking. Costs for food and drinks goes up exponentially in the mountains, not to mention I had to buy a lot of trekking gear and trekking permits too! 
Check out my Backpacker's Guide to Kathmandu
Visas
Nepal has three visa on arrival options: 15-days for $30 USD, 30-days for $50 USD, and 90-days for $100 USD. Since I wanted to stay for two months, I paid $100 USD for the 90-day visa option. 
Accommodation
Kathmandu has some of the cheapest accommodation in Nepal, with decent dorm beds for $3-$5 in backpacker hostels. Pokhara, another popular city, has dorms for slightly more, $4-$6 per night. Double rooms will cost about twice the price of two dorm beds, or slightly less.
In Lumbini, the birthplace of the Buddha, I recommend staying at the Korean Monastery, which includes a bed and three meals with the resident monks for $5 per day. 
When trekking in the mountains, accommodation is free in most cases! Traditionally, if you eat breakfast and dinner at guesthouses (also called teahouses) on the trek, you can stay for free. Some guesthouses at higher elevation or with nicer amenities or large staff, may charge $1-$3 per night. 
Food
Local restaurants that are all over Kathmandu and Pokhara serve Nepali classics for 100 rupees or $1, such as massive portions of fried noodles, fried rice, or 10 momo dumplings. Dal Baht, a Nepali staple served with unlimited refills, can cost $1.50-$3. 
Nicer restaurants such as popular Israeli OR2K, or crepe cafes in Pokhara could cost you $3 for a meal. The most expensive pizza and steak restaurants may set you back $5-$7 for a meal.
In the mountains however, the cost of food is a whole new level. On the Annapurna Circuit, at low altitude, fried noodles or Dal Baht may cost $2-$3. At high altitude, this surges up to $5-$6. The Everest Region is even more expensive, starting at $3-$4 for a typical dinner, which increases to $7-$9 at high altitude! A bottle of water at Gorak Shep, the town just before Everest Base Camp, costs $4!
Transportation
Locals and tourists alike take busses that criss cross Nepal, connecting its trekking villages to the big cities. 1-4 hour bus rides cost $2-$5, and overnight busses may cost $10-$15.
To get to trekking starting points from Kathmandu such as Besisahar (for the Annapurna Circuit), or Salleri (for Everest Base Camp), a seat in a jeep can cost $20 USD max.
In Pokhara, you can rent a scooter for 500-600 rupees, or $5-$6 USD
Tours & Activities
The best way to spend your time in Nepal is to TREK!  For budget breakdowns of trekking the Annapurna Circuit or the Three Passes Trek + Everest Base Camp, check out my other blog posts about Nepal. 
Annapurna Circuit Trek – 10-20 days, $25/day + $40 for permits 
Three Passes Trek/Everest Base Camp – 12-25 days, $30/day + $50 for permits
Poon Hill Trek – 3-4 days, $20/day + $40 for permits 
Monkey Temple in Kathmandu – 200 rupees, ($2 USD)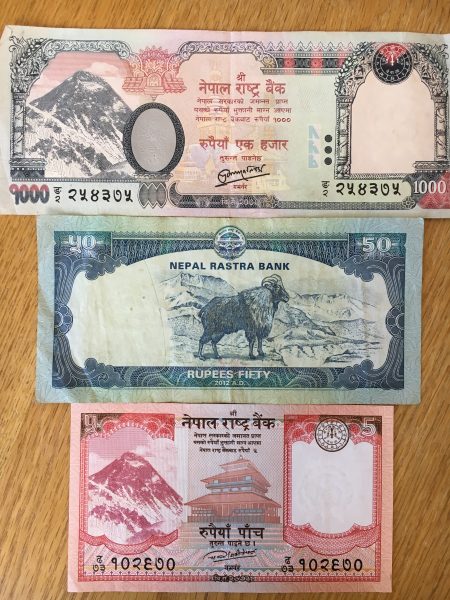 Like this Post? Pin It for Later!